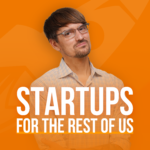 Brian & Scottie Elliott are the husband & wife co-founders of Gather, an interior design project management app.
Join Rob as he chats with Brian & Scottie for the final episode of Season 2 of TinySeed Tales. In the last year, Gather managed to double their revenue and overcome most of the challenges they faced along the way.
It's been about a month since we last spoke and during that time, their recent cash crunch has started to resolve itself.
In this episode, we reflect on the past year and their success (and struggle) with moving upmarket.
The topics we cover
[01:01] Gather's recent cash crunch
Cashflow is not our biggest concern anymore, which is a great relief.
Since that time growth has been either sorta normal steady when you average it out or maybe a little slower the last month and a half.
Small Business Association loan and PPP loan changed things for us,.
One was the loans, the other was that Gather landed a bigger enterprise client who was willing to fund features and who was willing to put cash upfront for you to build them.
That allowed us to ramp our developer up from the part-time back to full-time, which was great.
[06:46] Looking forward a year from now
I think we're just going to have a much more well-rounded product.
I could easily see us doubling again, this coming year.
I feel like we've just been learning a lot about where we're lacking, what could be better, and what would be. More valuable or what to add.
[07:55] Did going upmarket save the business?
No doubt. Previous, smaller clients are very cost-sensitive.
With our larger firms, pricing doesn't seem to ever really come up. It's mostly about features.
We're not adding a ton of customers per month, but each one that we add they're worth more and we're just not turning out the smaller folks.
It was such a big gamble right at the start.
When you go upmarket, you can charge more and churn is going to tend to be lower Sales cycles will be longer, but people stick around longer. There's more loyalty.
We're excited about where those next five years are going to go because we think we're sort of just, even at the beginning of this journey, even though we're a bit into it already.
[14:56] Advice for early-stage SaaS founders
Relax into it. It doesn't mean that you can be complacent and that you can't pay attention, but just realize like you're on this path, you're on this journey and it's going to take however long it's going to take. It may not be the product that you're working on right now. Maybe the next one, it may be five products down the line, but whatever it is, it's just a matter of staying with it and being okay with the waves and roadblocks that come up around you and just go around them as gracefully as you can. Keep at it because the process is, for me, anyway, as much as the outcome.
Links from the show
Thanks for listening to another episode of TinySeed Tales. If you haven't already, be sure to check out Season 1 of TinySeed Tales where we follow the Saas journey with Craig Hewitt of Castos.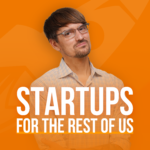 Brian & Scottie Elliott are the husband & wife co-founders of Gather, an interior design project management app.
Last time we spoke, they were bouncing back from the initial shock of the COVID-19 crisis with the potential to sign two large enterprise deals that could help them out with an ongoing cash crunch.
In this episode, Rob talks with them about customer-funded development, always following up when doing outbound sales, and restarting a productized service.
The topics we cover
[01:14] Status on large enterprise deals
One closed, one did not.
The first touch with them was almost a year.
They had a software proprietary software that they built internally and have been actively seeking a new tool
Custom data migration and storage and it was also a bunch of custom development
Win-win they got what they wanted and we got some new cool features
Big win, I would say, to get paid, to build a feature that you expect other customers to be able to use.
Optimistic that maybe we can sort of like build the product that we want by closing these sorts of deals and move into the hospitality world
Referred to as customer-funded development
[06:51] Obstacles remain for moving upmarket
Outbound is not going as well as it used to.
Inbound has been fine. It's a little down this month over the previous.
Always be following up.
Never letting go until you're explicitly told to go away.
Making sure you never lose track of someone is like a huge win.
[10:03] Moving past uncertainty
There is still uncertainty. I think there's always that whether there's a pandemic or not. When you're first getting started and plugging along, there's always that kind of like tension, wondering how this month is going to be.
We have plenty of signals that people are willing to pay us quite a bit more than they were paying us.
When we started there, we were charging $29 or $39 a month, which in retrospect is just, you know, terrifying that we were priced that low.
If we can get to that traction where, you know, we are selling 10 new customers per month at the price points that we're doing right now like it's a game-changer.
[13:49] Restarting a services venture
Brian and Scotty decided to dip their toes into the world of services with a virtual coordinator that would complement their software.
The idea was to bring in some high-value clients and make some extra cash. And although they had to shelve it due to the COVID crisis, there's been some renewed interest.
Initially, we thought of the services side as a way to get some revenue fast.
This is pretty high touch services but finding a team to help with the services side. And then of course we'd be using the software. To also manage the services, which could potentially drive some of the features that we build for the software.
The most important piece and that is going to be the process of setting up SOP and figuring out how I can best. Manage the services side.
[19:23] Last week of TinySeed Tales
So much knowledge gained and relationships built. It was a great year.
I think not being able to meet in person in the year together feels like it's still, like, there's no closure.
It does feel just sort of finished, not finished.
Links from the show
Thanks for listening to another episode of TinySeed Tales. If you haven't already, be sure to check out Season 1 of TinySeed Tales where we follow the Saas journey with Craig Hewitt of Castos.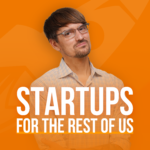 Brian & Scottie Elliott are the husband & wife co-founders of Gather, an interior design project management app.
Today's episode was recorded after the COVID-19 shelter in place orders went into effect. We talk with Brian and Scottie about how the pandemic has affected Gather as well as their life beyond the scope of their business.
The topics we cover
[01:10] How the pandemic has affected their lives beyond the scope of their business.
Brian and Scottie live in Mexico
Living in almost what feels like two worlds here. The ex-pat community is very tuned into what's happening in the US and sheltering in place
[03:11] Current financial situation
Our situation hasn't changed financially. I think that at the time we had hopes that we could raise some money or at least get alone. We're not even pursuing that at this point
We're certainly used to bootstrapping and feeling that stress and coming up with interesting solutions to our cash problems.
[05:57] High point or biggest wins since the last episode
We have had a couple of requests for enterprise plans, one existing customer that has a lot of data that they need to be migrated over and they have a custom feature that they want
Then a new customer who has a custom feature in data migration.
It's unexpected. Feasibly you think they're going to cut back expenses, but larger deals are coming your way.
The churn that we have had has been largely solo designers and smaller firms
One of the things of going upmarket, the typical pattern is there price sensitive, they churn less.
We've had a lot of inbound interest and a lot of them are saying things like now that we're home working remotely, we're sort of investigating better ways to work online
[09:21] Impacts from the COVID-19 crisis and biggest setbacks so far
Across the portfolio of companies that are part of TinySeed, there is about 15% that are having real struggles with the impact of the pandemic on the industry they serve. Another 70% are waiting to see what happens, perhaps cutting back on expenses and generally seeing a growth plateau. Then, there's the 15% of companies for whom remote work is a boon and their growth is accelerating faster than ever.
Gather has had to cut their developer contract in half
Big features are kind of on hold for a little while
Staying focused has just been difficult
[13:54] Fears and hopes for the future
I think my biggest fear is that the trend that we've seen this month as being a big uptick in sales and opportunities is just a flash in the pan.
In different times, we might be able to pivot if we needed to, but because of our financial situation it's going to be hard for us to pivot out of it
Looking forward to seeing how these enterprise deals play out
Trying to figure out ways that we could get customers to pay for some of the features that we'd like to build
Links from the show
Thanks for listening to another episode of TinySeed Tales. If you haven't already, be sure to check out Season 1 of TinySeed Tales where we follow the Saas journey with Craig Hewitt of Castos.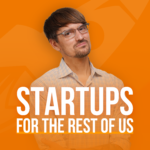 Brian & Scottie Elliott are the husband & wife co-founders of Gather, an interior design project management app.
On this episode, Brian and Scottie share with us an update on their unexpected MRR growth, the psychology of raising prices, and the difficulty of making decisions amidst a mountain of unknowns.
The topics we cover
01:07] Update on MRR growth since we last spoke
Had a goal to grow a thousand dollars of MRR in a single month.
Trailing 30 days is like $1,006.
MRR is currently $8,200.
Get caught up in the day to day to actually celebrate. Is good for us to stop and recognize that we have made a lot of progress.
We're still burning more cash than we're making.
[03:53] Closing a large 20-person enterprise deal
They did do a trial.
Then they bumped up to an enterprise plan.
You can have your sights set on a goal and before long you might achieve it. But that's not the end of your journey. You're onto the next hurdle.
This is one of the things I've found so difficult about starting this kind of company, your to do list is never clear and things don't end until you put someone in charge of the company or you sell it.
[05:47] Raising prices, again.
We've even raised twice.
Don't get a lot of price objections.
We have had to reject our previous customer avatar.
Lower prices send a bad signal to them.
The psychology of pricing, both at the founder level and also at the buyer level.
This is a tried and true SaaS playbook. You start at the bottom of the market because you don't have a brand and no one's heard of you and your product is really early, and you don't have the features that you need. You price yourself pretty low. You get a little bit of ttraction, use that to make a better product. You'll find your positioning. You learn more about the market, and then you just go up, up, up from there.
Lower price points, higher churn.
A lot of people don't realize product market fit is not just building a product that people want and are willing to pay for. It's also having a good idea about your positioning and pricing and some idea of channels where you can reach future customers.
You're making a lot of decisions quickly with incomplete information and you only know which ones work in retrospect.
[12:21] Biggest wins so far and looking to the future
In the beginning it felt a little bit scary and unknown when we were leaving, seeing the small teams.
Biggest win: validating with these larger teams.
Biggest win: we are selling into the kinds of firms that we hypothesized we could sell into.
Doing these sales over the last couple of months has just taught me how to sell.
[15:33] Biggest fear right now
That we're going to run out of money.
It's scary to see the bank account dwindle.
Just figuring out how we can keep going and keep growing and even accelerate growth.
How are we going to cross this bridge? Because we can see the green pastures on the other side.
Navigating a world that I don't quite understand yet should be the title and subtitle and every subheading of being an entrepreneur.
I'm most excited to see how we deal with this cash crunch that we're heading into.
Links from the show
Thanks for listening to another episode of TinySeed Tales. If you haven't already, be sure to check out Season 1 of TinySeed Tales where we follow the Saas journey with Craig Hewitt of Castos.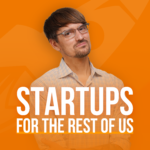 On Episode 5 of TinySeed Tales, we learn about the success of their recent outbound email campaign. We also hear about their progress with raising their prices and transitioning away from Gather's solo pricing tier.
The topics we cover
[02:00] Checking in on the past few weeks
A little bit of an emotional roller coaster
We have definitely made some inroads with teams
We haven't had the growth that we were hoping for
Feeling a a little anxious about how it's all gonna play out.
There's a time here where it's very uncertain because you're kind of leaving the solo practitioners behind, but you haven't quite reached product market fit.
There's also a little bit of insecurity with the product
It's a huge mind shift all together selling into these teams
We were hoping for more of a spike and it's just been this slow, steady growth, which is not bad. It's growing as usual, but that's not helpful when you had to take all this risk
[05:51] Patience can be dangerous
Going forward Gather will be dropping their solar plan altogether.
Half of their signups in the last month have come from their new cold email outreach campaign that's focused on larger teams.
Had success from a customer development standpoint early on in the product before we ever even built anything. Brian was emailing tons of people and talking to them as much as I could
We actually had quite a bit of traffic last month but the conversion rate was half what we usually have, so it just speaks to the fact that we aren't speaking to the right people right now.
[07:31] Yet another pricing increase
Currently they offer a tier at $99 a month and one at $159 a month, as well as a custom enterprise plan. That's way up from $39 a month, which was their lowest price plan when they joined TinySeed.
My feeling is that price is not really an objection when we're selling to new people
It'll be interesting to see, you know, if we do start getting price objections from at least the solo people, we kind of predict that we will.
Next month we're planning on doing another potentially really big price jump.
Raising prices is increasing the speed of learning and if it works, although it's a big gamble, the payoff is pretty
In order to keep this up, like we would eventually need to hire some sales reps and some account executive types.
But when we move into this double triple price thing, you know, like into the, let's say $250 average revenue per customer, Then the whole model shifts and changes and it looks way more interesting.
[15:19] High points from last week
We did have to literally within five minutes of each other team annual signups. Both of them were from our cold email outreach and they had both had demos and that felt really good
We had an existing customer that's requested pricing for 20 teammates, so we provided a custom quote for them. But if they do decide to go ahead and sign on that, that will become our single largest customer, both in number of users in revenue as well.
Links from the show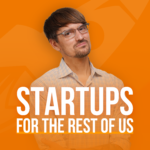 Brian & Scottie Elliott are the husband & wife co-founders of Gather, an interior design project management app.
Today we're going to dive into the stress that comes with entrepreneurship and how it shows up in their personal lives. Moving up from one customer segment to another is hard. Each customer segment is like an Island with a body of water between them. They're crossing that body of water from servicing one and two-person teams to serving larger architecture firms with 20 person teams. We hear how they are managing this difficult and stressful moment both as co-founders and as married partners.
The topics we cover
[01:40] Leveraging testimonials when moving upmarket
It's an approach you should explore as early as possible when trying to move into a new segment of the market
One of the reasons why trials are kind of a little bit lower this month is because some of the traffic that we've been getting is probably more geared towards the residential side and they're seeing this new messaging.
You have two islands and a body of water in between them and its messaging and sales process and pricing and positioning and all that around going after one person, two-person teams versus a 10 person team and those are the two different islands.
[06:09] Cold email experiments to attract larger teams
Averaging 12-15 demos per week (initial goal was to get to 10)
Finding one repeatable channel at this stage is huge
Cold email has been the channel that has worked the best for Brian & Scottie
Most businesses that start B2C end up transitioning to B2B and end up raising prices. Means less churn, fewer flakes for demos, better conversion.'
Demo to trial isn't as high as they'd like it to be.
One reason for this could be due to the longer sales process
[11:27] Cashflow management
We had a really good month last month — the best month we've ever had.
The biggest stress is just around the channels that we're investing in and wondering if they are going to perform like we want them to.
These are challenges with going upmarket. First, you have to figure out if you have product-market fit with teams. Then you have to find a channel or two that work. If the channel works, do the people stick around and can you find enough people who sign up and stick around? Can you find them fast enough with the channels you have such that you don't run out of cash
At the current burn rate we have about 6 months cash in the bank
If pushed, would consider debt-equity or debt financing as a fallback option
Founders do all sorts of things to maintain their runway, including credit card debt, personal loans, raising funding, even borrowing from their 401k. But with each of these, you have to weigh the risks to the business, as well as your personal financial situation.
[18:09] Dealing with stress as entrepreneurs and a married couple
The situation causes us to feel a little bit on edge and we have no one else to take it out on.
Now we're being much more conscious of our personal spending ad so I think that has also manifested itself just a little bit in some additional stress because we're really tracking all of our expenses really tightly and we're making sure that we don't spend foolishly.
No silver bullet for stress, but certainly meditation, exercise, and being aware that you are stressed.
Even though there is this sort of stress and there's sort of some existential risks to this experiment that we're running, it also feels aligned with where we want to go as a family and as an exit plan from work life at some point.
Links from the show
Thanks for listening to another episode of TinySeed Tales. If you haven't already, be sure to check out Season 1 of TinySeed Tales where we follow the Saas journey with Craig Hewitt of Castos.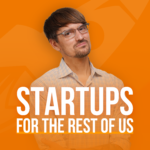 Brian & Scottie Elliott are the husband & wife co-founders of Gather, an interior design project management app.
Today, Rob chats with Brian & Scottie about their new hires, setting ambitious revenue goals, and managing stress and anxiety as entrepreneurs.
The topics we cover
[01:01] Update on hiring, new sales, and more
Hired a VA
Hired an industry expert to help with marketing/copywriting
Scottie & Brian now focused on documenting the processes
Had their first "team plan" subscription
One thing you'll notice as an entrepreneur is that when you start to expand your team beyond just the founders, new hires, propel you to get more organized, creating standard operating procedures like Brian & Scottie are now doing is a big step towards cementing the continuity and value of the business.
[03:18] Attending the TinySeed retreat and setting ambitious revenue goals
Brian and Scottie attended their first in-person retreat for their TinySeed batch
Setting batch goals are less of a punitive thing and more of a "let's do this together and let's be ambitious together"
Once we started talking about specific numbers, it forces you to reevaluate how you are thinking about pricing
There are a number of levers that we have at our discretion to pull. That number gave us, like, it allowed me to think about the numbers that mattered the most and the ones that would provide the most leverage.
[13:13] Anxiety, stress, and entrepreneurs
We had a pretty high churn month
Because we are now starting to carve that path to that new type of customer, our features are no longer speaking to the other subset of customers
The fear is that this (churn) happens every month
Whether you're going upmarket, whether you're changing from one vertical to another, whether you're expanding into other verticals going from vertical to horizontal, there are all these changes you can make that are really scary while you're doing them.
It's important to look a few months ahead and imagine what it will look like if it succeeds
Links from the show
Thanks for listening to another episode of TinySeed Tales. If you haven't already, be sure to check out Season 1 of TinySeed Tales where we follow the Saas journey with Craig Hewitt of Castos.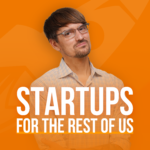 Show Notes
On this final episode following Craig Hewitt of Castos, Rob checks in to get the results of the "no credit trial" decision, and to see whether or not the move increased conversions.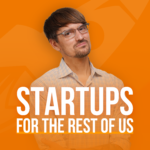 Show Notes
This week Craig Hewitt of Castos, feels the pains of a growing team and talks about how his role as a founder must evolve as the team continues to grow.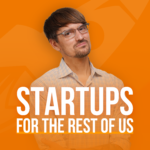 Show Notes
In this week's episode Craig Hewitt "turns the business on it's head" by implementing a no credit card trial.