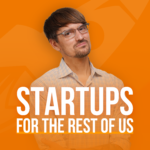 On Episode 5 of TinySeed Tales, we learn about the success of their recent outbound email campaign. We also hear about their progress with raising their prices and transitioning away from Gather's solo pricing tier.
The topics we cover
[02:00] Checking in on the past few weeks
A little bit of an emotional roller coaster
We have definitely made some inroads with teams
We haven't had the growth that we were hoping for
Feeling a a little anxious about how it's all gonna play out.
There's a time here where it's very uncertain because you're kind of leaving the solo practitioners behind, but you haven't quite reached product market fit.
There's also a little bit of insecurity with the product
It's a huge mind shift all together selling into these teams
We were hoping for more of a spike and it's just been this slow, steady growth, which is not bad. It's growing as usual, but that's not helpful when you had to take all this risk
[05:51] Patience can be dangerous
Going forward Gather will be dropping their solar plan altogether.
Half of their signups in the last month have come from their new cold email outreach campaign that's focused on larger teams.
Had success from a customer development standpoint early on in the product before we ever even built anything. Brian was emailing tons of people and talking to them as much as I could
We actually had quite a bit of traffic last month but the conversion rate was half what we usually have, so it just speaks to the fact that we aren't speaking to the right people right now.
[07:31] Yet another pricing increase
Currently they offer a tier at $99 a month and one at $159 a month, as well as a custom enterprise plan. That's way up from $39 a month, which was their lowest price plan when they joined TinySeed.
My feeling is that price is not really an objection when we're selling to new people
It'll be interesting to see, you know, if we do start getting price objections from at least the solo people, we kind of predict that we will.
Next month we're planning on doing another potentially really big price jump.
Raising prices is increasing the speed of learning and if it works, although it's a big gamble, the payoff is pretty
In order to keep this up, like we would eventually need to hire some sales reps and some account executive types.
But when we move into this double triple price thing, you know, like into the, let's say $250 average revenue per customer, Then the whole model shifts and changes and it looks way more interesting.
[15:19] High points from last week
We did have to literally within five minutes of each other team annual signups. Both of them were from our cold email outreach and they had both had demos and that felt really good
We had an existing customer that's requested pricing for 20 teammates, so we provided a custom quote for them. But if they do decide to go ahead and sign on that, that will become our single largest customer, both in number of users in revenue as well.
Links from the show