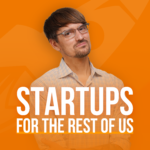 Brian & Scottie Elliott are the husband & wife co-founders of Gather, an interior design project management app.
Today's episode was recorded after the COVID-19 shelter in place orders went into effect. We talk with Brian and Scottie about how the pandemic has affected Gather as well as their life beyond the scope of their business.
The topics we cover
[01:10] How the pandemic has affected their lives beyond the scope of their business.
Brian and Scottie live in Mexico
Living in almost what feels like two worlds here. The ex-pat community is very tuned into what's happening in the US and sheltering in place
[03:11] Current financial situation
Our situation hasn't changed financially. I think that at the time we had hopes that we could raise some money or at least get alone. We're not even pursuing that at this point
We're certainly used to bootstrapping and feeling that stress and coming up with interesting solutions to our cash problems.
[05:57] High point or biggest wins since the last episode
We have had a couple of requests for enterprise plans, one existing customer that has a lot of data that they need to be migrated over and they have a custom feature that they want
Then a new customer who has a custom feature in data migration.
It's unexpected. Feasibly you think they're going to cut back expenses, but larger deals are coming your way.
The churn that we have had has been largely solo designers and smaller firms
One of the things of going upmarket, the typical pattern is there price sensitive, they churn less.
We've had a lot of inbound interest and a lot of them are saying things like now that we're home working remotely, we're sort of investigating better ways to work online
[09:21] Impacts from the COVID-19 crisis and biggest setbacks so far
Across the portfolio of companies that are part of TinySeed, there is about 15% that are having real struggles with the impact of the pandemic on the industry they serve. Another 70% are waiting to see what happens, perhaps cutting back on expenses and generally seeing a growth plateau. Then, there's the 15% of companies for whom remote work is a boon and their growth is accelerating faster than ever.
Gather has had to cut their developer contract in half
Big features are kind of on hold for a little while
Staying focused has just been difficult
[13:54] Fears and hopes for the future
I think my biggest fear is that the trend that we've seen this month as being a big uptick in sales and opportunities is just a flash in the pan.
In different times, we might be able to pivot if we needed to, but because of our financial situation it's going to be hard for us to pivot out of it
Looking forward to seeing how these enterprise deals play out
Trying to figure out ways that we could get customers to pay for some of the features that we'd like to build
Links from the show
Thanks for listening to another episode of TinySeed Tales. If you haven't already, be sure to check out Season 1 of TinySeed Tales where we follow the Saas journey with Craig Hewitt of Castos.