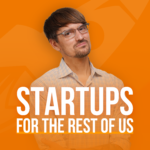 Brian & Scottie Elliott are the husband & wife co-founders of Gather, an interior design project management app.
Join Rob as he chats with Brian & Scottie for the final episode of Season 2 of TinySeed Tales. In the last year, Gather managed to double their revenue and overcome most of the challenges they faced along the way.
It's been about a month since we last spoke and during that time, their recent cash crunch has started to resolve itself.
In this episode, we reflect on the past year and their success (and struggle) with moving upmarket.
The topics we cover
[01:01] Gather's recent cash crunch
Cashflow is not our biggest concern anymore, which is a great relief.
Since that time growth has been either sorta normal steady when you average it out or maybe a little slower the last month and a half.
Small Business Association loan and PPP loan changed things for us,.
One was the loans, the other was that Gather landed a bigger enterprise client who was willing to fund features and who was willing to put cash upfront for you to build them.
That allowed us to ramp our developer up from the part-time back to full-time, which was great.
[06:46] Looking forward a year from now
I think we're just going to have a much more well-rounded product.
I could easily see us doubling again, this coming year.
I feel like we've just been learning a lot about where we're lacking, what could be better, and what would be. More valuable or what to add.
[07:55] Did going upmarket save the business?
No doubt. Previous, smaller clients are very cost-sensitive.
With our larger firms, pricing doesn't seem to ever really come up. It's mostly about features.
We're not adding a ton of customers per month, but each one that we add they're worth more and we're just not turning out the smaller folks.
It was such a big gamble right at the start.
When you go upmarket, you can charge more and churn is going to tend to be lower Sales cycles will be longer, but people stick around longer. There's more loyalty.
We're excited about where those next five years are going to go because we think we're sort of just, even at the beginning of this journey, even though we're a bit into it already.
[14:56] Advice for early-stage SaaS founders
Relax into it. It doesn't mean that you can be complacent and that you can't pay attention, but just realize like you're on this path, you're on this journey and it's going to take however long it's going to take. It may not be the product that you're working on right now. Maybe the next one, it may be five products down the line, but whatever it is, it's just a matter of staying with it and being okay with the waves and roadblocks that come up around you and just go around them as gracefully as you can. Keep at it because the process is, for me, anyway, as much as the outcome.
Links from the show
Thanks for listening to another episode of TinySeed Tales. If you haven't already, be sure to check out Season 1 of TinySeed Tales where we follow the Saas journey with Craig Hewitt of Castos.