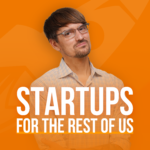 Brian & Scottie Elliott are the husband & wife co-founders of Gather, an interior design project management app.
Today, Rob chats with Brian & Scottie about their new hires, setting ambitious revenue goals, and managing stress and anxiety as entrepreneurs.
The topics we cover
[01:01] Update on hiring, new sales, and more
Hired a VA
Hired an industry expert to help with marketing/copywriting
Scottie & Brian now focused on documenting the processes
Had their first "team plan" subscription
One thing you'll notice as an entrepreneur is that when you start to expand your team beyond just the founders, new hires, propel you to get more organized, creating standard operating procedures like Brian & Scottie are now doing is a big step towards cementing the continuity and value of the business.
[03:18] Attending the TinySeed retreat and setting ambitious revenue goals
Brian and Scottie attended their first in-person retreat for their TinySeed batch
Setting batch goals are less of a punitive thing and more of a "let's do this together and let's be ambitious together"
Once we started talking about specific numbers, it forces you to reevaluate how you are thinking about pricing
There are a number of levers that we have at our discretion to pull. That number gave us, like, it allowed me to think about the numbers that mattered the most and the ones that would provide the most leverage.
[13:13] Anxiety, stress, and entrepreneurs
We had a pretty high churn month
Because we are now starting to carve that path to that new type of customer, our features are no longer speaking to the other subset of customers
The fear is that this (churn) happens every month
Whether you're going upmarket, whether you're changing from one vertical to another, whether you're expanding into other verticals going from vertical to horizontal, there are all these changes you can make that are really scary while you're doing them.
It's important to look a few months ahead and imagine what it will look like if it succeeds
Links from the show
Thanks for listening to another episode of TinySeed Tales. If you haven't already, be sure to check out Season 1 of TinySeed Tales where we follow the Saas journey with Craig Hewitt of Castos.