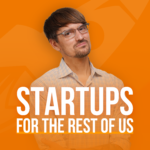 Brian & Scottie Elliott are the husband & wife co-founders of Gather, an interior design project management app.
Last time we spoke, they were bouncing back from the initial shock of the COVID-19 crisis with the potential to sign two large enterprise deals that could help them out with an ongoing cash crunch.
In this episode, Rob talks with them about customer-funded development, always following up when doing outbound sales, and restarting a productized service.
The topics we cover
[01:14] Status on large enterprise deals
One closed, one did not.
The first touch with them was almost a year.
They had a software proprietary software that they built internally and have been actively seeking a new tool
Custom data migration and storage and it was also a bunch of custom development
Win-win they got what they wanted and we got some new cool features
Big win, I would say, to get paid, to build a feature that you expect other customers to be able to use.
Optimistic that maybe we can sort of like build the product that we want by closing these sorts of deals and move into the hospitality world
Referred to as customer-funded development
[06:51] Obstacles remain for moving upmarket
Outbound is not going as well as it used to.
Inbound has been fine. It's a little down this month over the previous.
Always be following up.
Never letting go until you're explicitly told to go away.
Making sure you never lose track of someone is like a huge win.
[10:03] Moving past uncertainty
There is still uncertainty. I think there's always that whether there's a pandemic or not. When you're first getting started and plugging along, there's always that kind of like tension, wondering how this month is going to be.
We have plenty of signals that people are willing to pay us quite a bit more than they were paying us.
When we started there, we were charging $29 or $39 a month, which in retrospect is just, you know, terrifying that we were priced that low.
If we can get to that traction where, you know, we are selling 10 new customers per month at the price points that we're doing right now like it's a game-changer.
[13:49] Restarting a services venture
Brian and Scotty decided to dip their toes into the world of services with a virtual coordinator that would complement their software.
The idea was to bring in some high-value clients and make some extra cash. And although they had to shelve it due to the COVID crisis, there's been some renewed interest.
Initially, we thought of the services side as a way to get some revenue fast.
This is pretty high touch services but finding a team to help with the services side. And then of course we'd be using the software. To also manage the services, which could potentially drive some of the features that we build for the software.
The most important piece and that is going to be the process of setting up SOP and figuring out how I can best. Manage the services side.
[19:23] Last week of TinySeed Tales
So much knowledge gained and relationships built. It was a great year.
I think not being able to meet in person in the year together feels like it's still, like, there's no closure.
It does feel just sort of finished, not finished.
Links from the show
Thanks for listening to another episode of TinySeed Tales. If you haven't already, be sure to check out Season 1 of TinySeed Tales where we follow the Saas journey with Craig Hewitt of Castos.