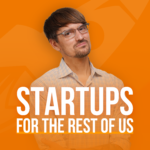 In this episode of TinySeed Tales, Rob chats with Tony Chan from CloudForecast about the progress his rapidly growing team has made over the previous few weeks.
Tony is riding the roller coaster that is entrepreneurship and in this episode you get to follow along.
Topics we cover:
1:47 – New full time engineering hire onboarding results
4:50 – Part time SDR hire onboarding results
7:31 – How hiring affects company culture
10:19 – Tony's biggest wins in the last few weeks
14:30 – Growing the product to grow Expansion Revenue
15:45 – CloudForecast's summer sales lull
19:40 – Keeping sane as a founder
22:00 – What Tony is worried about coming out of summer
24:00 – The next MRR target
Links from the Show:
If you have questions about starting or scaling a software business that you'd like for us to cover, please submit your question for an upcoming episode. We'd love to hear from you.
Subscribe & Review: iTunes | Spotify | Stitcher
Rob Walling:
Welcome back to episode two season three of TinySeed Tales, where we continue hearing Tony and CloudForecast's story, as they try to grow their company. Quick reminder before we dive in, applications for our next TinySeed batch, both our Europe, Middle East, and Africa batch and our America's batch, they open next week, September 12th. If you're interested in applying, head to tinyseed.com/apply. And with that, let's dive back into our story.

Tony Chan:
It literally went from not having a clear path and then a month later having a clear path, right? That's the never-ending cycle of being a startup founder.

Rob Walling:
Welcome back to TinySeed Tales, a series where I follow a founder through their struggles, victories, and failures as they build their startup. I'm your host, Rob Walling. I'm a serial entrepreneur and co-founder of TinySeed, the first startup accelerator designed for bootstrappers. Last episode, we met Tony Chan, CEO and co-founder of CloudForecast. CloudForecast sends engineering teams a daily email report that summarizes their Amazon Web Service expenses. It's been a few weeks since that conversation, so let's check in with Tony.

Rob Walling:
Last episode, we talked about your biggest wins, you mentioned, were getting into TinySeed and finalizing your first full-time engineering hire. One of your biggest fears was onboarding that first engineering hire, plus there was another part-time hire and your fear was that they wouldn't be successful in the role. You had mentioned you feel responsible for their success in the role. I'd love to hear how those two are doing in the new roles, how Matt's panning out.

Tony Chan:
Yeah. Specifically for the engineering hire, things are going well. Francois did a really great job in creating a big Wiki on all things onboarding and just being thoughtful from the process and putting himself in her shoes of, if I were Katya, how would I like to be onboarded and all the information I need to be successful? We spent a good week, two weeks maybe even just getting her involved, onboarding, figuring out a project that she could employ into production for her first week and making sure that she feels successful and constantly checking in.

Tony Chan:
I think it was just so satisfying to hear her say that we've been so helpful and her mentioning that she feels heard as well was just so gratifying, because all that work upfront really paid off in trying to be thoughtful about it. I think a lot of startups don't think through that process, right? They're like, "Hey, we'll onboard someone and figure it out." But there is 50/50 in terms of meeting the person halfway and making sure that's successful as possible and putting yourself in their shoes and having a little bit of empathy of what they're going on. But she's already deploying things to production today. I had a bug and she jumped on it, fixed it, pushed it. She's doing a great job so far.

Rob Walling:
That's what I was going to ask, because there's success on two levels, right? One is you want her to feel successful, and it sounds like she's expressed that to you verbally, but the flip side of that is, is she fulfilling the role that you need her to at this point? It sounds like the answer is yes.

Tony Chan:
Yeah. There are some hidden skills that she had that she did not tell us. I wouldn't say she hid, but she didn't really kind of tout it in terms of front end skills and being able to create mock ups. We're moving things towards Tailwind and she's using Figma to create mock ups on some of the features that we've been building. Francois and I take a look and we're like, "Wow! That is better than Francois and I can do any day," right? She's been contributing, giving her ideas and just taking projects that we've been giving her and running with it.

Tony Chan:
There's a sense of ownership that she's already taking with the company, which has been really great to see. She's only, at this point, officially about one month in into the role. She's a rockstar hands down. This has been a great hire for us and we've been including her on customer calls and such. She's been great in terms of the work that she was hired to do.

Rob Walling:
It was finding secret buried treasure when you hire an employee for a specific role and suddenly they're like, "Oh, by the way, I'm also really good at design. I can do mock ups. You need help with sales and customer success, because I'm really good at those too." That's super cool.

Tony Chan:
It was so surprising. We're working on some new features and we needed some UI components of a report builder, and she just sent a Figma mock up and was like, "Hey, this is what I'm thinking and how it looks." We're like, "Oh my gosh! This is way better than what we can do." That was really cool to see.

Rob Walling:
How about the part-time hire? Was it an SDR, someone who's going to do outbound outreach, is that right?

Tony Chan:
Correct. We hired a part-time SDR and he's been ramping up over the past month. He works about 10 hours a week for us. We see this as a three month test. It kind of helps us bridge to actually our full-time hire of what we're thinking of is hiring someone full-time for this role. I'm actually learning a lot through him in terms of setting up the processes to make sure he's successful, what's working and what's not. He's already doing some outbound sequencing, poked some holes in terms of our messaging, and creating messaging that has worked for him at his full-time job and leveraging those skills to his part-time job and role there. It's going okay.

Tony Chan:
But I think at 10 hours a week, we realized that's not enough. With our business expanding and with the TinySeed money, it made us realize that we need to take a bigger risk and hire someone full-time for this role. Because at 10 hours a week, it's just a little bit too slow in terms of what we like. There's some things that he can't do in terms of the outbound sales process that we would like this person take more ownership of that probably requires a more full-time position to execute, right? With the SDR role, we need someone to just take it from hunting to organizing things in HubSpot, to figure out where they should focus on, to sequencing, to booking us meetings.

Tony Chan:
At a part-time role, you can only maybe do two or three of those things. I think it helped us realize that we do need someone full-time in this role to help continue book meetings for Francois and I.

Rob Walling:
That's a super common occurrence actually and it's something that I still make the mistake of doing is the whole, well, we're only spending five hours a week on it now, so certainly we can't hire a full-time person for it. And then either trying to hire a contractor, trying to hire someone part-time, or trying to cobble together three of those kind of part-time needs into one Frankenstein full-time role, which I am guilty of way more than I should be. I should know better by now is the bottom line and I still do it.

Rob Walling:
I think that when you are hiring for a role, if you hire a smart, motivated person in almost any role, they can find things to do that will move the business forward, whether it's just doing more of what you want them to do, or whether it's taking on new initiatives and proposing things and pushing the business forward. I'll say I'm not surprised that hiring someone 10 hours a week wasn't enough given I think the emphasis on outbound that your company will probably have.

Tony Chan:
I think it's also what type of company we want to build as well. Francois and I actually had a pretty extensive conversation about this because the extreme side is we can hire a bunch of people that are in other countries and help us run the sales process. That will require a lot of effort on our side. But I think the type of company we want to build is hire someone who is extremely motivated to be able to build this out, have some ownership in the company, and to be able to figure it out and fight for the business. I think that is a lot better than hiring someone part-time who is kind of…

Tony Chan:
They're contract basis, right? They're almost like a Hitman for outbound sales. Whereas we want someone who can grow in the role, maybe even build a team up behind them. I think that is a lot more satisfying to us and type of company we want to build.

Rob Walling:
What's the process from here? Have you written up a job description? Is any of that in the works, or is that future?

Tony Chan:
Yeah, so that is into works. We're actually interviewing right now someone who we think is a potential hire. They are just going through the process with Francois and I. Same as the engineering role, we're trying to be thoughtful as possible in making sure this person can do the job of an SDR, someone who's hungry, someone who will fight for the role, and giving us an opportunity to see if this is a channel that can continue to work for us on a full-time basis.

Rob Walling:
You realize we're on the second episode of this podcast and you are already doubling the size of your team from two to four.

Tony Chan:
Yeah, it is what it is it. We've learned from hiring people part-time, right? That didn't work out, but we need to move fast. We have the money. Acceleration and growth is the most important thing we have right now and making sure we continue the trajectory that we're in at the moment and just keep pushing and fighting for it.

Rob Walling:
In the last episode, I asked Tony about some of his fears and worries, and he told me he wondered whether they were being too conservative with their money. Based on the way his part-time hire is working out, it sounds like the answer might be yes. That said, Tony and Francois are still in a great cash position. They have enough money to make some hires, but not so much that they have to hire a lot of people quickly. Too much funding at the wrong time can be detrimental to a business.

Rob Walling:
I've seen first and secondhand companies hire 20 or more people over the course of a year followed by a big round of layoffs. But let's stay positive for now. I asked Tony about his high point since our last conversation. Looking back since you and I last spoke, what would you say is your biggest win?

Tony Chan:
I would say the whole Katya situation, the engineer that we hired full-time, and her contributing pretty quickly and being part of the team, not only as an engineer, but also as a fellow teammate, has been pretty successful I would say. We have been pretty intentional about how we can have her feel included, right? Doing things like we're already discussing how can we do an Airbnb experience with her and doing team-based things. I think that has been a big win. I would say another pretty great win is our expansion revenue over the last three months that has continued to drive growth for us. Summer months has been tough in terms of net new opportunities and closing deals.

Tony Chan:
That's been hard. I think everyone's been on vacation or out of office more than last year and years previous. It's been hard to grab conversations with people and try to close those enterprise opportunities that we're seeking after. But one thing that has been consistent is just our expansion revenue. We've been 100% on our first set of renewals this year, and we've been able to grow some businesses that we already have currently. They're seeing value of the product, good ROI with the product. They love working with us.

Tony Chan:
Building on that and continue to push hard on that is a theme that we're going to continue to do. That has been our best two wins at the moment, hiring Katya and also just retention of big customers and also being able to expand on their MRR as well.

Rob Walling:
Net negative churn is the holy grail of SaaS and expansion revenue is what causes that to happen. It's the cause of the thing that so many of us should be seeking as SaaS founders. As an investor and advisor to you and CloudForecast, that just warms my heart. It makes me so happy to hear any business that has true expansion revenue that is driving growth. Because a lot of times you have theoretical expansion revenue of like, well, we do have these pricing tiers and theoretically people should move up, but it doesn't happen in practice. The fact that it is happening in reality is a big deal.

Rob Walling:
I think it says a lot about the future prospects of your business, assuming you can get the other things, get the execution and get the incoming lead flow and close deals and all that. That is such a solid cornerstone to be able to build a business from.

Tony Chan:
We're very fortunate. There is definitely more opportunities for expansion revenue as we think about other products and areas to help with management of costs. There are few areas that we're looking to. Kubernetes is one, Datadog and also Snowflake. Those are areas that we've seen while talking with customers where the monthly subscription is very variable based on usage and can have unexpected cost creep up. A lot of our big users are users of those tools, which then as we're building more features, I think there's opportunity to expand revenue beyond that.

Tony Chan:
We've already built their trusts with them directly that first year on just AWS. They know that we're listening to them, we're getting good feedback, and we're solving the right problems for them. It's a matter of just building those relationships up front to continue to push on our product and build iteration on our features that we have.

Rob Walling:
I want to call out what you're saying here is that you are in that phase of basically approaching escape velocity, where you really do find… Obviously you have product market fit. Your churn is we'll say effectively zero or close to it as you can get, and you have expansion revenue. You are looking for the one or two channels that you can just feed in and get that process going. But the fact that you are already thinking of other product add-ons that could potentially expand revenue is something that I think a listener can take away from this.

Rob Walling:
Now, you can make mistakes and get shiny object syndrome and want to go build an entirely new product, or you can want to add a bunch of features when you don't really have the core of your product working well or serving the customer needs. But that's not what's happening here. I mean, this is something that you see as a genuine add-on customers can use and that you could potentially get more revenue from.

Tony Chan:
Yeah, absolutely. I think one thing I do want to iterate that it's still very hard. You hear escape velocity and product market fit. It's still a lot of work. You mentioned it in your podcast. Product market fit is a journey that you continue to iterate on. It still very feels much like that. Even though we have expansion revenue, even though things are slow and we're growing, it does feel like it's a lot of work and there's a lot of effort for us to continue to push in terms of where we want the company to be at. It's still very difficult regardless.

Rob Walling:
I'm interested to hear more in the coming weeks about CloudForecast planned expansion beyond offering reports on AWS. So far, the road to 200,000 in annual recurring revenue has had its ups and downs.

Tony Chan:
Summer's been slow. People are on vacation. The part-time SDR that started, things have been slow this past month because he's getting a lot of out of office more than usual. That's kind of hard to see and hard to accept and not use that as an excuse where we can just take a step back and wait. Our signups are half of what they used to be. We haven't closed any net new deals over the summer. We've been able to expand revenue, but I think we maybe close one or two smaller customers-ish. I see that as a setback, even though I have no control over it or no way to fix it. I think we have the mentality of just like, is there a way to fix it? But we can't control that.

Tony Chan:
We also lost a pretty big opportunity. We had a customer that's been trialing us for… A potential customer trialing us for 30 to 45 days on a free trial. We were so sure that we weren't able to close them. And then we jumped on a call with them and the call did not go the way we thought it would. It made sense in terms of why we weren't able to close them, but that was a gut punch because that would've given us a clearer path to 200K ARR. Which Francois and and I have been really fighting for. But it's a roller coaster because literally the day after Katya started, we just needed to take a bit to learn from it and move on and make progress.

Tony Chan:
Those were the two biggest setback is just seeing the slowest summer and losing that deal. But out of nowhere, we've been able to close a big net new customer on the enterprise side. And then our biggest customers, we're talking about further expansion opportunities. We might be able to increase our MRR by 30 to 40% and lock them on a longer deal. As I mentioned before, it's a rollercoaster. We went from having a slow summer and somehow we're back to having a clear path of hitting 200K ARR.

Rob Walling:
When I asked about your setback, you give me both good and bad. Signups are down, but you're on a clear path to hit it. I mean, that's essentially the rollercoaster of running a startup is like, it's not all good, it's not all bad. It's too much of both I'd say.

Tony Chan:
It literally went from not having clear path, and then a month later having a clear path, right? I wouldn't say we needed this win this past week in terms of this big opportunity that we're about to close where it's in procurement process at the moment, but it helped with morale, especially with the summer being slow and just being able to have that tangible grasp of like, "Okay, we're almost there." As we discussed before, once we hit 200K ARR, it's going to feel like, "Oh my gosh, it doesn't feel like enough." That's the never ending cycle of being a startup founder.

Rob Walling:
Yeah, indeed. As you sit and watch your signups not moving, in essence, many new signups happening, out of office responders, just in general, the numbers kind of sitting there flat, I guess, that's a tough place to be in as a founder because that's your number one KPI is to grow revenue, which is driven by new signups. It has to take a toll on you emotionally. I know this firsthand, right? On the months that we were flat, I would have existential questions of like, why are we even doing this? Is this going to happen permanently? Is this the way? Am I an imposter? Do I even know what I'm doing? Just all the questions that came up in my mind. Has it been like that for you?

Tony Chan:
A little bit. There's a lot of questioning, faking yourself out, but we had to also kind of pull back and look at the bigger picture of things. I think one thing that has been helpful is being able to count those smaller wins, like Katya being successful, right? Expansion revenue being there and being able to wake up and work on this. That is a win. Being able to be okay. The other thing that's been helpful is having extracurricular things outside of work that keeps us grounded as well.

Tony Chan:
Francois and I have very supportive wives that we can always count on and talk to and through things and be able to express our frustrations and our fears and our doubts. We have you as well that we can express these things and have someone that have a sense of empathy towards what we're going through. Francois has disc golf. I have volleyball. Those are things that are also very important in terms of our mental wellness of going through the rollercoaster ride.

Rob Walling:
So much of it comes back to having someone to talk to about it who can empathize with you. If the only person you have to do that with is your spouse or significant other, that will I believe cause problems over time. You can't put that burden on them. I made the mistake of doing that in the early days. And then turned to mastermind groups, and then turned to even just having other founder friends. It sounds like you've built yourself up a pretty nice network of folks who can empathize and support you in a way that keeps you from having to rely on any one individual.

Tony Chan:
Yeah, I think that's one thing that Francois and I have strengthened is we shamelessly ask people for advice and help, especially when we're feeling helpless. More often now, people are very open to spending some time with us to help us challenge some of maybe the false assumptions that we have going through at the time. Because you can be your own worst enemy with the thoughts that you kind of battle through when things are not going well.

Rob Walling:
When you're part of a TinySeed batch, mentorship and perspective from other founders become some of your greatest assets. It sounds like Tony and Francois are doing a good job taking a step back and recognizing that the ups and downs of bootstrapping often balance out. Here's hoping the rollercoaster doesn't get too steep. Looking Ahead between now and the next time we speak, what is your biggest fear?

Tony Chan:
I would say our biggest fear is… I mentioned the summer months have been slow, right? We're starting to see a nice little uptick this month, which is great in August. But what happens if it continues in September or October or November? That's scary to think about. Probably won't happen based on the data that we've seen last year and what we've seen this month. That's a bit scary. Another kind of more on a personal level scary thing is Francois is going on paternity leave and I would be relatively by myself the next six weeks. Francois and I and Katya as well, we've been talking about a plan and we have a notion doc where we set boundaries and parameters.

Tony Chan:
I think it's important for Francois to spend the six to eight weeks on being a father and being the best father as possible to his new son come in. But it is scary to think that I'm responsible for the business. I mean, he'll be around here and there on emergency basis, but I have to continue to make progress on the business. I have to continue to push hard. I don't have someone that's going to be around that I can just ping quickly on Slack. I mean, I can text message him, but I also want to be respectful of his time as well. That's pretty scary, but hopefully we can prepare for those things. Set the boundaries needed.

Tony Chan:
Francois has been doing a great job in making sure that everyone is taken care of and being thoughtful about his paternity leave towards Katya, towards me and also the business as possible, making sure that we have projects that we can do without him and that I can take care of and handle. We're making progress on the business one the feature side, but also on the growth side as well.

Rob Walling:
What are you most looking forward to between now and the next time we speak?

Tony Chan:
I'm looking forward to hopefully finally getting to that 200K ARR hump. It just felt so elusive. We made that the goal to try to hit that by July. I mean, it's August now and it seemed like we might be able to hit that in August or September. I think it'll be a huge relief because Francois and I have been just trying to figure out any way we can hit that. It just feels so close and so within our reach to be able to hit that with the opportunities that we have at the moment and our sales pipeline.

Rob Walling:
I admire Tony's fighting spirit. And at the moment, CloudForecast is doing so many things right. But as Francois takes his paternity leave, the added responsibility is going to test Tony's medal. Stay with us and we'll keep an eye on that 200K ARR goal and see what happens with the outbound sales role. Plus, we'll keep tabs on what's next for the CloudForecast product. All that and more next time on TinySeed Tales.