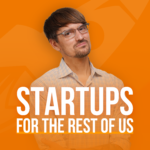 Welcome to Season 2 of TinySeed Tales, where we follow the founders of one SaaS startup week by week through their struggles, victories, and failures. On the first episode of this series, Rob introduces us to Brian & Scottie Elliott from Gather, an interior design project management app.
Show Notes
1:30 Meet the Co-Founders of Gather, Brian Elliott, and Scottie Elliott

Brian and Scottie have been working on Gather since late 2014
Scottie has 20+ years in the interior design industry
Brian was looking for software to build and continued to hear Scottie's frustrations with current software in the interior design industry

6:02 Gather's current Monthly Recurring Revenue (MRR) and why Brian & Scottie decided to join TinySeed

MRR is $5,600 with 8% growth
They were compelled by the three components of TinySeed (funding, mentorship, community)
As opposed to mastermind groups, everyone in TinySeed is serious about their business
They hadn't considered angel funding — never felt like the right move. They wanted to continue to have control over their lifestyle.
Meeting with venture capitalists tends to make you want to raise venture capital
Bootstrapping doesn't have to be binary: either lifestyle or a moonshot startup.
There is a third option between bootstrapping and moonshots, but the third option doesn't preclude taking funding.

13:36 Do Brian & Scottie still feel like they are bootstrappers after taking funding?

All decisions are prioritized and based on being cost-effective
They're still protecting the downside risk
Going to continue to geo-arbitrage, and hire developers from developing countries

15:44 Biggest win of the week

Last week nearly doubled prices and had 2-3 new signups at that level. Good validation.
Raising prices is always a scary thing because you don't know what it's going to break
When they raised their prices, they grandfathered existing customers.
They want to reward their first customers for being early adopters
Churn can often, over time, take care of grandfathered customers
They over-index on relationships with users

19:54 Setback from the week

A majority of the trial signups would disappear without much activity on the product
Considering picking up the phone to call users to see why they didn't do anything on the product, but they also want to be respectful of the user's time.
Improve the quality of leads at top of the funnel to possibly help with trial signup engagement with the product
Often times, under the water for most startups, founders are kicking like a duck.
Brian is the optimist & Scottie balances things out.
So far, they've learned so much from building Gather that they will be happy with the outcome.