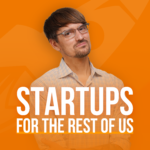 Welcome to Season 3 of TinySeed Tales, where we follow the founders of one SaaS startup throughout a year as they share their struggles, victories, and failures.
On the first episode of Season 3, Rob introduces us to Tony Chan, the cofounder of CloudForecast. CloudForecast is a daily AWS cost monitoring service for busy engineering teams. Tony is one of 33 startup founders from TinySeed's Spring 2021 accelerator batch.
Topics we cover:
2:41- What's CloudForecast?
4:09- How large is the CloudForecast team?
6:54- Why did Tony apply to TinySeed?
8:30- Why Tony turned down venture capital offers?
13:48- Tony reflects on the added complexity of taking funding
19:47- Tony's biggest fear
22:34- What is Tony looking forward to?
Links from the Show:
If you have questions about starting or scaling a software business that you'd like for us to cover, please submit your question for an upcoming episode. We'd love to hear from you.
Rob Walling:
This week, and for the next six weeks, we're going to have episodes of TinySeed Tales season three in your feed on Thursday mornings. So you get a special bonus episode for this next six weeks. If you're not familiar with TinySeed Tales, it's a seasonal show where I interview a founder across about years time. I believe these six episodes were recorded over somewhere between 10 and 14 months. The idea is to give you some insight into the ups and the downs, the struggles, the victories, and the failures of a real startup founder growing a real SaaS company that was bootstrapped until they took money from TinySeed.
So in season one, I interviewed Craig Hewitt, founder of Castos, who many of you are familiar with. In season two, it was Brian and Scottie, the husband and wife pair, founders of Gather. And in this season, it is Tony Chan from CloudForecast.
I never know what to expect when we start one of these seasons, because it is just a conversation framing their business and finding out where are we headed with this? Some of these episodes are massive wins and some are crushing defeats. A lot are in between. If you're not familiar with TinySeed, it's the startup accelerator that I run for bootstrapped SaaS companies. We run applications twice a year and in fact, our next application period opens on September 12th, just a couple weeks from now. That will run for two weeks. So with that, let's dive in to season three, episode one of TinySeed Tales.

Tony Chan:
From the very beginning, we were very focused on building a bootstrap business, cash positive, profitable to a point where we've turned down offers to raise money or to be part of accelerators because it just did not fit our convictions. And what we felt was best for the company.

Rob Walling:
Welcome to TinySeed Tales, a series where I follow a founder through their struggles, victories and failures, as they build their startup. I'm your host, Rob Walling. I'm a serial entrepreneur and co-founder of TinySeed, the first startup accelerator designed for bootstrappers.
We're back with a third season of TinySeed Tales. In season one, we followed the founder of podcast hosting platform Castos. In season two, we followed the co-founders of Gatherer, the interior design project management software. Both companies have more than doubled their revenue since their seasons aired. Castos closed a $756,000 funding round. This season, we're following Tony Chan, one of 33 startup founders in TinySeed's, Spring 2021 accelerator batch.

Tony Chan:
I'm Tony and I'm the CEO and co-founder of CloudForecast. CloudForecast helps engineering teams manage and get better visibility on their Amazon web services cost through easy to understand report. So our main product is a simple daily email that summarizes everything they need about their AWS costs and our goals for them to understand what's going on with their bill in less than 30 seconds. So they can focus on technical items that help grow the business and not financial reporting, and that's where we come in.

Rob Walling:
Tony and his co-founder applied for TinySeed not once, not twice, but three times. As they say, the third time was a charm. He and his co-founder were convinced that our accelerator was a perfect match for them. We were impressed with their continued progress and tenacity. Before starting CloudForecast, Tony was employee number two at a company called Perfect Audience. His role there was something of a business Jack of all trades, handling customer success, support and sales.
Now he's leveraged that experience to run sales and operations at CloudForecast. His co-founder, Francois, handles the technical side of the company. Together, they've been working on CloudForecast full-time for two and a half years as of this recording. We've recorded this episode in July of 2021.
How large is your team?

Tony Chan:
So it's just Francois and I. A lot of companies are pleasantly surprised when we are on a sales call and we say, "You're looking at the company." Even our current customers as well, they think that we have a big team. But we are about to onboard. We just put a tentative offer to a full-time engineer. So we're very excited about that. We do have a bunch of contractors, as well, that helps us with different parts of our business. So, that's how big our team is at the moment.

Rob Walling:
Congratulations on making that offer. Is it scary to you? Or is it pure upside?

Tony Chan:
It is both. Because we're moving from us doing the work and having everything we know in our heads, to putting all that information on paper or in an operation process and trusting someone to do the same thing, or have a similar output as us. I think that's scary. We're moving from just strategically how do Francois and I activate and do the work, to scaling and pushing other people to do the work.
It's also scary on a personal level that we have someone on our payroll that relies on us for the food and the shelter and the monetary part. So this is definitely a very new experience for us because the money we make filters back to the employees we hire. So it is both, it is huge upside and we're very excited. But also there's the strategic and big picture thinking of how do we make sure that the person we're hiring is very successful in what they do and setting them up for success. And being very thoughtful about the whole process.

Rob Walling:
That concept of letting go of a little bit of control, that is a very common refrain and a common feeling I think every founder faces in with their first or second or third hire. I think a big mistake that a lot of founders or even CEOs, or just early entrepreneurs make is you have these things and you want to hand them off. Instead of delegating them, you abdicate. Which is you just dump it on someone and don't check back in. You don't give them the guidance, you don't answer the questions, you don't provide the proper, as you said, procedure, or whether it's just proper instructions or the tools they need to succeed. That's why I'm glad to hear you say it's exciting, but it sounds like you feel there's pressure on you to make sure that this new hire is successful in the role. Not just that they show up and take a bunch of stuff off your plate. Why did you and Francois decide to apply for TinySeed?

Tony Chan:
I think there were a few reasons. The money is nice, helps us take bigger risk. We would not have even thought of hiring people or putting money into people without the 180k that we got from TinySeed. So, that's one very small factor on our side. I think the vision of what TinySeed is, the mentorship, the community aligns perfectly with what we've been very convicted about on how we should build CloudForecast.
From the very beginning, we were very focused on building a bootstrap business, cash positive, profitable, to a point where we've turned down offers to raise money or to be part of accelerators because it just did not fit our convictions and what we felt was best for the company. We recognize what we do won't be a unicorn. We operate a very niche market with Amazon Web Services. It could be a nice $15-20 million a year business. I think for us to get there, we need people behind us that understands that, that also have that same conviction, as well. So it was a very natural fit for us to apply one, two or three times. We would've applied a fourth time, as well, if needed and as many times as possible because we felt that it was just a perfect fit.

Rob Walling:
At the moment, CloudForecast annual recurring revenue is about $180,000. But I want to challenge Tony's assumption that this company can only be a $15 million or $20 million business, he might be thinking too small. As Tony and Francois get further into this journey, new avenues will open up that weren't obvious at this early stage. Maybe they sell at 15 to 20 million, or maybe they operated as a profitable company, or maybe it continues to grow. Any one of these options is life changing.
I'm not saying they need to think bigger, it's really up to them. But to think that CloudForecast can't get bigger or that it's not in the right space to do so, feels like a limiting belief. TinySeed is all about guiding companies on the path that best fits them. I asked Tony why he and Francois didn't opt to raise venture capital.
You could have kept bootstrapping and not taken any funding. Obviously you already described why you took money from TinySeed and the community and the mentorship and the guidance and all that. But I think, especially given that you and Francois had lived in The Bay Area, you have connections there, you had worked at a YC venture back startup in the past. You could also have said, "We're not going to do something like TinySeed. We want raise venture funding. With CloudForecast, we want to go big, we do want it to be a unicorn. And we want to go out and try to raise that pre-seed or that seed round, series A, whatever, that puts us on the track to get really, really big." Why not do that?

Tony Chan:
Yeah, I think it's a life stage lifestyle question that every founder has to personally ask themselves. As I alluded to, we did turn down possible venture funding that would bring us to a different trajectory at Perfect Audience that was an angel round. So it was on a VC track. We grew from zero to eight figures in ARR in about 18 months. That was a whirlwind. We were in our early twenties, we had the energy to do it. Francois and I worked long hours. It was fun, it was satisfying and it was great. And we had a blast doing it.
However, just looking back and pulling back, I don't think I can do that at my mid thirties at the moment and have that same energy. Priorities have changed, Francois and I are married, Francois is about to have a kid. I think as you grow older, your priorities and what's important to you, changes. Like at the time we were single, not married. So life was work all the time. Whereas now, life becomes our wife and spending time with them and going on vacation and having a good work life balance. And Francois having a kid, that is a milestone in life that changes as you grow older, that is quite different from your early twenties to us being in our mid thirties at the moment.
So I think that's a personal decision that we made. We've done it before, we experienced it, that was great. We don't want to do it again. It's also a business decision too, and how we want to frame our business model. So if you look at CloudForecast compared to all the other players in the space, they've all raised venture capital, they all have raised ton of money. But by doing that, they've all increased their prices a hundred folds and building a business model where it's a percentage of their AWS costs. That's because they're beholden to their investors, they need to be unicorn and they need to do that.
However, charging a percentage of your AWS bill, 4 to 8%, is that really in the best interest of those companies? I believe the only reason why they need to do that is because of the money they've raised and there's a level of expectation of growth that they have. Whereas for us as a mostly bootstrap founder, our business model flips. Like we are beholden to the user, we charge a flat fee and we feel that's the best way to take care of our customers and not have ulterior motives and be able to have that transparency as well that we have in terms of our business model. So it's a business model thing, as well, on our side.

Rob Walling:
In essence, you're able to use your competitors, perhaps their biggest strength, which is all this investment money. You'll be able to use that against them as a competitive advantage.

Tony Chan:
If we raised VC, they're all going to tell us the same thing. You need to 100X your price, and you need to go after enterprise deals that are 2, 3, 4 years that are huge, huge, and percentage of spend. We feel like flat is the most transparent way we can price our users and have them feel that we don't have ulterior motives on that side and our customers love that.

Rob Walling:
The ability to keep their price low is a competitive advantage for Tony and Francois. Not only that, but when you're beholden to venture investors, there can be an additional mental burden. Founders taking part in TinySeed won't have that experience. But the cash we've given CloudForecast has required its own mental adjustment.

Tony Chan:
I think our focus at the moment has been in a lot of different places. We're thinking about hiring, we're thinking about strategically, how do we leverage the investment that we got from TinySeed? It just feels like we're being pulled in different areas and direction. For instance, I spent some time yesterday just figuring out what contractor docs to use and figuring out the onboarding process. It's tiring to shift from doing those small tasks, to doing big picture tasks, to focusing growth, focus on marketing, making sure that our payrolls set, making sure our books are set and so on.
So it just feels like we're being pulled … or me personally, being pulled in so many different directions as CEO. So I think we're trying to figure out, or I'm personally trying to figure out what's the best way to mitigate some of those things? Being more disciplined, maybe set up different days for different focuses. But these last two weeks in terms of just hiring and being part of TinySeed has shifted our focus in so many different directions that the money has created more problems, good problems. But we have to think about our business in a lot different ways than we've never had to in the past.

Rob Walling:
Yeah. It's interesting you say that. I can imagine someone who is listening to this who does not plan to raise money. That might be a reason that they wouldn't is that they feel like it could complicate things. I think investors taking over your business has always been the … I don't know, the big fear. Because we see the news stories of founder CEO fired because investors, venture capitalists took over the company. That's obviously not something that's going to happen with our money because you guys are in control of your company.
I think some folks don't want investor because they don't want the pressure. They don't want to feel like they're being pressured to do something that they don't want to do. Or they have a boss. I didn't start a company to have a boss. But I think there's another element to it. You're bringing up perhaps the complexity that it creates. I'm curious, A, did you expect it to add more to your plate? And B, does it make you regret it? Does it make you think, "I wish we could just go back to the easy days of not having all this cash in our bank account to spend, to grow our startup."

Tony Chan:
I don't think we regret it at all. We have to pull back and look at the bigger picture of things. Like Francois and I can't be doing what we're doing as a business and as a growing business. It can't be just two of us for the rest of our lives. We recognize that on our side. We fully have come to terms that if we want to scale the business beyond what we're doing right now, we need to add more human capital, especially expertise in different areas to do what we've done, but do it a lot better.
I'm not a salesperson. I'm not a really strong SDR person who can hunt leads all day and every day. However, there might be people that have solved that problem before and have done a really, really good job. On the technical side, Francois always talks about not being really good on the front end side and he's not happy when he has to work on the front end. So finding someone to be able to bring that level of expertise in and being able to shore things up on that side, where we might have a lot of technical debt in, that is the key and importance of growing the business. You're taking your own expertise in what you've learned over the last two and a half, three years, and hoping to find someone who can really take it beyond what you do.
For example, for sales, I might be spending only 15% or 20% of my week on that. Just imagine being able to get someone that can spend 100% of their mental capacity on that. I think there is a bigger upside to get more people involved in the business than just Francois and I dilly dallying around with the same thing we went over. I think also by doing that, I think it will lessen the opportunity for burnout. There's a lot of tasks that we do that are very mind numbing and just very tedious. I'm happy to do that at this stage of my career for 4, 5, 6, 7 months. But I've joked with Francois that I think if I keep doing this for a full year, I might just lose it. I think there's some tasks on Francois' side, it's the same thing.
So it's just kind of lessening the load that we've burdened ourselves with and put ourselves on and put on our shoulders for the last two and a half years. And be able to push that to other people that are expertise in. So I don't think we regret it. Yeah, there's a level of complexity, but I mean, that's the part of doing business and that's the part of growing. It's growing pains, but we'll figure it out. The best part is being part of the TinySeed community and just being able to ping the channel and be like, "Hey, I'm dealing with this. I just asked about healthcare and how does that look?" We had a huge thread of more than a hundred messages coming in and people chiming in. So there's a level of comfort that we have that we have a community backing us, as well, and a family backing us, as well, that we can just ask questions and someone has dealt with that problem before.

Rob Walling:
There's a phrase I've been saying for years, venture backed companies fail when they run out of money and bootstrapped companies fail when they run out of motivation. I've spoken about this before. It's hard to feel satisfied as a founder when you're always looking to the next milestone. Money probably won't be the issue for Tony and Francois, but we will be keeping an eye out for signs of burnout. As we wrap up our conversation, I asked Tony about his expectations from now until the next time we talk.
Between now and the next time we chat, I'm curious, what's on your mind as maybe the biggest fear? The thing that you think is going to keep you up at night. Not literally, hopefully it doesn't keep you up at nigh., but what are you concerned about? What are you scared of?

Tony Chan:
Yeah, I think the biggest fear, there's a few. As mentioned, we are onboarding our first full time hire outside of Francois and I, a part-time hire on the growth side. I think the biggest thing that we're thinking of and the next time we chat, I believe that will be their first week of working. So Francois and I have pretty much a week and a half to think about, "How can we onboard them so they can be successful and do their roles and do their jobs really well?" Not only on a business level, but also how can we help them personally grow?
Them taking this job, it's not only for them to help us grow the company, but they're looking for external motivation, whether it's personal growth in certain areas, wanting to work at a startup so they can learn. But how can we be thoughtful and provide that opportunity so they can feel that they're contributing, but also growing personally as well? And that's scary to be responsible for a person's onboarding and not only on the business side, but on a personal level, as well.
So that's something that Francois and I are going to start thinking about next week in a half, in two weeks. The other thing too is like, are we making the right decisions? Are we spending the money the best way possible? We've been very conservative with how we spend the money and are we moving too fast? Are we moving too slow? Are we doing it the right way? Those are the decisions that we keep up at night because we care very deeply about how we run our business. We care very deeply about the employees we are about to onboard. We care very deeply about investors that are specifically TinySeed that have given us the money to be able to grow.
I think it's our biggest strength that we care a lot and is our biggest strength that it goes to a point where we want to be very thoughtful about it, but also it's scary. That can be a weakness as well because sometimes we can be too conservative and not be able to pull the trigger right away or make decisions fast enough. So I think it's a flip side. So in my mind, that's my biggest fear. Hiring and onboarding properly and big pictures, are we doing the right thing? That's something that we always constantly asking ourselves, are we doing the right thing?

Rob Walling:
And the flip side of that coin is, what are you most excited about? Most looking forward to between now and the next time we chat?

Tony Chan:
Yeah, it's related to that because at the same time, we're scared out of our minds and there's just so much thought process to onboarding and that is fear, but we're also trying to remember and think about the bigger picture is like, we just hired our first full-time hire. She will be ramped up in two weeks and the SDR should be ramped up in about a month. And if done properly, thoughtfully, and just being able to let them run with their jobs, this should help us scale our revenue and scale our company further.
So instead of Francois and I thinking about just everyday thing that we need to do to grow our business. We have other people that can help us now. It's kind of like Lord of the Rings, we're getting more people as we go on this journey to help us get the ultimate prize or achieve the ultimate prize. But it comes with a whole set of problems as we've been talking about. But I also have to have a big picture mindset that these are good problems to have on our side.

Rob Walling:
It sounds like Tony has a perspective to see how exciting the future looks and to give himself a well earned pat on the back for all the progress CloudForecast has made. Check in next time to see how Tony's new hires onboard and adapt in terms of both business success and personal growth. Plus, we'll see how the team at CloudForecast handles the new spending power that's burning a hole in the proverbial pockets. That's next week on TinySeed Tales.