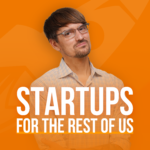 In episode 603, Rob Walling chats with David Darmanin, one of the founders of Hotjar. Hotjar was bootstrapped to $40 million ARR with a fully distributed team of 170 employees. David and his cofounders sold the company for a 9-figure exit in 2021.
From their incredible launch story and their unique DTC approach to sales and marketing in a B2B SaaS business to David's mental models and the thought process behind selling the business, there is no shortage of key insights in this episode.
Topics we cover:
[5:07] How David initially financed building Hotjar
[8:11] The biggest difference between Hotjar and its competitors
[12:03] The unique approach that David took when launching Hotjar
[12:44] Lessons learned from a failed product launch prior to Hotjar
[15:01] How they built their initial launch list to 60,000 subscribers
[19:32] How to know how much to spend on paid ads
[24:53] Why David said it was easy to work 60-80 hour workweeks for the first 6-9 months of Hotjar
[27:22] The two key ingredients needed if you want to sell a low-priced SaaS product
[30:31] How they tripled their growth from $1M – $3M in the first year
[33:26] How their initial launch strategy gave them a major competitive advantage when they started doing content marketing later on
[34:03] What led him to sell Hotjar
[40:39] How long the exit process took
Links from the Show:
If you have questions about starting or scaling a software business that you'd like for us to cover, please submit your question for an upcoming episode. We'd love to hear from you.
Subscribe & Review: iTunes | Spotify | Stitcher
Rob: It's another week and another episode of Startups for the Rest of Us. This is episode 603 and in it, I have the most incredible conversation with David Darmanin. He's one of the founders of Hotjar and I had not realized that Hotjar had been bootstrapped to $40 million in ARR, 170 employees, a fully distributed team, and that they had exited for an obviously incredible sum. In that ARR, we're looking at a nine-figure exit. 

What I hadn't realized was that they had bootstrapped the company and so much of the early marketing was DTC. It was a direct-to-consumer approach with their launch and even with the way they thought about it in the early days. I was honestly blown away by David's approach to entrepreneurship. 

I'm just surprised he hasn't been on my radar before as a bootstrap SaaS founder who almost immediately struck me as one of us. Someone who might listen to this podcast or someone who should attend a MicroConf. After we recorded this episode, I actually asked him straight up. I was like, you and I need to meet at some point. Would you come to a MicroConf? There is one near here.

I think that there is a future with David because of the amount of wisdom he has and his posture of learning. If you've listened through this interview, just all the books he named, and he just wouldn't know a subject so he'd go read all the books on this subject. It has books by Seth Godin and a lot of classic books Selling the Invisible. A lot of classic books that we talk about in our circles. It was such a good conversation. I actually let it run long as you'll notice by the episode length. I honestly didn't want it to end. 

Before we dive into that, I want to jog your memory for episode 569 of this podcast, which came out last September. It's called The Life Changing Decision of When to Sell Your Company. It was with Anna Maste who started Boondockers Welcome with her mom. MicroConf played a big role in her deciding not to sell the company and then she later sold it for an incredible sum. 

She has been interviewed on another show. It's called They Got Acquired. We will link that up in the show notes, but I never tired of hearing Anna's story because it is so inspiring for someone to have done this on the side while raising kids, as so many of us have done, and to have had such an exciting journey and for it to have ended the way it did. 

Anna actually recently did an attendee talk on MicroConf here in Minneapolis and it was great to finally meet her in person. If you haven't checked out Anna Maste episode 569, you should. As well as her episode on the new podcast, They Got Acquired. With that, let's dive in to my conversation with David Darmanin of Hotjar. 

David, thanks so much for joining me on Startups for the Rest of Us.

David: It's an absolute pleasure to be here, especially having seen your story and how much we have in common.

Rob: I know. I am so happy to have you here. You are quite the success story having built Hotjar, effectively bootstrapped to $40 million ARR, and then you sold it last year. A hundred and seventy employees, 100% distributed, which we did with Drip but a lot of people weren't doing that. A lot of people were building their companies in an office or with a couple of different offices. 

Before I get into it, if people haven't heard of Hotjar, your H1 is to "understand how users behave on your site, what they need, and how they feel fast". It's behavioral analytics. You can screen records of customers' heat maps, that type of stuff. We actually used it at Drip. This is the definition for me of mostly bootstrapped. On the show a lot, I say bootstrapped and mostly bootstrapped startups because you brought in $300,000 of your own money and your ex-boss, who you brought in as the entrepreneur in residence, put in $400,000. 

You did have some capital to start, but my understanding is you didn't raise any capital after that and to build a business on $700,000 of your own money, not outside funding, to $40 million and then to exit, and I know your purchase price isn't public, but for listeners, it depends on growth and stuff but pretty easily four to eight times ARR. We know this is hundreds of millions of dollars. I'd say it's a pretty easy couple of hundred million dollars exit. Again, you don't have to confirm or deny any of that. 

That is really an incredible journey and unlike many others that I've heard like MailChimp was this massive, mostly bootstrapped exit. Hotjar has to be in the top 10 that I've heard about. It's pretty incredible. 

I think a big piece of your story is so unique because honestly, we could record two hours here. There are so many interesting story arcs we could tell. An interesting part is that you brought a DTC approach to building a B2B business, a direct-to-consumer approach. Do you want to talk about, is that your CRO background that brought that in? Then maybe explain to folks how you approached building this B2B SaaS company as more of a direct-to-consumer marketer?

David: Yeah, I think that's a great point. Before I answer that question, I'll also clarify because I think it's interesting from a bootstrapping point of view how we finance the business as well, to clarify a little bit of that. The figures that you mentioned actually didn't even come all at one go. The format was and I think this was something that resonated a lot when I heard your talk, which is that I was working as a consultant. I was making really good money but it wasn't fun. I wasn't enjoying it. I wanted to build equity, I wanted to build a product. 

What I did was for the first six months of the business, I continued to work as a consultant and in parallel as CEO but I invoiced all my clients throughout the business. That was actually the first revenue. That's where my share, the $200,000 came from, which is quite interesting. Then my ex-boss, Johan, put in I think was around $200,000 only in the beginning and that was it. 

Then later on, when I really felt the need to scale things up, we put in another round, which we never really needed or used. We discarded it because then we were profitable immediately. I want to say that also because I don't want to give the impression that you need that amount of money to do this. It really wasn't completely needed. A lot of it was we're very lucky to have had that cash to have saved it up and he was a successful entrepreneur so that definitely helped. 

Coming back to your question about the direct-to-consumer. There are two pieces to that. First off, all the cofounders worked in Johan's business. Johan employed me and then I employed Jonathan and Mark and then Eric was hired by someone else. I think the person actually hired him and then ended up joining Hotjar […]. 

We were a direct-to-consumer company. We were making software for PCs back when smartphones didn't exist. This was our bread and butter, what we know. More importantly, none of us had any experience in B2B before. I remember that I think that the key point for me was this light bulb moment was reading the essay by Paul Graham, which was even back then quite old and spoke to the consumerization of the enterprise. 

The principle of this piece was that the way enterprise software is sold doesn't make any sense and the more human way that we sell consumer products is very likely going to take that over. When I read that, I was like whoa because I felt this, and I had been through it as an executive in that first software company. We're buying software that is just so horrible and we couldn't get access to it. We built Hotjar in a way for ourselves five years back, but also building on that vision of what we knew was to come. 

In fact, one of the most important premises that we had for building Hotjar, for our success was not only the go-to-market strategy in the model, but also, it was a very basic premise that we were going to build the best support that we possibly could because we knew that that was such an important piece of selling in the way that we sold.

Rob: Got it and talk to me about that support piece. Did you just have a lot of really good customer support people? Concretely, what was the biggest difference between you and your other competitors?

David: I was reading a lot of books around the time, and to be honest, I think in my previous job, I was speaking to the founders yesterday, Conversion Rate Experts who hired me. It was my first remote job. I remember landing this role and traveling to the UK and I was just so blown away that I had read no books compared to this crowd I was meeting. 

I quickly made the list and started reading. This had a huge, huge impact on me. I think around this time, I'd read Delivering Happiness, which had a really big impact on my mindset. There was another book Selling the Invisible, and it just made so much sense that when you're building and selling something, which is not really that tangible, with Zappos it was more tangible, but especially in SaaS, the experience, the exchange, and the relationship is digital. 

Ultimately, we decided that we would think about support in a different way. One of the very first things that we wrote, I think came before our values, was what we called our ethos. We wrote an ethos of how we behave with the customer. I think it's still public. If someone had to Google for it, ethos Hotjar. 

Basically, the principles spoke around things like very basic tactical things. Like say pm, deliver am. Never over-promise. It's always our fault. I think it culminated in the users are gods. If they didn't put their trust in us and we didn't exist. Later, we translate this into a value we call respect. It's absolute total respect that we're not business just transacting. There are people at the other end of this and we need to treat them with the right respect. That I think was the fundamental piece here.

Rob: This week's sponsor is Trustshoring. Trustshoring helps you find reliable pre-vetted developers of software development agencies. Turn to Trustshoring if you need to build an MVP, scale your team or product, or have issues with your current developers or codebase, and need guidance on your SaaS journey. Trustshoring makes software development and remote hiring easy for all kinds of founders, technical and non-technical. Book a free no commitment call with Trustshoring CEO, Victor Purolnik, who I met at many MicroConf. Visit trustshoring.com to book that call. That's trustshoring.com. 

I have an ebook that I wrote called Start Marketing the Day You Start Coding and the idea is always that especially software developers go and they build in the basement for a year, then they come out and nobody wants the product because they didn't build a launch list. They didn't do any pre-marketing. 

These days I would almost call it to start marketing before you start coding. I have a friend who launched this amazing SaaS company. He built the marketing website and started doing SEO 18 months before they were able to launch a product because SEO takes a long time.

I have always been a proponent of even if I'm going to do a lot of customer development, I have a lot of one-on-one conversations. The first thing I do when I have an idea is to get a landing page up. I've pre-sold or built launch lists for downloadable software back in the day to 10, 12 years ago for SaaS, we did it for Drip for info products and courses. 

I did it for a book, Start Small, Stay Small. MicroConf was literally a landing page before we had anything. TinySeed was a landing page before we had a fund and all that. A lot of people still don't do it. You started with a landing page and you started marketing while folks were developing the alpha. In fact, I think at some point, didn't you have 60,000 emails on a launch list?

David: Yeah, and we were largely inspired by Robinhood who was doing this really, really effectively. I think it was around 2014. I remember years before I saw the Gmail launch with the beta that they did with the invite of five people and everything. I was like oh my God, this is amazing. I want to run a beta one day. I never managed to do that. I had read a lot about betas and how they run and alpha, so that was quite interesting. I love doing research, you'll notice. 

When we came to launch Hotjar, there were two things that influenced us a lot. One was a failed product that we had done before, which was basically us being smart about what we can build that we can sell. We were doing it completely the wrong way around. We built a SaaS product for the retail and hospitality industry, which was like a loyalty program. It was building in all the marketing things that we had built over the years. 

We learned a lot doing this about what makes people act and how you can drive loyalty as well, but we had no idea how to sell this because we didn't know the industry at all. That was a big mistake. That was number one that is very inspiring to us about how we do this. 

Number two, the research that I spoke about, the whole beta thing. What did we do? There were a few steps that we did. The first thing that we did, actually, even before we started looking at an alpha was an interesting story. I wanted to make sure I was bringing people together and that we were working on different projects. I wanted to make sure that we could work together. 

Actually, we built this very weird, stupid product which is called Prioritizer. Basically, it was this basic interface where you input ideas, then you vote on them, and it automatically prioritizes something for the group. We built that very quickly and the idea was that we wanted to see whether it was a team fit even before there was anything else. We did team fits very quickly. Again, all of this is born from failures. I wanted to make sure I avoided previous failures. 

Having done that, we did two things in parallel. Jonathan and I, Jonathan is the designer's front end and I had a background in design, started building the interface of what it would look like and the landing page. I'm drawing on my Conversion Rate CRO experience, and the engineers started building the alpha. Is this actually possible?

By the time they had the answer data-wise because Hotjar processes a huge amount of data. When we knew that it was feasible to do this at scale and offer this to thousands of teams, we immediately pulled the trigger on the landing page, which said, here's what we're offering, are you in? 

We did all of this that I mentioned within the span of I think around two months. It's been two months and it is done. We immediately knew we were onto something because as soon as we shared this with some friends, we started seeing people come in that we didn't know. Names that we didn't know. It was spreading. There was word of mouth and it was at this point that we knew that we were scratching an itch that many other people had.

Rob: How did you build up that list? Were you running ads? Was it social?

David: That's a good point, 60,000. 

Rob: That's a lot. My biggest launch list ever I think was 4000 or something. I hustled that so I have a lot of respect for 60,000.

David: I missed that important part of the question. Johan and I, back in the previous company, had done a lot of direct marketing so we had a very good understanding of the fundamentals of the acquisition costs of a user or a customer, in this case, it was a customer. Also, we had done so many ads at scale in that software business that we were doing a few years back. 

Having said that, previously, we didn't have word of mouth. This was more kind of direct marketing selling software kind of thing. What was interesting to us is that we were seeing word of mouth in the initial stages of doing this program that we did so we started to layer in some of the things that we learned from the previously failed product. We had stuff like if you recruit five friends, then you get x months free. If you recruit more friends, you get a t-shirt. Those were fixed rewards. 

Then we also had more competitive rewards. If you're in the top 20 of the list at the end of this, you get a lifetime account of Hotjar—which was for many agencies and people using software like this—was mind-blowing. Contracts for this type of software were in the $30,000, $40,000, $60,000, and $80,000 so they were like holy […], this is huge. The perceived value was very, very, very high and then we did other competitive kinds of things as we went along. 

We also told people on the list and gave them ideas of what they could do. Send a blast to your email list, write a blog post, and then go promote it here. We were literally like building a team out there that was kind of promoting this for us. 

We started to see that the word of mouth was working really well. In tandem, we also deployed what we knew and paid. I had done a lot of research about how paid works and I'd studied some of the pioneers in this. When we think about books like advertising methods from the '50s and '60s. I read a lot about this. This was very easy for me to do on the side. 

What did I do? I went to Facebook and I targeted the personas of who we were, the founders of Hotjar because that's who we were building it for—digital marketers, product designers, product managers—and I started testing loads of different variations of ads. We were very lucky that Facebook had quite recently started offering this so it wasn't very competitive. It wasn't expensive. It was very easy to target large groups of people. 

I tested different visuals, different ad copy, and different positioning. Within two to three months, we had found this really, really effective ad proposition. Then what we did was we took that and back then there was already this feeling that email is kind of dead. We knew that was not the case. We went to big publications that had huge email lists, imagine Designer Monthly, for example, or Smashing Magazine and whatnot. 

We went to them and said hey, we've got this really valuable, interesting new product, which is in beta. There's huge value to your readership. How much do we have to pay you to do an email blast of your whole list and then we just started doing this over and over using that high-performing ad from Facebook. This just exploded. We were buying, but we were getting email signups at the cost of $5 or $6. It was very, very effective. 

Then we also worked with platforms like Earlybird and BetaList. We're also lucky because this was the year I think that Product Hunt launched. We were one of the very first self-hunted Product Hunt. We layered a lot of these things. 

Then what I was also doing was writing a weekly email list to everyone on the list telling them what we're working on, the internal workings, and the challenges that we're facing. Rather than doing content, we were leveraging word of mouth, paid marketing, and then sending emails to our group to kind of create this a little bit of a community, which helps again spread the word and what more. This word of mouth, this kind of mobilizing the community was always reducing the overall cost of getting that email, which is the way we saw it more holistically.

Rob: Right, and to do this and pull it off, you need to know your numbers. That's what so many people who start to get into paid acquisition don't realize is that just hearing it's $10 a click for this or it's $2 a click. If you don't have an idea of what the rest of the funnel is going to look like then you can't do this well at scale. 

You must have known in your head if I can buy an email, again you're not buying the email, but you're paying to get someone to opt in to an email list for $5, that might sound really expensive to someone. Five dollars just to be able to communicate with someone. But you must have had an idea, well, we're going to convert X percent, We have the cash in the bank and the lifetime value is this, 

The virality, the viral loop that you added with the word of mouth means if every email turns into three emails, then I'm only paying $5 divided by three. That's how I would think about it. Is that what you were thinking as you're doing this?

David: That's a very good point. Interestingly, I've never covered this topic. We've been interviewed a lot about this, but no one ever asked about it. But you're right, we spent a lot of time back then. We literally drew out the funnel and we said, okay, what if we convert at 5%? What if the lifetime value is this?

We modeled out very low prices, but we'll do an upsell price. Let's say we can convert 20% of customers to a higher price. We were very lucky, in a way, to know these fundamentals having run a direct-to-consumer business before to understand what that engine would look like. Then definitely takes the guts to also burn €10,000, €20,000 on first failing.

The ads are not going to work. Also, you need to push on some of these ads. You need to put money behind it before you start to see the conversion rate go up as well. So there's a little bit of that going on as well.

Rob: You had a luxury with five people working on this product that you could focus yourself on all this marketing stuff on sending a weekly email to a launch list. I know a lot of solo founders and they're trying to build the product. They're trying to support early users and they're trying to get marketing going. It's definitely a challenge.

I can see if you're working with high performing people. If your founding engineers are really solid, there is an advantage of you being able to focus full time on marketing. It sounds like a lot of work and it sounds complicated, I know it's not.

I've done a lot of stuff. I haven't done the viral thing you did, which I think is brilliant. But all the other stuff I have, I've run ads at a decent scale. I know that it is like a part time job, if not, more just to keep those things running because they burn out and you got to recycle the audience. It's not set and forget.

You send in an email every week. That's not 20 minutes of work. That's half a day, maybe a full day for putting graphics in if you're doing screenshots, if you're doing a screencast, whatever it is. That seems like you're being able to dedicate that time and expertise.

I've been talking about it. Success is hard work, luck, and skill. I know you said you got a little lucky, but I think you put in a ton of hard work. I think you had a ton of skills that you had built from these prior experiences as a marketer and a product person.

When it came down to it, I have a number here that after adding a paywall, you get this big list that you wound up closing 5% of the initial launch list to convert it to pay. Is that your recollection?

David: Yeah, it's complicated. Back then, we didn't spend a lot. I'm glad that we didn't. We didn't spend a lot of time on measuring these things to the absolute detail. There's a lot of faith in these things would work out.

In later cohorts, we knew we were converting at around 5%–7%. I suspect from that initial group, we probably converted even higher, but I suspect we also churned more of them quicker. We don't care about that because that was our initial group.

We consider this to be the wave that really created the brand that is Hotjar that then lasted for years, still until today because then there are many other things that we did that I think were very smart. Anyone who was in the beta and became a customer, we put them on our founding list first. We put a page with their names.

When we went live, there were a lot of initiatives and things that we did. I think that initial philosophy of taking care of the user and thinking about them really was effective. A small detail, anyone who made a suggestion or reported a bug, we would personally get back to them and thank them when we either fixed it or actually did it. This was something that we insisted upon. It was just so effective.

Rob: I want to call out to listeners that when we watch these launches, whether it's Apple doing it, whether it's Superhuman, the way that they built up their big launch list, Robinhood, like you said, mint.com was similar back in the day, they don't happen by accident. It's not luck, it's a ton of […] work. Just hearing you talk about it, I want people to understand it because there are some folks or audiences, 75% developers, maybe 80%.

I'm a software developer as well. I don't write much code anymore, but I know that back in the day, I felt like the hard work of doing this was building the product. I would look at people like Robinhood, Mint, or Hotjar get this momentum and I would think, well, I guess they got lucky.

Maybe I'll kind of try to replicate what they did not realize you were probably putting 40, 60 hours a week in plus I bet our co-founder was working. This is a true months and hundreds and hundreds of person hours to get this kind of result.

David: I think you can top bill those hour numbers. Again, keep in mind, my role was I was kind of—a CEO at that size doesn't make sense, it was more of like a product team. I was kind of the product owner, although Jonathan was more than the product manager. He took on more because that was complicated.

Then it was running marketing. Johan was doing all the media buying, but he was also helping with the product strategy and all that stuff. Then we were all doing support, all of us. I was also consulting on the site to keep that money coming in.

This was six, nine months of 80-hour weeks, including the weekend, so everyone, all of us. This was the price we knew we had to pay for if we were going to bootstrap this. The good thing I think that we did is we sat down and we said, okay, are we ready to do this together?

We knew that there was a very, very good team spirit at this point of, let's do this together. The goal is very clear. What we're trying to do is very clear. Yeah, it worked out very well.

Rob: Yeah, it's obvious. I've had seasons of 60-, 70-hour weeks, but I know they're a season. Usually, it's a month or two. You did it for an 80 for 6–9 months. I know that must have been really tough, but you weren't going to do it for 10 years. You knew that. You knew it was going to be a big push and that you'd be able to back off.

David: Yeah, but I would go as far as saying, back then, it was so easy to work those hours. Compared to last year, that was so easy because none of us had ever experienced anything like this before. When you have 60,000 on the list, we built this little dashboard that updated everything, it was so clear that we had a product-market fit from a concept point of view.

You're right. Yes, we worked our asses off. But if the luck is not there, there's been studies about this, timing is the highest, I believe, contributing factor towards success in a startup. The timing for us was just absolutely brilliant. All the incumbents were still selling at very high prices with a sales approach. When you think about it, it's crazy that in 2014, this industry, there was no product-led approach. Just wait another year and that was out.

There were just so many emails and inbound interest and people emailing us. Agencies were saying, how do we get in? People want to invest. It was just insane. The energy behind this, it was easy. But yeah, we wouldn't have managed to do this for much longer.

Rob: I want to call out to listeners. Often on this podcast, I talk about how selling a low-priced product, $20, $30 a month, you're not going to get to millions or tens of millions in ARR. It's not a hard and fast rule. But it means if you're going to do it, you need to have massive volume. You prove to the market out in advance.

If you had tens of thousands of people on an email list, 60,000 folks, if you had done all that work and had gotten 3000 people, the business would have been fine. You would have had a few hundred customers. It would have been an okay, I'll say a mediocre, SaaS business because the pricing is too low. But when you have that wide of a funnel or that large of an audience and you're as good a marketer as you and your co-founders are, that's when you can make a low-priced product work.

David: I think fundamentally, that is what led to the successful recipe that is Hotjar, which is I mentioned that previous software that we built for the hospitality and retail industry. It took us months, we're building this product and building and building. Then we realized, crap, there's a winner here already in this category in the US.

There's a ton of money. They're a massive brand, huge. I think at the same time, I read the book, The Dip by Seth Godin, which speaks about this. The first, second, and third plays in the category are the big winners. And I suddenly realized, we weren't thinking big enough. It was as simple as that.

We have to think much, much bigger, but play to our strengths. I think that's where I suddenly realized, I'm using these tools to try and build these new products. But actually, what I should be is disrupting the tools that I know so well and there are hundreds of thousands of people that want to use.

Rob: I love that you keep referencing, I read a book, I read this book, I did this research, I read the Paul Graham essay because I'm exactly the same way. I'm looking at my Audible library. There are 782 titles in my Audible because I am an audio person. Some of them are my kid's, but I have probably a hundred of them. I have listened to them. If I don't listen to them, I get rid of them. I'm exactly the same way.

When I wanted to learn Facebook ads back in 2011, 2012, my SaaS was called HitTail back then, I went and I bought every ebook, I bought every course. I read every blog post that you could find in the first five pages of Google about how to run Facebook ads. Then I dove in and did it, and it worked.

I was willing to grind it out for, like you said, willing to risk a few thousand bucks, willing to risk hundreds of hours of my time. I like that. To me, maybe it's a bootstrapper ethos or maybe it's just a founder ethos of being willing to dive in and learn things that you don't know and then execute well. I love it.

You grew to a million ARR six months after your beta launch. Then from 2015 to 2016, you went from $1 million to $3 million ARR. Really fast growth. I think I'm getting these from Built to Sell. My producer listened to your interview on Built to Sell.

Shout out to John Warrillow. He's actually who connected us. I love what John's up to. I appreciate the connection because he said, David is an amazing founder and has an amazing story. I was like, what? Any SaaS, right? It's right in the wheelhouse of this. I appreciate that.

Obviously, the 60,000-person email list got you maybe to that initial million, but then you tripled again in less than a year. What were you doing there? Was it just more of the same? Was it ads, was it virality? What was the playbook?

David: Classic advertising principles, more of the same. We just kept on doing more of the same, making it more sophisticated, and then I introduced this very simple way to run the business. I love simplicity as a true product design person.

What we did was we created a very simple spreadsheet, month by month, which lists income and expenses. Then we had very rudimentary forecasts of our MRR. Then I introduced something which we still use until today, which is we had the profitability goal for the year. We'd say this year, we want to have 90%, 10% EBITA. I'm just inventing that as a number.

The Google Sheets would automatically attribute the 90% to our expenses in terms of budgets, so 90% of the MRRs. Then I split that. I did some research about typically how much is spent on product marketing and SaaS products. I allocated that per department, which didn't exist back then.

Over time, we tweaked the profitability number, and then automatically, the leaders we were hiring had these numbers already there so we don't need to approve, discuss budgets, and whatnot. Why was this important? Because this automatically assigns the value, which within marketing would then go to the subgroup which is advertising.

That number automatically grew month on month and we knew we just had to spend this. It had to be done. We didn't overthink attribution on that because again, going back to the very beginning of where we started from, we know that we would have someone using Hotjar who has a mom-and-pop shop, but their cousin is the CMO in enterprise business. How do you measure that? How do you attribute that?

With this big goal that we had of becoming the winner in the market, we looked at attribution on a more global level, not on a campaign level. Having said that, on a campaign level, we just look at, are the signups coming in or not? We didn't obsess too much about the quality of the signup. What does that mean? 

If we run a campaign and we're just getting no interaction at all, no one's creating a Hotjar account, we know it's inherently bad. The ads are not working, the channels are not working, it's the wrong audience. But as long as we're getting those good numbers on signups, we didn't care because we wanted to build the foundations of that.

There was also something else that was happening at this time. What we didn't realize is that initial campaign that we did, where we told people to write a blog post, email people, what had happened was we had an army of people that had written on Quora, blog posts, everywhere with all these backlinks.

Another thing that happened was that we had feedback tools within the product group. Each survey that was running on a website was a backlink again to Hotjar. We started to build so much domain authority, and this was always our strategy that then was quite late for us. We did kind of the opposite of what everyone was saying.

We started content then. We were starting off with a domain, which was the strongest hubspot.com, nearly, which is crazy. We're still lagging behind on content. That was great from a marketing flywheel point of view where things build upon each other.

Rob: Yeah. There's so much to your story. If you and I didn't have a hard stop in 10 minutes, I want to keep going on it. I want to make sure we cover your exit because I think not only do you and I shared some thoughts about it before we started recording, just the agony and the stress of what an exit can feel like, but it's just such a nice cherry on top of this incredible business that you built.

I think a big question I have is, if you bootstrapped this—5 founders, 170 employees, $40 million in ARR, what made you decide to sell? Why not keep running it?

David: I think we're going to need another hour with that question. I'm joking.

Rob: I did a whole talk on why I decided to sell Drip.

David: The best way that I can summarize it is because I agonized over this for a very long time, and as you know and you mentioned it, it's horrible because there's something you need to keep a secret. It's something you want to speak, talk to people about, but you cannot. That becomes a very internalized debate.

I think the best way to summarize it is, logically, I knew we had to do this. Everything from a logical standpoint made sense. We can discuss what that looks like, how we built up the logic. But from the heart standpoint, it felt wrong in every way. I think a little bit of it because we built Hotjar with a lot of soul, love, and care, that kind of felt like the whole selling-out piece, which I now realize is absolutely wrong.

If we look back at the beginning of this journey, we shifted away from selling our time to building equity, to building a product, and to building something. I think intrinsically, if something cannot be solved, then it doesn't have value. I think it always has to be on the table.

We were always honest with the team. We're not actively looking to sell. We're not actively looking to go public. This is a private business that would be profitable and sustainable that lives to our vision and cause. But if the right offer, if the right thing comes across, we will definitely consider it. We always said this. This was definitely a case of this was something interesting. Let's break that apart. 

First off, I think in a personal space, I was in a tough spot. Quite honestly, I wasn't enjoying being a CEO at 170 people. It wasn't what I wanted to do. I am a product designer. That is my background with a bit of marketing in there. I'm a creative. I think when we reached that size, I wasn't enjoying it. It was very clear what had to be done, but I wasn't enjoying doing that work.

Again, another book I read was The Great CEO Within, which talks about eliminating the things that don't give you energy and doing more of the things that give you energy. Part of why I felt very tired was also with no investors, there was no board. I'm chairman, company secretary, board member, CEO, shareholder—the whole thing. I start to realize, actually, I can make this more fun if I am the board and the chairman looking at where we take this company.

I read the story of Patagonia, Let My People Go Surfing, another great book. This sounds much more like a good match for my soul. I was very lucky to find the amazing leadership people to join the company, one of which is Mohannad who is our CEO today. We started working on this transition where I would become the chairman, he would become the CEO.

With this pretty much completed but not public yet because as a remote business we have to incorporate in different countries to make this happen so it was crazy, Contentsquare had already spoken to us quite a few times and approached us again. And this time, it was serious. They were planning to raise a big round. This was early in 2020, '21.

Again, it was an immediate no. There's so much going on. We have a plan. We're building this out. We now have a just cause. We took something out of Simon Sinek's book about just cause. It felt very exciting, it was a good time.

As the months progressed and as the numbers started coming in, actual offers, when we start to look at, okay, there is a similar philosophy, there's a similar ethos to how they're building the product and their vision of the future of what this would look like, they've agreed to keep the business separate. That wouldn't impact our team. The team is not going to get screwed over.

Our customers, they don't want to change anything. If anything, they want to learn from us. It's not a takeover to take over the data or the product and all that stuff. Those are done. Those were the very big things. But then we also started to crunch the numbers.

We created what was called a loyalty program for the team. We said, although we're not planning to sell, although we're not planning to go public, in the event that this happens, a percentage of the company's price would be distributed to the team in the form of bonuses.

When we put this, we started to think, okay, I would never be the CEO of going public, but maybe Mo would want to, right? We started to visualize all these different outcomes. When you start to look at the price they were giving us and the likelihood of other outcomes happening, this was just a no-brainer.

Everyone would come out as a winner. Then on the back of it, Hotjar was facing some challenges to invest faster in technology, to invest faster in the product. There was a lot still happening, a lot of businesses, forming partnerships, and acquiring each other. It was very clear that the industry is coming towards this consolidation that is happening.

It just made so much sense for us to do it with them. There was the previous relationship, the history, European. They also have the bootstrap history as well, they raised. It just made so much sense, logically.

Rob: Yeah, a lot changes when you look at a piece of paper that has several commas in that number. I remember everything was hypothetical for me until I got a first offer letter. I think it was probably a letter, an LOI. And I was like, wow, that is literally millions of dollars. That could be in my bank account if we sign this thing.

When it goes from theoretical to practical to reality staring in the face, a lot changes. Some soul searching goes on. You know I've referenced my MicroConf talk 11 years to overnight success. That's on YouTube, if folks want to check it out. I talked through my thought process of doing that. It was complicated. It was not a no-brainer to do this stuff. For us, it was 11 months from the first conversation to close. For you, it sounds like, was it a couple of years?

David: No, not really. Actually, it was months from getting serious to actually closing. As I said, there was a relationship that spanned years more of inbound interest that we never took seriously, funnily enough. It was always like, yeah, whatever kind of thing. It was fun, though, because I also developed a relationship with the other CEO and we talked about challenges and things.

I'd say from a money standpoint, Hotjar was incredibly profitable. We even did a dividend. To be quite honest, I already felt quite financially independent. I knew that I was good. But to be honest, there was also a little bit of pressure I was feeling from the co-founders, so I think we're getting tired of all this. There were many 80-hour weeks being done.

They were kind of starting to question, listen, what's going to happen here? There were also members of the team thinking, where's this going? Where's this taking us? I think the fact that Contentsquare had even more ambitious, bigger plans, I think part of it, to me, was actually more making this less about David as a founder because it was becoming that.

I didn't like the pressure, the weight on me, and making it more about this movement. To be honest, there was a very big thing that I spoke to them about, which is we showed them our just cause which was quite bold. And I said, this has to be about just cause. We talked about building a just cause together.

We talked about building a B corp or becoming a B corp in the future. What would it take to go public potentially together to make this a long-lasting business? That was another of the objectives that we had that I had listed when I started Hotjar.

Selfishly, to be honest, obviously, there's the money. When you start looking at this, not only do I never need to worry about this, but my kids and possibly even their kids. That's huge, and my sister, and all that. I think selfishly, it was less about the money and more about removing that weight from my shoulders, which had come to be a little bit too much for me.

Rob: That sounds like it. David, I think you and I could honestly talk for hours and we should. We need to get together in person here in the next year once the veil of COVID has lifted.

If folks want to keep up with you, you are David Darmanin. It's just your first and last name on Twitter. Of course, hotjar.com if they want to see what you're working on. Thanks again, sir. Thanks for joining me.

David: Thank you. Again, an absolute pleasure.

Rob: Hopefully, now that you've listened to that, you understand what I was saying at the beginning of the show. Just David's approach to things, his mental models, just the sheer intelligence and execution just emanating from him is really just so inspiring to me. I want to thank David for coming to the show. I would not be surprised if he were on future episodes of Startups For the Rest of Us. I do hope to be able to meet up with him at some point. 

Thanks for joining me again this week. If you enjoy the show and you want to do me just a small favor, a five-star review in whatever podcatcher you use would be amazing. With that, I'll be back in your ears again next Tuesday morning.