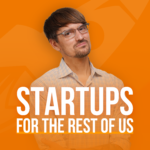 In episode 598, join Rob Walling as he answers listener emails. Topics range from diversity in the startup ecosystem and when's the right time to write your company's mission, philosophy, and values to how to find good business ideas and the different approaches for developing features for a new app.
Episode Sponsor:
Microsoft for Startups Founder Hub
Microsoft for Startups is on a mission to help all founders innovate and grow no matter their background, location, or progress. Microsoft for Startups Founders Hub is a platform that provides founders with free resources to help solve startup challenges, including access to Azure credits, development tools like Github, mentorship resources, Microsoft collaboration and productivity software like Teams and Outlook and more. The program is open to all and takes 5 minutes to sign up, with no funding required.
Learn more aka.ms/startupsfortherestofus
Topics we cover:
[1:21] MicroConf Remote 4.0
[1:59] Improving diversity in the startup ecosystem
[8:11] Is bootstrapping the great equalizer in business?
[8:51] The right time to work on company values, mission statements, and philosophy
[14:02] Developing features for a new app
[15:18] How to figure out your minimum lovable product
[21:18] How to find business ideas
Links from the Show:
If you have questions about starting or scaling a software business that you'd like for us to cover, please submit your question for an upcoming episode. We'd love to hear from you.
Subscribe & Review: iTunes | Spotify | Stitcher
Rob: You're in the right place. It's another episode of Startups For the Rest of Us. I'm your host, Rob Walling. Every week since 2010, we've been shipping content for ambitious startups; founders who want to maybe not change the whole world but just change their little corner of it.

Thanks for joining me today. I'm excited to dive into listener questions with Rob's Solo Adventure. Today, I'm going to be talking about things ranging from diversity in startups to timing for mission, philosophy, and values, how to develop features for a new app, whether to go wide or go deep, and several others.

But before we dive in, I want to let you know that tickets to MicroConf Remote 4.0 are now on sale. For this event, we'll be talking about all things finance for bootstrap founders. We're going to cover topics like pricing, budgeting, accounting, financing, and investing. The event is virtual. It takes place on May 3rd through the 5th from 11:00 AM to 12:30 PM daily. I believe that is Central Time, but I will need to check on that. Register now at microconfremote.com and use promo code MCmoney (MicroConf money) at MicroConf Remote to get a special deal. Hope to see you there.

My first question is from Justin at beamjobs.com about diversity in startups. Justin says, "I'm a huge fan of the podcast. I've been listening quasi-religiously for about four years. Working in the hiring space, I see firsthand how subtle and not-so-subtle factors conspire and leave certain groups of people massively underrepresented in tech. 

I'm curious. As someone who's been in this space for many years, how do you think about these issues? More generally, for those of us that value creating a more equitable and diverse startup ecosystem, what are some things we can and should do to make that possible?" Great question. Thanks, Justin.

I think I'll start with the end in which Justin asked, what are some things we can or should do to make it possible for there to be a more diverse startup ecosystem? That is Silicon Valley. It's venture-funded, bootstrapped, and mostly bootstrapped. I see that as a win for our companies and for the entire ecosystem, the more diverse opinions and individuals that we allow in, encourage to join, or make feel safe enough that they want to dip their toe in.

I'm obviously a firm believer—I think it goes without saying—in diversity, equity, and inclusion. Since MicroConf in 2012, we have had some very deliberate efforts to improve the diversity of the ecosystem because I feel like it's all of our responsibility. It's not just the people running an event or running a fund but attendees as well. 

If you're out there thinking, how can I improve this, go out of your way to look for more diverse candidates when you're hiring at your own company. I'd say making an environment that is safe and welcoming to anyone who wants to show up regardless of racial and gender categories goes a long way towards doing it. And inviting people in.

One of the biggest ways we've seen diversity improve at MicroConf, and it has improved since the first event in 2011 where we had 3% female attendees, I believe. I'm going from memory, but it was very low. That was why by the time we got to 2012, we were like, how do we fix this? It turns out, surprise, it's not an easy fix. This is not something that anyone can wave a magic wand or anyone could snap their fingers and make this suddenly equitable and amazing. If we could, we would do that. But this is a decades-long effort. 

I believe MicroConf has gone from 3% to about somewhere in the 12%–15% just speaking purely of female attendees or non-male attendees, depending on the event. We have numbers also for racial diversity, ethnic diversity, and all that, but I don't know those off the top of my head like I do these other ones.

What we've seen is there has been an improvement. In fact, the attendee breakdown now at a MicroConf is in line with the general startup ecosystem. We run the State of Independent SaaS Survey every year and have done it for the past three years, and we ask about these things. One of the reasons is because we wanted to get a picture of what the ecosystem is like. 

The whole ecosystem needs to improve. You can't magically say, well, the ecosystem only has 10% of this category of individuals, but we're going to somehow get 20% to attend at MicroConf. It's just not the way it works. We have made incredible efforts to reach out to groups to comp tickets. That's why our scholarship program exists. And it is a long, slow battle. 

That brings me back to the point I was going to make, which is that one of the biggest differences we've seen is when individuals who are already in the ecosystem invite someone they know into the ecosystem. Invite someone to a MicroConf who is not a white male. White men are—I wish I knew the number off the top of my head—I think 80%–88%, somewhere in that range of people in the broader bootstrapper indie SaaS startup ecosystem. Anyone who is either not white or not a man is, by definition, underrepresented in the ecosystem. 

We've seen great strides being made with folks inviting an underrepresented friend to a MicroConf, asking if they want to attend a MicroConf Remote, or inviting them to listen to Startups For The Rest of Us since it's a free podcast and it's available. I would hope and encourage you to think about it as something that's available to everyone, even underrepresented founders. That's one way that I think about it. 

Frankly, we could write a whole book on it and do many podcasts on it, but I want to say that one other thing we realized at MicroConf (specifically) is there are things we can control like who speaks from the stage, and then there are things that we really don't have much control over which is who buys a ticket or gets a ticket and attends the event. For a long time, we tried to change the second one. That just has not been as effective as having more diverse and underrepresented founders in MicroConf On Air, on this podcast, and on every MicroConf stage. 

If you go to microconf.com, we have a DEI pledge. You can read about it in the footer. It outlines a lot of what I've said here. But one thing that we realized early on was we didn't just want to have the same percentage of (let's say) women on stage as there are in the broader ecosystem. We want to try to double that number. We want to make progress, at least double. 

There have been times where we 3X or 4X that number, such as with our most recent two TinySeed batches. Forty percent of our companies have had at least one underrepresented founder versus in the broader ecosystem. Again, it's that 12%–15% number. It's a pretty low number. 

I think that each of us can and should play a part. It's not one person's responsibility. It is all of our responsibility to contribute to diversity and startups and make people feel included and welcomed in this ecosystem. That's what I love about bootstrapping. 

I know the word meritocracy in Silicon Valley. People roll their eyes at it. I agree that it's kind of […] as you can tell by the numbers. Bootstrapping (to me) is about as close to meritocracy as I know anywhere because when I start my companies, when I've underrepresented and over-represented friends who've all started these bootstrap companies and made hundreds of thousands (if not millions) of dollars, no one knew who they were because they didn't need to go ask anyone for permission. They just needed to build a business. 

While I can't sit here and say, well, everyone has an equal starting point—because that's obviously not true—what I can say is that bootstrapping is an incredible equalizer. It may be the biggest equalizer in business today. It's certainly not venture capital. 

I know that all VCs are not equal and a lot of venture capitalists are making efforts toward building a more diverse and inclusive startup ecosystem, but bootstrapping is that next level because it's all on the merits of a business. At that point, it has built something people want and are willing to pay for, and you can build an incredible business without asking anyone's permission. 

It's a great topic. Thank you, Justin, for asking the question. Obviously, that's a short summary of my thoughts on the topic, but I hope that was helpful.

My next question was an anonymous question. Someone had just emailed me. He said, "When is the right time to work on things like company mission statements, philosophy, and values?" And he says, "Hint, I don't think they belong at the same time."

That's an interesting question. I often say I think a lot of us left and started our own companies because we didn't want to deal with BS like company mission, philosophy, and values, because we've all worked at large companies that use these buzzwords—philosophy, values, mission—and then don't live up to them. They're made up in some boardroom and are fiction. 

I was against introducing these into the companies that I was starting, but about the point that you hit (I'd say) between 7–10 people, you start to realize that if you don't set some type of agenda for the company or mission and values, then it will happen on its own. If you don't get people's buy-in at that point, then by the time you get to 15 or 20 employees, you can have a real problem on your hands. 

For me, mission is something that I like to have these days. I think I've said it on this podcast, but my mission is to multiply the world's population of independent, self-sustaining startups. It lets me know and reinforces what I stand for. It helps me see the common thread and easily explain the common thread of this podcast of MicroConf and of TinySeed. All three of those are helping to multiply the world's population of independent self-sustaining startups. 

But back in the day when I was starting amazing bootstrap lifestyle businesses to make $5000 a month or $250,000 a year, I didn't need a mission. The mission was I'm going to provide value to an end-user such that they're willing to pay for it. The mission is for me to learn a lot of interesting things, to have freedom—that was a big mission—to gain purpose by building interesting things for customers who need them, and then to maintain healthy relationships. Those really were the early missions. 

It depends on where you are on your journey as to if you're going to have a tiny little company with 3 or 4 contractors. I don't know if you need a mission, but I do think at 7–10, it's like, what are you doing? What is your company doing? What is the value that you provide? I do think at that point, it's worth sitting down, chalking up a sentence, and mulling it over. It probably took me several months to really land on the mission that I stated earlier.

In terms of philosophy and values, I do think it's interesting. I was interviewing Omar Zenhom. He's the founder of WebinarNinja. He talked about how they didn't put values in writing anywhere and that they were just communicating from one person to the next. Then, they got to a point where there were 15 or 20 employees. 

The company had always had a value of frugality because they're bootstrapped. New employees were joining with the Fortune 500 mindset where they were not being frugal. He realized that this really needs to be written down. Frugality, then with a nice little paragraph, maybe with an example or two about where we came from and how we think about this. 

It's that example where I realize if you don't do it by the time you get to 10–15 employees, even if it's only 3 things, your top 3 values that the company holds. I think the big thing for me is to try to make them specific and try to make them something you really believe and hold dear such that you would say it in a team meeting with a straight face and put it on the website with a straight face. It shouldn't be a marketing copy. It should actually describe how you're operating today and potentially how you aspire to operate.

What a lot of those Fortune 500 companies do is they write what they really want to be and they're not actually acting that way. It's just eye roll–worthy both inside and out. We agreed to protect the interests. Our values are to protect the interests of investors, customers, and this and that. It's so generic. If you have something that's just implied and should be in everyone's values, then don't do it. It's too generic. That was a great question. I hope it was helpful.

Our sponsor this week is Microsoft for Startups Founders Hub. Microsoft for Startups is on a mission to help all founders innovate and grow no matter their background, location, or progress. To this end, they've recently launched Microsoft for Startups Founders Hub, a platform that provides founders with free resources to help solve startup challenges. 

Members of the platform get a ton of benefits that can help founders build their startup faster from day one—up to $150,000 in Azure credits, free development tools like GitHub, free Microsoft collaboration and productivity software like Teams and Outlook, offers from startup-friendly partners, and more.

A strong and diverse network is critical to a startup's success, so Microsoft for Startups Founders Hub is making this historically inaccessible resource open to all by providing members access to a mentor network as well as technical advisors. Members can book time with mentors to get expert feedback and advice on their product roadmap, business plan, fundraising approach, marketing plan, and more.

The program is open to everyone, no matter your startup stage. Unlike other programs, there are no funding requirements, and the signup process takes less than five minutes. Learn more about Microsoft for Startups Founders Hub at aka.ms/startupsfortherestofus. 

The next question is from Salman. The subject line is how to actually develop features for a new app. Salman writes, "When working on a new project, there are various ways to complete features. One style is to go deep into a feature and make it near-production worthy. Others may take a broader approach, create a skeleton structure, and then go back and fill in the details on each specific feature. What style do you prefer? Are there certain habits that eventually lead to a project never shipping?" 

Yes, there are many habits that lead to projects never shipping, like people getting in their own way, building in the basement or in their garage for a year, over-building features, gold-plating software, building a bunch of features nobody needs, not talking to potential customers, procrastinating, and not wanting to make mistakes. There are a lot of habits in that respect.

I don't know if the question is coming from someone who's basically saying, I'm going to build these six features and I know that's going to be my initial app. Should I do an iterative approach where I write some skeleton code, I come back and cycle down, build the database layer, and build the layer below that and then below that? I think that's (to me) just a preference style versus I'm going to go deep and build a full feature all the way to production.

I would almost say the question is not super relevant. I don't think it's the right way to think about it. The way I think about it is figuring out what is the minimum feature set that you have? What is the minimum lovable product (MLP) or something like that where it's a product that people can actually use and get value out of? What is that minimum feature set and how are you determining what that is? 

If the way you're determining it is asking yourself, not talking to potential customers and going into the market, it's probably not going to be correct. Something that I would be focusing on is how do I determine the minimum features that I need to ship something that people want and maybe are willing to pay for, or at least get me closer to that and then iterate?

I can talk about some things that I wouldn't build and in fact, we didn't build in the last couple of apps that we launched. I can use Drip as an example. We didn't have a password reset when we launched. We didn't have billing built because we knew we had a 30-day trial time and we had 30 days to build our subscription billing. Even then, we didn't need it to be a subscription. We knew we could run it manually if we needed to. 

We didn't build the ability to delete things. People could start an email, they could send an email as an email service provider—think of MailChimp with different features—and they couldn't then go back and delete that email. Eventually, someone would need that, but we didn't build it in. We didn't build sorting in that email grid. We built minimum analytics. It was just bare bones. 

If that's what Solomon is asking, then I do think that you have to ask yourself what is that minimum lovable feature? How can you build it in a way that is functional and that early adopters will get value out of but that can save you weeks of dev time?

One example I can think of that is we built 35 integrations in about 18 months with Drip because if you think about it, as an email service provider, we wanted it to be a hub for a lot of data, both inbound data coming into us—triggers that came in—and actions that went out. We integrated with a bunch of shopping carts. There was Stripe, PayPal, and Gumroad. I can't remember the others, but we integrated with a bunch of carts. 

We integrated with a bunch of things like Zapier and a bunch of automation providers, but the V1 of each of those integrations, we didn't know how many people would adopt them. We would go in and we had a framework. We could launch a V1 of integration with a third-party with about four hours of code if they had a good solid REST API with good documentation, maybe eight hours if it was a little less than that. Now, there were some old curmudgeonly integrations. I think the PayPal one took us several days because it's PayPal and it's 23 years old or whatever. But we could build integration in less than a day on the technical side. 

Then, to be honest, we spent more person-hours than a day building out all the marketing, copromotion, and the business development side of it. We would launch that and it didn't have OAuth built-in and all the bells and whistles of a finished integration, so maybe you have to go copy and paste an API key and maybe you have to do some things that aren't ideal.

But then we'd see what the adoption was. We would start getting support requests of, oh my gosh, this integration is amazing. Now I can tag all my people who buy through PayPal or Stripe. I can tag them as purchasers or as customers. This is game-changing for me.

Then over time, we'd see, oh, there are 80 people using this integration. At a time when we had 1000 customers, we had 80 people using an integration. That's a lot of people. Let's throw it in the feature queue to circle back on this and do a V2 version, which just makes a little better error handling, surfaces the OAuth, or whatever. Then, we had a V3 that actually included OAuth. 

That's how we thought about a lot of features. Not all of them. You have to weigh that thought of certain features. If you launch them as V1s that are not fully baked, it can be detrimental to your product and to your brand.

An example of one of those was our visual workflow builder. You can go to drip.com until today and you can see that workflow builder and what it looks like. Launching that half-baked would have been a bad decision. 

In fact, my co-founder, Derek, was the lead developer and he spent five months of his time building that. We were okay with that. We agreed that this needed to be amazing. It needed to look and work amazing. We built basically another product launch on the back of that because I believe it was the third visual builder that was in existence in terms of marketing automation. It was the easiest to use, we innovated in a few areas, and it wasn't totally drag and drop. They had these exit nodes.

Anyway, there were several things we did that no one else did. We wanted it to work really well. We got a massive influx. Our growth doubled that month and it was a sustained doubling of growth. It was an incredible launch and an incredible feature. 

We did not bet the company on it because if it had flopped, we wouldn't have stayed in business, but we did bet five months of engineering time. One individual did it all on his own, but we bet a lot of time engineering time. Frankly, if it hadn't worked, competitors were making progress against us during that time. It was painful to do that. 

That's how I think about it, Solomon. I think it's a good question to be thinking about this, but realizing what you build is perhaps more important than the specifics of how you build it aside from you should write unit tests. I would never build another app without having unit tests because that became such a blanket of comfort when we would want to make gutsy adventurist decisions that were going to break a bunch of legacy stuff but we knew it was better for the way that the app is moving. The massive test coverage we had gave us the confidence to be able to do that. 

A lot of apps that I've seen who don't have that get crufty and buggy. If you want to build something for the long-term and you want to build a business you can be proud of, you need to seriously think about spending the extra time to write those tests from the start. Don't be in such a hurry that you don't do it. Thanks for the question, Solomon. I hope that was helpful.

Our last question of the day is from Louise O'Sullivan. He asks, "How do I start? Hey, I love your podcast. It's given me such a great insight into the world of startups and introduced me to lots of interesting companies I've never heard of. I'm 24 and I just graduated from my computer science bachelor's degree in Ireland last May. 

I've always wanted to be my own boss and run my own company. I'm very ambitious and love building things once I get started. I'm never good at coming up with ideas though and I find myself always panicking that I'll never be able to work for myself because I'll never be able to get started. Currently working as a software dev for a large company, but I don't want to be here forever. Do I need to calm down and wait for inspiration or do I need to leave my comfort zone and actively search for an idea? Any advice would be great."

It's a good question. In my opinion, you need to actively search for an idea. I would be in forums like Indie Hackers and MicroConf Connect. I would be in those communities watching other people to see how they come up with ideas.

I believe the number one way that folks come up with ideas according to our State of Independent SaaS Survey is a problem that a coworker, a friend, or a colleague has experienced, or a problem that they experienced at work. Usually, it's a problem that someone around you has. 

We have a bunch of TinySeed companies that have had bad customer experiences where they had a home improvement contractor working on their house and the communication was terrible, so he decided to build a CRM for home improvement contractors. It's called Builder Prime.

We've had folks who have just made cold calls, like you probably heard 20 episodes ago with a senior place. He came up with an idea, made 30–40 cold calls, and realized that wasn't a good idea, but it gave him the information to pivot into a new idea. 

It's that whole thing of getting out there and doing things in public—like making cold calls, setting up landing pages, blogging, writing, or tweeting—that creates opportunity. A lot of times, that's where you will come across those opportunities or those business ideas that maybe you wouldn't have if you were just waiting for inspiration to strike.

Even listening to podcasts like this or podcasts like My First Million or Tropical MBA. These are podcasts where people talk about businesses and pain points. I think it was the last episode or maybe two episodes ago where I specifically said, if someone built a solid competitor to Submittable, I would be interested. 

There are pain points that we experienced running TinySeed, MicroConf, and this podcast that could easily be businesses. Just tuning in to these types of shows, being around these types of people, absorbing that, being on the lookout, and keeping that idea notebook. I've talked about this quite a bit. As you come up with ideas, as you hear ideas on podcasts, as you listen to audiobooks, or whatever, jot them down and then let them simmer. We have a 48-hour waiting period on buying domains. 

Otherwise, like Dan and Ian say, your GoDaddy account or Namecheap account starts looking like the Boulevard of Broken Dreams. You don't want to get carried away and start registering a domain for every idea you put in that notebook. Give it two or three days to simmer down. 

That's what I would be doing. I would be on the lookout for problems and pain points that I experience in my work and in my day-to-day personal life. I try not to let it be too much personal stuff because then you get into B2C and of course that's not something that I love.

The other thing I do think about, Louise, is if you haven't checked out the stair-step approach to bootstrapping, a lot of that talks about, hey, if you're gifted at writing or building courses, maybe start there and use that to level up your skills. But if you really want to build a software product, consider looking at one of the ecosystems like Shopify, AutoCAD, Photoshop, and Heroku. 

There are all these ecosystems (even WordPress) where you can build an add-on.  You don't have to learn all of the things at once. You can just learn building the product and supporting it, but a lot of the marketing and even the billing are often handled for you. I believe there is at least a semi-complete list of 15 or 20 of those "app stores" that you can build a web app into. I could keep going with them, but look for a list of those and then think about which of these you think might be the best fit for your skillset. 

I feel your pain and I'm glad you wrote in. I will say we've all been there. I was there. You're ahead of me. At 24, you're already thinking about this and already listening to a podcast like this. I think that you will cut a lot of time off of your journey. I of course wish you the best as you get going.

That feels like a great time to wrap up. I'm almost out of listener questions. If you have a question, please email it in to questions@startupsfortherestofus.com or just head to the website, startupsfortherestofus.com. There's an Ask a Question link. You can send in a video, text question, or audio. 

Video and audio always go to the top of the stack. I haven't actually had video or audio in quite some time. It's been several months now. Maybe I need to go check my automation. Maybe that's it. Maybe there's a bunch in the backlog.

All that to say, thanks for joining me again this week. As always, it's great to have you here. Hope you enjoyed this episode. Do send in your questions for the next listener question episode. I'm @robwalling on Twitter. I look forward to connecting and I'll be back in your ears again next Tuesday morning.