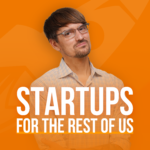 In Episode 589, Rob Walling chats with Jason Buckingham about how he found a startup idea from making more than 70 cold calls. It's a great story about staying focused, putting in the time and doing the hard work.
The topics we cover
[7:14] Finding a problem via cold calls
[13:07] Identifying a problem and deciding what to do next
[22:32] Getting spouses on board with entrepreneur journey
[25:06] Working day jobs while building the product
[30:09] Getting into Tiny Seed right before COVID-19
Links from the show
If you have questions about starting or scaling a software business that you'd like for us to cover, please submit your question for an upcoming episode. We'd love to hear from you!
Subscribe & Review: iTunes | Spotify | Stitcher
Rob: In this week's episode of Startups For the Rest of Us, I talk with Jason Buckingham about how he made essentially 70 cold calls to find a startup idea. Jason was a developer and then a development manager at Microsoft when he decided I want to build a software product, I want to build a SaaS. He didn't have any idea how to do that or really what idea to build.

You're going to hear the story of how he just grounded out, just put in the hard work, and eventually found an idea that became Senior Place, which is now a successful SaaS team size of four. You'll hear us talk about how they got into TinySeed back in 2020 and then again in 2021. You'll have to listen to find out how that all panned out.

It's a great story about focus and about, perhaps, just putting in the time and doing the work that it took to get it done realizing that it might be harder than he wanted it to be, or it might take more hours than he wanted it to, but being really focused on, I'm going to succeed, I'm going to brute force this thing until it works. With that, let's dive in to my conversation with Jason from Senior Place. Jason, welcome to the show.

Jason: Hey. Nice to join you, Rob.

Rob: Absolutely, man. You are the co-founder of Senior Place and your H1 is Placement Software Designed Specifically for You! Okay, let me paint a picture. You know how there are realtors, Jason? I'm not telling you this, I'm trying to tell this for the users or the listeners of this podcast. There are realtors and there's software for realtors to be able to help manage someone buying a house. You are software for these placement firms that might help say, my elderly mother, find a senior living facility, and these are like realtors or brokers. Is that right? Am I summarizing this right?

Jason: Yeah, that's exactly right. They're the equivalent of realtors but for the elderly. Instead of someone buying a house, they're helping people who are going to move into an assisted living community. They do the same job as a realtor would do. The compensation is somewhat similar. They get paid by the assisted living facility. We build software to make that process a lot easier for them to manage the communities and the clients' needs because there's a lot that needs to be matched from side to side.

Rob: Got it. You have a handwritten font on your website, Placement Software Designed Specifically for You. People go to seniorplace.io, they can witness this handwritten font. That's an unusual approach for a SaaS app. Did you design this out yourself?

Jason: Absolutely. I'm going to take ownership of that as well. A big part of that is the demographic of our customers. We are not selling to hip trendy 20-year-olds. Our average customer is most of them are female, most of them are in their 50s or 60s. We do have a number of male-owned companies as well, but that seems to have worked pretty well for getting customers so far.

Rob: That's why I wanted to call it out. There are several exceptions to rules that you and Senior Place have. If you look at the website design, it does not compare to a lot of MicroConf companies or a lot of TinySeed companies, but those companies are selling to designers, developers, picky UX people, and Senior Place is not.

If you look at the screenshots for software, if you look at, again, just the marketing side, someone might turn up their nose and say, oh my gosh, this is not the amazing Squarespace site that I might be able to get from blah blah blah. But it works because you're in a space where that's okay.

Jason: I think it comes down to knowing your customer and knowing what's important to them. I don't want to disrespect our technically skilled customers, but we do have a lot of customers who are very technically challenged. I can probably share a story here that I maybe shouldn't if it gets listened to.

I've done Zoom calls where I'm screen sharing and some of our customers on the call are trying to click on my screen share saying I can't edit the box. I'm like, are you on your page or you on the screenshare? We just have customers who fall into that category. They really appreciate simplicity. They really appreciate something that feels comfortable. We know that because we talk to our customers.

When we get into our story later about how we started the company, it's all been conversations with our customers. I actually just had a call with one of our customers this morning who's one of our original for-users. Talking through with them again on the phone, it's just really great to connect directly with them and hear in their own words what they like and what they don't like.

By and large, we've had customers tell us, me and computers we're not even acquainted, but your software is so easy to use it's meeting my needs perfectly. That's really what we're targeting. We're not targeting the cool, hip audience, we're targeting our demographic and what they need.

Rob: Real software for real people who pay us real money. It's a tool. People don't want software, they want a result. In your case, that's making it easier to track and place folks. Two episodes ago, I interviewed Michele Hansen. She wrote a book about getting really good at customer interviews.

That's a big theme of your story—your and your co-founder story—is, we'll get into it in a second, but the entire idea came out of a bunch of cold emails and cold calls, which is unique. I've heard this approach espoused in certain—there were some courses five, eight years ago by a SaaS founder who has basically built an info product course about, you can just cold call and find ideas. I remember, for most people, it didn't work.

I'm going to pull up the State of Independent SaaS report, which we do with MicroConf each year, and we ask people, which of the categories below best describes how you develop the idea for your product or company? And 45% of respondents said it was a specific problem I was experiencing and another 22% was a problem my customers or my clients were experiencing. Right there, that's 2/3 of the results were my problem or my customer and client's problem. Another 13% was an experience at my day job and another 11% was a problem a friend or relative was experiencing.

I think we're over 90% at that point and we haven't gotten to what you did, which is the next one, which is 8% of folks who responded said it was research. Then it was 0.2% purchased it and there was other. I've heard the idea of, you go to Facebook groups, you do the cold calls, you talk to attorneys, or you talk to real estate agents, you just find a problem, and then you solve it.

I've always espoused absolutely to find a problem, but finding a problem cold just by conversations is hard to make work, it often doesn't, and it's a ton of work to do it. With that, I want to tee you up, your story is exactly this and you made it work. Let's flashback, spring of 2016, you're working at Microsoft, and you're looking for a startup idea. Take us from there.

Jason: I was at Microsoft. I loved Microsoft. I was there for almost 15 years. It was a great company, but I didn't want to stay in corporate America forever. I am not creative enough to have a great idea. I didn't have customers that I knew had problems. I went down that path that 8% of people did with research.

For me, I looked at my own past. When I was a kid, my great-grandmother lived near us. She was in her 90s. She needed to move into a nursing home. It was just this emotionally traumatic event for our extended family. Maybe this ties into a relative thing, but this was 20+, 30 years ago.

My grandma put her in the nursing home. She felt super guilty and then in 2016, I was thinking what if we had a way to deal with that? I know that there are home care companies that send care providers directly to your home and care for your loved one. This would have been perfect for great-grandma and grandma.

I started cold emailing some home care owners that I just found their website online, I searched for home care and whatever city, and then I sent them an email and said, hey, my name is Jason, I'm a software entrepreneur. I'm working at Microsoft right now, sure, I'm an entrepreneur. I said that in the email and that I want to find ways to help their companies with whatever their software challenges might be. 

Would you have 15 minutes to chat just about yourself, what you do day-to-day? I got a really high response rate on those emails saying, sure, because I was only asking for 15 minutes, I wasn't asking for much. I was asking to talk about them and every email I sent was personalized to them.

With those three qualities of each of my messages, people said, yeah, let's talk. On every call, 15 minutes came and went, and I was like, okay, I want to respect your time, no, let's keep talking because I was talking about them. I didn't talk about myself at all on those calls. I just said, hey, I just want to learn what you do, I want to see if there are ways I can build software that would help you.

It was super intimidating when I first started doing this because how are they going to receive me? I don't like salespeople. But I did send the cold email first, they did schedule the meeting with me, and so I persevered. I think the thing that made it work for me is I kept going. I did 35 calls with the home care industry and person after person after person said, we don't have this problem. We actually have this software we just bought that is working really well. Next company, oh, we're using that software, we just switched to them last month. Next person, oh, we're switching that software next week.

Somebody was already solving the problem and they had $50 or $75 million of VC money.  They had a big head start with a lot of money. I just kept going. I don't give up easily, and on call 35, somebody said, well, we do home care and we do senior placement. I was like, I've never heard of senior placement, what is that? That's where I went on the next steps.

They told me, we really need help with software in that space. I said, does anybody else do that? Are you the only one? I've never heard of this. Oh, no, lots of people and it's a really rapidly growing industry. We went and called 30–40 more placement agencies from around the country. This was something I was doing.

I'm based in Seattle. At 6:00 AM, I'd get up and have a call at 7:00 AM with somebody on the East Coast so I could do that, then still get to work, and do my day job. I was doing those calls three or four days a week for a couple of months.

Rob: That's the hustle. I get emails from folks who are like, I have a day job and I'm tired when I get home from it, and what should I do to work around it? It sounds like you just didn't give a crap that you were tired and working around. It is just what you were going to do. Is that an innate motivation? Were you raised with that motivation or were you so hungry for this that you're like, I have to do my own thing and I'm just going to brute force it until it works?

Jason: I think there are a couple of things. One, I was hungry for it. I feel like I have entrepreneurial desires. I want to run my own company, I want to figure out the problems, I want to wear all the hats, and do all the things. One, I was hungry for it. Two, I don't give up easily.

A neat story from my grandfather. He was a three-star general in the Air Force. His dad left him. He was raised by a single mom, and this was in the '30s and '40s. He wanted to get an appointment to West Point. To get in, you have to have a congressman sign your paperwork and get you in. He ended up going to the congressman's office saying, I want to meet with this congressman in his hometown. The congressman's secretary or whoever it was at that time said, no, he's busy. He said, well, I'll wait.

He waited all day, Monday, came back on Tuesday. The secretary said, what do you want? I'm here for the same thing, wait all day Tuesday, all day Wednesday. Sometime on Thursday afternoon, the congressman's like, who's that guy who has been sitting there all four days this week? I think just seeing that when you persevere, when you keep going, and when you don't quit, you'll eventually find success. That's how my parents raised me and that's what we did when we were trying to start Senior Place.

Rob: That's that. I often say hard work, luck, and skill are the three things you need to achieve some success. It sounds like hard work was a big part of these early days. You may have had some luck because you had 35 calls and one of them finally said, oh, senior placement. It's like, oh, you could say, yeah, I got lucky with that. Did you or did you just work hard enough that you made your own luck, I guess, in that sense?

Jason: Yeah, I think both are necessary, as you said.

Rob: Then you have all these calls with what? You did another 35–40 calls with senior placement agencies and they're saying, we have this same problem. Where did you go from there? Because often, there's conventional wisdom and there's unconventional wisdom of like, do you go in the basement and build it? There are mockups? There are presale conversations.

Walk us through your thought process there, and really, how did you decide on what to do next? Were you listening to podcasts, reading blogs, and you've read Lean Startup? What was it that made you say, oh, this is how we're going to proceed, this is the right way?

Jason: After 35 calls of the home care industry hearing nothing good, and then switching over to the placement industry and hearing lots of people say, we have this problem, there were different takes on the problem, but everybody identified the problem that they couldn't keep track of their clients and their communities to match them up and all the needs that they had. I was taking detailed notes on all of those calls, so mostly handwritten notes as I was listening on the phone and then I kind of aggregated those notes.

After 35 calls, my friend JD who also happened to work at Microsoft at the time. We actually didn't know each other through Microsoft at all. We just lived in the same community and we're friends that way. He's like, hey, I want to start something too. JD is an outstanding developer. I came from a software developer background as well. But we thought it'd be great to have two of us building the system and managing all the things you need when you start a company.

We partnered in, I guess, November 2016 and officially formed the company. We had a good idea that we were going to have customers, but I also didn't want to just move forward. It's hard to judge. Are people just telling you they have a problem and they need it? Are they saying I'm going to pay for it but maybe they won't? I felt really good, but not quite good enough.

I reached out to some of the customers who had been like, keep me posted if you do anything. There were some who were really eager. I was like, I tell you what, would you be willing to prepay for three months of Senior Place? We're going to set the prices here, and in exchange, if you give us this check today before we even start building it, we'll give you a 20% lifetime discount? I had somebody.

We actually were able to meet with someone locally in person at a coffee shop. She brought her two employees with her. We were demoing mock-ups on just a tablet and showing like, this is what we've drawn up, and like, yes, this is what we want. She took out her checkbook and gave us a check. We walked out of that coffee shop with a physical paper check and we're like, wow, we just got paid for the software. We started a company.

It was just an incredible feeling. We ended up doing that with five people. Once we got to five we're like we don't need to pre-sell and give any more discounts. I think we feel good. We then hit the coding hard, and January, February was just heads down 40 hours a week at Microsoft, 30 hours a week writing code, weekends, and whatever else. It was craziness because I always wanted to be a good worker at my day job. I don't want to skimp out and bail on them because they're paying me there, even though I'm trying to reach this other goal on the side. It was a challenging time.

Rob: You didn't need the money. You didn't pre-sell because you needed the money. You wanted the commitment, right? You wanted to know they had skin in the game and that if you and JD spent two or three months building it, that at least they were going to try it out.

Jason: Absolutely. We didn't need the money at all. It was absolutely about the commitment. I wasn't going to put in hundreds of hours between JD and me over two to three months, 30 hours a week. You can do the math. I wasn't going to put in that many hours. We had already put in a lot of hours, but I'm willing to cut my losses if there's not an idea. But I wanted to see the skin in the game when they did that. I'm like, if they pay before we build it, I think other people will pay after we build it.

Rob: Right. That's a really good way to think about it. During this time, the two of you were working at Microsoft. Are you married? Did you have children? Because a lot of folks who listen to this are in one of those positions. I was too. While I was building my businesses, we had a young son who was born. It was 2006 now. That was right at the time that I started ramping up nights and weekend stuff, so I know the struggles of working around a family.

Jason: Yeah. I think at that point, JD already had three kids, my business partner. My wife and I, at the time, had two kids and my wife was pregnant with number three. Even when I was doing these calls, one of the calls that I did, I had gotten networked with somebody who ran a larger placement agency. We had talked to a lot of small-time shops and I wanted to talk to somebody bigger, and somebody referred us to him specifically like this is going to be a great call to get some insights and really confirm where we're going.

My wife had our baby four weeks early. This call that I thought I was scheduling well before the baby was going to come, I did when our third was three days old. I didn't want to cancel the call because this guy took me a month to get on the calendar. Yeah, we had kids. I have four now. We had a fourth about three years ago.

It's been managing and I take family super seriously being part of my family, not ignoring them, making sure my kids don't grow up. I'm doing this so I can spend more time with my family. I don't want them to grow up and be like, well, daddy was never there. I don't even know daddy now that he finally has been successful and I'm a teenager.

My kids are all 10 and under right now. I want to be spending time with them. A lot of this was, I would work at Microsoft during the day. In the evening, it was dinner at the table every night with the family, helping get the kids ready for bed, spend a half-hour or an hour talking with my wife catching up on her day, stayed in touch with her, then it was an hour, two, or three of coding until 2:00 AM often, and then calls at 8:00 AM or so.

Microsoft was flexible. I could often get into work at like 9:30 AM, so if I had calls maybe a couple of times a week, once we started coding, I was trying to start selling some more. It was just juggling all of those priorities. I wasn't playing video games. I wasn't watching TV like people are talking about the TV shows. I don't know what those are. I wasn't going to the movie theater.

For me, it was the priorities. It was family. It was keeping my job, not getting fired there, and making sure I'm doing a good job, and then moving towards the next thing that I wanted to be doing, which was Senior Place in the startup.

Rob: I'm guessing you knew it wasn't permanent. You weren't going to work that schedule for 10 years. It was, I'm going to work it for a few months until I turn a corner. Was that what was in your head?

Jason: That was exactly what's in our head. We experimented different times with bringing on developers onto our team. JD and I, both being software developers ourselves, are probably pickier than an average entrepreneur maybe. I know a lot of entrepreneurs are developers.

We probably made some mistakes in not hiring earlier because, again, we had the money. We could fund them out of our own paychecks, but we didn't like the quality of what we got. So we did a lot more work on our own than we probably needed to. That led to us staying at our day jobs longer while doing this at the same time than would have been ideal. That was the path we took and we're just both super thankful that we are now full time only on our business that was a side business now. It's the only thing.

Rob: It's the focus, yeah. How big is your team now? Is it still just the two of you? Do you have anybody else helping you out?

Jason: Yeah. There are four of us now. We have another developer. I guess he's still, technically, a 1099 contractor, but he's working for us and only for us. Then we've got somebody doing support and onboarding. That's been one of our challenges.

As we were building Senior Place, we cut some corners on administrative tools for our customers because we can just do that ourselves. Customers don't need to add a user account very often. They can email us and we can take one minute to do that. If we build it, we have to spend two or three weeks building it right. Instead, let's build other features.

We have not built all the things. We still have some manual tasks to do, but that helped us get to an MVP. Now we're trying to invest in some of those other things that will save us more time and/or hire people that can do those tasks instead of us.

Rob: How do you describe the stage you're at? Some people say we have this much MRR, other people say, we have this many hundred customers, some people say, we're a team of four and we're basically running at breakeven. Any of those, give us an idea of where you're at.

Jason: We joined with TinySeed about nine months ago, and that allowed us to bridge the gap to pay ourselves. We definitely took a pay cut coming from Microsoft, but we are probably taking a little bit more money than maybe a lot of startup founders are, just since we both have families, mortgages, and such.

We're running at a slight loss monthly right now. We're going to be breakeven within two months, probably. We've got a lot of other partnerships coming down the line that could cause us to double or triple our MRR pretty fast, so we're pretty excited about the potential of those.

Rob: I'm pretty excited about the potential of those. I didn't mention at the top, but you're part of TinySeed batch three, I believe. You're the spring 2022 batch.

Jason: 2021.

Rob: 2021. Yes, sorry. There's a funny story around that about how you were going to be part of the spring 2020 batch, but then COVID hit. We'll get to that a little later. I want to ask this question that I think a lot of people are thinking about. How did you and JD get your spouses on board with this journey? Because it was a sacrifice for you, but it was a sacrifice for them too. Did you talk to your spouse in advance, your wife, and say, this is going to be tough, but it can change our life. I want to do it, it's important to me, or how did that go down?

Jason: We did talk to our wives. If we were talking with JD on this call as well, I'm sure he could tell you lots of conversations that he and his wife have had. My wife and I talked about it before we started. It's pretty easy to get your wife on board when I'm not spending the evenings and weekends yet. Hey, I'm going to do this, this is what it means. Oh, sure, that sounds great, go for it, honey. And then having to continue to check-in, how are we doing as we keep going? It's been this many hours, it's been this long.

We took a weekend away from the kids where we got my in-laws to watch the kids. It's just my wife and I getting three or four days, a long weekend together to sync up. I think prioritizing your spouse to get date nights if you have kids. If you don't have kids, it's easier to get date nights. You just have to be intentional about that. The date is getting away from your work. For us, it's getting away from work and kids. That's also been harder with getting babysitters during COVID, but prioritizing that. 

Both of our spouses are really supportive. My wife is very supportive. I think it helps that, as I mentioned earlier, we have that hour every evening after we get the kids to bed where we're talking. She feels like she's got a connection to me and me to her. All of those things helped her continue to be on board. She knows where we're at. Yeah, lots of things like that.

Rob: All of those things you called out are super insightful. I think a lot of early entrepreneurs miss them. I know that I missed it. Rolling back 16 years as I was working stuff nights and weekends, I remember saying, all right, I'm handling the day job or the consultant, whatever I was doing. I'm spending time with the kid, our one-year-old or two-year-old, but I forgot to be intentional about spending time with Sherry. Then eventually, I realized that is way important.

I need to balance these three things plus the startup. I can't overlook that. In fact, Sherry and I recorded an episode of the Zen Founder podcast, episode 45, Onboarding Your Spouse, where we talked about this whole process. This was years ago. It's probably from 2013, but I think it still holds true and it touches on a lot of the things you just said, very specifically about that.

You guys wind up launching in 2017, it sounds like spring of 2017. Then you and JD applied to TinySeed. It was the spring 2020 batch. I think we ran it in November of 2019 or something. So there are a couple of years there. Two and a half or three years have gone by and the two of you were still working day jobs. Is that because Senior Place didn't grow fast enough to the point where it could support both of you? I guess to piggyback on that is, how was that for the two of you to then be working on this side project for those two and a half years?

Jason: There were certainly ebbs and flows in terms of how much work we were putting in. We were putting in a minimum of 15 hours every week. There were some weeks where we're putting in 30–40 hours a week. We had to manage some of the burnout and it was because we weren't growing super quickly.

We weren't growing super quickly because we were trying to balance which features do we need to build? Okay, well, we're both spending time writing code. Who's doing the marketing? Okay, well, I'm trying to do marketing, but now I'm not coding. Now we've onboarded these customers, we've got 10 customers now. Five of them are like, hey, I can't use it because of X, Y, and Z. So now we have to go back to that, and then we're like, well, we don't want to try to add more customers if they're all going to quit. 

It was this slow ratcheting up of trying to get customers while meeting the customers' critical needs. One thing we didn't realize about this industry is our customers. Even with those 35 one-hour calls, I didn't realize how unique the customers' needs were. We've had to do a lot of customization.

I think anytime you can stay away from that, you're going to be a lot better off for it. That has slowed us down because, oh, this customer says it has to be this way, this customer says it has to be that way. They want some core stuff, but they won't use it if we don't have both of those things. We're kind of building two things.

There have been some challenges with a particular market we're in that has inhibited our growth early on. We're now turning the corner past those things. We built those different customizations, but yeah, we just kept on going, plugging away, trying to balance, okay, are we ready to do a marketing push? Because if we get five more customers, I don't think we can even handle them right now. It was continually that process.

Rob: I meant to ask you, you had the five pre-purchases who wrote you checks in essence or send you money, and then you had the other, let's say, 30 calls that you had done. Maybe they were not as warm, hadn't given you money, but you at least had the list. When you launched, how did the five pan out? Did they all become customers? Then with the other 30, what did it look like after a couple of months?

Jason: When we launched, actually, one of the five didn't even join us at that point. She said she was actually pivoting her business. She moved to a totally different business and didn't need our software. The other four joined and this was five years ago. They've all been with us. All four of them have been with us since the beginning. They haven't left.

Rob: You have an incredible business in that way. I talk about customer pain versus competitor pain, where if I started an email service provider today, I'm going to have competitor pain because there are 500 of them. We know it's a big proven market. We know it's not that hard to get customers, but there are a lot of competitors.

Customer pain is usually when you have maybe less technical customers. They're not exactly searching for this online, so it's just a grind. It's harder to get them. It's harder to get them on board, it's harder to get them successful. But usually, with customer pain, once you have them, the churn is zero. You have an incredible business in that respect.

Jason: Yeah, we've managed to have extremely low churn. We haven't lost a customer to a competitor in two or three years. We're a CRM system. We're a niche-based CRM system. Theoretically, every other CRM is a competitor.

Two or three years ago, we lost customers to other CRMs that had bells and whistles that we couldn't build in yet. We'd built niche features, but we hadn't built some of the bells and whistles. We still are adding more of those. We've just focused on what are the things our customers cannot do outside of our software without us and then built those things first. We do have very low churn, but it was still family, plus day job, plus side hustle meant slow progress. It meant, perseverance was absolutely required.

Rob: I have been there and a lot of people listening to this have been there or are currently there in that exact same position. It's just such a common story when you're trying to bootstrap something on the side.

When you applied to TinySeed the first time, we accepted you. You had traction, we said, we think this is a great business, let's do it. I believe we went all the way through due diligence, signed paperwork, wired money. Is that accurate?

Jason: Yup.

Rob: And you gave notice at work because you're like, I'm home free, I'm working full time. This is February of 2020. What happened in March of 2020, Jason?

Jason: Everyone knows the COVID story and the COVID time, I don't think any of us will forget March of 2020. It was when work from work became work from home for the last couple of years. The TinySeed money was coming in April or so. We actually got it wired in late March maybe.

I was a manager at Microsoft and I had several direct reports. I didn't want to suddenly bail on my manager. They have been really good to me. I liked the company. I wanted to treat them well. So I gave a two-month notice period. I was like, hey, I'm going to be transitioning. I just want to help find a replacement, train my replacement, and do all of that.

I talked to my manager in February, then COVID hit early March, and then our customers who serve the elderly in an industry that I thought was recession-proof because, of course, people still get old even during the recession. People still need care even during a recession. We're totally golden. All of a sudden, people didn't want to put their loved ones in assisted living. They wanted them to stay at home and they were now working from home.

Our customers were not having any business. We lost five customers in one week at the end of March of 2020. We hadn't lost five customers ever combined in the previous three years total. We're looking at this.

The TinySeed money came in that same week that we lost five customers. JD and I are talking like, what do we do? How much runway do we have? TinySeed money is absolutely outstanding, but we have just lost 20% of our revenue, and are we going to get notice from all the other customers next month? I went back to my manager. We talked to Rob and said, hey, what are our options here?

I went back to my manager. Can I ungive notice, please? My manager said, well, we didn't want you to leave anyway, we haven't found someone to replace you yet. I stayed at Microsoft, we gave the money back. I think I cried the day that I wired it back. This has been three years ready to be done.

We stayed one more year and we actually grew quite substantially in 2020 after the pandemic leveled out. I think we roughly doubled in 2020. We went back to Rob, TinySeed, Einar and said, hey, can we apply again? Let's talk again. We're ready. We've been growing.

Rob: Right, and that was the thing. COVID started changing everything in the midst of due diligence, but we had made a commitment to invest. So we said, it's not like we're going to back out. We hand shook on that deal via email. We sent the money and if the two of you wanted to keep going, we were all for it, but you were worried like, is it six months, a year, or two years? We have day jobs that are really great.

The fact that you made that decision and you basically said, look, we don't want to give this money back, but we are going to unravel this thing. Can we handshake that assuming things are better in a year next time you run applications that we can move forward? We were like, yeah.

This is the only time that's happened to us. There's always these weird edge cases, but it was just like crazy times and we're like, yeah, let's do this. Frankly, even if you hadn't grown during that time, if it was still a solid business and there was recovery underway, which there was by the time the next batch went, it made total sense. That's what it was. It wasn't until it was another year of you guys grinding.

Jason: It was heartbreaking.

Rob: I'm sure it was, man. That was April, May of 2021, which is just eight or nine months ago, but that's when you received the funding. How did that feel, the final day? I'm sure that was four years in the making of being able to…

Jason: It was awesome. The hard part is I had worked at Microsoft for 15 years and with COVID, there's no real goodbye. It's just like, see you later, I'm out. I think we had a Microsoft Team goodbye call with some of my co-workers, but certainly, anyone who had worked at Microsoft for a while and had built relationships, there used to be a goodbye lunch and all of that. Some of that wasn't there, but being full time at my own company now and having the feeling of walking out the door virtually was still an incredible feeling.

Rob: Yeah, I remember that. I still remember that feeling, how I felt years ago. Thanks for coming on and telling your story, man. I love the elements of it that are a little bit unpredictable. I love the elements of it that are a little bit outside the standard. We get into this cold calling to find an idea, and to hear it actually working and that you have a business that is doing quite well is really cool for folks to hear.

If people want to keep up with you, they want to see what you're working on, you're at seniorplace.io. You said, if folks had further additional questions, they could contact you directly. Your email is jason@seniorplace.io. Thanks for coming on the show, man.

Jason: Thanks so much for having me, Rob. Great catching up with you again.

Rob: Thanks again to Jason for coming on the show and thank you for listening every week. I enjoy being on the microphone. As long as you keep listening, I'll keep recording. I'll be back in your ears again next Tuesday morning.