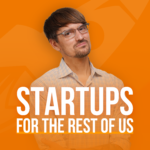 In Episode 573, Rob Walling chats with Einar Vollset and Tracy Osborne about the part-time contractor versus hiring full-time debate, the acquisition of Sandhills Development, as well as the launch of a TinySeed Europe.
The topics we cover
[02:14] FT vs PT Contractor
[09:06] When could part time contracting work?
[10:25] Sandhills Development acquisition
[14:50] TinySeed Europe announced
[21:04] DuckDuckGo and Privacy
Links from the show
This episode of Startups for the Rest of Us is sponsored by Software Promotions. Get better results from google.
If you have questions about starting or scaling a software business that you'd like for us to cover, please submit your question for an upcoming episode. We'd love to hear from you!
Subscribe & Review: iTunes | Spotify | Stitcher
Rob: Welcome back to Startups For the Rest of Us. I'm your host, Rob Walling. This week I sit down with Einar Vollset and Tracy Osborn to talk through some bootstrapper news stories. I've received feedback from several listeners that they really enjoy these episodes. Oftentimes, the things we bring up here, it's the first time that they've heard about them. They weren't paying attention to Twitter, Hacker News, or wherever we might have heard about these.

Hopefully, these are not only educational, but also entertain you and hopefully help drive your business forward. Today we talk about the part-time contractor versus hiring full-time debate. We talk about the acquisition of Sandhills Development, which is one of the largest independent WordPress product companies. We talk about the launch of TinySeed Europe, and we talk about a few other new stores. Hope you enjoy these.

If you recall, Einar Vollset, my co-founder and general partner at TinySeed. He's been on the podcast many times. He knows enterprise sales, cold outbound outreach. He knows a ton about SaaS, M&A. Then Tracy Osborn is our program director at TinySeed, and she is a former startup founder who has written several books on design and development. Now she keeps the trains running on time internally with TinySeed. Hope you enjoy today's conversation.

Tracy Osborn, welcome to Startups For the Rest of Us.

Tracy: Yeah, happy to be back.

Rob: Einar Vollset, you as well.

Einar: Thanks for having me.

Rob: All right. I'm excited to dip into some bootstrapper news, as we like to call it. First story is there has been discussion. I've seen most of it on Twitter, although we have one Hacker News link as well. It's a tweet that links out to Hacker News. Yes, it's all on Twitter.

A founder friend of mine, back in April of this year, had pointed me to a tweet by Josh Pigford that talked about him being curious with his new effort, maybe about hiring everyone as part time contractors, meaning no W-2 and no full-time. I believe Sahil from Gumroad has structured Gumroad maybe like this. Again, we'll link these tweets up, but in essence, Josh said in his second tweet he was linking to Sahil's blog post that says we have an anti-overtime rate that once you work past 20 hours a week as a contractor, people can continue to work, but it's a reduced hourly rate. So it really does discourage full-time work.

The next one is Josh talking about how to give equity to part-time contractors based on how much they work and how much they get paid. These were all in April and July. I remember talking with my friend back in April of I didn't think it was a good idea.

Just having managed teams of part-time contractors and then having managed teams of full-time folks, there's a time and a place for both. I think we've actually discussed that specific thing on this podcast. But then fast forward to September, it was just less than a month ago, Josh published something saying we ended the experiment, we're no longer pursuing building maybe around part-time fractional employees. Here's the note I sent to the team last week. While I'm still bullish on the concept, I no longer believe it can work for new product software companies, at least it didn't for us.

He wrote kind of a memo about it. What I appreciate about Josh is he experimented with a lot of different things, and some of them, when I see him, I think that's not going to work and others I think, he has a shot at making it work. But he usually circles back and tells us if it works, and I think that's helpful for the community. Tracy, what are your thoughts on this approach?

I realize I've given my opinion already, but I'm curious if either you think it's a really good approach based on what we're going to be funding our 59th company or something here in the next couple of weeks. You have a view into a lot of SaaS companies in TinySeed.

Tracy: Yeah, I looked at some of the threads that Josh did. He went into the reasons why it didn't work. The thing that stood out to me is the thing I expected to see, which is a part-time contractor is really great for one defined task, designed set task that he's hitting session after session. Once you finish that, you're done with your job for the day.

He had planning or long-term thoughts. When you're hiring someone for your company that needs to not only just hit the things you need to do that week, but you also need to start planning out, how are things going to evolve in the next couple of years? What does that look like? What is that future planning? That's almost impossible to do, I think, on a part-time cadence because it's just so set around tasks.

I think Josh also went into the fact that managing people who are part-time was hard to do because he had to really define. I forgot exactly how he phrased it, but he had to define it. That's one of the tasks they had to do is think about that long-term. It was lots of micromanagement and it turned into a big effort on his end in order to do that. It's the thing where it's just like, it's really good for defined tasks, but you can't expect without a lot of hand-holding some of that long-term planning.

Rob: Yeah. I often talk about task-level thinkers, project-level thinkers, and owner-level thinkers. I think of contractors, usually, a lot of them are task-level folks. Then you can find a few who may be project level if you seek that and you pay for that, but I haven't worked with contractors who are owner-level thinkers who, like you said, are doing the long-term vision. Einar, what are your thoughts?

Einar: Yeah, I agree with that. I was always similarly quite suspicious that it wouldn't work. Because the main thing for me is that if everyone is just part-time and task level, then all the state has to be in Josh's head by himself. It's got to be a lot of work. The downside to having employees, there's plenty. They have drama, family issues, and all that stuff. But the upside is, particularly if you're full-time, they spend their time thinking about and keeping state in their heads when you don't have to.

You can delegate in a way that you can't do if they're just working 15, 20 hours a week for you and it's very, very part-time. It's one of those things. I think Sahil instincts with Gumroad, maybe that's more in a maintenance mode, in which case, it could work better. But I certainly think if you're more Greenfield, then it's going to be very hard.

Rob: Trying to push things forward. I think of the word ownership and I don't mean equity. Like you're saying, mental ownership of a task where you go home, you think about it at night, you think about it while you're doing dishes of like, ah, I can make this better. Because I was a contractor. I was a software developer for eight years on and off.

As much as I cared about some of the jobs, it's a little bit like being a mercenary. I don't mean that in a bad way. You get paid to ship products and if I ship code, that is fine. But anything beyond that, there was a little motivation, I think, to leave it better than when I arrived.

I think of these black box tasks. I have videos that I need edited or I have maybe a particular integration that I need built. These are things that are pretty easy to spec out and define them very well. I think that's where we use part-time contractors. It's like, I know exactly what I need. But when we get into building new products, the creative thinking, and needing to—I think I can imagine trying to manage five full-time employees who are doing things versus, what do you need, 10, 15 contractors to do it? That just feels like a mess. Then you need middle managers by the time you're a 15-person company in my head.

Einar: Yeah, and now they're going to be part-time middle managers. That starts to become really complicated.

Rob: Yeah, exactly.

Tracy: I also wanted to say, I wish it would work out because it's like the dream. Work for a company for four hours a day. Not necessarily work at another company, but maybe you can support yourself, and then you have the rest of your day to pursue your own personal projects or do other things. I don't want to say, oh, you can only have employees who are only thinking 24 hours about your company because that's not what you want. You want to have someone to be able to have that in space. But part-time makes it really hard to have, like you said, that creative thought process.

Einar: Also a question, how part-time do people really want to go? I think a lot of people would be like, yeah, I'd love to have a three-day weekend. But really, do people really just want a five-day weekend, or will they actually end up doing the people who want that are people who have their own project and are actually working much more than full time?

I can't imagine not working five days a week. I would just be lost. I would just wander around. I would have to come up with a work-like project in order to keep my mind screwed on straight.

Rob: I would think that these folks would have other clients is the idea. It seems like we agree that we're not generally bullish on this approach. There might be a time and a place for black box tasks and stuff like that, but what's the positive spin on this? When will this work or what's cool about this if it works?

I think one thing that came to mind is you, I think, could have interchangeability. I think one of the ideas here is not to have any linchpin person that if they leave, they leave everything on the table. But again, even as I think of these positives, I think, yeah, but then…

Einar: That's a negative, though.

Rob: It really is.

Einar: In itself, it really is negative. If you're like, yeah, this guy, whatever. Just put him in front of the computer screen and then he'll type up more code. I'm like, meh.

Rob: Imagine that codebase—mess.

Einar: Yeah, the code base is going to be a mess and it's like, then who's thinking about the state at all? That doesn't sound fun. No, that sounds terrible, actually.

Rob: Yeah. I have a tough time. If I was a 23-year-old software developer and just wanting to work on projects here and there, that could be great for me. Back when, this is more maybe 12 years ago where I did have just a team, I had 10 different contractors who all did the little things and were all super task-based. It was VAs, there was a designer, and there were a couple of developers.

It was fun. It was a total lifestyle business. That's the place where I think this works. But I think the moment you become more ambitious and you're like, I do want to build a bootstrap that's a seven-, eight-figure business, I really don't see this working from the start. I think if you make it work, you will be the exception rather than proving it out.

All right, story number two is that Awesome Motive has acquired Sandhills Development's products and services. If you haven't heard of these companies, you've probably heard of the WordPress plugins that they manage. Sandhills used to own and sold AffiliateWP, Easy Digital Downloads, Sugar Calendar, WP Simple Pay, and the Payouts Service. Awesome Motive was started by Syed Balkhi.

He started WP Beginner, which is a really popular WordPress learning site, then started OptinMonster back in probably 2013, I believe, WP Forms, MonsterInsights. He acquired several others and now he buys sometimes fractional ownership like he'll buy a certain percentage of a company and sometimes he does entire acquisitions.

This is another (effectively) string of WordPress consolidation that is happening. There aren't that many seven- and eight-figure WordPress product companies left that have not been gobbled up by WP Engine, Liquid Web, GoDaddy. Awesome Motive is doing a lot of consolidation. I'll weigh in on my opinion of whether that's good or bad. But I think to Einar first, what is your take on this? Do you feel like this is an inevitability given any space that operates for this long?

Einar: Yeah, I think it's almost inevitable. I feel like WordPress, and it still does, had this hacker side project, build a little thing, make enough money to truly lifestyle business it. While at the same time, at least until recently, there wasn't a lot of push from the financial roll-up people. They usually stayed away from WordPress for whatever reason. They might do roll-ups.

For a while, it seemed more common to do roll-ups in the Shopify space on that platform than going after WordPress, which doesn't make a ton of sense to me just because WordPress is open source so you don't have quite the same platform risk. But certainly, I see that on some of the M&A side that it's still early days in the WordPress space. The price expectations of the buyers and the sellers are quite different from the more open or more generic SaaS, software as a service, software as buyout space.

I think it's a natural conclusion of this. People are like, oh, […], this could work here too. No problem and prices are low, so why not? The roll-up play should work in WordPress as well, if not better than in Shopify. Because WordPress is 25%, 30% of all the websites. It's a big market.

Rob: I was trying to think about whether I think this is good or bad for space because whether it's inevitable or not is one question, but is this better? I think having more things, there's the power of scale. Awesome Motive knows what they're doing with WordPress. I think they don't have a monopoly position on anything. I don't think they own all the big plugins in any one space.

I could be wrong, but I think they still have competition from WooCommerces and from Delicious Brains. There are a few others that are doing it. Again, there are not that many, but it's nice that I don't think there's been that kind of consolidation. So I don't know. WordPress, they're always so opinionated about this stuff. I'm sure there are some hefty opinions, but I don't think it will negatively impact us as a user.

I still use WordPress with my robwalling.com site. I struggle to see how it would impact that. I guess the ecosystem of consultants and agencies may be impacted by this. But I feel like if Awesome Motive and whoever's doing the consolidation, the WP Engines, the Liquid Web is back to them. If they're doing a good job being stewards of these products and these plugins, then it'll be good. If they're doing a […] job and they're rolling up just to roll up and increase valuations, then I think it will be bad. Maybe that's my ultimate conclusion is it depends on how good of a steward they are of the products.

Einar: Yeah, I agree with that. I actually think WordPress in general is an odd space. I think it may be because of Automattic, it's an unusual company in itself, like being an open-source company. It's not like Shopify or any of these companies. So that might be just contributing to the nature of that whole space.

Rob: Tracy, do you have any closing thoughts before we move on to our next topic?

Tracy: Nope. I think Einar said it all.

Rob: Our next story, I bet you two had to do a lot of reading about this. I just sent you a lot of background so you understand it. TinySeed announced TinySeed Europe a week or two ago. We announced it at our European event. It was two weeks ago.

We are raising a fund in Europe to fund European startups to essentially extend, replicate what we've done here in the Americas with our Americas fund. Einar, what was the impetus for this? Why are we moving into Europe?

Einar: There are some good reasons and there are some bad reasons. I'll start off with the good reasons. Good reasons are we have amazing deal flow there. We're seeing this bootstrap, SaaS, independent SaaS community grow, not just in Europe, but partly in the Middle East and Africa too. We want to invest in more of those companies.

To be honest with you, the requirement to become a US entity became a burden for some of these early-stage firms. Being able to have a dedicated fund that can invest directly into these European opportunities certainly was interesting. Our investors too are like, there's no real reason why a B2B, SaaS company, whether it's based in France, South Africa, or New Mexico, what's the difference? Most of them sell internationally. They have international customers and they operate in English. Really, it's a global market for most of these things. Those are good reasons.

Originally, the plan was to raise our previous fund, to raise a large fund. This is where the bad reasons come in. It has to do with basically SEC regulations on how many investors we could take. It meant that we were forced to take higher and higher minimums. Splitting the funds up to have our US fund or our Americas fund be mostly US companies, and then this Europe fund is mostly European companies started to make sense. Also, just from the boring investor perspective, some people lived in Europe and wanted exposure only to US companies and vice versa. So it made a lot of sense.

I think there has been a lot of interest, certainly. The European startup environment, it's interesting. It's where the US was three or four years ago. There's now a lot more of the more traditional venture startup stuff. But I think only now people are starting to think like, oh, you can get funding for these kinds of indie SaaS businesses that don't necessarily aren't trying to be on the unicorn route.

Rob: Yeah. Just to clarify, I should have said this earlier, but TinySeed Europe will invest in the European time zone. That goes down through Africa, the Middle East, and all that. Tracy, what are your thoughts on this having been on the inside, thoughts on hiring a replacement of sorts, or a replica of yourself? We're hiring a program manager out in Europe.

Tracy: Einar went over some of the, like I said, administrative aspects of the program. One of the big program benefits to having a dedicated European batch is that we have funded folks who are located in the European time zones, that area through the Americas fund. But because as a team, we're all US, North America-based. We moved their calls around to make it work for everybody. If anyone who is in Europe, the Middle East, or anything like that were attending calls that were super late at night.

They've all been very enthusiastic about it. We have something we set upfront, being like, hey, by the way, we're happy to fund you, but because we have to schedule the calls for our own time zone, people opted into that. That means that for the European one, the European fund, the European accelerator, as you said with the time zone, the calls and everything will be scheduled in a more reasonable time zone for anyone who is in that accelerator program, which makes me very, very excited.

It also goes for our in-person events. We are just restarting now. We would have our in-person retreats generally in North America unless we attached it to MicroConf Europe. For the last one we did in Portland this past September, we didn't get to have a lot of European founders come over because of the expense, time, and everything to fly all the way over to Portland. That also means that all of our in-person retreats will be in a more reasonable location for all these founders and make it easier for them to attend these events.

I'm very excited about that aspect of the program. I'm very excited that we can have a dedicated, everything set up. It's European folks, European, UK, Middle East, make everything just a lot easier for them. I think it's very exciting that we can do that, finally.

Rob: Yeah, I'm excited about it. Obviously, if you want to learn more, if you're a bootstrap or mostly the bootstrap founder, tinyseed.com to get on that list because it's not going to be very long before we're going to open applications early next year.

Tracy: Yeah, it will probably be in January. I'm confident saying that.

Rob: All right, good. Program manager-wise, tinyseed.com/careers if you might want to come work with three of us.

Tracy: Yeah, I have to jump in here because I'm very excited about that position as well. I came into the program manager position for TinySeed as a former entrepreneur. I had just shut down my startup, WeddingLovely, which was quite sad. You can hear about it on this podcast. But I was at a place where I love the startup fields, looking for something that was still in the entrepreneurial area, but I wasn't quite ready to start a new project.

TinySeed was a really great place for me to land. I was able to use everything I learned as a startup founder and use that to help out the founders that are in the program. This program manager position was not just for executive assistants or anything like that.

It's really great for anyone who might be in a place in their life where they've done startups and they're looking for something new, but maybe they don't want to jump into doing a whole new thing on their own. They want to be part of a team. Just wanted to say that anyone who happens to be in that place, I think this would be a good fit.

Rob: And I would be remiss. As we move on to our next story, if I did not say, tinyseed.com/invest if you're interested in investing in early-stage B2B SaaS companies located in European time zones.

Tracy: Einar was giving you eyes. Don't forget.

Rob: Indeed. All right. Our next story is a tweet from DuckDuckGo from October 11. This was maybe two weeks ago. I'm going to read their tweets, so these are their words.

"Google complies with invasive "keyword warrants" that identify anyone who searched for a term. Twitter user @iblametom reports," and then he links to a forbes.com article. "DuckDuckGo doesn't have any search histories by design, and because of that, has had zero search warrants of any kind since our founding in 2008." This tweet has almost 15,000 likes, 308, quote tweets, and 4800 retweets.

I think this fits into the privacy that has already become a thing and is becoming an even more important thing. It felt like it got kicked off with Snowden, the Snowden revelation, that we're all being monitored in the US. Tracy, you have often on this podcast, especially in the bootstrapper news episodes, talked about the privacy elements of email inboxes, blocking, tracking pixels so they can't see you opening them. I think you had said that you thought it was going to become a more prominent thing that tech would move in this direction. Talk to me about your thoughts on this whole idea.

Tracy: Yeah. I am only hesitating here because that's normally my way forward, but then I was reading something about the Google search warrants. This is because it could be hearsay, but it's something like search warrants or someone who is searching for a person's name, person's address, person's phone number. All three of those things would come up with the fact that that person was doxxing, stalking, or something for that other person.

Basically, it's hard because there were good reasons to have these privacy violations or this for-warrants that go out for some certain reasons where there is a bad actor who is doing something bad, and they search and we're able to use that information to find and stop that person from potentially causing any sort of harm.

When I read those things, it's just like, ugh, that's such a good reason, but it's always that slippery slope where it can be used for a lot of good reasons. But there's a lot of bad reasons where warrants can go out for some dirty cop or whatever. Uses a warrant to go out and pull information on someone, looks at someone's search history, those kinds of things.

I don't have a good response to this other than this general. I wish that the world was a place where we could use this information for good. Why Snowden came out with all this stuff, oftentimes the information is used for bad. DuckDuckGo having those search warrants because they don't track that history, there's also good and bad there.

For the average person who doesn't want to have any other random stuff being used for bad by bad actors, then DuckDuckGo is great, but there was response to this tweet which is like, hey, DuckDuckGo, aren't you saying, hey, sexual predators use our program, use our browser for your thing. It's going to be using you for a warrant.

Rob: It's that interesting balance. It's always that balance between national security, state security, or security of each of us, and privacy. Those two things tend to be in opposition. I will say Einar, before I roll over to you, DuckDuckGo has been giving a masterclass in how to use your 900-pound gorilla competitor. Use their number one thing against them.

In airports for MicroConf, I would see DuckDuckGo billboards that were basically saying, we don't track you and Google does that kind of stuff. They've been stiff stuck to that positioning for 13 years. I think he said they launched in 2008, it's 2021. That is unusual for a startup to come up with effectively positioning of like, hey, we're going to be privacy-focused and that's it. That's their number one bell that they ring and they're growing. They have more adoption every month that goes by.

Tracy: I use it, I should say, for all of my screaming into the void. It is my primary browser.

Rob: My question to you Einar is, it's not only how far do we think this move towards privacy will continue, but will normal people ever care? Will my mom and dad ever care about that? The massive 80%, 90% of the world, will they care about this or do you think this is just going to be continued to be at the edges with those folks like developers and more tech-savvy people?

Einar: I think it'll be at the edges. That's what I think. In general, I feel less worried about Google warrants. I feel like if there's an actual warrant and a process, then I have no faith in the justice system that it's not going to get abused willy-nilly. My view is I'm going to use DuckDuckGo, but I would prefer the rest of you to use Google so that if there were any warrants that needed to be issued to you guys, then that would be fine.

That's my view. I'm not quite so privacy-obsessed. The NSA doesn't need to get warrants to figure out what they need to do, basically. That's my view on it. But in general, yeah, I think it's more edge cases, but it's a big market. So okay, maybe 10% of people care, but that's 10% of all the people in the world, which is a good chunk of change for DuckDuckGo, for sure.

Rob: That's going to wrap us up today. Tracy Osborn, folks can find you at @tracymakes on Twitter. Thanks so much for joining me.

Tracy: I know that you almost said Tracy makes first.

Rob: I did,

Tracy: I heard it.

Rob: I often call you Tracy makes, it has your name. I struggle to call Patrick McKenzie Patrick McKenzie. I always say patio11, what's up? That just becomes a name

Tracy: I'm tracyosborn.com, but it's @tracymakes on Twitter because I could not get it on Twitter.

Rob: I remember this. Einar Vollset, you are at @einarvollset. People are just going to have to go to the show notes because I'm not going to spell that one, where you rant about the San Francisco Giants.

Einar: Yes, pretty much. They're out now, so that's okay. It's fine, I'm over it.

Tracy: Has Twitter returned to some semblance of normalcy or is it still?

Einar: I'm over it.

Tracy: Okay.

Rob: All right. Thanks so much for joining me.

Einar: Thank you.

Rob: Thank you for joining me once again this week. Whether you've been listening for a month, a year, or a decade, it's always great to have you on board. I'll be back in your ears again next Tuesday morning.