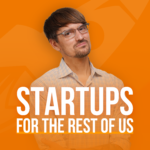 In Episode 555, Rob Walling answers listener questions with Ruben Gamez. They discuss different models of bootstrapping success, hiring W2 versus hiring contractors, determining if a business is an ideal fit for bootstrapping and they revisit enterprise pricing.
The topics we cover
[01:24] Bootstrappers Rob & Ruben admire
[12:25] Pros and cons to hiring contractors vs W2 employees
[23:05] Determining if an idea is a good fit for bootstrapping
[28:31] How to develop competitive pricing for large enterprise clients
Links from the show
If you have questions about starting or scaling a software business that you'd like for us to cover, please submit your question for an upcoming episode. We'd love to hear from you!
Subscribe & Review: iTunes | Spotify | Stitcher
Rob: Welcome to this week's episode of Startups for the Rest of Us. I'm Rob Walling, thanks for joining me again this week. Today, I dive into listener questions with Ruben Gamez, the founder of Bidsketch and Docsketch, which is electronic signatures. He is soon renaming that so Signwell as you will hear in this episode. But today, we talk about different models of bootstrapping success, we talk about hiring W2 versus hiring contractors, we talk about how to determine if a business is an ideal fit for bootstrapping versus one that isn't. We once again revisit enterprise pricing.

Thanks so much for joining me today. If we're not connected on Twitter, I'm @robwalling, and Startups for the Rest of Us is @StartupsPod. With that, let's dive into our listener's questions.

Ruben Gamez, welcome back to Startups for the Rest of Us. Thanks for joining me, man.

Ruben: Thanks. Thanks for the invite.

Rob: Absolutely. Let's dive straight into some listener questions. Of course, per usual, voicemails go to the top of the stack. In this episode, we are debuting our first ever video voicemail. If you're watching this on YouTube or on Twitter, you'll actually see a video of James Kennedy asking a question, but we'll also obviously pull the audio in for your listening enjoyment.

James: Hey, this new ask a question feature on Startups for the Rest of Us website is cool so I couldn't resist but submit a question. Rob or guest, there's been many ways that people in the bootstrap community have been winning in the last 10 years. I think of Rob and his exit. I think of Ruben with his many successes and seemingly increasing success, and Peldi, there's the rock stars, who we consider to be the rock stars of the community.

I was wondering, who are your five top templates for success that you've seen as bootstrappers? Maybe for different reasons, maybe some have exited, maybe some are holding on, maybe some have gone big, maybe some are staying small. I'd be interested to see who you admire most within the bootstrapping community. Keep up the great work.

Thanks for the question, James, and for trying out our new video ask. You can go to startupsfortherestofus.com, and there's an ask a question link at the top and you can do audio or video asks just right there on the website or from your phone. With that, he asked about who we admire most as bootstrappers. I think we can just throw out a few folks who I think we respect, who are doing good work pushing things forward.

Bootstrapping is such a trip because—I'd say bootstrapping and mostly bootstrapping. Let's be clear, if you've raised a small amount of funding, a non-venture track. We're not going to be purist about it. There are some people who are really ambitious bootstrappers.

They want to build a $5 million, $10 million bootstrap company and sell that for a lot of money or maybe they want to pull a bunch of profit on it. There are people who are building awesome, amazing lifestyles. Businesses are like, hey, we're doing $50,000 a month, and it's me or two people. We're just raking in profit on that. Those are two models. Maybe there's a third you have in mind, but who are some folks that you see in our space, who you respect and you feel like you're doing good work?

Ruben: That's right. Besides just trying to be super profitable, having larger teams and the ones that are a lot more efficient with the people that they have on the team and the revenue that they're basically optimizing for revenue in some cases, there are two names that come to mind or three names that come to mind.

First, I would say Ted and Harry from Moraware. They've been bootstrapping for a long time. They've been building their business and they didn't have this crazy growth right from the beginning. It took them a while, but they have a great business right now. They're super profitable. They like to optimize for revenue per employee, which is interesting. I've always liked that way of thinking, and I just like how they run their business. I always have.

Rob: I agree with you. It's moraware.com. It's the best. It's 15, 16 years they've been working on it, and they've gone through a lot of MicroConfs and it's countertop software. It's SaaS for countertop installers, people that design granite or cutting, to schedule things. It's a whole suite. It's a crazy cool niche.

Ruben: Yeah, it's a niche product. There's also Jordan Gal, which has had CartHook. He's doing something new now with Rally. It wouldn't be considered bootstrapping at this point, but that's a really interesting story there as well. With CartHook, he's just been—I probably put them in the more aggressive category.

He seeks more aggressive growth. He's good with building larger teams. He's also optimizing for revenue, but he doesn't think twice about spending money if it's going to lead to growth. It's not necessarily about optimizing revenue per employee, the way that Harry and Ted do.

Rob: Right. Yet I still have a lot of respect for him as an operator and as someone who mostly bootstrapped.

Ruben: Right. He does what is needed to grow a really great business. He's done it the first time, he's doing it again this time.

Rob: That is such a fascinating difference between those two examples. When you say aggressive, you don't mean personally for Jordan, you mean he's just aggressive about growing a business, that he is willing to hire a team of 30 people and to, hey, I'm going to raise more funding to do this within reason, not going to be this crazy venture backed story, necessarily. Although you guys were talking about Rally. I know he's working at a different level now, but I actually have them on my list as well.

A couple other folks I thought about include Peldi from Balsamiq, one of the OGs. He wanted to be a solo and then just hire individuals as needed, and obviously, doing very well in terms of profit. I think he runs it more like Moraware. I don't know that he looks at profit per employee or revenue per employee, but I do know that he thinks of it like this is a long term business. I can imagine Peldi running Balsalmiq in 15, 20 years versus folks who are ambitious about growth tend to be moving towards an exit.

I'm not saying everyone but that is the pattern that I see. Peldi is not like growth, growth, growth, I'm going to do it. It's like, no, serve our customers, show up, not saying he would never sell. Another example is Matt, Joelle, and Ken at Churn Buster. They acquired Churn Buster from Andrew Culver a few years ago, but they're doing really well.

I'm an Angel investor so I know the ins and outs of that. They're a pretty cool balance, actually, because they want growth, but they're not like—it's certainly not growth at all costs or even as aggressive or ambitious as pushing like Jordan, and yet they have success in their own way because it's a very profitable business. They're looking at taking out profit distributions to investors, which I think is something a lot of people talk about as a goal, and very, very few bootstrappers, who are not solo who actually take investment wind up doing that. A lot of them that I see wind up exiting instead of doing that. That's a fun one.

I'll name two more. I think what Rand Fishkin is doing with SparkToro is pretty cool. He raised his round. I don't know if he's public. Again, I'm an investor there. I don't know if he's public about revenue, but I believe he said it's tens of thousands of dollars a month. It's just him and Casey, and they have some contractors. They're doing fine.

Ruben: I like that one. It's very interesting to see the difference between what he's doing with SparkToro and what he did with Moz. Based on everything that you learn from what happened at Moz, how he's just changing his approach, that's a cool one.

Rob: Then Michele and Mathias Hansen with Geocodio. I think they're a good example of folks who have built—as far as I know, it's just the two of them. If I were to guess it's doing $10,000, $20,000, $30,000, some number that will throw up a lot of profit for two people. Fund is a lifestyle and I don't get the feeling that they have the intention of crowing it big. I don't get the feeling that they want to sell it, but they are living in that corner.

That's another perhaps contrasting with the Jordan Gal approach, or even your and my approach of, hey, I want this thing to get big, I'm going to compete in a big space. The idea of exiting for a lot of money is intriguing. I don't think that that's something they want to do.

Ruben: How would you have described your approach when you were doing Drip?

Rob: It's interesting, it switched. The idea was like, oh, this will be another lifestyle business, this will be great. Because Hittail before was doing $25,000, $30,000 a month. It was just me and a few contractors. It was amazing, like a cash machine. It was the most profitable and the most money that I had ever pulled out of a business.

Drip, I was thinking, could it be bigger than that, still profitable, but really just be me or a couple people? I didn't want to grow a team. That's how it started. By the time we pivoted into becoming full blown ESP and then marketing automation, I was like, this is not, we can't do that, we have to hire. When we got to, obviously, 10 people when we were acquired, my approach by that time had become this is an opportunity that I don't think I should fumble, because how big the space was, and how much traction we were getting, and the mini brand that we had built, it felt like I would have been doing myself a disservice in my life to not take advantage of that and try to build it.

I didn't suddenly become I'm going to build it and sell it, but I did see the path to many seven figures and frankly, probably would be—at this point, if I was still running it, it would be in eight figures, which obviously it is now with the new owners.

That was that. How would you describe your approach? Because see, folks know you. You're the founder of BidSketch, now the founder of Signwell. BidSketch is proposal software, SaaS, and Signwell is electronic signature, which is a much, much larger and much more competitive space. Would you say those two are similar, or BidSketch is maybe the lifestyle portion, and Signwell is like, this thing can get really, really big?

Ruben: I think that's right. With BidSketch, I just quit my job to do that full time. It was just to take out as much cash as I could out of the business and have as much free time as I possibly could while doing it. Growing the business, but not being necessarily super aggressive. At times, being more aggressive than others about growth, but for Docsketch, it's definitely a different beast.

From the start, it was more of a longer term approach versus—with BidSketch, I had to optimize a little bit more on the revenue side, because I wanted to do that full time and then it was the only thing paying for the bills. Once I started Docsketch, I had BidSketch that I could leverage to pay some of the bills, and I could take a different approach to try and build something much bigger, longer term. Sometimes when you overly optimize for revenue early on, you damage your chances for creating something much bigger later on. That's sort of how I'm thinking about the differences between the two.

Rob: That makes a lot of sense. If you weren't on the show today, my top two or three would have been Peldi, Ruben, and Jordan in terms of folks that I think are pushing things forward and just have a cool outlook on it. In case folks missed it, you called it Docsketch, I called it Signwell, because you're renaming it in the coming weeks. You have publicly announced that to your user base. It's not like breaking news, but just so folks understand that.

BidSketch and Docsketch, but now Docsketch is becoming Signwell. Very cool. That's it. It's an interesting topic. I don't think we've ever really chatted about that in the past.

I've got another question from James Kennedy. This one is an audio and we will roll that here.

James: Hey, good morning from the beautiful beach, Dublin Bay. It's James Kennedy here listening to you talking about full time versus W-2 versus contractors. Another topic that's interesting is outlook and view. If you use working people—people who are used to remote working contractors, they have a different outlook, which can be for good or for ill. Oftentimes contractors who are working on Upwork or other remote places, they actually do want stability of a long-term gig so you can hire, give them 40 hours a week.

Then the other side of it is forgetting the W-2 side of it is sure, just paperwork. Probably the bigger part is the emotional commitment. It's a different mindset. If you're hiring for a full-time position at all levels, really, they just have a different mindset. You have a higher bar to meet to meet their expectations, which I'm not saying is good or bad, but it's harder to meet their expectations.

We didn't get James's full question. I'm not sure if there was an issue on his end or in the video ask end, but in general, I think what he's saying is there are pros and cons to hiring contractors versus, in the US would call it W-2. Usually, 1099 versus W-2 is the US designation, but really, it's like, I'm paying you as a contractor, versus you're really a full-time employee with full benefits. I think that it's truly part of the team.

He's saying there are pros and cons on both sides. It's like full-time W-2 employees often have expectations of mentorship and a raise every year, and a budget to do this, and whatever else, progression. Progression of their career, versus oftentimes contractors or consultants, you're hiring them for a result. If they don't perform, you can let them go quickly versus W-2 folks, it's harder. It's harder to fire someone, just mentally and even legally, I'd say in a lot of places. What's your thinking? You have hired a lot of people over the years for your companies. When do you look at hiring contract versus W-2?

Ruben: Would you put somebody who's full-time but a contractor, like in the category of contractor? Because we know several people that talk about their job as like my client. They say to my client, that's all they do. They don't have any other clients. I've always thought of it as like, it's got to be somebody that has other clients or potentially can have other clients. I don't know. What do you think about that?

Rob: I think a good point to bring up is you can hire a contractor for 40 hours a week, and in essence, they're like a W-2 employee. I think that's about communication. It's about when you're hiring, being like, look, we have to pay you as a contractor because X, Y, Z reason. Usually, it's you living in another country and trying to hire you through the IRS and your country's thing. It's just way easier to do it as a contractor, but you are part of the team, and we want you to feel like this is your full-time job.

We have the loyalty to you that it's a full-time job, and we will give you raises, evaluations, and progression. What we need from you is I don't want you to take on other contract work. That's the expectation. It's about communication there. If you leave it open, I don't know. It depends, you're right. We have a lot of folks who have a 40 hour week contract gig, and they treat it as a client. They don't have that connection. I think it can go either way, just based on conversation.

Okay, got you. The main thing that I think about, and I've been working with both, I have for years, is whether or not it's core to what you have to do. If you have a software company, generally, that's core building the software, improving it. It's the product, it's part of the offer. Development is generally going to be full time. In some cases, the budget may not be there to where you can afford—in the early days for BidSketch, it was a couple of developers that were part-time developers that were contractors.

If you can afford it, then I would say that's full-time. That doesn't mean you don't enhance that team with contractors from time to time or anything like that. I like the way that Rand was talking about it last time, where it can make sense for marketing, certain types of roles to where performance is going to be really clear. Sometimes it's just better to have even an agency where you have a team of people bringing you results, and working together to create really high quality work. It's hard to just hire one person that can compete with that. If they're not performing, then you find another contractor or an agency  that can get you the results that you want.

Rob: Right. You and I chatted about content marketing health that I'm looking for with TinySeed. We've put some content pieces out that have done very well like tinyseed.com/thesis, and we had a blog post about the software industry iceberg. It just took a tremendous amount of time for us to do. We have data, we have thoughts, but to actually write it, edit it, produce it, and promote it was dozens and dozens of hours from our team. Frankly, we're busy mentoring founders, and running application processes, and running an accelerator in essence.

I was bouncing ideas off folks, and I was like, I'm going to hire a content marketer. I'm going to hire someone to help us do this thought leadership stuff to produce some of this. When you and I chatted, I was like, I have a lead on someone who's W-2 who could be a full-time and you're like, don't do it, man. Because if one person in content marketing is nowhere near as good as an agency of three or four people who have different skill sets, there's the strategists, and then there's the writer, and then there's the editor, and then there's often a designer who then puts polish on it.

Ruben: I think one of the mistakes that people might make in that situation is say, like, oh, then hire a contractor part-time or lower the budget or something like that, the comparison should really be almost at the same budget.

Rob: The thing you did ask is content marketing core to operating TinySeed, and it's not. We have been operating it without a ton of content marketing for the past year. We put out a few things, but it is not a core competency versus running the accelerator like Tracy does or fundraising like Einar and I are doing. Those are core competencies. As you're saying, a software company, it's your developers, it's your product people.

I would say it's marketing. I would not tend to outsource marketing and sales to contractors in general. I think all things being equal, if you're going to outsource, if we were to say, okay, you have enough budget to hire agencies to do certain things like content marketing, like B2B, SaaS, content marketing, I can see that. A lot of it comes down to budget, right?

Ruben: Right. If paid acquisition is working for you, that's often a really good use case for going with an agency or somebody who does it all the time because it changes so fast and so much, versus…

Rob: Learning it yourself.

Ruben: Or hiring a new employee whose only job is that.

Rob: That's a tough sell.

Ruben: What's your take on the thing that we've seen a little bit more often with Sahil at Gumroad with basically all part-time contractors filling in for core roles?

Rob: That's not something I would personally do. I don't know how Gumroad is structured or how it works. Usually I think of, if I am going to truly hire a role that is going to be part-time, I'm going to tend to make them contractors. In general, I do like having dedicated resources to my staff, whether that is an agency that I can afford, or it is someone who is in on what we need.

Back in the day when I was bootstrapped, I didn't have the budget for it, and everybody was contracting. Most people started as part-time but I tried to get them to full-time as soon as I could, because I noticed there was a difference in their focus, and a difference in their willingness. They didn't just show up and get the job done, it comes back to that task level-thinker, project level-thinker, owner level-thinker, and strategic thinker.

You can absolutely hire contractors to do task level stuff. It's harder to find folks who do project stuff, but you can find project level. I don't know contractors who are like that owner level strategic-thinkers, but I do know folks who will come on full-time with you and be on that journey with you.

Rob: That makes sense. In the local slack over here in Portland with a few friends, we were discussing that. Somebody was considering taking that approach, because they've seen a little bit more and more. It's similar to yours. I'm not a big fan of it, especially when you end up having their trade-offs and a part of it is not having the overhead of a W-2 employee for, oh, you don't have to do these one-on-ones, you don't have to do a lot of the HR stuff, you don't have to do some of the paperwork.

The trade-off is that you get somebody who's really not as committed, and you get overhead in a different way. Now you're dealing with more people than before. Instead of a team of 10—I'm not sure how many people—on working for Gumroad, 10, 15 people, you end up with 30 people maybe. That's a totally different thing. That makes things a lot more difficult in a different way. I don't like that trade-off, especially for core stuff. Then often, all those people are filling their time with other client projects, and that affects timelines and things like that. I'm generally not a fan of it.

Rob: My thinking on it has changed because I used to be all part-time contractors, and then I was some full-time contractors, and then once I experienced the buy in and the ownership of having full-time to be two people. I was like, oh, okay, this is—if I'm going to build that kind of business, I want my core stuff covered. If I want to build an amazing lifestyle—again, coming back to the lifestyle, that's not a pejorative term for me. Lifestyle business is a cash cow, it's a great business. If I want to build a business where I can just take out maximum profits and I'm willing to project manage, and have a lot of resources like you're saying, two or three times the number of people and they're all part-time, that's an approach.

I don't think it's an approach that I would take anymore. That's just not the kind of business that I want to build. Thanks for the questions, James. That was super helpful. Again, video and voicemail questions, they go to the top of the stack, startupsfortherestofus.com. You can hit the ask-a-question button at the top.

Our next question came from Twitter, and it's from Jeff Swenson. His Twitter handle is @jsswenson. He was just asking me a question directly. He said, do you have any content that addresses how to determine if an idea is fit for bootstrapping versus one that isn't? The first thing I will say is, I don't think there's a direct dichotomy of bootstrapping or not. There's often like a bootstrap to honor a small amount of funding, or do you want to venture track?

I would say there's a continuum, but those are at least three different options. My response to him was, I haven't specifically created content on this, but in general, I believe you can bootstrap almost any software company. But if you're dealing with manufacturing, or real estate like we work, then probably not. It's going to be really, really hard. You're going to want to raise money, and then there's businesses that only work at scale, like Facebook, where if you build a SaaS, and you have one client, they get value out of it and they pay you.

If you have 10 clients, they get value out of it and they pay you. Facebook with 1, 10, 100 people is worthless. That's the kind of business that needs to be at scale, not only to provide value to the group through the network effect, but to then have enough scale that you can monetize it with ads, which is how those consumer type businesses tend to be not funded, but the way they tend to monetize. I thought this was a really interesting question, because I hadn't exactly thought it through to that extent before or as replying to him.

The one other thing is, two-sided marketplaces are possible to bootstrap, but I think you need an audience, not need, it's not the right word. I think you're almost destined to fail if you do not already have an audience with one side of that network, that you're not trying to build a bootstrap—two-sided marketplace and get both markets at once or both sides of it at once. I think that'd be the other one that I would throw out. What do you think about this question, bootstrappable versus not?

Ruben: I totally, completely agree with what you said. If you need money, if it's just super expensive, because of some technology or something like that, then those are really difficult. Or if it's, you need money for different reasons, because you have to and for some reason delay the revenue side, those are also tough. It's something that needs to be free for you to capture certain—this is super related to what you were just talking about, parts of the market for making the business work.

That can look like all sorts of different businesses., but those are the ones that just jumped out at me. Other than that, you can even—if you're thinking about—because in the past, people have said, well, project management or these big categories, you really shouldn't bootstrap these businesses. I think if you go into some of those categories, it's best if you probably pick a segment and go after that segment instead of just being really horizontal. If you don't have any connections, you don't have a way to make that work, then that can be really tough if you're just bootstrapping.

Rob: That would say the same thing about building an ESP, Email Service Provider, and then Drip and ConvertKit bootstrap. I think of Derrick Reimer going against calendly with SavvyCal, where you could say, he raised TinySeed money, but he didn't need that money. That just extended his runway. He had his Drip money to essentially bootstrap himself.

Ruben: There's a big difference between raising money at that level versus like a VC.

Rob: Oh, yeah. $120,000 versus $5 million, it's just night and day.

Ruben: There's no comparison.

Rob: Yeah. Again, it was Customer.io. It was when he called and said, fundstrapping. The first time I heard that was 2013 or 2014. I hadn't realized that there was this third path. From then on, I started thinking, wow, I wanted to start funding businesses like that right away.

That became all the rest of my Angel investments and eventually led to starting TinySeed that was a big part of it. It's night and day raising, again, $120,000, $180,000 versus several million dollars. A lot of people don't know that. The moment you say, oh, I raised some funding, they think, oh, you're just on this lightning track and you're owned by the VCs. It's like, no, there really isn't that way anymore.

Ruben: It's pretty funny, though. On the VC side, I've seen some VCs like Andrew Chen and others say, and have discussions with other people, like, no, they're bootstrapped. They only raised a million. Anything under a million is bootstrapped, but they just consider it so different.

Rob: Yep. Because you still have to be capital efficient. You raise a few $100,000 and you're going after a big opportunity. A million is a lot. To me, that still sounds like a lot because I don't play, they're playing in completely different waters. When I think of someone raising half a million dollars or less, which is most of my Angel investments and the TinySeed investments—a few have gone on to raise more than that, but you still have to think like a capital efficient person, because that's just not enough money to hire. You can't hire a team of 20 and try to just hyper growth out of that. You can hire a couple people and your burn rate gets high real quick, when you do it that way.

Ruben: You can try it, but it's not going to work out that well.

Rob: That's right. It's easy to burn through it. Anyways, that's a good question. Thanks for sending that over, Jeff.

Last question of the day. This question is from Steve at skillsdbpro.com and the subject line is pricing again. He says, hey, Rob, big fan. Your work thoughts and guests offer beyond valuable insights that are actionable as well as motivational on a daily basis. Thank you.

Our out of the box pricing is $1 a seat per month. Our average size client is 500 seats, and normally are either a division of a large fortune 5000 company or a smaller 300 person company that uses us as their sole talent and learning solution. I have a question about pricing that can best be shown in this email I got from a lead today, and this was seven months ago. Sorry for that. We have a lot of questions in the backlog.

The lead wrote, thanks again for the demo yesterday. It was great to see the potential use case. I'd be interested in setting up another demo with more people in my org. Let's find a time that works. Also, if you could fit together a very enticing proposal based on up to 8000 users, that would be helpful as they could potentially be interested in setting something up before the end of the calendar year.

Now switching back to Steve's email. He says, in addition to emails like this, we recently had a request from an existing client to bid out 60,000 seats. They were currently using 1000 seats in a division and they wanted to expand it. We did not get this deal because we can't seem to get the pricing right on these larger volumes. They said we were too expensive even at a hefty double digit discount, yet they had no problem paying full price for the division.

I'm terrified of under bidding larger projects and end up bearing myself with both work and money. I'm sure you've had this problem at Drip or whether your guests have run into this. I'm just out of my league figuring out how to price large clients, and they are coming our way more often. Thanks for any thoughts you have on this. What do you think, sir?

Ruben: First, I love this business. It's got 500 seats, 6000, 60,000. It's great. The way that I would approach it, we're at the lower end of the market for Signwell right now, but we're releasing an onboarding—the API product, which is mid market and more towards enterprise. We're also now HIPAA compliant and SOC 2. Those are much bigger deals, and the pricing is just completely different.

One of the things that I've been doing is just spending a lot of time doing research on how these products were priced in our category. I think that's really important, because you're not basically—usually for a lot of these bigger deals, especially—you're not competing in a vacuum. They're getting bids, and they're talking to other vendors. First thing is just find out how some of your competitors are pricing these larger deals, because if you're not getting these deals, somebody else is.

I would figure that part out first, and then think about how you're going to be positioned in this market. If you're newer and you're trying to break in, you're probably going to—depending on your positioning and brand, can be maybe on the lower end, compared to the alternatives in there. It's really just hard to make up your own pricing and experiment. Definitely, you have to do some experimentation with this stuff, but it helps a lot if you basically understand what the customers are looking at. You can see it from their perspective.

Rob: That's a big deal. If none of your competitors publish their pricing online, then you have to dig in and figure that out, because if you're in the dark, I think you'll keep losing these. My initial thought, I'm 100%—what you said is what I would do. Without any of that information, I have heard of these big enterprise deals. You have 1000 seats and then you have 60,000 seats, that's a big difference. A 40% discount of 60,000 seats, is still in my opinion, probably not enough.

I've heard of enterprise deals that have 80% discounts at massive scale. They really bring it down. Now you have to figure out, does your cost structure work with that? Is that really where it needs to go? Unless you have some inkling as to what your competitors are doing, you really are just guessing at that point. It's tough and it can be stressful, or at least complicated and take a lot of time, every time you have to fill out one of these proposals.

I've sat in front of proposals, where I was selling my own consulting work when I was a micro agency, or we had some really big Drip contracts, where I just sat in front of it and I was like, okay, it's $2,000 a month, now it's $2500, now it's $3000. I was literally just making it up thinking, I really do want this, this will move our needle, but I also don't want to underbid. How do you get there? I had the luxury of knowing, they're looking at MailChimp and Active Campaign and you could just go to their website and get the pricing. At least I had an idea of, I am going to price myself higher, and then pitch them on, here's why we're worth that, or I'm going to price myself in the middle, or I'm going to be the cheapest, and it's still a profitable bid for us.

Ruben: That's a good point. If you're discounting that heavily, it might just not be something that you want to compete in. That's also a decision that you need to make. Like, where can you win? Where do you want to compete right now? It doesn't mean that it's always going to be that way. But it can save you a lot of time and hassle.

Rob: Yeah, I agree. I also think if you're a commodity, and I don't know, this goes DB Pro is or isn't. But if you're generally a commodity and generally the same product, and they're just comparing apples to apples, it's tough to not compete on price, because otherwise, it's the same. So then I start thinking, well, how do I get SOC2 compliance? How do I get a single sign on or get a feature or feature set that other people don't have? Or how do I get HIPAA compliant?

How can I get these things? Again, maybe all your competitors have all those things too and maybe it just is a mature space and it's really hard to keep differentiate, but that's where unique positioning and differentiated features, I include HIPAA and SOC 2 as features, differentiation allows you to have pricing power. This is like economics 101 or 102. If you're commoditized, it's mostly on price. Differentiation allows you to do something other than that and then make a higher profit.

Thanks for the question, Steve. Appreciate you writing in again. It was a fun thing to think through.

Ruben Gamez, you are @earthlingworks on Twitter, where you—you're an elder statesman of bootstrapping and of the MicroComp community. It's like you go on Twitter and you say wise things. Whenever I see you respond on Twitter, I'm like, this guy knows what he's talking about.

If you're not following @earthlingworks, you should go out and do that, and obviously, docsketch.com when this goes live, but soon it will be signwell.com. In fact, I should have you back on the show, both to give updates on what's going on with your business because a bunch has happened, but to talk us through that thought process of renaming your company, because there have to be some people out there who were thinking of the same thing. Much like I told you, I'm going to tell them, don't do it. But in this case, I think it's the right call. That'd be a fun story to walk through at some point once you're on the other side of it.

Ruben: Yeah, that'd be fun. Cool.

Rob: Awesome, man. Thanks again. Thanks for coming on the show. Thanks again to Ruben for joining me this week. Thank you for joining me once again. I'm going to wrap this episode without further ado, I'll be back in your beds again next Tuesday morning.