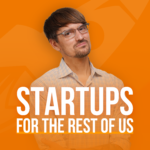 Show Notes
Our 4 Podcast Classifications:
Tactical (t)
Motivational (m)
Entertainment (e)
Exposure (x)
(Interview) Startup Podcasts
Mixergy – tm
This Week in Startups – me
Startup Slingshot – tm
Startup Success Podcast – me
Founders Talk – me
(Non-interview) Startup Podcasts
A Smart Bear – me
TechZing – me
Seth Godin's Startup School – me
Customer Development for Smart People – m
Startups for the Rest of Us – tm
Kalzumeus podcast – me
Business Paradigms
Actionable Books – x
HBR Ideacast – x
The Invisible Hand: Management, Economics and Strategy for the Thinking Person – x
Online Marketing and Online Business
Lifestyle Business Podcast – me
Tropical Talk Radio – te
Internet Marketing: Insider tips and advice for online marketing – te
Foolish Adventure – m
Internet Business Mastery – mx
Copyblogger Radio – tx
SEO 101 – tx
Talking Websites – tx
Storytelling
This American Life – e
The Moth Podcast – e
This Developer's Life – e
Tech News and Related
TWiT – e

Tech News Today – e
This Week in Tech – e
This Week in Google – e
Frame Rate – e
Windows Weekly – e

Hanselminutes – xe
Apps for Kids – e
Everyday Einstein's Quick and Dirty Tips for Making Sense of Science – e
New Ideas, Politics & the Economy
99% Invisible – xe
Decode DC – xe
NPR: Planet Money – xe
APM Marketplace – xe
APM Marketplace Tech (4 minutes) – xe
Freakonomics Radio – xe
TED Talks (audio) – xe
NPR Topics: Pop Culture – xe
Thanks to Andrea Conti for putting together the table below:
Transcript
[00:00] Mike: This is Startups for the Rest of Us: Episode 104.
[00:02] Music
[00:11] Mike: Welcome to Startups for the Rest of Us, the podcast that helps developers, designers and entrepreneurs be awesome at launching software products, whether you've built your first product or you're just thinking about it. I'm Mike.
[00:19] Rob: I'm Rob.
[00:20] Mike: And we're here to share our experiences to help you avoid the same mistakes we've made. How you doing this week, Rob?
[00:24] Rob: You know, I'm doing really good. I'm actually glad that I changed hosting facilities for HitTail from when I acquired it a year ago because back then it was hosted in Manhattan right downtown and now it's hosted in Virginia somewhere far away from the Coast. Obviously, Hurricane Sandy has really done some damage to the power grid there on the East Coast. How you've been faring?
[00:43] Mike: Pretty good. It's funny that you mentioned that you're glad that you moved HitTail to a different server that was kind of further inland because I've worked with companies that are in, you know, Western Virginia and in the state of West Virginia and most people all know this but that's a very, very big hosting area because like the geology is such that there's very, very few earthquakes and although they have deal with snow, a lot of their income and power lines were all in the ground and so are a lot of the fiber optic cables so they don't have to worry about stability of the infrastructure and that's why a lot of the hosting companies that are in D.C. have a lot of their facilities based out in that general vicinity.
[01:19] Rob: Yup, I've also heard there's a bunch of big pipes, big internet trunk pipes that go through there and maybe they put them there because of that natural geological stuff you're talking about. But AOL, I think that's like their worldwide headquarter is there and of course, laid a bunch of trunk lines back in the 90's. I've found this cool quote from the Fog Creek blog. I guess FogBugz On Demand went down for part of the day. I think it's freaking havoc on so many services are going down right now but one of their quotes was "The super human folks at our data center are hauling 55 gallon drums of diesel fuel up 17 flights of stairs." Assuming they're able to sustain a rate of transport that exceeds the rate of consumption that data center should run until electricity is restored and the current estimate is four days from now. That's insane. Big, a major city like Manhattan going to have outages for — I mean they're calling it a hundred year storm, you know, it's pretty crazy. I actually have a confession to make. You talked me in to using Trello.
[02:16] Mike: Yes, I did.
[02:16] Rob: So, I've always been a pen and paper guy for my to do's and no to do list has ever replaced it. There's always something cumbersome about them. There's just one thing that gets in to the way that doesn't work as well as the pen and paper so I never make the switch. And last week, I finally decided as I was moving couple of the guys who were working on HitTail, everything is in FogBugz now instead of, you know, other means. We were communicating via e-mail and in Google doc and such. So everything is in FogBugz and I realized that I really need to — to make one more try at this and of course, since you had talked about using Trello, I gave it a shot. And so far, I'm impressed with it. It is very simple. It does exactly what I need, nothing more. There are really hasn't — I mean I really don't have a complaint.
[02:58] I'm always looking — when I started using a to do list thing, I'm looking for the one thing that's going to make me stop using it and I haven't found that yet. I've been using it for about a week straight and it's great. I go to, you know, go to coffee shop or go somewhere else that I don't have to remember to bring this paper that if I leave this piece of paper on my desk that, you know, actually still know what's going on. So, so far, you know, big thumbs up for me and once they get — I'm assuming they got FogBugz integration at some point where I can actually move issues or at least, you know, reference issues between the two, it would be even better for my purposes.
[03:28] Mike: It's just I got a way from it because I kind of ducked my head to work on certain things then I just never really went back to it. I store a lot of things in Evernote. So I think that once your — the big problem with to do list in general and it's not specific to Trello or you know, paper or any given technology is just the fact that like as you start throwing things in to it, the more you add then it becomes, I almost say detriment because you look at this giant list of things that you have to do and it's demotivational and that's when —
[03:56] Rob: Right.
[03:56] Mike: … it really comes down to.
[03:57] Rob: Yup. If it becomes a dumping ground and there's just a hundred things on it they're not prioritized or it's hard to prioritize them, you're right. You eventually just ignore it. To declare to do bankruptcy and just shred that whole piece of paper. I've done that several times.
[04:10] Mike: Yup.
[04:10] Rob: So, yeah and that very rarely to happen to me over the coming weeks. So, I'm just hoping that this is one system that sticks. But what's nice is it's easy enough to switch back to paper.
[04:19] Mike: Right.
[04:19] Rob: What about you? What else has been going?
[04:21] Mike: So, one of our listeners named Matt Crider wrote us to let us know that he runs his website called Flapcast.com and that allows people to listen to their podcast online. And he recently started to listen to ours specifically and he's come to realized how difficult marketing really is for developer and it's really interesting to see our podcast up there because our podcast is syndicated in a couple of different channels and we have absolutely no way of figuring out like where it gets syndicated and how and any sort of statistics with that. So based on our RSS feed, we have kind of a round about idea of how many people are listening to the podcast but that's really about it. I mean because all these other syndication channels, we just, you know, it could be exponentially greater and we just don't know.
[05:04] Rob: Right because anyone who — anyone like Flapcast who might be cashing our mp3 file and letting a number of people listen to it, that means that each individual is not downloading it since Flapcast is a web — it's basically a web-based podcast interface. It's actually looks really nice.
[05:20] Mike: Right.
[05:20] Rob: It's cool. I might — I actually might import my stuff if it allows me to just import directly just almost as a backup because Apple is doing such screwy things now with their podcast. It kicked them out of iTunes and the podcast episode on your iPhone is buggy as heck and I'm just waiting for it to lose my feed and not have a copy of it somewhere. So, I may use this as a backup. It's pretty cool.
[05:42] Mike: Interesting. I haven't run any problems with it, with the iPhone, I mean.
[05:46] Rob: Oh, really?
[05:46] Mike: Yeah.
[05:47] Rob: It's the worst iOS app I've ever used.  It — hands down. Actually, I've never given an iOS app a negative review. I intentionally went to iTunes and listed out all the bugs that it still has after what's like 3 months later or 2 months  after release and they have done a bunch of updates and it's still downloads massive. I mean my — I will clean it out knowing no podcast showing as new, you know, as new needing to be listened too and within a couple of days as I sync, it'll bring 2,000 new episodes from all of my feeds in and they're all the things that I having marked as played before.
[06:20] Mike: Wow.
[06:20] Rob: And it's just — it's just a big bug. It also crashes on me a number of times a day. There's a few others and that's now slowly they were probably 10 when I started and listening to it about 2 months ago and they've slowly been picking those off. So there's only about 2 or 3 really big ones left but still only makes me wonder about Apple's ability to execute [Laughter] on this little podcast app or maybe not their ability to execute but their how high they prioritize it I guess.
[06:45] Mike: Yeah, well I can definitely add my own. I was searching for movies near Mulberry, Massachusetts. I said movies near Mulberry which the phone knows where I live so it really shouldn't be that difficult for it to find movies near where I live and it came up and said, "Movies near Melbourne, Australia." I'm just like, "Really? Come on." [Laughter]
[07:05] Rob: I'm looking for movies on the other side of the world right now.
[07:07] Mike: Yeah, I don't know. [Laughter]
[07:09] Rob: I have a HitTail update. We are now embarking on a series of integrations. If you recall for my talk at MicroConf last year, I talked about integration marketing as a way to kind of find new users and just connect with other apps and other owners. So our first one probably will go live later this week and maybe I'll talk about it next week after — after we go public to  talk about how we promoted it and kind of the, you know, the benefits we get from that. And I have also, man, I'm taking the step back and I'm doing a bunch of housekeeping issues because I have just been pushing forward, right, like it's all about providing — basically, providing the most value for the customers who are using it and trying to get more customers. So that's all I've been doing. So anything that's like not customer-facing, I've been completely ignoring. So, there were a couple of minor long standing bugs that I fixed last week. Reporting was a mess. I was using the main database that gets all this incoming traffic. We don' have any type of reporting database and I was starting my reports with then starting to slow it down and my nightly tasks that look at high volume users were starting to slow the actual production database down.
[08:11] So, we've just gone in and spent time to kind of pull that out in to something just for efficiency. To be honest, it's that point, you know, we always talk about pretty mature optimization, I'm at the place where like growth is just starting to get to the point where I need to start optimizing because it's — from where I bought HitTail a year ago, a little over a year ago, we're at 10X, the number of paying customers. And it's not that the servers have — it hasn't had any problems. It's not hasn't slow down yet but our DBA has these inner workings of the database that he knows what's going on and he shows me graphs and we're going to get there if we keep up this growth for another few months. So, now is the time to optimize.
[08:51] Mike: That sounds a little scary. I mean if your DBA is keeping track of certain things and he said, "Well, this is going to be a problem and it's going to most likely be a problem a lean 2 or 3 months, then you don't have a whole lot of time to make those optimizations that is going to turn it in to not a problem.
[09:09] Rob: Right. Well, so he didn't give me an exact timeframe. Yeah, maybe we'd see a little slow down in 3 months and maybe it'll start to be a real problem in 6 months. The thing is we move quickly since we're such a small team and we know the code base that — it's actually not that hard. I basically asked them — I was like, "Send me all the queries that are causing any types of problems and send me the optimize versions. You know, send me the old and what you want it to look like." And then he goes away and he sends it to me and I just go right in and infixed 10 queries that run all the time. I can fix all those in a couple of hours, you know, and deploy them to production. It actually isn't that scary.
[09:42] In addition, we are on a cloud server and so I can double the realm tonight, you know. It's a monthly fee. I can also add more processors. I mean we could go to 4 and 8 processes a box. There's a number of things we can add hard that space. We can do a lot of things to beef-up the box that literally could be done overnight or you know, having forbid in the middle of the day if we hadn't seen this coming. So, it's less scary. To be honest without the DBA, it would be scary because this is — it's a highly — it's a high production database, right? It's just – it's high performance and I wouldn't know — as developer, you know, just enough to be dangerous in my opinion. But having a DBA kind of on retainer really opens my eyes that he looks way ahead and helps out.
[10:25] Mike: Yeah, that's kind of the advantage of having a DBA who kind of knows what he's doing as oppose to somebody who's learned about it but isn't necessarily all up to speed on everything.
[10:34] Rob: Absolutely, that would be my description of you and I if we were [Laughter] trying to maintain the database.
[10:38] Mike: Right.
[10:38] Rob: We've kind of learned about it just enough to write code against the database but it's just not the stuff that the reports and all that in knowledge this guy has of the specific database engine and it helps that he was the one that I originally hired to help me move data centers a year ago. And so he really has some ownership and he knows all the — all the inner workings of everything that's going on so…
[10:58] Mike: That's very cool.
[10:58] Rob: Yeah, so what else is going on with you?
[11:00] Mike: So, I had dinner this past week in Brooklyn with James Robert and he's the one who you had mentioned a couple of weeks ago who is working on the Whicher. Talk shop I guess I'll say [Laughter] kind of talked to him lot about the Whicher and then talked about the podcast and AuditShark a little bit and it's interesting that those types of things that he's been doing and seeing on the Whicher. So it was — it's just kind of great to get out and talk to a podcast listener. Again, the invitation is open for other people who are in the Brooklyn area. I'm not there now but I will be in the couple of weeks. So by the time this podcast episode, you know, is released then, I'll probably be back.
[11:31] Rob: The URL is the and then Whicher W-H-I-C-H-E-R .com and it's a tournament split testing and I really dig this idea. So, it's cool you get to sit down with him.
[11:43] Mike: So, you know, who Jason and Justin from the TechZing Podcast who were always talking about Jason has these tales that are coming from like from, you know, the dark side of humanity?
[11:52] Rob: Indeed.
[11:53] Mike: Yes. So, here's one for you, "Disney just acquired the right to Star Wars." And episode 7 is due out in 2015. So, can we all just cry together now?
[12:04] Rob: Are you serious this happened? Where have I been? Is that like on the front page of Hacker News?
[12:08] Mike: I don't know. I mean —
[12:09] Rob: They're going to acquire Lucas — it's the — how is this possible? I am in a complete shock. I'm sorry I keep cutting you up. I just — I'm absolutely [Laughter] speechless right now.
[12:18] Mike: Yup, but apparently for $4 billion you could have bought it too.
[12:22] Rob: Whoa.
[12:23] Mike: Yup.
[12:23] Rob: Wow.
[12:24] Mike: So, apparently happened today and they are taking over not only Lucasfilm but they're taking over Industrial Light & Magic as well.
[12:32] Rob: That's — he must want to retire.
[12:34] Mike: Well, I think it's more of a leaving a legacy because think about this way —
[12:37] Rob: Yeah.
[12:37] Mike: I mean if George Lucas died today, what would happen to Star Wars and all the other things that he owns?
[12:43] Rob: Someone would sell it to Disney for $4 billion?
[12:45] Mike: Well, maybe but I mean —
[12:46] Rob: Yeah —
[12:46] Mike: … I guess that by selling it himself, he can kind of rest assured that, you know, it's going to survive beyond him.
[12:54] Rob: Oh, I need a moment of silence to absorb this.–
[12:57] Mike: [Laughter]
[12:57] Rob: I seriously. If you saw my tweet yesterday about my new t-shirt that I got with Greedo and Han in 8 bit format
[13:02] Mike: I did —
[13:03] Rob: you know, what a Star Wars fan I am so —
[13:07] Mike: That was a great tweet, by the way. Is your wife still talking to you?
[13:11] Rob: She —
[13:11] Mike: Or you not wanting her presence?
[13:13] Rob: I put it on Facebook and I said, "Wife is going to love this." And she said that — her comment was one word, "Couch."
[13:19] Mike: [Laughter]
[13:22] Rob: It was good. My wife is way funnier than we are. Yeah [Laughter] —
[13:25] Mike: Yes, yes.
[13:25] Rob: It was good stuff.
[13:26] Mike: Nice, nice.
[13:26] Music
[13:29] Rob: Today, we're going to be covering Podcast you should listen to and why. What we're going to do is run through — it's a pretty big list. It's almost 50 podcasts and the idea here is not that you should listen to every one of them but it's to pick out the ones that's based on our descriptions that interest you or that may had expand kind of your mind and your, you know, your vision of the world and technology. Now, we're going to start by looking at the most relevant to this audience. So, we're going to talk about startup podcasts, some interview or non-interview ones. We're going to talk about business paradigms, online marketing podcasts then branch out a little bit  to some that I'm familiar with and I listen to quite a bit and we want to both promote podcasts because every podcast needs new listeners. But I think before that, I actually wanted to mention a couple of things. One is the purpose of consuming podcast in my opinion and I really see listening to the podcast — I listen to podcast for four reasons and so I've grouped this list in to four different classifications.
[14:24] So first, there are some podcasts that are tactical and by that I mean they are very nuts and bolts, you know, "Here's how to perform on page SEO and here are the steps." And there are very few podcasts that actually do this and the reason is because they tend to be kind of boring and they're less personal and they're just less entertaining and so there aren't a lot of them there. But we are going to call out which podcasts are like that. The second type of podcast that I think of is motivational and that's if you think of like Mixergy or Founders Talk, you listen to them not to learn an exact technique but you listen to them more to get the story of what's going and to feel, empowered and to just be motivated, right, to go work on your startup. And I know some people say that Startups for the Rest of Us does that for them.
[15:04] So the third kind is entertainment and anything on the TWiT Network, This Week in Tech Leo Laporte's Network I would classify them it's like tech news stuff. It's not going to help you get your startup launch but at the same time, you can't just work all the time, right? You can't just stuff your mind full of constant tactical information because you just get overloaded. And so I find it when I have extra time if I am overloaded and I'd just wanted to do the dishes and listen to something fun, I listen to entertainment podcast. And then the last to the four is exposure. And this is something — I'm talking about exposure to new ideas. So something like the HBR, Harvard Business Review Ideacast where it's not something that is going to directly help me launch a new business, not technical. It doesn't motivate me. It's not entertaining but it exposes me to new thoughts, new ideas, new concepts that can — maybe down the line or some way changed my thinking and can help me both in my, you know, day to day work in launching a new startup, in writing an article and creating a podcast outline. I mean anything like that. TEDTalks, the audio feed of the TEDTalks is also a great way to do that.
[16:10] Mike: So, one of the things that we want to point out here is that we're going to talk about a lot of different podcasts and you have to think about when you can fit the zigs in because there are certain podcasts, there are certain types of podcasts that you have to listen to and you can't really paid too much attention to any of other things that are going on because you kind of have to concentrate and really absorb the information whereas other podcasts which are more for entertainment, you can listen to them at any time. One of the other things you could keep in my mind is the speed at which you listen to these podcasts and one of the things that I really like with the iPhone is that recently they just added a new ability to listen to the podcast in one and a half speed versus double speed because double speed can be a little bit difficult to listen to but one and a half speed seems to be really kind of the sweet spot, at least for me it is. Some people can listen to certain things faster or slower. Some people don't even speed them up at all but in order to churn through a podcast very quickly, you can crank it up, you know, one and a half or double speed.
[17:07] And primetimes to listen to podcasts tend to be when you're on a car, when you're traveling. A lot of people have long commutes so if you have a half hour or 45-minute commute, you can — at least set aside probably an hour a day, that's 5 hours a week for podcast. Other times you can listen to podcast are when you're working out or when you're doing dishes or yard work or when you're running or if you're exercising, if you're going out for a run, those are great times to listen to these podcasts. Now, one of the other things you have to keep in mind is that you do not have to feel obligated to listen to every single minute of single podcast. If you look at the title for a podcast or you look at the summary and description, feel free to skip it if it doesn't apply to you or if it sounds like something you're really not interested in.
[17:49] It's okay to listen to a few minutes of it and then just skip to the end of it and go to the next one if it's not kind of grabbing your attention. And that's one of the things that you really need to be able to do and it can be hard. I mean if there is something on your list of things to do, it's very difficult to just delete it and move on say, "You know what? This isn't applicable anymore." Skip on to the next one. Find something that is.
[18:10] Rob: Yeah, I think this is perhaps the most important tip of the day and it's why I'm able to subscribe to so many podcasts and absorb what I consider to be kind of the best elements of all of them because as I went to this list, I haven't realize how many podcasts I'm subscribed to. I think we're going to talk about 40 or 45 today and I have at least another 20 that I'm subscribed to but some of these only release once a month, some of them are very erratic even less than once a month. A lot of them, I will listen to 1 out of 5 episodes because it's just the others completely don't interest me but that 1 out of 5 can and has changed the way I, you know, run a certain business or gives me an entirely new marketing idea that will absolutely have an impact on, you know, on my bottom line or my business or on the way we, you know, we do the podcast or the Academy or MicroConf. And so there's a way — in my opinion, it's having a broad home that reaches out to many  different things and you can't — if you're going to do that, you cannot feel obligated to listen to every minute or it will just, it's just too much audio and you're going get overwhelmed and you'll just give up on it.
[19:11] Music
[19:14] Rob: Our first category is startup podcast, of course, and these are Interview Startup Podcast. So, the first is Mixergy and we've classified that as a tactical and as a motivational podcast. The next is This Week In Startups and that is a podcast by Jason Calacanis. He's actually also a video and has an audio feed. It's fairly long. It has 3 episodes a week between 30 minutes and an hour. And I've gone back and forth with this podcast. I find some of the interviews really good. I definitely don't listen to all the episodes because some of them just don't apply but I think perhaps one of my favorite interviews ever with the venture capitalist was about two weeks ago on  This Week In Startups and it's Chris Sacca and the guy is — I've never even heard of him. He's just incredibly smart and it was — Jason Calacanis is a really good interviewer, like him or not, he's had some successes and he certainly has a lot of confidence in his abilities but he is absolutely a good interviewer and he really brings a lot out of people he's interviewing. And he also is tends to be pretty honest and blunt and actually that's pretty respectable. So we've classified this one as a motivational and an entertainment podcast. That was This Week In Startups.
[20:24] The next interview startup podcast is a lesser known one. It's called Startup Slingshot and I'm going to put that in the technical and motivational. And Startup Slingshot is done by William Griggs who used to be in Nashville and now he's in Austin, Texas. And I've been on there a couple of times. What I like about Startup Slingshot is that since it's a smaller audience, he's able to do things that maybe some of the larger interview podcast wouldn't venture in to. And so an example, in my opinion the best interview on a podcast ever about lifetime value and customer acquisition cost, that kind of stuff for SaaS app is on Startup Slingshot and it's the interview he did with Jason Cohen about 2 or 3 months. And I listened to that interview 3 times because there's just so much knowledge pouring out of Jason. Good questions, good summaries, I mean he just nailed it.
[21:11] I also went on Startup Slingshot after I relaunched HitTail on January and William asked me stuff that no one else had asked and he asked about metrics, very specifically about metrics I was looking to optimize. I mean kind of get in to some detailed stuff and that's why I've classified this as both tactical and motivational. Now, some of the episodes talked about how to raise money in Indianapolis or how to raise money in Nashville and obviously, those I don't listen to because I'm not interested in the topic but, you know, fairly — regularly something comes out that really does push the boundary and I think William has a nice interviewing style that's worth looking at.
[21:43] Mike: So the next podcast is the Startup Success Podcast and this podcast is run by Bob Walsh and Patrick Foley. Patrick Foley is a Microsoft employee. And Bob Walsh and Patrick had been running the Startup Success Podcast for around 150 episodes or so and the podcast itself right now is in kind of an inter media status right now. Patrick Foley is kind of moving away from the podcast to concentrate on other things and they'll be coming back with a lot more episodes in the future but primarily it focuses on doing interviews with a lot of different startup founders and tech entrepreneurs who have been involved in various endeavors and this is really a motivational and entertainment podcast. You're not going to find a lot of tactical tips although some of the startup founders that they do interview will provide some tactics and it is a way to get some exposure for some of the ideas assuming that you come on the podcast and give an interview. But those aren't necessarily the prime motivations for listening to it. It's really about entertainment and motivation for building upon your startup.
[22:45] Rob: And rounding out our sweet of interview startup podcast is Founders Talk and this is one I'll call motivational and entertainment. It's run by Adam Stacoviak and I've been listening to him since he was on the Web 2.0 Show and it basically interview startup founders both large and small. It's mostly venture back stuff but it definitely is interesting if you have, you know, some extra time in your week.
[23:10] Music
[23:13] Rob: Our second category of podcast is Non-interview Startup Podcast. The first is A Smart Bear Podcast and that comes from Jason Cohen. He's the founder of WP Engine. You hear us talk about him quite a bit. He started the podcast by just reading his blog posts and that was actually kind of cool because since I haven't read blogs religiously in a while, it was a nice way to keep up with that. But he soon turned it in to — the way summarizes it, it's like Love Lines for startups and what — it's basically a calling show where startup founders mostly non-funded. I mean these people who are, you know, kind of bootstrapping. They can — they can call inter Skype with him and he'll basically tear down their idea in a good way like in to a positive give them feedback and not just say, this doesn't work, this isn't good. He'll actually say, "This doesn't work but here are something to try…" you know, give 2 or 3 different things to try. So he's very specific.
[24:00] So I give this one definitely motivational and entertainment value. There are also some tactical things but they're not general tactical. It's more tactical for this particular person's startup and if you can take those and turn them in to something that you like, it's definitely worth a listen. Now, Smart Bear doesn't come out that often. It's got a fairly erratic schedule. I think there's only been maybe 6 or so episodes in the past 6 months. So, its hit or miss but it's a nice one to have in the feed and certainly when it appears, it's one of the first that I listen to.
[24:28] Mike e: The next one is TechZing and this one is hosted by Jason Roberts and Justin Vincent. Justin Vincent talked at the first MicroConf and he talked about his startup Pluggio which he had grown from probably 4 figures in revenue and tripled it in a —
[24:43] Rob: No, he took it from 3 figures in revenue to 4 figures —
[24:46] Mike: Ahh.
[24:47] Rob: … in 6 months, yeah.
[24:47] Mike: Yeah. The two of them talk about a lot of different things that they have been working whether they are consulting things that they have been doing or some of the startup ventures that they've had. If you read a lot of Hacker News and you probably seen either one of them posting different blog post.
[25:01] Rob: I think the best description of TechZing is the way they put it like Jason said Startups for the Rest of Us is like going to a conference and hearing someone talk about something and it's educational. It's outlined, you know, there's 10 bullet points and things you're learning. TechZing is like if you went to go to a conference and the room was packed and so you and your buddy went to a pub and start having a conversation about startups or conversation about Hacker News. Like it's more of a casual thing, it's less structured and it's longer. I mean their episodes are typically 90 minutes long. So, you know, it's not something you can listen to if you don't have a lot of time in your week but it's definitely one, I mean I've heard every episode for probably the past hundred episodes.
[25:38] I think the only ones that I skipped — they have both interview episodes and discussion episodes. And so the discussions are when they just talk about each other's projects and differences from Hacker News and what they're working on and I listen to every one of those. Some of the interviews if they don't interest me because some of them will be about, you know, physics or like trading and writing high frequency trading systems, those ones I — I will tend to bow in and out of depending on how much they interest me.
[26:02] Mike: One of the primary things that they've talking about these days is their endeavor for AnyFu and it's interesting to hear a lot of the things that they are running in to with AnyFu about how they're dealing with the logistics of that application and how they're planning on bringing that to market. And you know, quite frankly, hearing a lot of the honest discussions about what they should or shouldn't do and what they want to portray to the users of AnyFu. So, if you're interested in hearing the beginnings of a startup that may go some place, if you're interested in hearing the inside story of how that is kind of playing out, definitely go to TechZing. Check out their podcast.
[26:37] Rob: Our next podcast in the startup non-interview section is Seth Godin's Startups School and this one just came out about a week or two ago. It's only maybe 4 episodes in and what it is it Seth doing an in person presentation. I guess he got some startup founders, entrepreneurs together for a few days or a week and he just did in person presentation. He said it was unrehearsed and without slides. So, it sounds like he's just him kind of talking from an outline or something. And I would put this as motivational and entertainment like a lot of the other ones we're mentioning but Seth Godin is so smart that it's like everything he says gets you thinking. Now, often I found myself it gets me thinking and then I don't actually know what to do with that thought because I don't have any tactics. I don't actually know what he's saying. I will make notes and then it will like strikes something — spark something later on in my mind. There been about 25-minute episodes and so far, I'm very impressed. It's just awesome to listen to this guy talking because he is so smart and he knows marketing so well and entrepreneurship for that matter.
[27:38] Next one on our list is Customer Development for Smart People and what this is it's someone reading Steve Blank's blog out loud. Now, this one I'm going to put under motivational only. Steve Blank is the customer development guy and he's actually the mentor of Eric Ries. He was the professor of Eric Ries who is on Lean Startups. Customer Development essentially, you know, the thought that you should get out of building and you should talk to your customers before building an app, figure out people — that people wanted before building and that all kind of stuff and so this is one where maybe one in four or five episodes that really gripped me and I listened the whole way through but it's still is nice to be able to keep up with what Steve is doing because he is so smart and he's had a lot of success. He brought a number of companies public just has a great history behind him, very knowledgeable and he's now an academic and so he's pushing the boundaries, the research boundaries of startups.
[28:30] Mike: And the next on the non-interview startup podcast is Startups for the Rest of Us and I think that we kind of self classified ourselves in to the tactical and motivational classification.
[28:35] Rob: And rounding out this table of non-interview startup podcast is the Kalzumeus Podcast. It's Patrick McKenzie's podcast. It's only had maybe 4 episodes over the course of 3 or 4 months. So it is erratically release. When it's on, it's good stuff. Patrick McKenzie, obviously, is very smart and then good — everything that, you know, we talked about on the show, definitely motivational, definitely entertaining.
[29:01] Music
[29:04] Rob: Diving in to our next category is number three which is Business Paradigms and so this is where we start getting in to things that are more of the exposure. So, if you recall I talked about four classifications; tactical, motivational, entertainment and exposure and all three of these are exposure to new thoughts and new ideas, things that might take you out of your comfort zone, things that might take you out of, you know, the discipline that you really want to focus on but they can — they can change your way of thinking and kind of open you up to new ideas.
[29:30] So, the first one is called Actionable Books and I've listened to several of this. What I like is that each one is 5 to 10 minutes and it's an essay, someone is writing — someone in this podcast team is writing about a new business book. And so it just exposes you to a whole bunch of new books and you can hear the summary and to figure out, you know, if you might want to go buy the book and listen to it further. My one complaint is that there are all positive reviews. So, I don't know if they only pick books that they like but there's really never a critic and I actually kind of wanted a few of them to be critics and to talk about the negative side of things.
[30:05] And the next one is HBR IdeaCast, so it's the Harvard Business Review IdeaCast, also, an exposure podcast. It looks at high level business paradigms, economics, politics, the economy, you know, stuff that may not necessarily relate directly to your business but absolutely, you know, opens your mind and they look at typically at someone who's published something in the Harvard Business Review and they just interview them for about 15 minutes about that. So, I found maybe 1 out of 2 of those podcasts to be — to be really interesting. The last one is called is the Invisible Hand. It's about management, economics and strategy for the thinking person. And this is a 30-minute podcast, also exposure.
[30:42] Music
[30:46] Rob: So, our fourth category is the Online Marketing and Online Business Space.
[30:50] Mike: And the first podcast on this list is the Lifestyle Business Podcast by Dan and Ian. And I really like this podcast. I listen to it for a lot of different reasons. We've classified this as both motivational and as entertainment. I definitely get a lot of good nuggets of wisdom out of this and it primarily revolves around making sure that you're taking a high level view of things and not digging in too much in to details, definitely, shuffling things off to other people that you shouldn't necessarily be focused on. I really enjoy this podcast. This is one of the few on my list that I listen to almost religiously. These guys definitely know what they're talking about. And one of the differences between this podcast among the other ones is that is that these guys deal with physical goods and most people don't tend to pay attention to podcast or to business that deal with physical goods but it's really interesting hearing these guys talk about, you know, their business and how they push forward when they're dealing with the types of, you know, supply chain issues that they're having. So, it's definitely an interesting podcast to listen to. I definitely recommend it to anyone to take a listen to this one.
[31:54] Rob: And the Lifestyle Business Podcast companion podcast is Tropical Talk Radio which has been coming out mostly weekly but it's a more — it's an unedited podcast and it has Dan and Ian doing different interviews. It tends to be more tactical and also is, you know, as entertaining. It's on as polished and produced as Lifestyle Business. They don't tend to have an outline. It tends just to be more interviews and discussion but I've heard every episode of it so far.
[32:20] Next on our list is Internet Marketing. And this is tough because there's a bunch of podcasts called Internet Marketing but this was the first one and it's — actually Internet Marketing: Insider Tips and Advice for Online Marketing. And definitely put this one in hard core tactical. There's some entertainment that goes along with it but Kelvin Newman and Andy White run this podcast and it is top notched. The production value, just the content, it's always very tight to the point I don't think they edit it very much and they just — they're really able to put together a good show. The topics vary from SEO to social to all kinds of stuff but it is probably hands down my favorite internet marketing podcast that I listen to in terms of getting tactical tips and new ideas and new thoughts in that space.
[33:06] Our next one is the Foolish Adventure and I've classified that squarely in a motivational and that is our good friend Tim Conley, started off with him and a co-host and then about 50 episodes in they decided to split ways. Tim now does interviews with people. He's actually interviewed several Academy members. He'd interviewed Robert Graham and John Turner and Dave Rodenbaugh in the past month. So there are some pretty good episodes that have been coming out of there about some motivational and exciting stories, you know, and basically new entrepreneurs having lot of their early successes in the past couple of years and it's been, you know, it's been cool for me to hear in detail like an in-depth interview with some of these guys because Mike, you and I had followed their stories but you can only see so much in the forums, right and in the quick conversation at MicroConf but to sit there and hear a 45-minute interview with any of those guys, it was kind of a treat. So definitely, something to check out and it's nice that Tim keeps the episode, you know, between 30 and 45 minutes so, definitely easily consumable.
[34:03] Mike: So, the next one on our list is the Internet Business Mastery and the Internet Business Mastery is run by Sterling and Jay. And it's kind of aimed to beginners. If you're kind of past the beginner stage, then this podcast probably isn't quite for you but they definitely have some good insights about where to start with your business especially if you have no tech background. A lot of their listeners do not have a software development background. So if you're listening to this podcast and you don't have a tech background, you're wondering where to start this might be a podcast that you want to listen to and pick up some good information from them.
[34:37] Rob: Yeah and we've classified this under a motivation because they have a lot of success stories that they talk about and exposure because if you're in our world and you're in software startups, it actually is good to hear other ideas and so Internet Business Mastery focuses more in information product marketing and they — they do run a good shift. They have this podcast going for I think 7 years now and I've been listening since 2006 and it's just — it's good to catch up, keep up with their stories and always to hearing new ideas about content creation and ideas for new content and that kind of stuff. So, you know, they have a good show going.
[35:07] The last couple in the online marketing space are Copyblogger Radio and that's in between seasons right now but that's definitely a tactical and an exposure podcast and a lot of you probably heard the Copyblogger Blog, well, Copyblogger Radio is an extension of that and they — it's very well produced and they have excellent interviews and also just a lot of good tactics that they share about online marketing. Next is SEO 101 which is probably the most tactical SEO podcast I know. Now, this one is on Webmaster Radio which is a little irritating. The commercials are really loud and there's a bunch of 3 and 4-minute commercials. It's basically 2 SEO consultants just talking about recent Google changes. So it's very, very detailed and if you're not in to SEO, it's going to be horrendously boring but it is the most detailed kind of in-depth SEO podcast I know about.
[35:07] And lastly an honorable mention in online marketing space is Talking Websites. I actually stopped listening to this podcast because I'm not looking to buy or sell websites right now but these guys it's — one of them is Justin Gilchrist. He's the founder of Flip Filter and I honestly can't remember who the other one is but it's very tactical and there's a lot of exposure. If you're in the startups space, this is definitely going to be exposure to the concept of buying and selling websites and domains and that kind of stuff.
[36:19] Music
[36:22] Rob: Our fifth category is Storytelling. And this is one of those things — these are all E's for entertainment, right? It's This American Life, the most popular podcast in iTunes, millions of listeners. It's The Moth Podcast just 15-minute shorts of people telling stories on a stage and it's This Developer's Life which is Rob Connery and Scott Hanselman doing — it's like This American Life but for software developers. All of these not only are great for doing the dishes, doing yard work, kind of just vegging but they actually show you how to craft a good story, how to use language very well and all of that can help you in writing, marketing, blogging, these are definitely podcasts, you know, I recommend if you — again, if you have the time, these are the more longer forms. These are getting further and further away from that core competency of actually getting your business off the ground.
[37:09] Our sixth category is Tech News and Related. And all of these are in entertainment as well. There's the entire TWiT Network, the ones that I listen to personally are Tech News Today which I love. I listen to it everyday. This Week in Tech, This Week in Google and then Frame Rate which is about cutting the cord and like buying a Roku and not having cable anymore. And it's pretty cool. It covers all the stuff you can watch online. And there's a podcast called the Windows Weekly if you're interested in that kind of thing. So the TWiT Network definitely, you know, highly network, most shows you find in there are going to be interesting and you'll be able to get something out of them.
[37:45] Mike: The next one on the list is Hanselminutes and Hanselminutes is run by Scott Hanselman. And he primarily does the podcast on his own but he always has a guest speaker on and a couple of times in the past I've seen him actually have a guest on who has interviewed [0:38:00] him for specific things.
[38:02] Rob: That was a cool episode actually —
[38:04] Mike: Yeah, yeah and primarily it's him interviewing other people about what they're doing, what they're working on. A lot of them tend to be Microsoft focus but he definitely makes an effort on occasions to go out outside of the world of Microsoft. And he will ask them from a point of view of somebody who has absolutely no idea what's going on and it's interesting because you can tell by the way he asks the questions that he definitely knows the answer to the question but he asks it such a way for the people who are listening to the podcast who don't know what's going on to give them an idea of what's going on.
[38:36] Rob: I went on Hanselminutes about 6 months. Right before the interview he told me, "I'm going to ask questions that I know the answer too." He told me exactly what —
[38:44] Mike: Did he?
[38:44] Rob: … you just said. That's pretty cool. You picked up on that, yeah. I had never picked up on that during the show but he said that exactly.
[38:49] Mike: Really?
[38:49] Rob: "I'm asking them so the listeners can find out."
[38:51] Mike: Really? I always find —
[38:52] Rob: Yeah.
[38:52] Mike: I always find that the way that he asks those questions seem relatively obvious because he would always stop people. They would start spotting off about different things and you know, he would just stop them and say, "Wait a second, let's back up a little bit. Explain what this is." And it was stuff —
[39:05] Rob: Yeah.
[39:06] Mike: … that like if you follow Scott Hanselman at all like he should know that stuff and like, you could tell that like he was just backing up a little bit for the benefit of the listeners which is a great attribute of somebody who's I'll say in journalism because, you know, they're backing up not because they want to know but because they want to make sure the people who are listening understand what's going on.
[39:24] Rob: Absolutely, and he is very eloquent and a great interviewer. He interviews mostly tech people and about like hard core programming topics like if they build a new frame — JavaScript framework or something which sounds like it could be really boring but somehow he manages to make it quite interesting. And rounding out our tech news and related, these are going to be more interesting to you if you have kids. One is called Apps for Kids, that falls squarely an entertainment and that is basically a father and his 12-year old daughter and they run through a new iOS app probably twice a month. And I have purchased at least 10 of the apps I've heard about on the show. It's a great way to find out. It's like a lot of them are new learning apps or physics apps. Some of them are just, you know, downright fun like subway panic, might some place at all the time now. But it's a good way to just kind of have a new funnel of 99-cent entertainment and just that you can — you can pick up on.
[40:16] And the last one in tech news and related is it's a little higher end in terms of age though. It's called Everyday Einstein's Quick and Dirty Tips For Making Sense of Science. And so each week they do 7 to 10 minutes about a specific Science topic and I thought this be great for my 6-year old. And he gets part of it but they often go in to more detail. It's more like a late junior high or you know, potentially high school level of discussions.
[40:39] Music
[40:43] Rob: Our seventh category for podcasts is New Ideas, Politics and the Economy. So we're probably at the circle that's furthest away now from actually needing specifics to launch your startup. All of these fall in to the exposure category in terms of exposing you to new thoughts and ideas and of course, the entertainment category if you like the topic that it's on. The first is by far one of my favorite non-tech podcast and it's called 99% Invisible. It's an independent podcast and it's about architecture and how spaces and design impact our day to day lives, very, very well produced. It's a lot like This American Life and it's only 15 to 20 minutes every week or so. If that sounds at all interesting to you, I highly recommend it. I was hooked after hearing the first episode of that two months ago. Its sister podcast is called DecodeDC and it looks in to — it's trying to put like Washington politics in to a perspective. It's only three episodes in but also well produced.
[41:42] The next couple are from NPR. One is called Planet Money and that is also a — I think they do 2 episodes a week and they look at — it kind of is the economy and the business landscape but they do really interesting specific  stories about it and it's very personable. It's kind of like this podcast, Startups for the Rest of Us, was did stuff about the economy, it's like two people chatting about something and you get to know the people. It's not just news reporting. The next two are APM Marketplace which is also on NPR and that is a news reporting show and then APM Marketplace Tech which is a daily 4-minute podcast. That's some pretty good tech news. I've been listening to that for about a month and it's just a great way to start my day to kind of hear, you know, what happened the previous day or what happened that morning.
[42:25] And rounding this out are a couple of podcasts that some of these run a little long. They're definitely in to the exposure — in to exposing you to new things. Freakonomics Radio if you read the book Freakonomics, they have a podcast comes out every week. TEDTalks, they released 4 or 5 new audio TEDTalks a week and this is the same stuff you could see if you went to TED.com and subscribe to their RSS feed there but they just put out the audio versions in podcast format and I skipped a lot of these. I probably listen to 1 in 5, 1 in 10 but definitely, you know, expands — expands my thinking. And the last one is To Stay In Touch With Pop Culture. I literally learned about them on this NPR podcast called NPR Topics: Pop Culture and it gathers up all the pop culture topics from the last week.
[43:08] Mike: I think I had mentioned this in the previous podcast that I purged my list of podcast that I listen to several months ago just to kind of focus on AuditShark but it's interesting to see the sheer number of other podcasts that out there that I haven't listen to. I did know about a lot of the other ones like Foolish Adventure and I just — that's one of those things that's been on my list to listen to. I just haven't gotten around to it yet but there's a lot of other ones like that I am somebody would like to This Developer's Life and Internet Business Mastery and obviously, I listen to TechZing and Lifestyle Business Podcast. But you know, the sheered number of podcasts that are out there are in some ways I think overwhelming for a lot of people because you really have to be able to filter through what other people are listening and what is relevant to you.
[43:54] Rob: I agree and my hope is that this episode serves as a filter for people who are listening rather than the opposite. We don't want to overwhelm you with 50 things you feel like you have to add it in to your iTunes feed because that's not what we're trying to do. What our hope is that you pick the ones that sound at least a bit interesting. You kind of filter through them and if you start — if you don't like an episode, like Mike said, you skip it and if you skip a bunch of episodes in a row then you unsubscribe from the podcast. I know that without podcast, I would not have met a ton of great people that have become part of my network that are around the world and that have helped me with getting HitTail launched, certainly will help us promote things like MicroConf. I mean just in general, it's just good to have this — this network of people and to hear about them whether they're actual host of a podcast, whether they're the actual – the person being interviewed, these are the people that are doing things in public, right? I mean this is like being in touch with them and if I hear someone on the podcast and it's interesting, I feel we have something in common, I will totally drop them an e-mail and say, "Hey, I heard that, great interview. Let's talk. You know, let's talk about doing something or let's you know, just whatever. How can I help you?" That kind of things.
[45:00] So, there's a lot. It's not just about consuming. It is about like giving back in the space and being able to connect with others and I think another point of value is as if you are looking to — to market your startup. The way I put together that whole HitTail marketing plan, for the most part, it was a lot of stuff off the top of my head that I had, you know, sticking in there but it was a lot of audio books and a lot of podcasts. It was pulling marketing ideas from this and I may not have implemented them exactly the way that they described them in the podcast but they would say one sentence about one idea, I would jot it down and I would later make it on to this marketing plan and those things have absolutely made a difference in how I built and launched and marketed HitTail.
[45:38] Mike: That's a really great point that you make about being able to give back and just drop people an e-mail and say, "Hey, let's talk," or you know, whether you're offering to do something for them because a lot of these podcasts just really thrive on hearing back from the community and even if it's not just a question or "Hey, what can I do for you?" Even if it's just a, "Hey, thanks for this episode. It really resonated with me." I mean those things are great to hear as somebody who's developing a podcast. So if there are podcasts out there that you're listening to, I highly recommend that you just drop an e-mail to the people who are developing those podcasts and just say, "Hey, thanks. I really appreciate what you're doing."
[46:11] Music
[46:15] Rob: If you have a question for us, call our voicemail number at 888-801-9690 or e-mail us at questions@startupsfortherestofus.com. Our theme music is an excerpt from '"We're Outta Control" by MoOt, used under Creative Commons. You can subscribe to this podcast in iTunes by searching for startups or via RSS at startupsfortherestofus.com where you'll also find a full transcript of each episode. Thanks for listening. We'll see you next time.
Reader Interactions