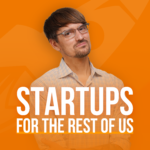 In episode 687, join Rob Walling for a solo adventure where discusses a variety of topics. He revisits a recent episode to add one more item to the list of things founders should never do. Rob also offers a hot take on Meta's new subscription plans and weighs in on a Hacker News post about doing things that don't scale.
Episode Sponsor:
Find your perfect developer or a team at Lemon.io/startups
The competition for incredible engineers and developers has never been more fierce. Lemon.io helps you cut through the noise and find great talent through its network of engineers in Europe and Latin America.
They take care of the vetting, interviewing, and testing of candidates to make sure that you are working with someone who can hit the ground running.
When it comes to hiring, the time it takes to write your job description, list the position, review resumes, schedule interviews, and make an offer can take weeks, if not months. With Lemon.io, you can cut down on a lot of that time by tapping into their wide network of developers who can get started in as early as a week.
And for subscribers of Startups For the Rest of Us, you can get 15% off your first 4 week contract with a developer by visiting lemon.io/startups
Topics we cover:
1:50 – There's one more thing that founders should never do
8:44 – Facebook and Instagram will offer a subscription for no ads
12:42 – Ask HN: Paul Graham's "Do Things That Don't Scale"
19:53 – Lugg, doing what it takes to prove out an idea
Links from the Show:
If you have questions about starting or scaling a software business that you'd like for us to cover, please submit your question for an upcoming episode. We'd love to hear from you!
Subscribe & Review: iTunes | Spotify | Google
Rob Walling:
It's Startups For the Rest of Us. I'm your host, Rob Walling, and this week is kind of a Hot Take Tuesday but to be honest my two guests were unable to make it. One got sick and the other one had a pretty gnarly schedule, and I have no flexibility later this week because I'm traveling and we have MicroConf Remote and I'm giving a talk, etc, etc. So you'll notice more episodes than usual over the past month or two have been solo episodes, and that has been because of my schedule. I have very limited time in front of my computer these days and trying to schedule folks to actually record an episode, whether it's an interview or a Hot Take Tuesday it just hasn't worked out. So even though I had this on the calendar with two guests planned, here we are with me and several topics to talk through today. But rest assured, as my schedule calms down over the next few weeks we will settle back in to our normal Startups For the Rest of Us schedule and one more thing. 

We've recently reopened the doors for our online community, MicroConf Connect. MicroConf Connect is our virtual hallway track, it's a vibrant community of SaaS founders helping each other and discussing wins, challenges and frankly how to grow faster. A couple of months ago we paused new signups to improve the platform based on your requests. With MicroConf Connect 2.0, we're rolling out three membership tiers packed with new perks, like weekly coworking, exclusive discounts, a searchable content library and more. Whether you've been a member of Connect or not, you really should check it out, microconfconnect.com. So I want to cover a few topics today, one of which is more of a, Rob, solo adventure topic and the others are things from the news that I had put together for this episode of Hot Take Tuesday. The first topic ties into an episode of the podcast that went live a couple of weeks ago about things startup founders should never do, and I listed seven things in that episode. In between the time I recorded that episode and a couple of days ago, I realized there's another one. 

And of course I think this will be a fun Startups For the Rest of Us drinking game over the course of the next year or two. That every time we all collectively as a community think of the next thing that folks should never do we can all take a sip of an adult beverage. But this one popped up during a conversation I was having with friend of the show, Ruben Gomez, and we were texting back and forth about different things. And I realized that an eighth thing that startup founders should never do is to take funding and then start side projects. And the reason for this is that three of the things that lead to your success as a founder are focus, focus and focus. I say it jokingly a bit, right? Obviously there's a lot of other attributes of founders that make them successful and unsuccessful. But I do see a lack of focus as a major red flag with founders and in fact, when we're interviewing founders for TinySeed. 

If we get a lot of pushback about asking them to say go full-time on their startup, or someone who we notice is all over the place doing the indie hacker dream where they have five or six different products. I would never invest in that person because they don't have commitment to one idea or one company or one product to be able to push it forward in the way that it's going to need to be to become a successful product. And I think of success these days as it's a seven or eight or a nine figure ARR company, usually seven or eight figure. And trying to have a bunch of things going on, starting side projects that you're investing quite a bit of time in and taking seriously and actually launching and working on it is this interesting drain of your creative energy. And I know some of you out there are hearing this and saying, "That actually makes me better at what I do. You know what? Once I've had one or two drinks I'm actually a better driver." Which was the whole cliche what in the '80s and '90s. 

But seriously I get it, we all have entrepreneurial ADHD and I would love nothing more than to work on five or six different things. Because you know what? It allows me to always be stimulated, it allows me to feel creative and it allows me to spread my efforts across a bunch of stuff. But that's precisely the negative impact that it has is I'm spreading my creative thoughts, my creative energy and my time and my attention across side projects and my main company. So there's no reason that you can't work on two, three, five, 10 things at once you should go do that, but what you shouldn't do is take investment for one of those. Because any investor, especially venture capitalists and especially professional angels and especially accelerators will require that you do not continue working nights and weekends or maybe it's during the day. Right? No one's watching you, but that you continue to work on these side projects, launching these things, promoting these things. It's a terrible signal. Now, you may find friends and family or you may find inexperienced angel investors who are willing to give you money. 

If you are playing Dungeons and Dragons on the side and you have a Dungeons and Dragons podcast or you run an event for startup founders most people don't care. But it's when you are essentially launching other products that are also software. Right? That are also SaaS. You can't grow three SaaS companies at once, no one does this. Right? It's an anti-pattern. You can grow one and then have a couple that are flailing around and so if people see you tweeting about one, two, three, four, five, different projects at once. It's pretty obvious that you're not giving any one of those the attention they deserve and so the solution, if you do want to work on multiple things or you want to be able to start side projects don't take investment. Investment only works in certain situations and although I have my 1990 rule, which is I think about 1% of tech startups should consider raising venture. I think about 9% should consider raising what I call indie funding, which is TinySeed, Indie.vc, Upeka, and the other alt VC funds that you might hear about, and then 90% should probably bootstrap. 

And I think that if you want to do a bunch of products, and this comes from someone like myself who at one point had somewhere between nine and a dozen depending on how you count products, all generating revenue. But I didn't raise money for those, and when I went to focus on HitTail I didn't raise money for that either because I wanted it to be a lifestyle business. The only one that I would've considered raising money for was Drip and then frankly TinySeed, because I'm focused on those and committed to those and you might say, "Well, Rob, you work on TinySeed and MicroConf, and you have this podcast." And that's true, but if you look at them they're all in the same ecosystem and it's this virtuous cycle of all three of these things feeding into one another in a good way. Everything I do for MicroConf helps the podcast and vice versa. Everything I do with MicroConf helps TinySeed and vice versa. Each of these things feeds on each other and they're all growing and supporting one another and I also have teams of people running these companies. 

If you think I'm in the nitty-gritty of every decision that's being made at all the companies I work on you would be incorrect. Now, there's a vision and a direction and high level guidance and advising that I'm giving. But if any of these were a SaaS company that I was trying to grow I would need to focus on it almost full-time. Now, I ran MicroConf and this podcast on the side. Mike, and I did this essentially as a hobby and it was a side project and when I went to sell Drip I actually got in a conversation with our acquirer and the CEO asked me, he said, "Are you going to keep doing these things on the side, the MicroConf and the podcast?" And I said, "I am. That's been part of my personal brand, I actually think it's beneficial for Drip and it's something I think I will do for decades." And he was okay with that. 

But what he wouldn't have been okay with or I don't think he should have been okay with is if I said I'm going to sell this to you, I'm going to come work for you for a year or two, and while I do that I'm going to launch a side project or four side projects. Because I get bored with stuff and because this one isn't working and so I'm going to hop to the next one. I didn't do that and it's anti-pattern, it's a bad signal and so it's tough because as much as anyone I like starting new stuff, as much as anyone I have entrepreneurial ADHD I know that. But the founders that I see succeeding are the ones that focus on something for enough time to get it off the ground and to get it to escape velocity and that takes focus. So to recap, the eighth thing that startup founders shouldn't do is to take funding and then start a bunch of side projects. 

My second topic of the day is more of a Hot Take Tuesday topic I was going to discuss with my other two co-hosts, but I have some thoughts on this and I'm pretty intrigued by it to be honest. This is an article from Slashdot, I know you haven't heard that website in ages, have you? I haven't read Slashdot well over a decade. I was never super into it, but I found it to be a pretty decent source of nerdy news stories that kind of relate to this podcast and that can be discussed on a Hot Take Tuesday episode. So the headline is, "Facebook and Instagram to offer subscriptions for no ads in Europe." To comply with evolving EU regulations Meta says they're introducing a new subscription option in the EU, EEA and Switzerland. It's going to cost $10.50 cents a month if you buy on the web or $13.75 cents a month if you buy on iOS and Android. My take, I would pay for this in a heartbeat. I actually like the idea of having freemium and paid versions of all these systems. 

Because it allows someone like me who doesn't want to see ads and who has the means to eliminate the ads and on YouTube, I have been paying for whatever YouTube Premium I think it's called. I've been paying for that for years. For so long in fact that if I wind up on YouTube in an incognito browser I'm shocked and appalled at the pure volume of ads that are coming my way. I forget, I forget that YouTube has ads as crazy as that sounds. But you know what? My 17-year-old, my 13-year-old, they're not going to pay this much and so they can still use the product and be ad supported and that's what I like about this kind of thing. I don't use Facebook at all, I deleted it from my phone about eight months ago and I only use Instagram for it's to keep up with a few people in a niche hobby that I'm in. But my hope is that Meta looks to roll this out worldwide. 

I don't know that they will unless the US requires it because this is EU regulations that are essentially requiring them to do this and given that Meta is in the ads business. Right? That's where they make their money. I don't know that they want to cap their upside by having a subscription that they then have to increase the price of every year and take a bunch of flack like all the streaming providers do. So it remains to be seen if this will come to the US, but any of these systems that want to do this why not give us the option? And if you do this they won't use your information for ads because they're not serving you ads. And I like that even more to be able to pay for that privilege while again having the option for folks who can't afford it to still be able to use the free version. So I'm envious of you, EU, EEA and Switzerland, I hope you take advantage of this once it's available. 

Finding the perfect software engineer for your team can feel like looking for a needle in a haystack, and the process can quickly become overwhelming. But what if you had a partner who could provide you with over 1000 on-demand vetted senior results oriented developers who are passionate about helping you succeed and all that at competitive rates? Meet Lemon.io. They only offer handpicked developers with three or more years of experience and strong proven portfolios. With Lemon.io, you can have an engineer start working on your project within a week instead of months. Plus, you won't waste your time on candidates who aren't qualified. Lemon.io gives you easy access to global talent without scouring countless job boards, and it's more affordable than hiring local talent and if anything goes wrong Lemon.io offers swift replacements. So it's kind of like hiring with a warranty. If you need to grow your engineering team or delegate some work, give Lemon.io a try. Learn more by visiting lemon.io/startups and find your perfect developer or tech team in 48 hours or less. 

As a bonus for our podcast listeners get a 15% discount on your first four weeks of working with a developer. Stop burning money, hire devs smarter, visit lemon.io/startups. My next topic is a thread from Hacker News. Don't read the comments, but we will link it up in the show notes. No, actually it's so funny to look at Hacker News threads and to see the first comment or the comment that's all the way to the left as you scroll down. Right? So it's the ones that are the main comments responding to the original poster. Those comments for the most part are pretty intelligent, well-thought-out and helpful. Now, the further you scroll down they're not. But what happens is you get someone post an intelligent comment and then it instantly devolves into this pissing contest and this argument between people who it's pretty obvious like you have no idea what you're talking about. Or wow, dude, you are way too opinionated about something that no one else cares about and/or pedantic trying to correct a word someone wrote. 

And they write a 500 word response and you disagree with a single word of their response because that's totally worth talking about. So anyways, it never ceases to amaze me both the value you can get from Hacker News and also what a mistake it can be to actually read into the comments. But this thread is an Ask HN where the OP says in, Paul Graham's, essay he talks about manually doing what you later plan to automate. So this is the essay do things that don't scale, and in the essay PG gives the example of Stripe manually onboarding startups. Does anyone else have other examples? And I really like this thought process. What's funny is manually onboarding startups like Stripe did was considered, it was like, whoa, you can do that? No one does that. And that was what, 2012, 13, 14? It was in that range. Nowadays, anyone who's starting out I would say manually onboard your first 20 customers. 

Don't write any code, figure out what the hiccups are, figure out how long it takes them to get onboarded and to get value and that will inform the duration of your trial and even run billing manually for a while. One of the first things that we did when we were getting Drip off the ground, was not write any billing code. There was no subscription code, I believe we could accept their credit card through a form… No, actually we didn't even have that. We would manually create an account, and this is for maybe the first 20 or 30 trial users really most became customers. We'd manually create an account, Derek, would do this in the console, into the database directly. So then they would have a login, they could reset their password and they could log in and they could use it and there was no billing page. There was nowhere to enter a credit card and I was manually working with folks mostly via email. 

I think I did a little bit of a Skyping, because this was pre-Zoom, so we would literally jump on Skype to show you how long ago it was. And I would just tell them, "Look, don't pay anything before we get value and if you never get value just don't pay anything. But I'm going to check in with you every week or two and let's figure out how to get this installed and how to get you using this and whether or not it's more valuable to you than the current tool you are using." And I learned a ton about this. I learned that from the time you installed the code, it was about 14 days until you maybe had enough subscribers that it kind of made sense that Drip was valuable for you and we had folks in the system that would eventually say, "All right, I feel like I'm getting value. I want to start paying you." And I had told them it's going to be $49 a month. 

And so what I was going to do was go directly into Stripe to log into stripe.com and I was going to take their credit card and type it in. But, Derek, said, "No, let's get a page up and let's get a page in the app so they can enter it. It's all secure, you don't have to get on a phone call with them and it'll make sure everything's synced between our database and Stripe." And so in an hour or two he hacked something together that allowed them to enter their credit card, post it to Stripe to get the customer token and now we could bill them. The thing was we didn't have any code written to bill people and that was okay, and we ran like this for months and I would set a calendar reminder in Google Calendar that after 30 days or a month I would go in and I remember billing, Brennan Dunn, manually. And I remember billing several other early customers going into Stripe and literally clicking a button that said charge this much and that doesn't scale. 

And that sounds a little crazy, but it saved us hours of development that we were pushing towards other things, features that actually made a difference to our customers. And eventually of course, Derek, created a little billing engine and we put a rig task into the system. A Cron job for those who aren't familiar with Ruby and Rails and set it to run every night, check if anybody needed to get billed. We did all that eventually. But I mean building that takes time, right? It takes how many to QA it and to write the unit tests and to make sure it runs because man, you don't want to screw up billing. That took time and we pushed that off as far as we can. It was literally months and months and we had I would say 20 people using the app willing to pay for it before we cranked up the subscription engine. Another thing we did, this is less about things that don't scale but this is top of mind for me. 

Because I did a call about a month or two ago, someone backed the SaaS Playbook Kickstarter and they backed it at the level where they could do a one-on-one conversation with me. I don't do consulting, but I made just a handful of spots available where people could pay it was either 800 or $1000 and they could talk to me for 45 minutes and those all sold out. It was great. But someone had the question of what can I leave out of the app? When people talk about an MVP, what does it really need to do and what can I leave out? And one example I gave her was in Drip, which was an email service provider. Think of it like a competitor to MailChimp, it's a little different but you get the idea. You can create emails, you can send them to people and you can send sequences and there's some automations. We had no delete buttons anywhere, so you could create a broadcast email, a one time broadcast, you could send that or it would be a draft. 

But if you decided that you wanted to delete it, we had to literally go into the console and delete it out of the database directly. There was nothing in the user interface to delete anything. In fact, there was no searching anywhere. So if you'd had 100 or 200 broadcasts at the time that you wanted to search through, you couldn't and it actually took us a year or two to get to adding search. But in the early days, no one had 200 of those. So they didn't need a way to sort or search or really even delete. For the most part, people would just rename it and use it next week if they had mistyped something or if they'd created a broadcast they didn't want to use. We got shockingly little pushback about this. As developers who have worked on complete systems that are mature five, 10, 15 years in this piece of code or this application does all this stuff. 

You can't imagine not writing sort and search and delete buttons and reorder and all the basic functionality of what you might think of something in a table layout, but you don't need much of that. You need almost none of it, you need to display it and you need to allow them to do what is the minimum viable action for that screen. It's to create a new thing and it's to edit that new thing and in this case it's an email, so it's to send that new thing. But that was it, everything else we pushed off as long as we could and sometimes we did get some pushback. I can't believe… Put in quotes, "I cannot believe that you don't have any delete buttons." And I'd respond with, "Yeah, I appreciate that. And if you want us to delete something send us the name of it or whatever and we'll delete it for you." But honestly, we are so busy providing value to our customers at this point and there are more valuable things to be building than delete buttons. 

To wrap up this topic, as I read this in this Hacker News thread the number one response to doing things that don't scale is actually super interesting. So the comment is from one of the co-founders of Lugg, which is lugg.com and Lugg's H1 is move anything with the push of a button. So it's about actually moving furniture and such and one of the co-founders posted and they said, "At Lugg we did a few things that would not scale. Number one, my co-founder and I did all the lugs ourselves in trucks we rented through Getaround for the first four months. My co-founder and I's names, pictures and phone numbers were hard coded into the app as the crew to fulfill the lug before we had crews or proper dispatching." And this is Rob cutting and see if you're going to do a two-sided marketplace, this is it. They were one side of the marketplace and it must've been incredibly local. I don't know where they lived, but then… Oh, they're in the Bay Area, it looks like the next one they talk about being in Emeryville. 

So they lived in a city big enough where there was enough demand because if you lived in a tiny little town this wouldn't work. But living in a big enough city and then being willing to grind it out like these guys did, it's pretty impressive. The third bullet is, "We launched without payments and would charge customers with a square reader at the door." That's amazing. Fourth one, "Most mornings we would camp out in the IKEA parking lot in Emeryville, California." That's in the East Bay, "And approach customers that were struggling to get their purchases in their cars and we pitched them that we would deliver their items if they downloaded the app and made a request. In the early days, we didn't have operating hours and anyone could request a lug at any time and my co-founder and I would hop in our rented truck and do it. A few months in we did a lug for someone that knew, Sam Altman, and made an intro for us. 

We met him for coffee shortly after had a YC interview and we were later accepted in the spring of 15 batch." So that's eight years ago. This is not something that I would personally do, it doesn't sound fun. But talk about grinding and doing what it takes to get the job done, right? And if you're going to do a two-sided marketplace, as I said this is how you do it. But also none of that scales, but all they were doing was just trying to prove things out and just trying to learn and if you think about that that's what doing things that don't scale is about. And there are a lot of companies that apply to TinySeed that we talk to and some that get in that are doing the human automation man or woman behind the curtain just pedaling like a duck under the water like crazy to get the service done just to prove that there's a need. 

Because if you prove there's a need and you prove that you can sell it and you prove that people are willing to pay for it, fulfilling the service and automating that, writing it in code is often not the hard part. It's usually not the hard part. The hard part is just figuring out what is it that people want? How do I build something that people want? How do I offer something that people want and are willing to pay for? And however, you can validate that obviously assuming you're doing it ethically and you're doing it in a way that allows you to learn. I'm all for doing things that don't scale in the early days and that's going to wrap us up for this week's episode. Thanks for joining me this week, I know it was kind of a mashup of multiple episode types and it's one of these weeks where the show has to go on. I wanted to get an episode out to you. 

I hope it was valuable to you to hear the insights I had to share on these topics and as always, I'll be back again next week with another episode. This is, Rob Walling, signing off from episode 687.
Reader Interactions