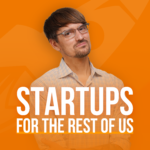 In episode 686, join Rob Walling for another solo adventure where he answers listener questions. He answers how to evaluate monetary success, combat hedonic adaptation, and how to evaluate the capabilities of technical co-founders. Rob also discusses whether outsourcing sales and marketing is possible and considers some alternative no-code approaches.
Topics we cover:
4:20 – Success after stair-stepping, confronting hedonic adaptation
15:35 – Sales funnels, friction before demos, and collecting email addresses
19:24 – Outsourcing marketing and sales
23:54 – Evaluating the technical capabilities of your technical co-founder(s)
29:41 – Reducing the platform risk of developing in typical no-code tools
Links from the Show:
If you have questions about starting or scaling a software business that you'd like for us to cover, please submit your question for an upcoming episode. We'd love to hear from you!
Subscribe & Review: iTunes | Spotify | Google
Rob Walling:
I remember being stressed in the early days, early, early days of Drip, that we aren't moving fast enough, right? But I knew Derek was a baller developer, but I knew he also wrote really maintainable, high quality, scalable code. And so if it took an extra few days or an extra few weeks on a larger project to ship something, I was willing to live with that because I wanted long-term to have a code base in a company that would scale. Unlike some companies that we see where you get this non-technical founder who hires a Dev or has kind of a minority technical co-founder, and they drive them and push them to write code faster and faster and faster. And the code is, and then they get to a million, 3 million, 5 million in ARR and they stop. They lock up. You can't build features because nothing is maintainable. You can't add new things because you break old things. There's no unit tests, there's just low quality code.

Welcome to another episode of Startups for the Rest of Us, I'm Rob Walling, and today I answer listener questions. Some text questions from all the way back in January of this year, so it is at 10 months and I sprinkle in some video questions as well. Before we dive into that, we are running the next edition of the State of Independent SaaS survey and report. Through MicroConf we've run the survey a couple of times and then we decided to take a last year off because the information coming through wasn't changing. The survey is about 40 questions. It takes less than 10 minutes to complete if you have your metrics handy. And then we take that data from what usually winds up being between 600 and 1,000 independent SaaS companies. These are bootstrapped and mostly bootstrapped SaaS companies, and we compile a report with all the key findings and helpful industry benchmarks that you don't get anywhere else.

The survey closes soon. We could really use your input. All the data is kept anonymous and every survey response we get makes the report that much better. Head to stateofindiesaas.com to complete the survey, and we're going to enter everyone who completes a survey into a drawing for a free ticket to MicroConf US 2024 in Atlanta. That's more than a $1,000 value. I know it's a lot for me to ask you for 10 minutes out of your busy day, but it really would go a long way towards making this year's report the best yet. We are mixing it up this year asking different questions and pulling out different findings than you've seen in the past. So even if you've filled out a prior survey, it'd be amazing if you could head to stateofindiesaas.com and complete it.

Before we dive into that. Tickets for MicroConf Local in Austin, November 14th of this year are on sale and they are going fast. If you are a Bootstrap SaaS founder in the Austin area, you don't want to miss out. The location is the WP Engine HQ and the guest of honor is Bernard Wang, the co-founder of Clear Scope. We're also going to have founder by founder, which is an amazing source of networking and building new relationships. You can head to MicroConf.com/locals to get your ticket today. Tickets are only $50, so if you're in the area, it is 100% worth your time to check out this event. Our very own Tracy Osborne, whom you've heard on the show, will be MCing the event and doing a fireside chat with Bernard. It's just a couple hours in the afternoon of November 14th from 3:00 – 6:00 PM. With some conversation, some meeting of other founders in your area, and a nice happy hour at the WP engine headquarters. Microcomp.com/locals to grab your ticket.

And one more thing, we've recently reopened the doors for our online community, MicroConf Connect. MicroConf Connect is our virtual hallway track. It's a vibrant community of SaaS founders helping each other and discussing wins, challenges and frankly how to grow faster. A couple months ago we paused new signups to improve the platform based on your requests. With MicroConf Connect 2.0, we're rolling out three membership tiers packed with new perks like weekly coworking, exclusive discounts, a searchable content library and more. Whether you've been a member of Connect or not, you really should check it out MicroConfconnect.com.

And with that, let's dive into my first listener question. The person who wrote in asked to be kept anonymous and he and I, it looks like have a long email chain starting back in 2020. But in this email, which came in January of 2023, so about 10 months ago, he says, "Rob, I like to imagine if I had a podcast that reached thousands upon thousands of entrepreneurs, I'd want to know if I was impacting them. While I'm quite certain you already know this, we've been exchanging a couple emails every year for the last three-ish years, and whenever I have a question I want to send to the pod, I like giving you an update. Last we spoke, I had launched a new product with zero MRR that's now $5,200 of MRR and my original product is at $3,000 of MRR. This doesn't include one time sales. With all of this, I crossed more than a quarter million dollars in revenue for 2022".

So that's a great update. That's why I want to keep him anonymous is because he's giving me real revenue numbers. But it's so cool to hear about listeners growing their business and using the tactics and the motivation that come from this podcast to do it. So now let's dive into his question. "My question for you is, with the economy starting to tighten up, I feel myself not only tightening up too, but wanting to get as much cash as I possibly can. What I mean is that five years ago making $300,000 seems so out of touch, but now that I'm here, I want more and I feel bad for it". This is Rob jumping in. This is called hedonic adaptation and it's that we adapt to the amazing luxuries that we earn over our lives and those just become necessities at a certain point. Back to the email, "in my head, I'm blaming the economy because I think I might need the money, but it also just feels like greed as a one man show, $250,000 to $300,000 a year is more than I need, but as I make more money, I want more things. Maybe there's nothing wrong with that, but it feels wrong. Have you gone through something similar? When is it enough? Thanks, Rob, from someone that has followed the stair step approach. It's been a long but very rewarding journey".

Yet another person who's embraced the stair-step approach to what amounts to pretty amazing success. So this is an interesting question and obviously a philosophical one. What's interesting is that at a certain point around 2009 or '10, so it was a long time ago, that's when I was making about $120 to $150,000 a year and I was working like 10 hours a week. And enough was enough. I didn't feel like I needed more money because it paid our bills, it made the house payment, and I loved the relaxed pace of life that I could maintain. And then we had our second son. I was able to hang out with him hours and hours a week and we would walk around town or I would walk around town with him strapped in a baby Bjorn and really just enjoyed that time. For me eventually I got bored and wanted to start something bigger, and that's when I bought HitTail. But it was also, there was an incredible 18 months where I launched the Micropreneur Academy, which is kind of a precursor to MicroConf Connect.

I wrote, Start Small, Stay Small. Started Startups for the Rest of Us, and we started MicroConf. All four of those things happened within 18 months. So it was an incredibly fruitful period in my career, and the reason I was able to do that is because I wasn't working full-time anymore and all of a sudden I had all this time each week to just tool around and be creative and launch things. So for me, the motivation to up my entrepreneurial game or do the next thing wasn't about money. It was about ambition and boredom and challenge and learning and creativity. I wanted to do something new that really challenged me. Now, at the same time, my wife and I had a couple conversations where I asked her specifically, I said, "what would we do with more money?" And I think I talked about this in the SaaS playbook or I've talked about it on this show before, but she sat down and was like, "if we had an extra couple thousand dollars a month, we would get an apartment on the coast".

And not only would that change our quality of life, because we didn't love living in Fresno, California. It's not necessarily our soulmate city, but living on the coast was something that we wanted to do. And so just having more money gives you more options basically. And she said, "we could be generous with that apartment and we could be more generous with our money and we could go see family more". And she came up with all these things that weren't just luxuries and they weren't frivolous. They were things that really made sense. And suddenly I was like, "you know what? I don't need to be a millionaire, but if I made another $1,000, $2000, $3,000 a month, I became motivated that we could do good with that money. And whether that good meant improving our own lives and the quality of those and enjoying those days more, being able to spend more time with your kids or sometimes maybe it's less time with your kids and hiring someone to be with them so you can stay sane or whether it's to help other people to give back however you see it.

Money did become a motivator for me. But not to my detriment, it was actually a positive thing. And that was where I bought hitTail, I grew it and by the time I sold it all the revenue I made from HitTail as well as the sale price was a million dollars. And I had never, you've heard my story, a construction worker whose dad was an electrician. I just never encountered that type of money, and that was a shift in my life where I realized, "oh, money does make things easier and money gives you options". Money gives you options to where if bad things happen, if your car gets hit-and-run, if your car breaks down, if a landlord screws you and keeps your security deposit, if someone steals something from you, any of these losses, all of which I've encountered, used to be a huge deal. Catastrophic, right?

I don't have these thousands of dollars to repair my car. Having more money made me more relaxed in life. And so that's the way I think about it these days. And I actually gave a MicroConf talk called 11 Years to Overnight Success and it's on YouTube and in it I talk about how I was seeking freedom through entrepreneurship. That's really what I wanted was to own all of my time. And once I achieved freedom, I realized how tenuous it was because I often say I was the original indie hacker. I had nine different websites, applications, eBooks, and each of them made between $1,000 and $5,000 a month. But at any given time, some of them would get smacked by Google and I would lose interest in one or it would just, but bad things would happen. A competitor would come and suddenly I didn't rank for the terms I needed to rank for and it made me realize that my freedom was tenuous and I had this nightmare of having to go back to consulting and salaried work and I really didn't want to do it.

So for me, then I said, "all right, I want to make a little more money, but I really want to lock this in". And so I built HitTail. It was doing 20 to, it was about $30,000 a month actually at its peak, but then it had major platformers because it relied on Google and it would just get beat up about every year because it was pulling from an undocumented API. I just felt like at any given time, the rug could be pulled out from under me. And that was a huge source of income and revenue and again, I thought, I don't want to have to go back to consulting. So that's why when Drip started taking off, I was like, "this is amazing. I'm making more money than I ever could have imagined", but I still felt like the rug could be pulled out.

There was still platform risk with sending a lot of emails when our IPs got banned and we had customers threatening to leave. I remember thinking at some point, I do want enough money in the bank that it just doesn't matter. And some people call it fuck you money, I call it sunset money. It's enough money to be able to just ride off into the sunset. And that at a certain point became the goal as we started talking about selling Drip. So all that said, that's how I think about money and the moment that the drip sale happened and the money went into the bank account, I do remember a feeling of existential contentment in a way that wasn't about, 'oh my God, I'm going to go buy Lamborghini. I'm going to buy a huge house'. It was, "wow, we never have to work again". And that was quite a realization. And it's a calm, a deep, deep inner calm that has stayed with me since then, and that was seven years ago now.

And so I'll be honest, that's how I think about money. I don't think these days I need more, more, more. I do realize that while we are obviously well off, I see friends of mine, I have friends of mine who fly private. I have friends of mine who fly first class everywhere they go. I have friends of mine who spend a lot of money on things that I think would be foolish for sharing how to spend money on at our level of affluence. So I do sometimes noodle on, I don't need those things, but I do see the advantages of continuing to grow our net worth. If for no other reason, then to be able to ensure the future of our kids and to be generous. We're pretty generous people in general and we give away a lot in terms of time and money. So that's how I think about it.

So I think some people would say, yes, your desire for money, coming back to that person who emailed, that your desire for money is wrong. I don't necessarily agree with that. I think if your drive for money causes you to mistreat other human beings or to ignore your family or to burn your relationships, I think you're making a very bad choice. But if you're not doing that and if you have a healthy desire for something, each of us is motivated by different things. In fact, Sherry did a really good talk at MicroConf Europe about micro and macro motivations, and she and I had a long conversation and came up with, I think it was seven different archetypes, motivational archetypes. And for example, one of them was a list checker who likes to have a list and check things off. And then there was the time traveler who lives in the future, and that's more of what I do.

Then there was, I forget what this one was, but it was like the moneymaker. It was someone who's motivated by money. Then there was the people person, which is they start companies because they love people and building the team and building the company serves that need in them. So I think you might want to give some thought to that. Is this a healthy motivation? I don't think wanting to make more money, if you were doing it from a place of challenge and motivation and you do feel like you'll put that money to good use or invest in the stock market and be more generous or not, you buy something with it. If it's a healthy motivation, I have a tough time telling someone that they're "wrong" to desire this. If you find it being unhealthy though, right? If it's really grinding on you, if it's really stressing you out, if it's burning relationships, if you find that you're making bad decisions because of it, that's a problem.

And that's where personally I would tell you what I would do if I had those feelings and those thoughts, I would talk to a therapist or a friend or an advisor or whatever. But for me, I've had different therapists over the years and that's something that I would dig into. Therapy is just a conversation, right? You're just talking through with someone who knows how humans work and has some thoughts and ideas about how you can get better at thinking. And so I would be working through that with an unbiased third party in essence. So thanks for that question. Frankly, it was a longer answer than I thought I would have, but it turns out when you think about money and motivation, there's a lot more to it than you might expect. Next question is sales funnel focused and it is a video question.

Speaker 2:
Hi Rob. This is Zalia from France. I read in your playbook that most of the time in your sales funnel you put the fact to ask the email of a potential customer before actually performing a demo, and I was wondering if there is a specific reason for that. Because in my case, I was trying to lead first my potential customer or people interested to a YouTube video in which I present my product and I also performing a demo and only in the comment section of this video to put a link in which potential and interested people can send me their email. So what do you think about this? Is it a fine way to do or is there a reason to do another way? Thanks a lot.

Rob Walling:
Yeah, so this is a good question. So there's a couple schools of thought here, right? In my book, what I talked about was if someone comes along to request a demo, I want to route them to the appropriate demo based on how much they're going to be able to pay me or how much they will be paying me. I'm not going to do a demo for someone paying me $49 a month unless it's really early on in the app, and I'm trying to learn. If someone is going to pay me, let's say $250 or $500 a month, and I'm willing to do a one call close at that point. And so that's what I was talking about in the SaaS playbook where someone enters how many email subscribers they had, because this was for Drip, and that would instantly tell me how much that they were likely to pay me if they migrated to Drip.

And if they were going to pay me a lot of money, then they went straight to our Calendly, which these days would be a SavvyCal link and they could get on our calendar for a demo. But if they were only going to pay us $49 or $99 a month, they were instantly routed to a video demo. We did not gate that with an email form. We didn't force someone to give us their email address in order to watch the video demo. And I will say, you mentioned putting it on YouTube. I hate YouTube for this purpose. I love YouTube for marketing. I hate YouTube for internal company stuff like this because YouTube, the interface is so cluttered. There's all these suggested videos, there's distractions and there's ads. So I would look at a platform like Vimeo, which is inexpensive. Or Wistia, which is designed for this type of thing, but it's more expensive. Or any, I mean, there's Sprout video, there's a bunch of platforms like this that allow you to self-host and not have to deal with the crappy interface of YouTube.

That was a side comment. But in a perfect world, yes, you would absolutely get the email address of prospects before a demo, during a demo because then you can stay in touch with them. The idea is once someone books a demo, you should have their email because they get a calendar invite. Before they watch a video demo, it's kind of up to you. I never wanted to put friction in front of watching a sales demo, essentially a 9-minute or a 10-minute commercial for our product. I kind of wanted whoever wanted to watch that to watch it, and we would embed the video demo on the page and then we had calls to action on that page to sign up for a trial. Your approach of putting them in a YouTube video and then in the comments section to put a link where people can send you their email sounds convoluted.

I've never heard of anyone doing it. It sounds like kind of a lot to ask someone to do. I would either hack together a quick page, whether it's in your CMS or your marketing website or whatever, and just embed a video and then you can have an opt-in form there, or you can have a signup for a trial. Whatever your call to action is for the video demo, that's what I'd be looking to guide them to as a next step. So thanks for the question, Xavier. I hope that was helpful.

The next question is from Tamon and they ask, "Hey Rob, I'm writing to ask you a question that I think you might have insight into. I've co-founded a company with my friend. We're both developers and we've built paid apps for Slack. We've got some early traction, but we can't seem to get past $4,000 MRR. We've tried many marketing things, but none really worked. After four years". Yeah, it's a long time. "We kind of want to give up. We know how to build products, we don't know how to sell them. Do you think it is in any way possible to outsource marketing / sales? Everyone's saying development can be outsourced", which it can be "and that you don't need to know how to code to build a startup, but does it work the other way too? I'm glad to hear your thoughts". So kind of, not really in this early stage would've a very, very difficult time advising you to outsource marketing sales. Founders need to learn marketing or sales depending on if their tool is one that's going to be sold via marketing or via sales almost without exception. In fact, when I look at the fastest growing companies in TinySeed, if I were to take out of 131 investments and we're about to do another, I don't know 20 or 25, so I have to update my numbers, it'll be north of 150 soon.

But all that said, if I were to take the top 10 say fastest growing TinySeed companies, without exception all 10 of those, the founders either head up the marketing or sales or they learned enough to get them to the point where they could hire someone really good and they had one or two or three proven marketing approaches by that time that were working reasonably well. Such that a new hire didn't have to do that founder level thinking of which marketing purchase should we try. And if nothing's working now, how do you expect to hire someone to figure that out when they're not a founder? I really don't think this is a viable option in most cases. In all honesty, what you've built sounds like an amazing step one business, stair step method. You built an app on a platform and it probably gets all of its traffic from one source, which is the Slack app store if I were to guess, and you just can't get your collection past $4,000.

That sounds almost exactly like what I did with DotNetInvoice back in the day. It sounds very similar to when I see people doing it with Shopify apps and Heroku apps, unless some people make it past it, but at a certain point you naturally plateau. And then adding more marketing to this kind of app, which is usually pretty low-priced, my guess is these Slack apps you're charging $10, $20, $30 a month, and at that low price point, you don't have any budget to do any marketing approaches that work. I mean, you can do SEO and content and affiliate marketing. There's a handful that are cheap enough and I talk about them in the SaaS playbook, which ones are cheap enough that you can do at these very low price points. But it's like four approaches, five approaches tops out of 20.

So when your average contract value is this low or average monthly revenue per customers is this low, you don't have a ton of options to work with. So what I would do is I would either look to just sell these and get the cash and move on to bigger and better things, or I would keep building or acquiring more of these until I had bought out all of my time, this is step two of the stair step approach, and get it to $6,000, $8,000, $10,000 a month MRR. Then I quit my day job. Now I have all my time to myself and I'm able to then build what I want. And for me, the next step of course is standalone SaaS. That may or may not be the direction you want to head. But yeah, after four years wanting to give up, I understand that I would feel similar.

I will say that you've built an asset, I don't know how many apps are involved and how complicated it is, but let's just say for the sake of argument, you've built one Slack app to $4,000 MRR. So on an annual basis, that's $48,000 MRR, and let's just say for easy math that you have $8,000 a year in expenses. So your seller discretionary earnings or SDE, which is kind of like net profit is $40,000. You should be able to sell that for four to five times so 140 to $200,000, maybe six times 240,000. The issue with six times I think is that you have platform risk because you are on Slack. But man, you're so small, platform risk should be less of an issue. But you get the idea, I'm just ball parking here, don't take these numbers for gospel. But if you talk to a quiet light brokerage or [inaudible 00:23:28] International or acquire.com, one of these either brokers or marketplaces, you can get a decent amount of money for it. And that is a luxury we have these days is that SaaS multiples are good enough that it makes even singles, base hits like this, potentially worthwhile. So thanks for that question Tamon. May not be the answer that you wanted to hear about not being able to outsource marketing, but those are my honest thoughts. My next question is about how do I know how good my technical co-founder is?

Speaker 3:
Hey Rob, first of all, I want to say thank you. I absolutely love the podcast and it's been so helpful on my entrepreneurial journey. So please, please keep it up. Here's my question. I'm asking it partially because I'm looking for an answer, but also because I think it would just be interesting to see your response and I think it would be helpful to other podcast listeners. So my question is how as a non-technical co-founder do you recommend evaluating the performance of your technical co-founder and understanding what good looks like? I'm developing a SaaS app and I have a technical co-founder who seems really good and I definitely trust him and he's accomplished in his career, but I just find myself as a inpatient, non-technical co-founder, always trying to get it done faster and not knowing what good looks like and what is reasonable to ask for. So I'm wondering if this problem resonates and if you've seen it before, and if you have any hyper tactical or specific insights or ways that you would recommend evaluating the performance and understanding really what good looks like. Yeah, that is my question. I am looking forward to your response. Please keep up the great work. I love the podcast and will keep sharing it with all my entrepreneurial friends. Have a good one.

Rob Walling:
I think about this on a few levels. As someone writing the code for your product, there's speed of shipping code. Then of course there's code quality and the stability and scalability of that code, the ability to modify it in the future. And then there are the soft skills. The interpersonal communication, does he hit deadlines that he says he's going to? Does he communicate those properly and all that. Soft skills, I'm going to leave it to you. You guys are in communication. I'm going to assume that you can evaluate those. Speed is tricky because you might say, "oh, we're moving slowly", but in fact he's building something that's very difficult. We are building it very well, and so the only way I know to evaluate speed is to have another person look at it and estimate it of this is the code base or we're writing in this language with these frameworks and this is the feature we're trying to build and have someone weigh in on, oh, that should be a week's worth of effort or that should be a month.

And it doesn't have to be exact. Someone's not going to tell you, "oh, it's 12.5 hours", but they might tell you "in my app, I could do that in about half a week", or "I could do it in a week" or "I could do it in three weeks". And so you can get an outside perspective without talking to your co-founder on that one. If you know of a super senior Dev who has estimated a lot of things in their life, you could just have this conversation and show these are some things that we're trying to build. Here's the problem though, or I say something I would caution you in. Is oftentimes if someone's really good, they might be a little slower and you might need to put up with that to have high code quality with high maintainability, and that's just something that you have to do as a trade-off.

I have 100% made that trade-off in certain instances. I remember being feeling stressed in the early, early, early days of Drip that we aren't moving fast enough, but I knew Derek was a baller developer, but I knew he also wrote really maintainable high quality, scalable code. And so if it took an extra few days or an extra few weeks on a larger project to ship something, I was willing to live with that because I wanted long-term to have a code base in a company that would scale. Unlike some companies that we see where you get this non-technical founder who hires a Dev or has kind of a minority technical co-founder, and they drive them and push them to write code faster and faster and faster, and the code is shit, and then they get to a million, 3 million, 5 million in ARR and they stop, they lock up.

You can't build features because nothing is maintainable. You can't add new things because you break old things. There's no unit test, there's just low quality code. So that's the thing you have to be careful with is if the code is super high quality and really, well let's say maintainable, it's modular, that takes time. And so I think that's a hard thing to evaluate. Code quality, you could have someone just review his code, whether it would be weird for you to be like, "I'm going to have an outside person review your code". But you could have someone look at it and not tell him. That feels a little weird to me if you're checking up on your co-founder, but you have to use your judgment on that and realizing that different people have different measures of quality. And scalability and long-term maintainability, you kind of won't know.

You won't know for years feasibly. That's the problem that we see with some folks who are non-technical founders and they hire out their development to an agency or to a freelancer. Nothing breaks, nothing's bad for the first six months and then at 12 months, 18 months in, it's like, "why are there's so many bugs?" It's because the code quality was shit. But you just don't notice it in the early days because you go back and you fix those, but eventually you hit the point where quality just grinds to a halt and it will grind your whole business to a halt. So realistically, no easy answers here, but soft skills, you should be able to evaluate. Speed, I think a third party, if you're particularly worried about that, I think talking to someone and saying, "how long would it take you to build this in Python or in Ruby?"

And obviously you can go to Clarity.fm. You could hire someone on Upwork as someone who's $150, $200 an hour and use them as an outside consultant. Again, whether you talk to your co-founder, it would feel weird to be like, "Hey, I'm checking up on you". But whether you talk to them or whether you just go straight to a source or if you're in MicroConf Connect, there's a bunch of developers. And you work your network at a MicroConf in person event or whatever, kind of sanity check and take things with a grain of salt, I think you can get a reasonable approximation that might help you sleep better at night. So thanks for that question. Hope it was helpful.

My next question is from Steven Davis, longtime listener of the pod, and he has written in before. And this is from March of this year, so about seven months ago. "I know you've covered no-code several times, and I know you're a vigorous champion of SaaS, but if you are a SaaS builder, what about self-hosted no-code tools? I've been looking at some of the tools in the Linode marketplace. I kind of stumbled into this recently. To me, these offer an interesting trade-off between roll your own and SaaS, no-code offerings. Easier to customize, easier to scale, lots of caveats, but the price hikes and performance of SaaS, no-code can be challenging and you code what you need to and nothing else. WordPress is the grandfather of this, but there seems to be a growing set of options. Sendy is a proprietary but self-hosted email tool. There is the self-hosted Reddit forum, but they aren't looking at this from a business perspective. Lots of them are open source, so you have to be careful about licensing and maintenance risks if it is closed source. You can look up open source Airtable or notion that they aren't as polished, but they are on your machines".

Such an interesting suggestion from Steven, and I think Steven is particularly looking to get around the platform risk that you face when you build on Airtable or Notion or with Zapier. It's really hard to migrate off of them. I think the biggest concern I would have is the same concern I have with Basecamp's new offering, or I guess it's 37signals offering Once. Once.com where they say you pay once and you host it yourself. I used to do that 20 years ago and it sucked. I hated hosting my own stuff. I hated, the updates would break things like WordPress is a grandfather of this. I actually wish I was not on WordPress. But I have, what do we have, two websites on WordPress?

One is this podcast website because it still is the best platform in my opinion to host podcasts. The other one is robwalling.com, and there's reasons that those are still on WordPress. But I'm twice a month I'm getting emails of this WordPress plugin that you have has a virus in it, and so you need to update it immediately. So then we have to do a staging environment and then we have to update it and then we have to test and hope nothing breaks and it's a maintenance headache that I wish I didn't have. And in fact, that's why all of our other websites, like you go to tinyseed.com, microconf.com, you go to startsmall.com, saasplaybook.com, sherrywelling.com, zenfounder.com. Those are all on Squarespace. Do I think Squarespace is God's gift to website builders? No. But do I ever get an email that one of my plugins is out of date or that the theme is broken or they're doing an upgrade to my SQL and I need to go get my Gemini theme update? No, I don't have to deal with it.

So for me these days, and it has been for probably the fact… Because I used to tinker with this stuff, probably about the past, I made the switch about 15 years ago to where… I mean I used to have a server in my closet that served our source control and we used Vault or what was Microsoft's one back then? Oh, I can't even remember the name of it. But SourceGear had Vault and I would serve it off of that server, right? That's like 20 years ago, it's just crazy town. And I hated doing that. I hated having to worry about all that. So I see the appeal of hosting your own no code, it's easier to customize, it's easier to scale, you code what you need, exactly what you said, and you don't have the platform risk, right, because you have the code.

My concern is these days, I'm not in the business of maintaining custom code for this purpose. It's a black box and I just want it to work. Look, if I was building a SaaS company, I wouldn't want to build an Airtable or Notion as my Wiki. I wouldn't want to maintain my own. The only custom code I want to maintain is my actual product. I don't even want to build my own knowledge base. I don't want to build, there's a bunch of ancillary things around building a SaaS product, and there's a reason there are SaaS offerings for those because it takes all of the security and the maintenance and the feature development and other things away from you. But of course with that, there are trade-offs. You pay the subscription, and you have this platform risk that they could screw you, they could raise prices, they could feasibly go out of business.

There's all these things, these problems, with SaaS as a model. But going back to pre SaaS and imagining installing and maintaining, I didn't even get into maintaining the OS on the servers and having to keep that upgraded. I mean, I guess if I was on a shared hosting account or like a VPS or something that was maintained by them, that's a hosting provider, that'd be fine. But anyways, so it is definitely an interesting idea, Steven, and I have not heard of this prior to you mentioning it, so I appreciate you bringing it up on the show. But for me, my vote would be a no because I just want all of that taken care of. As a reminder, head to stateofindiesaas.com. Take about 10 minutes and please complete that survey so we can put together an incredible report for you and be entered to potentially win a free ticket to MicroConf US 2024 in Atlanta. Thanks so much for listening this week and every week. This is Rob Walling signing off from episode 686.
Reader Interactions