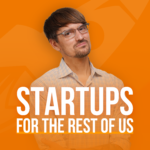 In episode 684, Rob Walling is joined by Dr. Sherry Walling to share their experience from MicroConf Europe 2023 in Lisbon. They discuss a continued shift in MicroConf's focus towards fostering founder connections and networking, and the value of face-to-face interactions. Rob and Sherry reflect on their own talks and highlight others by fellow founders and attendees.
Topics we cover:
1:28 – Reflecting on MicroConf locations
6:28 – Continuous event improvements, focus on community
9:41 – Michelle Hanson's talk "Frameworks For Making Product and Strategic Company Decisions"
10:38 – Rob's talk about the five stages of customer awareness
13:21 – Einar Vollset's talk on applying AI iteratively to solve problems
15:07 – QuietLight's live business valuation
16:39 – Attendee talks from Sophie, Johannes Akhison, and more
19:25 – Dr. Sherry Walling discusses motivational archetypes
22:46 – Steven Craven's founder story
Links from the Show:
If you have questions about starting or scaling a software business that you'd like for us to cover, please submit your question for an upcoming episode. We'd love to hear from you!
Subscribe & Review: iTunes | Spotify | Google
Rob Walling:
It's another episode of Startups For the Rest of Us, I'm Rob Walling, and today with Dr. Sherry Walling, we walk through our key takeaways from MicroConf Europe 2023. This event was held just a couple weeks ago in Lisbon, Portugal, and you'll hear us give an overview of it, but really dive in to the keynote talks and pull out, I'd say actionable or at least thought-provoking takeaways as well as give our overall thoughts of the event. 

Before we dive into the episode, I want to invite you to MicroConf Remote. MicroConf Remote is our virtual event that we host twice a year. This next one is focused on early stage marketing. It's on November 1st and 2nd. If you're interested, head to microconf.com/remote. It's a very inexpensive event and talks will include the Bootstrap Startup marketing checklist when Early-stage SaaS companies should hire a copywriter and how to hire one that doesn't suck, building a sustainable customer acquisition funnel, SaaS email marketing, plus our patented founder by founder Speed Networking to get you introduced and connected with other founders in our community. Again, that's November 1st and 2nd of 2023, microconf.com/remote if you're interested, even if you can't make it, if you buy a ticket, you will get the videos after the event. Hope to see you there. And with that, let's dive into our conversation. 

So Dr. Walling, thanks for joining me on the show and for joining me on stage at MicroConf Europe in Lisbon last week. You and I shared the stage and emceed the event for the first time ever.  

Dr. Sherry Walling:
Co-emcees. We've never done that before. We've done a lot of professional collaborations, but that was our first co-emcee gig.  

Rob Walling:
I had a great time. How about you?  

Dr. Sherry Walling:
Yeah, it was pretty fun.  

Rob Walling:
We had some witty banter.  

Dr. Sherry Walling:
I don't think we embarrassed ourselves, which is, you know.  

Rob Walling:
Unusual.  

Dr. Sherry Walling:
It's always positive, in front of 120 people.  

Rob Walling:
No, but we had-  

Dr. Sherry Walling:
Strong performance.  

Rob Walling:
I had an absolute great time. I was thinking before we recorded this that I wanted to say this sentence that's going to sound like hyperbole, but this is one of the best MicroConf Europe's we've ever hosted without exaggeration. I remember a few landmark years, this is the 10th year, ninth event because we skipped Covid. In certain years you remember as being amazing, as having incredible energy and the attendees all being on the same page and just this positive group energy flowing. And that's how this year felt.  

Dr. Sherry Walling:
As the kids say, it had a good vibe.  

Rob Walling:
Had a good vibe. I was trying to… You asked me, "Why do you think it had that?" And I went through all these reasons and I honestly think one of them is that this is such a small thing, but you could step out of the venue, we're in the meeting space, we're focused, and then you took 20 steps and you were basically looking at the ocean, they call it the river right there. I guess technically it is, but I mean it's this huge body of water and you were in the sun and it was, whatever it is, 78 degrees Fahrenheit outside and it just felt like you could quickly recharge and escape the feeling of say, being at an event and suddenly be outside talking with founders, drinking coffee, having those amazing Portuguese pastries.  

Dr. Sherry Walling:
Yeah, I mean as a psychologist, that's not a small thing at all. That's a huge thing to have a little bit of contact with nature, a little bit of sunshine and just a general environment that feels relatively relaxed but also very alive and awake. You don't feel like you're just sitting in a room all day getting bombarded with facts and information, but that you're really present and that when you feel that diminished energy, you can go out and recharge really quickly and easily. And I think that's why I've really loved the MicroConf Europe's that I've attended because you and Xander and the team have done such a nice job of having them in really beautiful places.  

Rob Walling:
And that's something that I think is perhaps a little easier in Europe because in the US where we've had it, let's say downtown Denver, downtown Minneapolis, and then Vegas before that, you're always in the middle of a city and we're not next to a lake or a body of water, versus where we were in Dubrovnik and now in Lisbon, you're just right by the body of water. And so I think that's a factor. Here's the thing, here's not the number one factor, it can't be because that rules out like 99% of venues and there are only so many venues available at certain prices and certain places where people can get to on airplanes. But it definitely is a factor for me, I think  

Dr. Sherry Walling:
I think one of the benefits of having it in a place like Lisbon is people can combine the attendance at the event with a little mini vacation, which is actually what we did, which we've done in different versions over the years with our family mostly. But this is the first time that we have done a little mini vacation, just the two of us attached to a MicroConf Europe event. And I think that's why you were so relaxed and had a good time is because we had a few days to play first. And again, I think that's a really nice way to just build in a little bit of play and relaxation and fun, whether you're a founder going by yourself to an event and you just add a couple days to explore or you're able to bring your partner or even your family. Taking advantage of events that are hosted in really beautiful spaces, writing off your ticket, just sort of double dipping on your time and energy and travel is a really lovely way to use the event.  

Rob Walling:
Well, this is not tax advice, we definitely wrote off our airplane ticket. I agree. I mean, you and I had three days together just at the beach and downtown Lisbon and the Commerce Plaza. I won't embarrass myself and try to pronounce the Portuguese name for it. Going up to the castle, St. George's Castle. It's my second time in Lisbon, you're first, but it was such a nice lead up to relax, even though we both had talks to give. Usually what happens is if we take three days to chill out before it's like, oh, I got to write my talk, oh, I got to work on my talk. But we didn't, we had them done enough that we didn't have to worry about it, so.  

Dr. Sherry Walling:
So the setting and the context of the event were really lovely. I think just facilitated an openness and a calm and people's eagerness to just jump in and be present because it was so inviting. It was just such an inviting venue.  

Rob Walling:
And we changed the format or we continued to lean into the adjustment we started making in 2021, in which we used to do nine talks over two days, and now we do about five talks and with the extra time, it's all founder connection. We call it founder by founder, where folks have a timer and they meet one another and they have conversations. We had an entire afternoon session that was just outings. You could either do like a walking tour slash scavenger hunt in downtown Lisbon or you could get on speedboats.  

Dr. Sherry Walling:
I heard the speedboats found a submarine, they were surprised by a submarine .  

Rob Walling:
Producer Xander really pulled it out on that one to be able to pull a submarine out of the water. But that continues to be from the attendees in the reviews, in the comments that it's almost like no amount of time connecting founders is too much.  

Dr. Sherry Walling:
I really celebrate this shift for the MicroConf organization because MicrConf's always been very focused on strategies and tactics and helping people have the tools that they need to move their businesses forward in the ways that they want to. But when MicroConf started, there wasn't the sort of barrage of available information that there is now. Now there's YouTube channels and podcasts and lots of great information for founders about writing marketing company or hiring or any of the kind of technical parts of running and growing a business. 

And I think the talks at MicroConf are still really valuable. You do a nice job of curating them. But what people are really longing for that they can't get in other places is that face-to-face connection, is making a new friend, making a new contact, having an experience with someone who has a very similar background, set of values, drive. So I think that emphasis on growing relationships is a really, it's a value add. It's one of those things that people don't maybe see automatically as a value add. But when you walk away from an event, probably the most lasting over the course of your life benefit of being in an event like that is the people that you meet and the network and the friendships.  

Rob Walling:
If we were to come onto this podcast and say, "MicroConf, it's all about just coming and meeting people and hanging out." And there's a bunch of introverted, I'll say a lot of engineers who listen to the show, not solely, but a bunch of introverts.  

Dr. Sherry Walling:
Right, it sounds terrible.  

Rob Walling:
Right? I don't want to do that.  

Dr. Sherry Walling:
I don't want to do that.  

Rob Walling:
But I believe people come for the talks and they stay for the community. That's what keeps people around, because if we just had talks year in, year out with no community, no one would stick around. Speaking of talks and shrinking from say nine talks down to, we've done between four and six, and five seems to be the sweet spot. So almost cutting our talk count in half essentially has meant that we don't necessarily do just tactical talks anymore like, here's how to write copy, here's how to do this. It's so much more about frameworks, things that you can apply to any situation. So higher level thinking than tactics and founder stories. And we usually have one or maybe two founder stories out of five. But the frameworks in this event, I think I was struck by, and there were three right off the top of my head. 

One was Michelle Hanson who kicked us off, she's the co-founder of Geocodio, and she had, Frameworks For Making Product and Strategic Company Decisions. And she even talked about having a framework and then overlaying another framework on top of it within, it was the business model canvas and laying, I forget her other framework, the Parker framework maybe, inside the framework. And people were kind of mind blown of like, oh, it doesn't, you can kind of bastardize these things, combine two of them and just do… Whatever framework you have, just use that one, whatever framework you want, use that one but just be consistent with it, was a big part of her message  

Dr. Sherry Walling:
Frameworks on frameworks on frameworks. It was very meta level while also being very applicable. And I think she did a nice job of identifying how people are actually using frameworks, they're just maybe not recognizing it. And so when you pull the curtain back a little bit and do that metacognitive process of thinking about how you're thinking, then automatically you have the material for a framework. So it was a very helpful talk. And then you were second, you followed that up.  

Rob Walling:
Which sometimes I'm going in with just a banger talk and I'm like, oh, this is going to crush it. And other times I'm like, I think this is good, but it really depends on how people receive it. And so mine was about the five stages of customer awareness and basically overlaying that over content marketing. And so it was a framework applied to content marketing. Because everyone says, "Do content marketing, create content…" Profit? What happens after that? And at a certain point it clicked with me through some other sources that have talked about it, Powered By Searches talked about it a bit and there's other people who've talked about it, but I had never seen a real deep dive into B2B content marketing through the lens of the five stages of awareness. And the moment that I really believed that the talk was going to resonate is, I got up on stage and I said, "Show of hands.", Before I said anything, "Who here has heard about the five stages of awareness?" And it was like five people out of 120. And I said, "Ah, this is great."  

Dr. Sherry Walling:
Got an idea for you.  

Rob Walling:
I was concerned it was going to be like 80%, and I was going to be like, okay, well we can kind of skim through that part. Now the money is in this later part of applying it to content marketing, which I'm guessing most people had not doing. But given that they hadn't heard about the stages, which are unaware, problem aware, solution aware, product aware, and most aware, given that they hadn't heard of those, it allowed me to almost meta educate on, here's a concept and a framework you may have never heard of and now I hope to blow your mind by applying that concept-  

Dr. Sherry Walling:
With some tactics.  

Rob Walling:
To something you're already familiar with. Yep, that was the mix.  

Dr. Sherry Walling:
Yeah, your talk was really a really nice representation of MicroConf values because it had that big picture framework thinking, and then lots of screenshots and strategies and practical application and examples, which I think people took a lot away from.  

Rob Walling:
As well as a picture of me holding our eldest kid, who's 17 now and off to college, but I was holding him and when he was like, what? Five months old? Reading C# Business Objects book. And then I flashed to today, and I had used that photo at the very first MicroConf that I had spoken at.  

Dr. Sherry Walling:
Oh, wow.  

Rob Walling:
Yeah, it was in my talk in 2011. It was a couple years… It was whatever, three, four years old at that point. But the thing I was trying to drive home was, A, this is really what this community is about. We are about business, but we also temper it with what's really important, which is our relationships and our families. But I wanted to also show of, this is how long we've been doing this, that this child in this talk from 2011 is now off to college, and that felt… Talk about representing MicroConf, right?  

Dr. Sherry Walling:
You put some reps in.  

Rob Walling:
Yeah. And then day two, well of course there's a great evening event hangout, happy hour, but day two was kicked off by our very own Einar Vollset who went deep on AI.  

Dr. Sherry Walling:
He did such a nice job of identifying a real world problem and then taking the audience through the process of how you would use AI in an iterative fashion to work out that problem. And it was a fairly technical problem, so not necessarily something that I was deeply familiar with, but the logic made a lot of sense and he sort of showed in real time how you would query AI, what adjustments you would make to get better results based on the query results from the first round. And I found it to be just a really helpful way of thinking about how to use AI as an asset.  

Rob Walling:
Yes. Speaking of encapsulating high level thinking with tactics, that's what that talk was, right? And it was about, to set the stage for those who didn't see it, it was about essentially categorizing, if you have this huge list of leads that you want to reach out to, you want to contact, how do you get more information about them? And honestly, how do you figure out what your best leads might be, using AI based on shared traits that they might have with existing leads you've contacted that have converted. And so it was a ChatGPT demo of, here's a big list of CSV of my best customers. And then trying to reverse engineer that and say, now here's a million email addresses or a million companies, how do you find the best ones out of that? So almost like doing lookalike audiences a bit, but I'm not doing it, I don't think we're doing it justice, but I mean it was like 30, 35 minute deep dive into that, and it certainly impacted a lot of folks.  

Dr. Sherry Walling:
People used the mind blown emoji.  

Rob Walling:
I used the mind blown emoji. I was like, "Whoa, this can do this?"  

Dr. Sherry Walling:
You weren't the only one.  

Rob Walling:
And then we had a Quiet Light, live business valuation, something we've never done.  

Dr. Sherry Walling:
So people submitted their businesses and then Quiet Light did a live back and forth conversation with the founder around all of the important metrics that would be considered in valuation, as well as the person's motivations for selling or just what, they went through the whole your first phone call to a broker about the potential sale of your business.  

Rob Walling:
Yeah, and I thought it was super insightful if you've never sold a business to know what types of things they value. And the good part was David Newell with Quiet Light would ask the question, then he would get an answer, and then he would just think out loud and say, "Well, here's how that's going to affect valuation. Here's how that's going to affect the motivation of a buyer. That's good or that's not good. That's going to impact it positively or negatively." 

And as you said a little bit about the psychology of it too, and so as he was asking questions, since I've sold a few businesses, I was like, "Oh yeah, no, this makes perfect sense." And then at the end he's like, "Here's the range. Here's about what I think this business is worth." And that was neat. It was a really nice… And then there was Q&A after that, so it was like a 30 to 40 minute session that I think was probably super helpful for those that have… You don't sell many businesses in your life, and so if you haven't done it or you did it poorly the first time, I think this was a nice demonstration of how to think it through.  

Dr. Sherry Walling:
A real-time case study. And again, that emphasis on frameworks, like how to think about this, what are some strategies that help you think about it?  

Rob Walling:
And then we had three attendee talks this year, which is where attendees can submit a topic and get up on stage, and these are 12-minute talks, and I wish we could talk about all of them, of course, but I was impacted by Sophie, thisissophie.com, I think is her domain or her business.  

Dr. Sherry Walling:
This was her first talk on stage.  

Rob Walling:
That's why I was so surprised by it, because she just-  

Dr. Sherry Walling:
She nailed it.  

Rob Walling:
Crushed it, yep.  

Dr. Sherry Walling:
Her talk was about how to help your company be known for something very specific. So it was a product marketing talk, but it was again, really a framework for thinking about how to nail the one thing that will be really sticky for your company as far as recognition by your customers.  

Rob Walling:
Yeah, it was good. She didn't use the word positioning I don't think at all in the talk, but that's really what it was, is like how do you position yourself and anchor yourself in your prospect's minds, by doing one thing differently and doing one thing really well? It was a pretty good use of 12 minutes.  

Dr. Sherry Walling:
Yeah.  

Rob Walling:
In my opinion.  

Dr. Sherry Walling:
And there was another attendee talk, I know we don't have time to maybe talk about all of them, but Johannes put up a slide that I thought was the heart of MicroConf. So help me remember the technicality here, but he put up a slide that showed a graph comparing the projected income that he would've made from consulting, beginning in I think 2007, something like that. And he looked at his actual income at that time and then projected it forward, and he compared that to the income generated from the business, the app that he started, and of course it was much lower at first, but then there was this inflection point where his income shifted from being from consulting, dollars for hours, to revenue from this app. 

And it was such a cool just way to look at that shift over time, because for me, that's sort of the heart of what MicroConf is about, as his income or as his revenue grew with his app, so grew his freedom, so grew his flexibility, so grew his hours spent with his family. And it was a very nice way to tell the story of shifting from something that feels so financially sound and lucrative to this very measured, careful risk over time that eventually also becomes very lucrative. But there's this middle place of languishing between consulting money and hoping that that app is going to start making enough to cover expenses.  

Rob Walling:
It's the common story, is the most common story in the MicroConf space. I have a picture of that slide and I will try to get it into the show notes for this episode. But yeah, it was Johannes Akhison, I don't know how to pronounce his last name, and there was a third line or bar on that graph, it was exactly what you said, and the third one was all the revenue from the product plus the value of the company now. He started mapping out, I think it's worth whatever the multiple is, and that put him even further ahead that he has this asset that he's built, it wasn't just about income. It really was… He put the slide up and you and I looked at each other and you're like, "That's it, that's MicroConf." That whole slide out, it was great. And then you took the stage, so we have two talks left. You took the stage, talk about frameworks, holy moly. Motivational archetypes, and you threw out, was it six or seven different archetypes of what motivates us as founders?  

Dr. Sherry Walling:
Yeah, I think people often think about motivation is just the emotion to get their work done, and it of course is a much deeper, more complicated story than that. It involves our personality, our life history, elements of what we're coming to this point in our lives with. And so I pulled together a few different archetypes. One is the money maker, of course, somebody who just is after the money, they want the wealth, they want the security that's what motivates them and drives them. There, of course is the people person, so the person, the founder who's really motivated to create an extraordinary experience for the humans around them, whether that's their employees, their customers. So I went through several different archetypes and I think it was a really interesting talk. My hope was to help people think about motivation differently and to give them some material for self-reflection so that they can better understand what motivates them and then what happens when their motivation is stuck or a little bit dried up, how do we reconnect to motivation? It's much easier to reconnect to it when you understand it very deeply.  

Rob Walling:
Right, and you coined, I think coined terms, you talked about micro motivation and macro motivation. And micro motivation is the day-to-day, and that's the cold plunge, Trello board, Pomodoro techniques, get up at 4:00 AM, drink coffee, it's all the tactics.  

Dr. Sherry Walling:
Get your butt in the seat, do your work.  

Rob Walling:
Macro motivation, you were framing as, but how do you stay motivated over the years that it takes to do this? And that's what you then focused on. But that concept alone between micro and macro, I think most people don't think about, because you can put things in place to get you in the seat every day, but man, as you burn out, you can't do the years, you can't do the reps. And so I think the archetypes that you came up with are something that we should revisit in a book or in a deep podcast episode or something, because there's something there, and it allowed people in the audience to say, "Oh, I'm part money maker and part time traveler, where I live in the future." And able to think to themselves, okay, these are my motivations, I need to hang onto those to stay motivated in the longterm.  

Dr. Sherry Walling:
We also talked a little bit about how motivations change as your company grows, which I think is an important piece of that conversation. It's not static, it's really dynamic and it's an interdependent between who you are and what your company is doing and what your company needs. So yeah, more on that later at some point.  

Rob Walling:
And then our last talk of MicroConf Europe 2023 was from Steven Craven and he told his founder story, him and his co-founder story, of going from launch, to 50K of MRR in a week. And they had an existing audience… The company's called Stridus and it's software for personal trainers. They had an existing audience, but it wasn't huge. It was like single digit thousand emails and I believe maybe 10,000 Instagram followers, somewhere in that 10 to 15,000. But they just did, they executed on a B to C-ish launch with a B to prosumer audience. Really, right? Because personal trainers, I would not say are straight B2B, they're more like B to Prosumer. Anyways, they just executed really well, and he told the story of them acquiring the business and then having the audience and building, having this amazing launch week.  

Dr. Sherry Walling:
It was a great talk. It was very motivational, very inspirational, helped people see what could be possible. It was also kind of a stressful story, which is also very representative of how these big launches go.  

Rob Walling:
Yeah, he said, he showed a picture of a Porsche 911, and he's like, I had worked for years, I had an agency and saved and saved to buy that car, and I had to sell it to pay the bills of his company at one point. And it just breaks your heart where it's like, oh, you could say, oh, poor baby had to sell his nine 11, but he earned that 911, it's not like his daddy gave it to him, right? He had bought it with his… We know what that feels like to have to make a sacrifice like that. And that's where MicroConf today, in terms of the content, the talks, focuses a lot on frameworks that can be applied, but also founder stories, and that's where Steven's story came in. The other four were about, AR's was maybe a bit more tactical. And then Michelle, you and I did framework talks that I think are high level and can be applied for years, and I think those frameworks should live on, to be honest.  

Dr. Sherry Walling:
Tactics, strategies, inspiration in relationship.  

Rob Walling:
I mean, that's it. We covered the four, right? The acronym, S-T-I-R, strategies, tactics, inspiration in relationships  

Dr. Sherry Walling:
STIR?  

Rob Walling:
I know, It's like the… It really is. I came to Xander with that at one point.  

Dr. Sherry Walling:
You might need to work on that a little bit.  

Rob Walling:
I was like, RITS, SRIT, STIR and he's like, "Oh." I was like, "Dude, I feel so bad about having an acronym." And he's like, "No, this will actually help us." He said, even internally, it'll help the team know what we're planning events around, so STIR it is. Well, Dr. Walling, really appreciate your time on this early Monday morning.  

Dr. Sherry Walling:
Yeah, thanks for including me in the MicroConf experience. It was a great event. You and producer Xander and your new team member, Sonia, nailed it. You did great.  

Rob Walling:
Thanks. Thanks again for emceeing and doing that amazing talk. And these days, if folks want to keep up with you, you're putting out some great content on YouTube, youtube.com/sherrywalling, and Sherry is spelled like the wine, as well as sherrywalling.com. Thanks again for coming on the show.  

Dr. Sherry Walling:
Thanks for having me.  

Rob Walling:
Thanks again to Dr. Sherry Walling for joining me on the show this week. She is @sherrywalling on Twitter, I'm @robwalling. If we're not connected, please give me a follow. Thanks for listening this week and every week. This is Rob Walling signing off from episode 684.
Reader Interactions