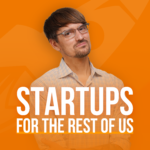 In episode 679.5, Rob shares seven announcements about the future of MicroConf in the upcoming year.
Whether you're a long-time supporter or a new member of our crew of misfits, you know we're all about empowering bootstrapped SaaS entrepreneurs.
For nearly a decade, we've been fueling the permissionless entrepreneurship movement that's gripped founders worldwide – and we're nowhere close to finished.
Our next big leap is coming, and you won't want to miss it.
If you want to get the inside scoop, and to keep up to date as we roll out all of these offerings, head over to https://www.futureofmicroconf.com/.
Topics we cover:
2:03 – MicroConf Connect has leveled up, and is accepting new signups
2:41 – The return of The State of Independent SaaS Report
3:21 – Community voting for MicroConf Local 2024 cities
3:50 – New course launch, "Starting Up From Idea to Traction"
4:21 – MicroConf co-founder matching coming soon
4:58 – Host your team retreat with MicroConf's Team Sync
5:28 – MicroConf Platinum Events for an exclusive and intimate experience
Links from the Show:
If you have questions about starting or scaling a software business that you'd like for us to cover, please submit your question for an upcoming episode. We'd love to hear from you!
Subscribe & Review: iTunes | Spotify | Google
Rob Walling:
It's another episode of Startups For the Rest of Us. This is one of these 0.5 episodes where we insert announcements and things that are not normal startups for the rest of us full episodes, we tend to drop these now and again on a Thursday. Today's episode is all about the future of MicroConf, where I make seven announcements about new things that we are doing in the upcoming year. I'm really excited about what we are up to over the next 12 months. The last time we did a future of MicroConf announcement was four years ago. In 2019, we announced the launch of MicroConf Connect, of our YouTube channel, of our video vault. We announced MicroConf locals. There were several other super interesting things in that announcement, all of which have come to fruition. 

So when we make this proclamation and we look ahead and like Babe Ruth, we call our shot of what's going to happen in 2024, I hope that you can get excited about this as well. Everything we've developed here and are planning on launching is from feedback from folks just like you, from podcast listeners, from folks in MicroConf Connect, from folks at our in-person events. So without further introduction, I'm going to roll the audio. It's seven announcements packed in to five and a half minutes. And if you have any questions, comments, or thoughts once you've heard them, you can head to Twitter, @robwalling and @microconf. 

Whether you've been part of MicroConf for years or you've just recently joined our crew of misfits, you know that we're all about helping you build and scale your SaaS company. From our humble start as a 100 person event in Las Vegas to where we stand today impacting more than a hundred thousand bootstrap founders around the world through MicroConf Connect Mastermind Matching, our in-person events and all of our other offerings, MicroConf has played a huge role in igniting a global movement for software entrepreneurs. And in 2024, we're kicking it up a notch. Today I have seven announcements for you, so let's dive in. First up, big news for our online community, MicroConf Connect. We've leveled it up and are reopening the doors to new members. MicroConf Connect is our online community and virtual hallway track. It's a vibrant community of SaaS founders helping one another, discussing wins, challenges, and how to grow faster. 

A couple months ago we paused new signups to improve the platform based on your requests and the good news, applications reopen next week. The wait list is already 1500 strong and with MicroConf Connect 2.0, we're rolling out three membership tiers packed with new perks, like weekly coworking, exclusive discounts, a searchable content library and more. Announcement number two is that the state of independent SaaS report is back. We took last year off because frankly between 2020 and 2022, not a ton had changed with the companies that we were serving. But the bootstrap SaaS landscape has since been shaken up by the rise of remote work, no code and AI. This has fueled a new wave of entrepreneurs and created new ways for existing startups to level up. So with that, I'm excited to roll out our completely revamped state of independent SaaS survey and report. 

Teaming up with DemandMaven, we're going to offer go-to benchmarks for the bootstraps SaaS world. Over 2000 founders have taken the survey to date, and this year I hope to add your experience to the report. Next, we're putting the power in your hands to bring a MicroConf local in-person event to your city. Until now, we've picked locations based on our assessment of which cities could use an in-person event, and in 2024, you get to decide. We're going to run a community voting campaign to help choose which cities we visit next. With almost 100,000 entrepreneurs globally engaged with MicroConf, your city shot at hosting the next MicroConf local means you'll need to rally founders in your community to get the most votes. Announcement number four is our debut course, Starting Up From Idea to Traction. It's designed to kickstart you on your entrepreneurial journey as you launch your SaaS product. 

I know that many of you are stuck in startup limbo full of ideas, but unsure how to get started. And this video course tackles exactly that guiding you through idea generation, validation and finding early traction. Whether you're a first timer, a pivoter, or a serial entrepreneur, this course aims to help you take your next SaaS venture to escape velocity. Also, in 2024, we're going to help you find a co-founder. Almost every day we hear from folks in the MicroConf community who are looking for a co-founder. We know that finding the right partner in crime can be a make or break moment for your startup. Whether you're a tech wizard with zero marketing chops or a sales pro looking for someone to build your product, we will help you find someone that compliments your skill sets, your goals, and your personality. Drawing on years of experience observing co-founder hits and misses, we're designing a data-driven matching service to help you find your ideal co-founder because we know that the right partnership can have a huge impact on your success. 

Announcement number six is Team Sync by MicroConf. We're hosting an event where you can host your team retreat. We're merging two needs into one in-person event. So first, you're going to soak up best practices for managing a remote team, curated by our team of experts in remote work and second retreat into your own team huddles. We'll handle logistics while you focus on strategy and connection. Ideal for remote SaaS teams of five or more, this will be a game changer for team coherence and productivity. Next up, we're going to start hosting exclusive intimate experiences called MicroConf Platinum Events. Imagine getting tailored advice about selling your company while sitting poolside with 15 other seven or eight figure founders or boosting your enterprise conversions during a trek to the bottom of the Grand Canyon. We're rolling out small curated experiences that combine unique settings with laser-focused business goals, meet like-minded, high achieving founders and experts ready to elevate your game. 

And of course, we're going to keep running our annual flagship conferences, MicroConf US and MicroConf Europe, as well as MicroConf Remote, which is our online conference that focuses on early stage SaaS marketing in the fall and SaaS sales in the spring. And of course, we also have our Mastermind Matching podcast and YouTube channel. And if your SaaS is growing, but you're looking for the perfect amount of funding and mentorship to help take you to the next level, TinySeed is our investment fund and startup accelerator aimed specifically at bootstrap SaaS founders. So there it is. That's your glimpse into the next era of MicroConf. 

I know I'm biased, but I firmly believe that our community of misfits is one of the best in the world. My team has spent the last several months working nonstop to nail down this pretty incredible lineup focused on helping you be more successful faster. I hope you're as excited as I am to see these play out over the next year. I can't wait to continue helping you find success on your founder journey in 2024. All of these programs will be launching over the course of the next year. So head over to futureofmicroconf.com to sign up to be notified as they launch.