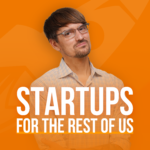 In episode 676, join Rob Walling for a solo adventure where he answers more listener questions. He answers questions around the inflated valuations in the B2B SaaS market, choosing between ideas, and validating a SaaS idea before building. Rob wraps up evaluating the effectiveness of building a podcast or YouTube following prior to launch.
Topics we cover:
0:56 – TinySeed applications for fall 2023 batch
1:42 – The Future of MicroConf announcement event
2:13 – Why are B2B SaaS valuations so high?
10:43 – Choosing between two software ideas
15:02 – Don't start a two-sided marketplace
17:04 – Do my "Stair Steps" have to be related?
19:47 – Co-founder equity splits and founder agreements
24:56 – Idea validation techniques
28:02 – Starting a podcast to building an audience
Links from the Show:
If you have questions about starting or scaling a software business that you'd like for us to cover, please submit your question for an upcoming episode. We'd love to hear from you!
Subscribe & Review: iTunes | Spotify | Google
Rob Walling:
Okay, so I built an app. How do I market it? Or I have a landing page. You say build a landing page. How do I get people to it? And I don't mean to poke fun at those questions, but that's like saying, "I'm a startup founder. What should I know about being a startup founder?" Everything. 

I love the smell of startups in the morning. I'm your host, Rob Walling, and this is Startups for the Rest of Us. In this episode, I go through listener questions covering topics like current B2B SaaS valuations and why some people are holding out for those 2021 inflated valuations, how to pick one idea to start building, choosing between two ideas with pros and cons, whether to start a podcast to build an audience and more. 

Before we dive into the episode, I have two announcements for you. The first is that TinySeed applications for our fall 2023 accelerator batch will be open from September 4th to the 16th. We are funding companies in two batches. We have our Americas and our EMEA batch, that's Europe, Middle East, and Africa. And if you have at least $500 in MRR and you are looking for the perfect amount of funding as well as world-class mentorship, you can't get anywhere else, and a tight-knit community, unlike any you've been part of, head to tinyseed.com/apply. If it's from September 4th to the 16th, applications will be open and you can apply there, usually takes about 10 minutes. If they're not open, you can enter your email to be notified when we open the doors. I hope to see your application. 

And my second announcement is that while some of you might have spent the summer vacationing or spending time at the lake, our team at MicroConf has been gearing up for one of the biggest announcements we've ever made. The last time we made a major announcement was in 2019, so I don't want to jinx it, but there are some pretty amazing things coming down the line to help you build, launch, and grow your SaaS business. If you want to be the first to hear about it, head over to futureofmicroconf.com and sign up for our announcement event, that's going to happen on September 14th, 2023. You won't want to miss it. And with that, let's dive into our first question about B2B SaaS valuations.  

Patrick:
Hi Rob. I'm a non-technical bootstrap founder and acquisition entrepreneur. For the past two years, I have been looking to acquire a self-serve B2B SaaS. For the past year, I've been specifically looking for a company doing MRR in the neighborhood of 10K. There are two reasons I've specifically been targeting companies in this range. One, my hope with acquiring a 10K MRR company is that it's cashflowing roughly $75,000 a year after cogs and I can use that to go into scale up mode, putting true automations, analytics, marketing in place. 

Second reason I've been targeting companies in this range is that debt is so ridiculously expensive right now and if I buy this company for cash, I can stop losing to all cash offers. 

Here's the problem. During a pandemic, SaaS valuations went haywire. The latest Centurica data shows that multiples are finally coming back to Earth for large deals, but no one told the founders out there with companies in my range. I haven't seen SaaS deals for less than 5X multiple of ARR in forever. Some founders are even engaging brokers and still looking at 10X or more. I'm getting burned out, man. Can you help me make sense of why founders think that their companies worth so much more than it really is? Yes, I might be able to pull some levers and grow this company, but you don't get to price it based on what someone else might be able to do for it. Please help me understand and thanks for everything you do for the SaaS community. Oh, and can you also give an update on when the audiobook will be available on Google Play or Apple Books? Thanks.  

Rob Walling:
Yeah, this is tough Patrick, and this is not only happening with bootstrapped and mostly bootstrapped kind of lower end revenue SaaS companies, but this is happening with collectibles. This is happening with real estate in some places. This is happening with any type of asset where you set the price. It's obviously not happening with stocks because that's a liquid and an efficient market, but these inefficient markets where people can basically set their own sale price and say no to offers that are even 10% below it, they're experiencing this across the board because we all got dollar signs in our eyes in 2021. And you can see it with venture-backed startups that raised at huge valuations when they really weren't worth that much, but the market was so frothy that let's say they raised at $100 million valuation when they had $2 million of ARR or $3 million. That was not unheard of. 

It was not every deal, but there were deals where the multiples were that high. There were even deals with multiples higher than that. These days, you just can't do that. The market doesn't support it. Maybe if you're an AI startup and you're growing really fast, but you get the idea, most companies are not going to get that. And so folks at some point have to come down to Earth and so the way I'd be thinking about it in your shoes is, I know you've been patient but you just have to be patient for this kind of thing. And if you get it on the way up, the interesting thing is as you see valuations increasing, it makes a lot of sense to buy because you know or expect that next month, next year, that company is going to be worth a bit more. The multiples are creeping their way up and you're getting a good value.When they're falling, makes it really hard to pay top dollar because you don't know if next month it'll be down 10% or next year it'll be down a full 1X multiple below what you paid. 

I don't know of an easy way around this except to generate your own deals. So I have acquired, it depends on how you count, but certainly north of a dozen and probably closer to 30 different apps, websites, info products, SaaS apps, downloadable software, even an e-commerce site, a couple of e-commerce sites over the course of many years, and I got them from three different places. One were forums just where I was involved. It was just communities where people would put something up for sale or they'd mentioned they need marketing help, needed a partner and I bought the app from them and decided to market it myself. 

The other option, which is pretty popular these days, and I would think about, is certainly through brokers and I'm sure you're with all the main brokers. I would mention the Quiet Lights, the Empire Flippers, the FE Internationals. 

But the third was I did cold outreach and I sent probably close to 50 emails, not in the annoying way people do cold outreach today. But back in 2010 I sent 50, maybe even 75 emails to products that looked dated. They just weren't being maintained anymore. They looked crufty, they looked long in the tooth, and I basically generated my own deal flow and that's where I was then the single buyer and I was able to negotiate a price that made sense for me because there were no other buyers competing with me basically. So that would be the other thing I would consider if I were in your shoes. There could obviously be an entire podcast around how to source those deals, but if you give it some thought, put your mind to it, I'm sure you can think of some interesting criteria to use. 

But I do like the fact that you're buying something for 10K a month. That's like a nice revenue mark because that allows you to almost support yourself. I know you said 75K in profit after that, which depending on where you live may or may not support you, but I do like that price range. Now with that said, that price range is extremely competitive because a lot of people are trying to buy in that range. It's the same thing, if you look at single family houses and houses from let's say one to four units, the prices of those are a lot higher per unit or a lot higher per rental dollar than if you buy a big apartment building because there's so many people trying to get into that space. There's so many people doing it on the side or trying to make money in real estate. 

The same thing actually is true with high-end collectibles, whether it's comic books, baseball cards, coins, it doesn't matter. You'll see on a really valued piece, something that everyone wants, let's say the first appearance of Spider-Man and Amazing Fantasy 15. As you go in higher and higher grades where these things are literally six figures and ultimately seven figures. I think it's a 9.6 that sold for several million dollars. But as you go down, the multiples compressed, so by the time you get down to a really ratty copy, a 1.0, 1.5, 1.8, there's so many people that just want to own that book and the price for a 1.0 or a 1.5 can be really close to a 2.0 and a 2.5 because again, there's just a lot of competition for it. That's where buying in this price range of that 10K a month, it can be tough. There is just more competition there. Sounds like you're putting in the work, sounds like you're being patient and I have a feeling you will be successful eventually. 

Patrick's second question was about whether the SaaS playbook audiobook would be available on Google Play or Apple Books and the good news is it is available, so I submit it through Audible's ACX, which is like the author exchange and it's available now on Audible. It's available on Amazon as paperback, Kindle and an audiobook and it's available, it says on iTunes. I believe that is Apple Books. I honestly don't know. It's not available on Google Play. You are literally the first person to ever have mentioned that. So if I get resounding requests for it, I will certainly have my project manager look into how difficult that is to do it and to manage. As of now, it's not in Google Play but it is in electronic format, not audio, but like EPUB format on Apple Books. 

So again, you can get it on Amazon in all three formats. You can get it on Audible and you can get it on Apple Books, and EPUB as well as through iTunes/Apple Books as an audiobook. That's the question mark. I would just think ACX would say Apple Books if that's what it was on, but it says iTunes and I'm kind of at the mercy of their documentation to understand that. So thanks for the question, Patrick, and of course you can go to saasplaybook.com if you want to buy it directly from me. I'm trying to have cheaper prices than the Amazon audibles because it's crazy the percentage that Audible specifically takes. Amazon actually doesn't take an egregious percentage, but it is nice to go direct. Then we have a direct relationship and hopefully I can save you a few bucks, but wherever it works for you, love it if you would pick up the SaaS Playbook. Thanks for that question, Patrick. Our next question is from Anders. He's trying to choose between two software ideas.  

Anders Gustafsson.:
Hi, Rob. My name's Anders Gustafsson. I'm a non-technical individual with two separate ideas for a B2B SaaS. Both are drawn from problems that I experience daily as the owner of an automotive repair business, finding qualified technicians for my team and diagnosing and repairing vehicles correctly and efficiently. In both instances, I believe there's an opportunity to leverage generative AI for new solutions. Based on my research talking to potential customers, the recruiting solution is more novel with limited competition, but the feedback is that a smaller portion of the market would consider purchasing. The repair solution is the opposite. A large portion of the market would purchase, but I would be going toe to toe with lots of well-funded competitors who are likely to pursue similar solutions. I would like your thoughts on how you might analyze these opportunities so I can throw my energy and time behind one. Thanks a lot, love your show.  

Rob Walling:
Thanks for that question, Anders. Questions like this are often hard to answer with limited information. It's that balance of like, I really do appreciate the brevity of your voicemail because it means I don't have to wade through three or four minutes of audio and a bunch of different factors, but it depends on a lot of things. And so I struggle to give a recommendation of, "Hey, you should do this." The way I think about it is based on what you've said in your shoes, if I were trying to make this decision, I personally do not like creating new categories. As much as I'm a builder, I like making new things. I'm going to build this new tool that no one else has and there's no competition is and it's so cool. Aren't I creative? And wasn't that fun to build. Usually that's a fool's errand. It's very, very hard to build that without a cajillion dollars in funding in many, many years in invested into creating that category. 

HubSpot did this with inbound marketing as an example, and I talked to Dharmesh at Business of Software and he said, "Yeah, I estimate it took us $5 million and I forget how … It was many years to drive home this category, to make this into its own category." And then they branched into CRM and obviously the rest is history there. But if I'm going to go after a space these days, I personally want to go into a more competitive space, even with well-funded competitors where I can carve out a position. I want to carve out a corner of the market to where if I have this repair solution that we build, while it may compete with these more well-funded customers, it's obvious who should use mine versus theirs and it's obvious why you should use mine versus theirs and maybe that's a focus, maybe that's a feature set. 

Maybe that's just the positioning of if you're in the Pacific Northwest and the laws are different there, or the parts are different there, or maybe it's only for shops less than 10 people and all the other software is really bad for them or vice versa. There's some angle there that I would be looking for and trying to make it a durable advantage as well because it's easy to get in to the idea of, "I'm going to build some features and that's going to be my moat." But the problem is features get replicated. Every feature I've ever built into software has been copied by someone. Even the awesome super cool ones that we knew were novel and we knew we went back to first principles and we built this incredible engine that did all this cool automation and just one by one, all that stuff over the course of the next few years was replicated. And so it was a temporary moat, but it was not one that lasted several years. 

Brand is a pretty strong moat, virality is a pretty strong moat, assuming you can get it going. And there are other SaaS moats, I actually talk about these in the SaaS Playbook, speak of the devil. But all that said, if you really have a passion to do the hiring solution, a smaller market, no competition, that actually scares me. But also is that a good step one business? If you haven't been a software entrepreneur, shouldn't you start small and go into a vertical? Yeah, not a bad idea. Usually though, if I'm going to start small, I want something where the traffic is built in, it's the Shopify app store. I know SEO, and I know I can target these specific terms where I kind of eliminate a lot of the headache of SaaS by just having marketing built in or distribution just built in to the model. My concern with the hiring solution, is it a two-sided marketplace? If so, don't build it, just don't. 

So I'm actually putting a pause and maybe it's a permanent ban on two types of questions. I'm no longer going to answer questions about two-sided marketplaces. My answer is going to be don't, because I listened back to several of the episodes where I've answered listener questions and just too many people think that that's a shortcut to not having to build this big feature set. Or I don't know, I guess because what you see on TV, and that's what you see when you read about Uber or whatever, but it's a siren song and bootstrappers don't make that work. The only time they make it work is when they have one side of the marketplace already. They have an audience like the Tropical MBA guys did when they started Dynamite Jobs. 

The other type of question I'm no longer going to answer is the one where it's, okay, so I built an app, how do I market it? Or I have a landing page, you say build a landing page. How do I get people to it? And I don't mean to poke fun at those questions, but that's like saying I'm a startup founder. What should I know about being a startup founder? Everything. You should go back to all 675 episodes of this podcast and read all the books, educate yourself, do some work on your own, watch the YouTube videos. I know we put out a lot of content, but it's pretty curated. You can zip through these YouTube videos at 2X and get an education. You can listen to episodes of this podcast while you drive, while you do the dishes, while you do yard work. Put them at 1.5X, put them in the background and absorb that information over time and then you'll have more, I would say, specific questions that I think are more constructive for yourself and I think are more constructive for the listeners. 

So that's a tangent. I didn't mean to derail your question Anders, but I do appreciate the specificity of this one, and if I were in your shoes, I'd be looking to do the one with competitors. That part doesn't turn me off. In fact, it's intriguing to me. It shows that there is likely money in that space and as long as you go into it, not saying I'm just going to replicate it, I'm just going to build what they have and it's going to be half price. Half price can be one advantage, but you need others as well. You don't just want to be the cheapest one in the market. So thank you for that question. I hope it was helpful. 

M y next question is a text question. It is from almost a year ago, and so some of these text questions stick around for a while and eventually I just want to bring them in and answer them. This one is from Bavesh who has sent in several questions and I appreciate him sending them in. They're always quite specific. His question in this one is, "I have a complicated question about the stair-step approach." And then he sent me a video and I'm just going to summarize it. The video in summary says, if I have a step one product and it's making some money and then I build or buy additional ones, I get to step two where I own all my time and then I'm going to move on to step three, which is a standalone SaaS product, do all of them have to be related? Should step three build on the same customer base or in the same market as steps one and two? Do they have to? Should they? 

My answer is they don't have to, and in most stair-stepping that I see, they don't, but if possible they should. That would be amazing. It's just I haven't really seen it work out very much. I've seen it work out in a couple cases. One example is Craig Hewitt, who right now runs Castos. He started off with a podcast editing productized service, used to be called Podcast Motor. Now it's called Castos Productions, but he built that up to tens of thousands in MRR as he had a day job. Then since he was in the podcasting space, this is all about doing things in public, creating opportunity. Someone approached him, they said, "I have a WordPress plugin called Seriously Simple Podcasting. I will sell it to you for almost nothing." And I think he's been public about that purchase price. I will just say it's less than $10,000. It was not a very expensive purchase. It was a great, great buy on his part. Then he built Castos a SaaS on top of that WordPress plugin. 

So he used productized service and a WordPress plugin to step into SaaS, and now he's talked about Castos as a seven figure SaaS company. That's where it works. That's when it's amazing. Everything's going in one direction. I wish I had been able to do that. My step one, two and three ideas were all separate, all different customer bases, and it made it hard. It was not the ideal way, but it's what happens with most people, especially if you're acquiring because you just can't dictate what's available for sale at any time, and there could be a good opportunity that doesn't kind of fit within your ecosystem that you buy and lever up. 

If you're starting new ones, if you're building all of them from scratch, which is perfectly acceptable, I would absolutely try to err on the side of having them all be related or building on top of one another or sharing the same customer base. It's just going to make things easier in all the ways because you're going to understand that customer base. You're going to have shared customers, you're going to be able to market to them just in every way imaginable. It's going to make it much easier. So thanks for that question Bavesh. Hope that was helpful. 

As SaaS founders, we often look to our peers for inspiration, but what if your next big idea comes from where you least expect it? Imagine leveraging sales tactics from a $24 million jet chartering business or implementing SOPs from a franchiser. Suddenly you've got an edge that sets you apart. That's essentially what my friends at the UpFlip Podcast do. They uncover lessons that are universal, unique and often unexpected by interviewing a broad spectrum of businesses. Take episode 27, for instance, where Ed Warren shares his journey of transforming a mobile card detailing business into SaaS from scratch. If you think about it, that's a pretty unique approach. So if you're ready to look beyond the conventional SaaS wisdom and stir up some innovation, check out the UpFlip Podcast. Just give it a search in Apple Podcasts, Spotify or wherever you get your pods. You never know where your next big idea will come from and it just might be a click away.  

Our next question is from Mike, and he's wondering about co-founder equity splits and founder agreements. 

Mike:
Hey, Rob, my name's Mike. I am a new startup founder for a potential legal software company for attorneys, but I don't have any tech support, so I've been listening to as many of these 600 or so podcasts that I can. And what I'm running into is I've got tech people that want to be on board, not sure of the role of co-founder, CTO, fractional employee contractor, and so I'm wondering if you have a resource out there that's good for this kind of thing for founders agreements and or setting the roles and responsibilities and pay and or equity for some guides for that. 

So hopefully that question makes sense. I'm glad I'm getting to that point to have to think about those things, but I kind of hadn't thought about it until I got this far through with the business plan and the pitch deck and getting people interested and wanting to get an MVP. I want to get that stuff hammered out, and I also want to make sure that they're not competing with me, they're not disclosing things and everybody gets paid fairly. So with that, I will stop talking and look forward to your answer. Thanks, man. Bye.  

Rob Walling:
So I have a couple thoughts here. Obviously getting a lawyer involved is the right answer, but that can be expensive. It is expensive, especially at the early stage. So in the US, if I was just looking for documents, I'm not a lawyer, I can tell you what I used when I was cash strapped and I wanted agreements. There's a bunch of places you can go and nolo.com is one, but I used rocketlawyer.com for many years for a lot of the early Drip stuff. Is it perfect? No. Is it inexpensive and convenient? Yes. So I used it and then as we got further along with revenue and things got more, I'll say complicated, but also we had more money, I actually rewrote quite a few of these or had a lawyer rewrite them or update them so that I was more comfortable with them. 

Another option is a TinySeed company, Lexgo and they operate in South America and they are much like a Rocket Lawyer equivalent for South America, Lexgo.cl. 

And then in terms of dividing up equity or trying to figure out who gets what, I honestly have not seen much written on that. I, of course, I've given thoughts on that in the past, but it's always a very specific question that I'm weighing in on where it's kind of like, well, the business is at 20K MRR and you've done the whole thing and you're bringing on kind of a "co-founder" which is really just a late added business partner. They should get X% based on things I've seen. It's just rules of thumb and there's no direct formula for it. 

But I will say that slicingpie.com started as an ebook, and it looks like they've now built it into a SaaS where I'm sure you could track the tasks they talk about. Basically you take a bunch of tasks or things to get done and you put a certain amount of equity attached to each one, or maybe you can do it hourly too. Haven't read the eBooks probably since it first came out, which is eight or nine years ago, but it's basically a method for doing what you're thinking about. And there ar H1 at slicingpie.com is you've found the world's only fair startup equity calculator. Slicing Pie is a universal one size fits all model that creates a perfectly fair equity split in early stage bootstraps startup companies. I will admit, I read it and I thought to myself, I probably wouldn't use this. It just didn't fit my way of thinking, but I have known a handful of startups that have used it and I really haven't heard any complaints. So that's about as much of an endorsement as I can give it, having never tried it myself. 

It's always a struggle when you're talking about equity and it probably should be because it's one of those things that if you just hand wave early on and you say, "Oh, we'll worry about it later," it can get really ugly, especially if the business takes off as becomes a million, $2 million ARR business, that's worth a lot of money. And then at that point, 1 percentage points, 2 percentage points becomes a substantial amount of money. So I am glad that you're thinking about it and digging into it, and I hope my suggestions were helpful. And our last two questions of the day come from the same listener.  

Speaker 5:
Hi, Rob. When you were working on Drip, I noticed on your video representation on MicroConf, you had a few validations before going ahead with building Drip. How many people said "Yes, that's what we need, and what was the tipping point for you to say, okay, enough, this is it, I'm building this?" Thank you for taking your time to answer this question.  

Rob Walling:
This feels like a pretty quick and easy answer for me. There's a couple of different ways to validate things that I've become familiar with. One is to put up the landing page or put up the website and talk about the value proposition, see how many people are interested. That's usually when it's a marketing led startup, meaning you're going to drive a lot of people into a funnel, get them to convert. 

The other way is to have a lot of conversations to potentially get buy-in or a yes, I would pay for that. And usually it's like, "Hey, if I built this thing and it was $49 a month, would you pay for that? Would you at least try it out?" And then another level higher, which I haven't done, is to actually take checks or to take prepayments and say, "I'll refund you if we never get to it." 

There are a bunch of different ways to do it, but the listener who asked this was asking how many people did I get to say yes? I talked to 17 people, I got 11 yeses. For me, the tipping point was at 10. I had modeled my approach after Steve Blank's original customer development, but realistically more so after Jason Cohen's validation or pre-validation of WP Engine. And he talked to a lot of people and he got 40 yeses. So I figured, hey, if he needs 40 and I'm building something much smaller than WP Engine, WP Engine was still pretty small at the time, to be honest. It was only a couple of years in, but I figured if I get to 10, this can definitely be a nice lifestyle business. 

Those are the only two case studies I've heard in detail of people telling this story and talking about getting to yeses and talking about how many they've had. And so I don't know what the range is. I know that 5 people doesn't feel like enough to me unless maybe you're charging $100,000 a year and then maybe 5 companies is enough. I know that 40 feels like quite a few, and I know that a hundred would be a lot of conversations. So there's some number in that range where I feel comfortable. And given that originally I was going to charge $99 a month, I felt like getting 10 people who would be willing to pay $99 a month was $1,000 of MRR. And I felt like if that many people needed it and paid that, that the rest of my audience would feasibly buy it in enough volume that it would be a 10 or $20,000 a month business. 

So do these numbers and ideas change over time? Absolutely. Do they change based on your price point, your audience, your network, the space you're in, the industry, how many competitors there are? It absolutely does. There's so many variables, but these are just anecdotes to help us gauge where we might want to be. Because without having heard Jason Cohen's story and having heard my story with Drip, you kind of have no idea where to go next. And at least these guardrails can help you think, well, if I'm going to validate an idea that way, maybe I'll follow in the footsteps of Rob and Jason. And our last question for the day is about whether to start a podcast.  

Speaker 5:
Hey, Rob and team, I have a question regarding building an audience. With AI, making it harder to publish and build an audience, do you think it would be worth working on a podcast or YouTube channel to build your audience in anticipation of releasing the product? Thank you. And I'm also looking forward to reading your new book.  

Rob Walling:
So I will admit, I don't think AI necessarily makes it harder to publish and build an audience. I mean, I guess it means more people will crank out more crappy content, but I've never built an audience competing against crappy content. I've typically competed against pretty competent folks who are putting their all into writing ebooks or writing blogs or putting out podcasts or putting out video content. So while AI is that accelerant that can maybe help people get further, I don't necessarily agree with the premise of the statement that AI is going to make it harder to build an audience because I think a lot of AI generated content will be mayonnaise, bland. Unless you really know how to write a good prompt, trying to captivate an audience with bland content, it doesn't work. 

So then the second part of your question, I also, I guess I don't agree with the premise of this, that you should build an audience at all in anticipation of releasing your product. I mean, if you're building a B2C product, then of course build an audience of consumers, virality. This is where the B2C tools come into play. But if you're selling a tool to businesses to solve a problem? I guess if you are exceptional at YouTube and or podcasting and you've done it before, you feel like you really want to do it and you're going to do it in the specific vertical or the specific niche where you are going to serve customers and you really want to do it, then do it. But you've heard me say on this podcast many times for B2B SaaS, build your network, not your audience. 

Of all the companies we funded at TinySeed, 131 companies, it was a less than 5% that had an audience when they launched, or even as they grew. And I mean an audience that say followed the founder or followed the brand and was consuming all the content that they were putting out. By far, the vast majority of successful B2B SaaS companies are built on the top five, the big five, as I call them in my book: content, SEO, cold outreach, integrations partnerships, and ads. 

These are not as fun as starting a YouTube channel or podcast or starting a community of entrepreneurs or going on a podcast tour, which can also bring in people. There are marketing channels that you should do like eating spinach, and there are marketing channels that you want to do like eating ice cream. And I gave the example of someone, what was it, five, six episodes ago? About one entrepreneur who built a directory of freelancers and one entrepreneur who built a community of freelancers. And one of those was objectively a better choice. And you can go back and listen to that episode. It's the most recent Rob solo adventure. But that's where I have a podcast in a YouTube channel. But you shouldn't necessarily do it because I do it because I'm not growing a B2B SaaS currently. 

Did I start a podcast or a YouTube channel for HitTail or Drip? No, neither of them. I happen to have this podcast going, but this has been a hobby now for 13 years. So if you want to, I guess, follow the indie hacker dream of, "Hey, I'm going to launch on Product Hunt, Hacker News Reddit, and then I'm going to have this audience on a podcast on YouTube channel, and I'm going to build a product that basically serves other indie hackers, and the churn's going to be very high, so I need a really wide funnel. So I need to be one of the top two to five independent solo entrepreneurs." Micropreneur is what I used to call this. I was doing this from 2005 to 2011. And if you want to be that individual, then yes, you should build an audience. 

But if that's not going to be your approach, and you want to build a long-term sustainable, ambitious SaaS product that grows over time, and you can implement the stair step method of course, or you can build that B2B SaaS and then put to work the SaaS marketing approaches that I talk about in the SaaS Playbook or that you might find in a book like Traction or in Sean Ellis's book Hacking Growth. 

So I guess to answer your question directly, do I think it would be worth working on a podcast or YouTube channel to build an audience in anticipation of releasing a new product? And if it's an info product, then sure. And if it's software, if it's B2B SaaS, then no. I'm not saying it won't move the needle at all. I'm saying there are so many other marketing approaches that you can invest time in that will create a flywheel and create a better opportunity for your SaaS to grow. I will admit the audience first approach I think is amazing for info products, for courses, for anything that relies on a personality. But we talk about audience first. What about SEO first? What about cold outreach first? What about pay-per-click advertising first? What about content first? What about partnerships and integrations first? 

These marketing approaches can be built in advance of building a product. I have a couple of founder friends who I mention on the show pretty regularly that built up flywheels, not of an audience, but of other marketing approaches before they even launched a product. And it gave them an incredible, basically, a slingshot effect when they actually brought the product to market. So thanks for those questions. I hope my thoughts were helpful. At the sound of the tone, this episode of Startups for the Rest of Us has come to a close. Thank you so much for joining me again this week and every week. I'm Rob Walling, signing off from episode 676.
Reader Interactions