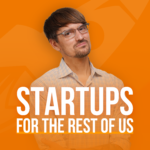 In episode 674, ​​join Rob Walling, Einar Vollset, and Tracy Osborn for Hot Take Tuesday, where they analyze and discuss some of the latest news. They talk about Elon rebranding Twitter to X and the emergence of Instagram's Threads. They also cover the pros and cons of taking VC and SparkToro's unique funding model and paying back investors.
Topics we cover:
2:49 – Twitter is now X
5:53 – Does the rebranding make sense?
12:15 – Instagram launches Threads
19:18 – SparkToro pays back investors
26:04 – Planning ahead for the payback
28:53 – "Don't take VC funding"
35:11 – "We Raised a Bunch of Money"
Links from the Show:
If you have questions about starting or scaling a software business that you'd like for us to cover, please submit your question for an upcoming episode. We'd love to hear from you!
Subscribe & Review: iTunes | Spotify | Google
Rob Walling:
It's another episode of Startups for the Rest of Us. I'm Rob Walling, and this is Hot Take Tuesday. That's the show format where I invite Tracy Osborn and Elnar Vollset onto the podcast, and we discuss recent news stories that impact our bootstrapped and mostly bootstrapped SaaS community. In this episode, we talk about how SparkToro has paid back their investors. We discuss a piece that tries to talk through the pros and cons or really just the cons of raising venture capital. 

Then we look at a blog post from Fly.io where they talk about how they raised a bunch of money and why they did that. Finally, we talk a bit about Twitter and X.com or whatever we call it these days. Before we dive into that, my book, The SaaS Playbook, is now available in most places that greater books are sold at least online. SaaSplaybook.com is a place to go if you want to support me directly, and I'm selling PDF, EPUB, audio and paperback copies from the site. 

Paperback copies, unfortunately, I'm only able to ship in the United States, due to the unnecessary complexity and cost of our worldwide shipping and customs situation. But the book is also now available on amazon.com in Kindle and paperback, and it should be available on Audible as an audiobook. If you go to SaaSplaybook.com, buy directly from me, of course, that's where I don't give a 30% to 75% cut. You heard that right, 30% to 75% cut depending on the format. 

I actually did not know that on Audible, they take 75% of the royalties, even though I wrote the book, I own it, I recorded it, produced it and all that. But if I agreed to not sell it anywhere else, they only took 60%, so I get 40%. If I wanted to sell it somewhere else, such as on my own website for example, then they take 75%, but it is what it is. Buy it in whatever format suits you best. I really appreciate your support. 

This book distills all the stuff I've learned about building SaaS companies, where they're bootstrapped, mostly bootstrapped. Or even I had a friend of mine who's working at a venture-backed startup, and he said that if it's SaaS, it applies to you. Another one of my friends is the CEO of a SaaS company with about 10 people, and he bought it for his entire team. He said, "I know you wrote this aimed at founders, but I actually think it can give everyone in an organization an idea of how your SaaS company runs." 

Buy one, buy 10, hand them out to your team, SaaSplaybook.com or amazon.com. With that, let's dive in to this week's Hot Take Tuesday. Here we are back again, another Hot Take Tuesday. Tracy Osborn, @tracymakes on X.com, On Twitter. That is our first story. Thanks for coming back, hanging out on the pod with me.  

Tracy Osborn:
Yeah, happy to be here. Excited to rant and yell at Elnar and have Elnar and I yell, and you keep us on track as much as possible.  

Rob Walling:
Indeed.  

Tracy Osborn:
As per usual.  

Rob Walling:
That's the wrangling job I have. Yep. Elnar Vollset, coming in live from Europe. How are things, sir?  

Einar Vollset:
Things are good. Thanks for having me. I'm excited to be back and ranting and raving as usual.  

Rob Walling:
Excellent. We have a good story docket today. First one is Elon Musk. We'll see how well this ages. This episode goes live in a couple of weeks and knowing Elon, things will change from day-to-day. But as of right now, breaking news, Elon Musk replaces the Twitter bird logo with X, with an X that, I don't know, it just looks like an X. 

Then X.com/robwalling leads to my Twitter account. Is it like a rename? I'm not actually sure what's happening, but it's rocking the world and people on Twitter are eye-rolling and looking to Threads. @tracymakes, what is your take on this story?  

Tracy Osborn:
I have some fun facts. A, the X that they're using is literally, it's one of the Unicode characters.  

Rob Walling:
Cool.  

Tracy Osborn:
It tells you some of the thoughtfulness that went into this start of a rebrand, very Elon Musky. It's also interesting to note, that I don't know the whole story on this. I just remember reading some thoughts on this, is that this is something that Elon wanted to do in PayPal days, so rename PayPal to X.com. That obviously didn't happen. 

It's clearly a dream of Elon to have a product that is under the X.com umbrella, and here is his opportunity to do it. There's some implications here. Is it going to be are we going to be not calling it Twitter anymore? Is it going to be X.com? Is it going to be just X? Are we going to have tweets? Are we going to have X's, which is what he said on his account recently?  

Rob Walling:
X's, all my exes live in Texas though, don't they? Sorry, might need to cut that. I love it, Elnar, just chuckling.  

Tracy Osborn:
I think you could cut it or you could leave it in.  

Rob Walling:
It's off to a great start.  

Tracy Osborn:
Because it is a good point of how we have this vernacular we've been using for how many years has Twitter been around now? We've gotten these words, they're in the dictionary, I want to say. Tweets are in the dictionary, the word tweet. For any company, that would be an absolute branding win. 

It's really interesting to see this bull in a China shop approach continuing to happen, now with moving on of such a brand and such a part of our ecosystem in the tech world. Now making a lot of changes under the hood, and now making these very public faces' changes that are going to make it more complicated for people to use it. 

That actually might be the point, I don't know. This literally started happening last night for me, so I'm still wrapping my brain around it. It's interesting, I'll say.  

Rob Walling:
It's a social media platform that we're all familiar with. Sometimes when there is a rebrand, I'm like, "This makes sense. It needs a refresh." It needs a new name is always a stretch, but new branding, new updated design or whatever. 

This obviously came out of nowhere for a lot of people, and I don't tend to get emotional about these things. Remember when Figma sold to Adobe and people are like, "Oh my God, this is the worst, I'm so angry they sold this out"? I just don't care, even as a Figma user.  

Tracy Osborn:
But were you an Adobe user? Because the whole point of Figma is people getting off. I say this as a designer, whereas everyone's just like, "I want to get off Adobe," and then Adobe pulls it back in.  

Rob Walling:
I'm just using it as an example of I tend to not be emotional about these things. I just don't care that much. I haven't been up in arms.  

Einar Vollset:
Unlike Tracy, clearly.  

Rob Walling:
I haven't been upset about, I don't really care what Elon's doing. Twitter's fine, but rebranding it to X, I think, is a (censored) terrible business decision. It doesn't make any sense to me. Unless Elon's playing 3D chess, which I don't know, he hasn't really shown us that he thinks too far ahead on these things. It seems like a genuine death knell, a shot in the foot of something to just rename it like this. 

When I saw it, I had to read it again and then I literally was like, "Is it April 1st?" This is a great April Fools joke, but it's just crazy to think about this. The other thing, I want to kick it to Elnar in a second, but it reminded me, I have read the story of PayPal and stuff, and I knew X.com. X.com I believe was actually Elon ran a company called X.com and they merged with PayPal, because they were competing and they were flailing. 

It was like Peter Thiel and a couple other, the PayPal Mafia, a couple other folks were at PayPal, they were X and they merged. He has that X.com domain obviously, but it seems like it's his hammer, that everything's a nail when X.com is your hammer. But it reminds me of this story, Kevin Smith, he's a film director, he told of this producer, John Peters. Kevin Smith was going to direct Superman Lives 15 plus years ago. 

John Peters says, "Well, you can do it." I'm paraphrasing here but, "You can do it, but I really want a big, mechanical spider at the end of the film." Kevin Smith's like, "What? What are you talking about? This makes no sense. There is no spider in the Lord of Superman." It's this great story, you can Google it, see it on YouTube. Kevin Smith either decides not to do it or isn't allowed to do it. 

Then two years later, he's watching a movie produced by John Peters called Wild Wild West with Will Smith and Kevin Kline. He's like, "I'm watching the movie, and at the end, there's a huge, mechanical spider." He's like, "The dude just had one play." He wanted that to be in a movie. This a little bit [inaudible].  

Tracy Osborn:
One play or one dream?  

Rob Walling:
Yeah.  

Tracy Osborn:
It could go for both this guy and Elon. He's like, "This is the dream and we're finally going to achieve it one way or another."  

Rob Walling:
Super funny. Elnar, what are your thoughts before I move on to the next story?  

Einar Vollset:
Yeah. I obviously have the view that the vernacular is peculiar. What to the X? I don't know that that works, but I do think on the flip side, I think Elon views Twitter as it was when he bought it as a stepping stone. Everyone I think is always currently, a lot of people anyway, are thinking of what happens to Twitter under Elon, as how much is he (censored) it up and how much money is he burning, and where did all the advertisers go and all this crap? 

But fundamentally, if you see how he talks about it, the reason why you might want to do a drastic rebranding like this, is if you want people to think of it as a different thing than what it was or something additional. I certainly think in the universe of messaging type apps, it's no big secret that I was never a big fan of the previous CEO. I think he left a lot of things on the table and never really did much of anything with it, which is why it ended up getting acquired by Elon. 

But there is things like if you look to Asia, like the big messaging apps that are Asia and all the e-commerce that gets done there, inside the messaging apps in both China and India particularly, but also Japan. I think there's an option here that if he's really going aggressively after it being more than just Twitter and different than just mostly people shouting about things on Twitter, then a rebrand might make sense. 

That's the other side of where I see it. I think it could go in two ways. Either this gets abandoned almost by the time this is published, or it's a part of something that's more towards making it ubiquitous, all day, everyday payment transactions, all that stuff, which I think is where he wants to go with Twitter in general.  

Rob Walling:
Right. The rebrand is to reposition. In essence, X is a generic name, which could be both good and bad, right?It's bad because it's generic, but it's good in the sense that you can be anything you want it to be at that point.  

Tracy Osborn:
In this vacuum, well, in this ecosystem of people wanting Twitter to be as is, as it always has been and never to change. 

Now we have Threads and Bluesky, and all these services are trying to jump into that void, which I think that was going to be the next topic. I thought I'd just jump right over to it, which is interesting.  

Rob Walling:
Yeah. Our next topic is Threads, but Mastodon is not it. This is just not going to happen. There's just no way.  

Tracy Osborn:
I'm sorry, Mastodon. I tried to and I had to change. I didn't like the default server I was on, and I'm a techie person with a lot of experience with computers. I went through all the articles, was like, "This is how you can change your server from whatever they're at." 

I think I was the default one to more of a subgroup, and you can change servers, and supposedly bring all of your followers and everything over, and it just never worked for me. That was a death knell for me, because I was just like, "As a computer savvy person, I could not figure out how to change things on Mastodon." Yeah. No, thank you.  

Rob Walling:
Mastodon is that story of snatching defeat from the jaws of victory, because when Twitter, if it actually had its act together in the way that maybe Bluesky or Threads does, I think. I'm on both of them, but I'm not really using them. But Mastodon was the one everyone flocked to, and it just fumbled the ball so badly with the user experience and the need to be a techie. Threads though, I'm curious to get both your takes on it. 

I, of course, have an Instagram handle only, so I can read my wife's posts and some stuff about collecting comic books and this and that, but I don't do anything. I literally have one or two posts total, but obviously I've been able to reserve my username on Threads. When I look at it, I'm like, "Well, this is pretty much what everyone's posting on Instagram." That's what it looks like to me and most of them have pictures and it looks the same. 

I also am never an early adopter of social media. Frankly, I wish I was not an adopter at all, but eventually I do have to do it for work and such. I'm not the early adopter, so I'm probably not the right one to weigh in, but it doesn't seem to have much there. Elnar, are you on Threads? What are your thoughts on it, in terms of it potentially replacing Twitter or becoming one of the big three or four social networks?  

Einar Vollset:
I think it has a chance. I don't think it has a big chance. My view of it when it first came out was partly laziness. I'm like, "I've been on Twitter for long enough, that it could probably get a driver's license in a number of states." Already this year, we went through Mastodon and then Bluesky and then some other crap. I don't know, I just am not willing to just futz around with all sorts of things. 

Then on top of that, I tend to very carefully segment my social media. On Twitter, I am basically the argumentative asshole shit posting at the intersection of AI and finance, but then I also have an Instagram account, but Instagram account is locked down. Basically, pretty much nobody is allowed to follow me. It's like family and friends effectively. The content that I put on Instagram is very different than the stuff that I put on Twitter. 

Believe it or not, I'm not a complete psychopath among my friends and family in person, unlike on Twitter. I think that's maybe the problem that Facebook name Meta has, which is this notion that people, particularly when it's like you can't delete your Threads account without also deleting your Instagram account. There's some weird, conceptual segmentation of how to behave that, I think, people will struggle with. 

That's probably the reason why I think it may not actually do very well. I think it'll find a sub-niche in some way, shape or form. Just actually like I think I'm sure Mastodon, people who hate Elon more than they hate configuring servers, they will definitely stay on Mastodon. You know what I mean? It's a big enough market that it'll take some share. Do I think it's likely to outcompete Twitter? No. I think Elon is more likely to ruin Twitter himself, than Threads is to outcompete him.  

Tracy Osborn:
Amen. I think it's a little bit sad that we basically have old Twitter, which is now X or going to be X, or perhaps it's going to be X. 

We have new Twitter or the new Twitters, so Bluesky, backed by Dorsey, who was what? He was the founder of Twitter, right? I'm remembering that correctly, Jack Dorsey?  

Einar Vollset:
One of the founders. Yeah.  

Rob Walling:
Kind of.  

Einar Vollset:
Kind of, yeah.  

Rob Walling:
If you read Hatching Twitter, and he's a first engineer person who was later named, but anyways, for all intents.  

Tracy Osborn:
But basically it's like old guard Twitter, creating new Twitter, and then we have new Meta, like Instagram and Facebook jumping in. It makes me sad that there isn't, I don't know, something else out there. Something from a non-established social media company, but I guess it's impossible in this ecosystem we're in right now. But I feel like this is going to create these separate communities that we didn't have on Twitter. 

Or people were using Twitter and they were using Facebook, they're generally using both. But if Twitter gets fragmented into the Elon stands with X and then we have the Instagram folks, which is a very huge community, especially I think around for women or business communities, or people doing products. One, they're all using Instagram as their primary social media tool. 

Then they can be pushed into this Threads network. Then you have Bluesky, where it's as of right now, it's basically a one-to-one clone to Twitter. That one I feel like had some growing pains that they had those invites. For me, that invite system really just killed all motivation or any momentum I had for joining that network. But I feel like they're going to attract a certain group of people, maybe people who wanted the old Twitter who are not on Instagram. Then you have these three separate social media, text-based updates platforms. 

Then for folks who are building businesses that need to get their information out to their customers, before they could just use Twitter. Or if things like, I don't know, the accounts for volcano or earthquake detection or something like that, you could follow things being like, "There was an earthquake in so-and-so and there's on Twitter," and it's like what network is it going to go on? I don't know. Is it going to stay on X because of things going on? 

I don't know. I feel like there's this weird shakeup, this weird creating of different ecosystems, that people are going to stop posting on one and only on the other. I think we're going to lose something in this medium-term period of time on easy access information and knowing where to go to places. That makes me a little bit [inaudible].  

Rob Walling:
It's a shakeup.  

Tracy Osborn:
It's a shakeup and it's sad. It's like we got so far in the internet, we had these ways of doing things and there's going to be a shakeup. 

In the medium term is going to be really hard and weird and we'll see what emerges in the future. We went from MySpace to Facebook, so who knows what the Facebook for RMA space is now.  

Einar Vollset:
Yeah. I don't know that probably one of the problems with Jack Dorsey's Twitter, was that I actually think probably more businesses make more money on Instagram and on Pinterest than on Twitter. 

I never think they managed to really in any meaningful way, monetize that. There are some kind of businesses that might thrive on Twitter, but I think it's a very small sliver compared to anything else. Yeah, I don't know.  

Rob Walling:
Yeah, their ad network's not great. They're so far behind.  

Tracy Osborn:
Prepare yourselves for a shakeup and it's going to be a while. As business owners for people in SaaS, I think that it might be hard to figure out what social media platform you use for your business in the short term, to figure out how to find customers if you're using social media. But hopefully something will come into place like a new industry leader at some point.  

Rob Walling:
I'm just going to hang out on the sidelines like I usually do and wait until all the desks settles and be like, "That's who won, or there's three now." 

What TinySeed company hits all three APIs and allows me to post the same thing to all three? That's essentially what it's going to be.  

Tracy Osborn:
We had that before with Tumblr and Twitter and a few other things back in the day, too. There were other networks, other than Twitter, that people were posting in one place. They didn't automatically share to all those things. Honestly, we need a tool like that now.  

Rob Walling:
Yeah, and it'll get built. Maybe Postpone right now goes after Reddit. You can imagine Grant, a Chinese seed company, Postpone adding that functionality. There's probably not a Threads API, it can't be yet, right? I don't think they would have it out yet. Anyways, let's move onto our next story. Actually, our next couple stories are about funding. The first one I want to touch on, is a tweet that I sent out about three weeks ago. 

In it, I said, "It's super impressive to watch Rand Fishkin and Casey Henry execute on their vision of SparkToro, not only their vision of the product, but of how they wanted to operate their company. They didn't raise VC and opted instead to raise a small round from 35 investors. I'm one of them, whom they have just paid back in full. Future returns are expected to come through dividends." Then I sarcastically say, "Profit, what a novel idea for a startup." 

For what it's worth, their investment terms served as the basis for how we invest via TinySeed. Huge congrats to them and their team. Just so folks are clear, basically Casey and Rand didn't want to raise Venture and go on the venture track because Rand's been down that road before. If you've read his book, Lost and Founder, he has pretty strong opinions on how that basically failed. They built a great business and venture ruined it, is the lesson from his experience there. 

When they came out with SparkToro, it's like, "Well, let's just sell equity in the company, and however much percentage of that you own, we'll kick off dividends." That became one component of TinySeed. Now, what we've actually found within TinySeed, a little known fact, it's about 80/20. When TinySeed founders come in, I used to ask, "Do you want to grow as fast as possible, be the ambitious bootstrapper and sell for, usually it's enough money you never have to work again? Or would you prefer to run your company for long-term, make it profitable and pull off dividends?" 

It's about 80% that want to sell, might even be a little more than that now, but it is the option. That's one of the advantages of a TinySeed. In Indie.vc, depending on which terms, I believe Indie uses different sets of terms in different versions and stuff. But really Rand and Casey wanted to grow this business on their own terms. Just because they paid investors back, someone approached me and said, "They bought you out." It's like, "No, no, no, no. We got our money back and now they can take raises and there's a bunch of stuff in their terms." 

He open sourced the terms. You can search for SparkToro investment terms and they are just on the internet, so you can check them out. I will say with TinySeed, one difference is we don't have a 1X hurdle. They basically put a 1X hurdle in, meaning before they could take substantial dividends, they had to pay all investors back and then dividends start. We did away with that. Honestly, it felt very pro-investor, which was great when I was investing. But as TinySeed, I think it was just a little too generous for investors. 

All that said, Elnar Vollset, what are your thoughts on SparkToro making their model successful, kind of pioneering a new model and having this milestone?  

Einar Vollset:
Huge congrats to Rand and team. Obviously, Rand was very supportive of TinySeed early on and I'm eternally grateful. My view of it is I think it's great for them. If I'm going to be critical, I feel like they're probably underestimating their future desire to sell down the line. It's probably optimized a little bit for dividends, which just because of the nature of SaaS companies and how they're valued, it's quite hard to basically an exit. 

Typically, once you get to a certain size past a couple million ARR, you're typically selling on some kind of an ARR multiple. A typical free cashflow profit, something available for dividends, is obviously some subpercentage of the revenue. It's not unusual for a pretty well-run, profitable, at-scale SaaS business to be doing 30-ish percent free cashflow that could be kicked out to dividends. 

Now, if you do the math on that, if that same business is growing well enough and is at a size, it probably is going to sell for at least five times ARR. If you do the math on that, that's 15 years of dividends or a sale that returns the same amount of money probably with preferable tax treatment. That's basically the reason why we didn't adopt it immediately. That and also I think most founders, 80%, 90%, 95% probably, will not be in Rand's and in Casey's view of the world, and that they're never going to sell. 

They're going to run this forever and it's just going to be a dividend machine. I think that's probably the biggest, not objection exactly. It is more like a lifestyle choice. If that's what they want to do, that's fine. Their investors want to back him in that way, that's also obviously totally fine. I think purely from maximizing return, there are probably different ways to do it, if nothing else, in terms of tax treatment and time value of money.  

Rob Walling:
Tracy, any thoughts from you?  

Tracy Osborn:
Rand's blog post is super fascinating to read, because not only it goes into the thoughts around dividend model, but also the story of SparkToro and the lessons they learned. I thought it was interesting. Well, I am obviously a huge fan of this model, being that I work at here at TinySeed. There were some nuggets in there where it was good to note the influence that Rand had, but I'm happy that he was able to use his influence to create this new model, and inspire folks like us here at TinySeed. 

But his influence also made it more likely to be successful, because comparing his journey to TinySeed companies, they started SparkToro in March 2018. They closed their round in June, so that's only a few months between launching a company and then closing a round. That's probably built on the fact that people know Rand and how awesome he is, having that amazing network. If someone else is looking into doing the semi-bootstrap model, that's probably not something that's going to work for them, unless they already have that network that Rand had. 

Then they were able to work on SparkToro for about two years before launching. That's one of those things that brought out to me a difference between how SparkToro does it with their terms, and the reason why TinySeed exists with our education. This is not meant to be an advertisement, but I was noting this is why we have the accelerator side of things. Because otherwise, someone trying to go through this semi-bootstrap model, wouldn't be able to raise that amount of money immediately. 

Then be able to work on their company for a couple of years. Then start moving into being profitable and dividends and whatnot, after launching after two years, without having that existing network. I wanted to bring that out. That was a huge advantage to Rand, and one of the reasons why I think a lot of companies or a lot of folks who want to go through that semi-bootstrap route, needs to go through an accelerator.  

Rob Walling:
That's knowing your unfair advantages. I often talk about the three unfair advantages when starting a SaaS company. One is being early. 

Second is having an amazing network. Third is having an audience, usually an engaged audience. Rand definitely has an incredible network and an audience. Doesn't he have half a million X followers?  

Tracy Osborn:
Yeah.  

Rob Walling:
It's X.com. Anyways, he knew that and he leaned into it, but for those who don't, you can't just make that appear out of thin air. He was leaning into his advantages.  

Tracy Osborn:
One more thing I thought that was really interesting from the blog post was that when they reached profitability, instead of starting doing their payback, they invested $1.2 million in a US treasury bond, with the intent of earning a little interest while they built up a cash cushion. 

Then let's see, six months later they got that cash cushion with that continued profitability and the treasury bond payback, and then they were able to start doing that payback to the investors. I thought that was really interesting. 

I haven't heard that from other profitable companies as an option for building up that cash cushion. I'm going to throw that question out there. What do you two think about that? Is that an option that people should look at if they're profitable?  

Rob Walling:
It really depends. I think Rand and Casey were being pretty conservative with their money. They had the money to pay investors back, but if they wrote the checks, suddenly they have no cash in the bank. What if? You don't know what's going to happen. Is there another pandemic that happens and things go sideways? In fact, SparkToro is heavily based or was heavily based on the Twitter API. In fact, he talks about it in the blog post. 

I know obviously a little more as an investor, but they ran into a lot of platform issues there, and had to rewrite a bunch of it and stand still for a while. It didn't do their growth any favors to have to do that. Was it the correct choice for them? Probably, because there was risk. I think if you're being less conservative or if there isn't a ton of risk, then the moment you have the money in the bank you can pull it out, so to speak, as long as you have enough breathing room.  

Tracy Osborn:
Overall, I feel like it's a really good example of what I want to call the dream. The kind of company that people want to build where they keep control, but they do bring in just enough money so they can get over those initial hurdles, so that they become profitable. 

Then they can both be profitable in a reasonable period of time, but also have more control over their future. At the very least, I'm happy to hear more stories like this come to light, so folks know that os an option for them other than the black and white bootstrap only or full VC route only.  

Einar Vollset:
I think that's true. That's my view of it too. It highlights the fact that there are different ways of doing it than just raising money every 18 months and IPO or bust, which obviously, we're huge believers in. 

I think it just showcases that you get to a certain size, which isn't maybe as big as people think and you're profitable, the world's your oyster, you have options basically.  

Rob Walling:
Yeah. Even within bootstrapping, SparkToro is still mostly bootstrapped. It's not like there is millions of venture, they're not on the venture track and yet they raised a small amount of funding. That you can still keep incredible control over your own destiny and still raise this small amount. 

With that, we'll move on to our next story. We'll see if we get to the next two. They're both about funding. The next one, I don't want to rag on the person who wrote it, but this was published in the last couple of weeks and it's called [inaudible].  

Einar Vollset:
Rag on them, Rob.  

Rob Walling:
Don't take VC funding. It will destroy your company. Then proceeds to say, "VC funding is not a success, it's a failure. VC funding means you will sell your company. Second order effects because your goal is to sell your company later, it has to grow. You'll be spending much of your time finding the next investors. You have to focus on large markets with many or large customers. Profitability takes a backseat and this kills your company." 

There are other ways to do it without raising venture. I agree with everything he says, but I'm like, "No (censored). Basecamp started talking about this 20 (censored) years ago. I started talking about this 18 years." You know what I mean? I just don't get, and this was at the top of Hacker News when I found it. It's like this is not a new take and this is actually what bothers me a little bit. Maybe is it the internet or is it like the startup sphere?  

Tracy Osborn:
It's just a rage bait thing.  

Rob Walling:
I will say things, I've said things in my book in 2010, and then every year or two, someone basically is like, "I just discovered this new thing. Oh my God, did you know you can bootstrap startups?" It's like, "Where have you been? Do you not read anyone else's stuff?" 

When I read this, I'm just like, "None of this is new. Is this new to anyone?" Is this new information to anyone, except for someone who's not been on the internet their whole life and this is their first day on the internet? Am I being too angry about this, Elnar Vollset?  

Einar Vollset:
I think maybe you haven't spent enough time on Twitter writing threads about bootstrapping and stuff.  

Tracy Osborn:
X.com.  

Einar Vollset:
That's the main problem right here. Maybe it'll be X rebrand. Finally, we'll get the full Rob Walling experience. Yeah, I agree with this. I look at it, it's like this is rage bait, reclick bait, whatever you want to call it. That's fundamentally what it is to me. It is like, "How do you get people to talk about it, say on a podcast?" 

It's like you make the most ridiculous, extreme views of your opinion. If you have the more balanced view, which is that, "You know what? Maybe in the last couple of years it's been such that VC funding has been a little overblown and there is this other way. It gives you the opportunities and both have." Just because I'm obviously pro-tenancy, it doesn't mean that I think there aren't situations where definitely you need to raise a bunch of money to do things. 

I don't know, building rockets to go to Mars needs a bunch of capital. You're not going to bootstrap a rocket company. That's just not going to happen. I feel like a balanced article like this, just would never get picked up because it's sort of obvious, that's what I think.  

Rob Walling:
Tracy, anything to add?  

Tracy Osborn:
My notes for this when I was researching this, you already went through most of them where I'm just like, "Need citation, need citation, is a straw man. Not true, not true." There was a quote. I think this goes really well with the story about Rand, in that we need to have more stories of people taking a middle route. Because the middle route is not obviously a path that people can take because all the stories in the past in the last 10 years, have been bootstrapped or VC. 

Then people are like, "You can't do all VC." It's like but there's this middle option. We need to have more success stories showing company that took just enough money, so they can get over those hurdles so that all the things that this article says are negatives, then they can navigate those hurdles by not going the full VC route. The article also has things, whereas is like every company can be bootstrapped, which is very not true. 

It has this anecdote about starting a medical software company, and then starting a one-person consultancy. Then you'll learn about the problems and then maybe you hire, and then maybe you do this. It's like this process would actually take years, years. Bootstrapping something for years is not possible for the average person, which is why this middle path needs to exist. You can take that multi-year process of finding product market fit. 

Getting the point where you understand the questions and you understand what you need to solve, and then you can start doing the hiring and get yourself to that level where you have that flywheel running. Take just enough money so that you can turn that multi-year process to hopefully a much shorter period of time by being able to throw money into it. They go hand in hand. 

It's like this guy needs to, I think, take his rage against VC routes, and instead take his passion for startups and start advocating in this article, I think, to show people what they can do instead or what they can do to solve both those problems.  

Rob Walling:
I don't read that he has rage and I don't actually disagree with him, that's the problem but it's like, "But say something new." I can go find basically what he said here in 20 other places, including Rand's book, Lost and Founder. 

Including probably just going to ChatGPT and asking, including going to Google. There's dozens of essays that basically said this and probably said it better. That's where I'm like, "You have this feeling, that's cool. Say something new."  

Tracy Osborn:
Yeah. But he also got top of Hacker News, so it's working.  

Einar Vollset:
Top of Hacker News, that's the win. I think one of the interesting things, which we're starting to see, is that I think a lot of companies will be forced into this realization because the funding drained up. I think a lot of companies that probably would never have been able to raise anywhere near the money that they did in '20. 

Well, '20 and '21, they raised a crap ton of money and now they're like, "We're nowhere near the now much bigger hurdle for the round that we need next." They basically have a choice. They have a choice, do they stay on the VC track and try to run of the world as fast as possible and hopefully figure it out? Or are they going to divert more towards this middle ground? 

I think obviously, there'll be some successes that the people who run off the wall or run off the cliff or however you want to call it. But I think that in terms of success for founders, I think a lot more of those successes will come from the companies that are able to steer in a more sustainable path, get the breakeven at best, something like that, or maybe with a small bridge-through.  

Rob Walling:
For now until the cycle happens again. The cycle happened in the late '90s with internet companies. It happened in 2005 to '07 when money was cheap. 

It happened again in the late teens and we see it and so it'll come back and everything old will be new again. We'll hear people saying, "This is never going to stop." Then we'll say, "I've been through this a few times."  

Tracy Osborn:
This is what it's like aging, isn't it?  

Rob Walling:
It is, you start seeing the same cycles over and over.  

Tracy Osborn:
Yep.  

Rob Walling:
Last story of the day really just piggybacks on this one. It's from Fly.io and if you're not familiar with them, their H1 is deploy app servers close to your users, run your full-stack apps and databases all over the world, no ops required. They're essentially, they're similar to a DigitalOcean or maybe like an Amazon EC2 type thing. I know they're different, but it gives you an idea their infrastructure as a service. 

They released a blog post that is titled, "We Raised a Bunch of Money," which actually appreciated the title. "This past July, we raised $25 million from a16z and our existing investors, including Intel Capital and Dell. Recently, we raised an additional $70 million led by EQT Ventures." Then they go through to say, "Here's why we did this." Number one, a hardware fleet. Fly.io has always run on its own hardware. There are fun, technical control and destiny reasons to rack hardware. 

Number two, to hit all the regions. Number three, support and reliability. Then they talk about what's not changing because funding cuts both ways. Now when people see you raise funding, they're like, "Is it going to ruin the company?" I really brought this up. It was coincidental, this was also at the top of Hacker News. I don't know if it was the same day or a few days later, but this to me is an example of probably a pretty good time to raise money. 

I remember talking to Dharma Shaw, co-founder of HubSpot, back in at Business Software in like 2008 or '09. He and I had been the bootstrapper blogger types and they raised a bunch of money for HubSpot. I remember saying, "Why did you decide?" He wasn't like super pro-bootstrapper but he was just a very sensible entrepreneur, who was building a real product for real customers to pay him real money. 

Not on that weird venture, we got a raise from day one and billion dollars and blah, blah blah, even though that's what they eventually grew to become because they have IPO'd since then. But I remember him telling me, "Yeah, we would totally bootstrap, but at a certain point if you can put a dollar in the machine and take $3 out on the other side, don't I want to raise like 20 million, 50 million of those dollars to put in the machine to make it grow faster?" 

It was a great, again, I'm three, four years into really owning software products at the time and I was like, "Ah, there really is a time when it's probably even if you're not building Facebook or you're not building things that really are money intensive, where it probably does make sense to take on outside capital." That was why in my first book, Start Small, Stay Small, I published in 2010. 

Within the first chapter I say, "I'm not anti-VC, I'm just anti the narrative that everybody all the time needs to raise it to start any tech company because that's not correct." That's been my mission in life for the past 18 years since then is just saying there are multiple paths. But I do think there are companies that if I were to start them, I have a few ideas. I'm never going to start a SaaS company again, by the way, for the record. 

But if hypothetically, I were to do it thought experiment wise, I would go after a really big market. I would find a Haiti competitor in a massive space, and I would raise money right from the start. Not because I can't do it as a bootstrapper, because I want to move fast. I want the resources, I know the value that it can provide.  

Tracy Osborn:
You have the network like Rand.  

Rob Walling:
Have the network, have the audience. Yeah. Tracy, any other thoughts on this Fly.io piece?  

Tracy Osborn:
Did you know we used Fly.io for TinySeed applications?  

Rob Walling:
No, I did not.  

Tracy Osborn:
Yeah, that's where we're hosted. I thought that was so funny we were talking about this. Yeah, that's where I deployed the application.  

Rob Walling:
That's cool.  

Tracy Osborn:
I am a fan. I needed something that was broke with different [inaudible].  

Einar Vollset:
Are they sponsors?  

Rob Walling:
They should be.  

Tracy Osborn:
They're not sponsors.  

Rob Walling:
There's several tiny companies that use them.  

Tracy Osborn:
We're paying them money and they don't know that we're using them. Now they know that we're using them for operations.  

Rob Walling:
But they raised money, Tracy. We need to get off and go to a hosting company that didn't raise money.  

Tracy Osborn:
That goes into the note. I had that note in, well, that note in my notes where compared to the other guy that saying that, "Just start a medical consultancy company and start from scratch, and start really small." This is a great example of something that could not start small, because they needed the capital so they can have these to support all regions. 

Imagine if they only had one region available for people to deploy to, that wouldn't be tenable for most folks. Literally, this is a great example of a company that needs to have the investment so they can fulfill the promise that they have for their users of having this quick, easy deployment, that's really fast and snappy. Yeah, it's a great example of a company where bootstrapping slowly would not work.  

Rob Walling:
Elnar, closing thoughts on this piece?  

Einar Vollset:
Yeah. I've always been the opinion that capital's a tool, and that's partly why we started TinySeed in part. Because some of the early accelerator stuff were all optimized for this IPO or bus type scenario. Not everybody has wealth enough to not take a salary for a year or two while they figure it out. It made total sense to offer something like TinySeed, that was a hole in the market. 

That's what capital is there to do. We also see with TinySeed companies, once they get to a certain size and it relates to everybody sells. It's like once you get to a certain state, there's certain things you may or may not want to do, and certain things that you want to go after. We see TinySeed companies, once they get to a million or two or three or four, take in private equity type growth round funding to get to the next step to build out the stuff that they want to do. 

I'm not for or against really anything, it's just is it the appropriate tool? I think for Fly.io, it definitely is. I think for a lot of companies it can be at different stages. Just make sure you take the right kind of money basically.  

Rob Walling:
You know what you're getting into.  

Einar Vollset:
Yeah. Don't take money at the highest possible valuation you possibly can, just because that's the highest possible valuation, unless you then really want to be on the IPO train or bust. Make sure that you understand what you're doing when you're taking capital.  

Rob Walling:
Yeah. I had a tweet I spit out a few months ago and then it's actually a quote from my book, The SaaS Playbook, where I say being anti-funding is like being anti-hammer. Hammer is just a tool and it's right sometimes and it's not other times. These extreme views, while they get the clicks and they get to the top of the Hacker News, it's irresponsible. 

It's just dumb. Anytime I see someone say always and never in all caps, I'm like, "You are way too sure of yourself because it pretty much never applies." I say that in all caps. Elnar Vollset, thanks so much for joining me today on this Hot Take Tuesday.  

Einar Vollset:
Thanks for having me.  

Rob Walling:
You are Elnar Vollset on X.com. We're never going to not nose left, nose short.  

Tracy Osborn:
It sounds not safe for work, which is probably what Elon loves about it.  

Rob Walling:
Yeah, that's interesting.  

Tracy Osborn:
Actually, they took down the twitter.com/Xvideos, is now a suspended account. A lot of people are supposing it's because Xvideos is going to be the new video platform for Twitter, which is also not safe for work as a website URL. Anyway, sorry I derailed that. Fun facts.  

Rob Walling:
Tracy Osborn, you are @tracymakes on Twitter.  

Tracy Osborn:
And everywhere else.  

Rob Walling:
And Mastodon and Pinterest.  

Einar Vollset:
Bluesky.  

Tracy Osborn:
Wait, no. Is that true?  

Rob Walling:
Threads. No, you're just everywhere. TinySeed applications open, well, it's like six weeks from now, I believe.  

Tracy Osborn:
The beginning of September.  

Rob Walling:
Beginning of September.  

Tracy Osborn:
Right after Labor Day.  

Rob Walling:
For folks who are listening to this and are interested. I will be the first to say, if you don't want funding, don't raise funding. You know what I mean?  

Einar Vollset:
[inaudible].  

Tracy Osborn:
But if you want just enough funding, go find that.  

Rob Walling:
Right. If you want just enough funding with world-class mentorship and a cohort, and masterminds and all this stuff, then check us out, TinySeed.com. Let's see, this is going to go live in, I don't know, mid-August or something. Starting in September, each of us is going on the road for different reasons for TinySeed events and MicroConf. So we have several MicroConf locals if folks are interested, head to microconf.com. 

There's an events tab at the top. We have MicroConf Europe in Lisbon, which is probably already sold out by the time this will air. But get on the wait list because tickets here and there do become available, as the venues sometimes open up a little more space, we could sell five or 10 more. Then, of course, MicroConf US in Atlanta next April, there are still some tickets available for that. 

Elnar and Tracy, thanks again for joining me and we'll have you back on again in a few months.  

Tracy Osborn:
Woo-hoo.  

Einar Vollset:
Thanks for having me.  

Rob Walling:
Thanks to Elnar and Tracy for coming back on the show. Hope you enjoyed our takes on these news stories. We'll be back with another Hot Take Tuesday here in a month or two. Thanks for listening this week and every week. This is Rob Walling signing off from episode 674.
Reader Interactions