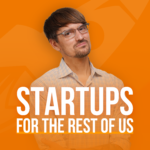 In episode 650, Rob Walling answers more listener questions. We cover topics like how to get more customers while working a full-time job, talking to users when there is a language barrier, and whether to buy vs. build a SaaS product.
Topics we cover:
1:59 – Buying a small SaaS for $10,000 vs. getting financing and buying a SaaS for 6-figures
8:00 – How to get more customers while working full-time
13:33 – Can you hire someone to find an established SaaS business for you to buy?
16:40 – Diverse entrepreneurship podcast recommendations
20:08 – Talking to users when there is a language barrier
Links from the Show:
If you have questions about starting or scaling a software business that you'd like for us to cover, please submit your question for an upcoming episode. We'd love to hear from you.
Subscribe & Review: iTunes | Spotify | Stitcher
Rob Walling:
Buying lets you skip the line, so to speak. It lets you skip 12, 18, 24 months of building, launching, finding product-market fit. And while there are obvious pros and cons to buying versus building, I am a huge proponent of it if you have the resources. In fact, if you go back to a lot of the speaking and the teaching I was doing from about 2008 until maybe 2011, a lot of that emphasized buying equally with building from scratch.
It's that time of the week for another episode of Startups For the Rest of Us. I'm Rob Walling, and this week I am answering listener questions. Got some really good questions that have come in, people asking for thoughts on acquiring a SaaS app, how to get more customers while working full-time, and advice for talking to users when there's a language barrier. But before we dive into that, our next MicroConf Remote is coming up in just a few weeks, March 21st and 22nd. Level Up Your SaaS Sales, that's the title. It's totally focused on SaaS sales. It's a fully virtual event, happens over two days, one and a half hours per day. It's $30 price tag. I'm going to be hosting it with some baller speakers, Jen Abel from JJELLYFISH, John Ndege from Rapid Reply, Pete Kazanjy, who you heard on this podcast just a few weeks back, author of Founding Sales, and Valentin Wallyn, the founder of Findymail. So if you want to learn sales as a SaaS founder or level up your game, you're not going to want to miss this.
And of course, if you buy a ticket, we do record the sessions and you'll get the recordings after microconf.com/remote if you want to check it out. I hope to see you there. So with that, let's dive into our first question of the day from Tim Young.

Tim Young:
Hey Rob, Tim here, longtime listener, first time submitting a question. Really love the pod and appreciate everything you do. I've got a question about acquisition entrepreneurship. I'm thinking of making a small acquisition as a way to get myself into the SaaS game. I've heard you tell the story of HitTail and how that worked out for you, and I'm thinking of following a similar path. So I've got about $25,000 at my disposal that I can put into this thing that I'm totally comfortable if that goes to zero, that's fine with me, I'm just ready to take a risk with it. So I'm thinking of trying to find a SaaS app that's got a few hundred dollars in MRR that I can acquire for around $10,000, and then have the rest of my cash to help operate it and scale it up as I learn the ropes here. So the downside of that is it's going to be a pretty unstable product and business at that point being so low in revenue, really wouldn't have much product-market fit at all. So the actual product side is riskier.
Another option would be to take my money and combine it with some financing or otherwise structure a deal that's low six figures, but still a larger acquisition and something that might have a little more traction. So specifically want to get your thoughts on that choice of making a really small $10,000 acquisition versus a larger acquisition that's in the low six figures. And then more generally, your thoughts on acquisition entrepreneurship. I don't hear you talk a lot about that, so would be curious to hear how you think through that, what your mental framework would be, and then any other thoughts, tips, and tricks, considerations that you would recommend for somebody in my shoes. Thanks a lot, Rob. Appreciate everything you do.

Rob Walling:
This is an easy answer for me, Tim. I love the idea of buying things instead of building them. In fact, as I was getting started on my entrepreneurial journey and starting to have success, I had a mix of building and buying. And buying was always faster. Buying lets you skip the line, so to speak. It lets you skip 12, 18, 24 months of building, launching, finding product-market fit. And while there are obvious pros and cons to buying versus building, I am a huge proponent of it if you have the resources. In fact, if you go back to a lot of the speaking and the teaching I was doing from about 2008 until maybe 2011, a lot of that emphasized buying equally with building from scratch. The reason that I stopped doing that is almost no one wants to do that. I found that the entrepreneurs would come through and I'd say, "You should go buy things."
And then they would look around and say, "I don't see anything I like and I'm scared of technical debt and this feels complicated. I'm just going to go do what I'm comfortable with, which is building," and that's fine. But the vast, vast, vast majority of even this audience today I bet does not want to acquire things, which is good. If everyone wanted to acquire things, they'd get very expensive. So yes, I love the idea of buying a handful of my early successes were apps that I acquired, sometimes for pennies on the dollar. This is before the Quiet Lights, the FE Internationals, the Acquire.coms, where multiples are higher now, which is good for us as entrepreneurs, but when you're looking to acquire and you can buy something for 12 to 18 months of net profit, that's a pretty easy business to turn around. There's not a ton of risk there.
So yes, I have acquired many, I mean dozens if you include both websites like content sites, e-comm, info products, software and SaaS, all those things. Literally dozens that I acquired for sometimes couple of thousand dollars, sometimes tens of thousands of dollars as I did with HitTail. But one thing that you mentioned was spending $10,000 to acquire something. And these days, unless you get a really good deal that doesn't get you much. It might get you a codebase, and look, codebase is fine, but what I would really be looking for if I were in your shoes is some type of momentum, some type of SEO traffic, some type of customer base, some type of product-market fit 'cause until you have that, you don't have much. And so I do know of a company where they raised funding, a small amount of funding from angel investors like myself 'cause I invested to acquire an app that I believe was doing about eight grand a month at the time, and I don't remember the purchase price, it was probably between a $100,000 and $200,000 if I were to guess.
And they basically raised that money to acquire it, and they have since grown the business and done really well with it. And it obviously saved them a lot of time in terms of having to launch and having to find customers and find product-market fit and build the product from scratch and all that. So if I were in your shoes, that is probably the avenue that I would be looking to go down. Not saying that buying something for $10,000 can't work, I do think if you spend that 10 grand, you don't just want to buy a codebase. And so whether you go raise outside funding, whether you take on debt financing, whether you find a single partner who can partner with you and write a check and own some of the equity, there's a lot of different options to be had.
One thing to keep in mind, that may sound a little counterintuitive, but if you are going to buy, let's say, you're going to buy something for $200,000, you don't want to raise money at a $200,000 valuation. Because if you raise 200 grand, then the person giving you the money owns the entire company. I would think of it more as it being an accelerator valuation or an angel valuation, where you are taking a product, imagine that this product was going to raise an angel round, or that this product was going to join TinySeed. What type of terms would they get? And then maybe angel round may be a little ambitious, I'm going to be honest, especially if the thing isn't growing. But my point is, if you're raising, again hypothetically $200,000, I'd be thinking I want a valuation in the million, $2 million range such that I sell a certain percentage of it.
But if you're going all in and you're basically putting a lot of opportunity cost on the table, you could be doing a lot of things. You could be working a day job, making a good chunk of money, or you could be starting another company and that opportunity cost has to be rewarded because you're taking on a huge chunk of risk. I understand someone writing you a check is taking on risk, but time is more valuable than money. So thanks for the question, Tim. I hope that was helpful. My next question's about how to get more customers while working full-time, from Troy Munson.

Troy Munson:
Hey Rob, how are you? My name is Troy Munson. Currently, I'm a full-time employee at a company doing sales. I also have a five-month-old son and a wife, and she's taken some time off until he's about a year old. But on the side, I have a customer referral platform. Right now, we have about five customers. And it's all from me doing hardcore prospecting on the side, I'll take about one or two hours out of my day. But we launched this January, we have five customers and I was curious, what is the first step you would take to acquire more customers to where I'm not solely just prospecting? I heard some good things about Capterra, some people say paid search, really what I'm looking to do is get people to want to see our platform and raise their hand and things of that nature. I currently can't quit my full-time job but I do plan to do so by the end of the year to take this full time. But yeah, I was just curious how to get more traffic to make sure that we can get more customers. Thanks.

Rob Walling:
This is a good question, Troy. Thanks for sending it in. This is tough 'cause this is the building on the side, it's the side hustle nights and weekends, and it's the same problem that everyone has. I had it too when I was doing this, I did this for many years, where I was trying to write code and market on the side as I was working a day job, sometimes as a full-time salaried employee, sometimes as a consultant, but we all run into that same constraint of time. And realistically, I know that prospecting is time-consuming, but so is SEO, so is cranking out articles that you then have to promote and link build that you did keyword research for, and those have a longer half-life, meaning those have the potential to draw in a lot more customers in the next 6, 12, 18 months if they catch and if you have organic rankings. But do you need customers now or do you need them in 12 months? All right? And it's a balance. If you could do both, you would do both.
In The SaaS Playbook, I talk quite a bit about finding ideal marketing approaches for your business, saasplaybook.com, it's my book that I'm going to do a Kickstarter in a couple of months. But I gave a lot of thought to this because I'm obviously advising a lot of companies on how to think about this. And I talk about how marketing approaches have a speed and it's a speed in which they drive customers to you. So cold prospecting, the speed is very fast. Meaning you can send an email today and you could close a customer this week. SEO is slow but it's more scalable or it's you have better leverage, is probably a better way to say it, on your time. And if you had infinite time, you would do both of them. Or if you had even a few more hours, you would do both. You want to usually be doing one slow and one fast at any given time. The slow is investing in your future growth and the fast is basically handling today's growth.
I do like that you mentioned Capterra and paid search because these are fast and they don't require a ton of time, not nearly as much time as SEO. So if you have a bit of budget, I would consider trying one or both of those. If you want to see what I think is the best resource on attacking Capterra from a B2B, mostly bootstrap, SaaS founder who has made it work, head to microconfremote.com, scroll down to the bottom and there's a link for early stage SaaS marketing strategies. It's a MicroConf Remote and we ran six months ago maybe, and Eran Galperin from Gymdesk talked all about how he made that work. He and I sit down for about 30 minutes, and he basically walks through the tactics. I'm almost interviewing him with slides to find out how does this work, how did you make it work, how would I think about it as a founder? So you can buy the videos there if you want, or you can obviously just go research it and look for other resources.
But I would certainly arm myself with the information that you need and become smart about it before I started placing bids, AdWords, Facebook, Instagram are, depending on your niche, something to consider as well. But I do think there are a couple of options here. For the prospecting specifically, you could try to automate it more. I don't know how manually you're doing it, but there are tons of tools out there that help you automate the prospecting. Or you could delegate it if you have budget. Can you hire a service, someone on Upwork, a productized version of this? There are plenty of them out there. If you have a system that's working, can they take what you already have and have someone that you're paying $10, $20 an hour to just crank on the system you have, again, if it's working, and then you shift focus to one of these other things? And if you don't have the budget for both, then, yes, I am intrigued by the idea of you trying some type of paid acquisition, at least dabbling in it.
If you have five customers, that means you have very, very weak product-market fit. And that's not an insult, I just want to call it like it is. It's not enough history or traction to be able to say, "Obviously I'm serving this broad audience and have built something people want." But you have built something that these five people want. And so the idea of being able to make ads work is just a little bit better than if you hadn't had any of these customer conversations. At least now you know how your customers are probably talking about your tool, you probably did a sales conversation, a demo with each of them, and you can take that knowledge and use it to help you craft your Capterra page or your ad copy.
But nice work hustling on the outbound prospecting. It's something that I see some founders shy away from because it's hard, it's hard work, and there's a lot of rejection, but I think especially in the early days of starting a product, it can be easy to fall back on the easy or the sexier marketing approaches that just take a long time to kick in. So I think you're on the right track. Thanks again for that question, Troy, I hope it was helpful. My next question is from Jeremy Keating.

Jeremy Keating:
Hi, Rob. I listen each week, and I've done for a couple of years. It's great content, so thank you. I'm looking to buy an established SaaS business as a private buyer, where it's through my company, but that's mostly me. I've signed up to the marketplace and so on, but I wondered if there's any people or companies that can actively find a SaaS business for me to buy. So that's companies that are not already on the market but the current owner would consider selling if approached. I've heard you say all businesses should be for sale for the right price.
I've spoken to an existing old-school service who do this way, a couple, but I found they just stay on Stan SaaS and they haven't really had the experience. I had one tell me that a software business isn't worth anything 'cause there's no physical assets. So I held back from saying the most valuable businesses in the world are based on software, but I need someone to understands the industry. Yeah, so someone who can actively find a potential SaaS business for me to buy. If anyone, it'd be really helpful. Thanks again, Rob. Cheers. Bye-bye.

Rob Walling:
So Jeremy, if you're thinking of buying a SaaS application for $100,000, $500,000, I don't know of anyone that will do what you're talking about, but I do have some thoughts. Number one, there is a financial device mechanism called a search fund, and it's where an entrepreneur raises funds from investors in order to acquire a company in which that entrepreneur wishes to take an active day-to-day leadership role. And so you could go out and raise funds from angels, or there are search funds out there. Keep in mind, they're going to have their own agendas, so you're not going to be in as much control as if you do this on your own. And they're probably going to want larger outcomes than, I'm not making assumptions about where you want to go, but if you're bootstrapped, mostly bootstrapped, and wanting to grow a company on your own, that may not be in line with the search funds that are out there.
If I were in your shoes, I would of course be signed up on Quiet Light's email list, FE International, Empire Flippers, Acquire.com, that used to be MicroAcquire, and those are I think the big four in our space. And then you can do what I did, which is to cold email a bunch of apps that you think people have neglected, or that are out of date, or that have not been updated in a while, and ask if they might be interested in selling. And that is how I acquired hittail.com back in 2011. Or if you don't have the time to do that, you could obviously hire someone to do that for you. You go on Upwork and you basically come up with a cold email, and they have to prospect and find companies that match the description saying, whatever have the criteria that you are looking for. And then they would have to hand them off to you, of course, for closing the deal, for negotiating and closing a deal. Certainly an interesting question, and I hope my thoughts were helpful. My next question is from Josh Ledgard.

Josh Ledgard:
Hey Rob, it's Josh from KickoffLabs here. Just wanted to say it was MLK weekend today and that got me thinking, when I looked at my podcast feed, that I don't have a very diverse set of podcasts or people that I follow. My feed, when it comes to entrepreneurship is filled with a lot of, I'll just say it, middle-aged white men like myself. And not that I don't love us, but I was wondering if you had suggestions for a more diverse feed that would include more people of color, diversity or women in the feed talking about new businesses. So hopefully, yeah, maybe that question would be interesting for anybody else listening that wants to diversify their feed, and have a great weekend.

Rob Walling:
It's a good question, Josh. And obviously with the broader bootstrapped world being, I don't know what, I don't remember exactly what the numbers are, but it's even 90%, 85% white males, that is an unfortunate reality of it, is that, by proxy, are 85% or 90% of the podcast out there in the space by white men? Probably. But there are definitely some podcasts that I think you could branch out into, and I'd love to hear from listeners if you know of other podcasts that I miss in this list. But these are podcasts either that I currently listen to or have listened to in the past that are related to entrepreneurship, that have more diverse hosts and are related to entrepreneurship. First one is ZenFounder hosted by my wife. She is on episode 300 something at this point, and it's all about staying sane while starting up and being a high performer. Honorable mention to Software Social, that was a great podcast hosted by two women entrepreneurs. But as of a month ago, I believe they have stopped producing episodes.
There's the Indie Hackers podcast hosted by Courtland Allen and his brother, Channing. Imagine there's quite a bit of overlap between this podcast and theirs. In Demand by Asia Orangio, that's a great one because it's mostly evergreen content. So if you go to the In Demand feed now, you can go back and listen to all the prior episodes and then subscribe, because Asia has talked publicly and she and I have chatted about her next season of the podcast that she's trying to get out I imagine this year. Then we have They Got Acquired, which is stories of reasonable acquisitions. It's a bit like Built to Sell where it's not talking about the Instagrams and the YouTubes, but it's realistic business exits, and that's hosted by Alexis Grant.
And the last one I'll throw out there isn't solely entrepreneurship, but it's more about personal finance and there's a bit of real estate in it, it's called Afford Anything, and it's hosted by Paula Pant. And it's one of the more popular personal finance podcast that I can actually listen to because so many of them say the same thing over and over, or they're hosted by someone that I guess gets on my nerves and I've just never felt that about Paula. So there are five or six options for you, Josh, and if you are listening to this and you feel like there's additional podcasts that Josh should consider, feel free to hit both he and I up on Twitter. He is @joshaledgard, L-E-D-G-A-R-D, and of course I'm @robwalling. And if you're not on Twitter, feel free to post them as a comment on this episode. This is episode 650 and it will appear on startupsfortherestofus.com. And our last question of the day is from Devin asking about advice for talking to users with a language barrier.

Devin:
Hi Rob, this is Devin. I have a rather specific question actually. My company focuses on helping English language learners feel more comfortable with their English skills, which means, by default, my users are people who are not comfortable speaking English. It has caused some issues in the whole major piece of advice of top two users because people are not very comfortable speaking with me, or even if they don't mind speaking with me, they have difficulty expressing any issues they're really having, in a way that really reflects how they really feel and comes out clearly to me. So I am curious if you happen to have any thoughts or advice on maybe how to approach this situation. I know that people almost always say that the founder needs to do the speaking and they should not be hiring salespeople, but I wonder if in this case something like a translator would be the same, or if it would be still preferable to not have any middle man or secondary person. Anyway, thank you so much.

Rob Walling:
I like this question because it's one that I've never heard asked before. Feels to me like there's a couple of options here. The first one that you threw out of having an intermediary, like a translator or an interpreter, I think is perfectly acceptable. When people say the founder should be having these conversations, I usually hear that more in the context of doing sales, like initial sales calls for the first 10, 100, 500 customers, whatever, 'cause you're learning so much from those. But Jobs-to-be-Done interviews, we have outsourced those and I know founders who even in the early days outsourced them to a super competent intermediary, someone like Claire Suellentrop, Asia Orangio. There are plenty of qualified people who may even be better at the Jobs-to-be-Done interviews than you are. The trick, of course, will be finding that Venn diagram intersection of someone who is good at a Jobs-to-be-Done interview and also speaks the language of your customer base.
So while I do think, in a perfect world, the founder would have these conversations, sometimes that is just not possible. And in this case, it sounds like that's a problem. So would I "outsource" this to a consultant who's competent in Jobs-to-be-Done and speaks the language? I would, and I wouldn't feel bad about it, especially if the consultant takes notes, obviously in English so you can read them, summarizes their findings, I think it's a pretty good solution to this issue. The other thing that would be interesting is, as you said, hiring an interpreter. So you find someone who speaks English plus this other language. And in that case, you are able to ask the question in English, and then they translate it and then translate the answers back to you. Now, do I think that some things will get lost in translation, if you'll forgive the, it's not really a pun, but this is literally the use case for that phrase, I do think you'll lose something, but I don't think you'll lose 50%, maybe you'll lose 10 or 15.
And is that better than making your customers feel uncomfortable because they're speaking a non-native language that they're not comfortable speaking? I think it's way better than that. The third option, and I don't know that you're there yet, it would be if you had someone on your team who's working for you full-time and is bought in on the mission, and you could teach them Jobs-to-be-Done and they spoke both languages. I'm guessing if you already had that, you wouldn't be writing into the podcast. But that may be, if you think you're going to be needing to do a lot of these, something interesting to consider in terms of building out your team over time. And of course, the two books I always recommend for learning Jobs-to-be-Done are, number one, The Jobs-to-be-Done Playbook or Handbook, it's by Jim Kalbach, I interviewed him on this podcast maybe 50 episodes ago, and Deploy Empathy by Michele Hansen.
Both of them are exceptional, and they dive deep into the tactics with actual questions, not high-level theory. And it's designed for companies like ours, bootstrapped, mostly bootstrapped, and doesn't necessarily focus solely on software or SaaS. So I think those could be two good resources for you, Devin, if you haven't already read them. Thanks for sending in that question, hope it was helpful. As a reminder, the reason all of these questions got answered today, ahead of a slew of text questions that have been sent in, is that these were all audio or video questions. And so you can record yourself, again, audio or video goes to the top. You can send me a Dropbox link or you can go to startupsfortherestofus.com. There's an Ask a Question button at the top of the page. You can do it on an iPhone, you can do it on a laptop, a tablet, and keep those questions coming 'cause these are topics that I covered today that I wouldn't have thought to cover on my own.
And that's one of the beauties of having a format like this, is that this show is then able to be structured around things that you want to hear about, rather than just the topics that are coming from me and my team. We continue to get positive feedback about these listener question episodes, and I certainly enjoy doing them, whether it's with a guest or on my own. That's going to do it for the show today. Thanks so much for joining me this and every week. This is Rob Walling signing off from episode 650.