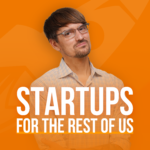 In episode 649, Rob Walling chats with Pete Kazanjy about his book Founding Sales, which is designed to help SaaS founders learn how to sell as well as how to hire and scale sales. We cover a lot, including objection handling, how to ask for the sale, and mindset shifts you need to make when learning how to sell.
Episode Sponsor:
Find your perfect developer or a team at Lemon.io/startups
The competition for incredible engineers and developers has never been more fierce. Lemon.io helps you cut through the noise and find great talent through its network of engineers in Europe and Latin America.
They take care of the vetting, interviewing, and testing of candidates to make sure that you are working with someone who can hit the ground running.
When it comes to hiring, the time it takes to write your job description, list the position, review resumes, schedule interviews, and make an offer can take weeks, if not months. With Lemon.io, you can cut down on a lot of that time by tapping into their wide network of developers who can get started in as early as a week.
And for subscribers of Startups For the Rest of Us, you can get 15% off your first 4 week contract with a developer by visiting lemon.io/startups
Topics we cover: 
3:53 – Overview of Founding Sales
7:54 – Growing TalentBin to $6M ARR
10:28 – What Pete is working on today with Atrium
12:28 – Mindset changes when doing sales for the first time
19:26 – Speed vs. production value for sales materials
22:46 – Handling objections
26:50 – Asking for the sale
31:03 – Relentless execution
32:15 – What sets good sales reps apart from those that struggle?
Links from the Show:
If you have questions about starting or scaling a software business that you'd like for us to cover, please submit your question for an upcoming episode. We'd love to hear from you.
Subscribe & Review: iTunes | Spotify | Stitcher
Transcript:
Rob Walling:
Welcome back to another episode of Startups for the Rest of Us. I am your host, Rob Walling. This week I talk with Pete Kazanjy about his book, Founding Sales. His book is one of the best books for a founder to learn to sell, and it's specifically focused on SaaS.
I was very impressed with both the breadth and the depth of topics Pete covered in this book. But before we dive into that, do you notice anything weird about my voice? This is not the real Rob, this is an AI generated voice made to sound like Rob, a Rob bot, you might say. And now won't the real Rob Walling please stand up? I'm curious if before I called it out, if you were thinking to yourself, "Boy, Rob's voice really sounds odd today." Thanks to Justin Vincent of the TechZing Podcast for the heads-up about the ElevenLabs Voice API. I spent a little time messing around with it over the weekend and it was just too fun of an opportunity to pass up.
But just because the AI said it doesn't mean it isn't true. Pete Kazanjy and I have an amazing conversation today about his book, Founding Sales, which is absolutely one of the best books I've ever read about learning how to do sales and how to hire for sales and how to scale sales, as a founder. It's a really interesting interview to hear Pete's story, and I recommend checking out his book, Founding Sales.
But before we dive into that, I've talked before about MicroConf U.S. here in Denver in just a couple of months, mid-April, but I wanted to talk in a little more detail. Patrick Campbell, the former founder and CEO of ProfitWell, now the Chief Strategy Officer for Paddle, is going to be telling his story, the story of bootstrapping ProfitWell and growing it to exit that's north of $200 million. Incredible story. We've heard bits and pieces of it, but if you haven't seen Patrick speak before, he's an incredible storyteller and has a very strong presence on stage. This isn't something you want to miss. You can head to microconf.com/us if you're interested in finding out more details and buying tickets before they sell out.
And now I'll hand it back to Rob Bot. And with that, let's dive into my conversation with Pete Kazanjy.
Pete Kazanjy, thanks for joining me on the show.
Pete Kazanjy:
What's up, Rob? How you doing?
Rob Walling:
I'm good. So you're from California, but you're talking like someone from Jersey, is that right?
Pete Kazanjy:
No, I'm from Southern California, so there will probably be a healthy helping of dudes, maybe even a bitching might show up. You never know. But a lot of likes. Right? So-
Rob Walling:
That's [inaudible 00:02:40].
Pete Kazanjy:
… the Southern California in me.
Rob Walling:
Oh, yeah.
Pete Kazanjy:
It always pops out.
Rob Walling:
Yep. I lived in SoCal for five, six years, so I'm well acquainted with it. So you're the author of a book called, Founding Sales. Folks can get more info at foundingsales.com. It's available on Amazon, physical format, Kindle, and all that. What I'm surprised-
Pete Kazanjy:
All the things.
Rob Walling:
All the things, except for audio actually, because I was going to buy… I'm an audio guy.
Pete Kazanjy:
I know. I get so much crap from folks.
Rob Walling:
I bet you do.
Pete Kazanjy:
Well, maybe now with all the weird like GPT-3 generative voice things, maybe I can give some service a five-second sample of my voice and it'll just bust out an audiobook of Founding Sales. That'd be pretty sick.
Rob Walling:
So Apple Books, this is a little side jag here, we'll leave it in, but Apple iBooks, whatever the heck they call it, just this week they rolled out four different voices.
Pete Kazanjy:
I saw that.
Rob Walling:
And it's like two for non-fiction and two for… I don't know why the voice has to be different for different types, but they have a male and female voice for nonfiction. And that's coming for everybody. I personally still… I like reading my own books, but… So okay, my books, I just finished my fourth one and they are like 200 to 225 pages. That's how big the books are that I write. When I downloaded your book, I was like, "Okay, just kind of chill." I'm like, "480 pages! What in the world is this?" And here's the thing, it's usually a yellow flag for me because usually books that long are padded with bull (beep) stories. "Oh, I get to hear about how Intuit and IBM implemented something that has nothing to do with me that a ghost writer went and pulled some story from the internet." Your book is not that. I want to be clear.
I was actually texting a friend being like, "uh oh, this is a big book. I hope it's not padded." Turns out 12, 13 chapters and you cover so many topics. It's not just about sales, it's about sales materials, it's about early prospecting, outreach and demos-
Pete Kazanjy:
Success.
Rob Walling:
… inbound leads, customer success. Then it's negotiating and closing. It is early sales management, it's hiring, it's scaling on a… And as I saw that, I was like, "Oh, he just wrote two books." And you wrote two books worth of material.
Pete Kazanjy:
Yeah, I mean, the thing there is where Founding Sales came from, we call it the early stage go-to-market handbook, it's not really designed to be a page turner, per se. I don't want to say it's a textbook, but it's like not, not a textbook. And what I mean by that is, it's trying to be the thing that as a founder, it's the book that I wish I had when I was a early stage founder who didn't know (beep) about sales. And I'm a pretty bookish guy, so I'm like, "Hey, yeah. I'll just go read the documentation on this, right? Come on. I'm sure someone's written it up." And I'm like, "Wait a minute, no one has." And so ended up making it up with the help of a lot of the network of the First Round Capital portfolio and what have you that my last software company, TalentBin, was where kind of went from being a business generalist founder to being an early stage sales leader.
But really, it was just like all the… Founding Sales was the amalgamation of all the stuff that I learned during that four year process and after we got acquired by Monster Worldwide. And so it's funny, you were throwing a little bit of shade to some of the other business books or success porn that's out there, which is really just aggregations of a bunch of anecdotes. [inaudible 00:05:55] like this is a very easy way to write a book, but ultimately it's not very synthesized. And so the idea behind Founding Sales is like, "No, here's your recipe book for…" Because if you think about where most founders come from, they come from a product management background or product marketing background, or maybe engineering background, maybe a consulting background, maybe a finance background. Fill in the blank. But generally speaking, not a lot of sales experience. And so it can be pretty impenetrable, especially considering the fact that sales is typically learned via apprenticeship, if you will.
And so the whole idea behind Founding Sales was like, "Screw that, having to figure it out as we go. Let's just create a full synthesis of what the founder would need in order to get from zero to that first one, two, 3 million of ARR before you want to professionalize the sales organization with dedicated sales management and sales leadership and what have you." And that's why it's not like Success Point. Maybe it's not as much fun to read as like, The Hard Thing About Hard Things, or what have you. Or it's like, "Oh yeah." It's kind of like war stories over whiskey or whatever. But this is more just the thing that you want to come back to on a recurrent basis.
Or alternatively you're like, "Okay, cool, I'm going to read the first five chapters because I have no customers right now. And then once I start acquiring some customers, now maybe I turn my attention to customer success. I'm going to read that chapter now." Right?
Rob Walling:
Yeah. I like the way you're describing it, more of a manual.
Pete Kazanjy:
Yeah, manual. Perfect encapsulation. So, it's very much a handbook that we want people to come back to. This is why it's available online in hypertext format as well, so it can be searchable and people can come back to it. But yeah, that's kind of like the whole purpose of it.
Rob Walling:
And I love the focus of it. I mean, the Amazon blurb says, "This book is specifically targeted for founders who find themselves at the point where they need to transition into a selling role, specifically founders who are leading organizations that have a B2B direct sales model. And this book will be targeted specifically to the realm of B2B SaaS." And as I'm reading this, I'm just like, "Yes, please. Yeah, this is exactly my world. How have I not…" I was kind of like, "How have I not heard of this before now?" So I'm glad that's some of the [inaudible 00:07:55].
I mean, no joke, I haven't read the whole thing obviously because it's 477 pages, but I read a good chunk of it last night. And it is the best encapsulation, the best book or other material that I have read of being a founder who doesn't have much, if any sales experience. That was the situation you were in with TalentBin. I think you had to learn sales in order to find product market fit. And then you grew it to 6 million ARR before selling to Monster, is that right?
Pete Kazanjy:
Yeah. So very much TalentBin was the situation where we had an initial hypothesis that you could use. So TalentBin was essentially open web talent search engine. Essentially what we did is we crawled GitHub, Stack Overflow, Twitter Meetup, et cetera, et cetera. This is 10 years ago, before LinkedIn had really solved their problem of information density on the profile pages. And so as a result, if you could crawl all those different websites and then kind of create a composite profile and put that in a database, technical recruiters would really like that. And so, that's what talented was.
And it turned out that that hypothesis was correct, but it was not something that people would just buy on their own. And so we had to transition from, "All right, people will just buy this on their own.", which is not the case. Never is the case, unless you're talking about a very, very thin kind of PLG use case. And so someone had to go from being… Someone had to go sell it. And that was kind of my responsibility.
And so I went from being our first seller to being our first sales manager and then our first sales leader. And when we were acquired by a Monster, I think we had 10 sellers, eight sellers, or what have… Eight sellers, five SDRs, similar number of CSMs, and what have you. And so the way that I learned sales in that scenario was very much piecing it together. So I obviously read Predictable Revenue by Aaron Ross, but that's actually later stage, if you think about it. You already have a sales motion that's been de-risked, and really it's just about driving scale at top of funnel.
And then of course you have Eric Ries, the Lean Startup, and Steve Blanks, Four Steps to the Epiphany, I guess it's called The Startup Owner's Manual now. And there's kind of like this thing that's missing in the middle where's just like, "Okay, cool, I validated the hypothesis here. And maybe I have a product that has early indications that it solves the relevant problem. But now I have to repeatedly…" Or sorry. "Now first I have to get non-zero customers and then I have to repeatedly sell it. And then once I repeatedly sell it, ideally get other people to repeatedly sell it." And so that was kind of missing in the middle there, and that's what the book was written for.
Rob Walling:
And you grew an exited, and now you're working on your next startup called, Atrium. It's atriumhq.com. Your H1 is tough times, call for amazing sales management. Atrium helps sales managers use metrics to increase rep efficiency and survive and thrive in a downturn.
You've raised quite a bit of money just talking offline. I said, Crunchbase says 33 and a half million. And you're like, "Well, I guess that's a lot of money. I guess that's right." It starts acting up, you just lose track at a certain point, right?
Pete Kazanjy:
Yeah, yeah. So, exactly. So Atrium makes, what we call, data-driven sales management software. It's software that helps sales organizations, so managers, leaders, and reps use metrics to improve performance. I mean, the way to kind of think about it in short is Moneyball for sales teams. And really, it's kind of the software encapsulation of a lot of the work that I did at TalentBin around instrumenting the quantity and quality of selling behavior that was happening on our team. Except the way that we did it back then, back then in the olden days, was lots of Google Sheets, lots of Salesforce reporting, and dashboards, and what have you, [inaudible 00:11:28] together with meeting invites and what have you to make sure that your people are coming back, and looking at that stuff.
And what we realized was that most organizations really suck at measuring and managing biometric. I was pretty okay at it because I'm kind of a sales nerd, but most organizations are pretty poor at that. And most sales managers and sales leaders, as we kind of like to joke, don't necessarily come from the math department or the finance department. They come from the storytelling department, which is fine. And so helping them manage biometric, is a really powerful thing that you can do.
And yeah, we've been working on Atrium for, I guess, six years now or what have you, few hundred customers. Yeah, definitely a little bit of a different track than a lot of the… Definitely not a bootstrap track, but lots of fun. We get to work with hundreds and hundreds and hundreds of modern sales organizations. I also started and run the nation's largest sales operations in leadership community called, Modern Sales Pros. But yeah, it's just like it's all sales all the time over here.
Rob Walling:
I know how that feels. Not that I'm in sales, it's that I'm in all bootstrapped and mostly bootstrapped B2B SaaS. It's just what I think about day and night.
I want to dive into the book a bit. So in a lot of interviews when I interview authors, I feel like, "I think we can cover a quarter of this book or a third of this book [inaudible 00:12:44]." There's no chance. We're going to be five to 10%. So obviously as a listener, if you're listening to this, head to foundingsales.com, check it out.
But I want to bounce around a bit. So chapter one is, mindset changes in first time sales professionals. And there's two things I'd love to hear you expound on. One is, one, mindset changes, embrace plenty not scarcity. And the second one is expect to win, but be unfazed by rejection.
Pete Kazanjy:
Well, I think that… And yeah, thanks for calling that. One thing just had got a note for your audience, the book is available online at foundingsales.com. It's available, you just log in. And I really wanted it to be available via hypertext so people could search across it and come back to it because again, it is very much of a manual. You can set it down and come back to it, et cetera.
So yeah, I mean the concept of embracing plenty is a very confusing concept to most humans. And in general, I think the sales mindset change chapter is about validating that that uncomfortable feeling that you're feeling as you're starting to do sales, is totally okay. Because a lot of the things that you do as a seller is very, very, very different than what you would do as a product manager or a software engineer or consultants, or what have you. Or even just a human in general, which sounds kind of weird.
A good example of that would be, most of the time we think about things like, "Hey, we should conserve resources." Like, "Hey, you know what? That carton of milk's not done." "Hey, let's not throw out that extra pizza.", et. cetera. Whereas the thing that's a big kind of mind shift in sales is that the thing that you have scarcity of is your time, you don't have scarcity of prospects. And so oftentimes what ends up happening is, people get really wrapped around the axle like chasing opportunities, essentially deals, potential deals or prospects or what have you, that end up not having the need of the problem that you solve. Or alternatively, maybe they do, but they're just not getting it. Right? And you're like, "No, no, no, I'm going to get them there. I'm going to get them there, I'm going to convince them."
And really at a certain point, you just have to be like, "No, no, no, I'm going to set this down. I'm going to close loss this, and I'm going to move on." Because especially, especially early on, in either new category creation or early stage SaaS, there's going to be tens of thousands if not hundreds and hundreds and hundreds of thousands of prospects that could use your solution. So, that's what we mean around embracing a mindset of plenty versus a mindset of scarcity. So, stop throwing good time after bad with respect to those prospects. And then as soon as you start embracing that concept of abundance as opposed to scarcity, you start thinking about things like, "Oh, okay, cool. How can I get in touch with everybody? How can I scalably get in touch with tens and tens of thousands of people? Or how can I paralyze my meetings or what have you?" So, that's the first thing.
And the second thing that you kind of talked about expecting to win, but being unfazed when you lose, is that in general, the big kind of mindset shift with sales that's kind of hard for people to take is that you're going to be losing most of the time. If you have a 25% win rate, which is really good. If you win a quarter of the deals, first meetings that you take, that's a really good win rate. Most early stage, especially new categories, it's going to be a lot lower than that because people are like, "Yeah, I'm not necessarily sure I have this need." Anywhere in the 10 to 15% range. So, you're going to be losing 75, 80, 85% of the time. And so most normal human beings, that would be really demoralizing. You might be like, "I don't know if I like this." Right? And so that's why what you have to do is, you really have to just rebase yourself and recalibrate and say, "Hey, you know what, I'm going to be unphased if I lose."
But the other thing with sales too is that we are in the business of, I forget who says this, but it's like sales is the transfer of enthusiasm. And so, we are able to impact our audience and our prospect in a meaningful way. We're trying to reveal to them the unmet needs that they might have. We're trying to reveal to them the fact that there's a new way, a better way of doing what it is that they're doing right now. We have to get them stoked up on that and pumped. And it's kind of hard to do that if you're like, "Oh man, I'm probably just going to lose this deal anyway."
Actually, there's a gentleman who is an early sales sales rep here at Atrium, gentleman named, Carson Kaufman. Super bright guy. And he always says that sales is a Broadway play put on by psychologists, because essentially you're performing, like, "Hey, all right. Let's get excited.", while thinking about what the other person's thinking about and how I can talk to them and change their perceptions in a way that is going to lead them along to the path that I want them to follow. And so if you do that with an Eeyore mindset or like, "Oh, [inaudible 00:17:40].", you're actually going to negatively impact your ability to achieve your goal.
And so, that's why when you walk into a sales call, you have to get pumped and say, "Hey, you know what? I'm going to expect to win this, and I'm going to will that into existence. And moreover, if I end up losing it, which I probably will, I'm not going to be phased by it, because I probably have another meeting immediately afterwards."
Rob Walling:
Right. Another crack at the plate, right?
Pete Kazanjy:
Yeah.
Rob Walling:
Yeah, it's an interesting way to think about it.
Finding the perfect software engineer for your team can feel like looking for a needle in a haystack, and the process can quickly become overwhelming. But what if you had a partner who could provide you with over 1000 on demand, vetted, senior results-oriented developers who are passionate about helping you succeed, and all that at competitive rates? Meet Lemon.io. They only offer handpicked developers with three or more years of experience and strong, proven portfolios. With Lemon.io, you can have an engineer start working on your project within a week instead of months. Plus, you won't waste your time on candidates who aren't qualified.
Lemon.io Gives you easy access to global talent without scouring countless job boards, and it's more affordable than hiring local talent. And if anything goes wrong, Lemon.io offers swift replacements, so it's kind of like hiring with a warranty. If you need to grow your engineering team or delegate some work, give Lemon.io a try.
Learn more by visiting lemon.io/startups, and find your perfect developer or tech team in 48 hours or less. As a bonus for our podcast listeners, get a 15% discount on your first four weeks of working with a developer. Stop burning money, hire dev smarter. Visit lemon.io/startups.
You also, skipping ahead to chapter three, sales materials basics, you go through… One of my favorite things was you were talking about speed versus production value, and the ability to iterate quickly on sales material. And first of all, you were like, "Founder, you need to do sales. You can't outsource this until you hit a point where you're… And outsource, I mean, hire someone to do it. "Until you hit a point where you have repeatable sales." I think hopefully most people listening already know that. I've said it a few times here. But when you said speed versus production value and-
Pete Kazanjy:
Bless, Rob. Bless. Good job.
Rob Walling:
I know. I'm trying to preach the good gospel here. I had to chuckle as I was reading because your sales presentations, you give tons of examples like, "Here are the basics, six things or whatever that should be in it." And then you gave examples, I'm assuming from TalentBin, of actual slides that you would use. They did not look good, sir. They were really crappy. And I was laughing because I'm like, "He's eating his own dog food here. He's walking the walk." Because your point was, "Stop hiring a designer and waiting for weeks to turn (beep) around because you learn something this call, you change the slide for next call." Right? Talk us through that a little more about speed of iteration, production value, all that.
Pete Kazanjy:
Yeah, for sure. I mean, I think the thing that might be helpful for your audience is the way to think about your sales motion, think of it as a product or a as software itself. And so what you want to be able to do there is have speed of iteration. So think of it as like MVP, right? Minimum viable, minimum valuable, et cetera. And so you want to be able to have speed of iteration, not just iteration, but speed of addition as well.
And so a good example of that would be, let's say that an objection comes up. "Hey Rob, I'm not sure if the TinySeed route is for me. I think I might want to go with a more traditional, I want to go big. I want to go big. I'm going to go out to the valley and I'm going to raise me a seed round." And Rob can talk that through and just be like, "Well, let me explain to you why it might make a lot more sense for you to do a smaller kind of like TinySeed, work with us here at TinySeed." Rob can explain that, but wouldn't it be better if he had a slide that would then demonstrate that?
And so maybe when Rob… And I'm sure you probably have encountered maybe that objection two years ago, three years ago, whatever it was. And then every time you hear an objection twice, this is the rule of thumb that I like to say is, anytime you hear the same objection twice, create a slide. And what it does is it creates a swim lane, kind of like guardrails for you, where you have visuals because humans are visual. It allows them to see something while you're talking at them. And it gives you guardrails and a map for reading, not reading, reading, but essentially a path to talk them through.
And so if you take a long time to do that incremental objection handle slide, or as you were kind of noting earlier, iterating a slide for a part of your presentation that isn't necessarily landing, well, that's a problem. It's like having a bug on production that you can't solve, that you're not going to fix for a whole month or whatever. All of your users are running into that bug on a recurrent basis. So it's way better to trade off speed, at least in the early stage, it's way better to trade off speed for the ability to iterate, versus making it picture, picture perfect.
Rob Walling:
This ties into the next thing I was going to ask you about, which is in chapter seven, about pitching. You talk a lot about objection handling. And there's a quote from the book. So periodically, Pete, I get quoted on Twitter. People will quote me back to myself, and I'm like, "I said that?" Could you point to a source? So, I love quoting authors back to themselves because-
Pete Kazanjy:
Oh, man, making me scared right now.
Rob Walling:
477 pages, and I'm going to quote you. No, your quote was, "Objection handling is where some of the most important work in sales is done." And that sentence struck me, when I read it. Can you expound on that?
Pete Kazanjy:
Yeah, for sure. So the way to think about what we're doing when we're selling is, we're trying to reveal need to someone. Right? Like, "Oh man, I didn't realize the downside associated with a traditional seed round. That's interesting. You've rebased how I think about things." So, it's revealing to them a need, an unmet need and the magnitude associated there with, presenting to them a mechanism by which to surmount that unmet need. Like, "Oh. Well the good news is, there's this thing called TinySeed that never existed before." "Oh, okay, cool." And the value associated with that.
And then the last part is handling objections for someone who's like, "Yeah, but I'm not so sure about this. Wait a minute, what about this? Wait a minute, [inaudible 00:24:03]." And so the good news is, is that when people are objecting, that means they're engaged. Right? It's kind of like, what is it? The opposite of love is not hate. The opposite of love is indifference. So in this case, someone's actually objecting to things that you're saying, at least they're paying attention and they're engaged. And so what'll end up happening is, you'll start identifying these common scenarios wherein somebody is objecting to the value proposition you're presenting.
So, let's use Atrium as an example. So Atrium makes this… we make data-driven sales management software. One of the things that's super cool about it, it takes two minutes to set up. You just sign into your Salesforce account and poof, it creates a world-class metrics harness that then of course, is continuously monitored statistically to tell you when there are problems with metrics for this rep or that rep or whatever. Again, it's automated Moneyball for sales teams.
All right, cool. Well you can imagine some sales manager or some sales interview, like, "But we have a very specific sales motion, so I don't know if you're out-of-the-box metrics are really going to handle it." "You know what, Rob, I hear what you're saying there, but it turns out that the revenue formula is the same, regardless of the organization. So bookings, wins, win rate, average selling price, the number of opportunities that are in your pipeline, the number of new opportunities that are coming in your pipe, customer facing meetings, those are all things that matter for organizations, regardless of which organization it is. I imagine that's the case for you guys as well. Am I thinking about that right?" "God, you're right. I guess I hadn't thought about that." "Yeah, moreover, you probably don't have all these metrics right now. Moreover, you're probably not recurringly analyzing them." "That's a good point, Pete." "Wonderful. Yeah. So, were there other questions?"
And so what'll end up happening is, you'll start seeing these… you'll start getting this map of questions that will currently come up. And then so one, you can have those objection handles ready. Two, you can have a slide for it, like, "Oh, I hear what you're saying here, Rob. Let's go ahead and look at this." And then three, what you can do is you can start pulling that forward and you can start prehandling those. So essentially bringing it forward in the pitch in order to rehandle those, like essentially incept the person ahead of time so it never even shows up for them. Because like, "I know what you're thinking." If you're some of the folks we talk with, you're thinking this, right? You can deal with that, because literally all we're trying to do is smooth the pathway to a purchase, smooth the pathway.
It's kind of like a checkout flow. But in this case, because it's a 10,000, 20,000, $30,000 contract, there's not really going to be a swipe checkout flow. So what we're trying to do is we're trying to smooth that checkout flow as much as possible using words and pictures. And so having good objection handles is a great way of doing them.
Rob Walling:
In that chapter, you also touched on asking for the sale, which is a mistake. I see.
Pete Kazanjy:
Oh, yeah.
Rob Walling:
This audience of this podcast is, let's say, 75% technical, maybe even 80% developers. And we, as a developer, former developer, myself, I just was always felt awkward to… 'Cause it's an awkward question, and guess what? It leads to rejection because people say no. But talk me through. How do you get over that and why is it such a critical thing to learn?
Pete Kazanjy:
I think at the end of the day, the thing that… This is something that hopefully I won't get on a rant here. I can't promise though. I can't promise, I can't promise. One of the things that drives me nuts is how people will tell folks like, "Oh yeah, there's born sellers." And I think that's BS, right? I think it's just practice. And so, good example because these things… As I noted earlier regarding sales mindset changes, these are just not supernatural behaviors, super common behaviors. But that doesn't mean that they're impossible. They just require repetition and kind of grooving those behaviors. And once you've done it a few dozen times or more than that, you've got the muscle memory going, you're callous, and you're on your merry way.
And this is why in that sales mindset changes chapter, I kind of talk about how you actually feel this weird psychological, neurological changes in yourself. And so asking for the sale is a great example of that. And then the good news is, there's lots of ways that you can practice these things ahead of time. Because I think oftentimes, people equate sales to different athletic endeavors for good reason. Because what it is, is its these micro behaviors that are kind of motions you might engage in a baseball swing or a golf swing or a basketball player, what have you. And they're not easy and they're not necessarily natural. So you practice them. And then once you practice them, you get good at them, and they don't feel unnatural anymore. You just do them like you're falling out of bed.
And so asking for the sale is a great example of that, being comfortable to say, "So based on what you're saying here, Rob, it sounds like you got about 15 sales reps and no sales operations function over there. And so I think you had mentioned earlier that you had a couple reps that like man, you really wish you had caught their underperformance earlier before you had to fire them a lot later than you had anticipated. We've shown you that how Atrium could have solved that. Based on what I'm seeing here, this really seems like something that would solve your problems. Am I thinking about that wrong or what are your thoughts?" And just shut up. Right?
And so, just doing that lots and lots and lots and lots and lots and lots and lots and lots of times is just going to make you way more comfortable. And so the way to kind of surmount that is to not avoid it. This is the worst way. But just to look for opportunities to test yourself on a recurrent basis. And so, there's kind of micro behaviors that I like to say that people can engage in. As an example, you want to get better at just talking with folks and creating rapport? Just make awkward eye contact with people while you're walking down the street. Just force yourself to. It's just a small bit of practice, like, "All right, I'm just going to make eye contact with every person that I walk by and I'm going to smile at them. And that's going to be a micro behavior that I'm going to do in order to force myself to become callous to that behavior."
Maybe a more advanced version of that is, "I'm going to strike up conversations with people. I'm going to force myself to find something that I need to be able to hook onto." When we started this call like, "Whoa, Millennium Falcon! Look out. It's a trap." Force yourself to do that. And low and behold, two months in, your behavior will be totally changed. And it's a more advanced version of that is, "Right. So what the pricing would be for something like… You guys will probably be around 25 or $30,000. How does that feel?"
Rob Walling:
And then you shut up?
Pete Kazanjy:
Right. And that's very difficult. But you can work your way up to it and then just do it again and again and again and again. So don't avoid it, just embrace it. And just recognize that after you do it 50 or a hundred times, it's going to just be a callous. And everyone can do it.
Rob Walling:
Yeah, that's great. I love that, I mean, one of my personal mottoes, I've said it many times on the show, is, relentless execution. I didn't become a success in two years. It took me, depending on how you define it, five years or 11 years or whatever. And it was showing up every day and doing repeated behaviors that I had to get better at. 15 years ago, I was not the entrepreneur I am today. And that didn't happen by magic, it happened by wrote the execution and just doing (beep) that was hard and getting better at it. And so, I really like that idea.
Pete Kazanjy:
Put in the calories. You definitely have to put the calories in.
Rob Walling:
So as we wrap up, I want to ask you a question. Oh, so another fun side jack. So I went to ChatGPT before this just to see. I've never done this. And I said, "I'm interviewing Pete Kazanjy, author of Founding Sales, for my podcast." I did the whole thing, did a prompt. And I said-
Pete Kazanjy:
You're frightening me.
Rob Walling:
… "What interview questions should I ask him?" And it gave me eight interview questions that basically were… Six, were garbage. They are these high level, complete, (beep) general. It's things you hear on a podcast where they're just going through the motions, and that's not what we do here. You can tell I dig into the material I want to hear.
Pete Kazanjy:
Yeah, yeah.
Rob Walling:
But two of them were actually pretty good. I think we'll have time for one of them, and I'm going to tweak it a little bit. The question that they had was, "In your experience, what sets successful sales teams apart from those that struggle?" But I want to change it up because for this audience, there aren't a lot of sales teams, there's a lot of founders. So I was really thinking, let's say that you had a situation where you have decent product market fit with your product, and you have two sales reps. They're dealing with the same leads. One is closing one in 10 and one is closing three in 10. So, huge difference in performance. What are the one or two or three most common differences between those two individuals that you see?
Pete Kazanjy:
So I think what what's funny is, you prune down the decision tree of what might be the problem there already, kind of like when setting up your hypothetical there. So the first thing, sales success is driven by a high quantity of high quality selling behavior. That's why it again, is kind of analogous to a lot of athletic endeavor, because it's very difficult to have non-linear scale with respect to B2B sales, because it's essentially bounded by the constraint of a human and another human. So, there's only 40 or 50 hours in the week or what have you.
So in your case, you said, "Hey look, this person's got a win rate problem. They're winning one out of 10. This person over here is winning three out of 10." So, that indicates that it's actually not an activity issue. It's not that they don't have an insufficient… they're not doing an insufficient quantity of selling behavior, presumably. Let's say they're both having, I don't know, five first meetings a week or seven first meetings a week or what have you.
So then the question there is, "Wonderful. So, what's the issue with the person who's only closing one out of 10?" So there could be a variety of things. Now we have to go upstream in the decision tree and say, "Okay, start looking at their opportunity conversion rates." You can do this in your CRM and looking at opportunity conversion rates. We can do it in a more kind of minimum viable way here. It's like, "Look, in the first meeting, are we revealing pain, or are we talking to people who literally don't have the problem that we have?"
Because if we're talking to people who don't have the problem that we have, use Atrium as an example. If you have a rep who's engaging with organizations with two sales reps, Atrium makes sense when you start have your SDRs plus AEs is greater than or equal to 10 all the way up to 500. So if you have a rep and they're talking to organizations that are not ideal customer profile, like, "Oh yeah. Hey, how's it going there, Rob? So, how many AEs you got over there?" "Oh, I got one." "Okay, awesome. Let me tell you a little bit more about Atrium." Right?
Rob Walling:
Right. Right.
Pete Kazanjy:
It's like, "Get out, man. What are you doing?" Right? That's not ICP. So that be the first thing is, need there. Right? Is need there? First. Second, are they revealing eliciting need to that person? Might not be doing a good job of that. "Hey Rob, how many accounting… I was looking at LinkedIn earlier, and it seems like you got about 15 AEs over there at Drip. Am I thinking about that, right?" "Yeah, you are. Yeah." "Hey, good job. Good LinkedIn sort of thing." "Yeah, thanks." "Well here, let me just tell you a little bit about Atrium [inaudible 00:35:10]." And show up and throw up versus, "Yeah. So Rob, how do you go about measuring their performance? I noticed you don't have any sales ops over there. Are you in charge of the reporting in all your free time? Wink, wink." "Oh, man. Let me tell you about how hard it is [inaudible 00:35:29]." And that's good discovery.
And so then the next thing would be based on that discovery, then fitting the value proposition to the discovered pain points, or discovered slash revealed pain points. And so you can break that down and see where is the hitch in that rep's giddy up. And it could be any of the above. Maybe it's none of the above right there, but the person is just a spazz and they don't manage their pipeline effectively. Well, that would show up in other indicators as well. Like, "Man, when I listen to your calls, you do a really good job of these things right here. You just forget to send follow-up emails and set next meetings." "Oh, okay, cool." That would also lead to a low win rate.
So essentially, and this is where data-driven management comes in, is what you want to be able to do, is use metrics and data in order to interrogate. Again, I think your audience is largely developers. When you're doing a stack trace or you're trying to understand what's wrong with your app, that's what observability software is for, is to help you understand where is the hitch and the giddy up? Is it in the front end? Is the page not loading because there's a problem in the front end, or is the page not loading because there's a problem with the network? Or the page not loading because there's a problem with the query? Where's the problem at? And so, that's how you can interrogate that on a per human basis and understand where the issue is.
Rob Walling:
It's like debugging. Debugging. No, but-
Pete Kazanjy:
Super-
Rob Walling:
… debugging anything is hard.
Pete Kazanjy:
It's debugging. It is debugging.
Rob Walling:
I like the analogy you use there. Yeah, that's super cool.
Pete Kazanjy:
Except in this case, they're humans, so they're squishy and messy. And they're not deterministic and they don't execute the same way every time. So we talk about this with people all the time, because we'll talk with sales operations folks or whatever. And they'll be like, "Oh, but I don't know how precise the metrics is." It's like, "My brother, we are measuring humans here. So our statistical significance, or our significant digits cannot be more than the nature of the problem that we're measuring, which are humans right now."
Rob Walling:
Yeah, that's great. And that's something that is… Sales feels… Sales and marketing. If you're a developer, sales and marketing feel complex and scary and like a black box. And they're squishy, and it's all due to that. You can't run a stack trace on your sales team. You have to pull in a bunch of metrics and look at it.
Pete Kazanjy:
The thing that people mistake is, people look at it and they say, "No, no, no, it's only art." They're wrong. And then there's other people are like, "No, no, no, it's only science." They're also wrong. It is a science that is around people. Again, kind of athletic analytics and kind of things like that. To say that you can't use metrics and numbers to instrument and improve the human behavior is of course, silly pants. Right? Because I'm sure a lot of the audience listening at home, they probably have Apple watches or WHOOPs, or maybe Oura Rings or Eight Sleep or whatever. And numbers are our friends. That's why the Babylonians came up with them, right?
Rob Walling:
Right. And even if you can't to a hundred percent, it's like website attribution or click through attribution. It's not a hundred percent. And I hear people online, it's especially people who don't want to market, are like, "Well, attribution just doesn't work." And it's like, "No, it does work. It's just not a hundred percent, but some attribution is better than nothing." And that's-
Pete Kazanjy:
Exactly. The appropriate level of specificity.
Rob Walling:
Yep. Well, Pete, thanks so much for joining me today. Folks want to check out your book, Founding Sales.com, and of course, your Pete Kazanjy, K-A-Z -A-N-J-Y, on Twitter. Thanks again, man.
Pete Kazanjy:
Yeah, you bet. Thanks for having me, Rob.
Rob Walling:
Thanks again to Pete for joining me this week, and thank you for showing up every week. If you keep listening, I'll keep recording. This is Rob Walling, signing off from episode 649.