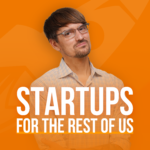 In episode 648, join Rob Walling for a solo adventure where he answers a bunch of listener questions. Some topics covered include competing against a nonprofit, validating step 1 app marketplace businesses, and driving traffic to idea validation landing pages.
Topics we cover:
2:02 – Competing against a nonprofit as a startup
4:11 – The trend of bigger companies building more projects in adjacent verticals
8:03 – Incorporating as a Delaware C Corp
9:57 – Bootstrapping a spinoff startup from a dev agency
14:27 – How to go to market when solving a latent pain
19:09 – How to validate step 1 app marketplace businesses
22:19 – Driving traffic to an idea validation landing page
Links from the Show:
If you have questions about starting or scaling a software business that you'd like for us to cover, please submit your question for an upcoming episode. We'd love to hear from you.
Subscribe & Review: iTunes | Spotify | Stitcher
Rob Walling:
So in my opinion, while I hate saying, "Well, you should just build it," in the cases of a lot of these smaller products that you're trying to get into the marketplaces, I think that building it first without doing a ton of validation is probably the way to go. It's to act quickly, get something tested. Now, realize that it may fail and you may have wasted that time and that's validation that it was a bad idea.
The problem with building without validating is usually building takes, what, six months, 12 months? Heaven forbid people spend 18 months sitting in a basement building and they've pissed away all that time when they could have done some validation and quickly gotten a signal of whether it's going to work or not.
Welcome back to another episode of Startups For the Rest of Us. I'm your host Rob Walling, and in this episode, I'm going to answer listener questions. We have a great backlog of questions. I'm going to work through as many as I can today.
Before we dive into the first question, I wanted to let you know that my fourth book is complete. It's called The SaaS Playbook: Build a Multimillion-Dollar Startup Without Venture Capital. It's not solely focused on bootstrapping, you can raise a little bit of money, it's just not going down the venture track. It's all the things I talk about here on this show and at MicroConf and through TinySeed.
If you want to learn more about the book, see what I cover inside, read through the table of contents, download a couple sample chapters, head to SaaSPlaybook.com. I'll be running at Kickstarter for the book in the next few months, and if you want to be notified, you can sign up for the email list at SaaSPlaybook.com, or better yet, head to StartupsFortheRestofUs.com. Enter your email there, and you'll not only get the two secret episodes of Startups for the Rest of Us where I talk about things you should know and things you must know as you build and grow your company, we also have some guides that are attached to those, PDF guides, as well as a download of the 5 P.M. Framework.
But with that, let's dive into our first listener question about challenging a nonprofit as a software startup.

Kevin:
Hey Rob, this is Kevin from Ohio. I'm curious your thoughts around attempting to challenge a nonprofit incumbent as a software startup, I'm looking at what I consider to be a pretty major opportunity in a niche of the higher education space where the current experience is both extremely expensive and inefficient for all parties involved. It's not hard to find a lot of people complaining about the current situation on social media and some programs are openly exploring alternatives at the moment.
But I'm just wondering if you see any roadblocks in challenging a nonprofit that don't exist when challenging another private company. Appreciate your thoughts, big fan of the show. Thanks very much.

Rob Walling:
Thanks for that question, Kevin, and of course, his question went to the top of the stack because it's an audio or a video question. You can go to StartupsfortheRestofUs.com, click ask a question in the top nav and submit your question, and just in case you're concerned that you might mess up while asking the question, we actually edit the questions to make everyone sound smart. So if you have a question, send it in.
To answer your question, Kevin, I can't think of too many things that change when competing against a for-profit versus a nonprofit. I think the only thing that comes to mind is a lot of nonprofit software and a lot of nonprofits are essentially subsidized by donations. So if they are offering something cheaper than you are able to, that could obviously be an issue because they're essentially subsidized by this external funding source.
Another thing to think about is if they're a nonprofit, do they somehow have the moral high ground? Are they always able to say, "Well, we're a nonprofit so you should support us and not this evil capitalistic for-profit company"? I don't know. I don't know if that's the case. If everyone's unhappy with them anyways, this probably won't be an issue.
But aside from those two things, I honestly can't think of anything that would stand in your way that wouldn't be just a standard competition against an incumbent competitor.
My next question is more of a topic suggestion and it comes to me from Craig Hewitt. He actually posted in one of the Slack groups that I'm in, and he posted a link to Wistia Live, which is, as Wistia calls it, "The only tool marketers need to create, host, market and analyze webinars." And Craig says, "I don't know what to make of this from a bigger picture perspective, but it's interesting to see everyone building tools that encroach on neighboring tools' turf. It sure seems like the way most companies are choosing to grow these days. This might be an interesting topic for Startups For the Rest of Us."
And it is an interesting topic for Startups For the Rest of Us. I think my thoughts are pretty straightforward on this. Most companies build a product and that product tops out at a certain point whether you have other competitors fighting against you, whether there's just only so many SEO keywords you can rank for, you are going to plateau. And some products, like step one businesses, they plateau at two grand, five grand, ten grand a month, and others that can be multimillion-dollar products, they still plateau at some point. Maybe it's one, maybe it's $10 million, maybe it's $50, but unless you're a B2C play, you inevitably plateau with your first product.
And so there's this great article called The Elephant in the Room: the Myth of Exponential Hyper-Growth. We'll link it up. It's by Jason Cohen, and in essence, he talks about this exact scenario and he called it the elephant curve or the S-curve, but you have this growth and then you plateau. And when you look at companies that continue to grow year after year after year, it's almost never, especially in the B2B space, pretty much never a single product. I think Slack might be one exception I can think of. Salesforce, they have like a gajillion products. HubSpot, they have a bunch of products. Intercom, they have a bunch of products. These companies that get into the billions in B2B usually have a number of products.
And so in this article that Jason Cohen wrote, he talks about how in '06 HubSpot was founded, they launched their Marketing Hub. In 2011, they acquired Performable, which was landing pages and I believe there was some split testing in it. And then in 2014 there were about $100 million and they launched CRM, and they launched their Sales Hub, and then they launched their Service Hub launch. I don't even know what that is, but in 2017 they did, and they kept growing and you can see this graph of them launching product after product after product and it becomes inevitable. There are only so many big spaces in B2B SaaS that eventually you are likely to just stumble into the next adjacent space.
If you think about video hosting, webinars are a pretty obvious adjacent vertical, I'll say. It's not even a vertical, but just an adjacent market. Similar if you were an email service provider, there are some adjacent pieces to that. There are landing pages, there are driving ads to those landing pages and you saw Mail Chimp launch landing pages and then launch a Facebook ad builder, so they became more of a marketing suite, and I'm imagining that they will continue to pick off more and more pieces of that pie.
Similarly, if you launched a social media posting tool, first you're going to go after Facebook or Twitter, and then you're going to slowly add all of them. It's an obvious thing. And then you start thinking, well, how else are people using this for? Oh, well, they're using it for customer support. Let's kind of build a support tool into it. And then you realize people are reviewing drafts of their content in there, so you build a whole content workflow, which is another adjacent product.
This naturally happens and it doesn't happen in the first year. It happens in the fifth or the 10th or the 15th. When we see companies like Wistia and HubSpot and Intercom, whatever other B2B SaaS, MailChimp that I just mentioned, these are companies that have been around for a decade or two in some cases, and I view it almost as inevitable that companies that are around that long and are not acquired by another company and swallowed up and absorbed, that those companies will inevitably slowly just merge towards the big markets. And the big markets always have competition.
So thanks for that topic suggestion, Craig. Hope you found that insightful.
This next question's a quick one. It's text, but I am going to squeeze it in because I think it's a fast answer and it comes from Andy. The subject is incorporating as a Delaware C Corp.
He asks, "Hey Rob, love the podcast. It's been so helpful as I get my business off the ground. I'm starting to generate some revenue and have some high hopes for 2023. After some research, it seems like a Delaware C Corp will be my best route for my business. Is this something I should hire a lawyer or I can do myself? Thanks for all your help."
So first off, I want to call out a prior episode of Startups for the Rest of Us that if you are deciding between LLCs, S Crops and C Corps, this is the US-based conversation obviously, but you should look at Episode 442 of this here very pod called, "Corporate Structures and How the Choice You Make Now Can Impact You years Down the Line." Einar Vollset and myself sat here and talked for 35 minutes about the pros and cons of making that decision.
Once you've made that decision, I recommend Stripe Atlas. Stripe Atlas is amazing. So five years ago, the question of forming a C Corp, I would've hired a lawyer personally, pay someone $1,000 bucks, $2,000 bucks, and they file it for you and then you do have the extra tax burden of having a CPA file a C Corp return for you each year.
Now if I were doing it, C Corp LLC, I would go straight to Stripe Atlas. I believe the cost is $500, and we see TinySeed companies all the time using it. The docs are clean, the IP assignments are clean. I'm a big fan of Stripe Atlas and frankly, that is my recommendation. If for some reason Stripe Atlas doesn't work for you or you can't access it, then yes, I would hire a lawyer.
Can you do it yourself? Probably. You can go to a service like Lexgo, which is a TinySeed company, or you can go to Rocket Lawyer and do it yourself or just spend the hours and hours combing through government docs because I feel like it's not that complicated, but you don't really know what you're doing and the odds of you doing something wrong are pretty high. So I would lean towards getting outside help.
Thanks for that question, Andy. Hope it was helpful. My next question is from Jeff in my very own Minneapolis.

Jeff Lynn:
Hey Rob, this is Jeff Lynn from Minneapolis, Minnesota. I started listening to your podcast about six months ago, so I'm relatively new to it. I'm catching up on some old episodes. Your most recent episode with Andrew Berkowitz on building happy, high-performing teams really resonated with me.
I run an 18-year-old software services company called Bust Out. We design and build custom mobile apps and websites. My question is around bootstrapping a spinoff startup from a dev agency. About a year ago, I also started a new company called Pennant. We're a technology platform that enables performing artists to launch their own custom-branded streaming video platform on web, mobile and TV. We're fully bootstrapped. We have some revenue, we have some customers, but my question is what are your thoughts on software services agencies spinning out product startups? We're seeing some benefits and some challenges and just curious about whether or not you have any thoughts around that.
All right, thanks. Bye.

Rob Walling:
Thanks for the question, Jeff. This is a really good question and a common one. I know so many people who are either freelancing or they run an agency just like you do.
I actually ran a micro agency, I called it, where it was just me with several contractors and we would build websites and build, at the time it was asp.net, line of business applications, and that's what I was doing as I transitioned into full-time product income.
And so my thoughts are yes, it's both a luxury and an absolute pain in the ask because the luxury is you have dev resources and/or marketing resources and you have revenue, you have some type of money you can invest in this, which a lot of people doing it nights and weekends don't. The hard part is every resource you throw towards your product is not a billable hour, and so it can feel like you are sinking costs into something that could be highly profitable for you if you were billing them out to a client.
In addition, I think the biggest killer or roadblock trying to have an agency launch products is they never get the focus that you need. You always get distracted running your agency because that's what pays the bills. And so if it's a decision of making another sale with the agency or trying a marketing approach that may not work for 4, 5, 6, 8 months, SEO content, pay per click, anything, anything we could talk about can take time to learn, usually you err on the side of keeping the cash cow business going, and that can be really challenging to be honest. That's probably the biggest reason I see agencies not able to make the switch is the constant distraction.
So this can be easy if you're big enough. Let's say you have 30 developers and you're hiring everyone out making X dollars per hour. If you take one or two of them and put them on a product and they don't have to do any client work, well, at least they now have focus. Can you then spin off a designer or someone to almost be the founder, and they don't have to own equity, but it's "the founder" such that they can focus full-time on trying to grow or validate or do customer development on this product?
If you think about it, most products, especially SaaS, they don't work, even those that are focused on full-time. You think of all the founders you've known that have quit their day job and worked on a product and had it not work out or have raised funding and quit their day job to work on a product and had that not work out. You are trying to do something that's very hard and if you're not putting people who can focus on it full-time, it's yet another disadvantage. It's taking bad odds and cutting those odds in half or in thirds. It's making them even worse.
Now, not everyone has the luxury. If you're an agency of eight people, it's hard to carve off a full-time person to go work on that product. And so that is where, if I was running an agency, like I was… Mine was micro. It was a handful of people and I was the only founder. I did try to reserve nights and weekends, and if I had time during the day when I wasn't doing my paid work, I would transition to working on my own product. But it was hard and it was like working a day job and having a side project. That is the way things go: very slow, and you often find yourself getting discouraged.
And so if, in any way, you're able to carve out dedicated, focused resources who really want to grow this and make the product work, that's going to put you in the best position to win. So thanks for that question, Jeff. I appreciate it.

Brian Geery:
Hey Rob, Brian Geery at SalesNV. I listen to your podcast all the time. Thank you so much. We have a SaaS product and we just signed on our first paying customer last month, so we're early stage and we're in product market fit.
The problem I'm running into is we solve a problem that's more of a latent pain than a blatant pain. The software we sell enables everyone to demonstrate software like top performers, and we think our target audience is CEOs and VPs of Sales, is high-growth SaaS companies, but we also believe they're not necessarily walking around thinking, "Of all the problems I need to solve today, I need to get everyone to give better demos." So there's an education process that hey, bad demos or mediocre demos really slow pipeline velocity, and if you fix that, you can significantly increase your revenue.
So the question I guess is any thoughts about how to go to market when I'm solving a latent pain, not blatant pain? Thanks so much.

Rob Walling:
Thanks for the question, Brian. It's funny, I've never heard latent versus a blatant. I think of it like perhaps an aspirin and a vitamin where an aspirin is urgent and a vitamin is something that you can solve now, or maybe it's not top of mind at the moment.
First off, it is kind of a bummer, right? If you're solving a blatant pain or an aspirin-type of pain, you have a huge advantage because people are searching for it. And that's where you do content marketing and people search for that in Google or on YouTube and you just get in front of them. Those are the best and fastest growing businesses that you can build. But it doesn't mean you can't build an interesting business with more of, as you said, a latent pain, or as I would say, maybe solving a vitamin problem that someone does have, but they don't need, need to fix it today. It's just stacking the odds against you just a bit.
So in your shoes, I would do two things. Number one, I would try to find out if there is a small subset of the world who does sales demos, where having them be better and having them be at the level that SalesNV provides really, really is important. And it may not be a huge market, but maybe it's 5% of prospects. If you get a huge email list of all the people who do sales demos, maybe it's just a small fraction, if you can figure out a way to identify those, maybe it's all SaaS products or maybe it's some other type of technology, I don't know, but those would definitely be the folks I would start with if you can find that.
If not, and you are trying to find marketing channels that bring new prospects who are open to hearing from you and open to doing a demo with you, they're not going to be searching for you, as you've said. And so you either need to go with outbound, like cold outreach through LinkedIn and email, or you need to do content marketing and education around adjacent topics so you go higher up in the funnel. So instead of talking directly about your product, you just educate everyone and you become the voice in sales demos, best practices, how long they should be, how you should handle them, how to handle objections, scripts for sales demos.
And you, essentially, you either partner with someone who's already doing this if they don't already have their own company or you become either yourself personally or someone on your team, becomes that voice that people listen to around demos that when everyone thinks of sales demos, we think, "Oh, that's SalesNV."
And you see Steli Efti has done this and he runs close.com. He's become a master educator and a voice that people go to and listen to on this topic of all things sales. He's written e-books on it, has tons of videos, podcasts, tons of written content all around that, and that just brings people into your orbit in a way that then when they think of sales demos, they think of you. And when they think of improving their sales demos, then they are there and they're seeking SalesNV.
There are, of course, many other ways to go about it. There are a total of 20 B2B SaaS marketing approaches. I did a bunch of research and de-duped and gave it thought and I put them in my new book. It's at SaaSPlaybook.com. It's not available yet. I'm going to, as I said at the top, I'm going to kickstart it later in the year, but there are a total of 20 approaches that I would consider working for B2B SaaS, but not all will work for you because if they're search-based, no one's searching for it, that's a problem. But there are plenty of others that are getting in front of people, whether it's at in-person events or the other two I mentioned. There's content marketing, idea content and SEO, building that personal brand, and of course cold outreach, which is what a lot of companies do.
So thanks for that question, Brian. I hope it was helpful.

Steven:
Hey Rob, big fan of the show and also of your MicroConf events. I got to see you in Atlanta and it was super cool to hear from you and Ben Chestnut.
So my question is, you talk a lot about the Stair Step Method and your suggestion is to build apps within app marketplaces because it helps with customer acquisition and helps with the marketing. It's all built in. So the question is how do you validate ideas for those kinds of marketplaces? Because with a typical SaaS idea, you can kind of throw up a landing page and drive some traffic to it with Google Ads or Facebook Ads, what have you. But for these app marketplaces, the need tends to be somewhat more niche.
So I was just wondering if you had any ideas for how to validate ideas for those marketplaces. Thanks a lot. Really appreciate your show and what you do for us. Thanks.

Rob Walling:
Here's a really good question. Thanks for that, Steven. And it's cool that you made it to our MicroConf local event in Atlanta. We're hosting some more events this year. If you're listening to this and want to get together with between 50 and 60 amazing bootstrapped and mostly bootstrap founders, head to MicroConf.com/locals.
So Steven, to answer your question, it's a really good one and it's one that I get now and again, two thoughts come to mind. One is if I see something in, let's say, a Shopify marketplace, and I don't see it in a competing e-commerce marketplace, and I think you can tell by how many reviews there are. If there are five reviews, maybe it's not very popular, but if this thing has 100, 200, 300 reviews, that to me is some validation that this could be useful in the other marketplaces. That's just a research piece. The actual validation where you would normally have potential customer conversations, put up a landing page, all that stuff, you don't really do that with these marketplace apps, these step one apps, because they should be pretty quick to get to market.
I think you could build a lot of these step one apps in a few weeks, maybe a month, and in that time, you could spend that trying to validate or you could just get the thing in the app store, get the thing in the Shopify, the Heroku, the Salesforce, the HubSpot Marketplace, and see how it goes and start tweaking around with the SEO to try to rank high and to get some people to use it in order to get reviews to try to rank high, whatever the algorithm is.
So in my opinion, while I hate saying, "Well, you should just build it," in the cases of a lot of these smaller products that you're trying to get into the marketplaces, I think that building it first without doing a ton of validation is probably the way to go. It's to act quickly, get something, test it. Now, realize that it may fail and you may have wasted that time, and that's validation that it was a bad idea.
The problem with building without validating is usually building takes what, six months, 12 months? Heaven forbid people spend 18 months sitting in a basement building and they've pissed away all that time when they could have done some validation and quickly gotten a signal of whether it's going to work or not. But if you are literally spending a handful of weeks to get an MVP into an app marketplace, I think I would, as a developer, I would just go do that because the best validation you can get is people actually buying and using the product.
So thanks for that question, Steven. Hope that was helpful.
Last question of the day is from Rob Eids. He says, "This is Rob from Super, the digital platform for UK financial service providers. I'm a big fan and longtime listener. I was listening to a MicroConf on Air episode," so this is the MicroConf podcast and we pull audio from our YouTube channel, and I have a YouTube video titled, "How to Get Your First 100 Customers for Your SaaS Product." And we pulled that audio and put it in the MicroConf podcast feed. You can check that out on any pod player you like by searching for MicroConf.
Back to his email. You mentioned building a landing page with opt-in email and offering updates to subscribers. Could you give some more insight into one, how you would get relevant people to the landing page? And two, what do you recommend offering that works well in your experience?
So I'll start with the second one first. The answer is, it depends. So when I was going to start an in-person event, MicroConf back in 2011 with my business partner, Mike Tabor, we put up a landing page and we just said, "Enter your email to hear about when this goes live." And we had enough enticing language that you were signing up to hear about when tickets were available. Right now, I have a landing page for a book. I mentioned it twice already, SaaSPlaybook.com. If you had there, I'm giving away a sample chapter and the table of contents. I'm not trying to give people a Starbucks gift card to do it because then I don't think that they would be that invested in the book. It's something around the book. If they want this content, then they'll enter their email.
When I had the landing page up for Drip, which eventually became an email service provider, I was really just promising the value of what the product would provide. It was a headline that said, "Make more money from your existing customers by capturing emails with an easy-to-use widget," or something. It wasn't that long. It was a much better H1 than that, but it was like the value proposition. If you weren't interested in that value prop, I didn't want your email because you weren't going to convert to a customer long term.
So I don't tend to give stuff away on these landing pages, maybe a sample chapter or something, but I tend to try to entice and intrigue with marketing copy of like, "This is going to be an interesting thing. If you are in this niche, you're going to want to know about this." That's how the book and the conference, and frankly, TinySeed, same thing. We didn't give anything away on the landing page when we first launched TinySeed, and I believe we got, I don't know, about 3,000 emails in span of a week. It just said, "We're launching TinySeed. It's the first startup accelerator designed for SAS Bootstraps. This is how we're doing things different, not venture track. We think this is going to be amazing. We hope you're along for the journey. Sign up to hear about when we launch," and we got tons and tons of interest.
So that's what I would offer on a landing page to see if I can gauge interest or get people intrigued by it.
The question of how to get relevant people to landing pages, it's just marketing, right? It's buying the book Traction by Gabriel Weinberg. It's honestly, The SaaS Playbook, which comes… I know you don't have that now, so it doesn't help you, but I go through how to choose marketing approaches. A landing page is the same as your product. Whatever you do once you launch a product, you're going to have to try those things while you have a landing page. So when the Drip landing page was up, I was running Facebook ads to it. I was talking about it on podcasts. I was talking about it in my email newsletter. I was writing tweets and blog posts. It's all B2B SaaS marketing approaches.
Now, cold email is an interesting one. If I were to cold email, I wouldn't send him to a landing page. If I was doing cold outreach, I would just be wanting to have conversation like, "I'm building this thing. I'm not selling anything yet. I'm a founder. I'd love to find out if you have this pain." That would be an interesting way to get leads as well. And if you have that conversation, if people say, "This is a desperate pain for me," then you can quite easily… I probably wouldn't put them on the email list. I'd put them in, at that point, it's a Trello board or a Pipedrive because they're kind of in an early sales process.
But just validating by sending people to a landing page is going to be something like, can I write a blog post that's around this topic that makes it to the top of Hacker News? Can I answer questions on Quora? Can I do some SEO and content marketing? Do we start a podcast? Do we start a YouTube channel? Do we guest post? Do we guest on podcast or YouTube channels? Do we do cold outreach? Are there ads we can run? Again, it's the list of 20 B2B SaaS marketing approaches, and you look at those and think, which one or two of these can we try first to see if we can drive interested parties? Because it depends on where they hang out and whether they're searching for it or not. If someone's searching for the solution that what you're ultimately going to build solves, then people will be searching on Google for it. And even if the ad words clicks are expensive, it's worth it to learn in these early days.
Capterra is another one. If you are within an existing category… Actually, you know what? I don't know that you can be listed in Capterra if you're still a landing page, so maybe scratch that one. But SEO and pay-per-click are pretty incredible if people are actively searching for it. If people are not actively searching for it, then you have to do what I talked about earlier, go up the funnel or go into adjacent spaces and start educating people and pulling them there. Now, you don't want to go too high up the funnel because people, they won't convert.
So the answer to how to get people to your landing page is it really depends. It depends on where people hang out and how they're searching, if they're searching. How will they find out about it once you've launched? Cool. So however they're going to find out, then that's what you do to try to get them to this landing page.
So thanks for the question, Rob. I hope that was helpful.
That's our last question of the day. Thank you so much for joining me. I love these listener question episodes, and I hope you enjoy them too. This is Rob Walling signing off from Episode 648.