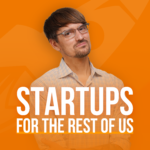 In episode 637, join Rob Walling for another solo adventure as he answers a handful of listener questions. Topics covered range from hiring your first salesperson and acquiring a web app to dealing with the fear of having your idea copied and why bootstrapping a two-sided marketplace is usually a bad idea.
Episode Sponsor:
Find your perfect developer or a team at Lemon.io/startups
The competition for incredible engineers and developers has never been more fierce. Lemon.io helps you cut through the noise and find great talent through its network of engineers in Europe and Latin America.
They take care of the vetting, interviewing, and testing of candidates to make sure that you are working with someone who can hit the ground running.
When it comes to hiring, the time it takes to write your job description, list the position, review resumes, schedule interviews, and make an offer can take weeks, if not months. With Lemon.io, you can cut down on a lot of that time by tapping into their wide network of developers who can get started in as early as a week.
And for subscribers of Startups For the Rest of Us, you can get 15% off your first 4 week contract with a developer by visiting lemon.io/startups
Topics we cover:
1:14 – You either die a consumer startup hero, or you live long enough to see yourself become a B2B SaaS founder.
2:40 – Hiring your first salesperson
9:36 – Bootstrapping a talent marketplace
15:10 – Acquiring a web app
19:40 – Getting over your fear of being copied when doing idea validation interviews
Links from the Show:
If you have questions about starting or scaling a software business that you'd like for us to cover, please submit your question for an upcoming episode. We'd love to hear from you.
Subscribe & Review: iTunes | Spotify | Stitcher
Rob Walling:
If you're looking for the podcast where we talk about non venture track startups, how to build them, launch them, and grow them, you've come to the right place. It's Startups For the Rest of Us. I'm your host, Rob Walling. This week I answer listener questions ranging from which is better B2B or B2C hiring for your first sales role, bootstrapping a two-sided marketplace, and many more. If you're in the US, I hope you enjoyed your Thanksgiving last week, and if you're everywhere else in the world, I hope you enjoy this episode as I dive in to listener questions.
Before I do that, if you haven't checked out our YouTube channel, it's MicroConf.com/YouTube. And I'm releasing a video every week where I talk through specific topics. I actually have a full video on B2B versus B2C SaaS, which is better. I've talked through funnels, talked through validation, talked through lowering churn, all kinds of stuff. Every week a new video is coming out. I'd encourage you to check it out, MicroConf.com/YouTube. And with that, let's dive into listener questions.
Our first question of the day, it's actually not a question, it is a statement made in a tweet by Daniel Nguyen. He runs KTool.io. And this sentiment just resonated with me, so I wanted to bring it up in this episode. His tweet reads, "You either die a consumer startup hero or you live long enough to see yourself become a B2B SaaS founder." And that is like the nerdiest humor, but I like it. I'll be honest, I have seen quiet a few B2C founders pivot. They see the churn, they see the price sensitivity, and they wind up pivoting into B2B if at all possible. And KTool actually looks like a pretty interesting tool. Send anything to Kindle Fast. So you can send blog posts, Twitter threads and newsletters to your Kindle. When I check out his pricing, it's five bucks a month, eight bucks a month, 15 bucks a month for family. And those price points are in line with something I would pay for.
I think I pay, what do we pay $16 for a family plan of Spotify. And you think of the Netflix and the Disney Pluses and all that. But at this price point, I imagine his churn's quite high and his average revenue per user is probably 5 to $8 a month. And that makes it tough to do anything because you can't really afford to run ads, you can't afford to do most of the marketing approaches that I often talk about here on the show. And so that is, that's the pain of running a B2C business. But I hope Daniel is doing well with it and obviously wish him the best to grow in the business.
Our first question today comes from anonymous, and it's a question about hiring sales people.

Speaker 2:
Hey Rob, a question for you. I have a SaaS product that is targeted towards medical professionals, so either dentists or doctors. And I was thinking of hiring a salesperson to engage with specific clinics. And the reason for that is the sales cycle's a bit longer. Medical professionals don't necessarily buy technology or SaaS necessarily just by visiting a website from my experience. And so I think you've made an analogy, is it a vitamin or is it medicine? Like they take it once or do they need to take it daily? And I thought to explain that, I don't have enough credit necessarily yet to kind of have that displayed on the website and I'm working towards that with content. But would sales people help me elevate or accelerate faster? And if so, where would you find great sales people and what criteria would you use to hire them? And then another part of that question is how would you compensate them? What would the compensation structure look like? Thanks so much.

Rob Walling:
Thanks for that question. So one clarification I wanted to make is vitamin versus aspirin is not about taking something once versus needing it daily. It is that aspirin is an urgent need and you want to be an aspirin. You want to be a medicine as you said. But when I have a headache, I will drive to the store and buy that right now because I need it to cure a pain point, versus a vitamin is a nice to have. That's what those terms really mean is you will see some SaaS apps and startups in general that really struggle to gain traction. You'd say struggle to find product market fit if we're going to be jargony about it. But people just put off the buying decision because they can. If I run out of vitamins, I don't necessarily run down to the store that day. I may even forget to take them for weeks or months. It's not such an urgent pain point.
So that is a problem and it is a challenge if you build a vitamin app. A lot of analytics dashboards or vitamins, people don't tend to want to, founders and marketers. I guess there's a left brain marketers that really like the analytics dashboards and there's a lot of analytics dashboards that I've seen launch and fail because people just sometimes don't really need to dig into that. Well, they should be, but they don't want to. Maybe another analogy is like spinach versus ice cream, where everyone wants ice cream and most people don't want to eat spinach or kale. But realistically, it's what they should be doing. I view that as separate from this conversation a little bit. It ties into it, but if you're targeting dentists or doctors, they're not going to self-serve onboard. You are choosing customer pain over competitor pain.
Hopefully, you don't also have competitor pain. And the difference is customer pain is when you tend to have a longer sales cycle, you definitely need to do high touch sales. And oftentimes, they are lower on maybe the technical acumen, so they're not designers or developers or founders or people who are just native online all the time. They're non-technical, and they're going to run into some issues. They're going to need more onboarding and support than other folks. And that's what I mean when I say it's customer pain. If you choose competitor pain, let's say I'm going to start an ESP or CRM softwares, there's a lot of competitors. But oftentimes, especially in the early days, you'll get folks who kind of know what they're doing and your early customers will be early adopters and they will be more technical and usually need less handholding. The worst of both worlds is if you have competitor pain and customer pain.
And that is not something that I would be trying to do these days. So in this case, you've chosen customer pain and in that case, you absolutely need to be doing high touch sales on this. Yeah, I don't know of a single app aimed at this type of dentist, doctors, legal, professional folks who are going to want to self onboard and just figure stuff out. There are just so very few early adopters in those spaces. In addition, if you've gone into that space where there's going to be a sales cycle and more support and you've built a vitamin, that's a real problem. Yeah, that is a business ending issue. And I think that if you have a feeling that you have built a vitamin and you have customer pain, I'd be looking to pivot whether I pivoted my ideal customer or whether I pivoted the app into something that is an aspirin, that's something I'd be thinking about.
Your actual question is whether sales people would help you accelerate. And what I don't know, the hard part about this, I have no context. So do you have revenue? Do you have customers yet? Are you a team of five and you need a salesperson? I'm going to make the assumption that you're early stage, you haven't found product market fit. And in that case, I cannot imagine anyone but the founder doing the sales. I don't know of a single instance where that has worked. Most people don't even try it. You, as a founder, you know the product the best, you know the space the best, you know their pain point, you know the problem it solves. You have all this stuff in your head that you're going to take for granted. And if you hire a salesperson, they're going to have none of that. There's no process to give them because you have no process yet. This is again, making that assumption that you're solo or you have one employee or something and that your sales process is not documented and working as a well-oiled machine.
I would not bring a salesperson into a sales process until we had a repeatable sales process that is relatively proven. And I do the demos similar each time, and you can teach someone to do that or the visits to the dentist's office. And if you're working nights and weekends, and this is a side project, then this is a bad project to build as a side project. This is where you need to quit the day job to go sell this thing. And if none of that works, then you pivot, right? Or you just pick a different product altogether or you go try to raise funding and that allows you to then quit the day job. If you do have a proven repeatable sales process and you're going to look to hire sales people, in terms of where I would find sales people, I would hire a recruiter.
And I wouldn't be going after whatever the full service, like 15% of first year salary recruiter. I'd be looking at a more startup focused, bootstrapper focused service. There is Remote First Recruiting from Dan and Ian at Tropical MBA. And there is Avra Talent, which is run by Maren Kate, who was a MicroConf speaker last year. And these are more reasonably priced recruiting services and I think you get plenty of value out of using them. Those two firms and other firms like them have hired more salespeople than I will ever hire in my life. And so I would not be going out looking to do this on my own. And they will be a big help in figuring out criteria as well. And you can always look at Steli Efti's material on how to hire salespeople. He has a bunch of MicroConf talks as well as eBooks often that he gives away for free, or very reasonably priced. You can read to learn more about that. So thanks for the question, anonymous. I hope that was helpful.
My next question is about bootstrapping a talent marketplace. It's from Ben Atwood.

Ben Atwood:
Hey, Rob. Ben here. I am a graphic designer based in London and I'm in the process of building a design specific marketplace. So we want to be competing with the big boys like Fiverr, Upwork and 99designs. However, those platforms are generally strongly disliked by the design community. So our big idea is building a platform or a marketplace that designers actually want to use and want to get work from.
Now, I really want to bootstrap this business. However, I know in the past you have said that it's very difficult to bootstrap a marketplace. So I've been thinking about this problem and have a potential idea I wanted to run by you. So I was thinking maybe instead of focusing on design as a whole, we could narrow it down, niche it right down to a specific subset of design, for example, UX/UI, which in theory would mean would be able to target our customers a lot better and recruit them easier. And then over time, kind of build the marketplace out into all categories of design. So do you think that's a good approach to take? And if not, do you have any specific tactical advice on how to bootstrap a marketplace? Thanks mate. Bye.

Rob Walling:
All right. So my first piece of advice is don't. I don't know, why does everyone do this? Just stop with the marketplaces already. Just build a SaaS app or build a step one business and provide value when you have one customer, or 10, or 100, you provide the same amount of value. Charge real money for a real product that you sell to real customers and really stop it with the two-sided marketplaces. Now with that said, I will answer your question of if someone put a gun to my head and said, bootstrap a two-sided marketplace, what would I do? Well, number one, I wouldn't bootstrap it. I'd raise funding because you're going to be fighting a war on two fronts, so you're going to need a lot of ammo. Number two, I would build one side of the marketplace first. So if you recall when I say don't bootstrap a two-sided marketplace, the end of that sentence is unless you already have access to one or both sides of that marketplace.
So for example, if you think of starting a startup accelerator or a venture fund that's going to invest in startups, it's a two-sided marketplace. You need to find both investors to invest in your fund and you need to find founders who are willing to take money from you, who are interested in what you offer. So if I had neither of those, I would not start a venture fund. I would not start a startup accelerator. It just so happens that through this podcast and MicroConf and all the stuff, the blogging and the books and everything that I've done since 2005, I happened to have access to both of those and frankly, didn't know I had access to the investor base. But as we did raise the funds, I realized just how powerful it was to have built the audience and the network and the brand that I do have.
So with that said, how do you translate that to you? Well, I wouldn't go out and start a marketplace. I would start a service or something that provides value to designers. Some examples, Dribbble started years ago. Should Dribbble maybe start this marketplace? They probably should because they already have access to them. So how do you replicate that? I'm not saying replicate Dribbble, I'm saying replicate the access to all the designers. So whether that's a blog that they all start reading, think of like Smashing Magazine could do this, right? Because they have a bunch of designers and they would just need to then bring in people who want to hire designers. That's not that hard. So do you start with a content play to drive designers and you build that up over a year?
See, people who start two-sided marketplaces don't want to hear this, right? It's like spend 6, 12, 18 months building up one side of that audience and then boom, your cold start problem really is not that big of a deal. That's when you can bootstrap it. So whether it's a content play, you start a blog, whether it is a gallery or whatever you call it, Dribbble, which is where you can post, like a portfolio site and you get a bunch of designers on there, whether you are teaching things, whether you start a stack exchange like thing for designer. Whatever it is, start something that gets a bunch of designers there and now you only need the other side of that marketplace and that other side actually isn't that hard to find, right? You could do that through ads, you could recruit one on one. We know a lot of people who want to hire good designers. So thanks for the question, Ben. I hope those thoughts were helpful.
Our sponsor this week is Lemon.io. Imagine you have an idea that just might change your corner of the world, but you don't have the engineers that you need to bring it to reality. It's hard to find great engineers quickly, especially if you're trying to reduce your burn rate, unless you have a partner who can provide you with more than 1,000 on demand developers, vetted, senior, result-oriented and unstoppably passionate about helping you grow. All that, at competitive rates.
Sounds too good to be true? Meet Lemon.io. Startups choose Lemon.io because they only offer handpicked developers with three or more years of experience and strong proven portfolios. Only 1% of candidates who apply get in so you can be sure they offer only high quality talent. And if something goes wrong, Lemon.io offers you a swift replacement. So you are essentially hiring with a warranty. To learn more, go to Lemon.io/startups and find your perfect developer or entire tech team in 48 hours or less. And if you start the process now, you can claim a special discount exclusively for podcast listeners. 15% off the first four weeks of working with your new software developer. Stop burning money, hire developers smarter. Visit Lemon.io/startups.
My next question is also anonymous, and it's about acquiring an app. Anonymous writes, "I'm in the middle of buying a web app right now, my first one. Based on my initial conversations with the seller, it looks like I can get the app for two years worth of revenue." And he tells me the numbers, asked me to keep it confidential. It is low revenue and almost certainly does not have strong product market fit unless he's just not marketing it at all. Otherwise, I would expect the revenue to be higher. Back to the question. "I do have some concerns. First, the tech stack he uses is non-standard and it's not hosted on one of the major cloud players. I'm an engineer but my preferred stack is not the one that he's built it in. And I'm sure I could take the time to learn his stack, but I'm not sure I want to learn everything from scratch on a new code base. Second, the app is based in a particular country and the domain name is not a dot-com, it is that country's top level domain."
So for example, there's what co.UK or .DE for Germany. It has that specific thing. "And when I signed up for his app, the registration email went to my spam folder." So that's a little disconcerting. "That said, there are a few positives to the deal. I was considering building my own competitor but figured if he would like to sell, I could kill two birds with one stone and eliminate competition, essentially have a good business which I could take over and improve. I believe I can take this to the next level. How should I go about valuing such a business and figure out whether or not it is worth acquiring?" Yeah, this sounds kind of rough. I'm going to be honest. At this level of MRR, and just for you as a listener, I'm going to say it's somewhere less than 2,000 MRR. At this level you don't have much, right?
You have a few customers and you have a code base, but it's a code base that you don't even want to code in and you don't have enough revenue to hire someone to run this business or to code on the business. Now, I bought an app called HitTail that was doing, it was right around 2,000 actually. It was probably 2,000 MRR. I paid 30 grand for it back in 2011, and it was in classic ASP, which is a language I knew but didn't want to code in and would be hard to find developers for. The reason I bought it though was that it had been a lot bigger. It had had a free plan, it had a bunch of links and mentions in the New York Times, Wall Street Journal, Forbes, Entrepreneur because the previous owner was a PR person. And so they got a lot of press mentions when the app launched in like '06, '07, and then it was just kind of dying off in 2011.
But I knew that there was a lot of data, there was some proprietary stuff in the code, but there was also just this big footprint that I knew I could build SEO on and I knew that it had stuff that would've been hard for me, hard or impossible for me to replicate. And so that's what I'd be looking for, is if you're going to pay this sum for this app, it's like is the code base a year's worth of work, six months worth of work? Or, do they have already a flywheel of SEO or something else going on? Or did they do a launch? Customers trickled in and they're just kind of hanging around because you kind of have a cold start problem. You're a little bit ahead of where you would be if you were just starting out. But I struggle with having to get a new domain, because you have to get a new domain for this because I wouldn't leave it as the country specific. I'm assuming you want it to be more general.
I'm less worried about the fact that it went to your spam folder, that stuff can be fixed. But the tech stack, if this was doing 20 grand a month and I had product market fit, well, it's a whole different story. I know it'd be a lot more expensive. But then you could say, "Well, is it worth rewriting this?" Right? So that's what happened in the end with HitTail is I worked on it, I hacked the code myself for a bit. It was pretty painful because classic ASP, even in 2011 was like over 10 years deprecated. But I did later find a classic ASP developer who worked on it and then I got HitTail up to about between 20 and well it was about almost 30 grand a month. And then when I was thinking about selling it, because Drip was taking off one of the developers I'd hired to work on Drip, we were Ruby on Rails stack, I had him rewrite HitTail in Rails and that made it, I'd say, a sellable asset at that point. Because I think in classic ASP would've been very, very hard to sell.
But it doesn't sound like the parallels match up with this app and I would either be looking to acquire it for less money. And personally, I don't even think the purchase price is the problem. I think it's more of even if you paid half of what you suggested, is this still worth it? And that's where there are some details that I would need to dig into, to really know what the value it is that you're acquiring. Those are my thoughts, Anonymous. I hope they were helpful.
My last question of the day is from Prabat. Subject is Mom Test. Pratt asks, "Hey, Rob. I've been following the instructions on your podcast. Let's hope someday I will be able to write in and be a proud listener with a successful business. I've been doing some mom test interviews for my products. However, sometimes I'm still scared of being copied. I know I might be paranoid. Am I?" Keep sharing.
So number one, products. Why are you working on multiple products at once? Focus on something and roll with it until you decide to bail on it and then move to the next one. But the other thing is, yeah, this fear of being copied, if I were to tell you, oh, don't have any worries about being copied and then someone copies you, that kind of sucks because it can happen. It's just very, very, very, very rare. It's more likely that you're going to be copied if you launch and have success and talk about it online. And then at some point… We saw it happen with Baremetrics. We've seen it happen with some other apps.
I mean even Drip, Drip started having success and then there were some kind of copycats that crept up. When HitTail was having success, there were copycats too. That was kind of an interesting one. It was like the exact same value proposition. But someone sees you having success and they come out of the woodwork to do that. The thing you have to keep in mind is, number one, you are going to have to out execute competitors at some point. The other thing is hopefully you have some secret sauce, you have the knowledge or the skills to be able to implement this. And I would question if most of the people, unless you're talking to a bunch of aspiring startup founders in MicroConf Connector on Indie Hackers, then yeah, maybe some of those people would copy you. But if you're serving a niche of non-starter founders, it's just the odds of someone copying you are so, so small.
And even within the startup founder space, everyone has their own ideas that they love. I'd say it's more unusual for someone to do this than I think most people think. With that said, it obviously happens from time to time. In fact, most of the things I've done in my life that were worth doing were copied at some point, including TinySeed, people have tried, after MicroConf had success, people have tried to compete with that. And that's where you do have to think about how can I build moats? How can I build a brand such that if they replicate my features, it doesn't matter because they're a commodity and I'm not? And this is where you have to think about, eventually you are going to have competition. And while you don't want it right out of the gate, I think the value of doing mom test interviews or the value of validation and the value of talking about your product before it launches outweighs the risk that someone copies you.
That's just a personal decision for me. Everything I've ever launched, I've talked about way in advance of launching it. Drip had a 3,400 person launch list before we launched. And that was because I was talking about it far and wide on this podcast, on every podcast interview that I was doing around that time. I was running ads to it and we didn't have a product, right? But someone could have come along and copied that. But I figured, well, someone will do it eventually. And at this point, I wanted the interest, I wanted to beat the drum and have that great launch list and that early traction. And to me, that was way more important than the potential small percentage risk that someone was going to copy my idea. So thanks for the question Prabat, I hope that was helpful.
That's our final question of the day, but if you have a question you'd like answered on the show, please email questions@startupsfortherestofus.com, or just head to the website, click ask a question in the top nav and you can submit a video or audio, which goes to the top of the stack. Or if you submit text, I will definitely get to it at some point. Thanks to everyone who keeps sending the questions in. I think these episodes are super helpful for the audience. I've had overwhelmingly positive feedback about them and there are no episodes like this if people aren't sending in their listener questions. So thanks to everyone who's been sending them in. This is Rob Walling signing off, from episode 637.