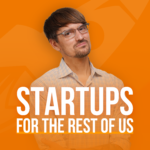 In episode 636, Rob Walling chats with Claire Suellentrop about the new book she co-wrote with her co-founder, Georgiana Laudi. The book is called Forget the Funnel: A Customer-Led Approach to Driving Predictable Recurring Revenue. Gia and Claire have run a consulting firm for the past several years where they are working with startups and SaaS companies to help them learn more about their customers in order to drive more revenue. And this book is a distillation of their learnings.
Topics we cover:
1:09 – Why did Claire name their new book, Forget the Funnel?
2:36 – A three-step approach for unlocking customer-led growth
3:09 – A framework for getting inside your customers' heads
14:01 – How to learn from future customers
20:21 – Applying and operationalizing all your customer insights
Links from the Show:
If you have questions about starting or scaling a software business that you'd like for us to cover, please submit your question for an upcoming episode. We'd love to hear from you.
Subscribe & Review: iTunes | Spotify | Stitcher
Rob Walling:
Welcome back to Startups For the Rest of Us. I'm Rob Walling, and in this episode I'm talking with Claire Suellentrop about the new book she co-wrote with her co-founder, Gia Laudi. The book is called Forget the Funnel, A Customer Led Approach to Driving Predictable Recurring Revenue. Gia and Claire have run a consulting firm for the past several years where they are working with startups and SaaS companies to help them learn more about their customers in order to drive more revenue. And this book is essentially a distillation of a ton of their learnings. So with that, let's dive into my conversation with Claire. Claire Suellentrop, welcome to the show.

Claire Suellentrop:
Rob, thanks so much for having me.

Rob Walling:
It is so nice to talk to you again. It's been… I was trying to think, was it MicroConf, do you remember, 2017 in Vegas?

Claire Suellentrop:
2017 or '18. But really in either case, what feels like a lifetime ago now.

Rob Walling:
It's been a while. Yeah. Well, and I was telling you before we hit record, it was super cool to meet your co-founder of Forget the Funnel, Gia Laudi. It was super cool to meet her. And today we're here to talk about the book that you have co-written with Gia. It's called Forget the Funnel, A Customer Led Approach to Driving Predictable Recurring Revenue. First question, Forget the Funnel, why that title? And I think it's the name of your company as well, but where did that phrase come from?

Claire Suellentrop:
Yeah, it is the name of the company as well. And Gia was just recently on Lenny Rachitsky's podcast. They were discussing the same why Forget the Funnel. And there's this really funny clip of Gia going, "Funnels are gross." But to be more specific than just funnels are gross, what that really speaks to is the fact that even prior to Gia and myself having met, we were leading marketing at two different, both very fast growing SaaS companies, way back in the wild days of the 2010s. And really it speaks to the reality that for a SaaS business, for a recurring revenue-based business, thinking of marketing as an activity that ends when a new customer signs up is just the tip of the iceberg. Because if the business lives and dies by customers being retained over time and expanding their usage over time, then the idea of a funnel doesn't really work as an analogy anymore.
That is the origin story of Forget the Funnel. We bought the domain when we met in person probably about a year before my first time speaking at MicroConf. So it's been, what is that, I guess coming up on six years now that we've been working under that moniker.

Rob Walling:
Yeah, well the cool part about it is it's so intriguing because the first time I heard it I was like, "Well, what does that mean?" And maybe want to ask more. And that's a cool phrase. That's a cool way, a purple cow if you will, that gets someone's attention. And so in the book, you've actually broken it up into three sections and you have this three phase process for customer led growth. The first step is get inside your best customer's heads. The second is map and measure your customer's experiences. And then the third is to unlock your biggest growth opportunities. Let's start with the first one. Get inside your customer's heads. Is this Jobs to be Done interviews? How do you go about getting inside customer's heads? And actually you know what, I'm going to pause that question and I'm going to go back and say does this apply to really early stage folks? If I have 10 customers, I'm doing $300 a month, am I too early? Or where are we starting to think that we can take this approach in this book?

Claire Suellentrop:
That's a super good context setting question. So, the process or the framework that we've put together over the years can be used at the super early stages to at least guide your efforts in figuring out who your best customers are, how they think, what the struggles are that they feel. It definitely is more suited to and more kind of easy to walk through when you have a larger set of healthy, engaged, paying customers. There's two chapters right next to each other, Learning From Customers and Learning From Future Customers.
And the future customers one really speaks to that experience of being early days enough with your product that you don't have an ideal customer base to learn from. But when we talk about getting inside your customers' heads, and you mentioned job interviews and that is a part of it. But even before that, where we really start when we're working with a company is getting clear with the team on whom within your customer base right now gets your product? They get it from a mindset perspective. They're not trying to force it to work in a way that you didn't really design it to. They're low burden on your customer success team. They pay for it happily. They're not asking for discounts and they're the people that you want to go clone more of.
So in contrast, I was recently just on a kickoff call with a company we are in the process of starting to work with right now and I had the head of sales there, the CEO, the president, really important people, stakeholders in the room. And in this conversation I was trying to get from them, who is that best customer for you at this point? And asking that actually helped them realize we don't actually have internal alignment on what makes up a best customer. We've got these big enterprise deals that we've pulled through the sales process that are healthy from a monthly recurring revenue perspective, but also we don't really know if we want to serve the enterprise or if we want to move down market and expand. And so it triggered this whole internal reckoning.
So getting clear on who your best customer is in the first place is ground zero, step number one. And then from there, yes, using jobs interview. We also have a short survey, which is kind of like a mini jobs application, mini jobs interview to understand not just why did they sign up for your product, but before that, what was the trigger in their life that made them realize their old solution wasn't working? And then what were the methods they used to find new ones, which is massively useful in prioritizing your marketing channels. And then when they found your product, what was the differentiator that drew them to you versus anything else on the market? And oftentimes what we find from that is internally teams don't really have a research back sense of what differentiates them in their customer's eyes.

Rob Walling:
And that's where surveys and interviews. There's different ways to couch it from there. If someone's hearing this and already they're like, "Take my money," they can go to forget the funnel.com, there's a link in the footer called our book and you can get the pre-release because the book comes out next year in 2023. But you can get a PDF of the book for $25 if you want to check it out.

Claire Suellentrop:
Yes. And additionally, if you want to just shoot me an email, if you do want to buy the book and then you want access to the Jobs to be Done interview questions that we use, we have those for free in our resource library on our site. So, we've got lots of materials to help with that piece as well. I know interviews can be really intimidating for some.

Rob Walling:
Yeah. But what I like is that 10 years ago I would hear talk to your customers and I was like, I don't know how to do that.

Claire Suellentrop:
What does that mean?

Rob Walling:
Yeah. And now there's books like Forget the Funnel there. I had Jim Kalbach on the show. He has an amazing book now I forget, I think it's called Jobs to Be Done colon, some subtitle, but someone could search the archives if they want to see it. Michele Hansen has a book, Customer… Do you remember the name of it? Deploying Empathy I remember because it's a pun on deploying code, Deploying Empathy.

Claire Suellentrop:
Yeah. I love what she did with the title. I guess I've been under a rock because I had not heard of Michele's book until just a couple of weeks ago. And then I was like, oh my god, everybody needs this.

Rob Walling:
Right. And that's the cool part is I just named three people who are talking about Jobs to be Done. [inaudible 00:07:40] is another, but you each have different angles on it. And that's what I like is for me, I am absolutely still a nube talk to customers person. Each time I read one of these books, like Forget the Funnel, I think, oh, that's a different angle on that, even though I've heard pieces of it before. Because as you and Gia you're running…. Do you call Forget the Funnel a consultancy or an agency?

Claire Suellentrop:
We call it a consultancy. It could be a whole nother conversation on are you an agency, are you a consultancy? How do you figure that out? But yes, we do call it a consultancy. So keep going.

Rob Walling:
And you're working with SaaS companies day to day. And so I imagine years and years of experience doing that. It just piles into your brain of these are the best practices and these are the ways we do it for our customers and that our clients and that's what's baked into this book.

Claire Suellentrop:
So I really like that you raise that jobs can be applied in different ways. And if you Google Jobs to be Done, there's even of the people who develop the framework, there's different approaches and applications of it. So, you're absolutely right that the way that we run these interviews and these surveys is what has worked really well for us over the course of working with SAS companies for the past however many years. But that said, there is such a wide application of the jobs framework. So it was the same year that I spoke at MicroConf big year for speaking. I spoke at Business of Software and I was so intimidated because I was giving a talk about using Jobs to be Done for messaging and copy. And Bob Meoesta was in the audience and I was just terrified because this person who pioneered this framework is watching me present on it. But he was such a chill guy.
And afterward I shared that with him and he was like, "You got to know, you've taken it and you've figured out a new way to use it and that's great. And somebody else is going to take your way and they're going to figure out a new way to use it. And that's great." And there was a lot that you can do with the jobs framework. This just happens to be how we have kind of operationalized around it, so to speak.

Rob Walling:
And I like your thought process in the book. You have some prescriptive questions and you have examples of bad questions and good questions. You have leading slash closed questions and then in this table you have on the right, you have open ended and good questions. So I want to read the bad and the good. The bad one is, "Are you happy with your experience so far?" Presumably using my SaaS product? And the good phrasing of that is, "How would you describe your experience so far?" Because it's not leading. You're not saying, "Are you happy?" Because then it's like uh. And then another bad one is, Which competitors have you tried?" Versus, "How have you tried to solve this problem in the past?" So again, open ended not leading. And then the last one is, "Which is your favorite feature, A, B, C, or D?" Versus, "When you first tried a product, what was it that convinced you it would solve your problem?" You have a whole list of questions that you can ask. I assume these are just taken from practice and practice and you doing a bazillion of these interviews.

Claire Suellentrop:
That's exactly right. And the I guess rule of thumb that guides all of these is when you're trying to figure out what experiencing your product was like for a customer, the goal is to get out of their way. We all have the curse of knowledge about our own products. We know all the ins and outs, we know the full feature set, but customers don't live in the world of your product day to day. And so by keeping these as open-ended as possible, you actually invite them to give more organic and natural responses. And it's really surprising. It sounds common sense to say, oh, to the point you raised earlier, learn from your customers. But there is a lot of surprising amount of technique involved to make sure that you're not accidentally adding in bias or giving them a false set of choices that they wouldn't have made for themselves.
So that last one, for example, which is your favorite feature, A, B, C or D, could give you an indication of, okay, of these four features, this many people said this was their favorite. But had you left that question open ended, they could have volunteered a totally different aspect of the product that you wouldn't have even been aware was important. So, learn from your customers is, it's really good advice, but it's very generic. And so what we were doing with the book is trying to remove that level of vagueness around talking to your customers so that it can be a more paint by numbers practice.

Rob Walling:
And that's what I like about it. I like fairly prescriptive books. And how do I say this in a very complimentary way? What my books get complimented on is people say your books are short, but they're really compact. And this is, I have a pdf, it's 121 pages. I can read that in a few hours in an afternoon and I don't need a 400 page treatise on Jobs to be Done or in talking to my customers, I really want 100 to 200 pages of just tightly packed with examples and pretty prescriptive these days. When the book tells me, "Talk to your customer" and then has three paragraphs about what that looks like, I'm like this is not helpful. But you have, "Here's the questions to ask. Here's a way to ask it in a good way and a bad way."

Claire Suellentrop:
The level of brevity and compactness, I have to give credit to April Dunford for. I'm sure many folks listening have already read her book, Obviously Awesome. It's on positioning your product. And she described speaking to her target audience, which is founders and executives at mostly B2B, more enterprise SaaS companies or tech companies. And she would ask, "When do you do most of your book reading?" And the answer that she heard a lot was, "Oh, if I'm on a flight somewhere or if I'm driving somewhere, I'll listen to an audio book." And she was like, "Okay. So on a flight, how much of a book do you usually get through"? And a very common response she got was, "I don't know, about half." And so she decided, okay, I'm going to write half a book. And we took that example, that experience that she had and ran with it, number one, because she's very successful and smart. And two, because we really appreciated how compact and actionable her book was. And we wanted to emulate that with ours as well.

Rob Walling:
I wrote my first book was 40,000 words. It's 204 pages in a pretty small format. And I did it because I was so tired of slogging through bullshit books that were padded to fit on a Barnes and Noble shelf and have a spine that was wide enough to whatever. And my spine was not wide enough to have anything on it. But it didn't matter because we're selling in a new… It's like five hour audio book or something.
Our sponsor this week is lemon.io. Imagine you have an idea that just might change your corner of the world, but you don't have the engineers that you need to bring it to reality. It's hard to find great engineers quickly, especially if you're trying to reduce your burn rate, unless you have a partner who can provide you with more than 1,000 on demand developers. Vetted senior result oriented and unstoppably passionate about helping you grow all that at competitive rates. Sounds too good to be true. Meet lemon.io. Startups choose lemon.io because they only offer hand-picked developers with three or more years of experience and strong proven portfolios. Only 1% of candidates who apply get in so you can be sure they offer only high quality talent. And if something goes wrong, lemon.io offers you a swift replacement. So you are essentially hiring with a warranty.
To learn more, go to lemon.io/startups and find your perfect developer or entire tech team in 48 hours or less. And if you start the process now, you can claim a special discount exclusively for podcast listeners. 15% off the first four weeks of working with your new software developer. Stop burning money, hire developers smarter. Visit lemon.io/startups.
I want to ask you about, so chapter four is called Learning from Future Customers and I'm intrigued by that phrase, tell us what that means and if you have an example you'd like to give so folks can understand it, that'd be great.

Claire Suellentrop:
Sure. So future customers could also just mean target audience. There's nothing that really sets it apart from the target audience concept, but two chapters back to back that both say learning from some type of customer just seemed to be a better theme. Examples though. Okay, so this does speak to how this process can be adapted if you don't yet have a bunch of happy, engaged paying customers to learn from. So, the best example I can reference is actually the one that's in the book itself. I could come up with others, but the innocent spring of 2020-

Rob Walling:
I remember it so fondly, wasn't it great. How is this story going to end, Claire?

Claire Suellentrop:
Oh no, I'm already waiting for the punchline. We had started working with this really cool product that targets restaurants. So really, really robust basically all in one restaurant management software. So it managed the front of house, it managed payment acceptance, it managed back office things, like bookkeeping, product inventory. It was this big product, long sales cycle, heavy implementation. Especially if this company's target customer is restaurant groups that have at least several locations and they have a large enough operation that they realize they need to streamline things. Well, then COVID hits and every restaurant is forced to shut down and they're trying to figure out how to stay alive. And Gia and I are like, "What are we going to do?" No one is in the market for operations software right now. They're all trying to figure out how to keep the lights on.
And so we have to sit down with the team and admit as a group, "Okay, we know this thing is not going to sell as is until restaurants are in a better position. So, what can we do in the meantime?" And what we started doing was looking around at various Facebook groups, forums, different online spaces where restaurant owners and managers and operators can hang out because even though it's a very, very large market, it's also a very connected market. There's a lot of online activity within this target audience. And what we saw as a pattern was, and I'm sure you experienced this as well, a lot of restaurants had primarily… They hadn't had to prioritize their online presence prior to COVID. Maybe they were just super popular in their region and they got a lot of foot traffic or their online presence was really just a display of their menu. But suddenly everybody's like, "Oh my God, we have to become a takeout restaurant now. How the fuck do we do this?"
So within the larger feature set of this product was a really genuinely pretty simple and clean online menu and ordering system. And so what we did was with the team, we pulled apart, and I don't mean from an actual product perspective. If customers signed up through this experience I'm about to describe, they basically sell all the other robust functionality hidden away. And we in a sense from a marketing perspective, separated out this online menu and ordering system part of the product and made it free and available to restaurant owners or managers who were trying to get set up with an online ordering system for the first time. It also had the competitive advantage of if you wanted to not only directly accept orders, but if you wanted to take orders through DoorDash and Uber Eats and all the other third party players, it had that capability as well. And so with that, we launched a wait list to see, okay, is there enough room in the market for people to even be interested in this right now? And it turned out that the answer was yes.
So, I'm describing something that sounds like we came up with it over a weekend, but obviously this was several weeks worth of work to go out, learn what pain points people were expressing in the various environments that they hang out in, come up with a way to map a specific feature of the product to that pain, build out a landing page that has messaging that matches that pain to see, okay, is there demand? And ultimately the company ended up onboarding I want to say it was just under a thousand different restaurants onto that mini version of their product. And those that actually ran restaurant groups later then became paying customers of the full fledged product. So, hit me with follow up questions because I know I kind of rambled through that, but that's one example of target audience research versus customer research.

Rob Walling:
Yeah, no, that was a really good example actually.

Claire Suellentrop:
It's very akin to Amy Hoy and Alex Hillman's 30 by 500 approach where they talk about sales safari. So if anyone's listening and went through 30 by 500 or read any of their books, this should probably sound familiar.

Rob Walling:
Right. As you said, it's audience research. It's going out, people who aren't using a product already because really the latter half of the book focuses on you have a customer base. How do you find more people like that? It's about growth, not necessarily this can be applied to early stage customer development, but that's not what the book focuses on. The book focuses on, you're here, you've had some success to whatever degree. I would say 10K MRR, 100K MRR. There's some number that you have, now let's double down on that. And how do you provide them with enough value that they stick around and how do you then find more people like them? Find more customers.

Claire Suellentrop:
Yeah. A lot of companies when they come to us, they have reached some level of success, exactly like you said. And they're like, "Okay, how do we double down on that? Or we've gotten this far mostly through word of mouth. We've never done really any organized marketing. Or we've tried marketing, but it's been really piecemeal. One time we ran some ads, one time we tried blogging, one time we tried a podcast, but we don't have a system in place yet." So that level of we've gotten this far, now how do we get this far is I would say, yeah, really the sweet spot for where this makes the most sense.

Rob Walling:
And a really good example I'm seeing in the book is a company that our listeners should be familiar with. It's SparkToro. Rand Fishkin has been on this podcast at lease once. I'm actually an angel investor in SparkToro. And so I've talked about them before. But something, if we jump into the latter part of your book where you talk about, let's say you do interviews, you do surveys, you have this information, how do we then operationalize that? How do we take that? There's a whole section I'm skipping due to time, but it's about mapping it. Mapping the raw information to kind of takeaways, that's not the technical term, but a term I'm going to use here. But then how do you take that and you bridge your customers success gaps? And I know that you did a project with SparkToro where it was something about, was it onboarding? It was struggling to reach first value. Can you talk us through how that worked? And wherever you want to start in that process would be great.

Claire Suellentrop:
Yeah, so this is one of my favorite aspects of the whole process. So as you mentioned, part of the middle of the book that we're kind of skipping past covers the process of taking all this raw data that you've just gathered and figuring out what the so what is. And we do in the book and with the resources we've built, we have a pretty systematic way of being like, "Okay, this question we asked provides this data. Question two provides data point B." Anyway, once you've gotten past that, then what you have is this organized understanding of four customers who are hiring your product for a specific job to be done. What were the particular aspects of your product that they found especially valuable in solving their job to be done?
And what we get to do at that point, which is always a huge value and so much fun with companies, is map what customers say is valuable to the actual product attributes that create that value. So the customer says… Let's actually use SparkToro as an example. We've found a couple of different jobs to be done people hire SparkToro to do. But just one example was it makes me look good in front of my clients or my boss or whoever I have to pitch my marketing plan to because I've got data to back it up. So knowing that it makes me look good or smart in front of other people tells us, "Okay, what are the features in SparkToro that enable someone to do that?" There's an export feature. There is a invite other users feature. What are all the other… We can basically sit down with the SparkToro team and say, "Tell us all the ways that someone can take the data they got from SparkToro and make it visible to other stakeholders." So, that's just one.
There's other value themes that people express with SparkToro. There's one that I'm forgetting now. I think it was being able to monitor trends over time on certain searches and SparkToro has this lists feature where you can… I'm going to mess up the exact tying of the functionality, but all said and done, customers say these things are valuable, these are the features that deliver that. With that understanding, you can then, honestly, we do encourage people to put themselves in their customer shoes and go through the experience themselves. So Google your own product's name, click on what the search result is, look at your homepage, look at your product page. Where are all the different places that that value isn't being conveyed or made obvious as it could be? So with SparkToro, there was huge opportunity to better convey that value that customers found and the features that drive it in the onboarding process.
So there were a number of things that they implemented. One, their head of marketing, Amanda, who is a rockstar, wrote up an onboarding email series highlighting what those features were and where you could find them within the product. I want to say the team implemented a product like an onboarding checklist. So create your first list, invite your first team member, or do your first export, whatever it might be. So really what they were doing was onboarding optimization or conversion rate optimization. But instead of it just being based on generic best practices, they were doing it through the lens of what their best customers found valuable and using that as the way to decide what actually needed to change about the experience.

Rob Walling:
That's super cool. So, they implemented that and what were the results?

Claire Suellentrop:
Yeah, so it was about a month later that we checked in to see how things had gone. And just by the onboarding updates alone, no changes to anywhere else outside of the experience, they had doubled their trial to pay or their free to pay conversion rate in a month, which is wild.

Rob Walling:
Crazy. Yeah, that's great. That's what we call low hanging fruit is finding something that is not months or years worth of work to widen your top of funnel or do whatever. So, that's a pretty big win. Claire Suellentrop, thanks so much for joining me. If folks want to keep up with you on Twitter, you are Clairesuellen, S-U-E-L-L-E-N. Of course we'll link you up in the show notes and as I mentioned at the top of the show, forgetthefunnel.com and there's a link in the footer to buy this amazing book.

Claire Suellentrop:
Thank you so much for the kind words and for having me on. Always good to be chatting and see you in Denver next year.

Rob Walling:
Absolutely. Yeah. We should take this moment to say that as of maybe a week ago I learned that you're speaking in Denver, MicroConf US in Denver in 2023. And so we'll get to hang out again. That'll be awesome. And then the book will be launching around that time too?

Claire Suellentrop:
Ideally the goal is to have the physical copy ready in advance of that timeframe, so as long as Gia and I can stay on track.

Rob Walling:
Yeah, I know how that is. I'm working on my I have my fourth book right now and I just finished the manuscript. And I look out and I'm like, I need type setting, I need design, I need a cover design, I need printing, I need… I'm like, man, it's going to be months and months until I can get this thing out of here, so I feel your pain.

Claire Suellentrop:
Yeah. Well best of luck on the… Are you already done with the manuscript? You said you just finished the manuscript?

Rob Walling:
Yeah.

Claire Suellentrop:
Okay, congrats. Congrats on that milestone.

Rob Walling:
Yeah. Thanks. Needs to get edited, but yeah, no, it's a good spot. But just so people aren't confused, you have a preview copy people can buy. It's a PDF, forgetthefunnel.com, if they want to check out the book. And if you're listening to this and you do buy the book at mention Claire and me, I'm @Rob Walling, and just thank Claire for coming on Startups Pod and dolling out the knowledge. Thanks again, Claire.

Claire Suellentrop:
Absolutely. Thanks so much for having me, Rob.

Rob Walling:
Thanks again to Claire for coming on the show and thank you for listening this week and every week. Whether it's 5 episodes or 500, I really appreciate you coming back each week, leaving your reviews, leaving your comments at mentioning Startups pod on Twitter. Mentioning it on Hacker News and Reddit and Quora and just anywhere people are asking about podcasts. All of this helps to spread the word and keeps me motivated to recording and shipping this podcast every week as we've done for the last 12 years. This is Rob Walling signing off from episode 636.