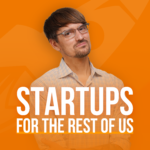 In episode 634, join Rob Walling for another solo adventure where he answers listener questions on topics ranging from naming your startup to initial aha moments and how to know if you have tapped out a specific niche.
Episode Sponsor:

Find your perfect developer or a team at Lemon.io/startups
The competition for incredible engineers and developers has never been more fierce.  Lemon.io helps you cut through the noise and find great talent through its network of engineers in Europe and Latin America.
They take care of the vetting, interviewing, and testing of candidates to make sure that you are working with someone who can hit the ground running.
When it comes to hiring, the time it takes to write your job description, list the position, review resumes, schedule interviews, and make an offer can take weeks, if not months.  With Lemon.io, you can cut down on a lot of that time by tapping into their wide network of developers who can get started in as early as a week.
And for subscribers of Startups For the Rest of Us, you can get 15% off your first 4 week contract with a developer by visiting lemon.io/startups
Topics we cover: 
2:38 – Naming your startup
6:02 – How to know if you tapped out a specific niche?
13:21 – Did you have an initial aha moment when you felt that this was the winning idea to start up?
22:25 – How would you value your time if you have a client that is gonna be competing in the same space?
Links from the Show:
If you have questions about starting or scaling a software business that you'd like for us to cover, please submit your question for an upcoming episode. We'd love to hear from you.
Subscribe & Review: iTunes | Spotify | Stitcher
Transcript
Rob Walling:
Bootstrapping cares if you can provide value to a group of businesses or individuals who are willing to pay for it. I view it as something that helped me improve my space in life, but also helped me achieve the freedom, purpose, and relationships that I had been seeking for so many years.
Welcome back to Startups For the Rest of Us. It's another week, another episode. It's great to be here with you. Thanks for joining me. I'm going to be diving into listener questions today. I don't know if it's the YouTube channel taking off, you should check that out, MicroConf.com/Youtube, or if it's just our audience and our reach expanding through the podcast and other avenues, but I'm getting a lot of listener questions these days, which is great.
Last week I was in Atlanta for MicroConf Local where I sat down with Ben Chestnut, the co-founder of MailChimp, and did what we call a SaaS snapshot where I asked him questions about starting up, about exiting, things he's learned in his 22 years as a SaaS entrepreneur, if you can believe it. But while I was there, I took a few minutes to do a little workshopping, customer development, as they say. It was just talking to a few of the founders who had shown up for that event.
I was asking folks about their opinions of specific Startups For the Rest of Us episode formats, ranging from we have interviews, sometimes I do founder hot seats, there's the Hot Take Tuesdays, there are question and answers, there's Rob Solo Adventures and all these things, and got some really helpful feedback from folks. What I heard is that the Rob Solo Adventures give people frameworks and thoughts to chew on, and that a lot of the questions wind up relating, even if they're not specific to that founder or that founder's niche, the specifics and the thought process of thinking them through is helpful.
It's good to have questions coming through. As always, audio and video go to the top of the stack. A lot of these are video today and they really did jump the line. I think we have almost 20 text questions now. If you're going to ask a question and you want it answered really in the next few months, to be honest, you're going to want to send it as an audio or a video question. You can head to startupsfortherestofus.com, click ask a question in the top nav. I'll dive into my first question in just a second. It's getting close. MicroConf Europe in Malta is next week. If you don't have a ticket, head to MicroConf.com/Europe and pick one up.
Hop on a plane. I'll see you there. I'm so excited. It's going to be amazing. Great speaker lineup. Of course, Malta, I've never been there and I'm really looking forward to it. With that, let's dive in to our first listener question.
Matt Laskerback:
Hey, Rob, Matt Laskerback with Player Book. If you remember, I asked a question about building an expensive MVP for my gamification of youth playbooks for sports. We did go ahead and get the expensive MVP going, so we're going to go ahead and have that in about a month. We're about halfway done there. I did have a question now that I'm approaching marketing about that. We are at a crossroads with the naming, at least initially, of this product. The initial MVP is built around one position on the sports team that is the most complex and I think will hook the right people to being interested in going through our demo process and feedback loop process.
But in the end, the app is more for everyone on the team, and that might be phase two or phase three. Before we get to that point, we want to solve it for this one very complex position. And from there, we can kind of roll it out to the rest of the positions on the team. The question is, do we name at least for the first year or so while we're getting the word out, do we name the product to that specific position, because I do think that will be an attention grabber for coaches, or do we name it, like I said, Player Book is my original name because it's for the whole playbook and the entire team?
Marketing toward the initial batching of customers, which will be the hook initially, or to the eventual product, which will be the whole playbook. See? It's in my head. Anyway, thanks a lot for everything you do for the community. Love to hear your feedback.
Rob Walling:
Thanks for the question, Matt. I do recall your question from a couple months ago. An answer to your question about naming it for the position that you're going to start in, kind of naming it for a niche, and then land and expand. Personally, names are pretty hard to change. Names start getting tied to your branding. They start getting mentioned everywhere you go in terms of podcasts. You leave a trail of naming breadcrumbs all over the place. If you answer a question on Quora, if you write a blog post, if you get something quoted or published somewhere, it's going to say Matt, who's the founder of Player Book, or Matt, who's the founder of XYZ Position Book, if you pick the XYZ Position.
Personally, I do not like changing names because it's almost like a positioning pivot, a branding pivot. It's pretty dramatic. I know some founders who have done it successfully when they realize that the name that they had chosen was not ideal in the space. One example of this is Ruben Gamez had a company called Docsketch that is now SignWell, and it's an electronic signature app. At a certain point, there was confusion with Docsketch and people would say Docusketch. It was just becoming a headache and an issue that he saw was only going to get worse. He did go through a complete renaming and frankly, it was a lot of work.
It's not just taking a domain and redirecting things, but it's all the other work that goes on behind that. A lot of these questions have and it depends, but in this case, I feel pretty strongly about what I would do in your case, and that's to go with Player Book.
Dylan Pierce:
Hi, Rob. I'm Dylan Pierce from Cleveland, Ohio, and I'm actually a short time listener. I really wish I would've found your podcast sooner. I've been doing devtrepreneur stuff on my own for about 10 years, and I feel like I could have accelerated my current growth if I would've found your podcast much sooner. I had to go through learning this various stages of app development and business development kind of on my own. My most recent attempt has actually been successful, but I've hit a plateau. I have an app on a very large e-commerce platform. The first year, it was doing pretty well. It was growing at a very solid fast rate, and lately, it's plateaued.
I'm wondering if it's possible to tell that you've tapped out a niche. My apps are a certain niche within this e-commerce platform, and I'm wondering if it's time for me to try to address this niche in a different e-commerce platform with a different app that provides the same solution, or perhaps just add another solution to the existing e-commerce platform I'm familiar with, target it towards the same-ish audience, but with a slightly different solution. How would you determine that there's no more customers available for you in a certain integration or platform? How would you handle overcoming this plateau and bring your business to the next level?
Keep up the great work. Love the content. It's very easy listening and very approachable for someone who knows enough development experience to be dangerous and build their own apps and build a business without losing your mind and taking VC money, which is awesome. Great work.
Rob Walling:
Great question, Dylan. Thanks for sending it in. Short time listener, I love it. I love new listeners finding the pod. I like this question because it is a scenario I have lived a few times, and this actually is one of the reasons that there exists a stairstep method for bootstrapping, right? My concept that I talk about where you start with a step one business, which is often a product that has a lot of platform risk. It's built on someone else's platform or app store. You do that so that you don't need to learn all the ins and outs of marketing and you can make a thousand, $10,000 a month, but this is never going to be seven or eight figure business.
And if it becomes that, it's actually going to have so much platform risk that you could potentially have the entire company tanked by said platform. Dylan, it sounds to me like you've built a pretty amazing step one business, which is great. This is how I started too. This is how I see dozens and dozens of entrepreneurs starting, whether it's an info product, whether it is a Heroku add-on, a Shopify add-on, a WordPress plugin, something built within an ecosystem where the marketing and distribution is mostly handled for you and you just have to worry about writing some copy, doing some support, and continuing to write code and maybe build out features.
Or even in the best cases, you've already built the features and there really is not ongoing development, because those are actually the best kind where there really isn't development, it's almost more of an autopilot thing. In your case, you have basically an add-on in a large e-commerce player. I'm going to assume it's Shopify or Big Commerce, WooCommerce or Magento, right? You're making a decent chunk of money, I'm going to assume 1,000 to $5,000 a month, which is a great step one business. And that makes your car payment, makes your house payment, and it can help you have revenue to then parlay into the next step one business.
You get to step two, that's when you have enough money coming in monthly to essentially buy out your time, own all your time, and then you can start working on that more ambitious SaaS product or more recurring revenue where it's a standalone SaaS with a lot less platform risk. What I'd be looking at in terms of is this a step one business and has it plateaued is do I rank in the top three in the App Store? Do most of my customers come from the platform? If they do, do I rank in the top three for the main term or two? If my churn is basically churning out as many new people as I'm getting and I have plateaued, next question I ask is, is it worth going outside the app store, outside the platform to market it?
Can I do SEO to rank in Google for these terms? Are people searching YouTube? Is it worth running pay-per-click ads? Very likely not. Is it worth running ads on Facebook or Instagram? Probably not. But these are other avenues. I actually spent a ton of time, probably six to nine months, trying to expand a step one business, going through all these steps, trying to SEO, pay-per-click, run display ads, doing all types of things, and I could never get it passed… This was DotNetInvoice. At its peak, it was doing about five grand a month, but realistically, most months it was doing 2,500 to four grand. This was not recurring revenue. It was a one-time download.
This is 2006, and I owned that for four or five years before I gave it to a business partner. But I spent a lot of time trying to expand it until I finally realized, unless we completely rewrite this or really expand into different languages and other things, because it gave away the source code with it, so that was one of the key selling points, unless we have multiple source code versions of this or unless we really do expand it, as is, this product really plateaus. It's a niche within a niche. That was when I realized, well, I actually want multiple step one businesses and clawed my way up to step two. For you, I'd ask that question, do I already rank high in the store?
Do I need to work on my App Store optimization to rank higher, or can I just expand my top of the funnel by doing the steps I just said with SEO, pay-per-click? Answer to those very well might be no, and that's okay. And lastly, I'd be looking at how many people am I churning out and do I feel like that number is decent? And if my churn is relatively low, then yeah, I think I've topped out. But if my churn is high, like higher than usual, and I don't know what rules of thumb are in your ecosystem, but that's where I'd be in a private Slack group or a forum or Quora or whatever to try to find out what is a reasonable churn rate in this space?
And if my rate was high, well, then I'd be looking at, well, do I need to build features? Is there a way to retain people, because that can also help you grow past a plateau. Those are the three things I'd be evaluating and looking at. If I realize this business is about as far as I can take it, I would do exactly as you said, which is to be looking at the other platforms. That's probably the most likely thing I do. I mean, there are two options here.
You could go to the other three or four popular e-commerce platforms and build your plugin for those, or you can think about, does my plugin do something that could apply not to e-commerce, that could apply to SaaS apps or to creators, info marketers, that can apply to designers, developer, whatever else? You take the problem you've already solved and you repurpose that. Personally, I think going to other platforms is easier, simpler. You already know the e-comm space and how it works, and just going into the other platforms I think would be reasonable. Of course, I would be doing competitive analysis there where, does this solution already exist in those spaces, and is there an incumbent winner?
How hard is the App Store optimization to rank in these other App Stores? But I think it makes a lot of sense to want to expand it that way. That's probably the first thing I'd do. Frankly, back with DotNetInvoice, I didn't have that option. It wasn't an App Store play. It was getting SEO, some pay-per-click. Was that it? Oh, and some partnerships and such. I didn't have an easy out to just say, "Well, I'm just going to build this into another ecosystem." But that is certainly how I'd be thinking about it. Congratulations, Dylan. As a developer who is learning to market as you are and really is in step one and moving towards step two, it's a great place to be.
Today, you've built something people want and are willing to pay for, which is not easy to do. Congrats! I hope my thoughts were helpful. My third question is a text question. I actually snuck one in here because it's been sitting in the queue for months. I feel like it's a quick one. We'll see, but I kind of like the question. It's from Jonathan Zeller and he asks, "Did you have that initial aha moment when you felt that this was the winner idea to start up? And to follow up, what inspired you to start that first business?" I'll start with the second question. I wanted to start the first business because I, A, wanted to make more money.
I was always cash strapped as a kid. Kind of grew up working class, made 4.50 an hour at my first job. Really I was working construction out of college and I just knew that I wasn't going to work a salary job my whole life. I didn't feel like that was a way to have enough money that I could really call my own shots. And that was my goal, was to work on stuff I wanted to work on. It was never about the money. It was always about the freedom, the time freedom. That was something I had been striving for literally decades, like since I was a teenager. No, I guess it was in junior high. I would buy candy at Costco and sell it when we go on trips, or I'd sell it at school for 5X markup, 10X markup.
And then in high school and in college, I was writing booklets about comic book collecting and about other topics and I was selling them through classified ads. And then I always had zany startup ideas in the '90s as the internet was coming up. I could never implement them. I wasn't in those circles to think that that was a thing that I could do. But once it was the early 2000s and I started actually building websites and I realized, "Oh, I'm going to start a business on the web." I don't know what it's going to be, but I did want that next startup idea because I wanted to make it. I wanted to not have to work for other people.
What I realized is I thought that the Silicon Valley venture capital narrative was the only one, and that's the thing I kept chasing with these really dumb ideas, including DIG for personal finance. Remember what DIG was? I had one where it was a blog submission service called Flogz with a Z. Yeah, no, you cannot make this stuff up. But these businesses, I was thinking, well, I got to build these things and moonshots and it's got to be in the popular zeitgeist. Look, DIG is popular and blogs are popular. In the end, the first one that made more than a thousand a month was DotNetInvoice, which I've already referenced, and that was actually one that I acquired when it was in the alpha stage in essence.
I was looking through these entrepreneurial boards. Well, it was like web marketing boards, internet marketing boards, and someone said, "We're looking…" It was two developers. We built this product, DotNetInvoice. It's written in DotNet. They gave away the source code. You download it and ran it on your own web hosting account, right? Because this is 2005 or '06. SaaS wasn't a term or barely. It was Basecamp and MailChimp and I think there was AWeber and Salesforce. I mean, this was it, right? There was literally a handful of companies that was not the movement that it is today. The two developers said, "We built this thing and we have customers," which was kind of true.
I mean, it was an invoicing software that you have one job and it's to get math right. There were literally math errors, calculation errors in this software. It was pretty rough. But I saw their posting that said, "We're looking for a marketer to help us to maybe come team up as a co-founder." I emailed them and said, "I don't want to be a co-founder, but I'll buy this whole thing from you." They only had a month of PayPal. I mean, there's so many beginner mistakes I made, but they only had a month of PayPal because blah, blah, blah, reasons, reasons. I was like, oh they're doing, what was it, seven or $800 a month?
Oh my gosh! I'm going to offer money for this. I did wind up acquiring it, and then the next month it did 150, 200. It turns out they had launched their alpha that month, so they goosed the numbers. It was pretty crappy. But what was interesting is it put my back to the wall, because suddenly, I was out thousands of dollars that I paid for DotNetInvoice and I was kind of terrified that I had. It was all the money I had saved up from consulting on the side. I still had a day job at this point. It really made me realize, I got to clean this up or else I just wasted all this money. I actually in retrospect think that was a really good thing, and it was cool that it was launched.
It already had a marketing website. SEO was weak. They were trying to run some pay-per-click ads. They gave me that account. It was AdWords, and it was selling a few copies a month, I think two to three copies a month for $99 each. It was like two to 300. I started looking at things and I said, "This feels underpriced to me." I tripled the price, didn't see a difference in the number of copies sold. Pretty much brought it from that two to 300 up to about almost 900 a month, and then I doubled down on the SEO. This is where I really cut my teeth learning SEO, because I wasn't just theoretically learning things, I was actually implementing them on a site.
It was a nice advantage that I didn't have to go through all the headache of building this product. At the time, I was working a day job and then charging $100 an hour as a developer, like a contractor, freelancer consultant, and realizing that I could pay thousands of dollars for this thing that would've taken me literally I estimated about 400 hours of time. That would've been about 40 grand. This is not the way to think about when you're acquiring, by the way. These days, you would do it based on revenue and all this other stuff. But it was a nice way to leap ahead 12 to 18 months, because it kind of had weak product market fit, but it had a bunch of infrastructure that had already been put up.
I got to jump ahead and not waste 12 to 18 months by spending thousands of dollars basically to acquire that. I knew it was a winner once I had tripled pricing and it still continued to sell, and then once I was able to goose the SEO, increase the pay-per-click ad budget, and just spend time on it. As I said earlier in this episode, I consistently got it up to between three and 4,000, 2,500 to 4,000 each month. It was a great step one business. I learned a lot. The experience was invaluable. It gave me confidence that I could do it.
I didn't know anyone else, literally no one else who was doing this, who had a small software product, a lifestyle business, I didn't even know that term, but it was just a little mini software startup. That was when I thought, "Oh, I'm going to grow this to 10, 20, 50K a month," or whatever. You already heard how that went, but that wasn't the point. It gave me the confidence I could do it. It gave me the confidence that it was possible, and it gave me enough revenue. It was more than making our house payment. I started stuffing that in the bank to realize, well, now I can buy the next one, or I can use this to fund my time.
I actually did eventually go down to three days a week, four days a week at the day job, and I was buying out my own time with this revenue from DotNetInvoice. Slowly over time, I was able to cobble together that full-time income. It was absolutely life-changing moment, right? Bootstrapping has been so impactful on my life. I think that's one of the reasons I started blogging about it around that time, and then started talking about it on this microphone 12 years ago. It's something that absolutely changes people's lives, and that's evidenced by folks who send me emails or who comment on the YouTube channel or who write into this podcast, that bootstrapping can change your life.
Whether it's changing your life for 2,000, 5,000 a month, or whether it is literally having a 10 million exit, bootstrapping, it's the great equalizer. You may have seen my tweet where I talked about bootstrapping being permissionless, and that expression was actually coined by Bryce Roberts of Indie.vc, but bootstrapping is permissionless entrepreneurship. You don't need to go beg an investor to give you money, to beg a book publisher to give you an advance and publish your book and put it in Barnes & Noble. You don't need to go beg a film studio so that you can get the money to make your film.
When you bootstrap it, you do it yourself. It's not easy. It's either nights and weekends, or it's quitting that day job and watching your burn. It's relying on a spouse or a significant other to support you while you do it. I mean, there's a reason that bootstrapping is hard. I will say, it is harder than raising money. It really is. Because once you have funding, you can hire people to do stuff. You worry less about all the nuts and bolts of it. There are pros and cons to all this, but bootstrapping is a hard road, but it's permissionless. And that is a big reason that I view it as this equalizing force. When I said this was a short question, I guess I was wrong on that. Thanks for the question, Jonathan. Hope that was helpful.
Competition for great talent is more challenging than ever. Almost every startup I know struggles to hire fast enough to keep up with demand. In order to hire faster, you need a trusted source of pre-vetted candidates. Lemon.io is that source. They have an extensive network of engineers from Europe and Latin America and every candidate has been tested and interviewed by their team. You're probably wondering, how is this different from hiring on your own? Number one, you can have an engineer who can start working within a week instead of months. Number two, you don't waste your time on unqualified candidates.
Number three, you'll have easy access to global talent without going through dozens of job boards. Number four, it's more affordable than hiring local talent. If you need to expand your engineering team or delegate some of your engineering work, use Lemon.io We have a special discount for Startups For the Rest of Us listeners. Visit Lemon.io/startups to receive a 15% discount for the first four weeks of working with a developer. That's Lemon.io/startups.
Arvin:
Hey, Rob, love your show. My question is, I've been working on a SaaS that built automations in a CRM targeted towards dentist, and one of my dental clients wants to create his own marketing agency and sell his own CRM. He asked me if he can pay me for the IP. He's going to do it anyways, create the CRM. He wants to pay me for the automations that I've created and the workflows, et cetera. One, how do you value your time considering that I started this four years ago? I started off in Excel and now I've looked at different platforms like ActiveCampaign and HubSpot to white label. That's what I'm basically doing, I'm white labeling that solution and selling it.
The question is one, how would you value your time if you have a client that is going to be competing in the same space? I'm essentially a marketing agency and selling a CRM solution. I'm trying to focus more on the technology side of things and just sell like the CRM solution piece of it and if that's a good idea at all to sell some of that. It's constantly evolving. But I think as a form of mutual respect, he wants to give me something for that. I'm not sure what that dollar number is and how to value it. I also understand that the only person I can value my time is me. But any guidance or things to think about would be helpful. Thanks.
Rob Walling:
Thanks for the question, Arvin. This is absolutely the first time I've ever had this question or thought about it. It sounds like Arvin has intellectual property in the sense that he's built workflows and emails that are being sent out for dentists. But Arvin is going to be using standard CRMs like ActiveCampaign, HubSpot, insert name of CRM here versus he has a dental client, it sounds like a dentist that wants to start a CRM, write the code and build a CRM focused on dentists and wants to essentially license the automations and the workflows that Arvin has built, which he could have just stolen them and made you come after him.
That would be a total jerk move, but I've seen much worse in the startup space, so I do appreciate the conversation. There are a couple ways to think about this. One is, is it worth partnering up? Does this dentist have deep pockets, and do you want to get into the SaaS space in essence of building out a CRM? It comes with pros and cons, right? Right now you're an agency or a consultant and you sell your time and you make that cash quick, because you get paid for it on a monthly basis versus building SaaS that's pushing off a lot of that gain for later. But if you do build that SaaS, then it's a flywheel. It makes money while you sleep, as they say."Come, start a SaaS," they said. "It'll be fun," they said. But it does make that ongoing revenue and then the exit multiples are outrageously high. We've talked about this, right? I say maybe don't try to sell right now as the economy is having issues. But normal times, if you build a sass up into the one, 2 million ARR and up, you can sell that let's say four to six, four to eight revenue multiple, versus the consulting firm, I think you sell it for one times annual revenue. I don't even know how they sell it. It's just the multiples are just not there. That's one way to think about it is, is that something to consider given that you're both headed in that direction? The answer to that maybe no for a bunch of reasons.
So then we think about, well, you have this intellectual property, and to me, it is a competitive advantage in the short term that you have this. But realistically, other people are going to copy it. There aren't many workflows I can think of, there aren't any workflows I can think of in the marketing space that aren't just duplicated. Once someone sees it working, then they go in and duplicate it. I think in the long term, the value of this IP you've created goes down over time. It's worth less and less over time because other people will implement and copy it and the value for your customers who will hire you are A, that they are hiring you to implement it for them, and B, that you're going to evolve it over time.
I think that's something to keep in mind is if I were to license this, I definitely wouldn't sell it. Because you don't want to sell the ip, you still want to be able to use it. I would give this other entrepreneur essentially a perpetual license or however you want to phrase that, but it would be a forking of it, meaning as it exists today, here you're free and clear have a license to it. And then I would go on with my new clients and I would continue to innovate. And then if I were in your shoes, I would continue to innovate on this and it will actually be more and more different from that piece that you've licensed as the months go on.
I bet you'll look back in a year or two and realize, "Oh yeah, there's a huge difference between where I'm at now and the content that I essentially licensed to this dentist." From there, it's a question of, do you go after the one-time cash upfront model of pay me X thousand dollars and you have this perpetual license, or do you look at doing payment over time? That as long as they're using this IP, you pay me I was going to say a portion of your revenue, but, A, that feels aggressive if he gets big and really crappy for you because he's not going to make it work. I'm guessing he's a first time SaaS entrepreneur. As we know, most SaaS apps don't work, and so that's not a great way to do it.
But a flat monthly fee is what I was thinking, just a licensing fee, monthly, quarterly, annually, whatever it is, and then they can renew the license as they would like. The thing I would be starting with is when you do a consulting engagement and you charge a client to implement this for them, I would start with, well, how much do I charge for that? How much of that do I think is this IP if I had to create it from scratch? There's some type of value anchor there. And then realize that he's not asking for you to do this once or to implement it just for him, he's asking to be able to essentially license it to then distribute it to anyone who's on his platform. There has to be a multiple of that.If you charge $10,000 to implement this for a dentist, we think you should charge 30,000, 50,000, 100,000? There's some number that is higher than 10,000 that I think that this would be worth. And then you look at, do you charge that upfront? Obviously you got to think about there's going to be legal fees here, so you need to be able to justify paying a lawyer to draft up and review contracts. This is an enterprise sale in essence, and it's probably going to take a few months, and it's probably going to take some redlining and going back and forth.
I think the biggest mistake you could make here is undercharging for it, much like most founders do is saying, "Oh yeah, it's worth five or 10 grand because it's just some emails," but it's like, now you're going to chew through five grand in legal just to get this deal done. Given your time to close the deal and to make sure everything goes well, this does feel like a 30 to $100,000 thing for me. I'm making up numbers here. I'm not actually into licensing nor selling IP, so I'm not an expert, but I'm trying to ballpark it more like from entrepreneurial first principles and thinking about my founder gut feel of the minimum that I would want to make it worthwhile.
And then you can think about, well, is it an ongoing thing? Is it you have to pay every so often to have this? But then if he's doing that, he probably expects updates, and then it will not be forked from your existing thing. But if I were paying ongoing, I would want some type of updates and maintenance and that kind of stuff. Here's the other thing I'd be thinking about and it sounds like he wants to build a SaaS app, but does he also want to do the consulting work?
Because it seems like that's another avenue to partner up is that you, Arvin, could do the consulting work while he is focused on building this product and also being a dentist I guess, but building the product, which is plenty of work on its own, hiring developers, making product decisions, managing that. I would've loved in the early days of Drip to have a consultant like you who is knowledgeable and who I could just have handed a bunch of people onto before I had customer success and before we had a really in-depth team to help folks get onboarded. Hands-off to a paid consultant.
I'm wondering if there's a partnership available there and if there could be some type of trade or payback over time of if he sends you deals that are worth X, that basically you agree on an ongoing licensing fee. And then if he sends you this many deals, he doesn't pay you anything because he's giving you the work that is to you worth a lot of consulting dollars. Those are just a few of the ways that I think about this situation. Thanks for writing in, Arvin. I hope that was helpful. Thanks for sticking around as I went through those questions. We have more questions in the queue for next time. It is great to have you here this week and every week. This is Rob Walling signing off from episode 634.