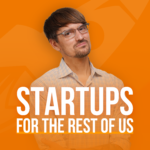 In the third episode of season 3 of TinySeed Tales, Rob Walling checks in with Tony Chan of CloudForecast to see how he is faring since his co-founder is now on paternity leave.
During this time, Tony shares a big win along with dealing with some hiring and growth setbacks.
Topics we cover:
1:24 – How the business is doing while Francois is on paternity leave
2:36 – Tony's perspective on being a solo founder for the past 6 weeks
5:04 – Managing your own founder psychology
7:49 – How Tony is dealing with an unexpected sales slump
16:16 – Did Tony end up hiring a full-time SDR?
21:04 – Dealing with setbacks
22:41 – What Tony is looking forward to in the next couple of months
Links from the Show:
If you have questions about starting or scaling a software business that you'd like for us to cover, please submit your question for an upcoming episode. We'd love to hear from you.
Subscribe & Review: iTunes | Spotify | Stitcher
Rob Walling:
Welcome back to Startups For the Rest of Us, this is season 3, episode 3 of TinySeed Tales where Tony's co-founder goes on paternity leave. It's a really good episode. As a reminder, applications for our next batch of TinySeed founders both in Europe, Middle East and Africa, and the Americas, are now open. Head to TinySeed.com/apply if you're interested. Applications are open for the next, almost two weeks until September 25th. And with that, let's dive into this episode of TinySeed Tales.

Tony Chan:
I get to wake up and have the freedom to set my own day. I get to help people, I get to record this podcast, that is stuff that is really important and I just had to remind myself of that.

Rob Walling:
Welcome back to TinySeed Tales, a series where I follow a founder through their struggles, victories, and failures as they build their startup. I'm your host Rob Walling. I'm a serial entrepreneur and co-founder of TinySeed, the first startup accelerator designed for Bootstrapers. The last time I spoke to Tony, his co-founder Francois, was about to go on paternity leave and he had just started working with a new full-time engineer named Katia. Katia showed up with a more expansive skill set than Tony and Francois had realized and she started contributing to the team very quickly. That was about three months ago. Let's catch up and see how things have gone in Francois' absence.

Tony Chan:
With Katia has been going really well. I mean, even with Francois being gone, we had a good plan for her and what she needs to do and what she needs to execute on. We felt that we needed to give her something tangible and it gives her opportunity to learn about the app as well. So she's actually working on a redesign of our full front end to just make everything look a little bit more polished and professional. And that's something that we've been talking about doing, but we just haven't had the time. So I think during our last episode, I mentioned Francois I was going to go on maternity leave and Elliot was finally born on September 25th, but it gave Katia an opportunity and a good project to work on. So she's been working on just updating some dependencies, building tests in the app. So when we do kind of implement tailwind and implement design and implement things, there's a lot of dependencies and updating to Ruby versions, it'll be really good project for her, especially for her to kind of dive into each paged app and really learn the app. So it's been really good. She's been a big contributor to the team and she brings a lot of great ideas and brings a lot of good diversity in terms of her ideas that she have. So it's been really great to have her on the team.

Rob Walling:
So how is it being a single founder for six weeks, five weeks?

Tony Chan:
I don't know how other people do it. It was tough because we did have a relatively tough stretch in terms of MR growth. I mean we did finally break 200k ARR.

Rob Walling:
Congrats.

Tony Chan:
Thank you. And that was literally after we chatted in the month of August. So things were looking pretty up. And that was a combination of, we talked about expansion revenue, we have our largest customer, and I estimated 30 to 40% increase and I went, "Yolo, let's just double their cost," because they're forecasted and they're like, "Sure, whatever." And we doubled their subscription, which was really great and they're finding value out of it and they've enjoy working with us. And then we also closed the new enterprise customer. So August was looking up, and things were looking up for us August and September, October and so on. And we were getting opportunities, but some of those things just didn't materialize while Francois was gone. And I shared with my mastermind group, I felt like it wasn't more of the execution that was kind of bogging me down, but a lot of it was mental and just kind of fighting my own mental state in terms of, "Okay, things are not going well, don't really have anyone talk to about it, kind of figure it out." So it's like it's a battle with myself rather than what I'm actually executing on. And you alluded to it, you were kind of wondering how it was going to test my metal a bit, and it definitely did.

Rob Walling:
So that's the piece of it that was the hardest was not having someone to talk about it with?

Tony Chan:
Yeah, I talked about it with my mastermind group here and there, but sometimes you just want someone who is there to just be like, "Everything will be okay." And it's not a personal, you're not doing a bad job, and you just want someone to tell you that the circumstances that you're dealing with or what you're dealing with is flat, it's not you, or it's not how you're doing things, but maybe it's a string of bad luck or there's a lot of factors. So I think having Francois back, and the first week back we talked a little bit more about that and he's like, "It's okay, we'll figure it out and let's plan how 2022 will look like." So it was really refreshing to have him back this week for sure.

Rob Walling:
I always say that more than 50% of being an entrepreneur is managing your own psychology and the psychological side of it is such a huge barrier and it can weigh you down, as you said, whether there are wins or losses, if you keep yourself on point and you keep your head up and it doesn't bog you down, you keep pushing forward. But whether with wins or losses, I've had amazing months of growth but mentally have been down and that tarnishes everything. It puts a taint on everything.

Tony Chan:
That rollercoaster was wild. August was massive for us with those two things and then we out of nowhere got tons of opportunities, but then for whatever reason, for different various reasons, a lot of that it materialized, which bled through September and October. But yeah, I think you're right, managing that psychology. And there's a few things that kind of got me through it. You actually had a podcast episode on Startup the Rest of Us and you talked about showing up, putting in effort and there was one quote that you said that I've been just trying to remind myself. It's like, "Think about it not in weeks or months, but in years." It's really easy to just focus on your day to day and week to week and month to month and things you got to do. But the success comes in years and putting in the effort into work and controlling that psychology through the years and just kind of grinding it out and such.
And the other thing that I've been trying to be more mindful of is, why did I start doing this? Why did I start doing CloudForecast? And a lot of the freedom I get, and being to meet cool people and being able to help others. I think going back to that and just reminding myself of that was really helpful because we are helping people, and the medium just happens to be CloudForecast. So switching my mindset from, "I have to do this, this is such a bog,", "But I get to do this," So more of having gratitude. I get to wake up and have the freedom to set my own day. I get to help people, I get to record this podcast, that is stuff that is really important. And I just had to remind myself of that.

Rob Walling:
If I had told Tony five years ago that he was going to be running a company with a really good friend making north of $200,000 in annual revenue and growing, he would've pinched himself. But that's the dream that a lot of startup founders find themselves living. And yet we too often lose sight of this gratitude Tony's talking about. It's easy to get bogged down worrying about the future, but it really does help to look back and recognize how far you've come.
It sounds like a couple of the wins that have been over the past couple months, you crossed 200,000 ARR back in August, Francois' back, you survived, you made it through his five weeks off. You had expansion revenue that was driving growth during the summer. And you had said that new opportunities were slim during that time, but the expansion revenue was driving the growth. Has that continued? I guess you just mentioned that that one renewal was a big piece of it.

Tony Chan:
We had one renewal and then we had also one very big, I would say that would probably be one of our larger enterprise customers. So that was solid for us and kind of given us that. So in terms of net new, it's been a lot of small things. We still are having opportunities come in the door, meaning enterprise opportunities and conversations and free trials, but we haven't been able to close. And I think that's something we have to review and think about. There's three patterns I'm seeing, there's been an increase in non-response after sign up. So after sign up we reach out and say, "Hey, what are some problems you're looking solve?" And some of these opportunities look relatively big just based on an eye test and looking at their website and such. Some of them, they might have started a free trial, but they either like, "Hey, this is not a good timing, please reach back." Or they just stopped responding to us after their free trial ended.
So there was that. And then we have also a bunch of warm opportunities, enterprise opportunities specifically, that are just not progressing as fast as we like. We typically like to see a 60 day close, meaning they start a free trial 30 days and then once it's good to go, it's 30 days worth of service agreement, discussions, negotiations and such. And some of them have been just dragging a little bit longer than we'd like or they're like, "Hey, we're not ready to start yet." So those are the three things that we're seeing with our net new opportunities and that's kind of been bleeding into August, September at the moment.

Rob Walling:
And is there anything to be done about that? Is it just them dragging their feet on their side? Is it that the onboarding and setup is complicated and could be streamlined? What's going on there?

Tony Chan:
Yeah, I think Francois and I, we started talking about this, and this is not a new problem. I think it has to do with the topic or what we're solving, which is AWS cost. The few feedback that we got is like, AWS cost is not ever a day 0 priority. Meaning if something goes up really bad, or that's not a technical responsibility where they're like, "Okay, this is high high on a priority list." Unless there's a reason for it, then it becomes a priority. So sometimes people can drag their feet because it's maybe fourth or fifth of their priority. And that's like, I think you've talked about it, where it's more of a vitamin product. Where it's not something that people need right now or they have a huge dependency on it, we take their cost reporting and just summarize it in a better way so they can understand their bill a little better. So I think that's where Francois and I want to discuss, how can we make it more of a sense of urgency with our product? Or they can see the magic moment a lot sooner or if there's features we can implement to make it a day 0. I don't know what the answers are, but I think part of it has to do with what we're solving with our engineering customers that we work with.

Rob Walling:
Do you feel like, given that this has been happening since inception of you guys starting to sell this, if you look ahead two years, four years, whatever it is, do you think that will get better or do you think that this needs to just be solved by having so much in the pipeline that something is always closing or is it that the product can't evolve or will evolve or you'll eventually have the offerings to where people aren't kind of pushing it off?

Tony Chan:
You just brought up a good point, was the product evolving into different areas. And we've alluded to this in past episodes where, what are some ways we can go beyond with this AWS cost monitoring and management because that's our bread and butter and that's what we work with, then it seems like… It kind of puts us in a corner. So I wonder, right now we're working what we call Barometer, which is our Kubernetes cost management product and it's in beta. So that kind of helps us diversify other features in terms of, maybe there are other areas where we can help our users that might cost a lot of money, help them manage their costs a little bit better there. And our customers saying, Datadog is another one, Snowflake, Databricks and so on. So I think having a more diverse tool will help us solve a lot of that problem because maybe AWS cost management's not a priority for them, but there could be other areas that we can offer where it might be a priority. So I think there's that, there's the pipeline as well. So I think there's a lot of angles that we can think about and attack that.

Rob Walling:
Yeah, I remember with the last startup I did before starting TinySeed and switching full-time focus to MicroConf and TinySeed, we were a good enough solution. We were slightly better than the competition for a while. It was like you could be on MailChimp and you got most of what you needed and then switching to Drip was better, but it wasn't that much better. And so a lot of people put it off until we hit that magic combination. And this is always what developers and product people want, they want to build the feature that just causes it to up into the right and exponential growth and it saves everything. And usually that's a pipe dream. It's this never ending, "I need to ship the next feature in order to keep growing, which isn't great because you can always be selling in marketing, but we eventually did, we launched automations and suddenly we were a lot better. And then when we launched the visual workflows where people kind of drag and drop stuff, that really doubled our growth again.
So weren't a vitamin, our tool itself was an aspirin because people had a desperate need for it. But moving to us from their current tool was kind of a vitamin. They didn't need to do it until they looked and saw it, "Oh my gosh, I want that." And so I could see that happening, whether it's a barometer, I think you called it, or some other combination of features. These are things that you land on over time. And this is why I think product market fit is a continuum. It's not one or zero, it's one to a hundred. And at this point you have a certain amount of product market fit. But as that ratchets up, people look at it and say, "I need that." And when you get above whatever number, we can say 50 or 60 or 70, suddenly it's like, people are just coming to you because it's such a desperate need.

Tony Chan:
That's very incremental. And it kind of goes back to your quote, "Don't think about it weeks or months, but in years. I think one thing that we got going for us with Barometer is it's been very strong feedback from our users. Even unsolicited feedback where they brought up this problem without us even talking to them about it. They brought it up and it was a pattern that we saw and we're like, "We need to do it." We've been working on this since probably March or April this year, and we got five beta customers using it right now. And hopefully by early Q1 next year we can start charging. So more expansion revenue and that would open and unlock more net new customers. Where instead of they're like, "Hey, we have some questions about our Kubernetes clusters in terms of where cost is going there and how costs are allocated." We have that now and instead of just doing AWS, we'll have that and then we'll think of other ideas as mentioned to kind of go beyond that. So yeah, it's very incremental. That's why thinking about it years is so important now that we're talking through it.

Rob Walling:
With the Promise of Barometer and other new features in development at CloudForecast, I can imagine things going really well for Tony and Francois in a few months, but that won't make their previous 60 days of disappointment any easier. Startup founders are always wrestling with both uncertainty about the future and impatience. Those emotions come with the territory.
So another topic that we discussed on our last episode, or last time we spoke, was that you had realized that your 10 hour a week SDR wasn't enough, so you were going to go hire full time and you were interviewing folks at that point. And we had then talked about how funding, having the TinySeed money, had given you the option to hire a full-time SDR. Because if you didn't have that, you couldn't really afford to do it. So how did that turn out?

Tony Chan:
Yeah, I mean kind of related to the L's that I've been taking since Francois has been a way, oh man, it's not only the revenue part, but the part-time SDR did not work out for us. I mean in terms of money, it was not that significant, but there was a lot of time wasted to that. I think not only the 10 hour a week didn't work out, meaning there was a lot of blockers because he was very limited time, still required investment on my time to make sure he set up and he can focus on the right things. But he ended up getting a really lucrative job with a tech startup and he's like, "Hey, I'm going to focus on that." And he actually ended the engagement pretty early. I think literally when I talked to you, he started, he did it about for a month and a half and then he's like, "Hey, I'm going to be transparent with you. I need to focus on this."
So that was time wasted, which kind of sucked, but I learned a lot too in terms of how SDRs and sale organization run but did not work out. And then we were also discussing, or in the middle of talking with a full-time SDR, that did not work out either. Once again, time wasted as well. And that was, I actually think that was a bullet dodged. So our interview process with that, it was pretty extensive, but I thought it was pretty reasonable. I had the person interview with a friend of mine who manages SDRs full-time at a different company. So he interviewed him, the person, and then as we got into more of the practical execution, how you do things and just trying to understand the nitty gritty, it seemed to me and with my friend that this person exaggerated their experience a little bit.
So it was a gut punch, but we dodged a bullet there because once we started digging into, "What can you actually execute on for us?" There was a lot of hand waving comments and statements that did not sit well with us. And there was a lot of pressure. I mean, the person's a salesperson, so they were putting a lot of pressure on us trying to like, "Hey, if you don't hire me by blah, blah, blah, I'm just going to move on." And that did not sit well with us as well. So just a bunch of circumstances with that, that did not work out. So I think for Francois…
And then right after that, Francois went on paternity leave, so we couldn't progress as fast as we like, or kind of move on, but it gave us time to kind of think about, "How should we actually think about this role? Is it a SDR? Because what we really need is someone to help us handle growth or marketing, or…" We're trying to figure out what that means right now and take some of that off my plate, trying to list things of, "Okay, here are the things that I'm not really good at. Here are the things that we probably should hire for and have someone execute it better than what I can do." So it's going to be within the sales and marketing hire, but I think we're trying to define what that is and what that actually means in the marketplace.

Rob Walling:
Yeah, outbound is amazing when it works and it's, like any marketing approach, it's an experiment and it's hard to get it to work, just like SEO and pay per click and integrations. It's a bunch of stuff that you have to try and obviously it's a bummer to go in the loss column there, given that I know how much time and obviously money you just mentioned that you spent on it, so.

Tony Chan:
I think kind of flipping my mentality or trying to is like, okay, we actually learned a lot from it. And it's not fun seeing that money go down to drain, but you don't really know unless you try it. So that's kind of my big takeaway.

Rob Walling:
In terms of losses from the past couple months, the pipeline didn't materialize, so really haven't been able to close many deals. You lost the SDR, didn't find a new one, and you spent a bunch of time on it. Any other notable failures or setbacks?

Tony Chan:
Those would be the major ones, honestly. Usually it's one or two things, but just felt like it really compiled during October and September and so on. So yeah, it took a lot of Ls since Francois' been away.

Rob Walling:
And what, I mean at your low point while Francois was gone, what was that like? You can pick a moment or a day.

Tony Chan:
I started questioning, are we working on the right thing? Or are we solving the problem in the right way? And I think it goes back to what we were talking about is the psychology of it. This has only been maybe a month and a half, two months problem. And easily your mind can go in a really deep place where it's like, "Things are not working out." But really, we had a really big months in August, and maybe it was a string of bad luck, things did not work out the way we wanted and things that we can't control.

Rob Walling:
Tony just voiced an important question that I think a lot of founders ask themselves, especially in the early stages. Are we solving this problem the right way? Back when we were first building Drip, there was a point where we realized we didn't have product market fit. And I remember freaking out saying, "What are we doing? Should we even build an email service provider?" It's these doubts that I feel are not talked about enough. They're not on the front page of Tech Crunch because everyone's crushing it and raising huge rounds of funding. But this is something that needs to be normalized because all of us feel it at one time or another, and some of us feel it for a really long time. Back to CloudForecast, let's find out what Tony's looking forward to in the near future.
What's one or two things that you're most looking forward to between now and the next time we talk?

Tony Chan:
Yeah, so I've actually been doing some initial planning for 2022 and just reviewing our 2021 financial numbers. And I think one thing that startup founders kind of have a propensity of doing is they think their business is going to go up in flames tomorrow, even though we have 200k ARR and we have customers and we're profitable. That's not coming from a logical point of view. So looking at our financial numbers and from a quick outlook, it looks like the money we made this year will cover majority or all of our expenses that we've accrued this year, which is a huge plus. So that means we actually didn't touch any of our TinySeed money this year, which is a bit surprising because we've done a lot of tests, we burned some money here and there, and we've increased our costs in various areas, but the money we've made and the growth that we have with our expansion revenue and a few net new here and there has covered everything that we've done this year. Which means we probably should be a little bit more aggressive with spending the TinySeed money next year.
We felt that we were very aggressive this year, especially the last four or five months. But it sounds like there's another part of aggressiveness that we need to unlock, and that's where the hiring might come in, whether we hire one or two people. And I was using Matt Wensing's product Summit to help us forecast, and that was a time saver. So I was able to plug in our expenses, plug in our revenue, and just, I'm like, "What is the worst case scenario? We don't grow." And our burn is actually not that bad. And I think that kind of gave me a positive outlook in terms of like, "Okay, we have some money. I thought we were aggressive, but we're probably not aggressive enough. What can we do in 2022 that will really help us unlock things for us?" Whether it's hiring someone that can execute on the marketing side way better than I can and can help alleviate some. How can I hire another Tony? Stuff like that.
So I'm really looking forward to sitting down with Francois the next month and a half, two months, and just have a good plan around product engineering. How can we give them more help? How can we give Katia more help? How can we get me more help? Because with our growth, it's looking positive. There's no reason why we shouldn't be able to hire one or two more people, even at the worst case scenario where we just stay flat throughout next year.

Rob Walling:
That's great. And it's such an interesting realization as a, you bootstrap this company until you took TinySeed money. And as a bootstrapper you're always thinking, I got to conservative cash, I got to be conservative with this. I need to grow the revenue before I can do it. And it's weird to get $180,000 in the bank and then it's like, "Oh, well, how fast should I spend this?" And if you don't model it out, I think instinct is, even these days, running TinySeed, we've raised a gajillion dollars into funds, I'm still nitpicky about little expenses because that's how I've run businesses for 20 years. And so I'm glad that you used Summit. I'm glad that you saw it visually.

Tony Chan:
Yes.

Rob Walling:
You know what I mean? That's what it takes. You either have to put in a spreadsheet, you have to sketch notes, or you have to put it in some tool that projects it out, and then you're like, "Wait a minute, we're actually not taking full advantage. Why do we take this money if we're not going to at least spend some of it? It's not like I need to blow through this in six months," but being more aggressive gets you there faster, right?

Tony Chan:
Yeah. I think I modeled out, the worst case scenario was like 2% growth, and that seems very reasonable. That's easy. And even then of increasing Francois and I's salary and so on, we're still going to make money. So yeah, I completely agree with that. You just need to sometimes see that, and I fully admit that's not the strong part of me in terms of financial modeling and such. So I'm really thankful that this is a tool that just came in the right time and the right place where I can just play around with numbers with Francois, so I'm pretty excited about using this moving forward.

Rob Walling:
That was a completely unplanned and unsolicited plug for Summit, by the way. They're TinySeed alumni though, and we love them. Anyway, as the CloudForecast team bounces back from some setbacks and celebrates some victories, we're going to keep a close eye on how Tony and Francois end up spending the money we've given them. This is when things get really interesting, the risk, the reward, and the next stretch of the rollercoaster. That's next time on TinySeed Tales.