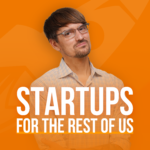 In episode 622, join Rob Walling and fan favorite Derrick Reimer, the founder of SavvyCal, as they discuss topics like balancing profitability versus growth and deciding which features to build and not. They chat about some specific features that Derek has decided to build, those he has not decided to build, and the thought process behind them.
Topics we cover: 
4:02 – Making product decisions 
9:22 – Deciding on what features you are not going to build 
19:12 – When to reply to debates on Twitter  
27:42 – Twitter's newsletter feature 
31:40 – Derrick's perspective on balancing profitability vs reinvesting in the business 
43:10 – Is Rob scratching his maker itch by being an investor in companies through TinySeed, or is he missing building SaaS businesses?  
46:29 – Should Rob join TikTok? 
Links from the Show:
If you have questions about starting or scaling a software business that you'd like for us to cover, please submit your question for an upcoming episode. We'd love to hear from you.
Subscribe & Review: iTunes | Spotify | Stitcher
Transcript
Rob Walling:
Welcome back to another episode of Startups For the Rest of Us. I'm Rob Walling, and today I'm joined by fan favorite, Derrick Reimer, he's the founder of SavvyCal, and he and I have known each other now for 12, 13 years, and this is a good episode of just discussing several topics related to building SaaS, balancing profitability versus growth, deciding which features to build and not.
We go into some very specific features recently, that Derrick has decided to build and those he has not decided to build, and then, the thought process behind them. And I really like doing case studies like this, because you'll hear in the episode, you can just hear the thought process of an experienced and very gifted product thinker.
And I hope that that's enlightening for you today, if you're an early stage SaaS founder, or someone maybe who isn't as far along in terms of making product decisions, deciding what do we build and not and how do we build it. Because learning from someone like Derrick about how to do those things is always a good idea.
Before we dive into that, I wanted to let you know that applications for TinySeed's next batch are now open. They're open for about the next two weeks.
If you're the founder of a bootstrapped or mostly bootstrapped SaaS company, doing anywhere from $500 MRR and up, and you might be interested in a small amount of investment, and a large amount of mentorship and advice, head to tinyseed.com/apply for more information, and to apply for this batch. We are hosting batches in the Americas time zones, as well as the European time zones. Head to tinyseed.com to learn more and apply.
In addition to that, we are now up to 957 worldwide ratings in Apple Podcasts. It would be amazing, if you have never given us that five star rating. You don't even have to write a review, you can just click five stars.
Some recent reviews included JR who says, "This is exactly what I was looking for." Cycling Steve from the UK says, "Every episode is jampacked with actionable advice. Rob is very grounded, takes time to answer user questions the best way he can. He even went above and beyond to e-mail me directly back, regarding a question, because he knew it was urgent. Kudos."
Mammatrolli from Denmark says, "Consistently delivering quality content. Can highly recommend if you are in to startups." So thanks so much for those reviews, and I'm on my drive to get to 1,000 reviews. There are actually very few podcasts that have a thousand ratings in Apple Podcasts.
So, it would be amazing if you could help me out on that journey. With that, let's dive into our conversation.
Derrick Reimer, welcome back to the show, sir.
Derrick Reimer:
Thanks for having me back.
Rob Walling:
Yeah. By popular demand, you're a fan favorite guest. People, when I ask, I'll see someone at a MicroCon, for an in-person event, and we start talking about startups for the rest of us, and that's when I do customer development.
I'm like, "So what do you," like, "Wow, what could I improve, and what are your favorite episodes?" What's interesting is I'll find, I'll ask someone who's like, "I'm a big fan to listening for years."
It's like, "Cool, what are your most recent favorite episodes?" And they'll remember the things they really like, and they just forget the things they don't, is what I've noticed.
I'll be like, "Well, what about when I interviewed this one author, who had the Jobs to Be Done book?" "Totally don't remember that."
It's like, "Well, obviously, either you skipped it, which is fine, or you just weren't into it." And I kind know that feeling too.
But yeah, your name comes up a lot, as well as Einar and Tracy, and I don't know Jordan, and Craig Hewitt. There's a lot of folks that people really like here, and hearing their opinions on things.
Derrick Reimer:
Oh, that's awesome. Yeah, I mean, I imagine part of it too is just, you and I know each other so well, from having built a company together, that the rapport is there, which, I think, I mean, it always contributes to just, easier conversation, probably, hopefully easier listening.
Rob Walling:
It's very natural and we kind of know where it's going.
Derrick Reimer:
Yup.
Rob Walling:
This is very similar to, I guess, when you and I hang out and have a beverage for happy hour, this is a similar train of conversation, although we may get into more, name more names at the happy hour. So I want to kick off, I have several topics we can run through today.
First thing I wanted to do was touch on a topic that we talked about last time you were on the show, where I had asked you, "You're really good at product, you're really good at development, too. But making product decisions is hard, and it's hard to know what to build next. It's hard to know what not to build. And then there's a whole other thing of how to build it, how it should look."
And I don't think we'll get in that today, but just that decision, that filtering process, if you're getting all these customer requests, and deciding what to do, in what order, and all that stuff. Last time we talked about, generally, and I said, "How do you decide?" And you kind of said it, a high level thing.
And I listened back to that one, and I realized, "You know what? I think an example could be really helpful." What I want to ask is, recent is whatever you want it to be, what recent feature did you ship, that you feel like was the right decision?
And what was the logic behind deciding to do that, whether it was tons of customer crest, or whether you just knew in your founder gut, or whether it was a competitive … There's a bunch of reasons why you would do it. Then let's touch on one feature or more, frankly, that you haven't built, probably aren't going to build, and why.
So let's start with that first one. What have you launched that you think is a really, really good feature?
Derrick Reimer:
Yeah, so one of my favorite ones that we shipped this summer, I think, it was about a month ago, is this feature. It's kind of a simple one, but it had been on my radar for a little while, and it's sort of just, in reviewing my backlog, and I like to keep a backlog of things, just ideas. Any time someone requests something, I usually log it in there, and then sort of store up, any time someone mentions it, and it helps conversation, I drop a link to it just as kind of a knowledge repository.
This one had been floating around and resurfacing for a while. It's basically a little feature that allows you to toggle on a setting to require approval for new bookings before they make it onto your calendar.
So think if you're really busy, and say you've just a busy person in general, and you have one reusable link that is just out in the wild, people use it all the time. We often have our one multi-use link, that maybe we store in our text expander or whatever, and it's just the one that gets shared around, usually like, slash chat after your name.
So a lot of times, people who are in really high demand will just see people using their link, and grabbing time on their calendar. And so there's something very visceral with people who feel this pain. It's like, "This is really a major problem," so they either resort to not having a multi-use link, or using an unguessable URL, or just, other solutions that just don't quite feel right, and feel like we could be doing something on the product side to alleviate this.
This also happened to be one of the favorite features from a scheduling tool called x.ai that was acquired, and then shut down last year. So I hear, anyone who comes over from x.ai, is likely to request this one.
So it's been coming up over and over. But again, it's one of those decisions, even though it's just a toggle in the UI, and just this light modification to the booking flow, it's still not a foregone conclusion that we're going to build it.
But the things that really tipped me over the edge on it were one, just strong visceral demand from a group of people who are really passionate, and I would say, scheduling power users. And we have gradually become a tool, that I think a lot of people in their minds think of it as sort of a scheduling power tool.
Obviously, when you're young, you're behind the competition in a lot of different ways, so it's hard to foster that perception early on. But we've been at it for a few years now, and have mostly caught up on feature parity, and now, people actually see us, once they get in the product, they realize that a lot of our UX is an improvement over the status quo, and they can do more things to guard their time.
They can use our ranked availability feature, and some of these things that we have that help people who care a lot about shielding their time, protect it, basically. So this one felt like it was philosophically aligned with where our product's going.
It doesn't overcomplicate the product in confusing ways. Most of the complexity actually lives under the surface, and for the user, it's just, "Do you want to enable this or not?" So yeah, it was basically it was combination of strong demand, differentiation, alignment with the philosophy of what we want SavvyCal to be.
And I always think about, too, is this attracting the right kind of user, the kind of user that we feel like we're able to serve well. And I think those who care about toggling this on is an ideal user of SavvyCal, because of the things we care about, yeah.
Rob Walling:
I really like that. I think that's something that more founder, I don't think that's intuitive for a lot of people. And the fact that you've just called it out, I think, is a huge deal. It's like, how many people we use it, and what kind of customer will use it?
Derrick Reimer:
Yup.
Rob Walling:
That's super cool.
Derrick Reimer:
Yeah, I think there's a certain magnetism that features have, and they can draw in more of the people that you are really in the sweet spot for. We have built some things, I'm trying to think if I have a specific example, I might think of one in a minute, but I feel like there are some features that we build, that suddenly start attracting people who aren't a super good fit.
That's always, it can be a frustrating process, for the user because they're all excited, and they think SavvyCal's going to be the tool for them and then realize that we're missing the mark on a number of things, but they were attracted by this one thing. So I just want to be mindful and careful about, just thinking about that, giving some thought to that, when marketing features and building them.
Rob Walling:
How about on the flip side, the feature or features that, for the foreseeable future, is not going to build? Or a recent thing you decided, "We're not building it?" And what was the thought process there?
Derrick Reimer:
Yeah, so one of the big ones is SMS notifications. So this one does come up. It's certainly requested from time to time, and it's a feature that a lot of other scheduling tools have built into them.
Think of, classic examples in my mind are ones that are, "You're going to get a haircut, or a dentist appointment," or something. They're often sending text messages to remind you.
This is one, where I've struggled a lot with it, trying to understand why people want it, because I personally never want to receive a text message from a scheduling tool.
I think I do have, even though I'm not a perfect representation of my customers, I think a lot of my customers are similar to me, in that we're using this for kind of business to business meeting scheduling, and we're near our calendars a lot and we probably have Google Calendar installed on our phone, and we'll get a little notification through there. So I don't know, just the need for it kind of eludes me a little bit.
I've spoken to a number of folks who have endeavored to do this. Actually, I was speaking to some former colleagues at Drip, and they added SMS support into the product. And I got to hear some war stories about just how much of a bear that is to maintain, and things like you think dealing with e-mail spam is bad, wait until you deal with all the regulations and constraints around sending text messages on behalf of people.
Even though there's tools like Twilio, which are amazing, and give you a nice API on top of the lower level SMS stuff, it's still, certainly doesn't solve all of the complexity that you have to deal with, when doing this. So it's just one of those giant iceberg features, certain percentage of people would just toggle it on, "Sure, send a text message. Yeah, why not?" And maybe not even give much thought to it.
But under the covers there's so much complexity to maintain. And there are honestly other ways around it, too. People can accomplish this with Zapier. There's different integrations that you can connect to your Zapier account.
So if you really need this, you can do it today. And I would much rather push that complexity off to Zapier for the foreseeable future.
Rob Walling:
And with an N of two, one being you and me being the second one, I would never use that feature. So I wonder, and we at TinySeed, MicroConfer, obviously a SavvyCal customer, would it attract to the right kind of customers, going back to the feature you said earlier? And obviously, if you listen to this podcast, it's like, two people does not a focus group make.
I can imagine my uncle, who's a realtor, wanting to turn that on, and it's like, is that where SavvyCal wants to be right now? Because I think more perhaps sophisticated founders, entrepreneurs, executives, tech entrepreneur, tech senior leaders, whatever it is that you're focused on at SavvyCal, those folks are probably more in our line, in our situation, where I'm also in front of my calendar all day. My phone buzzes with a little reminder, and that's all I need. And it's an interesting, interesting filter.
Derrick Reimer:
Yeah. Another one that comes to mind is, so some people use SavvyCal. A very small percentage of our customers use SavvyCal for a lot of internal scheduling, which theoretically is a pretty powerful way to use it.
You share a booking link to someone inside, internal to your company, and they can use that as of a curated window into your availability, even though most companies of a certain size these days are either using the built-in Google Calendar sharing technology, Microsoft Outlook has it also. So then there's a lot of sophisticated tooling built up in those ecosystems, around sharing calendars with your colleagues, and adding colleagues, and finding times that work for everybody, and doing collective scheduling.
So a lot of these problems are already solved, which is why I've been hesitant to try to build SavvyCal as an ideal solution for doing internal scheduling. It's like, you can use it for that, but it's probably not going to be better than the built-in bundled solutions into the ecosystem.
I had some requests the other day from a customer, that he was asking for the ability for events created by SavvyCal to be editable by anybody added on the calendar invite, which struck me as curious. So I dug into it a little bit, and asked him some more questions, and discovered that he was basically using this as a way to use round robin, and put time on one of their internal team members' calendars.
From that point, that person would take ownership of the calendar event, and literally take ownership of the event. It would get transferred, so that would sever our connection to the event, because it would get a new owner in the calendar system. And then they would add external people onto the calendar event, and reschedule it if needed. And this was just causing all kinds of problems with our ability to stay in sync with that calendar event.
I thought for a second, "We need to solve some of these problems, and maybe add a setting to allow it to be editable," but then realized, for anyone who's doing the traditional path of sending a link, scheduling, something with an external party, you would never want it to be fully editable by all parties. And a lot of these other problems just simply don't surface for that happy path.
Rob Walling:
Right. And when that comes up, you have to say, "Oh, is this a new market that we should build for? Is this a use case that no one has been paying attention to, and this can open up a bunch of new customers, and are the customers we want to work with? Can this help alter my vision?"
You have a pretty strong vision for your product, I'm the same way. Sometimes, you get a feature question, and you're like, "That's not in my vision, but should it be? Is this such an opportunity? Building workflow is like building automations? It's like, this changes the whole direction, but it could be amazing."
Or, is this one of those things I'm going to add, that I'm going to regret? Because one person wanted it, or the people who do want it are just not good fits for us? Or they're using it in a way that really, that's not where we're headed. We can grow faster, we can get more customers, through easier wins.
Derrick Reimer:
Yeah. It's important not to get too myopic. Sometimes, you do want to keep an open mind, and especially, I think, as a pretty horizontally positioned product, there's all the more, it's more difficult to know whether you're making the right decisions in general, because you have a lot of different, a variety of people using the product.
Most SavvyCal users care about creating an optimal booking experience, but they are horizontal across a lot of different industries and use cases. So making sure you're staying in line with what your market needs is extra difficult when you're positioned in this way, which is why I'm a big fan of logging most things. This runs counter to that traditional 37 signals wisdom, of never write down a feature request, and just expect it to resurface if it's important.
I used to think that way, but more and more, I don't trust my own brain to remember when certain trends start to emerge, because there's so much noise all the time. So I like to log these in a place, I used our backlog for it.
Some people are viscerally opposed to that, but even just a spreadsheet could be a good place to just keep track, "How many times has this come up? Has this up more recently? Should I be thinking strategically about potentially building this thing?" And that's just helpful, and I review it periodically, and just kind of keep it fresh in my mind.
Rob Walling:
Yeah, I can imagine, much like, I will take notes on anything. When I used to think of business ideas, or now I'll think of, "Oh, this interesting marketing approach, or maybe I should write a book chapter about this, or record a podcast episode about this crazy topic." And I just write all that stuff down in notebooks, and periodically, it's a backlog. It's a backlog of ideas.
Periodically, I'll revisit them, and usually it's like, "Hey, that's not a good idea, and here's why." But in a year, it might be a good idea, because you might change direction. Strategy changes over time, and the direction of your product and your vision, it can change. So I can see that being valuable.
That was super helpful, man. I'm glad we did that.
Derrick Reimer:
Yeah.
Rob Walling:
It's the specifics of those examples, and hearing that both the features you mentioned are completely reasonable. Yet you said no, and then you said why. I remember being a brand new baby founder, and just, feature question, it was like, "I'm going to just build everything people want."
That's where I struggle with the customer development, or leaning too much into, "Just build what your customers want, and then you'll hit product market fit." Because I don't think that's actually true. You have to have that filter, that founder filter, to keep that vision in line, and to keep the product going in a direction that doesn't just duplicate all your competitors, which is often what less technical users want.
More technical users often want you to just build shit that's just way too complicated. And your power users can push you in a direction, where it's like, you build an unusable product, or a product that then no one else wants to use. There's all these dangers with listening to every request a customer makes.
There's a reason you are the founder, and your customers are not, of your particular company. You have to, much like guarding the quality of your code base, we have to guard the quality of our product, the UX and the clutter, and the overwhelm that can happen, by just putting a bunch of settings everywhere.
Derrick Reimer:
I mean, it's a pretty common trope, but learning when to say no is just extremely valuable, because you can't be everything for everyone. And it's hard to resist that temptation, especially early on, when you're just clamoring to get any customers to pay you, and try to get some kind of traction.
It's very difficult to stick to your vision, and know when to say no to certain things. And I think that part, in one sense, gets a little easier as you go and you have more traction, you have a better sense of who your market is. So it's not for the faint of heart in the early days to try to solve that equation. But yeah, that's just an important skill to develop.
Rob Walling:
And as you said, it does get easier. It's really hard in the early days. And then, you're a year two, three, I think the filtering process is much easier.
Tim Cook, Apple, he says, "There will always be more great ideas than we can implement. We're going to have to say no to some great ideas." And I think that's being an entrepreneur, as well.
Derrick Reimer:
Yeah.
Rob Walling:
So I want to switch up our topic, and get your opinion on something. It's a Twitter-related thing, and so …
Derrick Reimer:
Oh boy.
Rob Walling:
I know. Here we go. "Why did I even …" Because I don't normally go to my home feed in Twitter. It's not something that I particularly enjoy, even though I follow you. But Tweets get surfaced from you, and people that I want to hear from otherwise.
I was reading this e-mail newsletter, it's for bootstrappers, indie hackers, it's called High Signal. And in it, he linked to a Tweet where, a founder who I don't know, but it's a founder who I guess has bootstrapped to a million dollars in ARR.
He says, "I'm interested in investing in indie SaaS businesses." And he has some criteria, and he's looking to put in 10K or more per investment, and wants to buy at least 25% of the company. And those terms are, they're bad. they're like, they're not in line with the market.
I read through it, and I was like, "Whoa, that is a …" Let's say, 10K for 25%, or let's say 50K for 25%, whatever the number is, compare that to TinySeeds' valuations, or YC's valuation, any accelerator. And frankly, accelerators are lower valuations, than if you were to go get angel money, because accelerators bring the community and all the mentorship and the advice and all that.
So TinySeed valuations say, 120 to 220 for 10 to 12%, whatever, those numbers are substantially higher than 10, 20, 30K for 25%. Not only that, but if a founder came to us, and we're going to invest at the same, usually it's the same phases. He was talking 1K to 10K MRR, and TinySeeds in that realm, plus higher, obviously.
But if a founder came to us, and applied to TinySeed, and we really liked them, and they were doing five or 10K, and they told us they sold 25% of their company to someone for a low five-figure amount, we would be pretty unlikely to fund them. It can ruin your cap table, it can remove optionality.
So when I read that, and here's the thing, man, I'm into, especially online, I always try to give people the benefit of the doubt, and try to give what Patrick Campbell … Well, he's now with ProfitWell. They have a value in their company called MCI. It's the Most Charitable Interpretation.
Within the company, one of our values is, if someone writes something in Slack, if someone says something in a meeting, please give the most charitable interpreter. And that's what I have tried to do for years online. It's just kind of how I roll.
So when I read that, I'm like, "I don't think this guy's trying to screw people. I think he is interested in investing, and these are the numbers that make sense to him." And in the thread that follows, it's actually a good thread, Some people are like, "Your valuation's too low," and he said, "Well here's how I got to that."
He's saying, "1K a month is 12K ARR, and then a 3X to 7X ARR multiple is 36 to whatever," you can do the numbers, but it's not typically how investment, especially in early stage SaaS, is valued. So I was like, "Well, I want to reply to this, but truthfully, should I? Am I doing a public service?"
Because here's what annoys me is, when I'm having conversation with someone, or I'm on Twitter, or I used to get pulled into conversations that it's like, "This is none of your fucking business. Why are you nosing in on my shit?"
It's like, here we are talking about features on Drip, and someone comes in and it's just, "Well, I have a support issue, blah, blah, blah," and it's just, "What are you doing, man? This is the worst of social media," I think. It's just, everyone just wants this, is mouthing off, and is like blah, blah blah.
So I don't want to be this guy who comes in and is just, "You're way out of whack, man, this isn't good." But also, I don't want founders to screw their cap table. So it's like, is it a public service announcement to chime in?
Of course, I would do it very thoughtfully and tactfully. I would try to do it, but who knows, they may not give me the charitable interpretation, and it may blow up into some stupid argument fest, which of course I would tap out of. I'm a one and done, remember my Twitter rule?
Derrick Reimer:
Yeah.
Rob Walling:
If someone picks a fight with me, I'm one and done. I post one response and it might be two Tweets or three Tweets in a chain, but, "Here is my stance."
And then, when they come back with the, "Oh, but, and I'm picking," and, "Oh, and that sentence is incorrect," and they start quoting each individual word, and pointing out how you [inaudible]?
I'm like, "Yeah, I'm not going to, I'm done. I'm done. One and done."
Derrick Reimer:
Yeah.
Rob Walling:
So all that said, I'm curious to hear your take?
Derrick Reimer:
Yeah, I mean, I think a big part of the answer comes down to whether you have the stomach for wading into the fray a little bit, because we know how these discussions can often go. And they turn into needing to die on some hill over something.
Or often, the case is with Twitter, it's like, they're short messages. So you have to be efficient in use of words, but also it's impossible to capture all the nuance. So the medium is limiting in that way.
But all those caveats aside, I've known you to be a fairly disciplined one in sticking to your one and done, not taking the bait, and just speak what to be true. And I think you are kind of the right authority on this, to provide context to the conversation in a thoughtful manner.
So I would say, it seems very much in line with just where your career's at, and what you're an expert in, to provide a little bit of commentary into the public sphere on this, provided you have the stomach for what potentially could devolve into a classic Twitter debate.
Rob Walling:
Do you want to get in that fight, yeah?
Derrick Reimer:
Yeah.
Rob Walling:
Well, A, I appreciate that. B, you should tell that to my YouTube commenters on our Microsoft channel. Because dude, I did this whole video about growing HitTail to 30K a month, and talked about the process and this and that.
One person said, "I call BS on this, I went to hittail.com, and it doesn't exist," and in the video, I said, "I sold it, seven years …" It's just, instant, like I'm not credible.
Derrick Reimer:
Oh, that's hilarious.
Rob Walling:
But anyways, I appreciate that. And that is, honestly, that has gone through my head. I typed up a response, and I hadn't sent it, when I had sent this Tweet to you, and said, "Let's talk about this on the show today."
Since then, I did reply, and I just felt eventually, "You know what? I'm going to try it. If it devolves into something, I do have the stomach, to just one and done it, to agree to disagree, basically," which is fine.
So I responded, and I said, "Genuine comment, not being a hater, but these terms are far under market. SaaS at this phase can easily raise at low seven figure valuations from accelerators and angels, even those that don't come with VC strings attached." Because that was another thing.
Someone said, "Well, they can raise at high valuations." And he said, "Yeah, but then you have venture strings attached." And it's like, "Well, that's not true, actually, from TinySeed, or other angels." Then I said, "Funding at these terms will damage your cap table, per what I just said."
And the cool part of it, it doesn't happen very often, but he responded, and he said, "That might be, I've had a few people say that in the comments already, which is fine. In the end, my goal is to invest in people in businesses in terms at affair for everyone. I'll see what this gets me in opportunities, and will adjust if needed."
Derrick Reimer:
Nice.
Which is like a …
Rob Walling:
Wow.
Derrick Reimer:
Perfectly reasonable, you know what I mean?
Rob Walling:
Yeah.
Derrick Reimer:
It wasn't some big argument. He actually posted something later and said, just in general, he said, "I learned a lot from reactions to this Tweet. One, these are lower multiples in raising. Some people can raise that 30-plus multiples, that's really awesome, but won't be for me, and maybe I should just acquire 100% of the businesses instead." Just interesting, so …
Rob Walling:
Yeah.
Derrick Reimer:
Yeah, I thought it was cool, it was a sensible … And we don't know each other. Here's the thing.
If we knew each other, if you and I are having this conversation, it's going to be civil, on Twitter, or I'm doing it with Anar, or Reuben or anybody, it's going to be civil. But it's when people don't know each other, this stuff goes sideways, usually.
Rob Walling:
Yeah.
Derrick Reimer:
And we don't know each other. So I thought that was just a redemptive arc. I'm still not going to do Twitter, though. I'm still not going to do it. It's just …
Probably a good call.
Rob Walling:
Yeah.
Derrick Reimer:
I don't over generalize this one, but yeah, I'm glad this one worked out.
Rob Walling:
Yeah, honestly, I mean, it sounds like … Just speaking about the topic overall, there's probably a lot of, still, misunderstanding about what's possible in the funding realm.
That's where a TinySeed can sort be an authority on talking about this kind of alternative funding strategy. People think in this binary, "It's either venture capital, or this feels like Shark Tank valuations," or something very, I don't know, super high risk, but it's not venture capital, so we're going to take 30% of your company.
And he had more nuance around it. I'm not saying he's trying to be a shark, but it just feels like a misconception about this middle ground type of funding, and how this space has evolved in the last few years, so …
And continues to do so.
Derrick Reimer:
Yeah.
Rob Walling:
So I have a question, then. Staying on the topic of Twitter, I'm on your Twitter profile, it's twitter.com/derekreimer.
Folks want to subscribe and get you over that 9,000-follower mark. Look at you, you're almost at 8,700. I know that's a KPI you track. Yeah, I know you don't.
Derrick Reimer:
Jeez. Yeah.
Rob Walling:
But you have the newsletter feature at the top, where people can just one click. I'm going to click Subscribe, and it says … Yeah, yeah.
They already have my e-mail, so if I confirm it, they being Twitter, already has it. So cool, so now I'll get an e-mail from Revue.
Twitter bought Revue a couple years ago now, or whatever, and they now have built it in. The only way you can subscribe is Revue.
We looked at it, we being MicroCon, TinySeed, Startups For the Rest of Us, robwalling.com, every Twitter account that we have. I was like, "I'd love to do this, because I like to build lists." and when I want to do it, I can only use Revue.
The only way I can do is, I can use Drip or any other tool, is to pipe it in via Zapier. So then it's a terrible user experience. Because you subscribe, you get an e-mail from Revue that confirms your subscription. Then suddenly, and it's very upfront of, "You're going to get the Revue newsletter."
Revue is all over it. It's not white labeled to be, "You're going to get Rob Walling's newsletter." It's like, "You're going to get the Revue newsletter, and Rob Walling might be involved with it."
It's way down. To suddenly be, "Hey, I'm sending this from Drip," it feels not very cool. So that's why we didn't do it.
But I'm curious. It says you have 2,300 people subscribe, so are you using Revue to send?
Derrick Reimer:
Sounds like you guys did actually a lot more diligence on the overall experience for this part of the motivation. So I did this a couple months ago, around the time that I stopped doing the podcast for the summer.
I had seen someone remark … Again, this is something I know to be true, you always want to own the platform as much as possible, own your list.
I'm like, "I participate in Twitter, and I get new followers all the time." But like most of those people, if Twitter were to go away, or I decided I want to stop using it, all of that would be gone.
So I was like, "This is an interesting kind of way to put a subscribe button, right front and center." And I have not been a good steward of my mailing list so far.
I haven't e-mailed them in probably well over a year, at this point. It was like, one, I'm not super active on mailing my e-mail list, which means it is decaying over time, sadly.
Rob Walling:
This is a list you had before this, subscribe for …
Derrick Reimer:
Yeah.
Rob Walling:
Because the subscribe feature has only been for a few months, but you had built it up at derrickreimer.com, I believe, right, to a couple thousand? Okay.
Derrick Reimer:
Yup. And I had e-mailed, probably pretty actively during the Level season, when I was building Level, and sent the retrospective about that to that list.
At that point, it was still quite a warm list. So I'm still keeping it around, and would love to add more folks to it, and at some point, probably share more to that list.
I still don't have a full strategy in mind about what that would look like, but I want to keep my optionality open. And I want to make sure that, even if I decide to drop Twitter, at some point, I will have these e-mail addresses of people who want to keep up with what I'm doing.
So I just more, did it for the placement, honestly, to put it right there on anyone who's coming to my Twitter profile, can click Subscribe really easily. And yeah, if I did want to send an update out, I looked at Revue, and it just looks like a very simple tool for sending out basic small newsletters.
So I think, the plan right now is, if I do end up mailing the list, I probably will do it through Revue, at least for little one-off things. If I want to get more sophisticated with my newsletter at some point down the line, then I'll have to cross that bridge, and figure out some kind of automation pipeline to pipe them over, and explain the confusing confirmation e-mail they got, and all that jazz.
Rob Walling:
Did you import your existing list into Revue?
Derrick Reimer:
I did, yeah.
Rob Walling:
Because, I was going to say, if you got 2,300 subscribers in the past few months, I'm going to add it to all …
Derrick Reimer:
No.
Rob Walling:
I don't care about this stuff.
Derrick Reimer:
Yeah. No, and that was partially so that the numbers would be representative of my current newsletter list size. And I just didn't want it to start at zero on there. It'd look kind of sad.
Rob Walling:
Join 12 others, right? It's such a …
Derrick Reimer:
Right, right. But then, also, I was like, "Yeah, I probably will use Revue. If I just want to send a little one-off note. Seems easy enough."
Rob Walling:
Right. You're not doing sophisticated automations, or anything. Cool. Well, let's go to another topic.
I'm curious. You've raised funding from TinySeed, and then from, you did a subsequent small raise. You have money in the bank, presumably, and you're growing quickly. I don't know all your expenses.
I do know your top line revenue, because you're a TinySeed company, and I think you're profitable, and probably throwing off, putting more cash into the bank than you're pulling out. So how do you think about that, as a mostly bootstrap company that could just become profitable, and just start pulling … You've raised your salary, you've pulled out dividends, you could do all that, right?
Versus reinvesting at, basically running at break even, maybe you could burn, because you have money in the bank, and going for growth, which is probably a longer … Or it is.
It's a longer term thing of, well, the growth is what gets you, let's say, high valuation, in essence. How are you thinking about that?
Derrick Reimer:
Yeah, it's a big topic, and I feel like my thinking on it has … Well, it continues to evolve, to be honest, as the business goes through different phases. But I think where I've landed with this is that the key tension is that, I'm both ambitious, but also want to make sure I'm architecting a journey that I can enjoy, and that minimizes my stress as a founder.
I think what you see happening a lot with people who are ambitious, and optimize for growth is one, you see very, very low founder salaries happening. I'm always stunned when I hear these stories of, "Well, I only made 50K for the first six or seven years of my business, and we lived on Ramen." I just can't … At the stage I'm at in life, that would create a lot of personal stress, I think, in my life.
Then what you often hear is, folks in that kind of situation then really start to yearn for taking some money off the table and de-risking, maybe selling part of the company, and doing a secondary, or something like that, to reap some of the rewards of what they've been building. And I may yearn for that at some point in the future, for sure, if I'm building SavvyCal for a really long time.
But I think a lot of that, for me, can be mitigated by just making sure that one, I'm paying myself a healthy enough salary where I can live comfortably, I can live in the city, I can travel a bit, I'm not watching every single grocery bill, that kind of stuff. Basically, anything beyond that, I'm totally okay with treating as, "This money, this revenue is there, in service of optimizing this asset that I'm building," and aggressively reinvesting it. So I think that's, for me, is the balance that I'm seeking to strike.
I do always have the, I think it's a Jason Fried quote running through my mind, "Calm is in the black." I think for me, staying profitable, or at borderline profitable, is probably the goal.
I don't really have an appetite for dipping too far, taking huge bets, where we're burning a ton of the reserves for a long time. But I know that it's often the case, that when you get that extra bump in revenue, you find another way to deploy that revenue. And you get back close to break even, or maybe slightly unprofitable, and to me, that's totally, I think, within the realm of my risk profile.
So yeah, I think that's kind of how I think of it is, make sure that I'm paying myself enough, where life is not super hard, and I'm not feeling a lot of personal stress, or I'm putting a lot of pressure on personal finances. I think that will give me the energy to go long on the rest of the profits, and make sure I'm reinvesting them.
Rob Walling:
Yeah, I think that's a really healthy way to look at it. You often hear me talk about lifestyle bootstrappers, and then, growth bootstrappers, or ambitious, whatever the difference is.
And the lifestyle businesses are awesome. They're built as cash flow machines, and they have these incredible 70, 80, 90% net margins, where you're just kicking off cash. It's a great subscription, it's a great business model.
It's the best business model in the world, in my opinion. And then, that growth or ambition of, "I want to build something bigger, but also, I want to build something really valuable, and I don't ever want to have to sell. Yeah, I want to be ready and able to, if that time comes."
Something that I tell bootstrappers, or really, just any SaaS founder, or any startup founder, is SaaS multiples, if you do decide to sell, at some point, are … They're just crazy. They're high.
It wouldn't be the best time to sell, right at this instant, given the economy, and all that. But they're high.
I always give this example of, once you have product market fit, adding 1K of MRR a month is not that hard. You need the leads. It's just math, right? 1K, 2K.
For every thousand in MRR you add, you're adding 12K of annual recurring revenue, $12,000. And if an exit multiple, the range is four to eight, four to 10, whatever the range is, but let's just say five, selling it five times your ARR.
So every month, if you're adding 1K of MRR, you're adding $60,000 to your net worth, pretax, right? You have to pay tax on that. But just think about that. Where else can else can we do that in our lives?
If I were to buy a bunch of real estate, yeah, I know there's tax advantages to this and that, buy stocks, if I buy collectibles, whatever it is, there's just no other place that you can get that kind of leverage. And I'll even go further, because the example becomes kind of crazy when, I mean, you remember when we hit the point where Drip was doing, we were adding 5K a month, every month.
Derrick Reimer:
Yeah.
Rob Walling:
As you scale up, you do, you add 5K a month, you have 10K a month, and that sounds crazy in the early days. But you just get the flywheels, you get the brand, whatever. 5K a month, 60K ARR, 5X multiple, every month, $300,000 to your network. Obviously, it's hard work to get there. It's hard to build a SaaS company, it's hard to get the product market fit, it's hard to do all these things.
But once you are there, every month that you wait is literally adding 300K to your net worth. Every six months, if you're growing at this pace, almost $2 million, and that's exit multiple. So it's a little funny money, right?
Not everybody can sell, and I'm not saying that everyone should be, or that that's the end goal. I do like that it has been, I think, destigmatized in our space.
I think 37signals did the bootstrapping space a little bit of a disservice, in how they used to talk about never selling, and also, about not marketing and not tracking. There's a lot of things I think they didn't need to do, that a lot of companies and founders should be doing.
But I do think it's been destigmatized, because at this point, everybody sells. I didn't think Adi Pionar, and Josh Pigford, and MailChimp, and who else has sold … We didn't plan to sell Drip. I mean, it just happens at a certain point, right?
Derrick Reimer:
Yeah, yeah.
Rob Walling:
I won't say it's inevitable, but I jokingly say, "Everyone sells, eventually." And I truly don't truly mean everyone, so please don't e-mail me.
But it's interesting, when you think about it that way, in terms of, if I take, much like Warren Buffet would always agonize over spending a dollar today, because he knew what he could turn that dollar into, in five, 10, 30 years of compound interest. If you listen to his biography called Snowball, he talks about that. He's super cheap, because he doesn't think of money today. He thinks of money in 40 years.
That's I think of SaaS revenue. Again, if it's a lifestyle business, cool, take all the cash out. But if you are going for that more growth stuff, every $1,000 you take out is $1,000 you're not using to grow that business. Again.
Well, every K is 60K of value. So yeah, I think that's something folks should keep in mind, if they haven't already heard me rant about it.
Derrick Reimer:
That's a nice succinct way to just describe what it tangibly means to be reinvesting, and increasing the value of the asset. Because I've had conversations with founders before, who have really struggled with the notion of, "Do I want to reinvest this? Or should I just pull it out, just dividend it out every quarter, or whatever?"
And they're looking at this pile of money sitting in the bank, and saying, "No, this is the spoils, I've earned this. I'm going to pull it out."
I've tried to have this conversation before, and probably not gotten to the crux of it as well and as succinct as this, where it's, "You can. You can pull that out now, but I'm basically putting my entire career energy right now into building this asset. That money, if it adds to this recurring revenue machine, will yield so much more in the future."
I think the balance there is, it doesn't have to be, you don't be literally living a eating Ramen lifestyle while you're building the asset. You kind of can have both, once you get to a certain stage of traction where … That's where, I think, for me, I just determined early on, it's important to not be super, super thin on my salary.
That's the base that I want to get to. And then everything else? It can just be freely reinvested.
Rob Walling:
Glad you called that out, because I was going to say that, too. The flip side of what I said is, you can go too far, you can be a cheap bastard, you can take 1K out a month, live on Ramen, and then your life sucks. You shouldn't do that either.
So it's just finding that balance, and this also supposes that, like you, when you're in this situation where having more money will help you grow faster, because you are deploying money intelligently in marketing experiments with Corey Haines, and other stuff you're doing in product, you hire a developer. Each of these things is helping you grow faster.
If you can't do that? I've had businesses where they just plateaued, and more money wouldn't help them grow faster, because they were just in a small niche, they had high churn, whatever it was. And in those cases, then, maybe it doesn't make sense to do it, but …
Derrick Reimer:
I'd say that's probably one of my fears is, and I don't foresee it happening, but it could happen, where you suddenly have more money than ideas coming into the business. I feel like, that's a risky spot to be in, if you're trying to really build something meaningful.
If the goal is to make this as meaningful as possible, then that's a tricky spot, if you don't know how to deploy the capital coming in the door every month.
Rob Walling:
That's where having knowledgeable friends, mastermind partners, advisors, investors, or even third parties, marketing strategists like a Corey Haines, like an Asia Arangio, going to people. Look, most of the calls I do with TinySeed founders are around big strategic questions like this, like two in the past two weeks. "I have too much money in the bank. I have 24 months of burn or something, you know what I mean? It's just, I'm too conservative, and I'm trying to figure out where I should spend this."
Then it's like, "Cool. Let's walk through where you're spending it now. How big is your team, where are your bottlenecks?" It's a logic puzzle, and pattern matching for me, because I'm seeing where founders are succeeding.
It's definitely something, I think, we all encounter. But if you get in that position, you would figure it out, right? Because you have knowledgeable people in your corner who would give you the advice to get past it.
Derrick Reimer:
Those have got to be fun conversations to have, huh?
Rob Walling:
Yeah, they are. I'm living my best life, man.
Derrick Reimer:
Yeah.
Rob Walling:
This is exactly what I want to be doing right now.
Derrick Reimer:
Yeah.
Rob Walling:
They're a hard problem, man. I have office hours twice a week, and I'm exhausted at the end. It's so taxing, because it's all your glucose, and it's like, "I really want to help you make the right decision here."
We're just diving in, and it's like, "All right, tell me all this stuff." So when I'm done, I'm tapped out, can't record a podcast today, can't do whatever. But they're super meaningful. What's cool is, it's working with founders who are getting shit done.
Because the next time I talk to them, they've done what we talked about. Versus sometimes, whatever it is, on a podcast, or you meet someone an event, and you give them all this advice. And then they just don't do anything.
It feels like, "Why did I waste all that good glucose on that? Why did I offer to help, if there's just going to be excuses why you can't do it?"
This is something about people, Anar and I talk about this a lot, what are some factors of successful founders? One of them is that they have bias for action.
They do stuff, and even if it's going to fail, they try a lot of things. And it is fun. I definitely enjoy it.
Derrick Reimer:
I had a question jotted down in my notes, that actually, the last couple times we've recorded, it's just been in my back pocket, I feel like you probably mostly addressed it is, the question was, "Are you scratching your maker itch by being an investor in companies through TinySeed? Or are you missing the SaaS game, being in the arena?"
Rob Walling:
That's a really good question, man.
Derrick Reimer:
Yeah.
Rob Walling:
For the most part, I'm not missing the SaaS game. My maker itch now is scratched by recording podcasts. I don't know if folks have noticed, but over the past year or two, the podcast used to be Mike and I chatting about things, and we would talk through an article, we'd do something.
Now I'm pouring myself into the podcast, like the solo episodes I do, or even conversations like this, where I'm really trying to bring it, the deep stuff, the philosophical and the tactical, and the strategy stuff. I'm trying to bring it more.
I'm also finishing up a book, so that's very maker-y. It's brutal and painful. I like having written books, I do not like writing them.
Derrick Reimer:
Yup.
Rob Walling:
But that's about all this stuff. So I'm trying to bring my ideas there, writing talks, I'm giving talks every couple months.
And then, the advising, the consulting, they're still really hard problem. Not consulting, but advising and mentorship, right, of TinySeed companies.
Derrick Reimer:
Yeah.
Rob Walling:
There's still so many hard problems, and I feel like every week, there's something new that challenges me to think about it, this whole thing in a different way, of, "Oh, man, I don't know. I haven't heard that one before. Now how do we creatively get to a reasonable path forward for you?" So that's nice.
It is fulfilling, because it's not just, "Oh, I'm going to give you advice." I then see the progress, and I see the results of it, even if I don't do the work myself. But I am still vicariously maybe living a little through the founders.
Because I see the success they had, and I'm able to celebrate. "Man, I was a small part, I was able to play a small part in that." And that feels good.
Derrick Reimer:
That's awesome. Yeah, I think you've remarked to me before, probably on the podcast, too, that you've been able to hone in on what's the most valuable use of your time? If you're not behind a mic, or advising a founder, or whatever the short list is, then you're probably doing the wrong thing.
I think that's always food for thought for me. Am I using my time in the best way possible? Of course, as an action biased founder, I'm wearing many, many hats, and bouncing between a lot of things. But yeah, there's a lot of fulfillment that comes from knowing that your time is being used optimally, and you're obviously still taking on a lot of challenges like these.
Like you said, these are not easy conversations to strategize and problem solve. But getting to deploy everything you've learned from a career of building these things has got to be pretty fulfilling.
Rob Walling:
Yeah, it really is. It really is. And I'm less stressed day to day than I have been. Even though the stakes, I still see the stakes are high, the stakes for each of you as founders, the stakes we're raising.
We're raising venture funds, and we're writing big checks, and there's money moving around, and whatever. And there's always operations and stuff to deal with. But I am less stressed than probably any company I've ever run. And I think it's part of that.
There's a maturity that I wished I'd found in my early thirties, but it took me a long time. But also I love the work, so it's good. I'm happy.
I feel like I'm working my best job, living my best life. It feels good, till I go on Twitter… No.
Derrick Reimer:
Yeah, stay off of Twitter if you want to keep that.
Rob Walling:
No, it's all good. As we wrap up here, people are saying I should be on TikTok, Derrick, and I don't want to be on TikTok.
Derrick Reimer:
TikTok? Oh, man.
Rob Walling:
It's like, "Oh, just be me. You can get a million views by just talking about SaaS, or something."
It's like, "Really? Can I? And are those views going to turn …" And I'm just so skeptical about it.
Derrick Reimer:
Yeah.
Rob Walling:
Probably because I really don't want do it, so I'm coming up with skeptical excuses. What I should do is probably test it out.
Derrick Reimer:
Yeah.
Rob Walling:
But I downloaded the app, and I cannot bring myself to even create an account. Because I'm like, "Is this a good idea?"
Derrick Reimer:
Man. Yeah, and it seems like you would need to get the right advice on, what is the exact format of video? Is it supposed to be super attention grabbing? Or can it be a little more in-depth?
How do you set yourself up for success on a platform like TikTok? I wouldn't even know the first …
Rob Walling:
I'd go hire a consultant, is what I would do.
Derrick Reimer:
Yeah, yeah, yeah.
Rob Walling:
Or hire someone, or at least talk to someone who has had success at it in the B2B space, which, as far as I can tell, is zero people.
Because everyone I talk to is always, "Well, but we're kind of B2C," or it's, "We're B to prosumer," or whatever. It's not like, "Oh, so it's not going after hard …" Or it's B to wannaepreneur, right?
It's B to aspiring entrepreneur. Versus, I want to talk about how difficult it is to start a company rather than blow smoke up your ass, and tell you that it's this easy thing, and you can make all this money online, so …
Derrick Reimer:
Yeah, it's interesting. I mean, I've definitely feel the influences of TikTok. I don't know if you've noticed, I mean, you've probably haven't spent a ton of time on Twitter recently.
But the algorithm feels to me like it's been shifting more towards trying to surface viral videos in general. There's a lot more of that, kind of based on … I don't even know what they're basing it on.
They say, "based on your likes," or whatever, but it's the secret sauce. And they're surfacing videos, that most of them are just comedic. And it's like, "Okay, that's funny," whatever.
But also, it just feels slightly strange, because it is a noticeable shift in the type of content. But you can feel the effects of the TikTok format bleeding into other mediums, too, so …
Rob Walling:
Yeah, I think so, Instagram, as well. I'm not on there very much, but there's a lot of TikToks that get re-posted to Instagram, I guess, and …
Derrick Reimer:
Yeah, yeah.
Rob Walling:
It is. It's noticeable. Well, sir, thanks for hanging out with me and chatting.
Again, folks want to keep up with you, Derrick Reimer, on Twitter. Of course, you're working on savvycal.com.
Derrick Reimer:
Yeah, thanks for having me.
Rob Walling:
Thanks for coming back every week, and listening to Startups for the Rest of us. Whether you have listened to six episodes or 600, I hope that you enjoy the time and the thought that I put into this show.
In case you missed it, I was able to wrestle with the RSS feed goblins, and able to get the last 300 episodes of this show now, in the RSS feed. That has always been a problem, because we have full transcripts in our posts, and I was able to, it doesn't matter technically work around it.
So 300 episodes, which is the max that Apple Podcast allows are in the feed. So if you want to go back and reminisce down memory lane, that's almost six years of shows, you can go back a lot further than you could prior.
As I said at the top of the show, if you haven't left a rating or a review, it'd be amazing. Other than that, I'll be back in your ears again next Tuesday. This is Rob signing off, from Episode 622.