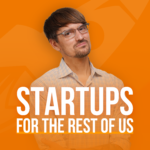 In episode 616, Rob Walling chats with Liam Martin, the co-founder of Time Doctor and author of the new book, "Running Remote: Master the Lessons from the World's Most Successful Remote Work Pioneers." We dig into the fundamentals of asynchronous communication, how to do remote work better, and some surprises they saw during the pandemic.
Episode Sponsor
Hiring developers has been tough for years, but it is even tougher these days. Lemon.io is on a mission to make the process of hiring an experienced developer or even an entire team easier. They only have experienced developers on their marketplace, and each one is hand-vetted. It is virtually risk-free as they'll guarantee a replacement in 48 hours if something goes wrong.
Find your perfect developer or a team with Lemon.io. You can also claim a special discount for our podcast fans. Visit lemon.io/startups to receive a 15% discount for the first 4 weeks of work with a developer.
Topics we cover:
[2:46] What Liam has learned running Time Doctor for the past 12 years
[6:23] Can extroverts thrive long-term in a remote work environment?
[11:14] Liam's approach to metrics and KPIs for engineering teams
[18:23] Why remote companies that move faster collaborate less
[21:31] How far can you take async communication in a remote team
[24:29] Combating isolation on remote teams
Links from the Show:
If you have questions about starting or scaling a software business that you'd like for us to cover, please submit your question for an upcoming episode. We'd love to hear from you.
Subscribe & Review: iTunes | Spotify | Stitcher

 
Rob: Welcome back to Startups For the Rest of Us. I'm your host, Rob Walling. Today, I talk with Liam Martin, the author of Running Remote: Master the Lessons from the World's Most Successful Remote Work Pioneers.
In this episode, we don't dig into the basics of remote work or try to convince you about the benefits of it. This is not a podcast for Fortune 500 managers. It's a podcast for bootstrapped and mostly bootstrapped SaaS founders who want to build amazing companies.
If you're listening to this, you probably already know the value of remote work. You've likely been doing it yourself for years, or at least, if you have a company that has set it up that way because as bootstrapped and mostly bootstrapped founders, that's just something we have to do.
Oftentimes, we can't afford an office or we can't afford to hire in our local cities, because we don't have the money to do it. Liam and I really dig in to not the fundamentals of remote work, we talk about asynchronous communication, we talked about how to do remote work better, some surprises that we saw during Covid. It's a good conversation.
Before we dive in, I want to let you know, we have 930 worldwide ratings, and I want to get to 1000. This is in Apple Podcasts, specifically. Most recently, dwill3x left a review that says, "Wish I had found this podcast earlier. It's so practical and relatable as a bootstrapped entrepreneur. I find it not only helpful tactically, but it's also great to feel part of a community of people going through the same things that you are."
Join dwill3x and leave a review. In fact, you don't even have to type all that. You can just go in, hit the five-star rating. I would love to put 70 more on the docket in Apple Podcasts for Startups For the Rest of Us and hit 1000 ratings. There are so few shows with the reach that we have that are at 1000 ratings, and I would love to get there.
What else is incredible is these ratings are across 50 countries, I was surprised when I saw that. Thank you so much if you can deal with a crappy Apple interface and hit five stars. With that, let's dive into my conversation with Liam Martin.
Liam Martin, thanks so much for joining me on the show.
Liam: Thanks for having me. I am so excited to be able to actually go deep on async for once, because I've done about 450 of these things as I think I've seen based off of my assistant telling me. You're one of the first people that in those pre-questions that you had for me, they're exciting questions. I'm ready to get into it.
Rob: We don't need to convince our audience that remote work is a thing. We don't need to convince them that it can be done, that it can be done successfully, because frankly, most of the audience are either already doing it or they want to be doing it. That's why I wanted to dive into your book. It's called Running Remote. It came out today and it's available on Amazon, Audible, and runningremotebook.com if folks want to check it out.
Before we dive into that, you have a ton of experience running your own remote company. You've been running Time Doctor (timedoctor.com) for 12 years with a co-founder. It's a SaaS app, time tracking. Do you want to give folks an idea of where that business is at in terms of whatever metrics you're willing to share?
Liam: We have team members in about 43 different countries. We're at a nice, reliable, eight-figure run rate, growing pretty reliably. I think we should be floating around 25% growth this year, which is not bad for an eight-figure run rate. Covid-accelerated time-tracking industry in general, so that was also a really nice push back in 2020.
I think we did 195% growth and/or change, which was crazy. It was literally like those big tubes, where they put $20 bills, and it's like a hurricane that floats around, and you just grab those $20 bills and try to stuff it down your bra. That was the first couple of months of Covid for us, because we just saw such a huge increase of people that were saying, hey, we want to be able to apply to the remote technology stack.
Looking back on that decision, actually, I made a lot of wrong moves at that moment. One of the companies that I respect so much that has absolutely crushed it is Loom, because they very quickly went freemium and they did have a paid product. They recognized the opportunity. They said, we're going to do something completely free, just use the app as much as you want. Really, the goal at that point was attention for the remote technology stack, not necessarily monetization. Now they're doing very, very well as a company.
Rob: I didn't know they didn't have a free plan before Covid.
Liam: They made a very, very quick pivot. There's a bunch of other companies that have done a really good job. MURAL is another one that did very well. They implemented a freemium plan very quickly because they realized they needed to be able to communicate that value as quickly as humanly possible to the companies that had no clue how to actually go remote. I call it emergency remote work, and it really was. I was getting phone calls.
I got a phone call from a G20 country that said, hey, we have 540,000 employees, we took them remote yesterday. What should we do next? What's the plan? And I said, I have no idea. We have like 200 people in our organization. Why don't you talk to somebody else? And they said, you're the first guy that picked up the phone. These companies just had no understanding of what to do and I think they still don't, unfortunately.
Rob: That's the thing with big orgs. I don't know that we'll get into it today because it's just not super relevant to the audience. Definitely, I have seen remote companies. I personally managed my own companies into the low 10–12 employees. We were mostly remote and that worked fine.
I got acquired and the acquirer was 170. They had an office, but they were remote part of the time. I remember seeing things start to break down at the edges at that size. I was trying to imagine what it'd be like to be Apple or some company with 10,000–20,000 people and trying to still run remotely and have things work.
I think that kicks off my first question. Basecamp is often used… they were early proponents of being remote, but they're often an exception to a lot of the rules just because they are, because they've been around for 18 years. They were early, they grew very slowly and organically.
Frankly, I've heard that the employees are a bunch of introverts. The argument against that is that you can't build a 10,000-, 20,000-, 30,000-person remote company, because can you find that many introverts? What is your take on that? Do you think that extroverts can thrive long-term, even in a 10-person or a 20-person company? Extroverted people who need that face-to-face social interaction, do you think that they can thrive long-term in a remote company?
Liam: It's a bit of a complicated answer that I want to give you, unfortunately. I'm an ambivert myself. When we look at the psychometric testing as it applies to remote work, introversion is one of the best success factors that leads to longer retention rates through an organization.
Our VP of product lives four blocks away from me. I meet him in person twice a year. He doesn't want to actually interact with me, and that's totally fine. He would just happen to be the right person for the job, and he just happened to live four blocks away from me completely as a fluke. But when you look at the way that these organizations are set up, there's a really interesting moment. You talked about 170 people, that's past the Dunbar number, which is about the maximum of that is about 150 people.
The Dunbar number is basically just a sociological concept that you can only have 150 people that you know in a deep way. The test is, if you saw them at a restaurant, would you actually go down and sit down with them, or would you just kind of like shyishly wave at them?
Once you get past that number, the metrics really change where unfortunately, regardless of how much you want to have those intimate relationships with your team members, they effectively become numbers. It really boils down to quantitative data as opposed to more qualitative data, which is good or bad.
To me, when you look at these extroverts that are having varying levels of difficulty as it applies to remote work, the answer that I have for them is work from home is not remote work. Work from home is, I'm stuck in my office, there's a virus outside that may or may not kill me. I'm stuck here with my wife, my husband, my dog, my cat, my kids, and I can't get out of here.
Remote work means I can be at my home office, I can be in a coworking space, I can even be in a corporate office one or two days a week if I really want to, I can be at a coffee shop, I can work on the beach. I highly suggest you work on the beach. However, I did it once just to say that I can do it, and it cost me $500 to get my keyboard fixed. I got some sand in there.
Outside of that, it's really allowing these extroverts to be able to get that energy out. I think the biggest misunderstanding of that is that people that work in these organizations that are extroverts have to necessarily interact with co-workers to actually get that energy out. The vast majority of the time, I go to a co-working space because I need to get that energy out, but I actually just interact with people that don't necessarily connect to my job or don't work in my organization.
That's how I get that energy out of me, so I can continue to be productive instead of the organization. It's just this miscorrelation. I think there's just all of these assumptions that have been built up in the 20th century on-premise model of work that we need to unfortunately undo for the future of remote work.
Rob: As an introvert myself, I always struggled with working in an office. Of course, that was the standard. I started working as an electrician for a few years, so I was in an office. Then 22 years ago, I guess I started my career as a developer. Man, that makes me feel old. But the office was super distracting, and I started working from home within a year or two after that because there was a dot-com crash, and suddenly, nobody wanted to pay for an office.
That was my dream, it was to work remotely, and it totally made me personally way more productive. I didn't need to collaborate that much with people because I was often solo running a project. I had a little bit of collaboration, but for the most part, I was writing a lot of code and then once every week or two, I would do an architecture session with somebody. We would just meet up. It's pre-Zoom and all that, so it wasn't easy to do.
Something that you talked about in terms of companies being able to track—you said quantitative versus qualitative—you talked about detailed metrics and crystal clear KPIs, which people listening to this know what KPIs are and know what metrics and all that stuff is. If you're managing a customer support person, email response, so it's time per response and satisfaction are usually the two metrics you would look at. Usually, it's not always.
If you're looking at a customer success person, you'd look at retention rates and churn. If you're looking at a salesperson, it's really easy to measure, close rates, retention rates. I'm a developer, so I always found it easy and natural to manage developers and figure out who's good and who's not.
Whenever I've had more of an integrator or an MBA type ask me about each of these roles, I say, numbers, numbers, numbers, and then we get to developers. They say, how do you measure developers? And I will say, there's no numbers. You don't track who fixes the most bugs. You don't track who committed the most lines of code. These are bull[…] metrics, right?
Liam: In some ways, that's actually counterintuitive to productivity.
Rob: Yes. I'm curious because you run a software company yourself and you're remote. How do you guys think about crystal clear metrics and KPIs with the dev teams in particular?
Liam: This is going to be an unfortunate answer. The best indicator that we've seen for success as an engineer is flow state focus or what my friend Cal Newport called deep work. Really, Running Remote, the book, is an infusion of deep work at an organizational scale. 
Deep work, basically, is having everything at your disposal to be able to solve a very difficult, hard problem, which is essentially what engineers are doing 24/7. The more that you can keep them in that state of deep work, the more they will be able to solve those difficult problems.
The worst thing you can do as an engineer is say, okay, I have everything in front of me, I'm going to get all the information that I need, and I'm going to read through the last four or five pages of code, I know what I'm doing, I'm going to start to write, and then all of a sudden, boom, it's meeting time. We've all got to go into a meeting with 12 other people that don't want to be there, you've got the one MBI guy at the front. I secretly call him Captain America, like the six foot five white guy that looks like Captain America, and he tells you what you're supposed to do next.
That, generally, is the worst thing that you could possibly do to an engineer. They actually work much more like creative writers. I've seen a lot of inspiration, at least, personally for us instead of our organization, looking towards how creative writers write. The first thing that they do is they find themselves a writing nook, a writing nest or a hole that they just kind of go into. They might disappear for 3–4 days and then emerge later.
This concept of a nine to five for an engineer doesn't really work. What you need to do is say, okay, you're really excited about solving this particular problem, you have everything at your disposal to be able to do it. Go ahead, let us know when it's done, and then we can talk about it. That's how we handle it.
Again, it's not a perfect science. I think that this is an experiment for us. We've been doing it for about a year-and-a-half, but there are a lot of other ways. There are a lot of other organizations that will give you much more quantitative metrics. Up until this point, I haven't necessarily found one that works. And it sounds like you haven't either.
Rob: No. I ran my companies very similar to what you're saying, where I viewed it like a deep work craft where you have to get in the mindset. Frankly, for developers, it was like one recurring meeting a week. That was when we were 20 engineers. When we're less than eight, we had zero standing meetings, except for one lunch once a week that everybody looks forward to anyway because we got to hang out.
I ran it the same way, where I was a developer and I remember interruptions. I would start work at 9:00 and I have a meeting at 10:00. It meant that in the next hour, I got very little actual coding done because…
Liam: You're not even psychologically ready to get in, because you're thinking to yourself, oh, why should I spend the hour preparing to actually think, because you need all of that prep time before you can start to really think and execute on something. 
We have something in the company called silent meetings, which is basically we use Asana. You can use any other type of project management system you want, but we write down the issues for our meeting, and then we will respond to those issues in the comments.
If we've come to a conclusion, we take the conclusion, we put it at the top of the ticket, and we clear the ticket. If we have less than three tickets before the meeting starts within 24 hours, we automatically cancel the meeting on all our Google Calendars. 
Sometimes, people aren't, honestly. You can see the day before, they're trying to clear as many tickets as humanly possible to not get the meeting happen, to not have it happen. That's even a reason right there. They don't want to sit in the meeting because they want to actually get more work done. 
One of the most interesting factors that I found in my research for this book on asynchronous organizations is that the managerial level inside of asynchronous organizations is 50% thinner than their on-premise counterparts. There are more people doing work in async orgs than there are people managing people solving problems inside of asynchronous orgs. That is a massive strategic advantage when you're thinking about growing your company.
Rob: It's counterintuitive, because you would imagine, well, if we're all sitting here in this office, don't we need less supervision? That's what the kind of pro being in the office person would say, but you're saying it's the opposite than when you're remote.
Liam: You're also assuming that work is something that you don't want to do. If an engineer's happy place is solving these difficult problems because they truly believe in the company and they're aligned towards the vision of the organization, our mission statement is we're trying to empower the world's transition towards remote work. That's what heeds into everything that we do as an organization.We try to really reinforce that with every single team member inside of the company. If they're not interested in doing that, then don't work here, go work somewhere else. 
If you're not super excited about solving this problem, you're not aligned towards it, then, yeah, it's definitely one of those things that I've got to have you in the office or I've got to make sure that you do your work, but people want to do the work. It kind of just happens on its own.
Rob: Do you know what one of the biggest competitive advantages is for a startup? It's not being in Silicon Valley having access to capital. One of the biggest advantages is access to great talent and the ability to hire them fast.
This week's sponsor is lemon.io. Lemon.io gives you access to a pool of engineers from Europe and Latin America. It's a marketplace where they check and interview every candidate and then carefully match them with hand-picked projects. It's incredible how quickly they can do it. Lemon.io can offer you a match with a perfect developer within 48 hours.
Think about it. You can have a developer working on your project within two days. Due to their extensive pool of developers, inexperienced candidates don't qualify. These are all developers with a lot of experience working on startups and projects just like yours.
You can find your perfect developer or development team with Lemon.io. Claim a special discount for Startups For the Rest of Us listeners. Visit lemon.io/startups to receive a 15% discount for the first four weeks of working with your dev. That's lemon.io/startups.
In your book, Running Remote, I was reading it yesterday and today. The first section of it, first maybe 25%, is stating the case for remote work. That for me, I kind of skimmed that, because frankly, I already know the case for remote work.
But there were a few interesting things that you did include. One thing was about introverts and then you have counterintuitive async bombs. For folks who haven't read the book yet—obviously it just came out today so probably most people—you talk a lot about remote work as async. It's a whole different mindset than being in an office. You can't just move being in an office work to remote and expect it to work.
One of the counterintuitive async bombs that you mentioned is companies move faster when they collaborate less. I'm sure there are some folks hearing that statement who will bristle at the idea of it. Do you want to flesh that out?
Liam: We specifically wrote that line that way to make people react to that type of statement. It's not that we don't collaborate, but we'd collaborate differently. We collaborate asynchronously. Everyone kind of knows what async versus sync is, but the ability to be able to consume information when it is most advantageous to you.
Let's go back to the engineering example. I really want to sit down and figure out a hard engineering problem. Maybe I'm working on it for six or seven hours. Now I'm exhausted and now I can take that extra surplus time that I have, jump on to Asana, Trello, or JIRA, and start to look at some of these other issues.
Maybe we're thinking about coming up with a new feature as an example, which we actually use in Basecamp. It's still the most efficient way to be able to discuss deep product issues over the long-term, because then we can document that process, go back three years and say, why did we choose that feature? Oh, well, it was because of this. It was because Justin was the VP of product. Oh, well, he's an idiot. We let him go, why are we still doing that?
The reality is that getting into the ability to consume that information when you choose to an on-premise org that wouldn't necessarily seem like collaboration, but that is collaboration to asynchronous organizations, that's the real magic power, because I don't have to necessarily be in a physical meeting room or on a Zoom call in order to be an active participant inside of that conversation.
That's really the key piece there. There's an assumption that if you're not physically there, if you're not physically synchronous at the time, then you're not participating. I'm trying to break those down to be able to say, you can participate, you can just participate asynchronously.
Rob: Where does that end? I'm going to ask a question and then I'm going to talk about some of my experiences. You can't just have zero collaboration. There has to be some. The example I bring up is, with my last SaaS app, Drip, we would do a lot of stuff async.
We had a couple days a week in an office, and that was great. We'd hang out, and water cooler, and go to lunch and everything. Then a ton of remote, async, everybody's at home just cranking away. But there were times, where we'd have a new feature that was kind of big, kind of hefty, kind of complex.
This is maybe, I would say, once every other week is about when it would come up, where it would be so helpful if the two or three of us could sit in front of a whiteboard, and just hash this out, and draw the diagram. What do you guys think about this? And we would sit there for like an hour. It wasn't even meetings. It was like, hey, everybody, you guys ready to do this? Yeah, let's jump in.
We would just sit there, we're a very engineering-driven org. We'd hash it out, and we would get so much done in such a small amount of time, and architect what would be a pretty complex feature. I believe we're trying to do that async and others wouldn't have been as good or would have taken a lot longer.
That, in my experience, is something where collaboration, I think, and real time synchronous collaboration is helpful. Now, in your experience or in your examples that you've seen, how far can you take async? Where does collaboration sometimes need to be synchronous?
Liam: It's interesting because the companies that I interviewed, some of them are fundamentalist, asynchronous organizations. Thou shalt not interact synchronously under any circumstances, whatsoever. I don't take that stance. I am more on your side of the spectrum. You are much more async than the vast, vast majority of companies that operate today.
A lot of companies that sit down and look at your workflow would think that you're from Mars. This is one of the other things that I discovered during the book, which was, this is the first time that I ever really interacted with corporate America, because I've always been in the tech startup world, and it just blew me away, like, okay, we were sitting here for three hours to talk about whether or not we're going to get sued by this other person. I'm not a lawyer, why should I be in this call? That type of a thing, which was so confusing to me.
What I would suggest that people do is, effectively just what you did, do as much preparation as humanly possible asynchronously. Can you actually discuss things and get to a point in which asynchronous communication breaks down? Generally, this floats around disagreements. More importantly, this actually breaks down around the more emotional side of disagreements.
Going back to the silent meetings example, the only tickets that stick up in our issues list, unfortunately, week after week, is Rob has got a problem with Liam, because Rob thinks that Liam is encroaching on his authority for this particular department, and we need to be able to hash it out.
I talk a lot about how managers should really be reserving all of their energy, not for just communicating metrics from one person to the next, which asynchronous organizations do automatically, because the platform is really the manager. Instead, focus on the EQ issues. Okay, well, why do you have a problem with Liam, Rob? How can we break that down? How can we discuss it? By the way, that sounded super weird, because my business partner is named Rob.
Rob: That's what I was going to point out to people. Not me, Rob, yeah.
Liam: Yeah, you get what I mean. The concept is to make sure that you're using your synchronous energy as efficiently as possible. Because asynchronous organizations, they have a sunk cost inside asynchronous work. Everyone takes 90 minutes, they drive into one particular place, and then it's a synchronous collaboration buffet. They can collaborate as much as they want because they've already paid that cost.
Asynchronous organizations or people that work remotely, pay that cost every single time that they meet, because it doesn't cost you that much time to be able to flip on your Zoom call and do a collaboration on MURAL or something like that. We recognize that we can keep those times as short as humanly possible to really figure out what's the minimum effective dose that we need to be able to move forward and build that feature.
Rob: Switching it up briefly, I guess I touched on this a little earlier talking about extraversion, but even introverts can feel isolated. I've worked from home for 20 years, give or take, or a couple years in an office, blah, blah, blah. There have been times where I felt isolated, not many, I'm going to be honest. I'm a strong eye on this and you get used to it over time.
I'm not talking about work from home, but talking about remote work where people can go to a coffee shop and they can sometimes meet up with coworkers every six months or every quarter at a retreat or something. Is isolation still a big deal in the conversations you have and in your experience? If it is, as a manager or as a founder, how can you combat this in your own team?
Liam: It is a big deal still, but I think that this was accelerated by the pandemic. I love that the media is using the word work from home, because they can very clearly divide that from remote work. Before the pandemic was remote work, what we had in March of 2020 was work from home, which is, I must stay at home, I cannot interact with anyone else.
I don't know your experience, Rob. But for me, we stayed in complete lockdown for eight months before we're able to be led out by our government. That's psychologically scarring for any individual. I actually think that we're going to see a massive amount of damage, psychological or otherwise, that's going to present itself over the next 5 to 10 years from this experience.
You have to kind of divide that from just remote work in itself. But when you're talking about just trying to be able to get out and interact with people, you brought up some great points. Do a company retreat every year. I would do one major company retreat, and then I would do one departmental retreat per year.
It's going to not necessarily cost you that much. It's definitely going to cost you less than an office and people love these. In our organization, we boil it down to three separate cities. We usually try to choose a city that's a little bit more difficult to be able to get into.
Before the pandemic, we were going to do Bangkok, I believe, which is a very, very difficult place to be able to get into. But people love it, we are all aligned towards it, and more importantly, it's kind of our end of year, so that we collect everything that we need to be able to finish off that one year and then look towards the future. That's where a lot of people can get that extroverted energy out of their systems.
Departmental meetings, exactly the same thing. I would parse them out about six months in between each other. Interacting with co-working spaces, really important process for everybody. They're not that expensive. People can use them now relatively easily. There are coffee shops/coworking spaces that I've used recently, where actually, it costs a lot less. They charge you a little bit more for a coffee, but you get to sit in a nicer room, that type of a thing.
There are also just community groups that you can interact with. Find your tribe outside of the office environment. I think this, again, 20th century on premise mindset, which is in North America, arranged marriages are taboo, but we have arranged friendships, which is the people that work inside of these offices were just automatically supposed to be their friends.
I think what we need to be able to look at is social networks dropped off precipitously after university, and they only bounced back up into your 60s. Why? Because that's when you retire and you're forced to be able to get out into the social circle again and interact with people. I think a lot of people have honestly just been lazy on their social game. Get out there, talk to your neighbors, talk to your friends, and build that network that's not necessarily work-focused and you're going to be much happier.
Rob: You know the interesting thing, I run a startup accelerator for bootstrap SaaS. It's fully remote. We were the folks. We looked like geniuses when Covid happened, because we were the first ever remote accelerator that we knew existed. I guess we launched in 2018, we raised a fund in 2019, so it's all pre-Covid.
I would say it's a little bit of luck, but it's a little bit of that's just the way I've always run things. There are no cities in the world that have so many bootstrapped SaaS companies that it makes sense to put an accelerator somewhere. I actually said, we're going to do it in Minnesota, Minneapolis, because I live here. There's no reason to do that. We said, we're worldwide anyways.
When we do our MicroConf State of Independent SaaS survey, it's like 50, 60, 70 different cities are mentioned, versus when you go VC, in the US, there are four cities with 80% or 90% of the venture race. That's dissipating now. It used to be two cities.
Anyway, when we started this remote accelerator, a big thing we talked about is we need to get these folks together, the companies, the founders. I was like, well, let's do a quarterly retreat every three months. What we found with our first batch is we got to the third one, people were like, this is too often. It was actually it was literally too often, and I had no idea that that would be the case.
It is about this cadence of about every six months seems to feel right, at least, to our founders. We survey them every time. That has, to date, been kind of the sentiment. Even though, intuitively, I'm an introvert and so I was maybe over indexing and being like, well, people are going to want to get together a lot.
Really, it should be every few months. But people were like, nah, I actually want to be heads down working on my company as much as I liked my fellow batchmates. There's a very strong community, there are mastermind groups, and there's all this stuff. It was too frequent, which I found pretty fascinating. That does line up with what you said, like, once or twice a year is not not too bad.
Liam: It's also cost effective too. I think you have to look at the dollars and cents. One of the things that I haven't analyzed yet, and I really do think about these things from a quantitative perspective, is team retreats and research for the book, again, I sit down and do these types of nerdy things, looking towards where team retreats really started, it started with Joel Gascoigne with Buffer. That's really the core of where this trend started.
His blog was an incredibly popular, very popular, remote first organization. That was the concept, which was, we all need to do company retreats every single year. There's yet to be a good data set that comes out of that saying, here are the quantitative outputs from that investment of half a million dollars, a million dollars as an example, which is what it costs us to be able to run one of these events. We still do it, because we actually see a little bit of a boost in ENPS. That is one of the quantitative data points that we do pull out of it.
Rob: What's ENPS for folks who don't know?
Liam: That's Employee Net Promoter Score, which effectively just measures engagement inside of how much you would refer your company to one of your friends, as an example. That's really effective because there are so many other data points just like ENPS, so you can compare and contrast yourself.
The other interesting statistic when I ask these companies, what's your ENPS, the average was 72 and the industry average is 36. They're almost double what the average ENPS is. The two major reasons why they gave for having such a high ENPS score was autonomy and then also radical transparency inside of the organization.
A lot of asynchronous organizations give everyone as much information internally as they possibly can. There was one company that stated we want to give everyone as much informational advantage as the CEO, so that everyone in the organization has the same information. When difficult decisions need to be made, the vast majority of the company actually agrees with that difficult situation, saying, hey, if we're not cutting debt back our sales team by 25%, we know that they're not ROI positive. If we don't do this now, we could be in real serious trouble in six months, as an example.
These are difficult things to adjust to if you live inside of a synchronous kind of mindset with regards to work. But I'm not suggesting that everyone go completely asynchronous tomorrow. I think if people can just go a little bit more asynchronous next month, next quarter, next year, you're going to see massive dividends inside of your organization.
Rob: You are @liamremote on Twitter. Your book is runningremotebook.com if folks want to check it out, and of course, available on Amazon, Audible and all the places that they would be looking out for it. Thank you so much for joining me today.
Liam: Thanks for having me.
Rob: Thanks again to Liam for coming on the show. If you haven't checked out the MicroConf YouTube channel, I'm putting out a new video every week that is brand new content. It's like Rob solo adventure every week, where I'm digging into topics like 16 lessons I learned building a million dollar startup, seed funding for startups, top ten mistakes I see startup founders making.
Fun stuff to record and it's getting incredible reception. Head to microconf.com/youtube if you want to check out the channel and subscribe. Again, we have one to two videos coming out every week. I think you're really going to enjoy them if you like this podcast. I'm Rob Walling, signing off from episode 616.