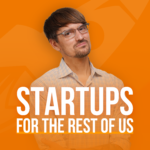 In episode 615, join Rob Walling for a solo adventure where he covers what makes a business bootstrappable (and things to avoid), cargo culting, and how large of a business you can build at different customer lifetime value levels.
Episode Sponsor:
Hiring developers has been tough for years, but it is even tougher these days. Lemon.io is on a mission to make the process of hiring an experienced developer or even an entire team easier. They only have experienced developers on their marketplace, and each one is hand-vetted. It is virtually risk-free as they'll guarantee a replacement in 48 hours if something goes wrong.
Find your perfect developer or a team with Lemon.io. You can also claim a special discount for our podcast fans. Visit lemon.io/startups to receive a 15% discount for the first 4 weeks of work with a developer.
Topics we cover:
[1:51] What makes a business bootstrappable?
[14:15] Cargo culting
[20:05] How large of a business can you build at a specific annual contract value or lifetime value?
Links from the Show:
If you have questions about starting or scaling a software business that you'd like for us to cover, please submit your question for an upcoming episode. We'd love to hear from you.
Subscribe & Review: iTunes | Spotify | Stitcher
Rob Walling: According to our most recent State of Independent SaaS Survey and Report, nearly 30% of bootstrap founders said they were actively considering taking some outside funding this year. So at MicroConf, we put together a guide about the top five options that bootstrappers would consider. It's called The Bootstrapper's Guide to Outside Funding. We cover friends and family rounds, angel investors, recurring revenue financing, crowdfunding, and venture capital. If you want to check it out, the guide is completely free, head over to microconf.com/funding-guide.

Welcome back. It's Startups For the Rest of Us. I'm Rob Walling. Thank you so much for joining me. Today, I'll be talking through a couple topics inspired by listener questions, and then maybe one or two solo adventure topics that I'm going to bring in. So definitely going to hit on what makes a business bootstrappable versus not.

I want to talk about cargo culting in startups. I received a question about how large of a business can you build at specific levels of lifetime value or ACV. Depending on how long those take, I might add a fourth topic in as well.

Before I dive into that, it would be amazing, even if you're subscribed to another tool, if you would go to Spotify right now type in Startups For the Rest of Us, give us a subscribe. If you've gotten value from this podcast and want to give a little bit back, I'd really appreciate it.

This episode is actually one of 'the show must go on' type episodes. I had a guest lined up and they had to postpone for a couple of weeks, and I hop on a plane to Scotland tomorrow. Not tomorrow when you're hearing this but tomorrow when I recorded it. Since we ship every Tuesday morning for 600 and 15 episodes in 12 years, I want to get something out there. So I'm going to kick off.

The first topic is what makes a business bootstrappable versus not. This has come up a few times. There was a question, maybe six months ago about this. I listened back to that episode. I listened to the answer I gave and I felt like it was fine but it was not great. So I sat and actually gave it more thought. I wanted to revisit this topic. What I realized is that the default is bootstrapping, that I start by saying, every business is bootstrappable, except in these conditions.

These are seven or eight things where I think makes it a lot harder, or near impossible. The reason I start with the default is bootstrappable is traditionally if you just think about bootstrapping and venture funding, so you don't take angel investments, or a TinySeed indie funding type thing. You just look at bootstrapping versus venture, even just in startups.

This is not in brick and mortar, not in dry cleaner car wash. You just think about software and tech, including hardware, biotech, just startups that are going to be high growth and become multimillion dollar businesses. I think somewhere in the neighborhood of 1% of those companies started each year or each decade or whatever you want to put it, are a fit for venture and should raise venture. 

It's a small number. Now maybe it's 1.5% or maybe, I think the number is like 0.7% of companies that try to get venture funded, get it. Yeah, maybe the number is one or two, but it's a small number. The rest have traditionally bootstrapped because that was what you did. It is the only option.

With indie funding coming out, where you have angel investors who are willing to put in money for a company that may throw off profits in the long term, and you have TinySeed willing to invest in smaller outcomes, if you sell for $10–$50 million, that is usually an abject failure for venture capitalists, but for TinySeed or for some angel investors, if you can invest at the right amount, then by the time you get to that $10, $20, $30 million, the return is ample enough that it that it works for you.

With the advent of that funding, I loosely think of it as this rule of 1-9-90, where around 1% should raise venture-backable businesses, around 9% should think about indie funding, and around 90% should probably still bootstrap. Again, maybe the indie funding number is 20%, but it's not 50%. There are a lot more businesses that can and should be bootstrapped than there are should take any type of funding. There are a number of reasons for that.

But with that in mind, coming back to the question of what makes a business bootstrappable versus not, I'm going to say the default is that you should bootstrap unless, and then I'm going to walk through several points. The first one I thought of is revenue is pushed down the line, meaning think of Facebook, and how long they had to exist before they could monetize it. Google is similar, where they had to have servers and developers and build up these networks, and Facebook had to move from school to school.

A lot of expense there where they needed money for that because the ad model is way down the line. Usually, if a startup uses the ad revenue model, the revenue is pushed way down the line because they don't run ads from the start. You need to get traction. As you start getting traction, you can raise money and as you raise money, you don't need the ad revenue. Frankly, building ad tech is difficult. Also, if you have it too early, you don't gain the traction and the momentum.

You need that critical mass. So if you imagine Google or Facebook having ads from day one, it could have changed the outcome. If your revenue is pushed way down the line, and this includes even Dropbox, where they're free. They are freemium and you can get a lot of value out of Dropbox.

I don't remember the exact number of megabytes you can get before you have to pay them. But I remember using it for quite a long time. It wasn't until I started doing video and more audio that I needed to start paying for Dropbox. I think back in the day, Dropbox used to say, of all of our customers that sign up in a given year, it's like 2%–3% convert to paid within a year. 

Think about all that they have, the support and all costs of that hardware, of the storage, of customer support, and all that money is pushed on the line. But they built a pretty good business on it. Revenue is pushed down the line. If it is postponed and you can't just monetize early that were SaaS, we charge $50 a month. First day, you're a customer, right? That is the opposite.

The second thing that makes a business really hard to bootstrap is if the market is winner-takes-all, meaning something like Uber, where really Uber and Lyft are wanting to. And when I say winner-takes-all, you know what that phrase means. It doesn't actually mean all, but it does mean most. 

Uber is big, and it's a lot bigger than Lyft. It's because it needed to move very quickly. Because once everyone has that Uber app downloaded, both the drivers—two-sided marketplace—and the folks that need rides are unlikely to download another app unless Uber really makes big mistakes, which they did.

If you watch the growth of Lyft when Travis Kalanick was making his mistakes, getting ousted as the CEO, and Uber was talked about having such a toxic corporate work culture, if they hadn't done that—it was a huge stumble—I think they would still be many, many, many times Lyft. Lyft played a big catch up because I know that a lot of people actually deleted Uber at that time.

With that said, if it's a winner-takes-all market, you have to move really fast. Amazon was in another space like that where it's like, yes, there are other online retailers. But who else? It's like Walmart, aren't they number two in e-commerce? But Walmart had 60 years and thousands and thousands of stores already. So that's how they got in.

That's not a bootstrap. They didn't bootstrap that. They put tons of money behind it. Ecommerce on the internet. Again, winner takes all does not mean 100%, but Amazon has a huge chunk of that, and Jeff Bezos knew that and therefore did not try to bootstrap Amazon. He raised funding from the early days.

Another thing that makes a business hard to bootstrap is—similar to Uber—a two-sided marketplace. If you have reach into one or both of those sides—you already have an audience of drivers or of folks who want a ride or you already have an audience of people applying for jobs and employers who might hire folks—it's a different story. But if you literally have zero audience in a space, and you're trying to do a two-sided marketplace—no reach, no customer list—bootstrapping this is very, very difficult.

Even if it's not winner-takes-all. Not all two-sided marketplaces are winner-takes-all. Elance, Upwork, guru.com, there are others. Now I would say that Upwork has certainly owned most of the market. I don't even know if it's the majority. But there are other two-sided marketplaces in that space. Bootstrapping them would be very difficult. I don't know which of those three bootstrapped if any.

But if I were starting a two-sided marketplace, I would either want reach into one or two of the sides, or I would want buckets of money to be able to reach, because it's like launching two SaaS products at once. Because you have to have two go-to-market strategies. I mean, it's just such a headache. You've heard me say this before, please stop trying to bootstrap two-sided marketplaces, if you don't have an advantage.

Another thing that makes it hard to bootstrap—it's possible, but it's hard—hardware. It's just really expensive. I heard from a friend who ran a SaaS company, who then started a hardware company. He said, this is ridiculously hard, ridiculously expensive, and takes forever. So is it possible? Sure it is. Is it easy? No, it's not. I would certainly think about raising funding if I was going to do it, if it's a hardware biotech with big R&D expenses.

Another thing that makes bootstrapping hard is similar to that pushing revenue down the line, but it's taking a percentage, a cut of processed revenue. A good example of this is Stripe. Stripe takes 2.9% plus a transaction fee. That would be very, very, very difficult to bootstrap that business. Because all the infrastructure you have to build upfront, in order to support that, then people just trickle in and you're taking 3% of $1,000 the first few months, so you take in $30 off of that.

How do you pay for the servers? Even if you're coding yourself, how do you keep yourself alive and everything, in terms of having money to live? That is why Stripe went through YC and then they obviously raised a kajillion dollars. Is it possible to have, let's say, an ecommerce startup where it's like an abandoned cart software or even start a shopping cart of your own or whatever to compete with Shopify, have a niche and take a cut of revenue? Sure it is.

I did notice when Shopify launched back in 2006 or 2007, they were purely a percentage of GMV (gross merchant value), a percentage of the revenue. They quickly switched that within six months to where they have subscriptions. Same thing with Gumroad. Gumroad originally just took a cut. I think it was like 8% total. So it was like 3%, whatever it was, it doesn't really matter what it was. But now they've really been pushing their subscription plans since then.

Another thing that makes a business not bootstrappable or harder to bootstrap is having massive per user costs. Even if it's not massive, not having monetization. So I guess this ties into the earlier one of really pushing revenue down the line, but it is having higher per user. 

I come back to Dropbox. When they launched—which was over a decade ago—they couldn't use AWS because it was too expensive. They rolled their own hardware in data centers. There's an upfront cost to buy those and to store everything. 

Then the last two are needing a network effect, which I guess really is like, mostly a two-sided marketplace. But you could have three sides and everything. So that relates to the two-sided marketplace.

Then the last one I was thinking of, which I don't actually think should be included in this list but I wrote it down with a question mark. I was saying, bootstrappable businesses, I was thinking that it's easier to bootstrap a business when the audience is online, the customer base is online. Then I looked at how many TinySeed companies are going after home improvement contractors, CAD engineers, lawyers, investment firms that invest in derivatives, there's a whole list.

Yes, these people, it's not that these customers are not sending email or using web browsers. But they are not hanging out on Twitter, in private Slack groups, on Facebook groups, on Stack Exchange, Hacker News, and Reddit in the way that developers, designers, founders, and some other groups are. 

Everyone is "buying" anything that's online. But what I mean is, are they really hanging out and easy to reach? Home improvement contractors, construction firms, architects, interior designers. There are some hunts where they hang out, but it's not going to be at the level of technical folks. 

Originally, I was thinking, I've always targeted folks who are online because I'm on online marketing. I'm not going to do a lot of cold calling and in-person events and stuff. But I actually think it is a great opportunity there.

I know there's a great opportunity because I see the companies that we've funded and the companies in the MicroConf space that are actually going for audiences that are mostly not online. Is it more expensive to reach them? Yes. That's why your price point is higher. Your ACV affords you the luxury of doing that. There's often less competition. It's more of that customer paying than it is the competitor paying.

So that was my list. It's probably not exhaustive, but I wanted to put it down here because I felt like my last answer was shorter. I didn't think I communicated it in the way that I wanted. So hopefully those seven points helped give you a frame of reference when you're thinking about your next business.

Do you know what one of the biggest competitive advantages is for a startup? It's not being in Silicon Valley having access to capital. One of the biggest advantages is access to great talent and the ability to hire them fast. 

This week's sponsor is lemon.io. Lemon.io gives you access to a pool of engineers from Europe and Latin America. It's a marketplace where they check and interview every candidate and then carefully match them with hand-picked projects.

It's incredible how quickly they can do it. Lemon.io can offer you a match with a perfect developer within 48 hours. Think about it, you can have a developer working on your project within two days. Due to their extensive pool of developers, inexperienced candidates don't qualify. These are all developers with a lot of experience working on startups and projects just like yours.

You can find your perfect developer or development team with lemon.io. Claim a special discount for Startups For the Rest of Us listeners. Visit lemon.io/startups to receive a 15% discount for the first four weeks of working with your dev. That's lemon.io/startups.

Alright, my next topic is cargo culting. If you haven't heard that term, I'm going to read a little bit from the Wikipedia page that essentially defines it. A cargo cult is a belief system of indigenous people in Melanesia. 

Basically during the Second World War, allied military forces used to airdrop supplies in large numbers, and technology and all that stuff. Then the soldiers who were on the ground in Melanesia would trade with the islanders. 

After the war the soldiers leave, and this thing called a cargo cult arose. Cargo is what was being dropped and the indigenous people attempted to imitate the behaviors of the soldiers, thinking this would cause the soldiers and their cargo to return.

This included things like dressing like a soldier, performing parade ground drills with wooden or salvaged rifles. They misattributed what was bringing the cargo, which was completely unrelated to them being soldiers, and it was completely related to someone flying a plane over and dropping all the supplies. So that's the definition of it.

I see this in startups where some startups are not successful because they did things. They're successful in spite of the things that they did, in spite of the decisions they made. I brought this example before where it's like Apple or Basecamp, or someone says, well, they just built great products, and they didn't do marketing.

I do believe Jason Fried and David Heinemeier Hansson came out and said, yeah, we don't do marketing. We don't track metrics. We built a great product, that stuff. To be honest, Dave eased up on that (I think) on that narrative. When I interviewed Jason Fried a couple years ago at MicroConf, that's not how it came across. Actually, he said, we did some things right. We also got lucky. And I appreciated that honesty from him. 

But there are other examples of this of, you take 100 companies that do tracks or analytics. They are doing blocking and tackling marketing, whether that's SEO content, pay per click, cold outreach, partnerships, integrations, whatever, all the things that we talked about on the show. The 100 companies that are doing those, from what I see, from my experience, the companies who succeed are doing those things. 

If you took 100 companies who just said, well, I'm just going to deliver a great product, a couple of them would succeed. They will get lucky. I talk about hard work, luck, and skill. In this case, I'm basically saying blocking and tackling is having the skill to do it then putting in the hard work.

Could you feasibly have really little hard work and skill and just get really lucky? Absolutely. Out of 100–500, even bootstrapped startups, you're going to have a few that do. That survivor bias pointing to them, and then saying, well, look, they made it work. They built this amazing business. All they did was build a great product. I say, no, that's not all they did. They also got really lucky, 

They were either super early to a space. They accidentally stumbled into just a huge vacuum of demand, which is unusual these days in software. Most demand has been satiated by some type of product. So there is some competition.

Let's say a product was beloved by everyone, and then got hacked and was shut down or it got sold and shut down. Suddenly, there was a big vacuum there. You went in and realized, oh, I can build this product. You need to have some skill, and then put in the hard work to build a good or great product.

But if that demand was already existing, and you jumped right in, you can't say, we didn't need to do marketing so you don't either. Because unless you—you being the other person listening to them—have the same situation where you've stumbled into this amazing demand, or super early to a space where it's like, oh, my gosh, this tool or this ecosystem is taking off WordPress or Stripe or No-Code or you know something where you just hit it at just the right time.

Again, maybe it's skill that you did that, or maybe it's luck. But unless the other person also has that in place, you've succeeded, probably in spite of some of the things you didn't do rather than because you didn't market. 

I've talked about being early and getting lucky for other reasons. I've heard some stories where the founder is almost acting coy, like they succeeded without working hard. Like yeah, we just made it. Either we're that good or I don't know, they don't want to admit the hustle. 

Again, except for a couple founders I know who have gotten exceptionally lucky, I can't think of any founders I know who have not worked their ass off to build a great company. It is a lot of hard work in getting some things right and some things wrong. But it's moving fast, it's working on the right things, it's being willing to make mistakes, and it's being willing to put in the hard work.

By hard work, I don't mean 80-hour weeks, I mean really focused time of executing on something and not being all over the place, not skipping from one thing to the next, not doing things half ass, like seeing them through and showing up every day. Whether it's a podcast, or a SaaS app, or a book, showing up every day and shipping and getting something out into the world.

I think that's all I have to say on cargo culting, I just wanted to bring it up as something to be aware of. I think it's an anti-pattern, right? It's an anti-pattern to look around and think that you don't need a lot of the tools. 

You know what? We want the world to be that way, don't we? We want to just I'm a product person. I want to just build a great product. I really don't want to have to market it. I want it to market itself. It just doesn't happen that way very often. It's very, very rare. 

Sherry talks about this. She comes on the show periodically. The last time she came on the show, she talked about her new book that launched. She said she really just wanted her to get a book deal because the book is great. But in fact, without a social media presence, without an email list, without some type of audience and name, she said she couldn't get a book deal, and that sucks.

I don't want the world to be that way. But those are the facts. It's just the way the world is and I feel similar about startups. It's like it's easy to want to think that the world is a certain way. But I think the reality is quite different.

All right, the last topic of the day is a question from Brian. He actually made a comment on the startupsfortherestofus.com website. He was talking about the episode where I explained SaaS metrics to my 11 year old at the time. 

Brian says, "Great episode, extremely bright child." Thanks, Brian. He says, "The example you used in this episode produced a lifetime customer value of $200, which you described as an amount that is 'fine' for a small business but really hard to grow a company. 

Perhaps an idea for an upcoming episode could be to look at different lifetime value metrics in a bit more detail and map these on to different kinds or sizes of businesses. I know this is quite macro, and you would have to speak in general terms, but I personally would find this episode really helpful for loose mapping of future business product pathways in my own projects."

I summarized this as, 'how large of a business can you build at a specific level of ACV (annual contract value) or lifetime value?' I think it's a great question. I think there's a pretty simple answer to it. Of course, podcast drinking game, it depends. Yes, I got it in there. But realistically, my rules of thumb or my mental generalizations are, let's think about it as ACV because lifetime value can be misleading. Because if you have very, very low churn like 1% a month, then you'll get your lifetime value from that customer over 8.33 years.

That's not helpful when you're bootstrapping because you're going to run out of cash. I like to think about either average revenue per account (ARPA) per month, or we can say ACV, which is just how much you receive on average from each customer in a year. So one of those is much more relevant. Because as a bootstrapper, you need the short payback periods from your marketing.

If you're doing pay per click ads, four months, six months, seven months, you get further out than that. You just need more cash in the bank and quite a bit in order to not go to zero before you pay that back.

Here are some general rules of thumb. Usually, in most cases and almost all the cases I see, the lower your price point, the higher your churn. The lower your price point, the lower your lifetime value, not only because of the numerator, but because of the denominator. If you remember, lifetime value is your average revenue per account per month divided by your churn percent.

So if it's $50 a month of charging and 5%, churn then it's 50 divided by 0.05, which is a $1000 lifetime value. If your churn is high, and your average revenue per account is low, it goes double really fast in terms of lifetime value. So that's point one.

The hard part about saying how large of a business can you build at a specific revenue per month or annual contract value really depends on the size of the market. Because look at Netflix, or Spotify, or any of these subscription services aimed towards consumers where they're charging $6–$15? That's the big range, but they build nine-figure ARR businesses, is that right?

Yeah, that's hundreds of millions? If not, do any of these get into the billions in revenue? I actually don't know. But I wish there were textboxes on the Internet. I could type these questions into and just give me the answer instantly. 

But you get my point. You can build a massive business, but you need massive scale. You need a huge total addressable market and total reachable market. That is not what most of us as bootstrappers are going to be able to do. 

You can't just think about how large of a business at a specific ACV. It doesn't map. But I will say in general in the bootstrapped software space, the bootstrapped SaaS, you do have to think about the total reachable market. 

Let's say that you have podcast hosting or podcast editing software or something like that and your price points are a bit lower, because you have prosumers and others using it. Your price points are in the $10–$100 for most and then you do have some enterprise folks in a dual funnel. That space is large and it's growing.

Versus if you are starting a business that serves construction firms, or that serves venture funds, venture firms, or accelerators, there aren't that many. They actually are pretty easy to reach than construction firms, but there are not millions of those available.

There are tens of thousands. It's not a huge number. Your ACV or your average revenue per account per month per year has to be pretty high. I'm thinking along lines of $5000, $10,000, $25,000, $50,000 a year in order to justify the work to sell and support if it's construction firms or just the small market of accelerators or venture funds. 

Versus you can build a multimillion-dollar or an eight figure business in podcasting with that probably not average revenue per account of 20—I would hope it would be more than that—but certainly it can be a lot lower. 

Similar to email service providers, like Drip's lowest pricing plan was $50. Average revenue per account depended on that at the time, but let's say it was $70 to $100 for a certain period of time, but that email space is huge. The number of companies that need an email service provider, the expansion revenue, and the ease of marketing in that space means we can acquire customers for not very very much, basically.

The ACV could be a lot lower than someone selling into a space where everything is cold outreach. Where it's like, I'm going to do LinkedIn, I'm going to do in-person events, I'm going to do cold calls. 

These are the axes I'm looking at. How hard is it to find your customers? Are they online? Are they online all the time? It's the Hacker News crowd and Reddit and just developers and that kind of thing? And you just build that audience and get it going? Or are they really hard to reach and you're going to have to be doing the calls? The cold calling. 

These are really the drivers of how big of a business you can grow, as well as that total reachable market term. No one says it that way. But TRM, I don't know how else you would say that. The total reachable market of how many folks that you can actually reach that you could potentially convert, and then the average revenue per account in churn. Those are the things I would put into a blender. 

Again, it can range. There have been businesses that have applied to TinySeed. I think one that got in there had 1500 potential customers. That's it. There's a way to expand beyond that, but it's a very small number. As a result, for us to invest in that company thinking it gets into the millions of dollars in ARR, that company has to charge a lot more. Again, $25,000–50,000 per customer per year in order to justify that.

So I like this question, Brian. I appreciate you sending it in because I think it's good for us to think about these rules of thumb and to think about the axes of it's not just a CV, but it's what's the cost to acquire the customers, what's the churn like, and what are our price points like? I hope me talking that through was helpful not only for Brian, but for you as a listener.

Thanks again for joining me this week. As a reminder, if you have Spotify, it would be amazing if you search for Startups For the Rest of Us, give us a subscribe, and a like. I don't think it's a like. It's probably a thumbs up or a five star rating or something to really help us get just a little more traction, a few more listeners, and I'd really appreciate it. This is Rob Walling, signing off from episode 615.