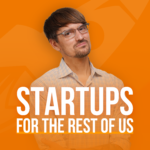 In episode 601, Rob Walling chats with Nick Fogle of ChurnKey. Nick previously cofounded Wavve which was acquired in early 2021. In this conversation, they chat about how the idea for Churnkey came from his other business, decision to sell Wavve, and some of the key differences between bootstrapping a B2C vs a B2B SaaS.
Topics we cover: 
[2:11] Tips for reducing churn 
[3:26] Asking for feedback at the point of cancellation via feedback surveys 
[8:09] When he knew it was the right time to double down on ChurnKey 
[9:06] A piece of advice for bootstrappers looking for SaaS business ideas 
[14:44] The process Nick and his cofounder used to sell Wavve for a life-changing exit. 
[22:13] The potential pitfalls of off-market deals 
[26:56] His initial reaction after selling Wavve
[29:04] The key differences between selling B2B and B2C 
[30:36] Why Nick made the difference to hire a head of sales for ChurnKey
[32:14] The mindset shifts he had to unlock around shifting from low touch to high touch sales 
[33:43] Why he decided to join the current batch of TinySeed 
Links from the Show:
If you have questions about starting or scaling a software business that you'd like for us to cover, please submit your question for an upcoming episode. We'd love to hear from you.
Subscribe & Review: iTunes | Spotify | Stitcher
Transcript
Rob: Welcome back. It's Startups For the Rest of Us. I'm Rob Walling. This week, I talked with Nick Fogle of Churnkey about a number of things.
One interesting point we touched on in this conversation is about the difference between bootstrapping B2C and bootstrapping a B2B company. It's something we've talked quite a bit about on this show. I think you'll enjoy that part of our conversation and hopefully the entire conversation that I have with Nick today.
Before we dive into that, I want to let you know that MicroConf Remote is happening today when this episode comes out. It's happening today, tomorrow, and the day after. Tuesday, Wednesday, Thursday, May 3rd through 5th. Tickets are still available.
We are talking all things money. We're covering sales, personal finance, pricing, and alternative sources of funding. We do it for 90 minutes over three days to make it easy on your schedule. We also have this amazing new platform that is like a first person walkthrough environment.
You just got to go. You got to go to microconfremote.com and there is a video you can play there to check it out. Because if you haven't seen a remote event, and I bet you have not seen one on a platform like this, you should really check this out because producer Xander is pulling out all the stops on this one. I'm super excited to be hosting that this week.
If you haven't got your ticket already, head to microconfremote.com. If you just want to opt instead to just get the videos, we do have a video-only price for that as well. Microconfremote.com if you're interested. With that, let's dive into my conversation with Nick Fogle of Churnkey.
Nick, thanks so much for joining me on the show today.
Nick: Thanks for having me. It's kind of a dream. I've been a longtime listener, so it's a little surreal being on.
Rob: It's super cool. That happens now and again with folks in MicroConf or TinySeed. It's always nice to have listeners on because you know the show format. You know how it's going to go. Let's be pretty tactical. Let's be entertaining. Let's tell all the most entertaining parts of the story and inspiration, so people can walk away with actionable things.
I think in that respect, we will dig into your story of building and growing Churnkey and touch a little bit on a prior business that you built. I want to kick this off with a super tactical question because Churnkey is personalized cancel flows for a healthier subscription business.
I imagine, you see a lot of do's and don'ts within churn as you have views across a lot of subscription businesses. Are there one or two things that people should really be doing to think about reducing their own churn?
Nick: The first thing I'd suggest is that you need to figure out why people are canceling. If you don't have some form or some way of getting feedback for why your users are actually leaving, that's your number one priority. Then, once you start to collect data and you know why people are leaving, you can offer them things that will entice them to stay.
It's important to remember that not everybody who leaves wants to leave for good. In some situations, a pause might be the best thing you can give them. They'll come back and reactivate within a few months. That's revenue that you save long term.
I often like to tell businesses that it's a lot easier to offer somebody a pause or offer them a discount, then going through the whole customer acquisition cost lifecycle again and having all the excess spending that that's going to involve.
Rob: I like these suggestions. These are things that we built by hand in Drip. I built these by hand in HitTail as well. We had a form when you cancel that says, can you give us a reason. We required at least five characters, so people would put ASDF, ASDF and submit it.
We switched to not having that and then I would have an automated. Instead, I had an automated email that went out five minutes after they canceled that was just like, hey, I'm the founder, I would love it if you could write a quick reply. That for us at that point in time and the stage of our product got us a higher response rate of reasons, basically.
What have you seen? Is it pretty common in your experience that a lot of people won't fill that out and say, this is why I'm canceling? Or are there even ways to entice them to do that?
Nick: If you create a really simple survey that's literally bubbling the answer, that's probably the best way. The freeform feedback field, it's kind of a recipe for depression. As a founder, you got to grow some thick skin and realize that you're going to have some people that are just irate, they're angry, and they're going to tell you everything that's wrong.
Overall, you have to separate yourself from the business. That's something that we see a lot with founders. You get so focused on growth. You don't want to know why people are breaking up with you.
It's happening and you're like, I'm going to overcome that with growth. It's just a fact of life. It's not really because a lot of those people who are leaving, there's a reason they're leaving. You might be able to counter that reason with the alternative to make them stay.
Rob: You mentioned having a pause, having a discount. Are there other alternatives that you've seen work?
Nick: Yeah, it depends on the business. In some situations, there might be a product that has a little higher technical learning curve. In that situation, one thing I suggest people use is an integration with your support chat.
If somebody selects a reason that says, I'm having technical issues, then with Churnkey, you can automatically trigger Intercom, Drip, or whatever your chat solution is to pop up and have a customer support person right there to just help this person along.
Another alternative is to get them on a better plan. If they say it's too expensive, the discounts work really, really well. People tend to be price sensitive, particularly right now, and are getting better about checking in on their subscription spending every month.
You have to be proactive as a business and think about what's going to entice these users who are budget sensitive to stay. Discounts can work. Sending them to a different pricing plan can also work based on the usage.
Churnkey allows you to segment your different user groups. If somebody is on the top plan, you can move them to the lower plan. All of those things work. There are quite a lot of different options, though. Some people will alert somebody on their team to give you a call.
You mentioned the emails. I wanted to touch on that because that's something that we tried, like the immediate reactivation emails. With Wavve, our previous business, we worked so hard to craft these reactivation emails that would be like, we're so sorry you're leaving and be a personal handcrafted message. It would have a very, very lucrative discount that says, hey, if you want to come back, here's 100% off for two months, just share your feedback.
We got maybe one out of 30 people that left would actually fill that thing out. I haven't seen as much success with that. Again, it does depend on the business. Those are just some different angles of attack.
Rob: Right. Those can be done with code. You could get in and hack JavaScript, or hack your server side stuff, or you can use a tool. There's Churnkey and there are obviously other competitors in this space that can do similar things. But I should clarify that the email we were sending was not a reactivation email. It was just a, why-did-you-cancel email.
That's all I was trying to find out. Then if we would do reactivation, we would do it later. I was just trying to get data. I was the customer development type stuff of like, why is everyone churning or what can we do to improve the product?
Nick: The ASDF thing is something we see. Our customers ask us all the time, what can I do so that people actually answer? It's really a question of volume. Some people are busy. They're mad that the subscription is so billing. They just want to get out as quickly as possible. That's fine. Let them go.
If they don't pick any of your other offers and they're going to skip out on the feedback, that's okay. It's a numbers game like anything else. If you've got a hundred people cancel, a large majority are going to fill that out.
Rob: Churnkey has been around about a year. You launched it in February of 2021. But really, Churnkey kind of stemmed out in a very similar story to the way that Drip kind of spawned out of HitTail. Indeed, we had internally of collecting emails on every page. We started building an internal tool.
That's what happened with you, with Wavve. You've mentioned Wavve already. Would you like to tell people what Wavve is? You exited that business, I believe in 2020. Talk us briefly through that. I'm curious most about the evolution of moving from Wavve deciding to sell it and doubling down and going all in on Churnkey?
Nick: We sold it in March of 2021. We finalized that deal. It's funny, 2020, all the purchasers went home because we were thinking about it. We talked to brokers and all this stuff.
To start at the beginning, my co-founder, Baird Hall, and myself wanted to start a startup. Our wives actually introduced us. We were both going at it alone on different things. We decided to create a community for different audio groups centered around sports teams. It was called uTalk Sports.
We were shortly sent a cease and desist letter for trademark infringements, which in a prior life, I was an attorney. I should have known and to check the trademarks. But anyway, we rebranded to Wavve. It quickly became apparent after a year grinding on this thing that people weren't going to pay for it.
It was maybe before Audio was as popular. It would have been like a precursor to Clubhouse. I think that's a good way to describe it. But one thing that's interesting about bootstrapping, staying in an industry, and being close to the different problems the industry is facing is you begin to find problems.
My advice to a lot of people who are indie hackers or bootstrappers is just stick with it and look for problems. Eventually, one will present itself. Looking back, it can seem lucky. But over time, you're going to increase your surface area and have some home runs.
With this product, it was failing. We weren't able to get anybody to pay us for these communities. As a last ditch effort, I found an old GitHub repo that WNYC made, that allowed you to turn audio into video. I got a little IP address on an EC2 instance and had this as an internal tool.
Our existing users love the videos that were created. They said, hey, we don't really care about this community thing, but can we pay you to use that. I'll pay you $10 to do it. Over the course of three or four months, we realized, all right, this is the thing.
We reincorporated and launched this new Wavve product. We grew pretty slowly at first. Over time, podcasting continued to grow as an industry. These things shared very well. People would see the little Wavve watermark. They'd come subscribe and we kept building out features.
We hit a problem. The problem was churn. With podcasters and any type of prosumer, really, a prosumer would be somebody that is like a hobbyist, different tools like social media scheduling apps, anything that can help you be a creator. These things all fit that prosumer market.
Churn is very high because people will try something for a few months. Either due to the cost or just lack of time to work on it, they'll leave. With Wavve, we were doing about $20,000 in monthly recurring revenue.
We were looking at our churn. We were looking at our growth and we realized this business is going to hit a churn ceiling at $25,000 or $30,000. It was pretty demoralizing to realize that. We had a sense of why customers were leaving, but we didn't really know.
It's sounds silly now. We waited really long to implement any kind of user feedback when people were leaving. This was about 18 months after we started this new business. We've just started requiring some customer feedback.
A lot of people would just do the ASDF thing. But over time, we realized there were two things very common. People wanted to take a break from podcasting because it's seasonal or people had budgetary reasons.
We've been optimizing for features, technical debt, and fixing bugs. We've spent so much money and time working on those things, but it's not why our customers were leaving. Most of our revenue problems were around these two other issues.
We started working on a few things internally that would help us with this. The first was the ability to pause if somebody needed to pause. That worked pretty well. We actually hired a churn consulting agency too at this time and said, hey, can you help us improve our churn further? It's hard to say if the big agency was able to move the needle much.
What was clear is that this automation was working very well, enough to dedicate more engineering time into understanding the data and experimenting with different ways to retain more people. 
Rob: I think it's relatively predictable, at least if folks have listened to any episodes of the show. When I hear consumers are prosumers, I think, yup, low price point, high churn. 
The moment I look at Wavve, which is wavve.co, and your monthly pricing, there's a free plan, it's for the aspiring creator—it's funny—and it's like $13 a month, $20 a month, $33 a month. I would assume, yeah, you're going to have a really high churn. You're going to have 8%–12% monthly churn probably.
I bet your higher plans probably churned a little lower. There are all these patterns that you see. This is not unexpected (I think) with a business like that, but it still sounds like you have built something people wanted, which is kind of cool.
We have had folks on this show, Christopher Gimmer with snappa.com, who is into seven figures with a similarly priced prosumer aim. Then there's veed.io. We had Sabba speak at MicroConf Europe a couple of months ago.
They also have some low price plans, but they have such enormous volume, hundreds and hundreds and hundreds of thousands of uniques a month. That's how you outrun that kind of churn. It sounds like you were hitting something that would not be unexpected, but it still can be really hard on a business.
Nick: People don't talk about it. As founders, it's demoralizing when people leave. It's hard not to take it personally because you put so much time and energy in your business. It can be something that you just put off and you procrastinate, you kind of stick your head in the sand. It's important to separate that and just say it's not personal, it's business, they're leaving, and they have a reason for it.
We continued working on this prototype, what would become Churnkey. Our retention got better and better and better. We were saving more users a month and we were able to crush through that plateau at $30,000, which was like the former growth ceiling. We got to $50,000 and then we said all right. I'm a financial pessimist. I'm always like, it's over. We peaked and then we would crush through it because we'd find our top line growth would increase and we would cut churn a little bit more.
Churn is such a game of margins. If you decrease churn by 0.1%, that unlocks so much more MRR. The mathematics can hurt your head if you're not used to thinking and compounding terms. It really is.
Once we realized that, we were like, it's worth throwing all of our engineering hours into this because if we can cut churn another two tenths of a percent, the sky's the limit. Eventually, we got Wavve well over $100,000 a month. Part of that was just higher growth and the creator movement continuing to go strong. A big part of that was being able to reduce churn.
Rob: It sounds like you have a great business. I believe you grew it to $150,000 MRR at a certain point approaching $2 million ARR and then you sold it. Why? Why would you sell a business that's so amazing that you had worked so hard on?
Nick: It's a hard one. I'm not super active on social media. I was not like a core user of Wavve. It was a fun problem to work on. It's fun working on those kinds of technical problems. We'd been working in that podcasting space for about five years. We weren't loving the operational role we had at Wavve anymore.
Rob: How big was the team?
Nick: About seven or eight, but there were only two of us that were full time on it, Baird and myself. I only went full time the last few months. We only had contractors. We didn't have any employees, so it was super lean. We never hired a single W-2. It was just 1099 part time.
There are some challenges in operating a business when you only have contractors because of different kinds of churn. The contractors leave and you got to do knowledge transfer. There were just a lot of things that came up.
I think we're realizing we need somebody that wants to operate this business operating it. We were starting to get more imbalance from M&A. We had a broker we talked to. I had a ton of student loan debt and some other things that I was hoping to pay down. It was just time.
Rob: I get it. I sold a company, too, that was also growing and doing millions. It's a similar situation. For me, mine, it was a lot of like, I'm concerned that I have millions and millions of dollars tied up in an illiquid asset. That makes it tough. This was 2015 when I was thinking about it.
These days, I would think about maybe selling part of my company if I still wanted to run it and still believed in it. It sounds like as much as you believed in it, it wasn't that interesting to you anymore. The operations of it make a lot of sense.
I was going to specifically bring up the idea once you said that it was all 1099 contractors. We've seen some folks in the bootstrap-ish space try it and have it not work very well. You get a lot of task-oriented thinkers. You are now the project- and the owner-oriented thinker. You don't have anybody.
Everything comes back to you and there are these cracks. Courtland Allen and I talked about it last week where things fall through the cracks. Then you're the owner and you're like, I don't really want to be dealing with that. Was that part of it?
Nick: That was. In my whole career, I'd always worked like a day job. Wavve had been nights and weekends. I probably worked 60 hours a week for five or six years there, where I was trying to pay down student loan debt and make Wavve happen.
I didn't leave my day job until June of 2020. A lot of that reason now represents so much of my net worth. What on earth am I doing and still trying to do everything? We had some contractors that we're having to pay more and more. Things were falling through the cracks. They weren't doing that good at work.
I think that became a problem. We never got super organized around the contractors. It was just very reactive. As we grew faster and faster, it was like, okay, this thing has a lot of potential. We love building things. We're like, what else can we start?
We had worked on Churnkey. It wasn't called Churnkey yet, but we're like, this is something that everybody needs. It works so well for our business. We really love the idea of helping other founders and businesses to be more successful. That's what took us into Churnkey.
Rob: Right. Switching from prosumer podcasts or social media folks to like, let's help other founders because that's a more interesting space for you personally, it sounds like. You heard me talk about freedom, purpose, and relationships. It sounds like you had the freedom to do that. Because if you're going to sell a multimillion-dollar SaaS company, you can work on whatever you want next.
Nick: Yeah. I will say this as just a little side note. I've always been like, man, that lump sum. You get the lump sum and you're just set. You go retire or something.
I can sympathize with retirees now. There's something about having passive income and the recurring nature of that that's more comforting than a lump sum that you have to manage, where you're worried about inflation. I'm worried about all the different things. What is my family's burn rate versus the amount I've saved?
Back to your point, thinking, what would you do if you were going to sell another one? With Churnkey right now, we've talked a lot about this as a team. We hired a new head of sales, which we're super excited about.
Our biggest thing to him, he's talked to a lot of VCs and these different companies, where everybody is looking for that big liquidity event. I said, it's nice to get this liquidity event. What's even better is that steady recurring income every month. You have the control to lever that business up or lever it down when the time comes.
Rob: Yeah, I can see that both ways. I've had both because I had HitTail doing about $25,000–$30,000 a month and it was almost all profit. It was 80% net margin, 90% net margin. That was amazing. But what ran out of me there was I lost interest and I didn't think I could grow it into a multimillion dollar business.
I didn't think the space was big enough. Then when I tried to "autopilot" it, like I always say, there is no such thing as autopilot. Every 12 months, every 18 months, it's just something Google would smack.
The competitor would come up. It would start to decline. I'd have to turn my focus to it. It just doesn't happen. I think if you're able and willing to focus on it like you are with Churnkey, then having a business is amazing. You're not so concerned now about, well, all my net worth is tied up in this thing.
You already have a big lump sum sitting in a bank account. That ease, that stress goes away. You know what I mean? That's at least been my experience of it. It's like this mental transition of, oh, my gosh, this is every dollar. Everything that I built for a decade is now tied up in this app. I remember being really stressed about it.
Nick: Yeah. Baird and I met at one point at a coffee shop. The first time we had an acquisition offer, it was like a little less than a million. It was a year-and-a-half after we started. We were on Indie Hackers Open, revenue and everything. I was like, let's do it. Let's do it. This is it. This is our best offer ever.
Thankfully, Baird was in a little better place than I was financially at the time. He was like, I think this still got some room to grow. We doubled down. We were like, okay, we'll sell in 2020.
We're meeting with brokers and everything. Then in March 2020, everybody went home for Covid. We were fortunate that we delayed it and delayed it. We're much better off because of that.
Rob: Because the business multiplied, in essence, during Covid because everybody started podcasts. It was social media and podcasts because we don't have any in-person events anymore. You kind of have that Covid cut both ways in a lot of different directions, but there are certainly some companies that really benefited.
Nick: One thing that's become more prevalent recently is just the small individual people that are acquiring businesses with MicroAcquire and things. For me, I had over $200,000 in student loan debt. I had a small family and a lot of other obligations. When you see that money, you just get dollar signs in your eyes. You're like, all right, let's do it. You'll lose all rational capability to process that.
I think that's becoming something that more founders are having to come to terms with. You've got these more liquid markets for your business to sell it. It's very easy to settle for something that's way less than your business would be worth in this current market.
I think that's a point of caution that you should never just jump on a deal. Take some time to think about it. Always DM me on Twitter if you ever have questions. There are people like Rob that are more equipped than I am to answer that, but I think that's worth being wary of.
Rob: I liked that you brought that up and called it out because it is a really good point that I don't think I've called out enough. We see whether through TinySeed companies, companies I'm invested in. I have almost 80 investments across those two. Almost all of them have had some type of inbound acquisition interests. They all get inbound investment interest.
What you'll find and this is pretty well-known in the M&A space, it's even called out in John Warrillow's book that he released last year. That one's The Art of Selling Your Business, I believe. It's pretty well-known that if an individual is emailing you from a private equity, micro private equity, and they're like, hey, I can do this really fast and we'll just get this thing done, they are trying to get a value price.
They're basically going to try to lowball you because let's say you're doing $2 million a year and they're going to be like, hey, we'll give you $4 million or we'll give you $5 million, that is rock bottom if your business is bleeding out and declining. That's the price. But if you actually took it to market, it's a more complicated process and it takes more time.
I see businesses doing $2 million a year, getting $10–$20 million if you actually get a number of people involved in a bidding process, basically. It's more work, but they're trying to do off-market deals. It's what happens. That's what you're saying. Be really wary of that.
Nick: Yeah. The market is totally opaque. I think MicroAcquire and some of the marketplace style things are better for getting a sense of like, maybe this is what it could be worth. We were fortunate that we talked to a bunch of different brokers and had a good sense of what we could eventually sell for.
We were lucky also that we didn't have to use a broker to do the deal at the end of it. They'll take a 10% or 15% cut of the deal. It's better than what you could lose if you go prematurely into something. The quick turnaround of 7-day close or 30-day close is too good to be true. Run away if somebody offers that.
Rob: If that's the big benefit, that's usually the equivalent of seeing the billboard on the highway that's like, we buy any house, like a cash offer for all your houses. We're not saying they're shysters. We're not saying they're doing things that are unethical or dishonest. They are value buyers. They will make it easy and that's the benefit.
The benefit is not that you get the best price for your company. Know that going in, that if you did spend a few months, usually, you get multiple people involved and run a process. Whether it's through a broker, you have a Quiet Light, and there's MicroAcquire. There's Discretion Capital if you're in the seven figures of ARR. There are ways to maximize. It's usually not the easy path. It gets you the best price. Usually, you kind of got to grind it.
Nick: Yeah, it really is. To bring it back to Churnkey and why we built it and decided to make this a dedicated business, the brokers told us right away like, oh, you're going to have a really bad value multiple because your churn is 13%, 12%.
Rob: This was on Wavve?
Nick: This was on Wavve, yeah. At the time, Churnkey didn't exist, but it was the prototype for Churnkey within the app. We just built a little bit of it out and we were just like, all right, if we want to get what we want out of this business, we need to double down on churn and make sure we figure out a way to solve it.
That was one of the biggest motivators, which is like, we got to get a better value multiple if we're ever going to sell this thing. If anybody is out there that is thinking of selling the business in the future, that's a big factor that acquirers are going to look at. What is your churn rate?
The math is simple, too. If you're looking at what could we be acquired for, you just think about monthly, what are you making? How much more would you make if you actually got your churn handled? Then you multiply that times 12 to get your annual revenue and then you multiply that by your revenue multiple. It makes a huge difference.
Rob: Acquirers are usually looking at your growth rate. That's probably number one. They're looking at your churn rate or calculating when it's going to naturally plateau. They'll often look at your price point. If your price is too low, it just makes it harder to grow. But if they think there's room to expand it, that's a good thing. There's a lot that goes into that.
This week's sponsor is Trustshoring. Trustshoring helps you find reliable, pre-vetted developers or software development agencies. Turn to Trustshoring if you need to build an MVP, scale your team or product, or you have issues with your current developers or code base and need guidance on your SaaS journey.
Trustshoring makes software development and remote hiring easy for all kinds of founders technical and non-technical. Book a free, no commitment call with Trustshoring CEO Victor Purolnik at many MicroConfs. Visit trustshoring.com to book that call.
So you sell Wavve, which I've been through a few of these. I remember refreshing the bank balance, and looking at it, and the feeling of overwhelm. I was actually just telling someone offline how I basically started crying. I got all choked up because it was years in the making. It was my whole life in the making.
It's from the time I was 11 years old and said, you know what, I don't think I want to work for other people when I get older. This was that moment of like, this is freedom. That was the freedom line for me. I want to find out from you. Do you remember what that was like? Do you remember looking at the bank balance when it all closed? What was that emotion like?
Nick: It was life-changing knowing this. It's kind of surreal, too, that this actually happened. It was almost so surreal that it took it a while to set in. It wasn't like an immediate motion thing. It was like, oh, it happened. Then I was like, oh, holy […], it happened.
I grew up in a situation where my family's wealth was just destroyed through bad investments. When I think about my legacy, I think about my children. It's like, wow, I can change my family tree through this money and being a good steward of the proceeds from that transaction. That was the big thing that was overwhelming, thinking about the impact it has on not just me, but my whole family.
Rob: Yeah, I remember getting choked up when I fully funded our kids' college funds. When I pushed enough cash into those two. We did, Sherry and I. She was off doing calls.
I remember logging in and just saying right in that 529, just boom, boom. I saw the money and I was like, we didn't have this growing up. I'm so glad that I can give this to our kids. Even with the cost of education today will graduate with no debt.
Nick: It's an incredible feeling.
Rob: Yeah, that's great. You have this other business. It's not a business yet. It's just a product or it's a product idea and you're saying, all right, we're going to start Churnkey. We've already had a bunch of success with Wavve. We know what we're doing. Surely, this one will be easier.
Nick: Every time you say that, Baird, my co-founder started another business called Zubtitle, which is similar to Wavve. They do subtitles. He was like, oh, yeah, like we got Wavve. This one will be easy and the same thing. It took a lot longer.
Churnkey was a lot more different because instead of prosumer B2C style customers, we're going B2B. We were not prepared for a longer sales cycle because founders are busy. The people you talk to have other priorities. Sometimes they don't prioritize churn because they want to avoid it or sometimes they just got a really busy product roadmap.
Whatever the reason, it definitely took us a good six months to get a handle on how different it was going to be and that it was going to be a totally different journey building Churnkey than it was building Wavve.
Rob: I think B2B versus B2C is probably a big piece of it. I also think that to use Wavve—I haven't used it but I've used Headliner, which I think is similar to make audiograms—is just low barrier to entry. You log in, you upload an image, you upload audio, click hey, I have a thing. That's it.
But to implement Churnkey, I need to be committed to it. I need to put some JavaScript widget. There's just a bigger decision even if it wasn't B2B or B2C. I feel like it's both of those things probably coupled.
Nick: It's usually more than one person. You've got a founder or some decision maker and then an engineer. Sometimes there's a disconnect there. Realizing our process has to be much more formalized.
At Wavve, there was no sales cycle. It was just inbound, free account, upgrade. We've had some customers. We'll do a demo and then at the end of the demo, they're like, all right, I'm installed, I'm all good. We're like, why are we even demoing if you're that interested? It's easy to install. But when somebody has a lot of other things going on, it can get pushed back and pushed back.
Part of the reason we hired a head of sales was to find somebody who's really experienced with managing a pipeline across a longer sales cycle and handling all the follow-ups. It's a lot different when you're trying to scale B2B versus B2C.
Rob: And you guys have been at it for about a year now. I know you're building Churnkey before that. But if you launched in February, it's almost February 22. Any key learnings or anything you want to share with folks that maybe were unexpected for you?
Nick: Yeah, it's been just about a year. That first quarter of 2021 was kind of a wash because we're so busy with the Wavve transaction. We never underestimate how time consuming SCL can be. We really just got rolling in March. I think the biggest thing is just learning to be more patient when it comes to closing deals and onboarding customers.
We expected things to just take off like a rocket ship right out the gate. That was unrealistic and it was based on our expectations from starting Wavve and some other businesses that were more B2C.
This one, you have to be better organized for B2B, I feel like. I think that's something that we had to learn as we went this time. We've got to get organized, and we've got to actually track our customers better, and get HubSpot, and do the B2B stuff that's not as sexy or glamorous.
The thing that I'm getting excited about is, we'll close one or two customers in a month. Somebody had told me last March, okay, you're going to close two customers in August. I would have said, well, what a failure. But the revenue from those two deals was more than enough to cover things.
You tend to underestimate deal value when you're so used to volume. I think that's maybe a big learning, getting used to lower volume and more hanging in the balance. Then also learning to fill up the funnel and relentlessly pursue deals, which we have not done a great job with. And we're working on improving that, so that we're top of mind.
A lot of people are interested. So many people want to work on their churn. We just have to keep reminding them, so that we find that time to get it implemented.
Rob: I think you've called out the big differences between low touch and high touch funnels. It's like low or no touches. I need a lot of volume. I am optimizing and probably split testing. Everything's automated, everything's a video. I don't have time, it's $10 a month, I cannot do demos.
The moment you switch mentally to high touch, it's different. If you haven't done it before, you have to learn that. Whether you learn it from listening to this podcast or from Steli Efti's MicroConf talks or whatever, or whether you learn it firsthand, which sounds like a lot of what you did, it can be a shock. It's a lot of little mental switches that need to flip to get used to it.
Nick: Yeah, motivation is a big one. It can be very demoralizing when a week goes by. It's like, oh, we didn't have any demos this week. You've got to look at the big picture and really pace yourself.
I think that's another key that I've realized with this business. In B2B, you have to be more careful to pace yourself because you don't have as many quick wins. It's helpful to set goals and milestones that help you understand that you're making progress and learning, even if you're not hitting the volume that you're used to.
Rob: As we wrap up, I had one question for you about your decision to join TinySeed because you're in the current batch of TinySeed. It doesn't sound to me, based on your prior exit, that you needed much money from TinySeed to grow the business.
Money is always great. Of course, we can grow faster and we can have less risk. Am I right in that assumption? And if so, what was the impetus?
Nick: You're correct. We were self-funding Churnkey. We were comfortable to do it for a while longer. We realized we had some knowledge deficit, some of the team. It was hard to admit that we just had this big exit. It was all over social media. We went on these founder talks.
It's demoralizing when you're like, okay, but we've got this new business and we feel like we don't know what we're doing again. We're back at square one. It's also funny because we kind of snubbed our nose. We're like, oh, we're not going to do an accelerator last year.
Somebody's first topic, you guys should do TinySeed. Rob's cool. I listen to his podcast. It seems great, but maybe it's not for us. Really, that's based on a bad perception we had about the idea of an accelerator, like the traditional regional accelerator which we'd had a bad experience in a previous business with one of those. It just didn't push the needle for us.
Anyway, we talked to a lot of founders. We heard great things about TinySeed. We recognized that TinySeed specializes in B2B SaaS. That's what we needed. We looked at the mentor list and we saw like, okay, we've got some current customers that are on this TinySeed mentor list. Let's talk to them.
The more we talked, the more we dug in. We were like, wow, this seems like it would be a great fit. It would fill this gap that we have, where it's also helpful to have accountability, too. I think that's something I didn't realize we needed because we're all pretty goal-driven. We're hard workers. But there's something about a program like TinySeed that forces you to get organized and to set milestones with more rigor. I think that was another benefit. 
Overall, I would say, the whole team has been blown away by how helpful it's been. The money is nice because it helps to offset your own personal risk a little bit and helps us to get more aggressive with a hire that we felt we needed. The biggest thing is everything that comes with that, the masterminds with the other founders.
It's funny, too. I've got two little kids and we found out that you guys were doing the retreat in Scottsdale right after the batch closed. It was so hard because I was like, oh, man, it's only eight weeks out, I don't know if we can do this. The rest of the team could and I was like, dang, we just got this money from, I got to go out there and represent the team.
I was so charged up after coming out there and then going back because I've never talked to that quantity of B2B SaaS founders that are going through the exact same thing. I talked to our team right when I got back. I said, hey, we're not doing badly at all. We just need to change our expectations and get a little bit more, as you said, tactical about the way we're making certain decisions.
Rob: Awesome and thanks. I never asked that question intending it to be a big TinySeed ad, but it often turns into that. I have to ask someone who grew up his whole life not taking compliments well. Basically be like, oh. I realized that at my core, you know what I believe? That I would not be working on TinySeed if I didn't believe it was the best out there for B2B SaaS, because I don't do things half assed and I don't finish second.
I think a lot of us founders are not only competitive, but we take pride in what we're building. When I hear you talk about TinySeed like that, I think to myself, awesome. That's exactly what we envisioned. I'm glad that's how it's coming to reality for you.
Nick: It's amazing that it's only been around for three or four years. The companies that are coming through it, it's been phenomenal. I think that's one of the benefits, too, that we underestimated the value of the cohort, like being brought on as a cohort.
I know some people do the rolling program and you can reach out, but nobody wants structure right now. Everybody wants to go Async. Async's nice. That's our default, but there is something that's really great about having a structure in place that forces you into these conversations.
You have these collisions with other founders, where you realize this is something that they're doing that I should try. In Scottsdale, everybody was like, what are you guys doing? You need to hire a head of sales. So we did it and it's already going well. I can talk a long time about it. Maybe we'll talk again in a year or two and I can give the full debrief.
Rob: Indeed, once you're an alum. Einar and I spent a lot of time in the early days thinking about the batch approach because it would be easier. It would be less expensive. It would be simpler to do it all Async and not do batches, but we just believe too much in that approach and the value we think it brings to founders.
With that, we're going to wrap up. If folks want to see what you're working on, churnkey.co. You said you're not really on Twitter, so it doesn't make sense.
Nick: I'm on Twitter. I don't post a lot. I'm more of a lurker. Just @nickfogle. DMs are open. I have people occasionally that will message me and ask for helpful advice or questions. Feel free to message me if you're starting a business or if you're running a business. If you have any questions, I can offer value. I'll try to do that.
Rob: Awesome. Thanks again, Nick, for coming on the show.
Nick: Thanks for having me.
Rob: Thanks for joining me again this week and every week. If you haven't subscribed, hit that subscribe button. If we're not connected on Twitter, look me up. I'm @robwalling. I'll be back in your ears again next Tuesday morning.