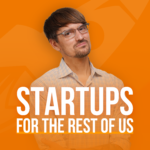 In Episode 568, Rob Walling talks about MailChimp selling for $12 billion to Intuit, the largest exit for a bootstrap company, ever. Not that all founders aspire to grow to this scale, but it's truly an incredible day for bootstrapped founders to know that we have the potential to get to this level without raising institutional funding.
The topics we cover
[1:41] $800 million in ARR without outside funding
[4:14] Acquisition multiple
[7:42] Everyone sells, eventually
[9:31] Respect for MailChimp
[11:49] Disappointed with the UX
[13:21] Equity vs higher salaries and bonuses
[18:00] Long term outlook for existing Mailchimp customers
[21:21] Never say you're never going to sell
[21:42] Being an email service provider today is hard
Links from the show
If you have questions about starting or scaling a software business that you'd like for us to cover, please submit your question for an upcoming episode. We'd love to hear from you!
Subscribe & Review: iTunes | Spotify | Stitcher
Welcome back to Startups For The Rest of Us. I'm your host, Rob Walling. This week, I'm talking about Mailchimp selling for $12 billion to Intuit. It's the largest exit for a bootstrapped company ever—at least from what I can find. My understanding is it's a 50-50 breakdown of stock and cash.

This is truly an incredible day for not only bootstrap founders. Not that we aspire to grow to this level, but to know that we have potential to get to this level without raising institutional funding.

I saw it mentioned in several places that the cofounders of Mailchimp, Ben and Dan, didn't raise any institutional funding. I am curious about the stories behind that. Did they raise friends and family? Did they raise a fund-strapped round? Certainly, they didn't take money from accelerators because they launched before accelerators existed. Y Combinator was the first one of course in 2005 or 2006, and Mailchimp was born in 2001.

This is such a testament to the profitability and the scalability of not only software but subscription software because software before—let's say Mailchimp, Basecamp, the other SaaS models that we see today—was a really expensive on-prem software. The companies that grew big selling these contracts were Oracle, Microsoft, Adobe, and other companies that charged literally seven figures or eight figures for multiyear contracts. Companies like Mailchimp were really the early drivers of this lower monthly subscription fee software.

No fewer than a half dozen people have reached out to me over the past few days asking for my opinion, not only because I've been a long-time fan of Mailchimp, but because I started Drip and entered the ESP (email service provider) space.

Essentially, people say Mailchimp is a competitor of Drip, and I would always say that Drip is a competitor of Mailchimp because let's be honest, Mailchimp was sending a billion emails every weekday. While I had thought that they crossed $1 billion in annual recurring revenue, it turns out the most recent numbers—I believe—from Forbes are $800 million in revenue.

I just want to pause there for a moment and think about that. This is not $800 million in valuation. As many startups we hear about these days, growth of $800 million, $1 billion in valuation, and still doing literally $10 million, $20 million, and $30 million in ARR, what an incredible feat to reach that level of revenue without taking any substantial outside funding. It's just really unheard of.

There are no confirmed numbers on this, but the best estimates I've heard on Basecamp's revenues is that they are low nine figures, that they're $100 million, $150 million, and highly profitable because they only have 50 employees. They're throwing off—Jason Fried said from the MicroConf stage—tens of millions of dollars in net profit per year. That's an amazing business.

If all of that is true or in the ballpark, Mailchimp is the next level. It's almost another order of magnitude larger. If you say Mailchimp's revenue is around $800 million and they sold at $12 billion, that's a 15 times ARR multiple, which is good. That's a nice, healthy multiple, I would say. Obviously, it's higher than the 4–6 or 4–10 multiple you might commonly see in SaaS apps that are growing and doubling each year in between $130 million and $140 million.

As you get bigger, the multiples tend to increase. You can ask my co-founder of TinySeed, Einar Vollset, who is in that space and knows so much about SaaS exits because he's been part of advising so many SaaS founders in exiting. A 15X ARR multiple at this level is high but not unheard of. This is realistic.

Someone wrote into this very podcast. I forget if they were at $500,000 or may even have been just a couple $100,000 in ARR. They sold for a 30 times ARR multiple. At that point, it's more of a strategic acquisition and the multiples become meaningless at small numbers, but this is quite an exit.

I'm going to start with my first thought on this. I think the multiple is good. They could have gotten more on the public markets probably, but in their shoes, going public is not an exit.

A lot of people don't understand that going public is just another funding event. It is a liquidity event for a portion of your shares. You can sell some of your shares once you're public, but that doesn't mean that as founders, you get liquidity on all your shares. It doesn't mean that you're bought out. It doesn't mean that you walk away. Usually, you're then running the company.

So even if they could have made $5 billion or $6 billion each and they could have made $7 billion or $8 billion each doing an IPO, if you don't want to deal with Sarbanes-Oxley and all the craziness around being a public company, then why would you do that?

I heard some people commenting on that, of why wouldn't they just go public. It's just a different animal. I'm going to be honest, I'm surprised that Mailchimp sold. In my head, I never thought that they would sell or IPO. Not because anyone told me that, it was just the impression I had.

I used to use Basecamp and Mailchimp as the examples of (I would say) the statement everyone exits eventually. Everyone sells eventually. That's usually the case. Then, I would bring up the counter examples except for Basecamp and Mailchimp really. Those two have been around a long time and haven't sold.

Usually, founders—whether they bootstrapped or raised funding—eventually get tired of what they're doing, and they want to move on to the next thing. The millions of dollars in liquidity from these assets we build is so much better oftentimes in cash in your pocket.

I also used Drip and Baremetrics. These were two others that I remember saying probably are never going to sell, and yet both have sold at a certain point whether it's getting burned out, whether it's getting tired of it, or whether it's seeing a number in front of you that can pay for both your kids' college funds and mean you never have to work a day in your life again. Even if you know you're going to work, you don't have to. You have the freedom to work on what you want.

When you see that number on a piece of paper, it's a really interesting choice. That was my first reaction when I heard it. I was surprised that they were considering it.

I actually saw an article of a rumor that they were considering selling a few weeks back. At first, I didn't believe it. Then, I thought, you know what, something must have changed for the founders because if you think about it, let's say they were operating at $800 million ARR.

I just chuckle because it's just so crazy. They only had 1200 employees. If we do even lose math and just say $200,000 or $300,000 a year was the cost for each of those employees, you're talking $240 million–$360 million. We throw a server cost and we throw whatever other costs on, but SaaS at scale can be 30%–50% net profit margins. If we say $800 million, we're talking $240 million–$400 million a year being thrown off. It's mostly bootstrapped as I often say on the show.

The founders certainly are not hurting for money. I don't feel like they sold for the money. My guess is they each have enough in the bank that they never have to work again. They probably had that a decade ago or more, so something must have changed.

Obviously, they haven't talked about it, and they can't right now. They have to make the employees feel okay. We'll get into that a little later. There is some anger and outrage around that that I've seen reported. They have to make customers feel okay. They have to make Intuit feel okay. I think the deal doesn't close for six or nine months. That's par for the course.

Realistically, when I read the article or the rumor, I thought, you know what, this is right. Everyone sells eventually. I'm not saying that to say everyone should sell. I'm not saying if you run a great business that you should sell, but the pattern that I see is that at a certain point, ambitious, creative, and motivated startup founders want to move on to their next thing having that liquidity or not having the thing that they have to manage.

Maybe they're bored of it. Maybe they just want to get onto the new phase of their life. It's incredibly hard to build these companies—that's what we talk about here every week on this show—to be able to cash out, and then move on to the next phase of your life.

Whether that next phase is starting another app, starting a nonprofit, instituting worldwide change, trying to beat malaria like Bill Gates, or whatever it is, in my opinion, founders who have worked hard on their businesses, who have taken care of their employees hopefully—again, we'll talk a little bit about that—who have given back to their community like I know the Mailchimp founders have, who have built an incredible business, and worked hard for 20+ years on it, for me, I don't begrudge them as a thing.

I've had limited interactions with Ben Chestnut. I think he's a stand-up guy. I respected him when he was a blogger. Somehow, he, I, Dharmesh, patio11, and Peldi were all blogging at the same time. This is 2005 to (say) 2009.

I noticed them. Somehow, I'm on their radar. I've emailed Ben Chestnut a dozen times in the past 10 years. Oftentimes, it's to invite him to speak at MicroConf which he gracefully declines. But he has entertained the idea and said, look, I'd be interested, but I have this thing that is at that time.

I also emailed him around the time that Drip was going to be acquired because we had inbound interest from several parties. I did email him, essentially let him know that, and said, hey, if this is something that's on your radar, if you're interested in talking about it, let's do it. He said, do you know what? We're not interested right now, but we've had a lot of inbound acquisition over our lifetime. I'd be happy to give you advice if you have any questions.

Again, to me, my impression and all of my interactions is that he's a stand-up guy. He takes care of his employees. I know that they get back to the community in Atlanta. I have a lot of respect for what they built, and I always did.

There were competitors that we had with Drip where I thought their product was […]. I thought they ran […] businesses. I thought they took advantage of their customers, auto-upgrading and not auto-downgrading. Just doing otherwise shady things—copying competitors, claiming it their own, whatever. I never thought Mailchimp did that. I had respect for them as competitors and just respect for them as a business.

As with any big change like this, anytime a lot of money changes hands or someone gets rich suddenly, someone's going to be angry. Someone's going to blame that person or find out perhaps why they don't deserve it.

I don't know if it's jealousy. Maybe it really is, but I'm going to be honest, the anger and outrage that I saw around this made me a little bit angry and a little bit outraged. I think people on social media oftentimes go there to vent.

I get it. Again, Mailchimp is a great company to work for. I've had a couple friends I know who work there. They love it.

If suddenly I found out I was going to work for Intuit, I would be upset too because I don't like Intuit. I don't like that they lobby the US government to keep us from having easy, free tax filings. I think QuickBooks is a really crappy piece of software. I think most of what Intuit makes is pretty crappy.

Mailchimp, I'll agree, has gone a bit off-brand in the past few years. Freddie is chimp himself. I don't see him as much. I feel like the software got more complicated. I feel like the UX got much more difficult to use. I haven't logged in in years because I use Drip. I haven't used Mailchimp in years.

I logged in a few months ago. I believe it was to export some subscribers. I was disappointed with the UX. I always thought that they were pretty good with UX before then. They had some mixed bags. They did try to bolt on automations around the time as automations came up and Drip became a thing.

It hasn't all been sunshine and rainbows, but I'll admit that the last few years, I've stopped recommending Mailchimp to people just getting started because of the complexity of it. But I think that's where they wanted to go. I have no inside information, but I'm guessing they topped out.

You can only get so big. You just have to start […] and get other pieces of the market because they added landing pages and they added a Facebook ad builder. They just kept going pre email and after email in terms of marketers and what they needed. Instead of acquiring it, they built a lot of it in-house and kept adding bolted things on.

That feels a little more pejorative than I want it to, but I definitely felt Mailchimp being different over the past 3 or 4 years than it was the prior 15 years in terms of the quality of the product and the complexity of it.

The bottom line is they built a great and incredible business. How many other bootstrap businesses have reached this amount of revenue and zero others have sold for this level of purchase price? It's my understanding.

If I worked for Mailchimp and then suddenly, I learned I was working for Intuit, I would feel bad. I understand that. I can understand being angry and wanting to vent.

From the other side, it kind of becomes cool or popular to hate rich people or to hate when people get rich. It's not like Ben Chestnut and his co-founder inherited a bunch of money like they won. They built an incredible business and they were the folks who figured out free. They figured out how to do freemium in ESPs and no one else was able to do that before them. A few were able to do it afterwards, but not to the same degree.

One of the complaints I heard from employees or I heard people quoting—this is second or third hand—said, when I was hired, we didn't get stock options. We didn't get equity because they said we will never sell or go public.

I'm going to guess that that isn't what they actually said. My guess is if I were in their shoes, pretty calculated, and pretty careful with words, I could see saying I have no plans to sell. We have no plans to sell this company, so equity doesn't make sense.

Because if you start giving folks equity, they do want a return on that eventually. Usually, it's 4 years, 5 years, 7 years, or 10 years. There's a number. A lot of people don't want to wait 20 years to cash out on some equity that they got 20 years ago. Usually, once you start giving equity, that is a signal that you're going to sell. If they didn't plan to sell, then profit-sharing, bonuses, higher salaries—which is what Mailchimp did—is what I would be doing.

I don't plan to sell. Plans can change. In startups and in business, any of us know the flexibility and the willingness to not hold onto something. I'm not of the fixed mindset in this. Well, I said that once so we can never change it, I think, is a naive perspective.

I know that folks working at Mailchimp—this is according to news reports—got really good salaries, got really hefty bonuses (15%–30% annually of their annual pay), and the working conditions were good. It wasn't the craziness of a startup in terms of working long hours and low pay for equity.

As someone pointed out in a Slack group that I'm in—it's a private founder Slack group—he said, I see enough of these articles that talk about the downside of equity, how Silicon Valley companies issue equity, and then pay people lower than they otherwise should. Then, it goes bust and it's a big trick, so equity sucks.

In this case, everyone is getting cashed out all the time. People were getting (again) these above-market salaries, plus a bonus, plus whatever other money flowed their way. There was a really generous 401(k) matching. This is the kind of stuff you expect from Fortune 500 companies. They were doing that. They were putting out the cash as it came in. They had the profit so it's cool that they did it, but I think of that as being in lieu of having stock options.

I also read that $300 million in stock will go to the employees. While I don't know how that will be divided, that's $250,000 per employee. Obviously, I'm imagining that some will get more and some will get less.

It's a non-trivial amount of money. If I were a naysayer, I would instantly say, well, $300 million is nothing compared to the $12 billion that the founders got. You're right. It's not. They built the company. It's the way it goes with startups. Everything is not equal and fair. There was more risk, more years put in, more work—whatever you want to call it.

I do see that side of the argument, but I think if you're working there, that's what you're onboard for. I can imagine being disappointed that it's sold and that you don't want to work for Intuit, but I don't think you can then go back and say, oh, I really wanted equity. It just doesn't work for me. To be honest though, the real bummer is folks who maybe worked there and then left.

Let's say you left 10 years ago, 5 years ago, or 2 months ago. You walked away with nothing. That is one of the trade-offs with granting equity, granting stock options, or profit-sharing.

I talked about this in an episode. Just go to startupsfortherestofus.com, type in profit-sharing, and that episode will come up. It was maybe six months ago. It's actually become one of the more popular episodes where I walk through the pros and cons of each of these.

One of the pros of profit-sharing is that people get cash. They don't have to sit around and wait for this funny money. Realizing equity in a private company is illiquid. It means nothing until there's an exit or liquidity event versus here, there's some cash. But the downside of that is if you leave and then the company sells later, you don't get any more money because you got your money out as it was going. That is one of the downsides of it. That's the trade-off.

Again, I do feel for some folks. I can imagine being someone who worked there for 10 or 15 years, got their pay while they were doing it, left, and then didn't get any rewards at the sale. That's tough. Also, I guess I keep coming back to the same thing. You can tell how I feel about it. I feel like I'm saying my same opinion over and over.

I get it. I don't think the founders did anything wrong. Knowing what I know of the founders, I think they will do great things with the money. I think they will make sure the employees are taken care of. I think to the best of their ability, they will make sure the customers are taken care of. I think that they're not going to sit on this money and go sit on a beach in Tahiti.

My guess is they will invest in their community. They will invest in causes that can change things. Whether it changes things in their city, their state, their country, or the world, it's a lot of money and you can make a huge difference with that type of money. I think they will.

As with most exits, in the short-term, it won't make a huge difference. In the long-term, it will probably not be a net win for Mailchimp's customers. I haven't seen Intuit treat its customers particularly well over the years. I don't think their software's that great. They just happen to be mostly in a monopoly position.

Mailchimp has always competed well and like I said, had good software. With some changes over the past three, four, or five years, I think they deviated from that initial vision, but I don't see how this makes Mailchimp a better product. I don't see how long-term it's going to be a win for its customers, which is unfortunate, but this cycle of business or software.

You build software, you can move fast, and add all these great new features in the early days. Then, as it becomes more mature, it becomes a teenager, it becomes an adult, and then (frankly) a software. By the time it's even 10 or 15 years old basically, it's like dog years, it just gets old. It gets hard to make changes, especially as a team grows, as the code base grows, and that legacy. You can't undo that technical debt. You can't change winds up tying you to a specific way of doing it. That is a cycle of business.

Then, a new wave of products comes along that is able to do a little better. They're able to move faster because they're nimble in their early days, and then those products age over time. That's just the cycle of business.

I don't feel like this is catastrophic certainly for the space. I'm glad that there are a lot of competitors in the space. It's a very large space—email marketing and marketing automation—but that's my thought. If I was a Mailchimp customer right now, I'd be thinking, I'm going to stick around for a bit but obviously, as time goes on, we'll be able to see the impacts that this has on it.

A couple more points and then I will wrap. One thing that I'll say is if you're starting a company, never tell people that you're never going to sell or go public. I'm not saying they did that. Other people and employees said they were under the impression they would never sell and go public. My guess is they didn't say that.

That would be a mistake if you were to do that because do you know what? Everyone sells eventually. I don't mean everyone in terms of 100%, but 95% or 99%. We just sell. We want to move on. I think I've already covered that.

Don't make a promise or don't make an implicit commitment that you don't want to live up to. You can say, I'm growing this business for the long-term. You're going to get asked in an interview, what do you plan to do with the XYZ Company you're starting? It's a plan to grow for the long-term. I want to work on it for a decade or more. That's what you say because that's usually what you believe and that's the way to build a great business.

You don't build a business to flip it but also, you don't want to promise someone internally or employees as you hire them that they're not getting stock options because we're never going to sell. It's just not a smart thing to say. Take that as a lesson and be careful with that type of verbiage.

My final thought is that being an email service provider these days is getting hard with inboxes looking more and more at privacy, blocking, and open pixels. The effectiveness of email marketing will continue. It's certainly better than social media, but it's not as effective as it used to be. It's like doing SEO and having Google Analytics. It used to tell you which keywords people were using to find your site, and it doesn't anymore.

Similarly, email marketing is going to have less and less data to go on. You can always track clicks because they click through to your website, but a lot of things are being blocked. Spam filters are getting better and in fact are getting so good that they're actually getting bad. These days, some of my emails are going to spam and that hasn't happened in a long time.

There's a promotions tab. There are all these things that are creating an uphill battle for email marketing so I do wonder—again, I have no inside information—if I were them running it. I believe the founders are in their late 40s. They'd be thinking about their next act after having worked on something for 20 years.

I have not worked on anything for 20 years aside from my marriage. That's it. MicroConf is 11 years. Drip was 5 ½ from start to finish. I don't know if many of you in the audience have worked on anything for 20 years. It's a long time and it's a hard problem.

Being an ESP is a non-trivial thing. At one point, after Derek and I had sold Drip, I told him I'm never doing something that sends email again. There were just a lot of headaches with it and I can't imagine what it would be like at that scale that Mailchimp is out with those billion emails a day during the week.

What I can imagine is that in their shoes, maybe there's just a major life change that one of them is going through. Who knows? But I can see market forces being in the thought process of what is the future? What does it look like in 5, 10, or 15 years? If anyone can see it coming, they can. They're right at the bleeding edge of the President being able to see the effectiveness. Maybe they're seeing across the entire company—all the emails being sent, lower open rates, lower click rates, whatever.

But the bottom line is it's a tough business to be in, I will admit. I can imagine that that could play a part in it. Possibly, they've taken the business as far as they can or want to. Into its market cap, I believe, is $120 billion maybe or $110 billion. Being able to go under the wing of that does give you more resources and a much larger customer base. I know Mailchimp has a big customer base, but I believe Intuit companies have quite a bit more than that.

Honestly, I remember when we sold Drip thinking that the leadpage's customer base was substantially larger and we'd have a lot more resources. I was actually motivated by that. It was super interesting. Obviously, the liquidity for the founders was great, but I was also interested to learn more things and to be on a bigger playing field. Maybe that could potentially have been appealing as well.

I think it's a story that will unfold in the coming years honestly. My guess is we'll hear from Ben or his co-founder, whether it's through a talk at an event that we attend, podcast interviews, or elsewhere. I think the story will come out ultimately, and it'll shed more light on why this all went down at this time.

That's it. Those are my thoughts. Congratulations to the Mailchimp team. Props to them and frankly to everyone who's involved in building such an incredible business.

Again, it continues to show you the power of B2B SaaS, the power of building an incredible business with not that much cash, and then the value of those businesses because of the subscription revenue, the repeatability of the sales process, and the momentum as you build that brand. We really are in the golden age of entrepreneurship, especially if you can figure out a way to build software. You build it once and you sell it over and over. It's just a matter of scaling things. There's never been a better time in history to be an entrepreneur.

That's it for this week. Thanks again for joining me. I'll be back in your ears again next Tuesday morning.