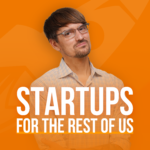 In Episode 566, Rob Walling chats with Hana Mohan about her journey as a SaaS founder. They compare and contrast bootstrapping and being venture-backed, hiring a chief of staff early on as a startup founder, and more.
The topics we cover
[2:17] Intro
[3:36] Deciding not to bootstrap MagicBell
[6:34] The team Composition at MagicBell
[9:15] The marketing approaches that are working today.
[10:47] Technology behind MagicBell
[19:32] Bootstrapping vs raising funding
[24:24] The importance of finding the right investors and hiring the right people
[25:27] Hiring a Chief of Staff
Links from the show
If you have questions about starting or scaling a software business that you'd like for us to cover, please submit your question for an upcoming episode. We'd love to hear from you!
Subscribe & Review: iTunes | Spotify | Stitcher
Rob: Welcome back to another episode of Startups for the Rest of Us. I'm Rob Walling. This is episode 566 where I talk with Hana Mohan about her journey as a SaaS founder. She bootstrapped a company called SupportBee, which is a ticketing system for collaborative customer support.

She bootstrapped it over 9 years to 45,000 in MRR and then in 2020, sold her stake to her business partner, then started MagicBell, which is the notification inbox for web and mobile applications. Started that in 2020, went through Y Combinator winter of 2021, and they're now sending more than a million notifications every month. She raised a seed round of $1.9 million in spring about five or six months ago.

The fun part of the conversation is Hana and I get to compare and contrast bootstrapping and being venture-backed. In fact, we explored the gamut. We started talking about how this isn't binary. It isn't funded or not funded, but there are in betweens like TinySeed or raising an angel round without getting on the venture track.

Hana came on our radar when (I believe) producer Xander saw her do an AMA on indie hackers, that was starting a new tech business as a transgender woman in March of 2020. She has a post on her own blog. We'll link it up in the show notes as well as an AMA on indie hackers if you want to find out more about her journey.

Hana is speaking at MicroConf Europe in Croatia here in just a few weeks. I believe there is still a ticket or two left. There are not very many left at this point, but if you want to be in Dubrovnik, Croatia with a small group of founders this year—it's smaller than usual due to Covid restrictions—I will be there, Hana will be there as a speaker, Laura Roeder, we have Ed Freyfogle from OpenCage, we have Pierre de Wulf from ScrapingBee, as well as a few others that we are still recruiting.

Come meet the crew. Producer Xander will be there. Tracy and Einar from TinySeed who you've heard on the show many times will all be there. With that, let's dive into my conversation with Hana Mohan.

Hana Mohan, thanks so much for joining me on Startups for the Rest of Us.

Hana: Thanks for having me again. It's great to be here.

Rob: Folks heard in the intro about your experience with SupportBee, and then having launched MagicBell. It was MagicBell.io, I almost said, but you got the .com.

Hana: We bought the .com because (I guess) that's what you do when you raise money. You buy the .com domain.

Rob: Was it after you raised your funding round?

Hana: Yeah, it was after we raised. Honestly, I think it's better to do it sooner than later, because I think we'll be successful and we don't want to up the price.

Rob: Yeah, you increase the price of your own domain. You raised $1.9 million in the spring, which was about five or six months ago. Obviously, you had a lot of experience bootstrapping SupportBee over 9 years to $40,000 a month. There's a lot to dive into in terms of just the breadth of your experience doing these two things. I think I want to kick it off with you bootstrap SupportBee to this amazing lifestyle business.

On this podcast, that's a great thing. Lifestyle business is not a pejorative like maybe some venture capitalists would use it. You built this amazing business, you sold your shares to your co-founder, and then you started MagicBell. You're on this next effort. Why not bootstrap MagicBell? What made you decide to take funding?

Hana: Also, I want to mention that it's a great business no matter what lifestyle or not. I think it's a great milestone to achieve for anybody. Even now, when you start your journey, when you move forward, you realize what a great achievement that was. I think it's given me more appreciation now than before.

I'd say the landscape has changed a lot. The hiring is a lot more competitive, the Google Ad clicks are a lot more competitive. Also, I think as you get older, your ambition moves forward. You know what it takes to run a software business. I think when I started SupportBee, I thought, okay, you build something and the only work is new features, but you realize there's so much operational stuff to fight spam, to do security.

I think you just understand the cost structure a lot better, that either you invest that money on your own—which I certainly didn't have access to, like millions of dollars to invest—or you raise some money, or you're somehow okay facing that challenge all by yourself. I certainly wasn't and I wanted to build a bigger business, run it better with the right people in the team from the get go, and raising some money upfront. Investing just seemed like the sensible thing to do.

Rob: You and I have talked before. We talked on MicroConf on air, and I've also been on both sides of the coin of the bootstrapped versus funded. As I always say, it's much more of a continuum (I think) than people make out because it used to be raise venture capital and you're on this venture capital track, or you bootstrap, and now there are all these in-between options. You can raise an angel round of a few hundred thousand dollars and never raise another round. That's actually more common than people think you can raise from TinySeed and not have to get on the venture track.

There's a lot of nuance to it, but that was probably the biggest takeaway once I was working at a company with $38 million in funding. I could hire senior people who knew how to do their job, who had massive experience doing it, instead of trying to find junior folks and training them up, or just doing everything myself, which eventually can lead to burnout.

Hana: When I started out in my 20s, I just wanted to learn everything on my own. I wanted to write the code, I wanted to talk to customers—which I still do—but there was a joy in figuring out everything on your own and continuing to do that. Then I think over time, you realize that if you take entrepreneurship like a profession, then your job really is to come up with the original idea, the funding, the vision. But a lot of the execution, you're actually better off handing off to other people. Actually, more so because it matters a lot that it's executed upon well.

For example, as a founder, I don't have the skills to project manage. I have never managed a team of 30 people and run sprints tightly. I'm better off actually hiring a project manager and handing it off to them.

Rob: Who have you hired? I'm curious. You've had five or six months with this $2 million in the bank, so to speak. What does your team look like today?

Hana: It's a little bit bigger. We have a designer on board, a project manager, and a back-end engineer, apart from my co-founder and I. Then we have a couple of people helping us part-time. We have a chief of staff that's part-time helping us hire and do some of the other things that I need help with. We are still fairly small.

I have to be honest that everybody has money these days. I definitely used to think you raise money and then bam, you post one job, and then everybody will come running to you. It's certainly not true. I have learned that the hard way now.

Rob: I'm not sure bootstrapped, or funded, or fun strapped, or mostly bootstrapped that really matters to most employees. I think there are folks who want to stay with the Fortune 500 or the Fortune 100, the Targets, and the Best Buys, and the General Mills, the real Blue Chips, so to speak.

Then (I guess) there's your big tech companies and everyone else. There are a certain number of folks who are looking for that small team where they can have a big impact, and that landscape—for people working from salaried employees—has gotten much larger since Covid. I think it's tougher than ever to hire. I was going to say for worse for any startup trying to hire who used to be able to use remote and location independent as the big sell. That's not the case anymore. Have you found that to be true?

Hana: I think you're absolutely right. Remote used to be such a big thing. It's lesser so now because it's almost this basic expectation. I still think that an asynchronous remote is still a rare thing. A lot of companies would only do remote in a certain time zone or would only do hybrid. You can tell they're not truly okay with letting people manage their own time.

I think for us, talking about that has been helpful, and I believe that would continue to be an advantage for some more time. But I think you have to treat your employees almost like customers with ever rising expectations. I remember when I started out and probably you started, if you ever worked, we were just happy to receive a salary. Now, even as a remote company, you want to do events. I totally understand why. I actually want to be pampered that way. The bar is constantly going higher and higher, I think.

Rob: All right. I've got some questions about MagicBell, specifically. You've been funded for six months, but you went through Y Combinator before that. You were obviously working on it long before that. These days, what marketing purchases are you finding that are really working for you today?

Hana: What's working well for us is still this organic content or word of mouth. I think since we only made these hires a couple of months back, I haven't been able to switch full-time into growth and try a lot of channels. We were trying ads and they're working, but this area of a notification inbox being the notification experience is still a bit early in the market. People aren't necessarily searching for that exact thing. You want to have this top-of-the-funnel awareness content where people search for push notifications and that's working pretty well for us. We obviously have to scale it up a lot more.

We are trying direct sales. We're trying outbound sales, which is something actually, honestly, I wish I had also tried out for SupportBee. When you find out about it, you realize everybody's doing it, but then nobody actually wants to talk about it. It's almost like this thing that maybe it's just a secret nobody wants to let out. I don't know what your experience has been.

Rob: It depends on the circles. I think even the more tech developer communities that I'm in or in the tech conversations, it usually is frowned upon. Then when I talk to sales folks and I'm talking to my sales consultants, they're like, yeah, everybody knows that there's outbound outreach.

I got six emails yesterday or LinkedIn outreaches from people asking if we need whatever. I get outreaches. It's like, does TinySeed need to raise venture funding? They're acting like we're a startup, like we're on the wrong list. But it is an interesting point. You brought up that MagicBell is maybe a little ahead of the curve in terms of its functionality.

While I gave a brief intro of it, can you expound on this? Your H1 is the embeddable notification inbox, improve your customer's workflow with our in-app inbox where all your product notifications live. Talk me through, one to two minutes of what it does, the jobs to be done of MagicBell.

Hana: Sure. It's funny to hear that out loud because we are working on a new site. In my mind, the messaging has already moved forward, and sometimes I forget that our customers are still seeing the old messaging. The basic value proposition is the same that we think adding an in-app notification inbox in your product is a great way to send workflow notifications, or even announcements, or billing alerts.

I think now we've figured out that once it's installed, people want to send all kinds of notifications. We're calling it an all-in-one inbox. We're actually building more functionality so you can send announcements, like we added this new partner or we added this new feature, as well as notifications like somebody added a comment on your post or you have a new friend request.

The jobs that people are using it to do are bringing to a user's attention what they need to see. It acts as a way to notify users that are not currently online, in which case, we can send them an email or a text message. But also when your users come back to your application, it's this one place where they can look and say, okay, so this is all that needs my attention.

Depending on the industry, there are different use cases. Like in logistics, it's alerting the operations team about a delivery that needs to be rerouted or a courier that needs to be reassigned. In the case of a collaboration software, it's just enabling a frictionless exchange of information.

Depending on the use case, it changes. I think, traditionally, people have relied upon email for all of these things. It's almost like this kitchen sink approach that's anything happens, send an email. Really, I think what we are competing with is this trend of email.

You probably remember 10 years back, SendGrid and Mailgun were not an obvious choice. People used to send their own emails. I feel like we're going through the same cycle that SendGrid and Mailgun went through, just maybe 10 years later with this product.

Rob: I think that makes sense. I was talking to a founder yesterday who has an SMS product for ecommerce shops. One thing that we were chatting about was just how not real time email is anymore. As someone who obviously built an ESP, there's still a ton of value in email. There's a purpose for it, but SMS, Facebook Messenger, and in-app notifications, whether it's a web app or whether it's a mobile app push, there are all these things that really do different jobs now.

I totally hear you. I feel like this is a really evolving piece, even to the point of Intercom and Drift. Intercom had to come on the scene. They had the chat widget but they were also email. I don't know if you would need to do that today. I don't know that that's a requirement to also have the email piece because I just think the job is so different.

Hana: A lot of our customers don't use email, but then I think email is here to stay. What we want to do is over time, just send as few emails as possible, like two email deliveries but very smartly. Only for notification hasn't been seen, or maybe batch them up and then send them out in an email. It's almost like you want to really lead the way in decluttering your users' inbox and you want to respect it more. It's also good for your application just to not rely on it.

Rob: Yeah, because you want to hit them when they're thinking about it. When they're in their email inbox, they're often thinking about other things. I want to get worked on. A lot of people use their inbox as their to-do-list, versus when they log in to MagicBell, they're thinking, okay, I'm in the MagicBell mindset, oh, here's some notifications about new updates or about something that happened in MagicBell. It's like they're already in that context. I think there's a lot there.

Hana: Yeah, and also there are these users like insurance agents, customer support agents. They're already online for eight hours. Right now, a lot of our users come to us because their users have to go back to email to check notifications and then come back again. They can build this themselves, but it takes them months with real time being hard and just multichannel. What we're eliminating for them is like, your users already are paying you attention, but you just don't have a way to leverage it. That's what MagicBell offers you.

Rob: I want to switch it up a little bit and talk about something we were talking about offline right before we hit record, which was this idea of being bootstrapped versus funded. Something you said to me, I think is worth diving into. You said, there's often this anti-funding mindset or an anti-funding rhetoric that probably came about 15 or 20 years ago when the funding landscape was not that founder-friendly. It was different.

These are my words now. In my opinion, it was Paul Graham that changed it. It was Y Combinator because before that, the docs were opaque. There was an information asymmetry where investors had all the info about terms and we didn't as founders. Paul Graham really changed that. I know there have been arguments that Paul Graham potentially took it too far or YC has taken it too far. You don't have to comment on this having just gone through YC.

I've heard some investors like Jason Calacanis say, it's two people in a garage and they have an expected $10 million valuation or an uncapped note or something, which is so not investor-friendly that it cuts the other way. All that said, the landscape today, there is no doubt, is night and day different than 20 years ago. You want to talk me through your thoughts on that?

Hana: Absolutely. I have to be honest, I actually never raised before. Like you said, I always bootstrapped it. I also heard that it made sense to me 10 years back when DHH and all these smart people talked about just how VCs are evil. Maybe there was some truth to it, for sure.

I also hear these stories and other podcasts of some of the early companies in the Bay Area selling for 70% of their equity right off the bat for $500,000 or something. That certainly doesn't happen anymore. The valuations have been rising. I think YC is maybe partly responsible for it, but I think it would have happened sooner or later anyway. This is so much money to be invested in.

I think Andreessen Horowitz does it and SoftBank does it. The game has changed entirely. People have seen a lot of exits at $10 billion, $40 billion, $50 billion, that I think there's a prediction that in 10 years, there'd be a lot more $50 billion SaaS startups. I agree with it.

When you look at it from that perspective, venture capital has always been kind of a lottery, but a smart lottery in a way. When you think about just how much bigger the returns are, people are willing to place bigger and bigger bets. If anything, it only benefits the founders (I think) for the most part. The smartest founders anyway never raised at the highest valuation, I think. They always raise at a good valuation with the right folks. But it's good that the average valuation is higher now.

I think the other big difference is a lot of people think that you raise money and then you give up control of your company. It's not true, at least in the beginning. Before, you had to do a price round. You raise (let's say) a million dollar series, and you spend $60,000 on just the legal fee, and you give up a board seat, now people raise $3 million, $5 million on a safe, which is simply a promise of equity. You don't give up any control of your company. You obviously have to be in touch with the investors and you should be, but they're not running the company for you.

I also just think that a lot of these misconceptions about what happens after you raise money. Actually, what most people will be surprised with is most of the time, once the money's in the bank, the investors actually just move on to the next deal. That's their job is to primarily close deals not to actually babysit you. They're there if you need them.

To me, it just feels like a very different landscape. It would be good for more people to rethink it, because I see a lot of people working extremely hard, having customers, having tens of thousands of dollars in revenue and just never considering raising money. I just feel like they can just make their product customers and even their life so much easier, and it's okay to do that I think.

Rob: There's a reason this podcast is called Startups for the Rest of Us. It's not called bootstrapping for the rest of us. It's never been anti-funding. In the preface of my book back in 2010, I said I'm not anti-venture capital, I'm only anti everyone thinking the only way to start a software company is to raise funding. There are different options. That's it. This podcast is always focused on freedom, purpose, and relationships.

Back in 2005, maybe you couldn't raise funding without giving up your freedom of controlling your company. Maybe. I don't know. I wasn't trying to raise, although I applied to Y Combinator in 2007. I did try to raise an angel round. I just didn't know anybody. I had no network. I was an outsider like most of us are.

That's why most of us bootstrap. We don't know anyone. Friends and family were a joke. I don't have friends and family with money. I couldn't raise a couple of $100 or something. That started changing. The moment that I heard about people raising for SaaS companies raising a couple $100,000 from angels who weren't on the venture track and that you could make your life easier, that's when I started realizing, oh, there's this third option that's building.

Some people call it Alt-VC, some people call it third wave funding. I'm trying to think of the other terms. It's basically just funding without maybe the expectations or the strings attached that used to come with it. That's TinySeed, that's the point because I was writing angel checks out of my own personal net worth into SaaS companies under this model. I enjoyed it, but eventually, you just get overweight. Your asset allocation is out of whack.

That was when I was like, why don't we just raise a fund to do this? Because there are so many folks who could use this. As to your point, who could benefit from it, and maybe have a little bit easier time growing their company.

It's not a regret per se, but one of the things that I would have done differently looking back building Drip is I kept toying with the idea of raising a small round. A $250,000–$500,000 one time round just to do what you're saying, which is hire that chief of staff, just be able to hire more senior people, and have the budget. I never did. I never pulled the trigger on it. I regret it because it made the journey much harder than it needed to be.

I could have raised it and sold 10% of the company. It wouldn't have been that much. The ultimate outcome, even if we sold for the same amount, it would have just kind of all been a wash anyways. It's not like I would have given up half the sales proceeds or something. I'm not saying everyone should, or that you should, or whatever, but this is a viable option.

Hana: Absolutely. I think it's okay to own less of your company if the value of your company is larger. I think that concept is a little bit hard to understand unless you've lived through the startup life a little bit. A lot of successful bootstrap startups are unfortunate because they cannot invest and their growth is slowed down. When they do want to exit, they only can exit at 1X or 1.5X of their ARR.

There is actually a cost. This is probably the YC effect for me. I'm a lot more aware of the opportunity cost now. I think once you achieve a certain lifestyle then you start thinking about, okay, I could be doing a lot with my time. Like you said, for a lot of us there was no other way to enter this race or circuit. Sometimes, if you may read on TechCrunch, people are raising $5 million rounds at $100 million valuation pre-revenue, you will not be able to do that. Most of us actually still cannot and that's fine. I think that's just the price of admission.

You do what you have to do. But like you said, it's just good to keep your mind open and know when is that moment to actually switch. That's actually a hard one to know, especially if you're surrounded by people who are almost treating it for bootstrapping, almost like I'm reluctant to say but almost like a religion, I would say.

Rob: And then it's on the other side, too. When we were bootstrapped, I would go to the Bay Area and I would go to an event. We were in Fresno, California. It was like a three-hour drive to San Francisco and I would go to an event. Everyone would be like, oh, what company are you doing? Drip, it's an email service provider. Oh, how much have you raised? I was like, we haven't raised any, but that's the wrong question. We're doing a million in ARR or something. How much are you doing in revenue?

We were growing faster and had more revenue than any of these companies that I would talk to at these events who had raised more than we had in revenue. It was just this crazy, that there's that side of it too. It's like, let's get away from it, it's too far left and too far right. It's like, let's come back, and be centrist, and think about what is the best option at the stage that I'm at based on the business that I want to build, because I've had amazing little businesses that did $20,000 or $30,000 a month that was pretty much all net profit. That was life-changing for me and that was great. I shouldn't have raised funding for that, because it just was a cool little bootstrap business that provided an amazing lifestyle.

Hana: I think sometimes you just want to take your time and that's totally okay. I think what you and I are saying is, if you are actually working everybody ambitiously and slogging at it, then why not add some firepower?

Rob: To your point earlier, as long as you can find the right people. It's not about maximizing valuation. That's a mistake. That's a noob mistake. It's about finding people—meaning investors—who are going to come alongside you, and advise you, and give you the best counsel they can, and they're not out for themselves, and they don't have terms that could potentially screw you down the line.

While they're not co-founders and that they are not working in the business day-to-day, whether they own equity or a promise of future equity, they essentially are shareholders of your business. So you do want to be careful with that.

Hana: They can definitely make your life miserable if they wanted to, let's put it this way. I'm sure that's how you invest. If you invest probably once in somebody, you're hoping that that relationship will last forever and you'll probably invest in their company subsequently, too. You really want to find such folks, I think.

Rob: I wanted to get into your chief of staff role because this is a role that came on my radar. It was about five years ago now, where there was a venture backed startup buyer, and I heard they had a chief of staff, and the CEO founder actually rolled his eyes. He was a little embarrassed and sheepish when he said, I have his chief of staff, I feel so… because he was just this humble founder who felt like it was overkill. But I started hearing that the chief of staff is the new COO.

What used to happen, for folks who don't know, it's 10, 15, 20 years ago, you would get investment and then the CEO is usually a 23-year-old kid out of Harvard or Stanford, and then you would bring in adult supervision as the COO. Originally, the founder would then get fired as CEO, but then with Zuckerberg and Facebook, he retained rights and then he brought in Sheryl Sandberg, who was the COO there.

That became the new pattern. There's this COO who really knows how to operate a business and the founder continues to do what founders do. These days, I'm seeing a pattern of chief of staff at a startup instead of a COO, that the COO hires pushed way down the line, which should be you should never hire a C-level person. You need to get into a lot of millions (I'll put) in ARR before someone has a C in front of their title unless they're a founder, in my opinion.

This chief of staff role, Jordan Gal of CartHook has the chief of staff he's talked about. There are several folks I know who are doing this and you do it early. Usually, you need funding, whether you're self-funding or raise funding because it's an expensive hire that doesn't push revenue. This person's not a developer, not building products, not doing sales.

You've hired a chief of staff, which I'm envious of, because I want that person who is doing all the things that I don't want to do. That's my understanding of the role, but you actually have one. Can you talk us through: (a) why you decided to do that, and (b) what this person does for you?

Hana: Sure. I think the title has come to mean so many different things now. Sometimes, it's like the assistant to the CEO or sometimes is the chief of staff. I think in our case, I already hinted that I'm good at figuring out what to do, but I'm really terrible at sometimes running processes. Hiring is a big example of that. Hiring today is almost like selling. You actually pretty much have to run an outbound process, source people, and then nurture them. It's insane.

For me, the primary reason was to bring in somebody who can actually really help me with these processes and hiring being the first one. We're working on SOC 2 compliance. That's a very tight process to run. In my case, it's not necessarily also jobs that I don't want to do. But even if I wanted to, I would be terrible at them. I'm good at giving directions, but I'm actually not good at running the processes.

That's what, this woman that I hired, she helps me with. She's not actually really senior, but she's extremely smart. She's very process-oriented. At least if you're using somebody for this help, they don't need to be super experienced. Probably if they are, it's better. It's almost like you would hire somebody who probably would go on to become a future founder themselves.

Rob: What type of background would you look for? Or is the background important?

Hana: Actually, in this case, it was one of the candidates that we interviewed for our founding product manager role. She has a product management background. That, I think, gives you a lot of these skill sets because running, hiring, or getting you SOC compliant, or figuring out, like she improved our onboarding process for new hires even after people joined a lot. There's actually project management. You have to get multiple pieces together.

I think that's worked well for us. In general, I think as long as somebody has attention to details, they can communicate well, and they are okay being with a lot of chaos, I would say, because I think one of the things that can be challenging sometimes is that people don't realize how clumsy early days in the startup life are. You have a weak sense about everything, but you actually don't know anything for sure.

That's a big difference. I had built startups, but to run hiring like this or to get SOC 2 compliance in the first few months, these are the things that you probably only do when you are raising money and you're building with a certain velocity, so you really have to figure all that out. If they're okay with a little bit of that chaos and they are willing to put in the time, I think that should work. It worked really well for us.

Rob: As founders, we are up for the chaos. That is building an early stage startup. Most employees are not and they want more stability. It's a good point. It's an interesting point to think about that for this hire.

A friend of mine was advising a separate friend that I didn't know about how to potentially get a job as a chief of staff at a startup. I was like, you know, the folks I've seen do it either came up as executive assistants or they came up through operations, like office manager, because this person is a utility player.

In baseball, there are folks who only play for space and they're outfielders. Then there's folk and the pitchers. Then there are folks who are utility players and they can just play anywhere on the field. They're probably not as good at any individual role, but the fact that they can play 6–7 positions is truly unique. That's how I think about founders often.

That's how I think about a chief of staff. It's like a founder's shadow. Like you said, assistant to the founder, where it's like, you're higher level than an executive assistant. You're not just doing admin tasks. You're doing things that require business knowledge. There's an added layer there. I don't see why it wouldn't continue to be a thing.

Hana: I think the challenges that you mentioned earlier is that it's not a revenue role. Sometimes, it's a little bit hard to justify in a pre product/market fit startup. Also coupled with the fact that there is this idea that, as a founder, you must be constantly under the water and barely able to surface up and breathe. I honestly don't believe in that.

I feel like I don't really want to run tired all the time. I think depending on that, the role makes a lot of sense. Sometimes I feel it's a good role for people who—how there is this community of people—will structure all their research really well. There are things that you don't often think of as work. Let's say you want to run sales, and now you want to try out three different sales software. That's a lot of work.

You can spend your time doing it as a founder or if you can find somebody on whose research you can rely, you can let them run that process. There's actually a lot of these crucial decisions you are making that arguably aren't that important. You really want to find somebody who's research skills you trust a bit as well, I think.

Rob: Hana Mohan, thank you so much for joining me on the show today. You are @unamashana on Twitter. Of course, magicbell.com, if folks want to see what you're working on. Thanks again for joining me.

Hana: Thank you so much.

Rob: Thank you for joining me again this week. I hope these episodes continue to provide you with strategies, tactics, motivations, new ideas, new experiences that help push your business forward in the coming week. I'll be back in your ears again next Tuesday morning.