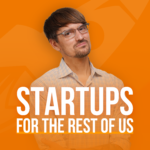 The application for TinySeed's Fall 2021 SaaS accelerator batch of startups will open for two weeks starting on August 9th, 2021.
Watch the video recording of the Fall 2021 Batch Info Session here: https://youtu.be/6dqTClonO2Y
Interested in applying? Join us for an info session with the TinySeed team to talk about the application process, what to expect as a member of TinySeed, and some of the things we are looking for in companies we welcome into the fold.
https://tinyseed.com
#tinyseed
We've written a few posts that might be helpful if you're considering applying:
— Our Fall 2021 application announcement: https://tinyseed.com/latest/tinyseeds-fall-2021-application-announcement
— Preview our Fall 2021 application and requirements in this overview: https://tinyseed.com/latest/2021-application-preview
— Curious about what it's like being a TinySeed founder?
Part 1 – https://tinyseed.com/latest/whats-it-like-being-a-tinyseed-founder
Part 2 – https://tinyseed.com/latest/part-2-tinyseed-founder