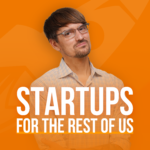 In Episode 547, Rob Walling chats with Craig Hewitt about private podcasting, Apple's announcement around their subscription podcast offering as well as the accelerating growth of Castos.
The topics we cover
[1:22] Focusing on private podcasting at Castos
[15:50] Mobile app for private podcasting
[20:21] Apple's big announcement
[28:08] Castos MRR growth
Links from the show
If you enjoyed this episode, let us know by clicking the link and sharing what you learned.
Click here to share your number one takeaway from the episode.
If you have questions about starting or scaling a software business that you'd like for us to cover, please submit your question for an upcoming episode. We'd love to hear from you!
Subscribe & Review: iTunes | Spotify | Stitcher
Rob: Welcome once again to Startups for the Rest of Us. I'm your host, Rob Walling. This week, we're talking with another ambitious, bootstrap, or mostly bootstrap startup founder, in this case, it's Craig Hewitt. He's back on the show. You'll remember him from season one of TinySeed Tales and he also hosts a couple of his own podcasts as well as being the founder of Castos. Today, we talk about private podcasting. We dig into Apple's announcement around their subscription podcast offering, I'll call it because it's not private podcasting. It kind of is, but it's not really. You'll hear us dig into the differences in this episode, as well as the accelerating growth of Castos. We dig into that in the last five, six minutes. It's really interesting to hear Craig talk about why that's happening. With that, let's dive in to my conversation with Craig Hewitt.
Craig Hewitt, thanks for coming back on the show.
Craig: Hey, Rob. Thanks for having me.
Rob: It's always good to have you, man. I get positive feedback about our episodes. Folks will remember you, of course, from TinySeed Tales Season One, where we walked through your journey back in—I'm trying to think of it now. It was the bulk of 2019, I think, and a little bit of 2020. TinySeed batch one, where you run Castos, which is podcast hosting, podcast production, and now private podcast hosting.
Craig: That's it.
Rob: I'm really interested to dig in today to start off with this private podcasting stuff because, for years, you started a productized service that was podcast editing and production. Then, you started a podcast hosting company called Castos and you piggybacked on the back of a WordPress plugin you owned. Within the last six months, nine months, Castos leaned heavily to this idea of private podcasting, so much so that the H1 on your homepage now says, "Public podcast to grow your audience & Private podcast for exclusive content". That's literally at the top of the page.
I would call that a positioning shift from what you've traditionally been. Walk me through, maybe this thought process and how this has evolved to the point where maybe nine months ago, private podcasting was—I know it was in the back of your mind because we had little conversations about it, maybe there was some code being written or something. Today, my product is doubling down on both of these things and really leaning into private podcasting.
Craig: Yeah. Just for definition purposes, public conventional podcasts like this one, you want everyone to listen, and you want as much exposure. It's a marketing tool to grow your brand and get people into an email list and to buy things, and whatever for your brand. Private podcasting is like a membership site for your podcast. The applications for it with the maker crowd are online courses and membership sites, and communities that want to offer podcast content only to their students or members or community members, and companies that want to offer podcasts as an internal communications tool to their employees.
Think about new employee onboarding or messages from the C-Suite or sales enablement material for field sales folks, really using the concept of podcasting to drive information throughout the company. You have internal memos, emails, and webinars. We're all tired of all of those. A lot of companies are coming to us and saying, hey, we want to connect with our team members, but we don't want them to be stuck at the computer anymore. We want them to be able to consume this asynchronous mobile-first audio-only. Just seeing a lot of interest and a lot of new ways that people are using this as a communications tool, whether they're a company or they're a brand doing this with their online worlds.
Rob: Got it. Companies and folks with audiences. With those two use cases in mind, if I was the CEO of a hundred or a thousand-person company, I would offer that private podcast for free, because obviously, I'm not going to charge my employees. It's really a communication mechanism versus if I were, let's say we started a private MicroConf podcast or Startups for the Rest of Us started a private podcast, we'd more likely be charged for that. It would be premium content that we essentially would probably charge a monthly subscription for. Is that the idea?
Craig: Yeah. As it stands today in Castos, you can integrate either via native integration with a tool like a member space that we're directly integrated with. You have member space that controls the membership platform, and there are privileges and charges of everything on your membership site, that then adds those people automatically to a private podcast that you host in Castos or via Zapier. Then Zapier opens up to everything and everybody—all sorts of membership tools, all sorts of LMS and course platforms—and everything where you can gate the access and the people there and make money and then bolt-on Castos to expand the way you reach out to those folks in podcast format. Then the next step for us logically is doing all of that natively within the platform, allowing our customers to charge directly for content right in our application. That's something that we're actively working on now.
Rob: How did this come about? Was this something customers were requesting or was it something you and your team came up with, or a third option I'm not thinking of?
Craig: Yeah. The analogies to this right in the membership and course world have always been there and have always been something that I and a lot of other people see. It's just taken a bit of timing. We're mostly bootstrapped. It just has taken a bit of time to get the core product to where we want it to be to where we can expand our focus to build this. It's always been in the back of my mind because the problem that this solves is that the way that people can make money directly from podcasting without having like, if you think of Startups for the Rest of Us as a brand, you have MicroConf that this podcast serves as a marketing channel and lead gen, for now, both TinySeed and MicroConf.
I think you're very happy to not make money directly from this podcast. There's a lot of people out there that say, I just want to be a podcaster. I don't want to do a fund. I don't want to have a conference. I don't want to have to sell a course or whatever. I just want to make really awesome podcast content and make money from it. To date, the only native podcast-only way to do that has been ads. It's just a garbage-like monetization method for a lot of people who have audible.com, or mattresses.com, or whatever, as a person that's sponsoring your show. Why not let people make money directly from their content? That's where we're going.
Rob: Got it. When I think of podcast hosting, I think of it as a commodity business. Any type of hosting becomes a commodity. Remember in 1999, web hosting, there were all these web hosting startups, and then it just consolidated. I remember when WP Engine started in 2011, 2012. It was also one of those like WordPress, focused hosting, app-based hosting, where it's really optimized for that. Even now, there's just a lot of low-cost WordPress hosting. I think podcast hosting in my mind is traveling the same cycle where it over time becomes more of a commodity as more people get into it. For you as a founder in the launch and private podcasting, is this a way to stay ahead of that curve and to innovate yourself into not being a commodity player?
Craig: Yeah. That's a big one. It allows us to shift where we stand with our customers from being, say, a liability on their mental balance sheet to an asset. If we are allowing our customers to make money every month, they're very happy to stay with us for as long as they can. We hope to participate in the upside of that in terms of things like revenue sharing or being able to charge a little bit more than we can charge for. I agree with what is a commoditized piece of software, which is hosting which is cheap and relatively easy to build. A way for us to enable our customers to make money or expand the other way that they make money online and make that more valuable is really valuable in their eyes. That's what we're betting on.
Rob: What's interesting is, let's imagine an alternate history or an alternate present. We're in the Marvel Cinematic Universe here, where we forked timelines. Podcasting doesn't exist, that term doesn't exist. If you were to still come up with the idea of sending audio files to a team privately, we didn't call them private podcasts. We called them private asynchronous audio communication. It's a private audio broadcast.
Craig: Such a better term.
Rob: Isn't that great? Naming is the best. While they're both asynchronous audio, it's really a different animal in my mind. I know the mechanism is the same because it's an RSS feed with audio being downloaded. I guess getting jobs to be done is maybe a better way to think about it. When I think of the job to be done of Startups for the Rest of Us, it is mass consumption. As many people that can get value from this, spread the word bootstrapping, and mostly bootstrapping is a viable strategy versus venture capital.
Private podcasting, as soon as I put a wall around it, whether I charge for it or not, becomes this very almost intimate, exclusive. It's premium if you're paying for it or it's intimate communication if you're not if I'm just sending it to my company. I guess I'm imagining there are people out there who never want to record a podcast. They don't want to be a podcaster. They don't want to be a radio personality or something. It's like I have no aspiration to do that, but they're the CEO of a 150-person company, and jumping on the mic to talk to their team, I bet, is much more appealing.
They don't have to perform. They can say, hey, this is the state of our company this week, so and so, we have a new employee in this department, this person got promoted, three more new hires coming through, this is our MRR, whatever. I can just imagine giving either weekly or monthly updates. It's a completely different approach than what you and I think of as podcasting.
Craig: Yeah. A lot of people and even Matt Maderos on our team talks about it. It's so much easier to create an episode for our private podcast that we have with our audience, our most engaged fans. We have a private podcast that we share with them. He says I love making those episodes because I know it's going out to a few hundred people and not the thousands of people that our audience podcast goes out to. We absolutely see whether it's for a company internally. They say the same things that the CEO is comfortable hopping on the mic because it's only going internally. It's not going to the SEC or something where they have to worry about all of the things you have to worry about with your material being out there for everyone in the world to consume and criticize.
We're having a lot of people come in and say, I want to have a podcast for the parents of my local soccer club or something. It's like, all you're wanting to do is just control who has access to that content because when you record this podcast, anyone in the world can listen. If you know that only 20 people are going to listen to this podcast, your approach to it changes a lot when it comes to creating the content. The biggest hurdle for any new podcaster to get over is, what the heck is an RSS feed? How do I upload my podcast to Apple, which is not what happens?
All of the distribution stuff is, even today, like a nightmare, for people to understand. What if you just create a podcast and then put someone's email address in, and they get it? That's so much easier. We're seeing a lot of people build them and say like, I don't care how many people listen. I'm going to invite the people I want to listen to this private podcast, and they will get it. It's just not hard. It's really streamlined. We're seeing it used in a lot of different ways, which is super exciting. I think we're at the very leading edge of how people utilize this as a communication tool.
Rob: Yeah. That's what I like about what you're saying, it's what I was trying to communicate, but did poorly a couple of minutes ago when I was talking about the asynchronous intimate audio or whatever. This is a completely different thing than a podcast. We're going to call it a podcast because that's what we're familiar with, but I think this is an entirely new and very massive market. I can imagine communicating with my extended family. There's a Facebook group with 20 of us, all the cousins, aunts, and uncles. We post periodically, this and that, but that could be interesting.
I can imagine communicating with my team. I can imagine communicating with TinySeed founders. What if some of these Slack groups were just replaced by people podcasting? You and I are part of a small, exclusive group of founders who have this private podcast already. While there is Slack conversation going on as well, I think the bulk of the information is conveyed via podcast. For me, it's more time-efficient, because I can do the dishes. I can be taking the trash out or whatever and listening to it at 1.5x versus sitting there and trying to type on my phone or whatever. That does raise a question that I have about it. This private podcasting feature, is it broadcast only? Where if I set it up, maybe me and my co-founder or my CEO, COO can get that out to everyone? Can you set it up such that anyone can participate in posting audio into it? It's almost like a group audio experience.
Craig: Today, it is you as the account holder who is the only one who can publish new content to it. In that respect, it is more like a traditional podcast, where this is your podcast. You record the content and push it out and everybody else listens. I do think there, very well, could be a day where it is more like a community, where everyone can contribute podcast content to the feed or whatever you use, and then it goes out to everybody. To be honest, the question that we have is, what's the best way to handle that?
Rob: Yeah. That'll be a product decision at some point because I'm sure some folks will ask for it. When I think about it, again, we come back to the example of TinySeed, and whether we'd probably do it maybe within a batch. Today, Tracy and I could set up a private podcast and we could broadcast. Hey, batch three, that's starting next week. Here's new info, here's an update this week, here's this and that. Longer-term, it could be really interesting for each company to give updates. But then they would need the ability to basically upload audio somewhere, have the permission to have it distributed to everyone.
We've obviously had some conversations about it. It's funny how the lines are drawn. I listen to a bunch of podcasts. I'm like, yeah, I would do that. Anyone who just doesn't listen to podcasts is like, that's a terrible idea. We already have Slack. It's always that the lines are just drawn. It's like, you either like podcasts or you don't. Of course, for me, I can't get enough of them. Wrapping up this idea of a private podcast, I've heard you've talked on Seeking Scale, which is your new podcast with Andy Baldacci that started four or five months ago.
If folks haven't heard that, I highly recommend it. You're later-stage SaaS founders as so many of the two people talking about their bootstrap, mostly bootstrap startups are early stage, and that's cool. You're one of the very few podcasts where I'll say millions of dollars in ARR are being thrown around. The two of you are just more advanced. You're thinking about the not later stage, but you think about mid-stage stuff. The team is now 8 or 10. It's not, how do I get my first 10 customers?
Anyway, Seeking Scale is the podcast, folks. You should check out. The reason I bring it up is, you mentioned on there that you are actually building mobile apps as well for the private podcast side because folks haven't seen this. Once you upload an mp3, whether it's a private or public podcast, that mp3 is there, and if someone downloads it to their phone, even if you were to say terminate that employee, they still have those mp3s. They still have essentially what could be proprietary information. If you have a mobile app, where that's the only place they can listen through it, you can control their ongoing access. They can never get the raw mp3 out. Am I understanding that correctly?
Craig: Yeah. I mean, there are a lot of reasons that we're developing the mobile apps, and they will be for iOS and Android. It's the reason a react native. First and foremost, is security, because the first, and second, and third question that we get from our corporate clients is, how is this controlled and who has access? Can they download the file, and all this? We made a very conscious decision in the first iteration of this that it will be streaming only. There will be no file downloaded to the phone. It can never be taken with an employee afterward.
There is no visibility to the RSS feed at all. They can't copy it and share it with someone else. All of that is vertically integrated from our system into these mobile apps. The other reason we did it, and actually the reason we started it is, you talked about this line in the sand of people that are podcast fans and people that are not, there are a lot of people that get added to a private podcast and they receive from us like a special unique RSS feed just for them. They copy this and they go put it in Overcast or Apple podcast or whatever for someone that's not a podcast listener, and even people that have no idea how to do that. We said, well, what if we just have an app? The call to action is to download this app, put in your email address, you get a magic link, authenticate into that, and you automatically get all your stuff.
To a lot of people, that is an easier ask for a brand or a company to say, hey, download the Castos app, put in your email address, and voila, you'll get all of your stuff right away. From a technical perspective, it's just so much easier than to understand an RSS feed. Don't click on that because it won't open in mobile Safari, because it's just a mess. If you do open it, it looks like a jumbled mess of code. Download the app, and you'll get all your content once you log in. Then the obvious next step for us is like, hey, instead of just one-way communication, what about quizzes, surveys, announcements, and other things we can allow our customers to do to interact with their audience members in the app?
The downside of podcasting to a large extent is it is a one-way street. You publish this, it goes out, you have no idea what happens right after it goes out. You have no way to get feedback directly in the place where people are listening. We, having our own app only for private podcasting, are going to allow us to enable our customers to communicate and get feedback and dialogue with their listeners much more, not to mention a lot more analytics. We control the playback mechanism.
Rob: Yeah. It sounds like it's security, it's certainly the ease of use, usability, analytics. There are a lot of things that are going to go into that to make it a better experience. Since I'm a web person, I'm web first. I think SaaS and building apps and this and that, but when I think of building a mobile app, I think oh boy, now we have another codebase to maintain where it's a different skill set, all this stuff. Has that been difficult for you and your team to tackle?
Craig: Yeah. It's been wonderful. Victor from Trustshoring, he's been to a lot of MicroConfs. He's a friend. He runs an agency that connects companies like ours with specific dev shops, mostly in Eastern Europe connecting us with the folks who are developing our mobile app. They are amazing. They're a react-native shop. That's all they do. We were able to pretty easily say like, okay, this is what we want. This is what we have from our end. These are the APIs that we need to build. You guys need to go build all the front-end stuff in the player. They're amazing.
Rob: That's cool. I'm glad it hasn't been this struggle that made it out to be in my head.
Craig: In hindsight, the thing we did right is we didn't try to peel off one of our developers that is a PHP developer to go and learn react native is. We just said, hey, let's go spend the $20,000 that this will cost and hire the specialists.
Rob: Yep. Not your core competency.
Craig: Yep.
Rob: I'm glad that you're coming on this week. It's a bit fortuitous. Apple made their big announcement. I know they didn't invent podcasting because it was open standard stuff, but they effectively popularized it 15 years ago now, or whenever it was. Then they just let it languish, and then they're like two or three years ago, yeah, we're going to give analytics, finally. I don't think those are that great when I log in, but it's like they fit and start.
I'm curious to hear your thoughts. The only reason Apple cares about this at all is because the space has heated up because Spotify is now dropping $200,000,000 to acquire Joe Rogan's podcast. Apple is like, we really dropped the ball on this. Now, they're launching paid subscriptions on Apple podcasts, which is something that in my opinion should have launched a decade ago. I don't know why this is a very logical next step. It's almost like they pulled Internet Explorer, who just won the whole market, and then just stopped.
They took everybody off the IE browser, and just let it languish. That's what Apple podcast feels like to me. They announced, okay if you're a creator, you pay $20 a year. You're part of the Creator program. There's no ability for you to see who has subscribed to your premium content or to contact those subscribers except, of course, through the podcast. You can price subscriptions based on subscriber location. I believe there are monthly subscriptions. There is no RSS feed. There is no connection to your other podcast.
Apple takes a 30% cut of revenue of the first year and 15% in subsequent years, which I think is interesting, and the content has to be manually uploaded to Apple's platform on an individual episode basis. My editor or Castos Productions, your team, would upload it into your WordPress or your Castos account, and then they have to go and upload it into Apple. I'm actually reading this all from the castos.com blog. It was a post from April 21st. It says, welcome Apple to the private podcasting movement. You have thoughts. What does this mean for you? Do you want a standalone tool? Blah, blah, blah. Walk us through how you think about this as someone who has been knee-deep in podcasting, running a podcast production and hosting company for the past several years? You're as close to the metal on this as anyone I know.
Craig: Yeah. We always try to be really honest, Rob, going back to TinySeed Tales. I think part of me, I'm kicking myself a little bit because you and I have had conversations about this concept for years. While I am a bootstrapper at heart, and I've enjoyed being a bootstrapper seeing this, I say, […] what if we'd raised like $5 million three years ago and built this? We could be the standout leader in this space. We didn't and we're not, I think we're at the very edge of this with what we're doing.
But Apple offering it natively on their platform is really different from what we do. As I look back over my thoughts around this in the past, podcasting 6 ½ years, I could have done this earlier. I don't have regrets but definitely, that is something I take away. It's like, the next time I have a hunch like this, I probably will just jump on it because I don't want to look back and say, oh man, I could have, should have, would have. That being said, this is not for everybody. This is for the creator who won the majority of their audience is based in North America, I would say.
Apple podcast is the most popular listening platform in North America by far, but for the younger generation and outside of the US, it's Spotify. It's not like this being available on the Apple podcasts is going to reach even half of your audience these days, depending on who your audience is. I think that for certain people, this is really great because they'll take 30% just like the App Store does, and then 15% in subsequent years. But selling on Amazon versus having a Shopify store, you have no concept of who your customers are. You can't follow up with them afterward. You can't do nurture sequences and up sales and coupons, and all that stuff afterward.
For the person that, we use the term, you want the easy button to make some money from your podcast, this is a good first step maybe. If you have a more sophisticated brand, funnel, upsells, and cross-sells and things that you want to do with your podcasts and folks that listen to your podcast afterward, then I think this is not the thing to do, because it is just like a siloed thing. Spotify certainly will come out with their own version of this at some point and it will be the same. This is in its own walled garden. It doesn't talk to anything else. It certainly wouldn't integrate with your membership platform. That's how I feel about it. It's like, if all you want to do is make a few bucks off your podcast, this is a fair thing. If you have different goals or aspirations or plans for your brand and your content, then this is not the tool for you.
Rob: Yeah. The deal-breaker for me is that you don't know who your subscribers are. That right there as a serial entrepreneur who has run many businesses, the long-term value is in those relationships. It's in having access to be able to contact people. I mean, that the old internet marketing expression was, the money's in the list. It's like having a large email list or having a large, back in the day, it was addresses, physical mailings before the internet. Well, I don't think of it as like the money's in it. I think the long-term relationship and the long-term value is really knowing who your customers are.
That's why, I think, selling my book directly versus selling on Amazon, I've always really struggled with this decision because I want Amazon to fulfill it, but I also really want to know who's buying my book. It's been the same thing. It's not a perfect analogy, but I think of it as the difference between Vimeo and Wistia. They both host videos, and they're both private in terms of they're not like massive YouTube distribution because they're all private in one way or another. Vimeo is $100 a year or something, $100 or $200. Wistia is $100 or $200 a month, it's way more expensive. Vimeo is for filmmakers to go on there for the experience. It's like, I'm a maker, I want the easy button, and I want to get stuff out there and it's inexpensive.
Wistia is for, I don't want to be more sophisticated or just more business-oriented or more people who are thinking about the business, not just about the act of creation, and maybe there's a parallel there. Did it feel like a punch in the gut when this announcement came out? Was it pretty quickly like, our use case is that what we're supporting at Castos is so different from this anyway that I don't know that it's going to have a major impact?
Craig: Yeah. Mostly the latter. Mostly currently, and even in the future with our product plans around like premium podcasting, being able to charge for your content directly in the platform, we serve a different type of customer to a large extent than folks that would really want to jump on this bandwagon with Apple. That's definitely how we feel this is different from what we do. The really good thing is that this legitimizes a lot of what I've been saying for a while like hey, ads are not the only way to make money from your podcast. This concept of private podcasting or premium paid access to a private podcast is a thing. Then the biggest player in the space just made it a thing. We can go around and talk about private podcasts in email, and everyone's going to know what we're talking about in between that in this episode. Everyone's going to know what we're talking about. I think that's a huge win for the industry.
Rob: Yeah, big time. I was waiting for Spotify to come out with this, to be honest. I don't know, maybe they will. I guess you've hinted, you're like, you think they're going to come out with it as well, but I just thought that would beat Apple to the punch. Apple really has not innovated in the podcast space for so many years. I'm surprised.
Craig: Yeah. They've talked about it, but it's not available as of today. Yeah.
Rob: Right. As we move towards wrapping up, I'm looking at your MRR graph. Most people listening know that you're in TinySeed batch one. Of course, we have graphs of all the revenue of the companies. The last three months, bravo, man. It's a rocket ship, very strong three months of growth in terms of just raw MRR and there's a nice little kick upward and to the right. You already had solid growth going and then it's accelerated. What's happening there? There are a lot of listeners who obviously want to know, how can I grow faster? I'm curious, what learnings have you taken away that I think have helped you achieve this growth?
Craig: Yeah. It's tough to know exactly just because there are so many moving parts to a business even our size, we're 12 people. The one thing that I can pretty solidly point to is, we have been focusing from a product perspective over this year, the last four months, on I'd say quality, but like fine-tuning aspects of the platform, revising onboarding, UX fixes, updates to things, and spending half of our development time on that these days. It's really all that's changed. I have to attribute this to that shift. Anyone who knows me well is like, it's not me. I'm just not a super detailed person.
I'm definitely not a designer like we work with an absolutely fantastic designer, who has helped us a lot with all this. I think the lesson I would take away is, my inclination is always to build more features. We have a lot more features on our platform than a lot of other hosts. It's because I've just been beating this drum of like, we need transcriptions. We need YouTube republishing. We need integration with Headliner. We need video support. We need multiple users. We need WordPress integration.
We have a really complex platform compared to even a lot of market leaders for as old as the company is. We've been driving hard for new feature creation for a long time. We said, hey, we need to not take a step back, but focus some of our efforts on really perfecting certain aspects of the product. That's all that's really changed where I have to attribute the growth. It's like, we've increased growth by 50% versus the other months. We're growing about 50% faster in the last few months.
Rob: Yeah. That is an easy trap to fall into, more features because it feels like the features are the headline. The features are what you can read a blog post about. You can't write a blog post about, we improve the usability of the screen. We improved our onboarding. No one cares. Yet, they move the needle perhaps more than the splash. When you think about the marketing or sales funnel for a SaaS app, there are a number of visitors coming to your website, then there's how many start a trial or request a demo. Then there's how many go from there to pay, then there's churn.
How many sticks around? There's the sheer volume of them coming in, and then there's also the percentage drop off at each base. So many of us just want more at the top of the funnel. In this case, you're basically saying, when you say you're focused on improving, is it a lot of usability and user experience improvements?
Craig: Yeah. Just like, what I would consider edge case bugs, they don't exist anymore.
Rob: Right. Obviously, with Drip in my experience, when Derrick and I were running a product there, it was always a balance. To be honest, Derrick and I are pretty picky and we're a little pretentious about the products we use, I'll just say that. When I use a product that's half-ass, I get pissed off. I'm like, these people don't know what they're doing. I'm the wine expert who's drinking Merlot or the coffee expert who says, well, Starbucks is so bad. I'm that way with the usability of apps.
I think if anything, Derrick and I tended to veer in that direction, where we would—you can be too perfectionist about it, and you can make every little piece work so amazingly well, but then you're not moving fast enough on other fronts, perhaps, or you're not doing enough marketing, or you're not doing enough sales, or whatever. You neglect other areas of the business. That's where I think it is this balance. Whether you think of it as a pendulum swinging back and forth. With one Sprint, if you do Sprints, we're building features. In the next one, we're fixing bugs and improving usability.
Whether you're doing both of those at the same time, it would just be so easy as founders if you could just focus on one thing. Don't you just want to focus on one thing and have that be the only thing? Yet, there are 10 things and they all need to be focused on at the right time, or maybe all at once. You don't know what the incomplete information is. It's like, […] which one do we do next? Which one moves the needle the most?
Craig: Yeah, absolutely. There are two additional data points there. One is from a metrics perspective, the thing that is improved is churn. We've always had very good churn, but we're having close to 0% churn in the last two months, which makes growth really easy because we're having customers upgrading now, which is going back to private podcasting. We have an expansion revenue built into the product now. We're getting close to 0% churn, which is amazing. We were at 2% before.
The other thing from a team perspective is for about the last six months, we've gone into this practice of having one of our developers beyond what we call support rotation each week. That developer is the only contact that our support team can have when they need to escalate a ticket. That developer spends about a third of their time chatting with customers and advanced troubleshooting things, and the rest of their time fixing bugs for that week. That's really how this focus on squashing bugs, and product and quality stuff came about. I think it's both products and squishing those bugs and getting those things resolved within that week, but also just having everybody be more clear on what customers are saying and taking care of them better. From a process perspective, it's been a really cool thing to see happen.
Rob: Yeah, that's really nice. The way that we structured it at Drip, too, although we didn't rotate. Are you rotating through your engineers?
Craig: Yep.
Rob: They take a turn. We had a dedicated—usually, it was a junior—software developer, a junior engineer that we hire, and we'd say, you are the technical support escalation. When Andy, our support guy, would dig in as much as he could. But truly he was like, it's a bug, or I just can't, it's code, someone needs to look into it, then they escalate to the junior. The cool part about that junior is they would dig into the bowels of the app, of every part of it. They learned it really, really well. They learned all these little esoteric areas because they'd have to dig into API one day.
Then the next hour, they're over in the park that sends emails or schedules. Then the next part, it's just completely dealing with SendGrid or whatever. They became really well versed in the app. By the time they start burning out on that roll, which is about 12 months, they're a pretty solid developer in terms of being able to get into Drip and build it into the codebase and such. We'd hire and rotate into an end. The other approach that I've seen is exactly what you're talking about where each engineer takes a stint whether it's a week or a few days, usually, it's a week and you just rotate through it, and they have to be. That's the week you're getting interrupted a lot because you have to respond. You have to write code and respond to these tickets.
Craig: Yeah. I think it's nice breaking the cadence, too. They work hard on features. We're five developers, so four out of five weeks, and they get a week of different work. Yeah.
Rob: Makes sense. Well, sir, it's always a pleasure having you on.
Craig: Yeah. Likewise, Rob. Thank you. Thanks for having me.
Rob: Folks who want to catch up with you—normally I say Twitter handles, but you don't really hang out on Twitter. You're the Craig Hewitt if folks want to ping you. Thank you for coming to the show. Really, Seeking Scale, I think would be where they can hear from you every week. Then Rogue Startups, you record with Dave Rodenbaugh a couple of times a month, it seems like.
Craig: Yep. Either of those are great places. Yeah.
Rob: Awesome, man. Thanks again.
Craig: Thanks, Rob.
Rob: Thanks again for joining me this week. If we're not connected on Twitter, please reach out, @robwalling. If you're a bootstrap, or mostly a bootstrap founder, and you want to be part of a community of more than 2000 other founders and aspiring founders, go to microconfconnect.com. It's totally free. You can apply there, and we'll let you in. It's our Slack group, where we hang out and we talk about all the things—jobs and hiring, marketing, we talk about coffee, whiskey, and just whatever you can imagine. Whining on the Yacht I think is one of the channels in there. It's a good group of people, really positive and supportive, and you should check it out, microconfconnect.com. Thank you again for joining me this week, and I'll be back in your earbuds again next Tuesday morning.