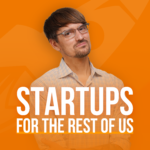 In episode 542, Rob Walling chats with Zach Moreno, the Co-Founder and CEO of Squadcast about how they grew their revenue and surpassed $3 million in ARR as a mostly bootstrapped startup. They also discuss the role and importance of having a co-founder, as well as the impact that having a "knowledge investor" had on their success.
The topics we cover
[04:18] Squadcast growth while entering into a crowded space
[16:54] The importance of having a co-founder
[22:43] The shelter in place inflection point and building out video functionality
[34:08] Choosing a knowledge investor
Links from the show
If you enjoyed this episode, let us know by clicking the link and sharing what you learned.
Click here to share your number one takeaway from the episode.
If you have questions about starting or scaling a software business that you'd like for us to cover, please submit your question for an upcoming episode. We'd love to hear from you!
Subscribe & Review: iTunes | Spotify | Stitcher
Rob: Here we are with another episode of Startups For The Rest of Us. I'm your host, Rob Walling, and each week on this show we cover topics related to building and growing startups using an ambitious yet sustainable approach. We are not willing to sacrifice our health or our relationships to grow a company. We want to build real businesses with real customers who pay us real money.

Welcome back. Thanks for joining me again this week. I had a great conversation with the CEO and co-founder of SquadCast. His name is Zach Moreno, and we'll dive into that in just a few minutes. SquadCast is at squadcast.fm and they are the highest fidelity recording available in a web browser to have two, three, four people remotely meet and record high-quality audio and now video, which they just launched and we talked about it in the show.

It's the tool that this podcast has been recorded on for, I think 18–24 months. At some point, we switched to SquadCast and we've never looked back. In fact, when we switched, our editor said, what did you do differently? Your audio sounds so much better this week. It records in multiple tracks, it's just an audio editor's dream, and of course, it is part of what increased the production value of this very show.

One fascinating part of SquadCast's story is how they 10x their revenue from 2019 where they were doing low six figures until 2021. When shelter-in-place happened, they 10X. Zach talks about how they passed $3 million in ARR just a few months ago. They were bootstrapped until just about a year ago. They took funding from us, from TinySeed, which is obviously not a tremendous amount of money. I mean, it's still a mostly bootstrap company, especially compared to their revenue and growth. It's just a really fascinating story. We'll dive into that in just a second.

Before we get there, I received an email and I have to anonymize it because he gives all types of awesome numbers. He says, "Hey, Rob, I wrote you last year asking for advice if I should take out a $20,000 loan to pursue my software application. You advised me not to. I didn't take the loan. I took on consulting work and got my finances in order, and I slowly pushed for updates and improvements when I had time, and I just sold it for 25 times annual recurring revenue."

I won't go through all the numbers. He actually asked me to keep them confidential, but the amount of money that he sold for (I'll just say) is mid-five figures given that he lives in Eastern Europe. He said it's about two years of runway for him. It's been truly a life-changing occurrence.

He said, "I really wanted to share this with you since I really appreciate all your insights, and I just want to let you know how many lives are impacting." He also wrote, "I wanted to say thanks a ton, for asking those questions on episode 532 with John Warlow. That interview helped me start higher than I would have felt comfortable with my negotiation. Ultimately, I achieved a purchase price far beyond what I thought I could achieve. Thank you so much for all you do, for all of us SaaS founders."

Bravo, sir. Thank you so much for writing, and I love hearing success stories like this because this is what it's really about. It's about impacting other people. It's the freedom for each of us. Freedom for me to work on what I want, the purpose of helping other people be able to achieve what they want, and then it's the relationships—both the super close relationships I have and then even the further away relationships.

The person who wrote in here, who I believe we never met in person, but it doesn't matter. You can have an impact on people whether it's through building your software product, an info product, putting yourself out in the world, starting a podcast, writing an essay, and you can have a lot of impact. Thank you so much for writing in. I really appreciate that.

If you do have a success story about how Startups For The Rest of Us, MicroConf, or myself have helped you, of course, just write in any time. I would love to share them, and I do keep them in a dial or in a label in my email because I can go back through and it reminds me just how worthwhile this work is and just how worthwhile helping other people is.

Speaking of helping other people, I hope today's interview with Zach Moreno from SquadCast is inspiring and also can give you a few ideas, strategies, or tactics that you can use to improve your business. Let's dive in. Zach Moreno, thank you so much for joining me on the show.

Zach: Appreciate it, Rob.

Rob: It's great to have you here. I'm sure folks heard in the intro that you are the Co-Founder and CEO of SquadCast. You're also the initial dev who wrote all the code. You guys are killing it. You're doing really, really well. I think part of that we'll dig into a little bit is the shelter-in-place order certainly encouraged folks to try to figure things out remotely that maybe they were doing in person before. But to set the stage, what are you able to share in terms of your revenue, your customer account, just to give folks an idea of how big your business is.

Zach: Thank you for saying that, by the way. A large part of that is due to TinySeed, so really grateful there. I think a few months ago, we cleared a huge milestone of $3 million annual recurring revenue. We're, of course, a SaaS business, and I think north of 13,000 customers. That's very humbling and an honor to help serve so many podcasters creating content remotely.

Rob: Absolutely. It's a heck of a business to have built. I think you've said publicly in other shows, in other interviews that you were in the low six-figure ARR almost 18 months ago, maybe 2 years ago, and it's a big jump. We'll cover that in this show.

I think that the number one question that a lot of people probably have is, you entered this space, which is remote podcast recording, studio-quality. There was already an existing solution that worked relatively well at the time. It's called Zencastr. It's what we use to record this podcast on, and at a certain point, I switched because there were a bunch of things. There's audio tracking and how the two tracks get out of sync because it does client-side […]. My editor kept saying, these tracks were kind of messed up.

They started having outages back in—I forget if it was 2019, but I went out to look for another solution. Which I had done originally, and back when I started using Zencastr, there were no other solutions. But when I then did a Google search or whatever, I was like, wait, SquadCast. There's a competitor, this is amazing.

You have essentially—I mean in my opinion—growing very quickly. I see you as the visionary, I see SquadCast as the market leader in this point, in essence. How did you possibly come into a space where there was already an existing leader and essentially figure out how to get traction in that space?

Zach: It actually gave us quite a bit of pause. We had started working on SquadCast because of a pivot from a remote podcast that we wanted to do and we started building. I think a few months in, we actually found Zencastr. It actually gave us quite a bit of pause and we're like, oh crap. I don't want to spend or waste my time, the team's time, or anybody's time building something that already exists. I want to work on solving new challenges and do them in unique ways.

That actually gave us some pause, but we did our research and found that there were a ton of reliability concerns. There were the audio drift timing issues that you brought up, and it just seemed while it was state-of-the-art for a period of time, it seemed to really fail to evolve.

Podcasters that we talked to—OG podcasters, new podcasters alike—people in the community were really big on listening, it became very clear to us that nobody was very satisfied or happy with the results. It was just the only option. It was either that or Skype back then. I'll give Zencastr credit for being better than Skype, but I think it's a failure to evolve in a number of different ways.

SquadCast, we've rebuilt the thing a few different times. We've tried a lot of different ways of how we can deliver both quality and reliability every time. There's a lot of unique technical challenges that go into that that may seem, on the surface, like straightforward challenges to overcome but are really technically challenging. That has led to two patents pending.

One of them for how we record and upload. We call that Progressive Upload, or you can think of that like a cloud autosave. And then the other is a solution to the audio drift that you mention. We have a process to normalize that, so we save people time in post-production. Other things like automatic backups or key differentiators were innovations.

Rob: I think that's something for folks to take away as you're listening to this. Entering a space with a market leader or even just a crowded space is totally doable under certain circumstances. If you raise buckets of money, you can at least take a go at it. If you're an experienced founder, maybe you've had exits or successes in the past, this is where you can push into these.

Or if you find an angle, if you find that wedge, which is some things that people hate about that competitor or about the competitors in general, and that was what we did with Drip where we found out that Infusionsoft was this tool. A lot of people didn't like it. A lot of complaints online on Twitter, in forums, in Facebook groups. We kind of pivoted into that space. We weren't building marketing automation, we were just building basic email capture and emailing. Then we realize, wow, there's a real opportunity here. When Derek Reimer was talking about building a competitor to Calendly that is now SavvyCal that he's having great traction with.

Zach: Big fan.

Rob: Yeah, we use it here at TinySeed. A big part of that conversation was, what's your angle? What's your innovation? We know it's not just building a better product. You have to do that and then you have to market and position and communicate it. The same with Docskecth with Ruben Gamez. Of course, any of us could clone HelloSign, in a couple of months with some engineers. But how do you then get traction beyond it, figuring out what people don't like about it, and getting those traffic channels?

It sounds like you took a piece of that. You fixed some things that perhaps were broken with an existing solution, and then you innovate in addition to that. But beyond that, just building the product I don't think would have done it, right? What else was there?

Zach: I think a big part of it is our branding and our position. Design is a really core competency in our team, and super proud of Alex and the design team for really establishing a high bar there when it comes to the experience for podcasters and their guests on SquadCast.

There's a whole bunch of UX things that need to get right with all the different complexities of, if you think about a guest for a podcast, they're essentially expected to be a podcaster for like an hour. They don't really have the context, the background of how to do that equipment, permissions, and all that stuff. How do we make it just as easy for them while providing a really powerful set of tools for remote content production on the creative side?

The balance there was something else that I would credit as an innovation. From our beta, we had video of the conversation. You could have body language and eye contact, and there's a whole large part of communication that is nonverbal. That was another area that some people prefer the video, some people don't. It's all good as a setting. We just felt we wanted to make the conversation on SquadCast as close to reality as possible.

We do that in a bunch of different ways, with kind of real-time presence so you can actually see your guest's microphone, what equipment they're using, their network connection—all of these little things add up to building confidence that you are going to record quality content, and that you can just kind of stop worrying about the technology not getting you to where you want to go. You're always going to get that file at the end. That's really I think a core to our approach here.

Rob: You do have a unique challenge that you called out there where some guests or podcasters for one hour. I have a guest or two a month, and luckily, many of mine have done podcasts before, but there are some who have not. I need to say, hey, can you get a headset or a USB microphone because we're not recording on your onboard laptop mic.

Then when they come on, you—meaning SquadCast—has to guide them along, handhold them in a way that makes me look good. Because if SquadCast or whatever solution I'm using screws up, it reflects poorly on me, it makes me look unprofessional. That's a big responsibility.

Zach: That wasn't super clear to us when we first started. But we learned pretty quickly that this is a brand asset, why does quality matter? We not only need to communicate that to our customers, but if their guest is like, well, why don't we just record this on Zoom? Some percentage of podcasters would be like, okay, let's do that.

What we do is try to communicate to the guests and everybody, why does quality matter? It reflects on your brand, it reflects on your credibility. There's a study from USC that directly correlates the quality of the content to the credibility of the people in the conversation. All of these things we work to communicate to the guest in a way that's not really invasive and tries not to be too involved as they connect and record on SquadCast.

Rob: Your co-founder, Rock, told me—this is vague so maybe flush this out. But my memory was in the early days—let say 2018, 2019 as you were trying to get traction—you would attend in-person events and you were out there in "the community". I presume that's Facebook groups and forums, but also in-person stuff such that people kind of saw you everywhere, is that relatively accurate?

Zach: I don't know that we quite got to everywhere status, but we sure tried, and still do (to this day) involvement in the community. I love to say that podcasters speak eloquently for a living. It's our job to listen and be very active listeners to what it is that they need, and try to keep that feedback loop as tight as possible.

Being in the Bay Area in California is a very robust diverse community of podcasters and content creators. The narrative and podcasting are very East Coast-centric, I'm not exactly sure why that is. Oakland and San Francisco are a huge epicenter as well, as is LA. We use that to our advantage, and online to your point. There's an active community on different Facebook groups, different in-person events, that's some really great advice.

When we first co-founded SquadCast, I was also holding down a day job for the government. I was committed to teaching at UC Berkeley for a night class. I was getting married and had the idea for SquadCast. Part of that was, one of my students at Cal Berkeley happened to be involved with Intel's Venture Capital Fund in the Middle East and was taking this course to kind of brush up on his technical prowess.

He really pushed us, over coffee one day, to really get out of our comfort zone, launched in beta way sooner than we were comfortable with, and really put our money where our mouth was, and go and sponsor the largest conference in the podcast community—that's Podcast Movement. Thankfully, that was in Anaheim in LA that year. We could drive, my best friend's mom got us a hotel room, and we just put ourselves out there. We were all very anxious. I was writing code in the car there before, during, after, all that stuff. It was barely an alpha kind of product.

We learned within the first five minutes of the event starting that somebody came up and told me, I came to this event looking to solve this problem that you all are working on. That just was amazing to me because it was a real sink or swim moment for us. I'm really grateful that that worked out.

Rob: That's that capital efficient scrappy bootstrapper mentality of you don't have $2 million in venture capital to throw your own launch party, so you just figure it out. You drive down somewhere—I'm sure you guys didn't sleep much—and spent a bunch of time hustling.

Zach, Yeah, and nobody knew who we were either. We were very nervous that we didn't have any street-cred in the podcast community, what are people going to think? The downside could have been we would just drop a couple of thousand dollars and then we were just standing in this booth with nobody talking to us for a couple of days. Thankfully that didn't happen. We met our founding advisor Harry Duran there, we got our first customer, and our first revenue there. It was just astounding and surpassed all expectations.

Rob: It sounds like it's some of those asymmetric risks, if you think about it, where the risk was that you wasted a weekend and obviously some money with the sponsorship, but the benefits far, far outweigh that. Those are the gambles we have to take.

Zach: I'm really grateful that our first customer, Gina, is still with us today. That's pretty cool too.

Rob: That's awesome, cool. You and I both mention your co-founder, Rock, quite a few times. You are the developer side of it, right? I mean you do a lot of the coding and managing of the technical side. Rock does a lot more on the sales and internal operations, that kind of stuff. I'm curious, it's a weird question because I guess if you say, yes, you're like throwing Rock under the bus, but you've only done this with a co-founder. What would it have been like to try to do it on your own? Do you think you would have made it?

Zach: I don't think I would have started, to be frank. I had a list of one for potential co-founders, also Rock introduced me to podcasting as a listener back in high school and college. That was something where I had some degree of hope that he would agree to go on this journey and be a key part of it. But at the same time, I mean, he's got his job, he's got his life, all that stuff. It's a really big ask to say, hey, let's do this 10-year plus journey together and put it all on the line, to revolutionize content production. That's a bit audacious for someone to ask.

I'm really grateful that Rock and I, thankfully, had a relationship, strong foundation in trust as longtime friends. I also knew that our skills complemented each other but there wasn't a ton of overlap. He understood enough about technology, I understood enough about finance and business. Each of us had a focus in those areas. It's this real symbiotic relationship with that foundation and trust that has led to a really, really great partnership. It's hard for me to imagine doing this without Rock.

Rob: Again, as the developer, normally what I see is if you have a developer and a non-developer co-founder relationship, that it's the non-developer who is CEO, and the developer usually gets titles like CTO or something else. In this case, you are the CEO. How did that come about? I'm not sure I've ever seen that actually.

Zach: Well, what you described was what I wanted. I'm a reluctant CEO, I'll put it. I was essentially trying to convince Rock, trying to see if there's another way, and the team just continued to lift me up and say, no, we think it should be you. You should be the CEO, you're the one with the vision, and you're the one who had this initial idea.

Also, I've met enough engineers in my time where I can understand how that would be a non-starter for a lot of engineers because of communication skills, putting yourself out there, getting up on stages, recording with interviews, and all this stuff. These are all things that are assumed as part of the role of the CEO. I know enough engineers to know that there's not a lot of people who would be comfortable with that.

I'm really grateful that I have built up comfort with public speaking, writing, and all the different things that are really key soft skills to being a successful CEO, but those were learned skills. That's not something that's intrinsic to me. Anybody who knows me from way back, I had depression, social anxiety disorder, and was very much focused on my fine art career and all of these other things way back when. Sixteen-year-old Zach would be looking at me now like, what the hell happened?

A big part of it as well is Rock and I discussed openly that we learn pretty quickly through research and studying startups. As first-time founders, we wanted to be students of startups and really understand where things can go wrong, where things can go right. It became very clear to us that the reason leadership and startups have turnover, changes hands, or anything like that—it can happen for a number of reasons, but it seems like the biggest reason is failure to evolve with the company. The company can evolve at a rate that the leadership doesn't. That can be a big bearer.

That's on a day-to-day or month-to-month time horizon, that's what Rock and I focused on. It's just making sure that we are evolving at the pace of the company. That we're not going too fast, that the company is not going faster than us, and trying to maintain that speed. We also make a lot of decisions together. In some sense, there's shared roles there like some co-CEO-ing going on.

I've asked Rock since making this decision. You sure, do you want this? Maybe I should be the CTO as well? Because I essentially have two titles—I'm the CEO and the CTO. I just have two calendars and I schedule time for CTO, I schedule time for CEO. That is weird. That's taken some time to get used to, but I'm also really grateful now that with the success that we've had that we can actually grow beyond me as the solo engineer here and empower people like Jean, our new Lead Software Engineer and new hires that were working on this year to grow the engineering team.

Rob: Yeah, what is your total team size now?

Zach: I believe we're up to nine. A lot of other people helping around that team.

Rob: Sure. That's a nice small team size for north of $3 million in ARR.

Zach: Yeah. It's a bit crazy because Rock and I are always trying to keep it as efficient and lean as possible with the team size. I remember having conversations with him where he's like, man, if Instagram sold to Facebook with 10 employees, we should be able to do it with 5 or 6 people. Here we are over that already. I'm really, really happy with the team. That's another aspect that is something that Rock and I focus on fostering a culture internally to the SquadCast team that I think is a big part of what got us here.

Rob: Mixing things up a little bit and circling back to something I mentioned at the top of the show, there is this quote from you that my assistant producer pulled from a previous podcast, I'm guessing. But you said, "Our biggest inflection point was shelter in place." What happened there? Do you want to walk us through it? My memory of it was, there were a couple of months where you doubled one month. You were already doing, I think, tens of thousands in monthly recurring and you doubled, and then you doubled again.

Zach: Yeah. That's a pretty good lap around it.

Rob: Was it a fun time or terrifying?

Zach: A little of both, honestly. It's surreal just to zoom out for a second. It's surreal because of how many companies experience the exact polar opposite. That's not lost on us that we had experienced any amount of success. We would have been happy standing still in an economic time of that magnitude, and to experience any amount of growth was just tremendously humbling.

It makes sense because we had always focused on this inner section of quality content production but remote-focused and remote work. Our team is remote so we didn't really have the challenges that other organizations would have being focused on in-person. We were able to really just hit the gas pedal and keep riding the wave as hundreds of people, thousands of people a day signed up.

I had my concerns, for sure, because while we do our best to scale the technology and scale the team, there can always be bottlenecks even with that, even with that being the focus. We had certainly felt in hindsight, it doesn't feel like this. But at the moment, it felt like the SquadCast infrastructure and technology had been, to some degree, over-engineered. But that was because we knew we were planning for this growth.

One of the weeks there I did a scalability audit and ran that by you and some of the other mentors—I think Derrick at TinySeed. We were really trying to understand at the moment, okay, what do we need to get in front of to continue this growth because we didn't know where it was going to take us and how the scale was going to evolve.

Same with the team. My brother Vince is the head of our support team and also the head of our content production team. It became very clear, we need to grow the support team to help onboard all these people. We need to improve self-service and we identified a number of things that we quickly got into the product to continue double down on self-service. And really just trying to make sure everybody was experiencing the magic of SquadCast while all of that stuff is happening.

That's really where the roller coaster feeling—another way to describe it is like a time machine—of startups really was the most extreme version of that that I had ever experienced. I'm so grateful that we rose to all of those challenges and really provided the experience that people expected. A lot of those customers are still with us today. Very proud of that.

Rob: It's a good problem to have when you're just inundated with customers. It's still a problem. I have learned firsthand, witnessed this, and experience it for agonizing months of scaling issues. I remember when we did that scaling audit, I said something like, wow, if you are going to build this today and tell me you didn't have any customers, I'd say you're gold plating this. But you gold plated it and it was the right call because now, you could scale so far from where you were.

Zach: I had never done anything like that. I had never worked on an app the scale of SquadCast before. That was another thing that we're very proud of. Just to give you a sense here, in over 130 countries, in 2020, we helped record over a decade of quality audio. I think that's just staggering numbers that I personally as an engineer or a startup founder had never experienced.

Rob: Yeah, for sure. Obviously, the upside of that is, oh my gosh, our MRR is doubling and this amazing success. There had to have been a day, a week where it was just awful. Do you have the worst memory of that five-, six-month period?

Zach: You know, I don't. That's weird to say, to be frank, but I don't really. It was more of just like, hold on, stay focused, and do the things that we can do. I remember the team having anxiety and Rock and I talking about the ways that this could go wrong or that this could kill us. People don't talk about success as something that may kill your startup. But that's totally something that can happen. We were mindful of that.

We were just like okay, how far is this going to take us. We have been working for this moment. We had done our homework that inflection points do happen and that we had not really had ours yet was our sense of that. And then there are other things that are crazy to me still, Rob. April 2020 was still our highest record month out of nearly five years of working on SquadCast, but there are other inflection points that can happen as well.

The demand for video throughout that whole thing was probably, to answer your question, the closest that I felt to it was like, wow, we're focused on scaling, making sure everybody is having success with their recordings, and getting all their files and all that stuff. Yet more and more people are very passionately requesting the ability to record video as well.

That's where I'll say that if we have had a second inflection point, it would be January of 2021 when we launched video recording. The difference there is, one was the world happening to SquadCast. But video recording, us launching that felt like—that being our second highest record month when we launched video recording was an inflection point that was self-inflicted, self-made. That felt really cool that we had gained that ability and the skills to really ride that wave.

Rob: That's an interesting way that you frame it where the world happened to you versus you being able to put something in the world that you're at least in a little more control of.

Zach: I think Rock actually had that insight. I think it's a brilliant one. And then also, we suspected that that would happen with videos. We did a lot of testing to get it ready for prime time. We knew that with the scale that we had that on day one, or to give you some real data, on month one, we helped record over 11 months of video. It was essentially still in beta at that point. We suspected that that would happen and we prepared for it.

Rob: Right, and video recording was something you worked on for quite some time. You announced it publicly, was it the fall of 2020?

Zach: Yeah, that's really when we started talking openly this is going to happen. We'd gotten the infrastructure in place to make it happen. We had extended our intellectual property for progressive upload that I mentioned before. We had engineered that in a way that would set us up for success when it came to video recording, which we knew about back then. In some ways, that was pre-requisite work that we have been for a while up to that point. But video has its unique set of challenges in addition to audio.

A lot of companies only really get one opportunity to innovate and move the needle forward. I'm so grateful that with SquadCast, we had essentially two. We could start with audio and then once people started talking about video, it sounded like a mirror conversation of what people were telling us in 2016 about audio. Which is like, hey, we're not happy, the quality is not good. Sure, there are some hoops we can jump through, but the experience is whack.

This would be very valuable to us. Podcasting was evolving at the same time. Audiences' tastes are evolving at the same time. There was a real demand for that. We're really grateful that we could play a role in helping so many people grow their show, grow their audience from the roots in audio to video from there is a really cool thing to have experienced.

Rob: I know that you wanted to get video out. You wanted to get it out as soon as possible. It felt to me, I don't think we ever talk specifically about this, but it felt to me like it's like shipping any big feature, it just takes longer than you want it to. I know you were doing a lot of testing. Tracy, Xander, and I hopped on one to do some video recording and check it out and stuff. But was there a moment where you were like, I hate this, I hate my life right now and you were thinking as it drags on for weeks and weeks of, I want to push this live but we just keep having to circle back on things?

Zach: Yes. That is one of the things that—it's a terrible quote, but, "Move fast, break things," from Mark Zuckerberg. You lose that over time as you gain customer trust, as you are more and more relied upon as the industry standard. To really throw something against the wall like that could really rock the boat and disrupt what is a reliable system for existing customers. That's really where I was very mindful that we did not want to do that. We had worked really hard to establish this relationship and reputation of reliability and quality.

But also, there's a lot of other elements to it that we don't necessarily think of as video recording. But you played an instrumental role in this and as did Einar and the TinySeed mentorship is the pricing that goes along with a major product release. Before we joined TinySeed, Rock and I had already developed pricing to give credit to Rock, he is a real student of SaaS pricing. I don't think enough founders are. That's a bit weird to me. He has really embraced that and we had developed and designed pricing that we thought was going to work. It probably would have, to some degree.

But I remember having a conversation really early on when our batch started at TinySeed where you and Einar reviewed that pricing with us and were like, you shouldn't do it this way. Let's do it differently and start with a fresh sheet of paper. I'm so, so grateful that we did because it's setting us up for success into the future—future-proofing—pricing as we grow and add more features. That's another element that we really needed to get right when it came to a big update with V3.

Rob: Yeah. Pricing, as you said, very hard to get right, easy to screw up, and often not even know it, not even realize it. I've said, pricing, it's the biggest lever. It's the number one lever in SaaS. You don't have to build a new feature, you don't have to build a new marketing channel, you don't have to add more leads. But changing your pricing can literally make a business that won't work into a wildly profitable one.

Zach: Absolutely agree. We had experienced that a bit ourselves with some of the experiments that we had done before joining TinySeed. But to be transparent, that was one of the major reasons where we knew enough to know that we didn't know enough. That's really where it was like, all right, let's lean on experts, people who have been there and seen many, many, many more SaaS founders, pricing, all that stuff to really understand how we can create this win-win situation where we have a healthy sustainable business that can grow over time. as well as provide an economical solution to content creators at any size of their show.

Rob: We've talked a bit about TinySeed today. I know that you received a lot of term sheets to invest in SquadCast. You had several offers and you decided to go with us. You said that you joined batch 2. I'm curious why that was because I know that you and Rock are deep thinkers, you're very deliberate, you evaluate your options, you're not impulsive. You do things in a very thoughtful manner. I'm curious to hear a bit more about your thought process in deciding to go with us.

Zach: I appreciate you saying that and also for accepting us. It's been a real delight and pleasure to learn from the TinySeed community, to contribute to the work being done by all these amazing founders, to see the next batch coming in. It's all very, very exciting that we can play a part in that. You're right though, we are fundamentally bootstrapped. We worked day jobs for a year and a half, jumped in full time once our product was paying for itself, and experienced some really great opportunities to scale. That tends to get the attention of venture capital, seed funds, and all these things.

We also got some really great advice from one of our advisers, Scott Winston, that maybe it contributed to this (to your point) that if you ask a venture capitalist for money, they hear that all the time. We're in the Bay Area, we're constantly going to events that have a representation or a sponsorship by venture capital. We used that to our advantage to learn from these people who have been places that we have not and been founders already and grown amazing businesses. We didn't want to sacrifice that knowledge. Just because we weren't going to raise capital necessarily, we didn't want to sacrifice the wisdom and the knowledge that often comes with that—so-called smart money, emphasis on the smart.

That is something where we leaned on our advisor. Scott recommended, when you talk to these venture capitalists, try to learn as much as you can from them. Don't ask them for capital, ask them for advice. This weird thing will happen where they will offer you capital when you ask them for advice. That's totally true. We have seen that happen over and over and over again, almost to a fault. It's predictable these days, so thank you, Scott.

If you are interested in raising venture capital, I highly recommend that we were not focused on raising venture capital. We looked at this as kind of an experiment with bootstrapping where we would essentially try to bootstrap for as long as we could. Worst case scenario, we increase the value of our asset and it should get easier and easier to attract capital. At a point, we hypothesized in the beginning that we would reach a point where the venture capitalists were coming to us and offering us term sheets.

That was surreal to imagine back then, but it has totally come full circle. When it came to looking at ways to continue finding knowledge investors—it's kind of how we look at it—that's really what nudged us towards looking at the accelerator options. We had applied for Y Combinator, we had applied for a number of others like Launch, Earnest.

We had talked to the community around this with an emphasis on bootstrap because we know enough about self-funding and customer funding that there's a real different set of knowledge there. There's a lot of overlap, but at the same time, there is not. There are unique challenges that come with bootstrapping.

Because our experiment had continued and we still hadn't raised any venture capital, for us it was more like, how can we get into an accelerator that is the exact right fit for us? I think there is only one TinySeed, just to be frank about that. That has proven true for a lot of reasons. But the other thing was that I think at a point when we were talking over the term sheet for TinySeed, we're even entertaining the concept of no capital. We're that focused on just the mentorship, advice, and the community that would come with that. That was the more valuable part to us.

If I can be real for a second, Rob, and hopefully Rock's okay with me saying this, but I believe we still have that capital in our savings account. We haven't needed to touch it. That's the best-case scenario. We have it.

I remember walking in Santa Cruz with Einar. He just looked at me and was like, there needs to be some capital. You can't sign this paper and not take some capital. You should take some capital even if you're not really planning on it. It's just like, okay, that makes some sense to me. I'm glad he leveled with us. There was a lot of leveling through the—I hesitate to even call it a negotiation—forming of our partnership.

We really look at TinySeed as a long-term commitment as well. That was our biggest concern. It was just, okay, we're big fans of Rob Walling, we had read your books, we had listened to this podcast which is surreal that now I'm talking to you on it. We had researched Einar and the work at Discretion and all the different things. Tracy and Xander. That all came to life once we started engaging with your organization.

We suspected that you all felt like it was a long-term relationship for founders as well. Because the biggest indicator of that is the duration. The duration of the program was one year, which is longer than most accelerators. It was also a remote accelerator, in which we are a remote-first team. You are an active podcaster. All of these things and of course your heritage and background in bootstrap SaaS, we also knew that we wanted to grow as a company more towards enterprise customers.

I think we're a bit of an outlier now having met the other founders in the batch that we're a part of. As the majority of your focus is B2B, we are kind of B2C, B2B, prosumer so-called. That's another area like, okay, we want to grow in this way. These are all factors for us in our consideration. But I think our biggest thing was just like, okay, what about the 2nd year, what about the 3rd year?

I want to keep learning from Rob and Einar in the community. I want to keep contributing to the MicroConf and all that stuff. That's been very clear to us that we've made the right decision, and so grateful that we could be a part of it.

Rob: Yeah. I mean, it's obviously been a real pleasure working with you guys over the past—well, it's almost a year now. It's like 5 weeks, 6 weeks?

Zach: Yeah. It went by so fast.

Rob: I know. The COVID year 2020 felt like it was 10 years, but some of these things like this feel like it went by fast. But to your point, you'll be the second batch that essentially graduates and becomes alumni and not that many changes. There may not be the twice-a-month mentor calls, but I still talk to folks on a weekly basis from both batches. You're still in the Slack group. It really is a graduation into more the same with perhaps less recurring stuff.

Zach: We had talked to founders that came out a batch one. That was another area that maybe if there had been five batches or something like that, it would have been a little bit easier for us to validate some of these things just on our own. But because TinySeed was a relatively new thing, which has got its perks too. That's proof of innovation that this is a relatively new offering in the space, so that wasn't necessarily seen as a negative bias. It was more just like, let's talk to some of the founders.

Thankfully we knew Craig Hewitt, the founder of Castos was in batch one and is a member of the podcast community. We had already had some rapport with Craig, and we're able to kind of say, is this what it seems? Is everything checked out, and kind of do a little bit of our due diligence, which I'm grateful that we did. It was super easy to find out that the answer is yes, these are real people, and they are deeply rooted in integrity and long-term thinkers.

Rob: I think that speaks to reputation—brand and reputation. That's something that when we went to raise the first TinySeed fund and when we went to open applications for the first batch, what did we have other than marketing words on a landing page, conversations with investors, and our reputation? I mean that's really what we went in on. The nice part now is TinySeed itself, much like MicroConf before it, much like Drip before it. It starts as this thing that no one knows about and has no reputation on its own. It has no brand.

Same with Squadcast. Four years ago you say, we're Squadcast, and people were like, what are you? But now, it's 13,000 customers. You have a brand and a brand is what people say about you when you're not in the room. That's how I like to think about it. I don't know how to say this without sounding preachy, but it's like if you are kind of living up to your moral standards, and the ethics of how you believe things should be. Like hey, should people be able to cancel without calling a phone number? Do I refund if they got overcharged or if maybe they didn't use it for a month or two and they're not being ridiculous about it?

There are just certain judgment calls you have to make in business. That's whether you're running a SaaS app, or whether you're running an accelerator or a conference. And that stuff follows you around in both the good and the bad ways. If you do a lot of good things, it builds, it builds, it builds, and your reputation builds on the positive, and similarly in the negative.

Something I've really enjoyed already is to be able to say—because we were really almost wrapping up the selection process for batch three right now, I'm pretty stoked about it. Several founders say I'd love to talk to founders from batch one and two. Every time, I say, go to our homepage, click on any logo. Every company is on there. Click on any logo, contact any founder, and ask them what they think. I want to be able to say that forever. I want to be able to say that for 20 years. Do you know what I mean?

Maybe that's a little too ambitious. Certainly, at some point, you wind up with a bad customer or a customer who's a little overly demanding. But the bottom line is, that's a big piece of this game. I think a lot of folks who get into building their own company,—whether it's a SaaS company, whether it's info products, whatever they're doing—think well, I can get away with stuff. I can get away with something here and I'm going to have a short-term mindset around it. In the short term that will work, and in the long term this space is pretty small. Our world is pretty small and the word gets around.

Zach: Yeah, exactly. Another element that just occurred to me was that we also have experienced some amount of growth before we applied for TinySeed or while we were applying, more accurately. That also kind of made it seem like a moving target. It could be tempting if you're a founder listening to this and you're like, well, why do we need an accelerator? I'm already at like $50,000 MRR? I challenge you to think, was that something that you got to $50,000 MRR because of something amazing insight that you had and put into practice, or was that kind of the world happening to you like a mini inflection point?

When we really took a step back and looked at that, we realized that we're still first-time founders, we still have a lot of questions, we still have a lot of growth opportunities, we want to move towards enterprise, we want to do all these things, we are experts in none of those things, and TinySeed had a lot of experts in those things. That's the area where you may be tempted to be like, well, we don't need it. We're good. But that's essentially where we were at for a day or two, and every time we talked to you or Einar, it just became clearer and clearer to us that this is the right move, whatever size we're at. I'm so glad that we made that call.

Rob: Sir, it's been a pleasure working with you so far. Looking forward to a continued relationship with Squadcast, and it has been a pleasure having you on the show today.

Zach: Thank you so much, Rob. You really honor me by being able to participate in TinySeed, being a guest on your show, and it's been a lot of fun. Thank you so much.

Rob: Absolutely. If folks want to keep up with you on Twitter, you are @zach__moreno and we will link that up in the show notes.

Zach: Two underscores.

Rob: Oh, it is two underscores. Okay.

Zach: Yeah.

Rob: Thanks for pointing that out. Then is it, @SquadcastFM on Twitter?

Zach: Yes. @SquadcastFM on Twitter, squadcast.fm if you want to check out our website. We'd love to help you get started with your podcast and have really high-quality audio for your audience.

Rob: Absolutely. All right sir, thanks again.

Zach: Thank you, Rob.

Rob: Thanks again to Zach for joining me on the show today. If this is your first episode and you heard about this podcast for MicroConf Remote last week, welcome. Hope you enjoyed it and I hope you continue checking out the next few episodes. There's a lot of variety, this is not just an interview show.

We have Q&A episodes, we have episodes where it's just me on the microphone talking about things that are on my mind around the SaaS and bootstrap or ecosystem. We have startup and bootstrapper news round tables, all kinds of things. I hope you will stick around. I hope you enjoyed this week's episode. Thanks again for listening. I'll be back in your earbuds next Tuesday morning.