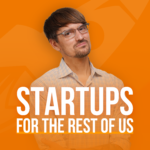 In Episode 531, Rob talks with Colin Gray, the founder of The Podcast Host and Alitu. Join us for this great conversation as we talk about Colin's early days of building a hobby project in podcast hosting, hiring a freelancer to start producing shows. and building a SaaS app on top of an audience.
The topics we cover
[7:05] Launching The Podcast Host
[16:10] Growing and launching eight businesses at once
[21:08] Making the switch to SaaS
[30:49] Temptations of shutting down vs. accelerating growth
Links from the show
If you enjoyed this episode, let us know by clicking the link and sharing what you learned.
Click here to share your number one takeaway from the episode.
If you have questions about starting or scaling a software business that you'd like for us to cover, please submit your question for an upcoming episode. We'd love to hear from you!
Subscribe & Review: iTunes | Spotify | Stitcher
Rob: Welcome to this week's episode of Startups for the Rest of Us. As always, I'm your host, Rob Walling. This week, I talked with Colin Gray, the founder of The Podcast Host and Alitu. It's a really interesting conversation as I follow Colin from his days of building a hobby project in podcast hosting, to hiring a freelancer to start producing shows, then starting to create educational content, creating courses, and finally building a SaaS app on top of that. Very much a stair-step approach in action.

But before we dive into that, I want to let you know that TinySeed batch three applications are open as of yesterday. You can head to tinyseed.com. If you run a SaaS app with revenue, I'd really encourage you to apply. You can head to tinyseed.com to learn more about the funding, mentorship, and guidance we provide in our year-long remote accelerator program.

At tinyseed.com you'll see an Apply Here button, and it typically takes people 10-15 minutes to apply. It's not a huge process. I would love to connect with you and learn more about your company if you're interested in potentially being part of TinySeed batch three.

On a separate note, I wanted to mention that I often get contacted with private questions of folks who don't want to appear on the podcast. It's things like, hey, I'm thinking through an exit. Potentially, I have an acquisition offer, some interest, or I need to potentially fire a cofounder—pretty tough things that you can't have on the air.

But one that I do get relatively frequently—and I think it's because I've been so public about growing Drip and then selling it—is should I sell my company? Should I think about selling my company? What does that entail? Or even, I have an offer, I have someone sniffing around and I'm thinking about selling. What should I do?

I'll tell you, I receive these emails and it is such a life-changing moment. If there can be such a huge swing from selling for net profit versus selling for revenue, knowing how to do that, what to put in place, and how to go about that process. It's almost a public service announcement that if you're a SaaS app and you're doing at least seven figures in ARR, in my opinion, you should not sell for net profit multiple. You should be selling for a revenue multiple, and these days those multiples are pretty healthy.

You can listen back to the interview I did with David Newell of Quiet Light Brokerage, it was 20, 30 episodes ago. I was saying, if you're doing $1 million, maybe get 2-3X, and I believe he came back and said no, it's like 3-4X maybe 3-5X. If you're doing $5 million or $10 million, the multiples are even larger.

It's something that I think there's potentially some confusion. I think if you're doing six figures in ARR, you're probably going to sell for a net profit multiple. But once you get into the millions, there are so many buyers, private equity strategists that are willing to pay healthy prices, life-changing money, never having to work again for money.

Frankly, if you're thinking about doing that, I would encourage you to reach out to me. Drop me a line. You've had an offer, you've had someone sniffing around, or you're thinking about doing that, I'm always happy to at least at a minimum have an email conversation about it. Sometimes I'm able to jump on a phone call, and I know people who do the sell-side representation of SaaS apps and maximize that value.

There are a couple of founders that have asked me for advice and I've essentially laid out the options as I see them. There are brokers, there is the sell-side representation, there is sell-side SaaS representation much like Discretion Capital, which was founded by Einar Vollset, my cofounder with TinySeed. Depending on where you are, what you're thinking, and what you want to do, there are ways to maximize that value.

Maybe I'll do a whole episode, maybe I'll get Einar on here at some point and talk about how to maximize that value. We have chatted about that on the podcast a bit, but in my mind, it's just very important that the value you build in your company. If you're going to exit, be deliberate about it because it can be the difference between selling for $1 million and selling for $5 million, if you sell it well and you run the right process.

I'm just extending an open offer. This is the type of thing I've been in the business of helping founders for almost 20 years now. In the business, I mean doing it for free effectively through the blog and the podcast, and mostly free through a $20 book. It's important to me that founders don't get taken advantage of and that as founders, it's so hard to get that base hit and to make that multimillion-dollar business. When you exit, I want you to get the maximum value of it.

If you're not going to sell, that's cool too. Run the business, be proud that we can bootstrap, and make these amazing, amazing life-changing outcomes for ourselves. But before you make a permanent decision like selling, I really want you to check out all your options. Look at the landscape and certainly feel free to reach out to me anytime with such a big decision as that.

With that, I'd like to dive into my conversation with Colin Gray, the founder of The Podcast Host, which is a great educational website about starting podcasts and the SaaS app, Alitu. Let's dive into my conversation.

Colin Gray, thank you so much for joining the show today.

Colin: It's a pleasure to be here. Thanks for having me on.

Rob: Today we're talking about Alitu, which is your SaaS app. Your H1 is really simple podcast editing for people in a hurry, and it's software that helps people edit their podcast. You built this actually on top of an info product audience that you had built. So thepodcasthost.com is your hub. That's where you put out your podcast, your videos, and a lot of blogging and written content. Then you sell courses or you sell membership on there as well. It's very reasonably priced by the way.

I was clicking around, looking at one of the courses thinking, I want to get this. You have your Podcast Host Academy. It's like $225 a year, US. I was thinking, I might do it just for this one piece of it. Do you really get all the courses for that?

Colin: You do. Funny you mentioned that because something is going through my head at the moment to raise that price.

Rob: I was thinking about that actually too. For me anyway, I'm in a different place than I was 10-15 years ago, but I was like that seems incredibly reasonable for everything you have here.

We'll go through the timeline of how you built that, but in essence, today, Alitu is—after two years of the launch—doing about $45,000 a month in MRR, that's US. Although you launched the podcast host 10 years ago, we'll cover this, but it kind of feels that you got really serious about it in the 2014-2015 range and then started thinking about software. Of course, like everything, it's a bunch of false starts. You built something and eventually, it took you almost two, three years when you're thinking about it to launch it.

Something I do want to touch on is you have this relatively big audience on The Podcast Host already. The people who knew trusted you. It took you six months to get to $3000. I think it's $3000 US. I'm kind of doing some on the fly conversions here from pound sterling, but it took you six months to get the $3000, and it took you a year to get you to $8000. That had to have been a little tough. Was that a struggle emotionally to have built that audience and to feel like you should just be able to launch something and have everybody buy it and then to take a year to get to that MRR?

Colin: It was, absolutely. I mean at that point, we had a few thousand visitors a day. It was a lot of people visiting the site. I've got a good mailing list as well. I thought it was great at the time, probably 5000-6000 I think at the time. I was expecting more, certainly. That first couple of months of launch, I thought we could get up to a few hundred, at least that was my aim certainly.

That first year was tough. I mean, it was all funded through the other sites. The main site, the content site was doing well. That kind of kept my spirits up, but it was quite a few hardpoints that first year for sure.

Rob: Yeah, I can imagine. We'll dig into that a little later because I do like to touch on this topic of should you build an audience. I can attest that it's great for info products and that it's a lot less useful for SaaS. I think you're probably an example of that. I had no idea—before we started talking—that that was actually your experience. I think it'll be fun to do that.

For folks listening, when we save the content side, that's thepodcasthost.com. That's the videos, the blog, and the course. Then Alitu is the SaaS app that helps folks do the editing. In November of 2010, a decade ago, you launched The Podcast Host. It was a hobby project that you launched—it was podcast hosting for your own shows?

Colin: It was. It was one of those scratch to an itch things where I was running a bunch of podcasts for a university. That was my job at the time. I was a learning technologist working at a university. We started a bunch of podcasts to help teach students. The name was Podcast Host at that time was horribly unreliable at the top at that time.

In fact, one course that was about to run, I had the course starting on a Monday morning and we had to deliver the podcast as a part of it. The whole podcast hosting site went down on a Sunday night and didn't come back up again until the end of the week. That was the last straw. I ended up just building a WordPress site and setting up podcast hosting myself on there. That's how it started. That was why it was called The Podcast Host—an unimaginative name.

Rob: That's so interesting, but you're not still hosting podcasts today. How long did you do it and why did you kill it?

Colin: It was about a year and a half I did it and I ran that as a sideline. It grew up to about 150 or so podcasts at the time. I killed it because, at the time, there were a few incumbents there. I mean they haven't been running for that long. It wasn't that big of an industry at the time, but it just felt almost already that it was commoditized.

The prices were really low. It was a really low monthly fee, but the support was huge. Partly because the tech was pretty undeveloped at the time actually. It was hard to run a podcast back in 2010 still. I always got a lot of questions around the gear, around the distribution, all that kind of stuff around the hosting. A lot of that hadn't been solved necessarily at the time.

I'm sure if I'd grown a team around it and got a lot more support around it, I could have done something with it. It felt like really hard work at the time. I'm not usually averse to hard work, but it felt like hard work I wouldn't enjoy. That's pretty much why. I thought the content would be more fun. There were other things I wanted to do more.

Rob: I wonder if it's a question of timing because obviously with new startups, Castos, Transistor, they're obviously having success, part of that due to Covid. But I think that there is and probably was room for a podcast host. It's interesting to think that perhaps you were a few years too early.

Colin: Yeah, there absolutely was. I mean looking at the other companies that started around that time and a few years following that, I think probably if I'd been more technical if I'd been a developer, I certainly could have started to build some solutions to solve those problems people are having. The distribution problem and stuff like that, but it just wasn't the direction I wanted to go.

There was so much customer support I remember that really clearly. We get a lot of customer support through Alitu. For some reason, I enjoy supporting people through the Alitu process—the creating, the editing, I didn't enjoy supporting people through just the basic distribution, the basic getting their podcast out there. There's a strange little difference there I think.

Rob: That was the first couple of years. Then you were writing about podcasting. I'm imagining you're starting to build some SEO traffic, a little bit of an audience. You start this hosting, you shut that down, it's probably sometime in 2011.

In 2015, as things were building for you, you took on a freelancer to start working on producing shows for clients. You essentially launched like a productized service that helped produce podcasts. That ran for the next five years. That ran from 2015 up until just a few months ago. I think you said you stopped taking clients maybe a year ago, but it ran until then.

What's the story there? Did you use that revenue to fund everything else, was it a shiny object, or was it a valuable thing, and why did you eventually decide to sunset that?

Colin: It was really valuable. It did a couple of things for us I think. The first one was that it gave me the excuse to take somebody on a staff member because it was paid work. I could obviously see the return for his time. I took on Matthew at the time. Really his first job was to help with that production. We put it out to our mailing list, to the website, and really started advertising it and got on about 5-10 clients right away on a weekly basis. It was just a monthly fee we started with. That gave me the confidence to take him on.

I don't think I could have done it otherwise. But strangely enough, that only ended up taking up maybe 1-2 days of his time. The catalyst for growing the rest of what we do was to help Matthew give me the content. That gave me so much more capacity to create bigger, greater blog posts, do more research into what we should be writing about, covering, running a podcast with him for ourselves as well.

The client work gave us that in the first place. Really, we got up to a decent MRR itself. It did complement the income of the podcast quite a bit, but it was more the kind of confidence I think to start taking on staff. Once you've taken on one, taking on the next was so much easier. Having that little impetus to start really got us going.

Rob: Yeah, I can see that. Then why did you decide to shut it down in the end?

Colin: Scalability essentially. We did enjoy it. We do miss that work actually. I talked to Matthew about this all the time. We always talk about trying to take on some more exciting big projects for clients because it's pretty fun making those stories for people and working with people to get their story out there. It just takes up so much time.

For the last project that I did, I actually worked on a project directly—the narration, all that kind of stuff. That was just last year. I got to the point where I'd spent two days scripting and narrating a show and realizing how much more value I could have gotten out of that time working on Alitu, working on the marketing for it. While we love that work, it was just not scalable for what we wanted to do. It just wasn't giving the value to the company that my time should have been given.

Rob: I know what you're talking about. In fact, now that I am able to work a lot on projects that I want to work on, I have circled back to doing that kind of work. That's what TinySeed Tales is for me. It's my ability to sit there, script, and produce a show because I don't need to focus, grow, and push so hard like I used to on the SaaS apps I was growing. It makes a lot of sense, but I enjoy it. I'm doing that out of choice.

TinySeed Tales, there's a business purpose to it, but frankly, we started doing it because I really wanted to. I totally get that feeling of man, this is fun, but how do I justify spending two days when I could have grown MRR, launched a new feature, or done some SEO or whatever.

Colin: To an extent, it's worth it in a way because we created a show at one point called Hostile Worlds, which was a fun audio drama thing around space. Matthew and I created that, that was almost a portfolio piece. I feel like when you're in a space like ourselves when it's creative, it's quite a reputation-based almost that you have to have something good to show that you know what you're talking about. Especially when we are the creating app—we're not hosting, we're not just purely technical. We're the creating, the creative editing production app.

I think having that behind us and our portfolio does help. I think it was definitely worthwhile, but it was just something to move on from.

Rob: In 2014, 2015, you told me you were running eight different businesses at once, and that it wasn't as glamorous. Richard Branson runs eight businesses, but let's just say he has staff in place to manage them. I'm imagining you're running around with your hair on fire.

The question I want to ask you is between 2007 and probably 2011-2012, I did something similar where I had about 10, at any given time. It was between 8 and 12 different businesses running, but a lot of them were these small websites that were effectively on autopilot until something happened to them. A lot of them were based either on, display ads, or SEO.

They had traffic on autopilot and the conversion rates were consistent. They would generate between—the lowest one is probably doing about $600-$700 a month, and the highest one was doing in the $5000-$7000 a month range. I packed those all together and that was my 4-hour workweek in essence. I worked literally 10 hours a week for a pretty long time.

It was because the businesses didn't require a bunch of staff—I had some virtual assistants but they were very task-based folks. They didn't require a lot of staff, they didn't require a ton of support, they didn't require a ton of marketing or new features, and I wasn't trying to grow any of them. I was focused at the time on writing my book and starting MicroConf, and the podcast and stuff.

If any of those had needed to grow, if I was trying to build or grow 8 businesses at once, or 10 businesses, that would have been insanity. For me, it was a lot of autopilots, bouncing around working on what I wanted to do. With that context in mind, in 2015 you're running eight businesses. Were you trying to grow and launch eight businesses at once, or were a lot of them kind of running themselves?

Colin: Yeah, the former. Definitely trying to grow. I mean, I would have loved to be in a situation where they were making a minimum of $700 and up to a few thousand. This was the time when I was trying to get out of my full-time employment. Around that time, in 2014-2015, I was still doing a Ph.D. Actually, that's what I was trying to get out of. I was thinking of what I was going to do next.

My approach actually, I had a few like that. I had a few passive businesses, which were content-based, SEO-based. In fact, Alitu we can get into slightly where the story for that came because I bought Alitu as a business directory. That was what the domain was. It was a business directory, alitu.com, which I then repurposed later on. My approach was more I found people who knew the subject, who had the expertise, and I was the technical person behind it.

One example was my brother actually. He crafts beer, runs bars, distributes beer, and so we set up a beer box business. Sending out boxes of curated high-quality craft beer, and it was a subscription-based business. We started to run that. That was one of those experiments for example, and there were a few others like that as well. None of them got to above maybe $1000 MRR apart from The Podcast Host. That was the one that took off. It was the one that could have separated itself from the pack.

I was glad by the end of that year to quite a lot of the other ones that never got past a few hundred. It was a tough year certainly.

Rob: That's the advice I give to folks—when they ask, should I start two businesses at once or three, or I hear them say, I'm working on these three businesses—is always do one at a time. You can own multiple businesses, I don't think you can grow multiple businesses at once, because of the focus that it takes. Unless you are in that Richard Branson situation where you have a bunch of budgets and you truly have GMs, or CEOs, or someone who just has the owner mindset.

But if you have task-based or project-based people, you're going to be doing too much management. It requires too much of that entrepreneurial drive in order to actually grow small businesses where you're spinning most of the plates. You don't have all the support.

Colin: I do agree with you that it's very hard. It's near impossible to grow that many businesses certainly, even two or three simultaneously. But I do think back to that time and think I didn't know The Podcast Host was going to take off. It wasn't at a living level at that point. The other ones didn't look promising and they could've potentially worked. I do see it as a bit of an experiment and worthwhile almost spending at least 3-6 months on that experiment, even if it's going to be a very, very tough six months.

I'm glad I tried them all. I don't regret not starting those other ones, which I think I would have otherwise because we had a lot of conversations around them. I didn't know The Podcast Host was going to work. It's a tough decision, and you're absolutely right. You have to make a choice sooner rather than later. I do sometimes think that over-focusing can be slightly dangerous. I'm not sure what the exact […] there but there are definitely different paths.

Rob: I think that's a helpful sentiment to think about not wanting to limit too early because you don't know what's going to take off. In April 2016, you started coming up with ideas to help your existing audience and you want to do something in software. What was that switch, not even away from, but in addition to the content and everything that you're giving your audience you wanted to make a software play? I'm curious to hear about not only why you made that decision but then how you went about coming up with the idea for Alitu?

Colin: The main reason was competition actually, honestly. It was becoming really hard to sell education and content at the time. For products in our area, there were a fair few people coming out with different courses. There were a fair few people actually starting or running software products and giving away what we would consider a paid course for free as a lead magnet for their software. It was becoming difficult to generate a decent income through that software. I could see that just getting worse and worse in the future.

I wanted to create something that just happened more of a mote. Something that was more difficult to copy. I considered a few different things. We considered the hosting side of things again, considered a few different approaches. Really, the editing was the part that we were asked about all the time.

To create content, we've got a bunch of different ways that we ask people questions to get ideas for our blog posts, for our podcast, and all that kind of stuff. The one question that always comes up is how can I make editing easier? How can I make podcast editing take less time and be less technical? I don't have to worry about what is compression. What's equalization? What's normalization? I don't care about these terms. I just wanted to sound good.

I just thought I'm sure there's a way to automate this because it's quite procedural in a lot of ways. Thinking back to our podcast production days, a lot of this, we actually set up templates for people's shows. It's actually quite easy to do it week by week. That was what started it. It was that competition side of things, the mote, and scalability as well. Just be able to think about how we could get something that could get thousands of users on here because education just isn't going that direction for us.

Rob: Right. You're making some money but not as much as you want it, and I think scalability is often like you said, the big thing people seek in software. That's spring 2016 and you started inviting testers, I am assuming beta testers. It wasn't until August 2017, about 15 months later, and then I guess you were actually inviting them in January 2018. That's like more than a year and a half later, almost two years later. You eventually launched it to paid users in June 2018. It's like 27 months. That's a really long time. It feels wrong to me on paper. Did it feel that way to you? Why did it take that long?

Colin. It did. It did feel that long. I think a big part of the problem was I was a non-technical founder trying to bootstrap a software company. I had some income from The Podcast Host, but I didn't want to take on five developers all at once. I wanted to build it in a way that is sustainable. I wanted to build in a way that was definitely validated so that I wasn't putting $50,000 into something that doesn't actually work. I say it felt like a long time and it did feel like a long time, but it never felt like too long. It never felt like too long. It actually always felt like we were moving at a decent pace.

I remember the first four or five months I worked with one backend developer to build the technical prototype. It looked horrible. It was just a terrible interface. It wasn't designed to be a good interface, but it was to showcase the backend technology, to show that we could do decent processing, bunch all the clips together, add some music with some fades. That took about five months, but there was so much progress. Seeing these little things—the fades are working now, that's great. The music is fading into the voice, it sounds brilliant. This is happening every time without me having to do anything.

Going into the design, that was another few months. I always felt like a bit of progress every day. Then actually implementing those designs. It always felt like a long time, but I was never in an enormous rush because I didn't want to ever go unprofitable. We actually never did. We never went unprofitable through the whole thing. I always funded it through The Podcast Host income. I was happy to go at the pace that it went.

Rob: That's really nice. It's like a stair-step approach. It's like your step one and two businesses were The Podcast Host. It's essentially an information product course that you are selling and you're bringing in traffic through SEO and content marketing. That allowed you to buy out your time so you didn't have to work full time for anyone else. To own your time, to invest in a little bit of revenue on top (it sounds like), a little bit of excess to then hire one developer to work on it.

It's a nice approach. It takes you a lot longer to get there but you can do it profitably. You do it on your own terms. I think just given that amount of time, you have a high likelihood of eventually finding something that's going to work.

That's interesting. So you launched in the middle of 2018. You have this big audience, we touched on this earlier. You had a mailing list. You had prime people, and yet you've launched to (in essence), after six months you only had about $3000 in MRR. After a year, you had about $8000, you gave me pound sterling, but I'm converting to US dollars, about $8000 after a year, about $12,000 MRR after 18 months, which was right before COVID.

When COVID hit, presumably you had a really big spike because I know a lot of remote communication and podcasts stuff happened. That was obviously a big boon. But even after 18 months, you were around $12,000 MRR but you have this big audience. What's the disconnect there? Do you think that the audience—a lot of people are aspirational and want to buy an info product or a course that they may or may not implement versus buying a tool, using a tool, and paying for it every month is such a different ball game? That's my hypothesis. I'm curious, you lived this first-hand, what happened there?

Colin: I think the biggest disconnect in the whole thing—I think of them as two parts. I think one part was that we had to be in marketing the education to our audience a fair bit. They enjoyed our content certainly, but we had tired them out a little bit of the time potentially. More than that I think potentially was that I had slightly underestimated or maybe heavily underestimated how specific the audience was.

We've been creating general podcast content on our blog. This may apply to many other areas too. I hope it's useful, but certainly, I thought we were creating general podcast content and we had a general podcast audience. It turned out that actually the content we are creating, the most popular stuff was actually quite technical.

We were writing about gear. We were writing about software. We were writing about recording, editing, and all that kind of stuff. The people we were attracting—I believe looking back on it—were actually quite technical people in the first place. They were DIY podcasters, which we're really happy to come in and play around with all the gadgets and the gear. Those people are far less likely to pay $28 a month for something that takes away their technical troubles because a lot of them quite enjoyed playing around with that stuff. I think that was the biggest disconnect in the early days.

I realized that only about 6-12 months in. That's when we started creating a lot more content that focused on the audience that I hadn't reached at all before, which was more the businesses, more the entrepreneurs, the solo founders, the people that are trying to grow a personal brand. Therefore, they don't care about the technical stuff. They don't care about how to edit, all the terms, and all that kind of stuff. They just want it done for them.

I think that was a big part of it that I hadn't realized actually how specific or how niche our audience was until we tried to sell them something that was on the opposite end of that niche.

Rob: Once you create that content for the more (as you said), the solo founders or the business people, do they find you via SEO on a monthly basis where they stumble upon an article, they read it, and they go; or have they become part of your audience? When I say audience I mean they're subscribing to your list, they're following what you do, and they're sticking around.

Colin: For sure that latter one. They've become part of our audience now because I've always been good at the funnel state of things. That was something that always really interested me. I find it quite fun. It's kind of a game to figure out how to give people content they really want, they're interested in. How to give them something else they're even more interested in—sign up to the email list, then get on to the first products, maybe a few dollars, that kind of stuff. I really enjoy that, and as we start to create content that attracted far less technical people. I could see them coming in asking us questions.

It's always a really engaged audience, I find podcasters. They ask you lots of stuff. They get in touch all the time. They're not afraid to get in touch and ask for some freebies. We started building that funnel up. They were definitely on our email list. These days actually, I would say we have a good balance.

We still cater to the technical people. We still love rating gear reviews, software reviews, but we do a lot more around just general growth. How to grow your podcast, how to launch a podcast, how to make it sound better without much work. They definitely joined our audience over time. Now that is the main lead generator for Alitu.

Rob: During the last couple of years as you've been growing this, was there a time when it was so slow that you thought about shutting it down or that you have a lot of mental or emotional distress around it?

Colin: Do you know what though? It was never the times where it was slow that made me want to shut it down actually. Like I said, I always felt like we were making progress. I always felt like we were making something great with Alitu. I love the interface. I use it for my own shows. I was a big part of the development around it. It was to make my own production easier too. I was always quite happy with that. I've always been very careful with the money we spend on it as well. We've recruited slowly.

I had impatience in the early days, but I read a bunch of stories. I probably heard on your own show as well, Rob, and elsewhere around people talking in years. At various points, I used to think in months. We'll get this done by this month, this done by this month, but then you hear the stories of really successful big companies. They all talk in years. We did this in 2018. We did this in 2019. It made me slow down my speed and be happy with that slower pace.

It was good because that never overwhelmed me—the speed of growing users actually. It frustrated me potentially because you'd always want more users, obviously. The points when I actually felt almost ready to shut it down are when we've had troubles that caused a bunch of customer support.

For example, one of our biggest mistakes was changing our interface in a way that I thought would really help users. I knew it would help me. It was the way I thought, and we changed the interface in quite a big way at one point on the editing screen. The outcry was absolutely crazy. It turned out that more than half of our users much preferred the old method, and we had weeks and weeks of repair and thinking through how we compromise, do we compromise, and all that kind of stuff?

It's times like that where I think, do you know what? I write the content. We get affiliate income through that. We get sponsorship. All of that is completely passive. I don't need to deal with customers. I could go back to that, but I do love helping people in that way—helping them in the podcast easier. That gets me through, but certainly, it was always that rather than the growth speed that almost made me want to give up.

Rob: It's a healthy way to look at it. I have verbiage in both the intro of Startups for the Rest of Us from time to time, as well as MicroConf on-air that says, we want to build ambitious startups, but we think in terms of years, not months. And as such, we play the long game and don't burn ourselves out by working 90 hour weeks or something to that effect. That plays into what you're talking about is you see Josh Pigford from Baremetrics who just sold Baremetrics, yesterday actually. I think it became public. That was a seven-year journey for him.

Even Drip, which seemed really fast, from the time we broke ground on code was three and a half years. That was three and a half years to sail, to exit. That was one of the faster stories that I've heard about something. The fact that you're two years in, I have to imagine that—while obviously, COVID has been a catastrophe for the world—the acceleration of your growth over the past four or five months has to have felt like you're on cloud nine. Is this one of the most exciting times of running this business?

Colin: Yeah, for sure. We've taken on another four staff in the last three months. We've taken a part-time support person full time. We've taken on a full-time marketer for the first time. We've taken on a community and social marketer as well and another developer as well to help us with our audio side of things. That's exciting, but I am at the moment thinking—absolutely, the extra income has helped us do that but we could hire more. I do think we have a little bit of space to hire more.

Right at the moment, I just think the unpredictability is so high over the next 6-12 months that I'm definitely leaving up a bit of wiggle room in our income. I don't expect to grow as fast. I mean we doubled in three months. It was actually crazy. But I do not expect—in fact, the growth has already dropped a lot compared to that. We're still growing steadily, but certainly not that fast. I think it may slow down even more over the winter certainly. I'm leaving a lot of wiggle room, but it has been actually brilliant.

Rob: Did anything break at the seams when you doubled in three months? Was there support tickets falling on the ground? Did any of your tech have any issues?

Colin: Yeah, support tickets were certainly taking longer than we thought. We had a little bit of scalability. It wasn't even so much actually the infrastructure scalability. It was more of our capacity to troubleshoot. One of the reasons why it is worth going slow, certainly with ours, is that audio is so unpredictable. We deal with so many different types of audio files, so many different types of recordings, and we're always working on improving how we clean up files, how we deal with different files.

We only have one developer who is a real audio expert in that sense. It was really his time to troubleshoot twice as many little audio nickels, little audio […]. That was our biggest trouble, which is why we took on another audio developer. There were definitely a fair few issues. We've got past most of them though, thankfully.

Rob: You've obviously had a pretty amazing success. Even though it may sound like it was a slower start given that the large audience that you had back in 2018, being at $45,000 MRR after two years is amazing. Most SaaS businesses we know about never make it that far.

I'm curious if you've ever thought—did you build the right product? Because Alitu is editing software, but you could have, in 2018, decided to launch a hosting company. You could have decided to build a podcast recording much like Squadcast or Zencastr. There are a lot of different options for you, a lot of different roads or paths for you to have gone down to serve your podcasting audience. Have you ever sat and thought, did I build the right product, or could I potentially have more success if I had gone down one of these other paths?

Colin: For sure, I have, and I think I did. I think I built the right product for me. I think I've heard you talk about the product founder fit? Was that your concept?

Rob: I think it was someone else, maybe Justin Jackson, but I even think someone had said it before him. He's just done a lot of writing on it. I'm definitely familiar with it.

Colin: Well, I'm sure I've heard of it through yourself certainly. I think that is important to me actually because like I said, I tried hosting years back. I just didn't enjoy the support, the customer questions, the stuff that came about around that area. Editing, production, creating is the stuff I love. That's why I created The Podcast Host in the first place, the website. I think I could have created a hosting platform. I could have created a recording platform right at the start, but I think certainly with hosting, I don't have the aptitude for that to compete in what is quite a commoditized space.

There was already a lot of competition there, for example. There's always room for more for sure, but I enjoy the uniqueness of Alitu. When we started it, there was nothing else like it on the market. Even now, there's nothing really doing exactly what we do, and I really enjoy that. I really enjoyed the feedback we get when people get in there and suddenly they can edit in such an easy way. They can create this vision that they have in their heads without all the stress around learning things like Audacity and stuff like that. It's something that gives me so much satisfaction and I love it. That's what keeps me going.

Like we've talked about, there have been more than a few hardpoints. It's been a slow growth. I could've given up many times, but that's what keeps me going I think. It's just that feedback. It suits my aptitude to create a product that helps people create.

Rob: That's really cool to hear actually. It's like a life vision or mission that you have, and it fits so well within that, it sounds like. It brings you joy to be working on this particular SaaS app, which I think is pretty unique. A lot of people enjoy what they're doing. I've enjoyed building my SaaS apps, but I don't know if it actually fits into my personal and professional vision in a way that Alitu fits into yours. Congratulations on that, and frankly, congratulations on all your success.

If folks want to keep up with you, you are @colinmcgray on Twitter or @thepodcasthost on Twitter as well as thepodcasthost.com. Colin, thank you so much for joining me today.

Colin: Thanks, Rob. It was great fun. Cheers.

Rob: Thanks again to Colin for coming on the show. If you have a question for me or a future guest, please send it in to questions@startupsfortherestofus.com. If you include a link to an audio file that will go to the top of the stack. I hope your 2021 is doing better than our collective 2020 went. I do hope to see you at an in-person event, maybe at MicroConf, or maybe another startup event here in the next 12 months. Thanks so much for listening. I'll talk to you next time.