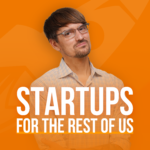 Rob welcomes back to the show a frequent guest, Craig Hewitt for a "Where Are They Now?" syle episode. Craig is the founder of Castos and has appeared many times on Startups For the Rest of Us. In this episode, they reconnect and talk about the latest with Castos, from hiring a growth marketer, merging brands, private podcasting, and so much more.
The topics we cover
[3:54] Reflections on hiring a growth marketer 1 year later
[6:92] How did the free trial without asking for a credit card experiment work out?
[8:92] Merging brands and moving into enterprise offers
[19:91] Private podcasting
[23:44] What's new and exciting at Castos
Links from the show
If you enjoyed this episode, let us know by clicking the link and sharing what you learned.
Click here to share your number one takeaway from the episode.
If you have questions about starting or scaling a software business that you'd like for us to cover, please submit your question for an upcoming episode. We'd love to hear from you!
Subscribe & Review: iTunes | Spotify | Stitcher
Rob:
 Welcome to this week's episode of Startups for the Rest of Us. I am your host, Rob Walling, here for episode 522. Every week on this show, I cover topics related to building and growing startups using an ambitious yet sustainable, sane approach. I know that you're not willing to sacrifice your health or your relationships to grow your company, and yet we aspire to build an ambitious startup. Thanks for joining me again this week. I have a many time guest back on the show, Craig Hewitt, who has come on for Q&A episodes. He's come on for a startup news roundtable. He's told the story of his startup Castos, which went through TinySeed batch one. You could hear that complete story and detail across the first season of TinySeed Tales where we recorded eight episodes over the course of eight or nine months. You'll hear this nice longitudinal look at his and his team's journey as they focused on and grew the company during 2019. I wanted to have him back on today because someone wrote in and said, "I want a 'where are they now' episode of Startups for the Rest of Us that looks back and catches up from where Craig left off." Coincidentally, almost to the day, it was one year since we had recorded the season finale of season one. I hope you enjoy the conversation we have today. Before we dig into that, I want to let you know about the SaaS Podcast Awards that MicroConf is holding right now. You can nominate your favorite podcast that has some affiliation or relationship to SaaS, whether it's two SaaS founders talking about it or whether it's people doing interviews. There are four categories of podcasts that we're going to be looking at and highlighting. If you head to 
saaspodcastawards.com
, you can enter your nominees for each category. In a few weeks, we will have finalists, voting, and eventually, we will present awards to the winners. This is the first of its kind. We're really excited to be able to gather people together and hear what the people's choice is for the top podcast and podcasts because it'll be nice to have finalists to look at across each of these categories. Head over to 
saaspodcastawards.com
 to nominate a podcast. With that, let's dive into my conversation with Craig Hewitt, the founder of Castos. Castos is podcast hosting and production plus private podcasting. It's actually where this podcast you're listening to is hosted, as well as TinySeed Tales and the MicroConf podcast. I hope you enjoy our conversation as we look back at the last year and hear where Craig and Castos are now. Craig Hewitt, thanks so much for coming back on the show.
Craig:
 My pleasure. Thanks for having me, Rob.
Rob:
 People will know you from Rogue Startups with Dave Rodenbaugh, your podcast, the founder of Castos and PodcastMotor, as well as the subject, the victim of TinySeed Tales season one. We recorded eight episodes back in 2019, got a lot of really good reviews and positive comments about that season just about our conversations, how open you were about sharing your victories, struggles, the journey of being a founder, and growing your company. You've also been on Startups for the Rest of Us at least two or three times. You've answered questions, I interviewed you about starting Castos and all that stuff. I feel like folks should have a decent idea of who you are and what you're up to, but for those that don't, Castos is the startup that you're focused on. Obviously, you went through batch one of TinySeed. We're talking offline that before season one of TinySeed Tales, as we started recording it, you were at four full-time employees and now you're at eight. You tripled in revenue, you're already in the five figures of monthly revenue when the season started. Over the course of that—I don't remember how long we recorded, it was about eight or nine months—basically, you tripled on revenue and you haven't raised any additional funding. You took funding from TinySeed and used that to truly catapult forward. You hired a growth marketer named Denise, who I know has worked out really well. Recently, you hired Matt Medeiros who folks may know from the Matt Report, and he's your Director of Podcaster Success. A ton has gone on. The last time we spoke to record the final episode of season one of TinySeed Tales was almost one year ago today. It was October 30th of 2019 and as we're recording today, it's November 4th. With all of that, welcome to the show. Thanks for coming back on. I'm really excited to dive into what's been going on over the past year.
Craig:
 First of all, I can't believe that we only recorded eight of those episodes. They were intense emotionally—for folks listening to follow that story—because we had a lot of ups and a lot of downs. Hearing that that was only eight episodes makes me feel old and makes me have more gray hair from that, but that was a lot of fun.
Rob:
 It feels that way to me too. I know 8 aired but it feels like we recorded 16 and I don't know why that is. I think it's just tough times.
Craig:
 It's just an intense time we're in, right?
Rob:
 It was. It was pre-COVID and everything. The death of George Floyd hadn't happened yet. COVID and this very stressful US presidential election that is happening right now, that wasn't happening. It really was a lot of business stress on you and a pivotal point in the business.
Craig:
 Absolutely.
Rob:
 The way I want to do today is I want to revisit a couple of things that we talked about in the final episode of that season, and then talk about some secret audio. You and I recorded about 10–15 minutes where you were talking about some top-secret future plans you were going to do, but you didn't want to air that because it'll give away your strategic move. We're going to pull some snippets out of that to air because now that it's been a year; you've already done those things. And just talk about some recent developments, basically, with Castos, what worked and what hasn't. Just do a 'where are they now.' I want to kick it off with, during the season of TinySeed Tales, you took a big gamble. We took a couple of big gambles, actually. One, you hired a growth marketer. You went all-in on getting someone to hand off marketing to. That was a challenge for you because you had been the only marketer. You had basically written all the copy and just been in-charge of the strategy and all that. You made a difficult transition during the season of starting to hand this over to her. In the end, it was a resolution of yes, that worked, that was smart, and it was working at that time. A year later, I'm curious to hear your reflections on how that's been going.
Craig:
 A year later, it was a fantastic decision. We hired the right person for sure. Denise is wonderful at her job. She is very skilled, very detail-oriented, and is becoming a really strategic thinker from a marketing perspective, which I think is the thing that has changed the most. She would probably be the first one to tell you that she came in without any kind of SaaS marketing experience and now is very savvy in that respect. All the way, up and down the stack or the funnel if you will. We talked about this being the goal. It allows you to move your energy and focus on the business and where you operate. We have a weekly marketing meeting and we chat. Now it's Denise, Matt, and I because Matt, even though he's tied as a Director of Podcaster Success, he comes from a sales marketing background. He's a lot of product and podcasting domain expertise so he's definitely involved in a lot of the marketing stuff that we do now. I go to that meeting and we talk a lot of really high-level strategy stuff. The two of them go and execute almost all of it now. It's great because what it does is just put you on a different trajectory than if you do it all yourself. It really is what we wanted. Denise wakes up and thinks about how to grow Castos every day. I do, too, but I think about a whole bunch of other stuff. I think the more that we can let someone focus on doing a single thing—and we're only eight people so nobody can do just one thing—the more we can get to that, the more successful they are at their jobs. That moves the needle for us, the business.
Rob:
 That's good to hear. Of course, we know you update us with what's going on. I knew that was the story but it has been so fun for me to listen back to the season and hear you put out the job description. You had a process for hiring. There's always uncertainty, there's always like, I think this person's right, will it work? It's nice when it works out that well. We hired the right person because there can be that paradigm shift or that one plus one equals three or whatever cliche you want to use. It just levels you up so much more than you probably even expect.
Craig:
 Even more, the other path there could be let's hire a content marketer just to write, let's hire an agency to run Facebook ads, let's hire a copywriter to do this landing page, but I'll be the glue to hold it all together or the person to coordinate it, and that just still requires a ton of your mental energy. Whereas you can say, hey, Denise, you own this part, this outcome of the business. I am here to support you and the company's here to support you, but I need you to be the one that thinks about this all the time. It's just a very different kind of way to work.
Rob:
 Absolutely. I've been struggling to find a name for all three of these but I talked a lot about how in the early days, I had a lot of task-based people. It was usually VAs who could do a specific task. That's like hiring a copywriter, go do this, you're really good at this, but now, I'm managing it. So, task-based people, project-based people, and owners. Originally, I was thinking of founders, but really I should say it as task-mindset, project-mindset, owner-mindset. That fits who can really own this whole area—maybe even delegates and projects—but be thinking about where a task-based person might think ahead of the next week, a project-based person thinks ahead for the next month, and as an owner thinking 6–12 months out or maybe even two years. They don't have to technically own. It's not about equity and business, but I think it's about owning the key results, really planning, presenting, and certainly taking input. As an owner, you don't just do everything yourself. Finding those types of people is hard but it's what you need to really level up a business, especially at your size. With eight full-time employees, everyone has to be really good or else it's a huge drag on the company.
Craig:
 Somewhere that we're just getting into with maybe that next step of ownership is that the leaders of each group of our organization are involved in hiring. That is super cool to see. We hired a full-stack developer recently. Jonathan, our lead developer, was the final say on who we hire basically. We're hiring support personnel, and Matt on our team is going to be the final say on who we hire there as that last interview. That's super cool to see. In respect, it takes some of the burdens off of me because I basically get a couple of people through the process and say, I'm happy with any of them. you go pick. Also, because they feel super empowered to be making that decision, and they know they have to live with it afterward. That's a really good thing. That's not a negative thing. We're just getting into that. We're just in the second iteration of that step but it's really cool to see.
Rob:
 Something else you did during the season was you had a credit card upfront in order to get a 14-day free trial of Castos. During that, this season, you removed it. That just sends all your metrics all over the place. I remember it was a little bit mixed in the end where you said, yeah, it's better but not enough that it totally makes sense. That was my memory of it. Is that still how you feel about it? You're still not asking for credit cards. Obviously, it's a better way to go, you're getting more leads. Do you feel like that was a huge win? Was it awash? What are your thoughts looking back?
Craig:
 I think it has been a good thing. It's tough to tell over. I haven't gone back and looked at our month-over-month metrics from a strictly growth perspective to say whether in that kind of shorter-term it was a really good thing, but from a user perspective, especially in something like podcasting—Rob, even though you've been doing this forever—it's hard to get started. You might need more than two weeks to really get your show off the ground. What we found is that people come in, they give it a try, we give them a chance to extend their trial even if they want to right at the end. From a compatibility with the user behavior perspective, not asking for a credit card upfront is definitely the way to go. We have no plans of changing it at this point. For users, it's the right thing to do.
Rob:
 Something you talked about in the final episode as we wrapped was I said, what's next and you said, we're looking at offering a freemium tier, basically a pricing tier that has a max usage-based freemium. I think it was what I referred to it as. From what I know, that never happened. When did you make that decision, and what was the thought there of not introducing that free tier?
Craig:
 Most of it came down to engineering resources. I hate to say this. If it was just a flip of a switch in Stripe or something, I probably would have tried it but it would've required a bit of work on the back-end to get that implemented. We just had other things we wanted to do, features to build, UI to improve, and things like that so I just didn't feel like it would move the needle in a significant way. Maybe looking back on it now, that's because the no credit card trial thing didn't move a needle a ton so I thought that a usage-limited trial might just give the same type of result. Coincidentally, we may be looking at it again but for different reasons.
Rob:
 It's always hard to spend a lot of engineering time or a lot of your time making a change like removing a credit card and have it be. Maybe that was worth it. I definitely understand why you'd be hesitant to go freemium knowing that you could get something else built in that time that you're pretty confident will move the needle, and Freemium is just such an experiment. It's such an experiment and it's not a few weeks of work. Even if the engineering time is only 3–4 weeks, you get to the point where, okay now we've done it and now we need to watch it for months because freemium doesn't convert in 30 or 60 days. You have months and months. If you have other things that are working, it can be a tough sell to justify that. The last thing that you talked about in that episode was you were thinking about whether you should move a little more into enterprise-type offerings, that the average revenue per user of a podcast host is not great. It tends to be a commodity thing. If you look at all the podcast hosts, they're not priced that high. You were noodling on whether or not you wanted to get into that space, start selling to enterprises, and have some offerings that really made sense to be higher priced. After the episode, you and I recorded that little secret audio that we can cut to right now, and had a little bit of conversation about something you were thinking about to raise your average revenue per customer. During the TinySeed retreat at MicroConf Europe in Dubrovnik, we did a hot-seat format. That's typically how we do it, right? We go around and each founder gets 30 minutes to think through a pretty challenging difficult issue to get feedback from the batch, as well as myself, Tracy, and Einar. Something came out of your hot seat that could potentially change the trajectory of Castos. Do you want to talk a little bit about that?
Craig:
 Yeah. It's funny, my talk at my MicroConf Europe was about SaaS metrics. All along, ever since you and I started talking about this business, the metric around Castos that has been the worst, that's tough to a fact just like our average revenue per user. We're just not a hundred dollar a month kind of app. I don't know that we would ever be for the majority of our customers. We started thinking about what people would pay $100 or $200 for. Pretty quickly, the answer came to be audio editing either as a service or a software tool. The value in a software tool is incremental. We're talking in a previous episode about incremental steps versus big major steps that would double or triple the size of the business. Building software to help people edit their podcast is cool but not that cool—doing it for them is really cool. I happen to have a lot of experience in this from another business in the space. The idea is can we take that other business called PodcastMotor and roll that service level into the Castos platform, or make it super easily accessible to all the Castos customers? It was a really interesting thought exercise. I think that everybody who's running a business should say, how can you double your business tomorrow, and just come up with crazy ways to do it. At first, this seemed really crazy. About an hour and a half later, I was like, yeah, that's totally the way to go because it's a natural progression for a lot of our customers. They come in and start a podcast. They have some degree of success with it. They want to keep going with it. They say, wow, editing all this audio sucks, and it takes me two or three hours every episode, I would love to pay somebody a little bit of money to do that for me.
Rob:
 For folks who don't know what PodcastMotor is or how it works, could you give just a few sentences on how good of a fit it actually is for exactly what you want to do here?
Craig:
 PodcastMotor is a productized service that I've been running for 4½, almost 5 years. All we do is podcast editing, we do show note writing, we have a transcriptionist team. The idea really is a show like this records their episodes, sticks the files in Dropbox, and then we do all the work from there. We do audio editing. We do show note writing. Then, we publish to a website media-hosting platform. We could build a fair amount of automation around that part of it, about the publishing part of it, but certainly, it takes all of the onus of the post-production side of the world off of podcaster's plate, to let them focus on other more important stuff like marketing and growing their business.
Rob:
 You have this unique experience that likely no other podcast host has. This is where you started with this productized consulting. One of the things during the hot seat is, as we were talking about it, I said, you could just make it your highest tier. You have a $19 plan, a $39 plan, and then just have a $1000 plan—I had just thrown out that number, made the numbers up—and that one includes full-service production, editing, and such. We were mulling that over and it was like, wow, this has been really interesting. One thing I said was, yeah, but the problem then is if you get a bunch of new customers, you have to scale. Now you have to hire editors and you have to hire transcriptionists. You looked me in the eye and you said that's not that hard. To me that is hard, but to you, it's not. You've been doing it now for years, and you have an amazing process to accomplish that.
Craig:
 The place this really makes sense is in the scalability of it. Because we have been running this business for a while, we know how to hire and vet people, bring them into our process, onboard customers, and things like that. At the scale, we would hopefully be talking about within Castos or expose to the whole Castos user base, new trial customers, and things like that. They would need to be a little better because we have 50 customers on the PodcastMotor side of things now. We could probably have 500 as part of this combined business. It's nothing if one of our competitors decided today that they wanted to start a PodcastMotor-type of business tomorrow. They would have the years of headaches that I've had so far before they could get to where we are.
Rob:
 It's a fascinating competitive advantage. I'm surprised that none of us thought about this sooner. I'm including myself in there, you, Einar, and just anyone in the batch that we never thought about enough to think about combining these. Why do you think that is?
Craig:
 A little backstory, I guess. The first version of our hosting platform was still under the Seriously Simple Podcasting brand. It was on the 
seriouslysimplepodcasting.com
 site and all this kind of stuff. We went through a rebranding exercise to become Castos. Part of that rebranding consideration was, why don't we just call it PodcastMotor? For a lot of reasons—this is one of the decisions we have to make now—it gets difficult to discern between the editing service and the hosting platform if they're all under the same roof. We're going to move forward with this integration to bring the two companies together, but they might still have separate websites. They might just be an integration partner that ultimately all the money still goes in the same bank account. That's the reason we didn't put the hosting platform under the 
podcastmotor.com
 brand before. We had some concerns about what do people who know PodcastMotor as an editing service come in and see this hosting stuff, what are they going to think? I had definitely thought about combining the brands before, and then made a decision to treat them as separate entities. One because of branding, messaging, and things like that. The other is, like Thomas Smail says, one day you're going to sell your business, or you're going to end your business. I wanted to have some optionality and keep them separate so that I could do different things with each of the businesses. I didn't then think that the combined entity together of both facets of the business was as strong together as it is. That's probably the thing that I got most out of our discussion, with talking with you, Tracy, Einar, and everyone else. The valuation of this combined company is still really, really strong, whereas the valuation of just a service business maybe isn't as strong. And the value proposition of, hey, you can come in and we can provide now, the two big huge things that a lot of podcasters need. We're going to check three of the four or five big boxes in podcasting all in one house.
Rob:
 You were basically talking about merging PodcastMotor into Castos. Or at least, you were talking about offering editing through Castos because there's a higher price point, higher average revenue per customer. You talked a lot about not merging the brands potentially, and not merging the websites. It seemed like you were uneasy about that. Talk to me about what's happened over the last year with PodcastMotor and Castos.
Craig:
 In the spring of 2020, maybe in the fall of last year, we introduced Castos Productions which was, at that time, a white label version of the PodcastMotor service from within the Castos dashboard. You upload your raw recording files or you send us your Squadcast links like we would do for this episode, then the PodcastMotor team on the backend does the editing, show notes, writing, and production work. That went over well. We had a good reception from clients and from our advisors. People just kick in the tires and say, yup, it makes all the sense in the world to put that all in the same place. I'm happy to do that. So July of this year, we formally merged the companies and started the process of migrating those existing PodcastMotor customers over to using the Castos Productions workflow, to manage all of their podcast stuff in the Castos app, both the production work, hosting, distribution, and analytics all in one place. Then, we took the really big leap which was to merge the brands—naming and the websites—just maybe six weeks ago. If you go to 
podcastmotor.com
 today, you'll go to the Castos productions page on 
castos.com
. Overall, it's been really successful. Rob, you and I talked offline about the decision to do this. For a lot of reasons, managing just one brand generally is a lot easier from an SEO perspective. It definitely is better to have all of your links juice pointing to one place. There will be people that say, yeah but if you were two brands you could have multiple listings on the first page of Google for a term. That's the case, but generally, we think we can rank for more terms as a single site, so that's what we've done. Generally, the only thing that we knew we would have to do and I think we've done a good job is to manage that legacy PodcastMotor name for people that know us or were customers of ours before and want to come back to do another season or something. On that page, on that Castos Productions page, we reference PodcastMotor. We have a banner at the top of the page announcing that PodcastMotor is now Castos Productions and links to an internal blog post that we have about it. I think that's the thing that I was the most scared of is what is like a really nice brand? The PodcastMotor brand and the job we do there was really great, so how to transfer as much of that over to Castos Productions as possible? The thing that you and I talked a lot about was the thing that gave me pause before and that we're keeping a very close eye on now that that move is taking place.
Rob:
 This is one of those decisions that I think is the right decision the way you did it. Correct me if I'm wrong, but I believe I gently nudged you in that direction of my gut based on things I've seen, and where you are is that you should fully merge. There's more power in it, there are more SEO powers, and there's more brand power and all that. I'm not like it's 100%. You absolutely have to do this. It's the only way to do it. I do think there are nuances as you said, but I feel like it is the right decision and has been the right decision from my outsider's perspective. You're six weeks post doing it, so obviously you only have so much perspective at this point. Do you feel so far that it was the right choice? Do you have any regrets about merging those two brands?
Craig:
 It's definitely been the right choice. I don't have any regrets. I think the reason is if you look at the potential plus and minus of it, the plus is that everything is in one place. It's one brand. Messaging should all be really clear around this. The downside is that last part maybe, with two separate brands, you can be more clear and opinionated about what that messaging is. When they're all in one place, it can get a little more muddled and a little more difficult to be really explicit about what a brand is. Now, Castos is podcast hosting and production, whereas before it was just one thing. I think the positive of having it all in one place. Having these professional services in front of all of our customers is just way above that potential difficulty and messaging.
Rob:
 Right and it's such a differentiator because no one else is doing this. Where else can you go to get hosting, to get editing and production, all the transcripts, the YouTube stuff, and just all the things you do? It is a unique space in the market. I'm excited to see where that takes you moving forward. How hard did it wind up being? It's funny we talked about a year ago and you said you got done with it six weeks ago, surely you weren't working on it for ten-and-a-half months. It must've been starts and stops.
Craig:
 It was a lot of starts and stops. I probably just forgot about it or it wasn't a huge priority for a while. I think we really saw some good traction with Castos Productions when it was just a white label version of PodcastMotor. We really thought, time to get more serious about it because at that point we really had three brands. That was too much. I decided to bring it all together. It's a fair gamble because we talked about reversible decisions. I don't think that's a reversible decision. We're down this path. That's a 301 redirect like that stuff to take back. We tested the waters with it too. I felt like we had some data well before we did all the stuff in July.
Rob:
 That's the thing. I have a question here. Has it moved the needle yet? I'm not totally sure what I mean by that, but I guess I'm thinking you bring over this brand and this new service, and you would hope that new customers or existing customers would adopt it in a way that maybe they wouldn't have if you kept those two apps separate.
Craig:
 It's definitely moved the needle. First, all of our revenue code goes into one place, that's great. That's just easier to keep track of and everything. The thing that it does is that it simplifies our messaging a lot because instead of me being on sales calls for Castos Productions and for PodcastMotor, I'm on one side of sales calls. We have one set of pricing, we have one set of offerings, and in that respect, it's definitely improved our positioning. But it's still an ongoing thing. It's still something that we are continuing to refine the experience, the actual user experience, positioning, the pricing, and all of this, which is cool. It's another lever we can turn and that's fun to have.
Rob:
 Yeah. What I love about it is this concept of a dual funnel that I keep bringing up of having this wide, lower-cost funnel. We have a lot of people coming in. Maybe it's freemium, maybe it's a credit card or whatever but when you're getting hundreds of trial sign-ups or even into the low four figures of trial sign-ups in a month, that's a very wide low touch, low-cost funnel usually with low average revenue per customer. You can build a good business on that. You want to raise average revenue over time. That's a low touch funnel. Then, there are high touch funnels where you're selling for $500 or $1000 or $5000 a month and more enterprise stuff, long sales cycles. You can build a business out of there. The dual funnel, when you have a SaaS that has both of those, that's amazing. Those are the apps that I'm seeing grow the fastest right now. I think back to even in the Drip days of our starting price of $49 and eventually, we had a $1 plan and then a free plan. We had people coming in and saying I'm going to pay $1000 a month or $1500 or $2000 a month. That's a nice dual funnel. You do have this amazing brand, you have the reach, and your word of mouth because you can have thousands or tens of thousands of paying customers on the low end. Even if you only have 50 or 100 or 200 larger customers, it can become the point where the vast majority of revenue actually comes from those because they pay you such an overwhelming amount of money. A lot more apps out there are like this than people realize. A lot of the apps we use that are inexpensive actually make a ton of money. Slack's another good example or Zoom where they have this free plan. They have a wide funnel. Everybody knows who they are and if you're a small company, you pay Slack $6 or $8 a month per employee. My team is a team of five. I'm paying them $30. That's not a great average revenue per customer for a company that wants a multibillion evaluation. But IBM, Microsoft, or whoever—I guess Microsoft has their own product—insert Fortune 500 company here who doesn't have a competing product, are likely paying Slack $10,000, $20,000, $30,000 a month. That is the dual funnel that allows them to grow incredibly fast. That's what you've introduced here. You essentially still have this great product with this great low-end price point. Great for consumers, not for your average revenue per customer but great for your customers, and you do have a mini brand with thousands of people that use it. Now, you also have this high-end enterprise offering and that brings that average revenue per customer up pretty substantially.
Craig:
 Yeah. We're now getting into the third leg of that stool which is really cool. It has its own messaging challenges but we are having conventional podcasting, podcast editing as a service, and then private podcasting that is in some ways a whole other animal, a whole other product and whole other type of customer but is very interesting both from a revenue perspective and from a business and product and where we are on the market perspective. It's cool and challenging at the same time.
Rob:
 I'm really interested to dig into this because when you talked about building private podcasting, the first thing I asked was is anybody else doing this? Why would you do it? I'm not sure I understand it but you guys are essentially on the leading edge of this. You're stepping out. This is a novel, new entry into the market. That's the thing. I was thinking, I'm sure it's aimed at (I can imagine) any Fortune 5000 company might want a private podcast for their sales staff or for their employees in this day and age of working remote, but I could also see Startups For the Rest of Us having a private podcast that people pay a Patreon or a subscription for. I can see MicroConf having a private podcast for people who go to this event or for the Connect Slack Channel with only them. Or how about a TinySeed private podcast only for investors or only for mentors? Am I making this up or is that where it's headed?
Craig:
 It's literally anything you can imagine. We have mental health professionals having private podcasts for each of their patients. We have Fortune 100 companies that we're working with having internal private podcasts for their sales team or for their HR groups. We also have enormous health and fitness brands having private podcasts as an extension of their membership site or their course. That's tens of thousands of people coming in. They have a course or they have a membership site. They have content there and they want to add podcasting as another way to connect with their tribe or their members. We are really uniquely positioned. One, from our WordPress integration, that a lot of people do this membership type stuff in WordPress, so we're a natural fit there. We also have some native integration with membership platforms like MemberSpace to where new members start paying you for access to membership sites. That person automatically gets added to a private podcast in Castos. All totally automatic that you as membership site administrator don't have to do anything and you're able to offer this to your members, which is a huge value. I think it's just such a natural fit. Now that we're here I think of course, why didn't we do this a few years ago? Rob, it might be like what you saw with Drip where you weren't ready, the market maybe wasn't ready. Now—knock on wood—I feel like we're at the right place at the right time with this because it's a huge opportunity and people come to us and they are absolutely thrilled that we do this the way we do. That makes me feel really good.
Rob:
 It's easy to think like a product person. The next feature I launch is going to be the one that changes it. Most times it's not, most times you try to market it and it's ho-hum. But this one seems to have really resonated in a way that I'm not sure I anticipated when you were talking about it. I'd hope that it would bring in the Fortune 1000 or 5000. You can charge a lot more for this because it is a premium feature, but the conversation you're having with people on the interest of this, it sounds like has been really strong. Did you expect that or were you a little bit questioning or tentative about it? I know you were all in on building the future but did you expect it to have this level of interest?
Craig:
 I would be lying if I said of course I knew that this was going to happen. Of course, I was very hopeful, but I think you don't know when you're expanding the edge of what people expect from an ecosystem and a platform, and the behavior that they have with something like podcasting or email marketing. It is when you say you can charge money for a podcast directly or you can only offer this podcast to certain people. Even today, folks are saying that's not a thing and you explain it to them. They go, of course, that totally makes sense. I can imagine doing this for X. When we started to have some of those initial discussions, then we had more confidence in it. We did a fair bit of collecting email addresses and chatting with folks. We had some people on the platform from day one that was duct-taping this together with Zapier and the membership platform and stuff like that but didn't have that last piece of individualized private RSS feeds from the hosting provider. That's what we are providing.
Rob:
 Right, so you can revoke access in essence when it happens. Congrats on getting that life and certainly stoked to hear about the interest. Obviously, as an investor through TinySeed, it's nice to see when things go right and I get to live vicariously through your victories, which is fun to be along for the ride. I do want to congratulate you as we move to wrapping up. I want to congratulate you on hiring Matt Medeiros as your Director of Podcaster Success. If folks have not listened to the Audience Podcast and if you are interested in starting your own podcast, or growing your audience, or learning how to monetize, or all the tech stuff around podcasting, search for Audience in your podcatcher. I listen to every episode that comes out. It's a really high-quality show. I can tell that Matt has pulled a burden off of you because I know that you were putting that out every week and I know it was a ton of work for you.
Craig:
 Yeah. It's funny. Just before recording this, Matt and I recorded an episode and talked a lot about this, him coming on board, he is a better podcaster than I am and has been doing it for longer and it's been awesome to bring in a total A player to own that part of the business. As an entity of the podcast, it's much better off primarily in his hands. It's been cool.
Rob:
 That's a double win when they can do it perhaps a little bit better than you can and that you get the time back. You don't have the mental burden of, what am I doing because producing content like this is fun, but it does take that good glucose. It takes that creative energy that you can't put into writing copy or doing other harder things. As we wrap up, I want to hear what you're excited about right now. What's new with Castos? Whatever this week or this month? What's kind of the big thing that gets you excited?
Craig:
 We have like two real initiatives that were driving hard on. One is doing everything we can to be the obvious choice for people who want to create a podcast and use WordPress as their website. Specifically what that means is we're launching an integration with Elementor by the time this goes live. This will be out so you can manage all of your podcasts, design, contents, player, everything from the Elementor editor. Elementor is the most popular page builder for WordPress, so we'll fit directly into the Elementor editor and all of your podcast stuff happens right from Elementor. That is super cool and hopefully opens up a chance to do some co-marketing and brand exposure between organizations. We're doing more things in that kind of vein of the businesses, just doing cool things and offering good free tools for people on WordPress to make that experience even better. The other one is private podcasting. It takes a lot of different forms. I talked about courses and membership sites but also for internal company podcasts and working with real enterprises and what that looks like. The question mark still—we might have talked about this last year—is Castos directly being able to be the payment processor via Stripe, a way for you to charge money for your podcast directly. That's still a bit of a question mark. I think it's a question mark from a strategic perspective because I think about podcasting as a hobbyist and an aspirational thing, I can imagine a lot of people coming into a tool like this, like Substack. I imagine Substack has an enormous number of people that don't make any money from their newsletter. If you think that what we're talking about building with premium podcasting is the same kind of thing, you're going to have a bunch of people coming in, making content, charging money for it, and not making any money. That's just how it goes. It's tough to build a community and a following online. It's even harder to get those people to pay you money having the micropreneur academy, FounderCafe. We've taken the approach so far of let's help people that already have a significant following, and integrating with their course platform, their membership site, or their community, and offering podcasting as something that they add-on at an additional way to that. From a project strategy perspective, I don't know if going directly to people that want to charge money is the way to go. I'm sure we'll do it but I think we've made the right decision so far to say let's use the audience we already have and the membership tools that they're already using to manage those members and payments and things like that and us be the podcasting tool that adds on to those, as opposed to having to—from a product perspective—create the whole stack and maybe have people come in that, think they can build a community, and charge people money for it because I think it's just really, really hard. We'll see.
Rob:
 The aspirational people will come but I think you can get around that with pricing. I'm just going to throw up pricing. If it's $99 a month plus whatever for downloads or something then you're not going to get as many aspirational because they're going to say that's too expensive. If I had MicroConf as an example or Startups for the Rest of Us, $99 a month is a no brainer for us. Certainly for whoever, Target, General Mills, and Best Buy, these are just Fortune 500 companies that are here in Minneapolis that I was thinking of. For them, it should be even higher. I guess Best Buy, Target, and General Mills are not going to charge their people. That would only be for someone more like Startups for the Rest of Us or MicroConf if we did decide to make that a paid thing. Again, if you just keep that minimum price at a certain point, because you're not a commodity right now. You're such a unique offering that if people want it, they need to come to Castos. Once the feature is going to get cloned, you get copy cats, they probably won't build it as well as you guys have. Eventually, it will get to that point and you have to make that decision of, do we want that lower-end of the market, the aspirational people, but I guess you can make that decision when you get there. Is it something you feel like you could solve with pricing by just having that higher minimum per month?
Craig:
 I think so, but I think that all that does is it doesn't attract the aspirational folks that don't already have that audience or don't think they could get that audience. The thing that I'm most concerned about is this resource allocation of it's a month's worth of work for a developer at least to build all this stuff, could we go do something better with that?
Rob:
 I want to see it that you have ample leads coming in on that higher-end that want to charge for it. If you've only had a handful come in then I don't know. If you haven't lost a deal because you don't have it built-in and it's a month of work, that's tough. Given how fast you have to move and how much you're building, it's a tough decision to make.
Craig:
 That's definitely a question mark. It would be super interesting but I'm not sure.
Rob:
 Well, awesome man. Thanks again for taking an hour and hanging out with me here again on Startups for the Rest of Us. On Twitter, you are @TheCraigHewitt and obviously 
castos.com
 if folks want to see what you're up to. Thanks so much for joining me again this week. I hope you enjoyed that conversation with Craig. I'll definitely have him back again in the future. He always has interesting insights, is moving so fast, and doing so many interesting things that it's pretty easy to bring out essentially good conversation and good content for here on the show.