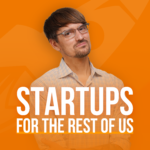 Episode 518 of Startups For the Rest of Us is an experimental format where Anthony Blatner, a LinkedIn expert, live consults with John Samuelson, a B2B SaaS founder on advertising a SaaS business on LinkedIn.
There's a wealth of knowledge in today's episode so if you are considering or have thought about LinkedIn ads, this episode is worth a listen. We'd love your feedback on this new format. Was it helpful? Let us know in the comments or on Twitter (@startupspod)!
[BONUS] Download a LinkedIn campaign brief PDF developed during this episode
The topics we cover
[04:29] Should a B2B SaaS founder consider LinkedIn?
[07:33] Scatterspoke's ideal customer profile
[13:12] Ideal company size for Scatterspoke
[21:16] Looking at adds other companies are running
[24:43] Putting this together into a campaign
[30:36] Audience size and example ads
[36:19] Setting a budget for ads
[22:59] Free trials on LinkedIn
Links from the show
If you enjoyed this episode, let us know by clicking the link and sharing what you learned.
Click here to share your number one takeaway from the episode.
If you have questions about starting or scaling a software business that you'd like for us to cover, please submit your question for an upcoming episode. We'd love to hear from you!
Subscribe & Review: iTunes | Spotify | Stitcher
Rob: Welcome to this week's episode of Startups for the Rest of Us. I am your host, Rob Walling. As you all know, each week on the show we cover topics related to building and growing startups using an ambitious yet sustainable approach. This is episode 518 and today is an experimental format. It's a format I don't believe—if I recall—we've never done but it's more than 10 years, so you can't quote me on that.

In essence, we get about 20 cold emails and pitches a week for guests and potential guests wanting to come on the show. In my memory is that we have had exactly zero of those cold pitches on this podcast. It's just too overwhelming to go through them and frankly, most of them are so far off-topic that it's just a sea of conversations that would not be relevant to the Startups for the Rest of Us audience.

This week may mark the first time that I've ever had someone on who has cold emailed. This is a LinkedIn ads expert named Anthony Blatner. In fact, he didn't cold email. He called, LinkedIn outreached me, and the reason I was intrigued is, I like talking to specialists in their areas, so Facebook ad experts, Google ad experts, LinkedIn ad experts. Someone who really knows their space, knows how to engineer it, and do it well. I'm always intrigued by their knowledge. I started talking with Anthony a little bit. I actually listened to a couple of other podcasts that he was on and realized he knows what he's talking about. He actually runs an agency called ModernMedia, it's at modernmedia.io.

As I started thinking about it, I thought I could bring him on and have the same general conversation that he might have on any other podcast where I say, who do LinkedIn ads work for and how should you target them. General question number three. We could run through it and that would be a fine interview. But I started thinking, what if I brought a startup founder on the show who might be considering doing LinkedIn ads or is going to be doing LinkedIn ads soon? And had Anthony basically do a live back-and-forth conversation, almost like a real client consultation. That's what I did.

I reached out to a few founders I know and as luck would have it, John Samuelson, a co-founder of ScatterSpoke, which is the company that I interviewed last week. I interviewed John and his wife, Colleen, about them starting ScatterSpoke, which is an online agile retrospective tool. We got to talk through their story last week and then he was available to do this. He had considered LinkedIn ads and it just seemed like it made a ton of sense to just piggyback this week's episode with last week's.

Today, we're going to hear from Anthony Blatner and John Samuelson. Anthony is going to give John advice on LinkedIn ads. Not just advice, he goes through the step-by-step process that he uses to onboard clients and ask him about the roles that you want to target, to get an idea of audience size, and to get an idea what you should give them because sending them to a free trial, as Anthony says, is not usually the way to go. There's a wealth of knowledge in today's episode.

If you are considering or have thought about LinkedIn ads, I do think it's well worth listening to hear Anthony's process. This is someone who does this day in and day out with clients. He obviously lives and breathes this ecosystem and he's focused on it. There's just a lot of knowledge being shared on the show today.

Before we dive in, the second annual State of Independent SaaS Survey went live last week. You can head to stateofindiesaas.com to take the survey if you are a SaaS founder with at least $1 in monthly recurring revenue. We would love to hear from you. Filling out the survey not only gives back to the community because we create the 70+ page glossy report that we passed out last year, but you get the marketing bonus chapter if you complete the survey.

The survey is taking between six and eight minutes this year. We've streamlined it just a bit. I would really appreciate you checking it out. We already have hundreds and hundreds of responses and we're looking to beat last year, which I believe is just shy of about 1600 responses. So, stateofindiesaas.com. With that, let's dive into my conversation about LinkedIn ads with Anthony Blatner and John Samuelson.

Gentlemen, thank you so much for joining me on the show today.

Anthony: Hey, thanks for having me. Glad to be here.

John: Likewise.

Rob: Listeners, who tuned into last week's episode, they already have quite a bit of background on ScatterSpoke. I think we'll update them on that in just a second. I think I wanted to start off Anthony with a question for you for a B2B SaaS founder who might be listening to this. Who really has that high-level question of should I even consider LinkedIn? What needs to be in place for LinkedIn to potentially be a viable channel for a B2B SaaS founder?

Anthony: A couple of pieces that you want to have before you go use LinkedIn. LinkedIn's a great channel for professional targeting, to be able to get in front of B2B companies. LinkedIn does tend to be a more expensive channel to use. You want to make sure you have your different pieces online before you go use LinkedIn and you pay those higher prices for their advertising.

A couple of things that we usually look for or recommend to use LinkedIn is, first of all, having your LTV be around 10,000 or above to start. LinkedIn's a more expensive channel, so when your LTVs are above 10,000, then the math gets easier. If it's below 10,000, it can still work but you'll need to have to gather pieces of your sales process really tuned in to make sure you're maximizing that.

The second thing you want to have is a specific target market, a specific target customer profile that you can target. Some companies out there might serve every professional or they might be for every business owner. When you have an extremely broad audience, then honestly, other channels might be cheaper and better for you. LinkedIn is awesome when you need to target a niche decision-maker at scale because that's what LinkedIn has. It's like those job titles, those industries, those company sizes. They just can't get anywhere else. Having a niche ideal customer profile is important.

Thirdly, is having your sales process dialed in. Like I said, LinkedIn's at the more expensive channel to use, it's a great place for starting a conversation, and for a lot of people, it's the only place you're going to be able to go find your target customer. Because it is more expensive, you want to have your sales process tuned in. As we generate leads for you, you can then go work those leads and turn those leads into customers.

Ben: The way I thought about it is Google searches, and frankly, whatever being searched is good […] they're about intent. It's about someone needing to do something now. They're searching for red Nike shoes or they're searching for how to make a pumpkin pie. Whereas Facebook tends to be about interests. It's more about who they are and what they're interested in. I had thought and I have not really run LinkedIn ads before, but I had assumed that LinkedIn would be based on company type, employer size, and role, most focused on the role of the individual. Does that sound relatively accurate?

Anthony: Yeah, that is accurate. Most of our campaigns do use that company and professional targeting—what's the role somebody has and then what type of company or industry are they in. That's the data that nobody else has that LinkedIn does have. We always say, LinkedIn's one of the first places people update when they change roles or change jobs. It's usually pretty up-to-date, pretty accurate info.

There are some other targeting options outside of those that we do use that are useful to say, who do we want to target but then also what does this person interested in so that we can find those people that are a good fit and are interested in our offering.

Rob: Sounds good. Let's dig in. John, you haven't had much of a chance yet to speak. But folks who listened to last week's episode already know something about ScatterSpoke. Do you want to just give the 30-second rundown of what ScatterSpoke is? Then, we'll hand it off to Anthony to run with this

John: Absolutely. ScatterSpoke is an online agile retrospective tool. It was born out of playing around. You can get that story from last week's episode. Essentially, it allows you to have remote distribution, or you can use in the same room, agile retrospective in some analytics and tools around it.

Anthony: Got you. I listened to a little bit of the episode and took a look at the site and all that. The one thing that I remember that you're talking about in the last episode was your different customer segments and that you have three different tiers of those customer segments. Let's start with that. Let's start with talking about who your ideal target customers are, and then tell me about those three different segments that you have.

John: The baseline is the people that are in there using it, like on a team of engineers, developers, Scrum Masters, maybe product managers to some degree. Those would be on the team level of people using it. As you run up the gamut, you have engineering managers and directors of an engineer might use it.

One of our things that separates us as a tool is we have this feature called scaled retrospectives. If you're a big company and you have 10 different teams, we can break those into, we call them programs. It's a safe term. We'll actually talk about that (I hope) in a few minutes. It's a way you can roll up information from teams into a next block and then maybe the director only has to look at this program level retrospective. Those are our segments at the moment.

Anthony: Those are two good segments. One is engineers. You mentioned developers, people participating in these retrospectives, the Scrum Masters were probably running them, and then the product managers who are also involved with maybe running those meetings as well. That's number one. And then number two would be more of the leadership around the engineering capacity. Is that right?

John: Yeah, that's exactly right.

Anthony: Those are two good segments. Let's start by breaking down different aspects of this audience. I'll take some notes as we go and I'll try to help size up the audience. One big thing when we approach LinkedIn is looking at what's the size of the adjustable target market out there. Maybe some different things I'll help advise on is how much to break down the audience into different segments so that we can split-test things when you launch a campaign, then at what points do we want to put together different audiences or how to mix and match those.

To start, are you guys starting in the US primarily or are you guys involved in other countries?

John: I'd say 70% of our traffic is US-based. We do have a pretty strong usage in Europe as well. I don't know if we're calling England in Europe anymore but a lot of people in England. I won't really focus on them as much. The US is the bread and butter for sure. Not much for Asian countries.

Anthony: Sounds good. Knowing what I know about retrospectives and you mentioned engineering and developers, talking about industries that you commonly serve, is it largely the software development industry?

John: Almost entirely. Although one of our bigger clients is actually in oil and gas. Oil and gas company of that size, like a worldwide company. They obviously have dev teams too. I would say the majority of them are some very tech-heavy focused company, yes.

Anthony: On LinkedIn, a lot of companies in the tech, in the software space, a lot of them will categorize themselves as software companies, but then also, a lot of them categorize themselves as the industry that they serve. Just a random example, maybe there are some that are software companies, but they serve the oil and gas industry. They probably categorize themselves as that.

My follow-up question is, oil and gas can be one. Are there any other trends of industries that you see a lot of?

John: Honestly, no. It's all over the place. From top Silicon Valley household names you would recognize, to healthcare, education. Universities have looked at us. If you have a development team—a lot of companies do now—you're fair game. I know that's very wide, but we haven't really seen a very strong niche.

Anthony: Okay. Commonly, when we have an industry like this, what we'll do is we'll do one campaign or one split test that targets just the computer software industry, and then we'll have one that targets everybody but the computer software industry. We can see those metrics side by side and how it's performing.

Also wondering—just I think about it—do you ever partner or do you think it's a possibility or good option to partner with another agile training organization out there? A lot like consulting companies that do stuff like this? Do you ever partner with those companies?

John: We've gone down that road a couple of times. Nothing's really stuck. My wife who co-founded this with me, that's how we got in the door almost everywhere. She'd be on training assignments at whatever company and be like, oh, by the way, we have this retro tool. It's definitely a very good way for us to get in. But we haven't had that much look at getting other consultants to do it.

Anthony: We'll put that down as an idea, but my hunch for you guys, probably going to start with a split test of one targeting the computer software industry and then the other targeting all the other industry people so you can see those metrics side by side.

Next is talking about the size of the companies that are the best fit. I know you have different plans based on the number of users and stuff. Where do you see your sweet spot being?

John: In terms of the size of the company, this is actually something that I was hoping to pick your brain about. There's a thing in the agile space, like a framework called SAFe. It stands for Scaled Agile Framework. It's a very niche part of the agile industry and it's designed for really large companies. It's a way for you to scale your agile process from 100 dev teams or 50 dev teams, and it's very methodical in how it all rolls up. Some of our best enterprise clients implement SAFe.

To do SAFe costs a boatload of money. But obviously, these companies are invested in agile and they're invested in scaling their agile. One of our sweet spots for tools is this scaled concept. Most companies (I think) that are doing SAFe, they're literally like Fortune 500 companies. They're really big. They have 50 dev teams or something.

Anthony: Got it. That's good to know. Somebody who's using SAFe means that they're probably a good prospect for you guys.

John: Absolutely, yeah.

Anthony: I'm taking a quick look here. Doesn't look like there's a lot of groups on LinkedIn that are about SAFe and scaled agile.

John: You would search for SAFe program consultant would be a title or role, or agile program manager. Those are key roles. If somebody has that role at a company, you know they're deep in SAFe.

Anthony: Okay. People using scaled agile, I see there's a lot of groups around that. That could be a good targeting to layer on top. Back to the company size factor, LinkedIn has different levels of companies you can target. As far as the number of employees that are there. What do you see as your sweet spot being is the best company size to target?

John: I think that most of our customers are probably between 50 and 200 employees. They're not going to have huge engineering organizations at that size. They would probably be on our cheaper plans. If we're just talking about where the most for our customers fall, it's probably there. Our most profitable customers, though, are in thousands of employees.

Anthony: I remember in the last episode, you were talking about enterprise companies. One of those, like Fortune 500 size companies with thousands or even tens of thousands of employees?

John: Yeah. Those guys, when they buy licenses, they're buying between 1000 and 3000 user licenses.

Anthony: We'll break down both of those in a second. Next is getting into some of the job titles that we could target. On LinkedIn, we can either do job functions or we could do job titles. Under functions, for example, we have project management functions. The two that I think would be good for you are program and project management and then product management. Those people probably have people who are running projects, probably managing this process. But as far as specific job titles go, you mentioned the SAFe consultant as one. What would be some other job titles that'd be a good fit?

John: In the SAFe role, there's (I will say) a release train engineer. That's a very SAFe-specific thing. I had mentioned agile program managers. Those are the really SAFe-heavy things within SAFe or within any of this industry though, I mean software engineer. On the product side, I'm not sure as much. Oftentimes, smaller companies' product managers often double as a Scrum Master. That could work, but I won't favor that side. If you're a company and you have someone that's a dedicated Scrum Master, you probably care about agile, so you probably would care about us.

Anthony: Yes. I do see, there's a Scrum Master title on LinkedIn. We can definitely target that. Product, people are likely good, but they might not always be the ones managing this process?

John: Yeah. In general, they might not be inside of engineering. I would do an engineering manager over a product manager just because I think they're closer to the team that's actually using our tool.

Anthony: Okay. There is an engineering function on LinkedIn. That could be another broad category to use. How about what are some other titles that are maybe specific to this process or to agile that you commonly see?

John: Agile coach, again, Scrum Master, you could be Kanban, insert something afterward. I don't know if you can look for certifications on LinkedIn. Is that something you can target?

Anthony: There are skills, which often do match up as certifications.

John: Even developers oftentimes will take a Scrum class or some kind of agile training class and they put it on there. That's the little gamut there. I'd say, software engineers, engineering managers, Scrum masters, agile coaches, those are definitely the bread and butter of the people that are actually using it often.

Anthony: Okay. As far as the two segments here, it sounds like one is like the engineers themselves. They are a good candidate because they're in the process, and then the other would be like the managers of that process. About how far up the chain would you want to go?

John: This is a question I would have for you. In terms of purchasing power, most software engineers are not the person that can swipe the credit card. Engineering managers can, but we see it sometimes usually goes up to directors of engineering that are usually like, yup, I approve because they're usually on a budget. Up above that, I don't think it makes sense. I don't think I would target anything with a C in front of it. But vice president of engineering, director of engineering, that's probably as high as I go in the engineering segment.

Anthony: Next is talking about maybe more of those certifications and those different skills that people could have. I did find a number of them on LinkedIn beforehand. Before I dive into what I already found, tell me a little bit about what are some of those certifications?

John: Scrum Master is the big one, there's a Kanban certification, there's a SAFe certification. Those are very targeted types of skills that you can get certified and a lot of companies will pay for their employees to get them.

Anthony: Got it. I do see the scaled agile skill there. Some other ones I see that I found are related to agile, sprint planning as one, Scrum, there is one for retros and retrospectives. People who are doing that at their jobs are probably listing down in their profile. Another question is the different software that you guys integrate with. I think I saw a couple of project management systems. What tools do you guys work alongside?

John: We have integrations, Atlassian, Jira, Trello. Those are the currently active project management tools. If you're using something like Asana or Rally is really big at big companies. If you're doing that using those tools, likely you're doing agile, likely you care about retrospectives.

Anthony: Got it. Those tools are also good candidates if you are using Asana and Rally.

John: Honestly, anything that's a developer toolchain set as well. That's actually on our road map to add some of the integrations with GitHub, GitLab. I would rank those slightly lower than the project management stuff, but those definitely work as well.

Anthony: We can even add different groupings of these together. We can do people who have these agile skills, maybe it's the SAFe framework certification and they have agile skills. Then also, we end that with the tools that they're using—Jira, Slack, or Trello. And then we're getting closer to the people who are the best fit for you guys. People who are experienced in agile, who are doing agile, and also using the tools you integrate with, those are probably the best ones to target.

John: Yup, that makes sense.

Anthony: One thing that we can do out there is look out what ads other people are running. Here's a little tip. If you go to any LinkedIn page—they actually just moved this button—go to the home section and you scroll down just a little bit to see their newsfeed. There's a little button that says posts and like different things that they could be posting, and then there's an ads button next to it. If you click on that, you can see the ads being run by any page.

One thing that we do a lot is go look at competitors in any market and see what ads that their competitors are running, it's usually a good place to get inspiration to see if there are any trends that you see in their ads, what's the offer, what are they promoting, what's the angles that they're taking, and then what's the imagery that they're using. And some of these tools you integrate with could be good prospects to just go check other ads too.

Who would you say are some competitors or similar offerings out there in the market?

John: The big one that comes to mind is a company called Retrium. They do a lot of ad spend marketing on Google. I've never seen them on LinkedIn, but they could be on there. Another one would be Parable. To be honest with you, there's not really a lot of other ones. Those are probably the two bigger ones. That's not true. Things like Miro, which are huge, have tried to do little niche side products off their main product. I don't think they would be spending money on advertising for retros. That's what comes to mind.

Anthony: I'm looking at Retrium right now. It looks like they have a webinar about anti-patterns and then a lot of their ads are also around as a free trial to sign up to get started. It's also a good sign when you see your competitors using ads on LinkedIn. That could be an indicator that they're having success with it.

One thing, general LinkedIn recommendation, is you do see a lot of people out there that will advertise directly for a free trial, schedule now, or sign up now. On LinkedIn, you're usually paying for every click. As soon as somebody clicks on your ad, you've paid for that click whether they sign up or not. We generally see that those are lower converting offers because they're very direct. Someone needs to know enough about you to be willing to sign up. We see that those offers can be a lot more expensive to get people to sign up for.

Usually, what we do is use a content-focused offer to get somebody to sign up. That starts the conversation, then they're in your sales or marketing funnel, and then you continue to nurture them from there. Maybe you reach out to them afterward and schedule a meeting. Most of our campaigns on LinkedIn tend to be content-focused, but there's a lot of strategy around what that piece of content is. You want to (in a way) qualify your prospect a little bit. If they're signing up for this piece of content, then they're interested in what it is that you do.

Different things that work well are stuff like blogs, turning them into PDFs, white papers, checklists, stuff like that. I saw you have a good amount of content on your website. I'm wondering, what are the best pieces of content that you guys have and if any of those blog posts are getting a lot of traffic. Wondering about the content that you guys have.

John: Narrowing back to the SAFe thing, SAFe is all about scaling agile. If we can show them content around how we can scale your retrospectives, I think that's awesome synergy for them. We're about to release all-new marketing material. When we have a page dedicated to scaling retrospectives and also scaled analytics, that's what comes to my mind right away.

Anthony: We're getting a lot of the pieces here. Now, we're going to start putting this together into what a campaign can look like. Next is thinking about what the funnel is. There's somebody that's going to go on to become a customer of yours. I've seen your website and it looks like they can sign up right there. What else I see is there's a schedule a demo button. When somebody signs up on your website or if you ever have somebody reach out to you and say they're interested, tell me a little bit about what your sales process looks like.

John: To be honest with you, we are just starting to really come up with our marketing and sales process. Traditionally, it looks like they come to our site, they may be play around with it, they have questions, they book a demo or they chat with us through Intercom or write on our support tickets. We handle it from there. When we release all these new marketing stuff, it's going to be maybe more traditional. If we already use the scaled stuff content as an example, we'd have a special landing page for scaled. You can put in an email address to learn more about scaled agile retrospectives.

Honestly, hopefully, they'll sign up. Actually, I think Rob might kill me because we talked about this a long time ago. Our schedule a demo button still goes directly to us without qualifying them, really. It hasn't been that crazy of a problem. I would either want their email address or for them to schedule a demo as a goal (I guess) from an ad, but I don't have enough experience with these types of marketing ad funnels to really speak beyond that. That's what I think would be a goal.

Anthony: Right now, if somebody hits schedule a demo, then they get in touch with you. You guys get on that call, have a quick demo. If they're interested they sign up from there?

John: Yeah. That's exactly right.

Anthony: Okay. Sounds good. Next is starting to put some of these pieces together. As I said, if you go direct without scheduling a demo on LinkedIn, most people out there haven't heard about you. Most companies in general out there, if you're not a mainstream company or a well-known brand, people haven't heard about you. If you put schedule a demo in that first ad, people just don't know enough to be qualified to sign up. Someone might submit that form but might not really know exactly what you do, could be a little confused, or they think of something else.

We see that people that sign up for that usually, it's a much lower conversion rate. You're paying a lot more for each lead. The leads that you get usually aren't great because they just don't know enough yet. Going content-focused, content first, the more educational route, using these lead magnets is a good way to get people to sign up and positioning it so it qualifies the person as they sign up.

When you use LinkedIn's targeting so that these are good leads that are coming through because they are only targeting companies up to a certain size, people with these specific job titles, and then positioning the content as something for SAFe would be a great piece of content to have.

There are different levels of content and usually, we see that white papers, guides, and checklists often do the best. Quick and easy downloadables, something that someone can learn something about you. We see that quick and easy downloadables get the highest conversion rate because somebody can download it quickly, read it, and learn a little bit about you. You started the conversation with them and then you can reach out to them afterward via email to set up that follow-up call.

Not everyone will take that step, not right away, but part of the sales process that I mentioned having honed in is you want to have some kind of follow-up email sequence out there, some Drip campaign that when somebody signs up and says they're interested, and they've downloaded the piece of content. Maybe you have a weekly email or a monthly email that goes out, maybe with more content about SAFe, you can alternate videos of your platform or information about your platform, and then you can include little offers in there, too. Like here's the next step, schedule a demo, or start for free—I see you have here—so having that follow-up sales process is important. Thinking about what that content offer is going to be, yeah, I think something like SAFe could be a good piece of content.

John: I have actually another question around that. If we have an ad and we say, here's this great piece of content, come and download it. That takes them to a landing page of ours where they can do that. Is the entire goal for them to download or do whatever that content thing is, should we not even put a sign-up now button somewhere on there that's like a different call to action? Or do you focus to just get them the content right then and then nurture them through email?

Anthony: Good question. Yes. In the funnel, you do want to offer them that next step or at least show them what that next step is going to be. The first goal is yes, get them to that landing page, that they can download the content and read it. Them reading that content is what warms them up to your brand. They see your logo, but more importantly, they learn about ScatterSpoke and they learn what it is you do. At the end of your PDF, you might have a little blurb about ScatterSpoke and click here to learn more. But on that landing page, you want them to learn a little bit, you want them to read that lead magnet, and then usually, maybe lower on the page, maybe on the side there, we'll have a little button and then indicate like, hey, if you're interested in getting ScatterSpoke to help you with this problem, to help you with scaled agile, then click here to schedule that demo.

Oftentimes in our funnels, there's a lot of tools out there that are like scheduling widgets you can use and you can embed those right in your landing pages. Maybe somebody clicks that button and they said, okay, I am interested to learn more, or I want to try this tool out. I'm going to sign up for this scaled agile stuff and they click that button, it can go on to book a call with you.

John: Got you. That makes sense. You can do both, but the primary focus should probably be on the content, that you can still try to lure them further down the funnel.

Anthony: Yeah. Them consuming that content is what is going to educate them and warm them up to your brand. You do have a competitor out there. If they didn't read that PDF, then they don't know what makes you different from Retrium. Them reading your scaled agile piece of content in your lead magnet, you'll want to teach them something, but then also weave in how ScatterSpoke helps you achieve that goal. Through them reading that, they've learned more and they know more about ScatterSpoke.

John: Makes sense.

Anthony: Next is talking about what some of the ads could look like. I have a couple of audience sizes here based on the different titles and stuff you've given me. If we were targeting the computer software industry and if we were targeting engineering and project management type of roles—C or the VP levels—and using these different skills, it looks like that's about 20,000–30,000 people in that audience, maybe bigger, maybe smaller if we add or remove some of these piece of skills that we talked about. But that's what we want to see is we want to see at least 20,000 people in that audience. That might not sound huge, but that's still a lot of people out there.

If you use an audience that's smaller than that on LinkedIn, you might just have some deliverability issues, trouble getting in front of people, but having a 20,000–30,000 audience is a good size. If you go on LinkedIn and you have a massive audience of a million people, then you want to start segmenting that down into different sub-audiences that you can split test.

For the other side of things, if we were to target other industries outside of computer software, that's a lot of industries out there. Looks like that audience is about 60,000–80,000 people. This one is taking all those agile skills and then also ending that with a different tool that it could be using. This is probably a pretty good audience for you, too.

That's the first thing we want to look at is what's the size of the audience that we can be targeting on LinkedIn. Our usual target is somewhere between 20,000–80,000 people. If it's under 20,000 that might be a little small. If it's over 80,000 people, then usually we have the opportunity to get more targeted in it.

Next is talking about what some of these ads could look like. If we were doing a scaled agile framework PDF, the question for you is what are some of the main pain points that one of these Scrum Masters has approaching scaled agile.

John: What we're trying to do in our tool is oftentimes teams will complain about the same thing for months and months and months, and it doesn't really ever leave the team. One of the things we're trying to solve with this scaled idea is to elevate them to more leaders in the company. What we're trying to solve and the pain point specifically is to get things off the team level and into a leadership level in a formal process or […] way so that they know what's happening on the teams. Otherwise, they'd often get lost and it just remains as the problem for long periods of time.

Anthony: Got it. The problem there is that things are getting lost?

John: Yeah, or they're just never solving the problem. They're just like, oh, it's out of our control. We can't change some fundamental company things so we should just never tell anybody about it. But I think leaders often do want to know about that stuff still. If they don't feel like there's a way to talk to the senior leaders in a company, then they're never going to tell them. We're offering in a way to make a tidy inbox of problems and concerns from teams up to higher-up leaders at a company.

Anthony: Okay. The last piece here is what some of your ad copy could look like. Maybe, you'd say for your scaled agile PDF here, your ad copy to the engineers, maybe you'd say, having trouble submitting your retrospective feedback? Download this scaled agile guide to learn how to better manage your retrospectives for your company.

We also find like throwing stats in there can also be really powerful. I saw in your website, there's mentioning about wasting time, stuff like that. Different angles you could take is are you wasting time in retrospectives and not getting anything done? Are you having trouble getting in touch with higher leadership? And then throwing in the stat saying, the average sprint team wasted 30 hours. Download this ultimate guide to scaled agile to learn more.

Somebody who signs up for that using our LinkedIn targeting, we can know that these are engineers using these tools […] agile and likely having this problem or interested in the solution that you have. That's probably a good candidate for you. Just an example of some plausible ad copy.

Maybe another cool thing I could probably do after is send this over to you, maybe package it all up, send it over, maybe put together an image or two, what it could look like along with some of the audience targeting stuff that we talked about, put it on a package and then send it over. That might be a good wrap up of everything that we talked about.

John: Yeah. The examples you just gave are spot on and would totally work. We pretty much narrowed it down to what would get these SAFe guys moving, honestly. They'll love all this stuff. I'm actually curious, though. Two things that we're talking about along the way. We have one audience size of 20,000 or 30,000 people. One audience size that was much bigger, like 80,000 people. Who should I spend money on first?

Anthony: That question I'll turn back to you. I would turn back to you and ask who's the more important prospect for you?

John: I think it's hard to know who's going to pull out the credit card at the end of the day. I guess, is there a way to say, I want to spend 60% of the budget on that group and 40% of the budget on that group on LinkedIn?

Anthony: Yup. What we would do is set up separate campaigns to split test them and then each campaign is its own audience. We'd basically split test your audiences and then you allocate a specific budget to each campaign so we could do it. Yeah, we can do 60% to one audience and then 40% to another. Usually, when we launch campaigns, we always have at least two audiences. We have a measuring stick so that we can compare them. The different levels of split test we usually set up are at least two audiences, at least two lead magnets, and then several ads for them.

John: Probably a lot of companies in my position would want to know this. Everything we just talked about, what's the right size budget to think about? If you go to an ad company (and I have) then you're like, what should we start with? Well, you should do a $5000 minimum. Other people have said, you can probably get early results for $500–$1000. How should we think about setting a budget for something like this?

Anthony: LinkedIn is a more expensive channel. I usually recommend the minimum for each campaign is about $2000, and then the minimum amount per campaign level is about $1000. Then you can be sure you're getting at least enough clicks in that you're getting enough data to make a decision based off of. For here, if we were doing these two audiences for you, I'd recommend $1000 over a month period for each audience and then $2000 total.

John: Okay, got you. We're a small, mostly bootstrap company. Obviously, these things are really important to us. What's a normal clickthrough rate, just to put in perspective?

Anthony: Normal clickthrough rate, the LinkedIn average is about 0.4. Anything above that and your ads will actually benefit going in the auction. You'll get cheaper ad costs. 0.4 is actually relatively low. We like to say you want to shoot for usually around like a 0.75 or so. That's a good CTR that we look for.

At the end of the day, we don't look at CTR a ton because on LinkedIn you're usually paying for every click. Whether or not something clicks, you only pay when somebody clicks. Having a little CTR rate doesn't usually hurt you unless you're below that 0.4 level. We don't look at CTR a ton, but we look at what's the CPC that you're paying.

John: Right, but it just helps me ballpark. I can take the number of people that might view it, just start to do basic math, and maybe estimate what CPC would look like. Okay, that's all really, really handy. This has been awesome.

Rob: Anthony, if you do want to package that up and send it over, I might love to pull maybe just a couple of pieces out of it, put it in either our show notes directly, or maybe as a PDF people can download. Just hearing it all on the show is super informative, but then being able to even see what you're talking about could be helpful for listeners too.

Anthony: Yeah, definitely. I've been trying to do my best to articulate the different job titles and copy and stuff, but it's totally different seeing it done in writing.

Rob: I know. To call out for the listeners, you would ask, can we do a screen share. I know that would be ideal, but it's just so many of our listeners are going to be audio-only that I felt like it would leave a lot of people out. If they need that visual element, we'll be sure to include that in the show notes.

If you would like to keep up with Anthony, you can head to modernmedia.io, or head to LinkedIn where he has a prominent profile—more than 500 connections. I was going to make a joke and say, and Anthony has no LinkedIn profile.

Anthony: That would be funny, though.

Rob: I don't know if people might have a dry sense of humor, maybe. Wouldn't have worked. John as well, you are @scatterspoke on Twitter. Gentlemen, thank you so much for joining me today.

Anthony: It was fun. Thanks for having me.

John: That's right.

Rob: Thanks again to Anthony and John for joining me on the show today. Again, check out stateofindiesaas.com if you are a SaaS founder and are willing to provide anonymized data to really help educate us all on this whole independent SaaS movement. The non-venture track bootstrap or mostly bootstrapped SaaS founders the more data we can get, the more knowledge that we have and can share with one another. Thanks so much for listening and I will see you again next Tuesday morning.