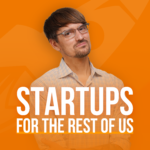 On today's episode, Rob chats Wil Schroter about the story behind Startups.com, the importance of output vs. hours, being specific about the kind of things you don't want to do in life, choosing venture capital, and much more.
The topics we cover
2:43 How soon after first acquisition did Wil Schroter, CEO and founder of Startups.com, want to start the next thing?
5:42 Wil on building an incubator in the early days
8:55 History behind swapalease.com
11:22 On choosing if and when to take on venture funding and the origins for Startups.com
14:19 What is Startups.com and how much revenue does it generate?
19:41 Why Wil manages so many aspects of the business
23:41 The hardest part of building Startups.com
29:58 Wil's thought process on acquiring companies
Links from the show
How can I support the podcast?
If you enjoyed this episode, let us know by clicking the link and sharing what you learned.
Click here to share your number one takeaway from the episode.
If you have questions about starting or scaling a software business that you'd like for us to cover, please submit your question for an upcoming episode. We'd love to hear from you!
Subscribe & Review: iTunes | Spotify | Stitcher
Rob: Welcome to this week's episode of Startups For The Rest of Us. I'm your host, Rob Walling. Every week on this show, we cover topics relating to building and growing startups using an ambitious and sustainable approach. An approach where we're not willing to sacrifice our health or our relationships to grow our company. This week, I spoke with Wil Schroter. He's the founder of startups.com which you may have heard of. Startups.com has acquired a number of products that I'm familiar with.

He acquired clarity.fm from Dan Martell. He acquired Zirtual from Maren Kate, who I spoke with 12 or 18 months ago about the crashing and burning and then, the acquisition of that. Wil and his team were the acquirers. Wil's story is incredible. He started his first company—it was an agency at age 19—while he was at Ohio State, and he went on to exit that in 2003. After that, he started an incubator. Again, this is the 2003-2005 timeframe. It was called Virtucon Ventures. He called it an idea-stage incubator for web startups where he helped conceived and launch companies including swapalease.com and unsubscribe.com.

He thinks venture capital is a poor use of capital. He has liked being the second buyer of a lot of companies. Fascinating story. In 2012, he started startups.com, which he calls the world's largest startup launch platform based in Columbus, Ohio. Although they are 200 people strong, fully self-funded, and eight figures of revenue, Wil is still involved in doing UX copy work. He said he's a CFO, the CEO, and he works on the products. Fascinating story from (I would say) kind of a Renaissance man who just has this massive skill set, who's been doing this for 20 something years, and just has a deep well of knowledge.

Before we dive into our conversation, I want to remind you again of MicroConf remote, which is happening on September 1. It is a virtual event. If you head to microconfremote.com, you can get a ticket and reserve your spot. It is not going to be the typical virtual summit that you are seeing online. Producer Xander and I have put a lot of thought into making this creative, and it's shaping up to be a great event. I hope you will join us, that's in microconfremote.com. With that, let's dive into my conversation with Wil Schroter. Will Schroter, thank you so much for joining me in the podcast today.

Will: Thanks for having me.

Rob: You started your first company at age 19 in college. It's the story that we see in the films or we see glorified. But you built it into a massive agency—$700 million in revenue, and you exited in 2003. I don't want to spend too much time diving into that because building an agency is not necessarily in line with what folks want to listen to here. But I'm curious, you sell your company and you obviously walk away with—I'm just going to assume at that revenue level—life-changing money, in a big way. Did you know at that point that you wanted to start the next one? Or did you take a time off, give it a thought, and check out your options?

Will: I was already starting the next thing long before it sold.

Rob: Wow.

Will: I mean you got to figure. I was 27. My career hadn't even started yet. From my standpoint, life-changing for me was the first time I made over $100,000. I'm not trying to discount making more money, it's wonderful, but I grew up in a really challenging childhood. I got to tell you, having enough money to know that I can pay my rent next month, it blew my mind the first time I had enough in my bank account. Just being able to pay my bills, it was such a huge departure from what I've been used to.

Rob: Yeah. I remember that moment for myself as well. There were a few stages. It was getting to $100,000 where I was like, oh, man, we're pretty comfortable. Living in California with $100,000 is different than living in the Midwest where I live now. But then there was that moment when there was a next level up. The numbers are going to vary based on your lifestyle and stuff, but it was about $250,000 or $300,000 a year. I remember that being life-changing as well. I appreciate that.

Will: Yeah. People always think that the big cash outnumbers, I tend to tell people and I really, really, try to emphasize that if you can ever take a $250,000 check off the table, it may be the most life-changing money you'll ever have. Because it's all the money you need to do all the things that you haven't been able to do for a very long time. For most people, it won't be able to. Most people live paycheck to paycheck. Being able to have a little bit of cash can reset the baseline—it's extraordinary. I don't think a lot of people think about that.

Rob: Yeah, that's the thing. It's such a trip. I hear founders use the phrase life-changing money. Life-changing money, as we're saying here, is different from what I call sunset money or a lot of people call FU money. FU money is where you don't ever have to work again, don't ever have to have a boss again. But life-changing money can literally be $250,000 as you're saying.

Will: Here's why. It's because $250,000, again, let's calibrate to what area in the world you're in, not just part of the US you're at. In most places, it will get you at least close to a down payment on a home. It will allow you to pay off debts you've assuredly racked up—your credit card debts, et cetera. It puts some extra cash in the bank. The first time something pops up—I don't care if it's a car repair or a doctor issue—you can cover it. If you think about it, most people spend most of their lives just trying to get through a handful of milestones that are massive cost milestones. The purchase of the car, paying off college debt, getting married, you name it. Those were often tens of thousands of dollars problems. Sometimes, $50,000-$100,000 problems, but they're never million-dollar problems. Really, most of the things that we spend the first 20 years of our career trying to overcome all fall within $250,000.

Rob: Yeah, wise words, sir. You came off of this exit and you started an incubator, which is different than I think. People use incubators or accelerators these days interchangeably, but back then, it was more of folks heard of Idealab in Pasadena. It's the prototypical one that I remember. Bill Gross started it. It's where someone—in this case you—comes up with company ideas, startup ideas, and then, it brings people to build them and tries to launch a bunch of different ideas. Does that accurately describe what you were doing?

Will: Yeah. What happened was at the agency, we were one of the first web development agencies, and got paid lots of money to build websites on the internet. It was a combination of me walking in big companies like BMW and Best Buy saying, here's how to use the internet. Here's how to use the technology. After a while, I started thinking, I'm the one with the know-how to do this stuff, and I'm the one with the ideas that I'm pitching to these clients. Why keep going to clients? Why not just build this stuff for me, get my own output, and take clients out of the […] together? I started working on building web properties. It was right at the dawn of performance marketing—this was in the early 2000s. A lot of people came in their careers when this was all well-established, whether it's SEO, PPC, affiliate marketing, et cetera. But right around the turn of the century, all of those things were just getting invented (ironically) from Bill Gross. If you've recalled, Bill Gross invented PPC. What was really interesting about all of that is for the first time in history, you could build a company on tens of thousands of dollars because you could pay for your customer acquisition as you did it. Whereas before, you have to dole up tons of money and hope that somebody might show up in non trackable media. I saw that trend—again, I was coming from the agency world—as a different way to be able to build a company. That's where Virtucon and the companies we built out of that were spawned.

Rob: So many folks who are agencies or freelancers want to get into products. It sounds like—

Will: They should.

Rob: Yeah, exactly. That's where I came from. I was a software developer, became a consultant, started a micro-agency where I had a few contractors. And I had a few full-time jobs there too, but I have a similar experience as you were. It's like, I don't want to build stuff for other people. I want to be creative and build equity. I never felt like I was building much long term value. I didn't build an agency nearly as large as yours.

Will: By definition, you're not building long term value. You know, what's really interesting about all of these is if all you're doing is charging for your time, you're always going to be on a treadmill because the time is the treadmill. At some point, you got to be charging for your output, not your time. It's such a tough transition to make. Client services, professional services, is always the easiest business to get into and the hardest business to get out of. For a lot of folks, we get into it, we get used to getting paid good money, and then like, wow, we want to take a portion of our time, and we want to go build something that will make money while we sleep. The challenge in the delta everybody has is trying to do both—trying to get that other thing off the ground. But it's a worthy pursuit. Whenever I talk to folks and say, hey, I'm trying to figure out how to get into the product. I'm like that is always the […] evolution.

Rob: Yup. I have some notes here that you've launched out of Virtucon, which was the name of the incubator. You launched swapalease.com, which I've actually checked out. I browsed looking at people trying to get out of their leases and then like, wow, what would it be like to have a Maserati for four months?

Will: It was interesting. When I was first getting started with the incubator concept, the guys at Swapalease had already started the business. That was the first one. They had an idea of a prototype—in today's terms, an MVP—but they hadn't really scaled it. I said, look, I've got this model that I'm working at. Let me take that and grow it. That was the first client (if you will) of our incubator. We ended up scaling that pretty quickly. It was doing almost no revenue. And then within the first year or two, we're doing about $3 million in revenue but on a $1.5 million EBITA. That was all through performance marketing. Remember, this is a long time ago. It's funny because I haven't […] the website in years. But I think the design that's in there was the same one that we used back in 2003. It has not evolved much, but it's a great business. I started to realize that you could build these small businesses that could start small and either succeed or fail small—which again, at that time, was not the case—and figure out which ones might have some legs. After that, I started five more companies. What was interesting about it is I wasn't just starting them and saying, hey, let's see how it goes and somebody else runs them like an angel investor does. I was actually running them, and I mean really running them. Talk about running payroll, doing marketing, and doing finance—you name it. Within five years, I basically had five full-time jobs. Just a side note, not the healthiest way to live.

Rob: It's such a trip because you and I had traveled very similar paths, although, at that time, I guess you were there from about 2003, or not there. You have started it and worked on Virtucon and these companies from 2003 to about 2011-2012. In that 2000-2005 timeframe, I was launching super small, single founder software products. As pay-per-click, SEO, and affiliate stuff started, I had learned those spaces. That's how I built these little, micro-companies. If you remove two zeros from a lot of your numbers, I had a collection of about eight or nine web properties. Some were websites, the […] revenue, others were actual downloadable software—people paid a few hundred dollars for it, and I cobbled together a fulltime in income. I was able to escape freelancing, in essence. You were doing it on a much larger scale at that time. It sounds like Virtucon—you self-funded that, correct? There was no venture capital involved.

Will: Correct.

Rob: Okay. You mentioned to me offline that some of the companies that you spawned out of there did wind up taking venture?

Will: Yeah. We just fell into it. We were running one company that was based in Los Angeles. I started spending more and more time in Los Angeles. That's essentially what got me to move out to California for about 10 years. While I was there, I started to meet some of the local entrepreneurs. This was probably circa 2007, give or take. One of the entrepreneurs I've met, an investor, was the guy that just got their name, Mark Suster. Mark blogs a lot over at Upfront Ventures. Mark and Mike Jones, who runs Science, the incubator in Santa Monica as well as he used to be the CEO (for a minute) of Myspace, did a bunch of other things—great guy. Both of them in the same week offered to invest their personal money in one of the projects I was working on, and I hadn't thought about taking on investors. It just didn't occur to me. But then, I thought about it and I said, hey, for every one of these companies, as they grow, they're just going to need exponentially more money, and every dollar I invest in growing one of them is another dollar I can invest in starting another, so sure. That's a very small amount of money for quite a few people. In all those connections, I started to meet lots of investors. Investors said, hey, what are you going to do next? What are you going to do next? It got really interesting. The last company we did, a company called unsubscribe.com, we were able to raise money for that in about 24 hours. It was just easy. Compare that to the pain and heartache that I went through constantly topping off the bank accounts for all these different companies is hard to turn away. Even during a tough time—2007, 2008 financial crisis—not exactly the easiest time when you're raising money.

Rob: Yeah. Have you raised money before this?

Will: Never. I was in Columbus, Ohio. At that time, we didn't have any money. You do things the old fashion way. You just found revenue.

Rob: Right. This landscape is so different today.

Will: Yeah, so different. So different. Now, there's a $500 million fund in Columbus. I wouldn't say I necessarily had a bad experience, but I can say this, I had a lot of experience because I had three venture-funded companies at that point. I was running all of them all the same time. I just had this really unusual life experience where I was running five companies at exactly the same time. While one company was practically going bankrupt, the next company was getting an amazing term sheet. While one company was losing its biggest customer, the next company was winning its biggest customer. Five different staff, very different dynamics with each, and I just got all these incredible experiences. I also nearly killed myself, but that's a separate issue. After a while, I started to spend a lot of time with a lot of founders, coaching them through the process. People would say, hey, I understand you know a lot about starting companies, can you help me understand funding or customer acquisition? I realized what I was particularly good at was teaching people how to build startups. I said, why don't I figure out how to do that for a little bit? That's where startups.com came from.

Rob: Right. In 2012, you founded it as startups.co, since you've obviously got the killer domain named startups.com. That is so cool.

Will: Very expensive consonant but yeah.

Rob: I'm sure. It's a good way to put it, man. For folks who aren't familiar with startups.com, how do you explain it? What's the elevator pitch?

Will: We teach people how to get ideas out of their heads and into a launch mode. The average person watches Shark Tank, and they say, I want to do something just like what that person said they want to do. They go to start it and they realize they have no idea what they're doing. There are so many different types of advice out there. There are so many different tools out there. It's fairly confusing. Some of it is good. Some of it is bad. But what I wanted to do is to create a simple place where people could get the education they needed, a community of people that could actually help them—we've got over 20,000 mentors at the ready— and the tools they need to get through the hard parts like raising money, finding your first customer, or putting your plan together, things like that.

Rob: Nice. Yeah, we have a lot of overlap actually. With MicroConf, we do a chunk of that, and then we do in-person events. There's a Venn diagram. We have education, community, and in-person events, but we don't have actual software products versus you have actually built yourself up a nice little cache of businesses. You first came on my radar, I believe, when you bought clarity.fm, which I think is now clarity.com. You bought that from Dan Martell several years ago. Folks who listen to this podcast will remember that Maren Kate was on a few months back talking about Zirtual—raising funding, growing that, and unfortunately having it implode on her. You also acquired that from her as well as Launchrock, Fundable, which is a crowdfunding platform, and Bizplan. When you first came up with the idea of startups.com or as you were building it in the early days, were you just planning to do education and community? Or were you thinking from the start, No, I also want to buy other companies, build other products, and bring them under the umbrella?

Will: That was the trick if we want to help people through the startup process, through the launch process, where do you start and where do you end? I'm sure you deal with this exactly in your own business. Do you just give education and say go figure it out from there? Do you just connect them with mentors and say go figure it out from there? Do you just provide one dimension of the problem of the software, which is funding or customer acquisition and say, figure it out from there? We realized that we just couldn't find a really logical start and a stop point to help people scale. To give you a sense of it, there are 1.2 million companies on the platform. Not everybody's going through the whole process sequentially either. Not everybody wants to help the moment they have an idea. Just many people come to us and they've already got the idea. They've incorporated, they've got a team together, et cetera. They're working on first customers. They're working on funding. Where we fit best, where our sweet spot is—we're at the point where you either had the idea or just about to launch and just barely launch. We do some things post-launch, but generally, that's where we fit best. Once you've launched, once you're in the market, it kind of becomes a different path, and it becomes highly segmented—depending on what business you're in. But getting up to the launch point is pretty uniform. We figured we want to cover every aspect of that part of the journey.

Rob: You've acquired these products and built quite a team. You were mentioning you have 200 people. You're still fully self-funded. Can you give folks an idea of the revenue you were doing here?

Will: Yeah. We don't get specific. We say it's eight figures, so you can figure. It's at least that. But we're debt-free and profitable. An interesting part of that, if you don't mind me just jumping in as to why the debt-free and profitable thing is so important to us. Everybody understands the value but I just want to unpack that just a little bit more. Debt-free and profitable was our goal. A lot of people talk about growth goals. They say we want to hit $1 million, or we want to hit $10 million, $100 million, or whatever. Our only goal was to become debt-free and profitable because all we cared about when we formed the company were two very specific things. Number one is, don't have a boss, which often comes from being in debt in some way. Whether you raised money or whether you take on a traditional debt, et cetera. The second was to be able to do this first as long as we need to make it work, which means give yourself an unlimited runway. We don't want to be in a rush. Not that we don't want to get things done quickly but that's not the same thing. I like to move quickly, but I'm not in a rush. In a rush means there's some artificial deadline that's being imposed upon me that I have to hit, and I didn't want that. I want things to take as long as they need to take to get them right. That goal has served us so incredibly well, and it's the first time I've been able to operate under that after doing nine companies.

Rob: Yeah. Are debt-free and profitable a big part of that in essence the funding you brought to it from the exits and just prior companies?

Will: Not really. It didn't hurt, but people tend to think of it as there was this big pot of cash that we use that we could just burn through without thinking about it. It's worth noting I'm also our CFO, so the finances are incredibly important. I said let's make every single decision based on will it get us to profitability faster? We did a lot of things that are nontraditional. In other words, when we're building the first parts of the business, we built a professional services business. The part that we said let's try to get out of. In the professional services business, it was helping people write business plans, or go through capital-raising processes, et cetera. We did that because that revenue would scale faster in order to get us to profitability so we can start to build a SaaS business faster. But not because that's what we've wanted to get into, per se like we like providing service, but we did that as a means to an end. There are lots of decisions based on, will this get us to profitability faster?

Rob: You just mentioned that you are the CFO, I'm assuming you're the CEO. You said you write most of the copy. You do UX work. In a 200-person team to have one person doing all of those roles is highly unusual. Do you want to talk a little about that?

Will: Yeah. I also manage our social media. I have a lot of jobs.

Rob: How many hours do you work in a week?

Will: Not that many. I would probably say I'm available for about 50 hours a week. I would say my core focus hours where I get productive things done are about three hours a day.

Rob: Fascinating.

Will: I can go on forever about this but to give you the TLDR version, what I learned early on is I spent most of my career working 80-100 hours weeks for decades. It had huge impacts on my health, but more importantly, I worked all those hours because I could, not because I should. Once I started to become more militant about my time because I have kids, and now it's a one for one—time I was at work, I wasn't with my kids. And I just wasn't really willing to make that trade-off. I realized that I just had to make the fishbowl of my time smaller. Lo and behold, I actually got more done. A huge proponent of focusing more on output than hours, I'm just so thankful for it.

Rob: You and I have a lot in common because the same thing happened to me. I worked a day job, then I came home at night and I would work four, five, six, seven, hours. I would work 4-6 hours every night. My wife and I were married, but she knew I was building something bigger than us. We both grew up a pretty working class and our futures were just working jobs. I was like, no. I think I can do something bigger than that. Once we had kids, I have to have enough good fortune/hard work. I did have businesses on my own, and I have already backed off. There was a time where I was working 10-12 hours a week for almost 10 months with no full-time income. It was the 4-Hour Workweek. I read that in 2007 and I was like, that's my goal. I achieved it in about 2010. I really enjoyed that time, but I got very bored. I realized I needed to challenge myself. I've never gone back to working long hours after that. It's a level of efficiency, I believe, effectiveness, wisdom, and experience. There's something that comes with this, and I love the idea you've talked about of time boxing. My wife had our second child in 2010. That was another change. Our first child was 2006, the second one was 2010. That was a big shift for me mentally. It allows me to be like you—more productive than I probably ever was in my 20s.

Will: Yeah. Again, I think you touched on a couple of interesting points. One is that if you have the experience, you can work a little bit less because you know what's around the corner, whereas if you didn't before. Another aspect of it is if you have the hour available—I don't think we realized this when we're younger—you'll just use them because they don't cost you anything. Later on in life, as you get older and as your priorities change, there's a real cost to it. For almost 20 years, I never went home during daylight. It didn't occur to me that you were allowed to. I just assumed when you go home, when you're in your car, it's always nighttime. When you leave and go to the parking lot, there's never another car there. Twenty years is a long time to feel that way. Now, I look back thinking I was an idiot. I should have looked at that as a massive failure on my time management and output. But instead, I looked at it as a source of pride because I was "working hard." There's nothing wrong with working hard, but I got to tell you, anybody who's working 80-100 hours and says they can't work less, I would highly challenge that. Maybe it's possible. I'm not saying there's one-size that fits every schedule, but I got to tell you, as a guy who worked awfully hard for a long time, I look back now and realize I could have managed my time so much differently.

Rob: As you said, it takes a toll on your health and on your body.

Will: It does.

Rob: It's not good. I'm curious on that note. I like to touch on with founders kind of high and low. Oftentimes, we time-box it. Because you've done so much it would be hard to go through highs and lows of all of it. But I'm curious, what's been the hardest part of building startups.com?

Will: It was right before it started. The epilogue to me starting all those companies and doing the incubator is I mentioned it was taking a toll on me. In 2011, right around the time—2012 specifically—we started startups. We were getting married—my wife and I. We're having our first child. All these things were happening—these life events. I was 37 years old, and I always point out the age because I'm going to tell you there's just somebody who's listening to this, there is a freak anomaly about the age of 37. I can't tell you how many founders—at the age of 37 specifically—have hit this bizarre life-changing event. The life of events are all different, but it's always at 37. I can't figure out why. Anyway, I'm sitting with my friends at lunch. I just said to myself, boy, I don't feel right. I can't quite explain what it is, but I think I was going to head home after lunch. After lunch, I got back to the office, hopped in my car, and drove up the highway back to my house. I was actually living pretty close. I get on the phone with my wife and I'm like, hey, I don't feel right. Just as I said that, my whole world goes black. Mind you, I'm in my car on the highway. My heart stopped. Just for a fraction of a second. But if your heart ever stops, it's hard not to notice. It was the scariest moment of my life because you're dead for a fraction of a second. I fortunately didn't go off the road or anything. It was just a brief but terrifying moment. I didn't know what was happening. I just assumed I was having a heart attack. I was only a minute from my house, and I ended up making it back to my house. I probably shouldn't have but whatever. My friends come and get me. Take me to the hospital. I'm in the ER, and they said, "You had a massive anxiety attack." I said, "I never had anxiety in my life." Not according to your heart. It turned out that for 20 years, running myself nonstop, pretending that all the things I was doing to myself didn't exist, doctors said, "Look, eventually your body's going to tell you, enough is enough. Your body just shutdown on you." I didn't even see it coming. Now, in retrospect, I should've. All the signs were there. I had as much stress than you could possibly have. But at that moment, that was one of those life moments where you just have to rethink everything. At that point, I just stopped everything that I was doing. I did a hard stop and I said, look, everything I was involved with, I can't do it, which was so out of the ordinary for me. I spent, what I thought was going to be a couple of days, wind up being a couple of months just figuring out what I was going to do next. There was a long story about it that I wouldn't get into, but that was one of the toughest parts of my life because I had no idea what to do next. I just knew that the pace I was running and the things I was doing just couldn't work anymore. It's rare that you get that binary stop switch, especially at a fairly young age.

Rob: Yeah. It's obviously terrifying and must've been extremely stressful. But it sounds like almost a blessing in disguise because it seems like you—

Will: Yeah. A whole bunch of things. The top ones that a lot of folks will appreciate. One of the things is you try to say, hey, if I'm going to focus all my time and energy on something, what's the biggest thing that I can do? I found for myself that that was a bad question because it's too ambitious. It's too hard to ever come up with that answer. What I found was really helpful was I made a list of all the things that I don't ever want to do again, which wound up being the most life-changing I ever did. I sat down and said, look, I'm 37. I've been doing this for 20 years. I said I'm not that old but I'm not that young. I know enough to know what I don't want to do anymore. I started to make a list. I said, here are all the things I'm just never going to do no matter what. Number one, I'm never going to work for somebody else in any capacity. Up until that time, I've always been a founder. Depending on what you choose to do, you have bosses. You take on investors, you have bosses. You take on certain clients—in professional service work—you have bosses. I was like, I don't ever want to have a boss. Another thing, I don't want to work with people I don't like. In any capacity for one second, I don't ever want to be in a position where I have to. No matter how good the deal is, good the opportunity is, or this or that, I just don't ever want to go home with my stomach turning and be forced to work with somebody. I just stopped. All the people I just didn't want to work with—for whatever reason, I'm not that hard to get along with, by the way—I just didn't ever again. The list goes on, I won't bore you with it. The point is, I made a hard commitment to just avoid the things I never wanted to do. Lo and behold, my life became 100x better because it turns out, doing the things you don't want to do is typically what people are trying to be successful for in the first place.

Rob: It's shocking to me because I have a very similar list that I put together after I sold Drip. I've just pulled it up. I literally wrote this out. I don't want to experience longstanding or ongoing stress that I can't escape. I never want to negotiate a raise again. I shifted that one after I quit a job. Never want to have to commute again. Never want to ask permission to take a day off. Never want to only take two weeks of vacation a year. Never want to work with people I dislike. I've had a few of those, and the overlap is crazy.

Will: They're also logical conclusions. We all hit a point in our life where enough is enough. What I tell founders—particularly young founders, it's not specific to them, but the earlier you can get started on this list, the better—is make that list first. Over time, you'll add to that list because some of the stuff that's on your list or my list is there because we've been around long enough to know why that one is so important. For example, when I was younger, if somebody said, I don't want to work with people I don't like. I'm like, well, you really don't have a choice. This client's going to pay our bills. Yeah, they're a jerk, but I need it. I need the money. Or hey, this investor's a blowhard, but I need his money. I'd be willing to compromise those. Sometimes you just have to take it on the chin. After a while, as you get further in your career, you start to understand the cost of those compromises. By way of that, you start to truly understand the benefit of not compromising. For younger founders, maybe you don't quite see it yet, but if you put that idea in folk's head, they'll start to develop that over time and start to say, okay, I get it now. People are jerks and I don't want to work with them. Check.

Rob: I want to switch it up a little bit because I have this topic. You mentioned it offline and it resonated with something I have written about and talked about before. As I was coming up 2005-2010, say, I had previously—since I was a software developer—built a lot of products. I would start them and it would take me months of nights and weekends because I was working a fulltime job. At a certain point, I realized I could acquire products for not that much money. All I needed to do was add a feature to it and market them. It was a huge shortcut for me. Instead of spending six months of nights and weekends development time, I could spend $5000 or $10,000, which is not nothing, but I was making that as a consultant. I had stuff on this side going. I talked about how being the second buyer of something was super advantageous because oftentimes, someone would either spend their 500 hours building it. I guess in that case, I was the first buyer. In other instances, someone would acquire, couldn't grow it, and then I would be the second buyer. I just wasn't paying that much money for these things that I had previously thought were really valuable. I was billing $150 an hour. If I spent 400 hours, which is not an outrageous amount of time to build a full software product, that's $60,000 of my time that I could've literally been billing. To me, that 400-hour product was worth, in my head, $60,000. Turns out, I bought a product that took about 400 hours to build for less than $10,000. To me, that was a deal. You mentioned that you have been to be the second founder or second buyer of some of these tools that were funded by venture capital. You want to talk through that top process and how it played out?

Will: Yeah. My thought process started when I was the company being funded by venture capital. I thought to myself, the first year to two years of spend with a VC money is so wildly inefficient by definition because you're experimenting like crazy. You have this massive amount of inefficiency between validating the idea, getting the right team, trying all these different marketing channels, figuring out what works, et cetera. Most of that gets pissed away no matter how good you are. I've been doing this a long time and I can't do it any more efficiently than you can. That said, I started to think about, boy, whoever gets to show up second on this idea—just like you did, just like I did—doesn't have any of that cost. All of those things have been figured out. Remember, it's not just dollars. It's also time. When we bought a product called clarity.fm, which you mentioned Dan Martell had built, Dan had raised millions of dollars from great investors. But more importantly, Dan—who's super smart—spent years and years and years trying every combination to see what worked and figured it out. He did all the customer acquisition, he did all the scaling, he tried all the pricing models, et cetera. We were fortunate—when we did the acquisition, Dan called us and asked if we were interested in it—to be able to stay cool. Dan's got it all figured it out. We need to pick it up with all that stuff already done. Yeah, maybe we need to make some changes or additions or maybe we don't. But the point is, it's already been figured out. We don't have to spend all that time to do it again. If I could spend $250,000 to build my own product or $250,000 to acquire somebody else's product that probably spends, even more, trying to get into it, in most cases, I'd take the latter every single time. Because the one thing that money doesn't account for is all the time and effort it took to get into that product.

Rob: Awesome, Wil. Thank you so much again for coming on the show. I feel like it's been a really insightful conversation. You have tons of knowledge. I know we can talk for hours. If folks do want to hear you, think through this kind of stuff on a weekly basis, they can head to the Startup Therapy Podcast where you and someone you work with at startups.com, you guys chat through these kinds of stuff. How long ago did you say you started? About a year?

Will: About a year ago. We just recorded episode 60. We just sit and talk about stuff that we know is keeping founders up at night, and we walk through the issues detail by detail and show them how we get through.

Rob: Awesome. Obviously, if folks want to see what you're up to on a day to day basis, startups.com. Pretty easy to remember.

Will: Yeah.

Rob: Thanks again, Wil.

Will: Thanks for having me.

Rob: Thanks again to Wil for coming on the show today. If you haven't left a review for Startups For The Rest of Us, even if it's just a five star. Click the five stars without having to type anything in. I would really appreciate that in whatever podcast catcher you use. If you're not on our email list, you're missing out on two exclusive episodes that have never appeared in this podcast feed. The first one is about things you should know when you launch a SaaS app. The second one is things you should know as you scale your SaaS app. I recorded those solo. Again, they've never been released. You will get it in our email, you get those episodes as well as the PDF guides that summarize them. Thanks for joining me this week. I'll be back in your earbuds next Tuesday morning.