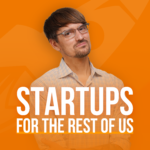 This is a big milestone episode for Startups for the Rest of Us. Episode 500. Since the very first episode nearly a decade ago we've had more than 10 million downloads, answered more than 1,500 listener questions, and shared more than 292 hours of startup content.
Over the years, this podcast has developed a particular lens through which we view building and growing startups. We've focused on:
Maintaining freedom, purpose, and relationships throughout the journey
Diving deep into topics relating to building and growing startups, using an ambitious yet sane approach.
Thinking in years, not months
Not talking about the typical Silicon Valley startups (where fundraising is a goal in and of itself)
Building real companies with real customers who pay us real money
Not sacrificing our health or our relationships
As we look to 1,000 episodes and beyond, we decided to highlight the stories from the community as they share how the past 500 episodes have made an impact on their path to starting and growing successful (and sane) startups.
The cache of stories, lessons, real heartfelt moments are what really keep me coming back to Startups for the Rest of Us and why I recommend it to so many people. It's not just one particular episode or one particular lesson, it's the complete story arc of Rob, Mike, the team, and what they've built. It's an exciting time to be a small part of this journey.
— Matt Medeiros
Building a self-funded startup on the internet doesn't have to be complicated. We're making a thing, we're solving a problem. We're selling our solution to customers. Rinse and repeat. The more attempts at doing that, the more that we're going to learn and the more mistakes that we'll make, the more wins that we'll have.
— Brian Casel
What we discuss
2:26 – Launching MicroConf from the podcast
4:11 – The many types of episodes we've tried
7:18 – Why we think the show has worked
9:49 – How you can support the show
11:22 – Ian and Dan (Tropical MBA podcast) on the importance of the stairstep approach
13:33 – Ben Orenstein (Art of Product podcast) on the value of consistency
14:13 – Matt Medeiros (Matt Report podcast) says this podcast is the startup single source of truth
16:42 – Brian and Benedikt (Slow & Steady podcast) on small continuous progress over time
19:50 – Adrian Rosebrock (Listener)
20:16 – Jordan Gal (Bootstrapped Web podcast) speaks to the importance of perseverance
21:57 – Andy Baldacci (Effective Founder podcast) shares his experience with the stairstep approach
26:48 – Brian Casel (Bootstrapped Web podcast) on knowing there are "others just like me"
28:52 – Matt & Peter (Out of Beta podcast) on how they feel connected to the community
32:58 – Alvin (listener) loves the actionable, specific, and realistic feedback
34:58 – Shawn DeWolfe (Shawn DeWolfe Consulting) on how entrepreneurship feels attainable because of the podcast
Links from the show:
How can I support the podcast?
If you enjoyed this episode, let us know by clicking on the link below and sending us a quick shout out on Twitter:
Click here to share your number one takeaway from the first 500 shows!
Reader Interactions