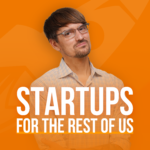 Show Notes
In this episode of Startups For The Rest Of Us, Rob checks in with Mike Taber on his continued progress with Bluetick. The final conclusion to the Google audit is revealed, and they check in with the .Net component problem, the podcast tour, and more.
Items mentioned in this episode:
Rob: In this week's episode of Startups for the Rest of Us, I catch up with Mike Taber. He'll give us an update on what he's been up to with Bluetick for the past five weeks. Welcome to this week's episode. I'm your host, Rob Walling.

This week on the show, we cover topics and tactics related to building and growing startups in order to better your life and improve the world in a small way. This is a show made by and for ambitious startup founders who want to build ambitious startups but want to stay sane at the same time. And our willingness, our sacrifice, our life, or our health in order to grow our company.

We want to make interesting things. We want to be constantly learning, growing, and evolving. We want to be in control of our time. I think that's a big motivation while a lot of us start these companies so that we can work on stuff that is super interesting to us. We're able to create and push things out into the world, do things in public, create opportunities for ourselves, and own our own destiny.

We have many show formats, interviews, hotseats, and listener questions. But every five weeks or so, Mike Taber, comes on the show. He and I co-hosted the show for the first 448 episodes. Now, he is spending a lot of time focusing on his startup, Bluetick at bluetick.io. He updates us on his journey. He's taking a social media hiatus, podcast hiatus, and he's really focusing on trying to grow the startup.

If you haven't listened to episode 470 and maybe even 465, you can get a little more background on what's been going on. This has been an ongoing conversation and you hear me refer back to things that Mike has been dealing with, fighting trough, and struggling with for quite some time. It was a good conversation this week. I think Mike's making some progress on some friends, not as much progress on the marketing side. You'll hear me bust this chops about that a little bit in this episode. Overall, I think you'll enjoy it.

Our big future of MicroConf announcement went live last Friday. I imagined you heard episode 474.5 that I put into the feed that had the audio content of that announcement. It was super fun to put together. It was one of those things that's super stressful. It is when you're launching something. It's one of these things that I couldn't talk about on the MicroConf team. We've been talking about and thinking things through about expansion plans for years, literally, but pretty intently for 5–6 months trying to plan everything out. Even just having a video, recording a video like that, having it produced, and having a moment where everyone watch at the same time was definitely exhilarating and it was an experiment for us.

We wanted to part toes into the water, but it came out really great. As always, thank you for all your support. We really are just looking to get more people to connect with one another. I hope to connect with you, but I can't meet everyone. The idea behind this whole community has always been connecting more of us to one another, which is exactly why we plan this expansion, and exactly why we're diving in headfirst in 2020 and beyond.

It's getting close to the holidays. I hope you're taking some time to think about what the new year brings and to spend some time with your family. I'm going to continue to push the episodes out every Tuesday. For now, let's dive into the conversation with Mike.

Mike, thanks so much for coming back on the show.

Mike: Hey, how's it going?

Rob: It's going pretty well. I always enjoy our conversations. I love circling back up with you and hearing what's going on with Bluetick.

Mike: Yeah, cool as well. Where do you want to start today?

Rob: You told me offline that you had a pretty big win this month. You want to tell folks about that?

Mike: Yeah. I was working through a trial with a customer. They were looking at everything because they wanted to use Bluetick for their team. They signed up for the $500 a month plan. It's a pretty big win. It's one of the largest plans that I have at the moment. I see that somebody signed up for that, went through some onboarding things with them, got all of their user accounts setup, and got their mailboxes added. I know that they were working on some integrations to do direct work with the public API for Bluetick. So far, everything seems to be going well. I answered a few support emails but no major issues to speak of, so that's nice.

Rob: Congrats. That's super cool to hear. I know that has an impact on your overall MRR. It's cool to hear. We really haven't had a big win like that in a long time since we started talking about this, so I applaud that and I hope to hear more about it next time we circle up.

Mike: Definitely. One of the things that it made me realize was that in terms of the team accounts, obviously, getting a $500 a month customer versus a $50 customer, that's a huge win. Not just a win. It's also a large revenue boost.

In the past, I've been looking at smaller companies where they've got anywhere between one and three mailboxes or something like that. But the level of effort for those larger customers is not really that much bigger. For this particular customer, they sell software which I hadn't have a whole lot of success trying to sell Bluetick to customers who were running a SaaS businesses. Even if they have a lifetime value of several thousand dollars. Even though those numbers tend to fit well with services company where they're selling something that's $5000, $10,000, or $15,000.

I think that the reason for that was more because I was looking at the types of customers who are selling. They're lifetime value was spread out over a much greater period of time versus the ones like this one, where somebody buys our software and it's a couple of thousand dollars right upfront. It just made me realize that there's probably a lot of other customers that fit that type of profile where their price point for their software is, even just the starting point is probably relatively high, and it will be worth talking to these people and say, "Hey, would you like to put an automation process in place such that you're reaching everybody who starts a trial?" I think it's just a matter of segmenting the types of software companies and what their price point is.

Rob: If you're listening to this and you fit that bill, reach out to us questions@startupsfortherestofus.com or you can hit up Mike. I was going to say DM you on Twitter, but you're not on Twitter anymore. I don't want to call out your personal email address on the show, but we'll absolutely get this over to Mike if you send it there.

Mike: It's pretty easy to find.

Rob: Yeah, you're email. You can contact Mike, singlefounder.com. I'm guessing you have a contact link.

Mike: I think it's on the website.

Rob: I guess they can just go to bluetick.io. That's what I'm going to ask. Cool, this is a great win. How can you get more of these? I don't want to dig into all the details of the customer, obviously, but what industry, why did they sign up, and how do you find more of them? Sometimes these things are anomalies, obviously. If you think it is, could be a repeatable customer or type that works for you? I think that would be a big win.

Mike: Yeah. I'm definitely going to look into that a little bit more once December is over. I've got a bunch of other things going on that I'm working on that are just taking time and effort to do. I just don't really have the bandwidth to expand the energy and focus to go after those other things. It's definitely something that I want to proceed and go after starting in January.

Rob: Cool. That was our big win. Tell me that this is not our big loss or our big agony of defeat moment, Mike. The Google audit, is it done. Is it done?

Mike: Yes, it is.

Rob: Yay!

Mike: Yeah, I know. No kidding. I've got the letter of assessment. I don't remember whether I had that the last time we talked or not. I think I was still waiting for it, but I got it back. As soon as I got it, I turned around and send it to Google. It was about a month later, I sent it to them, and they replied to the email that I sent with the letter of assessment saying they're still waiting for my letter of assessment. I was probably less than polite in my response because it was literally right below where they had written, "Where's your letter of assessment?" but the next day, they emailed me and said, "Hey. Everything is good. You're all set."

Rob: That's really good news. What sound effect should we trigger it? Is it people clapping? Is it glasses clinking?

Mike: I don't know. Maybe a car crash?

Rob: Yeah. It's been such a trainwreck. I'm happy for you. This is a second win. We're off to a good start. It can only go downhill from here as well.

Mike: Do you want me to wrap up right now and be done with it?

Rob: Yeah, that's right. No. I'm glad to hear it. It's been about five weeks since we talked. Did it take much of your time during that five weeks? Was it just a small blip?

Mike: No. It was just a small blip. I didn't have anything to do. Once I've got all the paperwork back, I sent it to Google, and basically just was waiting for them to come back and say, "Hey. This is all set." I think that I have heard that if you email them again, it basically puts you back to the bottom of the queue, so you're better off not saying anything which is just the most bizarre way to handle it, but it is what it is.

They probably work backwards from whatever's been sitting in their queue the longest. I get that but it still sucks to have to wait and not be able to ask, "Hey. There's this deadline coming up. Are you going to do anything with this paperwork I sent you?"

Rob: Cool. Let's move on from that. That means you have five weeks of undistracted work. Life never gets in the way like getting sick, or thanksgiving, or kids. Being home from snow days, I'm sure, happens or whatever. I haven't had that yet this winter but I know it's coming.

Talk to me then. There's been a recurring theme around this untestable sealed .NET component. I brought it up multiple times about, "Hey, are you going to get rid of it?" and you said, "Yes." Last time we went back and forth of, "Should I be doing sales and marketing or should I be getting this done?" we actually had a comment from a listener, Ralph Corderoy, on episode 470 which was the last time we talked.

He said, "Regarding ditching the .NET package that makes testing hard, it hasn't been made clear why the application code needs to change. A re-implementation could take the subset of the API that the application uses and provide just that; none of the application code would know or care, and then whatever's needed to 'peek through' for testing would be added. This seems much simpler than altering the application code, to use a new API that would need designing in parallel, thus take less time and be easier to justify."

Mike: Yeah. It's not an actual. It's not an API. It's an actual library that's compiled into Bluetick that's the problem.

Rob: Got it.

Mike: I'm not sure I completely follow what he means by some of that.

Rob: I think if you have coded it to an interface or something that you have created. He's saying that it's an internal API. But it is interesting. The bottom line is you said, the way it's done, it's a tremendous amount of work because you have to read a bunch of stuff in the database. Do you really need to redo this stuff in the database, by the way? Would it be possible to not do that?

Once you switch the component, it has to be. When I say possible, sometimes you have a naming convention that you used the vendor's name in the components name in it. If you switch it over and it's a new component, it's confusing why do we have that legacy name. The code would still work, right? That's the thing I'm thinking.

Mike: Yeah. There's a decision that I made early on to save some time, which was to take the component that they have and dump it to a JSON file, read it back, then put it back into the object. That's part of the problem. It's not even just an interface. It's the entire component. It's being sort basically as a binary blob. It's not nearly as easy as it could be to rip that out.

I have written a bit of an interface around it to abstract it a little bit more, to make it easier to use a different component. I'm still going to have to convert all of those things in order to completely rip it out. I need to go through every single one of those blobs and convert it into whatever the new storage format happens to be. It's not just a simple rip and replace.

Rob: Totally. I have two questions on that one. It's Ralph's final question on his comment from that episode. He said, "What's the minimum that can be done to provide regression test to allow development to continue […]?" Is there a scope of less than what you described or is it all or nothing?

Mike: It's probably all or nothing because of the naming convention rely on that component. Since I don't have access to the source code for it, I can't just copy things out. I can probably decompiled it and use them as it is, but it'll still be really, really hard. It's just not easy. A lot of that stuff is integrated into my unit test, so I have to rebuild a bunch of that unit test as well.

Rob: Right. I'm not sure that I want to rehash this decision, but the more we talk about it, the more I'm thinking, "Do you really need to remove this?" You said that it was that you couldn't test it because it was sealed and you can't write unit tests around it or something. I'm just thinking, is that big of a deal? Maybe you just live with it. Last time we talked, you said it would be a week. At a best case, it would be a week of data, of rewriting, and the blobs of data manipulation.

Mike: No. It'll be a week of just a data migration. Once work is done, just to migrate the data is going to be a week.

Rob: Right. It's like two weeks or three weeks of full time work to get this done. When I hear that, I think, "Ouch. How important is this?"

Mike: There's other things I want to do including have a separate database for each customer for their mailboxes to be able to do more, to allow people to mind their mailbox for other information that they can't get any other way. There's literally no way to do certain types of queries in a mailbox. Even if you go into Gmail and start typing certain things, there's literally zero way to get certain queries to work.

I would like to be able to surface some of those things for Bluetick but some of those features are so far off that it's not worth it for me to go all the way down that road right now. I'm kicking at it a little bit to get certain pieces of it out, but I don't want to go down the rabbit hole of implementing software the next three or four months in order to get everything working in the way I want it to work and an effort to implement features that are probably a year off anyway.

I'm trying to rip out this particular component so I don't have to deal with it in the future. Then I can test things that I need to. Right now, I have a hard time testing email headers in certain ways, and going back to previous emails. It's just harder for me to do that right now because I don't have some of the infrastructure in place right now. I can't put the infrastructure in place until I rip this thing out.

Rob: Got it. It's a tough one. It's tough to have a code that you have to redo that doesn't provide value.

Mike: Without walking you through the specifics of it, it's really hard to describe.

Rob: Yeah. You have decided to rip it out. The last time I was pushing you to, "If I were you, you could ignore this." Obviously, you need to do sales and marketing because you need more customers to make all of it worthwhile, frankly. Having that legacy hanging over you head, the tech debt, it's going to slow development. It makes you not want to build certain features that you may want to build, and I was now more on the side of, I would eat it during this holiday season. I would eat it. Personally, I would eat the time. But I'm 55/45 on that or 60/40. I'm not 95/5. I think an argument can be made both ways. Where do you land right now? Have you started working on that? Or are you going to replace it soon? Or are you just going to punt it?

Mike: I started working on it a while ago, but it's just kicking out here and there, trying to abstract things a little bit more to get further along without breaking anything that's already in place. There is a second interface in there to replace it but I've got to write some of the code that's going to pull all the objects.

Right now, what I'm doing is I'm in a holding pattern probably for another week or so. Right now, I'm also still working on some of the additional multi-user functionality for that larger customer that I had, which I prioritize above pretty much everything else, to be perfectly honest, for obvious reasons.

Rob: Yeah. If it's revenue, that should rise to the top. That's the thing with .NET. My concern, Mike, is I think you have a history of letting things hang around for too long. Letting them linger, not just diving in doing the work, and getting it done so that it can be behind you. I felt like the Google audit was one thing. I know you could've done that fast. We've been talking about Google audit for how long? Seven months? Eight months? This .NET component, too. It's like six, seven, or eight months.

To me, if it's that, if we have been talking about it, if it's been that important that we have, then it's time to resolve that thing. To get it off. To get it off the to-do list. It feels like a shadow or a cloud that's hanging over your head. I just don't want to still be talking about that. I don't want you to still be talking about that in this spring or next summer.

Mike: I totally agree. This piece of it has to be resolved. For the Google Audit, I was holding off because I didn't feel like I had enough information to be able to make a good decision either way. I know that you're always working in a realm of uncertainty where you don't necessarily have all the information. Waiting to get more information isn't always going to give you the information you need to make a better decision.

I also recognize that Google was throwing this out there to everybody and saying, "Hey, you have to do this." Everybody was kicking and complaining about it. Nobody really knew what to do or what it involved.

I had a few conversations with other people. Before I went through the process and before I made the decision to go forward with it, I got at least some clarity. But none of that clarity I got was from Google, which sucks. There's not a whole lot that I can do about it. And even since then, I had conversations with other entrepreneurs who've gotten in touch with me, and say, "Hey. I know you went through this. Can you help us out? What it is that you had to do?" I've been able to help them, which is nice to be able to do. At the same time, I feel like Google could've been a lot more forthcoming with a lot of the information. They just weren't.

Rob: Oh, we know, Mike. We've been through it with you. You know what? I'm happy. I think a win for all of us is that I'm not going to ask about Google audit next time. That's checked. It's done. I want to get there with the .NET component. I know we can't just wave a magic wand and make it go away. It's something that I want to see we move past when you can. Obviously, I would prioritize the customer features, too. Anything's that driving revenue would be number one.

Mike: Totally agree.

Rob: Someone circled back, they wrote in an asked if you ever took the Enneagram.

Mike: No, I didn't. I took the wrong one.

Rob: You took a wrong one, yeah. It was a personally test that tells you what motivates you. I was saying for me, it was creating things. I have worked with folks who are about achievement and they were more of the Jeff Bezos role, where they didn't really need to build or make things. They just wanted power. I'm not just, but they wanted power and achievement and that's what made them happy.

Obviously, it's not a cure-all or whatever, but it's an interesting thing to learn about. The test is in our show notes, the link for the last episode, but I think a couple of people called in and said, "Yeah. I really like to know what motivates Mike and all that."

Mike: So, you're telling me I got to go in the show notes and look for that?

Rob: You got it. I can send you the link. I'll send you the link and I'll reimburse you for the $10 or whatever it takes, guys.

Mike: No, you won't.

Rob: I'm teasing, I know. Send me you're Venmo, Mike. There were some marketing stuff you were talking about. There was a podcast tour. You had someone sending emails to try to get you on some podcast. As I said, I didn't think it would be a long term impact but certainly getting out there, it's easy for you to jump in a podcast, and wondering if you've had any traction with that approach.

Mike: Yeah, I have. I've been in a couple of podcasts over the last month or so. Still working on other ones. I was on Sales Tools, and also on Jane Portman's UI Breakfast. That one's not going to be out until next month, I believed. I've been on those two so far. There's a bunch of others that I started reaching out to, and we'll see how that works out.

Rob: Okay. Two sounds okay. How many emails have been sent? That doesn't sound like a ton of traction.

Mike: No, maybe five or ten tops.

Rob: How did that happened? You hired a contractor to do it, right? Two months ago.

Mike: Yeah. Most of the stuff's set up. I'm just holding off on hitting the button. Actually, my mastermind group tomorrow, we're meeting up. One of the things that we have is, "Hey. That button's going to be click tomorrow to just blasting these things out."

Rob: Stop holding off on hitting the button. Why are you holding off on hitting the button? We talked about it last time. I was like, "Cool. You're getting ready?" You were like, "Yeah. I'm going to do it." Five weeks later, why hold off on that?

Mike: I don't know. Honestly, I almost feel like it was one of the reasons I built Bluetick to begin with. People don't want to hit that button. It's just need to be hit, to be perfectly honest. Honestly, my mastermind group member, he's just like, "Yeah. We'll just share control, just go in and click the button for you."

Rob: Yeah. Consider your chops busted here on the show that you did not hit that button in the past five weeks. I really thought that that was an easy thing. It mostly set up. That's something that you've got to be doing with these other stuff. It's easy for you to do. I just feel like it's one more step, it's one more action to get you going.

The other thing, please tell me you hit the button on this one, Mike. Cold email. You said you had 900 addresses from some LinkedIn connections. You have prior Bluetick cancellations. You have some sales leads that never converted. You just had a whole list. It wasn't even cold, it was warm, and you're going to bucket them in and start getting back in touch with them.

Last we chatted, that was going to start. You hadn't done it because MicroConf Europe. I said, "Cool. You're going to get that going." You generally agreed that, "Yup. This is the next thing to try to get more prospects." Tell us where you are with it.

Mike: Yeah. That's a total fail.

Rob: Oh no. You're killing me.

Mike: I know, For whatever reason, I feel like I don't want to start stuff in December when it comes to that stuff. I don't know why.

Rob: It's December 12. I think we last spoke, November 5th, maybe. Give or take. The three weeks before Thanksgiving, I think, are still good. I think starting stuff now it's December—

Mike: Really?

Rob: Yeah, I do. November was always typically a decent work month. It was never the best, but we always had decent growth. Whereas in December, things tended to level off with my apps. Now that we're mid-December, there's no reason to start doing it now. I don't think you want to book a call the week of December 15th. This is what we originally talked about. I was like, "I don't want you to start this Mid-January," which is now where you're going to wind up.

Mike: Yeah.

Rob: It's a bummer. It sounds like you don't feel good about it.

Mike: No, I don't. I don't really have anything to offer up for either than it just didn't get done. I should have. I can point out all sorts of things as to why I did or didn't, but at the end of the day, it just didn't get done. That's where things are at.

Rob: Do you think it'll get done before we talk next time? We'll talk mid-January.

Mike: It'll definitely get kicked off. Yeah, it'll definitely get kicked off by then.

Rob: "It'll definitely get kicked off by then." I love that. I am so quoting that back to you. I'm actually going to go ahead and make a note of it, that sentence, here are the notes.

Mike: Awesome.

Rob: Last episode, you had launched the Zapier integration, I believe. You want to update us on that? Is that yielding anything? Didn't you need a certain amount of beta users in other for it to be public or something like that?

Mike: Yeah. Right now it's in early access, but I need to get to 50 users in order to do any cold marketing campaign with Zapier. Until I get to 50 customers, I'm probably not going to get to 50 users for it, it would just be difficult to do that. There's probably ways I can hack it to some extent but I got to get to the 50 customers first.

Rob: I wouldn't do that. I would just try to do it organically. Okay, so we'll table that one. That one will be tabled for a while, actually. Something we ran at that time that we talked about last time was personal stuff like motivation, sleep, exercise. How was your motivation then over the past five weeks?

Mike: It's been generally good, but I'll be honest. I wish I didn't have to struggle so much when it came to front-end code for Bluetick. Part of it is just lack of familiarity with some of the CSS that's in there because I'm using libraries and templates that I got from WrapBootstrap. Some of it is just harder for me to do simple things than I would like.

I've started throwing things directly into the CSS, the style that I'm supposed to use in classes and stuff like that. I'm like, "You know what? I just don't care. This just needs to get done. It just needs to work."

Rob: That's a bummer. Do you have any budget to hire a front-end dev so you don't have to be mired in it?

Mike: I was actually thinking exactly that. Earlier today I spent two hours fighting and trying to get an image to display in the right place. What I'm thinking of doing is when I run into certain things like this, just go to my bug tracker and add them in there, so that it says, "Hey, this needs to show up in this particular place. I can't get it to work," then hire somebody to go through and get a lot of those things done for me so I don't have to do it. I don't have to spend my time and effort trying to figure out how to get it done.

Rob: Yeah. Any sticking point. We know you're bootstrapping. We know that there's not a ton. You don't have so much revenue that you can hire anyone full-time or anything like that. If this is a point of friction, think about the questions I just asked, "What's your motivation like?" You're like, "It's been good except for front-end code."

Front-end code is not just a technical challenge. It sounds like it's something you are not enjoying. It sounds like it's something affecting motivation. It could really solve a lot if you were able to pull it off and bring someone in part time. Even if it is 20-40 hours a month. It could feasibly reduce the burden on your mental state as well as allow you to move faster.

Mike: Definitely. I have no doubt that somebody can get it done probably five or ten times faster than I am. Just to say, "This is exactly how to do it." That would be perfect.

Rob: You're thinking about that. It sounds like a good idea. Is it something you're going to do? We can bat ideas around, but if it's not a good idea then don't. If it is a good idea, should that become a priority? For me, it sounds like it might be. Then, you have to take the step. You have to go on Upwork or work your network, you have to find that person, vet him and all that stuff.

Mike: I think that's the challenge I have. How much time is that going to take versus trying to do it myself. I don't know. I feel like I'll be better served having somebody else to do it knowing that it's going to take some upfront time and effort. It's just going to push off some of the time frame of the implementation for certain things. I get images completely in the wrong place. I really don't want to push a live, but at the same time, maybe it's not the end of the world.

Rob: Sure. Again, if I were in your shoes, which is how I like to think about and couch when I do offer advice, the concept in my head of what you're working on, how hard things are, and which you do and don't like, I would look to hire someone. I know you're focused now on getting features done so that the customer you just landed sticks around. That would be my number one priority. I would not let hiring derail that.

You're not going to be doing any marketing over the next three weeks, four weeks, because hold email is not going to work with the holidays. There's all these stuff. You have this time to crank through some things. To me, the big customer support is number one. Hiring, probably number two. And that unsealed .NET component in my head would be number three.

The hiring, an interesting thing you can do, whether you go to Upwork or Authentic Jobs or WeWork remotely, I have to think of which of those allow part time. Writing up a job description for front-end dev doesn't take that long. Maybe it takes you an hour to do it. You can use an old job description or whatever, old posting you've used. Post that.

If you post on a higher-end job board, you tend to get higher quality but a lot fewer candidates. It shouldn't take you a ton of time to vet. Again, that would be my second or third priority. Probably second priority that I was doing after supporting that big customer. I will say that and leave it at that.

I'm not trying to badger you to hire someone or anything like that. Or forcing you to make a decision. But, I don't want your motivation. I know what it's like to have crap on your to-do list that you don't want to do and don't like to do. I still have that. We have it on our whole entrepreneur career. It's trying to minimize that. It's trying to get less and less of that as you move forward.

I literally do look at my Trello board once a week and say, "What of these things I am procrastinating on because I don't want to do them? Can I just archive these things?" We have a VA executive assistant. "Can I hand it to anybody on the team such that I enjoy my life more?" I think that's important.

Mike: Yeah. For me, mentally managing the trade-off in runway versus how much am I going to be paying for this, is difficult as well. I only got so much runway to work with. At the same time, I've got to grow the business and anything that I spent is going to take away from that. It's like, "All right. How do I manage this?" If the complete business was cash flow positive then it wouldn't matter so much, but including my time is definitely not. That's where I struggle a little bit, like how much should I budget with this stuff? And how much money should I be spending on certain things?

Rob: Sure. That's without seeing your finances. Obviously, we can even begin to conjecture that. So, let's leave that one at that. I'm curious to hear where you wind up with it on the next episode.

How about sleep? Overall, your sleep had gotten much better over the last several episodes. Going back nine months, it was terrible, and it has gotten better. How has it been over the last month or so?

Mike: It's been touch and go. I've been sick for at least the past week or so. My kids were sick the week before that. Then, it was Thanksgiving and lots of other stuff in between. It comes and goes. Sometimes it's great and sometimes it's just not so much. I would definitely say it's generally better than it was six months or nine months ago, but I think I could always be better.

Rob: Yeah. As we know, sleep impacts everything. That impacts your ability to focus. It impacts your motivation during the day. It impacts a lot of stuff. That's something I know you're keeping an eye on it, but it's super, super, important.

Mike: Yeah. My doctors have me up to five medications again, I think.

Rob: Are you? Oh no. That's not good.

Mike: Yeah. The past couple of weeks have not been helpful. I get off with a bunch of stuff. I go back and the doctor's like, "You need to be on this and this." I was like, "All right. Fine." I'll come off with the two of them in about a week. We'll see how things will go.

Rob: Yeah. I'm just going to let that one go. I'm not going to dive into that. Exercise? How about that? You're exercising twice a day at some point.

Mike: No, no, no. Not that much. It was three or four times a week.

Rob: Okay. I think one day we recorded, you said, "I've exercised twice today." I think that was the statement. You didn't say you were doing it twice a day.

Mike: There might have been that.

Rob: How has it been though?

Mike: The past two weeks have been off. I think that's mainly because of Thanksgiving lumped in there but I've got to get back to the gym probably this coming week because I've been sick for the past week or so. I think I got there once or twice last week. I think it's just once at the very beginning of the week. Then, I haven't gone at all this week. I gotta get back there again next week.

I have the motivation to do it. It's just lately, I haven't had the energy because I felt terrible. Even right now, my sinuses are all congested. I'm a little loosey from the meds that I'm on. They affect your blood pressure, so the doctor warned me. She's just like, "Yeah. Be careful walking up and down the stairs." My god, this will be fun.

Rob: And you realized the reason I asked you about this stuff. I asked you about motivation because: (a) you're interested and I want to hear what's going on, but (b) I think it's a good touch point for you to think about every week or four weeks or five weeks when we discuss to really think, "How is my motivation?"

Exercise's probably more of an accountability thing that you think yourself the "next time Rob and I chat on the podcast." I hope you feel a little bit of friendly pressure to keep doing it. I think it's super helpful for all of us to have some type of exercise in our routine.

Mike: Generally, I'm still keeping track of everything that I eat. That's been going really well. I'm down at least 10 or 12 pounds or so over the past three months. That's been going well. I'm at least losing weight like I have planned on doing. Maybe not nearly as much because I haven't gotten to the gym nearly as much.

Rob: Right. Lastly, we'll wrap us up with differentiation. "I need to talk to some of my customers more." We had talked about, should you change your positioning? You brought up like, get things you need from other people like a W9, for example. You're going to have more conversations with customers to figure out if you need to add features to be unique, and then write the code to implement that.

Last time you were still noodling on stuff. Before that, you're still noodling on stuff like, "I'm not sure yet how to make this unique. I'm not sure what my angle is." I had said for not doing that, you need to have a unique traffic channel, would be the best marketer just to get people on top of the funnel or you need to have that unique selling proposition that differentiates you, the positioning that means, "Oh, at least a subset of people really need what I have and pretty much no one else has that." I'm curious where you are with that.

Mike: This leads into something you and I have briefly talked about before the episode. We're probably leave this off a bit. I was talking to somebody about possibly doing an integration that will provide a fair amount of that file collection capability. We only have one conversation so far, but their product is completely API-based. It would probably not be too difficult to get it to work with Bluetick. I still have to go and talk to a couple of customers to specifically know have that particular pain point of being able to collect files from people on an ongoing basis.

I just had that conversation with him earlier this week. Now that I've had that conversation—it's actually been yesterday that when we talk—I have to go through, go back to those customers, and say, "We're just thinking through this. Is this something that would be of interest to you? Will it make your life easier inside of Bluetick? If so, do you also know anybody else who has a similar type of problem, where right now they've got things hacked together in Bluetick, but with an integration like this, it might be possible to make it a much smoother experience? If so, I want to know if there are other people who would benefit from it and what those people like like? How to get in touch with them?" Once I know that stuff, then I can decide whether or not to actually build it and do that integration.

Rob: Interesting. It sounds like a one-off thing. It's not like you're actively reaching out to customers and having conversations. Or is this an outreach thing from you? Or was it an outreach from them?

Mike: For the integration?

Rob: Yeah. For this. I think you said that there's a customer who probably needs that or a potential customer.

Mike: Yes. They're making it work right now. They're just basically asking people in an email. My idea was to basically bake the functionality directly into Bluetick, so when they send the email, they can say, "Go to this page and upload the five things that we need from you." This other tool can do those things. If I can integrate with that other tool, then I can provide that to my customers like a white label thing, but it would get me further without having to write all that code.

I would have to write integration code, but I wouldn't necessarily have to write this whole other tool to collect all the files and everything else that goes with it. I'm still noodling on that but I want to talk to the customers, and say, "Does Bluetick serve your needs right now? Or will something like this be better?" Does that make sense?

Rob: It does. This is it. When you have these small numbers in their early days, it's trying to take one instance, extrapolate, and ask, "Are there any people like this?"

Mike: Extrapolate it from a single data point is not helpful.

Rob: Yeah, but it's what you have to do right now.

Mike: I've got one kid. Thirty would be great.

Rob: Yeah, exactly. That's all I have today. I think we covered pretty much everything. We have some wins. We have some not so wins. Overall, how do you feel about the past five weeks? Does it feel okay? Feel good? Great?

Mike: Okay. There's been some high points with the Google audit getting done and adding a large customer, those were fantastic. Low points with things like having a deal with a front-end CSS code and a few other things that just haven't been done, some of the marketing stuff I wanted to get done.

There was one customer. I wouldn't want to call him customer because he signed up. It was the day before Thanksgiving or something like that. He signed up for an onboarding call. I was like, "Yes!" Then I looked at the time of it. It was 4:30 on a Wednesday afternoon. It's literally the day before thanksgiving. I was like, "All right, fine." Then they ghosted me, didn't showed up, didn't respond to any of my emails. I reached out to him several other times. Then, the billing went through. 12 minutes later, they asked for a refund. I'm so upset.

Rob: Yeah. That's a bummer. That's the hard thing about being solo. You run into stuff like that and you don't have anybody else to handle it. I'm sorry to hear that.

Mike: That's an obvious low point. That's like a kick right into the teeth. I really tried to help out and tried to do something. Of course, the cancellation email was like, "I DIDN'T WANT THE SUBSCRIPTION." It was all in caps. I was like, "Come on. All right, fine. Just refund. Bye." That's it, walk away. Get something else done.

Rob: You've got to move on, wipe your hands off, and be done. That will certainly happen.

Mike: I have to make a conscious effort of dust my hands off and just walk away. I'll be like, "All right, whatever. I can't make everybody happy."

Rob: You can't get hung up on it. You can let it ruin your day but you shouldn't. These are the ones where you really have to shake it off. It happens every so often. Sometimes more often than not, everything on your customer base. You've got to move past it. Sounds like you've got a good head about it.

Anyway, let's wrap up. We will catch up with you again after the New Year and hope things go well over the holidays.

Mike: All right. Talk to you soon.

Rob: Take it easy.

We'll talk to Mike again in four or five episodes. Hope you enjoyed the conversation. I will talk to you next Tuesday.

If you have a question, we have a Q&A episode coming up with Brian Castle. If you have a question specifically for him, he knows productized services. He's launched a couple of SaaS apps. He was essentially a non developer that taught himself how to code in order to have more control over his ability to launch SaaS apps, or any other questions. I'm just going to pull out ones that I think he knows about. You can email them too at questions@startupsfortherestofus.com or you can always leave us a voicemail at 888-801-9690. We have a theme song and it's actually an excerpt from a song called We're Outta Control by MoOt. We use it under Creative Commons.

In any pod catcher, you can search startups, and we're typically on the top 3–5. Go on in the internet and search for Startups for the Rest of Us and you'll find our website that we recently redesigned maybe three or four months since then. You can check that out. We have full transcripts of each episodes within a week or two. Those going live, thanks for listening. We'll see you next time.

Reader Interactions