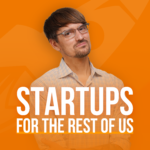 Show Notes
In this episode of Startups For The Rest Of Us, Rob talks with Shai Schechter of RightMessage, about his amazing launch and then finding himself near bankruptcy and how he was able to right the ship.
Items mentioned in this episode:
Transcript
Rob: In this episode of Startups for the Rest of Us, I follow a journey from an amazing launch, to near bankruptcy, to profitability with Shai Schechter of RightMessage. This is Startups for the Rest of Us Episode 472.
Welcome to Startups for the Rest of Us, the podcast that helps developers, designers, and entrepreneurs be awesome at building, launching, and growing startups, whether you've built your fifth start up or you're thinking about your first. I'm Rob and today with Shai Schecter, we're here to share our experiences to help you avoid the mistakes we've made.
Welcome to this week's episode. I'm your host Rob Walling. Each week on this show, we look at ambitious startups, founders who are looking to make a tiny dent in our corner of the world and maybe that only impacts the five people around them or the thousand people that use their app, but it's folks who want to build interesting things and have a greater purpose, that is around building something larger than themselves, but they are not willing to sacrifice their life, their health, or their relationships in order to do that.
These are not the typical Silicon Valley startups where fundraising can be a goal at itself and where people build slide decks instead of building businesses. We want to build real businesses with real customers who pay us real money. Along the way, we like to be meticulous and disciplined such that we can build these businesses over and over. We find repeatable ways that work over and over and it's not just a luck shot. It's not hitting the startup lottery that allows us to build successful companies.
I just got back from a three days on the North Shore of Lake Superior. That's about a three hour drive north of where I live in Minneapolis and I got a little room in a lodge with a fireplace and a Whirlpool tub. I had this great view of Lake Superior and you can't see the other side of Lake Superior because it's so big. Aside from the waves, when it gets windy, there are only two-foot waves, three-foot waves. Aside from that, it really does feel like you are on the Coast of California or the Coast of Oregon. It's this coastal feel to it.
It was great for me to take a step back and to basically have a personal retreat and to reflect on what's been going on over the past 18 months. I used to take retreats like this every 6-12 months. Something Sherry and I have both done over the years. I've really fallen off the wagon in terms of doing that to my detriment. I don't remember the last time I took even three days away from the family just thinking. It was either 18, maybe 24 months to go. I really did enjoy my time away. I feel like it allowed me to think. Of course, some work stuff crept in, but I just wrote that down or sent it to my Trello board.
The deeper thinking, the high level thinking about both my personal growth along with growth within the family as a father and a husband, as well as growth at work and where we are taking TinySeed and Microconf and the podcast over the next 12-24 months. That was the high level visionary thinking that I really wanted to get done and it was super fun. I like thinking long-term and then coming back all motivated.
So, here I am back in town and I'm raring to go tomorrow morning once work kicks off. While I was off at the North Shore with crappy wifi, I recorded this interview with Shai and I think that Zencastr did it's job. We'll know in the final recording, but I think it will come out and you won't even notice that there were times where it came in and out and I eventually had to pair with my phone.
As I have said before, the show must go on and that we should appear every week on Tuesday and even some weeks on Thursday. I hope you have been listening to and enjoying TinySeed Tales. If you haven't already pinged me about Tiny Seed Tales, if you listen to it, I would love to hear your thoughts, positive and constructive. You can Twitter DM me or frankly, you can write into the show. I read all the emails and you can say, "I don't want this played on the show," but questions@startupsfortherestofus.com will come directly to us.
I enjoyed this interview with Shai Schechter. You probably know him as a co-founder of RightMessage. He and Brennan Dunn, who is the other co-founder of RightMessage, had met back in 2014, 2015 via Brennan Dunn's Double Your Freelancing Community. Shai actually did some consulting work for Brennan and met him for the first time in person at a Double Your Freelancing event in Sweden. I know that they've connected many times in person at MicroConf as well, as they both come to a lot of the MicroConfs that we hold.
You are about to hear the story of RightMessage which started as a conversation in 2016 about productizing what basically Brennan had hand-coded for his own purposes. Shai had been working on similar stuff for his clients and they frankly threw out a proof of concept pretty quick on Twitter and for the next couple months, they validated the idea, trying to build an audience, figuring out if the idea would fly.
In the first half of 2017, they had given it a name, bought a domain name, and they were trying to get $10,000 in pre-orders, basically just beating the drum and building the audience. By June of 2017, Shai and Brennan had a crude product that beta customers could log into and they could use in a rudimentary fashion. As I like to say, we are going to join the story in progress. That's actually something I like to do in these interviews is to try to get past the less relevant details and really get to the meat of the interesting pieces of it rather than telling the entire origin story. We are going to join this startup story already in progress. I hope you enjoy the conversation with Shai as much as I did.
Shai, thank you so much for joining me on the podcast today.
Shai: Thank you for having me.
Rob: We are going to dig into some RightMessage story today. I think a lot of folks listening to the show will be familiar with RightMessage either from having followed Brennan for years or I've mentioned it a few times as one of my angel investments and bootstrappers, but you did a really well thought-out talk at MicroConf Europe just about a month ago. It was well-received. It was the story, the first year, a year-and-a-half of RightMessage. I realized that the story had the beats, the ups and the downs, the thrill of victory, the agony of defeat, all the things that make a good startup story. So, I wanted to bring you here to talk a little more about it. We'll touch on some points that were on the talk and obviously go deeper on a few today that I'm super interested in.
Shai: Cool. Sounds good.
Rob: To kick us off, we talked offline before this and you mentioned in June of 2017, you have a crude product the beta customers can log in and play around with, but really you took the next six months to do the slow launch or the customer development. Essentially with those early users because six months of building is not actually that much time, especially if you are still doing it part-time and transitioning into it.
Your official launch was in January 2018, so it was just about two years ago. What was that like to finally be able to launch it? What was your confidence level at that point based on this six months of early access or beta and then finally be able to say, "We'll launch. We're sending the email. We are doing the big Twitter storm. We are pulling out all of the guns and doing the big splash"?
Shai: Honestly, we were fairly confident about it just because it's been so long building up that audience. We had people who were trying to get into the beat even when we weren't letting people in. It was that feeling of people banging the door down, people were really wanting it, and that was a good feeling. It meant that we were confident going into the launch; we'll talk about how it was maybe overconfidence later. At that point, everything was really good.
Rob: That was right around the time you guys raised an angel round, right? A little more than $500,000. I participate in that and if my recollection, that was late 2017 early 2018. Was it before you officially launched?
Shai: Before officially launched. That was the second half of 2017. We had an email from one of our very first customers basically saying, "You are probably going to say no to this and you are bootstrappers, but I think you should take money and here's why," and he laid a bunch of reasons. I showed the email in the talk where he was like, "I think you should take half a million or a million or whatever," like this very casual, "let's throw money at this."
Rob: And to us as bootstrappers, we're like, "What do you mean half a million, or a million, or whatever?" These are huge numbers. Having extra $10,000 or $20,000 a month to spend on a product would be amazing, but he is talking huge numbers. What was that conversation like then because obviously you and Brennan must have sat down. Was it an instant no? Did you have to grind that out between the two of you like, "Hey we should." Did you ask for advice? What was that thought process like?
Shai: At first it was an instant no. It was a very easy, "We bootstrap." That's what we know. We don't like the idea of institutional money. We're talking about angels and the seed at this point, but we don't like that idea. It's not for us. It's great for some people, some businesses, but that's not what we do. We broke it down into rather than just a blanket "No," we wanted to say, "No, because…," so we broke it down into all these things that we've seen as the downsides of taking money.
We didn't want to give up control of the business. We wanted to control where it was going. One of the points was that we always want to be doing what's best for our customers and the audience that we built. We don't want our shareholders who are trying to get us to go to a different direction that's going to benefit them and maybe not the best interest of our customers.
Another one was that we were moving really fast on building this, building up demand for it. We're going to have to stop doing all of that if we are going to put together a pitch deck and going out to investors and finding them. We laid out these reasons to him and he essentially shot each one down one by one. Not in the way that they are not legitimate, but in the sense of we can work around them.
Where we have said, "We want to have control," he said, "Okay, so you'll take the money, but the investors will not have any control. They won't take any board seats, they won't have any say, you'll do what's best for your customers, you two will still be in complete control of what's happening. You don't want to spend that time pitching, you won't have to." He was like, "I'll put together a syndicate of these investors that I know. You won't lift a finger. We will get this money together for you. You will give away a percentage of the business. We'll […] safe. It's an easy way of raising money." He just put a line through each of our objections.
At that point, I think it would be naive to say no for the sake of it. It was always about, "I don't want those consequences," and when those were taken out of the table, we were like, "Actually, this money would accelerate us. It would help us move faster. We could hire a few people. We could do things quicker than the two of us can," so we said yes.
Rob: It's really interesting when you do that, when you remove the dogma or the binary nature of yes, you should always take funding, no, you should never take funding, but when you actually start looking at the reasons, it was like 20 years ago, we being the bootstrapper MicroConf grouch, we probably have not taken funding because the only funding available was institutional from venture capitalist and in those cases, all of the things you raised, all of the objections you raised were true.
You needed a deck. You needed to spend six months raising […]. You needed a huge amount of money. You lost control, often they would have more board seats. It was not just a founder-friendly environment, but I've been beating this drum for several years now. There are opportunities these days to raise these small, not institutional rounds, as you said. It was from people like the CEO who emailed you. Somehow, I got involved at some point. I don't even know if I mentioned if Brennan mentioned he was raising or if I approached him or what.
It's a bunch of small cheques. I imagine it's a bunch of other SaaS founders and your network, the two of you that came in. They really don't put the pressure on you that maybe we all think would be suddenly be on you having raised a around.
I'm curious. We are going to walk around the rest of the story and how the funding impacted some of your decisions, but looking back, do you regret raising the money. Do you think it was the right choice?
Shai: I don't regret taking the money. I regret some of the decisions we made spending it, but I don't regret the fact that we took the money. I think that was a smart move.
Rob: That really kicked you in. You guys raised just over half a million dollars. What did that feel like? Again, as a bootstrapper, to look into your business bank account and see half a million dollars in there. Was it like the world is your oyster right now? We are basically launching here and the next month we have a bunch of demand. We have people saying, "Take my money please," and we have half a million in the bank. Talk me through with that. How was that like emotionally?
Shai: It was great. I don't think there's another answer I could give to that. Anyone would enjoy that feeling. Everything was going right. You get all these extra validation. The fact that people were willing to put that money in is just more validation. Everything was good. There's money sitting on the bank. It was exciting.
Rob: Sitting on top of the world. In early 2018, you mentioned in your MicroConf talk that the first four months after the launch, everything was growth. It was the first half of 2018, it was 15% growth, 25% growth, 45% growth. It sounds like that feeling of being on top of the world is just continuing. Then in mid-2018, the wheel started falling off the bus. Talk us through what happened there.
Shai: The nature of it was, we get to launch and everything. We're like, "This was going really great." Launch week went really great and then a few months after that was just every month we were growing more than the month before and we had hired a few people by this point. We're spending a lot, but if our growth carried on how it was, we would be back to profitable long before we run out the runway.
I remember saying that time when we took the money, "We are not even going to get through half a million dollars." That was the minimum that was even suggested for us to take. We're not even going to spend all of that. We are not going to get anywhere near zero. As it kept growing we were like, "This is all going good." We started spending more money and we started growing faster and then, churn caught up with us. June 2018, MRR was the same it had been in May and that was very new feeding for us because we have been growing. I think April to May, we grew by $6000 MRR and then May to June, we flatlined.
Even then we were like, "Okay, it's kind of normal. I've seen this happen after a big launch." All that launch audience is now used up. People who had been following you since before you launched have now bought in and it's not uncommon for that growth to slow a little bit. The problem was a few months after that, it carried on flat lining and we were like, "Okay, maybe everything hasn't fallen into place perfectly as we thought."
Rob: I've seen this multiple times actually. It's pretty common, as you said, after a launch. If you have a lot of growth, you are adding a lot of people in the top of the funnel, you're adding a lot of people getting on boarded and often times, your highest churn is in the first 60 days of someone being in your product. If you are growing and suddenly you flatlined, that churn, the high churn early days takes about two months to catch up with that. It's like this massive wave that hits you hard. If you keep growing, you'll never notice it, but the moment that you slow down, it can overwhelm you. What I find interesting is in your MicroConf Europe talk, as I understood it, it wasn't just the first 60 days of churn. You guys had a real churn problem. I forget the exact numbers, but what was your churn like around that time?
Shai: I don't know exactly the reasons, but I will so often seen trying not to […] 60 day thing. Ours was a little bit longer and it took about four months for any churn to really kick in for new accounts. I think part of that is launch customers are much more forgiving. A typical customer might come in and you know in the first month, two months maximum whether they are going […] exceptional product. With launch customers, they'll wait for a bit longer, they know that not everything is fully baked yet, and that also falls into that false sense of security. Churn at that point was getting up as high as 15-20%. It was over 15%.
Rob: Of each month, right? That's obviously tough. For folks listening, if you think about 20% churn means you don't have customers in five months, 15% churn gives you about six and two-thirds months. If you are not constantly adding folks, even if you are, that's just a very tough business to run. Based on the funding you had raised, you had hired out ahead of revenue. You essentially had what they call burn. You were burning cash each month. You were losing, I don't remember what the number was, $10,000 a month or $20,000 because you had staffed up with the idea that you essentially had product market fit and you're going to continue to grow and therefore would hit that number in a few months.
Shai: Absolutely. To a point you have to do that, right? If you are never going to be in a position of burning money, you have to question why you have taken the funding. If you only ever going to be spending money that you are making, then you don't need money from external sources. There has to be a point of like, "We are going to spend a little bit more beyond our means because that's going to help us recoup that faster later."
Rob: Right. It's going to accelerate my growth because I can hire that extra engineer to get product features built faster. I can hire the marketer to get me beat the drum more, however that works out.
Shai: Exactly, but it's a function of we are confident that we are going to make X amount of money back in Y amount of time. If you can't get your revenue as high as you think you can, as quickly as you can, that's when you run into a problem.
Rob: And you guys did. The latter half of 2018 did not sound very fun and I guess even early 2019. When did you and Brennan realize that you had a problem, that you needed to act on in essence by cutting out expenses?
Shai: Later than you might think. Later than we should have in hindsight. I think when things are growing as quickly as they were, and everything was moving upward so fast, when the following month flatlines, you see that one was the anomaly. An algorithm might think that was the anomaly. You then add in layer into that like human emotion, optimism, all those things, and we were like, "Yeah, this is just a one off. Next week it's going to recover. There's no problem here." It's only after that it happens in a few months and then MRR is actually starting to trickle downwards where a few months it was growing 40%-45% month over month. At that point, burn is higher than ever because you're so sure that you're going to recoup it.
Towards the end of 2018, when it had been several months of it not growing how it had been at the beginning, was when we went, "This isn't the anomaly like that beginning, but it was the anomaly, and we need to do something about this because the money is finite."
Rob: There's two things I want to touch on there. One is what was the problem? Why was churn so high and why did you peak and then essentially start declining? What was the core reason for that, that you see looking back with a year of hindsight?
Shia: The core reason for the churn was because we were selling something that these people hadn't been doing until that point. This idea of personalizing your website was fairly new to people who are using it. Like 90% plus of our customers went switching from a competitor. They were switching from they hadn't been doing this before, they have been doing other things to try and increase conversion on the website, but what we were selling was brand new.
A lot of people would use it and if they had enough education on how to make it successful for them and they weren't immediately seeing results, they were like, "Yeah, this is kind of a nice to have. Other people aren't doing this and they are getting on fine, so we don't really need it." It was very much seen as, "My business isn't quite ready for it yet, it's a nice to have but it's not essentially," is what we were hearing a lot.
Rob: It's really hard to invent a new product category. We often want to do so we have no competition but inventing a new product category really requires a lot of time, a lot of money, because you are having new to-do's, perhaps a new role at a company, the Chief Personalization Officer or something that doesn't exist today, maybe that'll exist in ten years, but do you have everything in place that can last ten years?
When we saw HubSpot invent inbound marketing and I talked to Dharmesh Shah at one point. He said it took them four years, they wrote a book, and it was millions of dollars if not tens of millions to get that concept into the people's brains. It's like cool. If you are in that position, then do that. But I experienced the same thing when we were getting Drip off the ground and we had all these different worlds for what it was.
It's not an ESP and it's not a marketing automation. It's this other thing. After a while, I realized no one wants to use that other thing. They want to use something that they already used, but better or different. It sounds like that's the path that you realized you were on was perhaps needing to come closer to some existing products.
Shai: Exactly. Coming closer to something that already exists in their mind, that they can compare you to something else is really important.
Rob: Talk to me about you and Brennan realized, we have a real problem here and I know you did some gradual fixes. You raised a little bit more money. You did a little bit of consulting work. You tweaked stuff along the way, but that moment where the two of you realized, "We have to lay people off and make some massive changes," because when you are running a SaaS app like this, 70%–80% of the cost are the people. It's your developers, support people, and that's the bottom line. When you look at it, it's like, "We can shave our AWS bill by 10% and that saves us $300," but it's everybody's salary […]. Talk me through what that was like when you guys realized you really have to make a change. How did that feel?
Shai: It was difficult. We had a really good team. The whole company was remote, but we were really close. We built a solid team there, so that realization is not a nice feeling. One thing that helped was that we realized that some of the hiring decisions were actually not in the company's best interest anyway. What I mean is, part of the reason we didn't realize that there was a problem until later was because we had hired people into roles that maybe we still should have been doing.
Without meaning to, Brennan and I obstructed ourselves away. We put a layer of obstruction between ourselves and the customers with things like customer support being done by somebody that we hired. Various customer-facing roles being […] to people. There's a lot of things to be said. They were feeding things back to us, but we weren't on the front line. We weren't seeing stuff as much as we should have been. Part of what really helped was actually this could really helped anyway for us to start filling those roles ourselves, but the fact that means letting people go is not nice.
Rob; Not fun at all. That's the thing the pre-product market fit because it sounds like you never really achieved full product market fit. I view product market fit as a continuum. It's not a binary state and you had some product market fit with some people but it was just not really catching on. Before you do have that, work catches, and suddenly your churn plummets and your trial-to-paid goes way up before you have that moment. It's very hard if the founder step away because you need that tight feedback loop and you need to reiterate super quickly. I find it insightful that you are bringing that up and then almost in retrospect, you noticed, "Oh, well. That's one place where we screwed up."
Shai: 100%. If you look at our revenue graph in the first few months, it looks like what you would expect when there is product market fit. That made us think that we had product market fit and various other things made us think as well. In hindsight, we did not fully have product market fit and if we have been looking more carefully at things like our churn graph was not representative of our3 product market fit churn graph, but the revenue was growing so fast at the beginning that it looked like we had it.
I've spoken with a lot of people who have had something similar happen where part of it as a community is we got better at launching and it's a big thing. I'm starting to see where several years ago, I definitely was not as good as launching something. My first launch is where you launch pretty much nothing and you try and scramble to grow up from zero. It's only because we've now got better at building the audience, pre validating all that stuff, that we are able to get that really fast growth at the beginning and the knock on from that which doesn't necessarily mean that everything is going to keep going that way.
Rob: It's a good point that you bring up revenue growth can mask high churn. Revenue growth can confuse us or it can make us think that we do have product market fit but it's really that churn number and customer happiness. Even customer onboarding is like activation because activation predates churn, a customer's journey and how many people are you using this, what type of value are they going to get.
It's complicated and we wish we can just look at a dashboard of numbers and predict what's going to happen but there's a lot of nuance to it and there's a lot of mixed signals. That's the hard part, is when you are getting hundreds of new people trying it and they are saying, "This is amazing and I'm having so much fun. I'm doing this. I feel like the results are really working out." You are like, "Oh man, we are just killing it. We are on a rocket ship," but then in the background when you see mixed signals and you see churn is high but I'm hitting all the feedback and we just grew by $6000 in MRR last month. Those few things are hard to reconcile because which one should you believe when you are in the moment? It's not this black and white. It is black and white in retrospect of that's where we messed up, but in the moment it's confusing.
Shai: Yeah, 100%. You have this thing on the same day, you have someone tweeting out about how this is the single best tool they have ever used in their business and then you got someone else churning because there is no value in this. You say, "Which one of these do I listen to?" The answer is probably the one that is churning. It's not that simple. As with a lot of things in business, you don't know which one is the anomaly.
Rob: Yeah, that's really the point. I hate to say this, but I think a lot of us are just a little too glass half full. There maybe a few too many optimist or maybe we just have the optimist streak as founders of like, "Hey, this will work out. We'll figure this out. It's going to go well." I think we do need that because of how hard this journey is, but I also think that dose of reality coming in of like, "Hey, I'm not saying this guy is falling, but there's a chance that this is going to tank here in the next few months because of this high churn number." Having that in the back of your mind is like Plan B. What's your Plan B if this doesn't work out? Are we paying attention to all the numbers?
That's the thing. It's not a binary of, "Yes, we have it. We are growing fast and everything's great." It's also not binary of, "Oh my gosh, the sky is falling." It's always this needle that's moving back and forth between the two and it's judging like, "If it swings the other way in either direction, what do we do? It's thinking ahead those alternate realities in the future of what we do, what's our plan?"
Shai: I think there's a couple of interesting points there. One is that I agree with you about the optimism thing. I think it's the reason that we start businesses in the first place. I think that's always going to be there for a lot of us because if we were less optimistic, we would go and get jobs and we wouldn't start these businesses because of all the things that could go wrong.
That's where the double edged sword comes. For us, because we were spending so much money, even when we did start to know that maybe something or everything wasn't going perfectly, there wasn't so much we could do at that point because we already committed. You can't just switch off those employees for a month and get back on track. There were some stuff that you might need to do when you're in that situation. It's going to be kind of a longer-term fix. We didn't have the luxury of long-term fixes because we're running out of money. When you're burning that much money month-to-month, you force yourself into a certain corner were if things do start to get wrong, there's no easy way out to that point.
Rob: Yeah. That's where it comes back to that question I asked earlier of do you regret raising funding? Is the moral of the story, that, funding is bad, and you shouldn't have taken it? My take is no. That's actually not the take. The take is you get the funding at the solid valuation. The investors never busted your jobs as far as I know. I never busted your jobs. I was replying to the emails, offering the help. We were at least on one or two phone calls talking about these steps.
My impression is having investors was almost a net positive in a sense that you can get advice from people who were in it with you. That's just my take for the outside. What's it like from your take, you and Brennan's take in terms of was it the right call to raise the funding? Did that cause us to make bad decisions? Or is it more about, "Funding was good, but we should've just spent the money differently"?
Shai: I do regret taking the money. I think it makes sense to do that. Like you said, we had a good valuation because there was some track record involved, there was some prevalidation, we're already making revenues. We got it on good terms. It did help in a lot of ways. I think the mistake wasn't taking the money. The mistake was not looking carefully enough. It was the worst case scenario, like not looking at, "What if things aren't going to grow as fast as we think they are? Are we still going to be okay in that position?" I think taking money was a reasonably good call but there are consequences to spending it so fast. We definitely spent it as fast as than we should have.
Rob: That's a trip. If everything had worked out and you had kept growing it $6000 a month, it would be a Cinderella story.
Shai: Yeah. I guess that's the thing. I don't know the answer to that part. Was the expected value there positive? Were we actually doing exactly the right thing by spending all that money? Because growth could have continued as it did. Having to fire people, having to lay people off is just the consequence of what happens if it doesn't work out. The fact that you didn't have to do that, and you're playing with people's employment, with people's lives at that point, for me I'd rather stick to the path that doesn't risk having to do that at all. I think other people would look at that and say, "You made all the right course along the way." When it doesn't grow as fast as you want, you just lay people off, you move on, and at least you tried.
Rob: Yeah. I think that's kind of a different world view. That's like the Silicon Valley world view. It's not really what I would espouse nor I think you guys as well.
You obviously have to make some layoffs there which I'm sure is really tough. You guys also made some adjustments to the product. Talk us through how you went from being this thing that was another item on the to-do list and it was something that was inventing its own category. You shifted into being part of an existing category, doing it quite successful, and finding some product market fit with it.
By the way, folks can see all of your numbers at rightmessage.baremetrics.com, as you guys are in the open startup ecosystem there. They can look at your revenue growth as of today. It looks like your MRR is about $28,000. Given that it's down to just yourself and Brennan at this point, you guys must be pretty profitable, I'm guessing.
Shai: Yes. That was the other thing. Because we had all that burn—I'm glad you brought it up—it was kind of that feeling of we weren't doing nearly well enough. You take a step back, we have got to $20,000 MRR within a few months of launching a SaaS product. That's something we should've been pretty proud of. But we couldn't look at it like that because the flip side of that was, no, we're burning money. We have a loss-making company. There was no time to be like, "Yeah. We actually got a lot of customers right now because all we could focus on was we're burning through our funding."
Rob: It's like a bootstrap success but a funded failure. It is what it is, right? It's because you're spending so much money. A $20,000 MRR, 3-4 months after you launch, most people listening to this podcast would kill for those results. That's an interesting mindset shift.
Shai: Yeah. There is the flip side of being really difficult to have to make those calls and the layoffs, there is now that kind of sensitive, almost, relief. I was just listening to Laura on here […] a few weeks ago. She said something similar. It was like, "With absolutely no disrespect to people who were affected, the flip side is, there is that feeling of relief." The company is on the same track right now. You can think a little bit more clearly when you're not burning money, when everything is moving upwards. You got your bank balances going up month a month. It does help you make clear decisions.
Rob: For sure. We know that's how you did the financial side. You're able to cut expenses, get to profitability. Product-wise, how did you go from being trying to invent that new category to essentially fitting and sliding into an existing category?
Shai: At this point we were speaking to a lot of customers. We weren't abstracting the way at this point. We're really digging deep to where the mismatch was, where some people were not getting the value from the product that they should have been. It all came down to, like you said, it was such a new product category. What we ended up doing was saying, "The people who are succeeding, what are they actually using this for?" A lot of them were swapping out the calls to action on their website. They're swapping out the content and their calls to action to be more personalized to segments of their audience and they're actually killing it.
We showed all the graphs. We showed conversion rate within our product. These people are 2X or 3X in their conversions by using our platform to personalize their calls to action. Many pivoted to be like, "We can be your call to action builder with high conversion rates than the one you're using now." Now, we're not competing with the product category that these people weren't using before. You all have calls to action in your website already. What if we just fit ourselves into that category and essentially pivot to have more competitors? We were in the space by ourselves where we're like, "This is great. We have no competition," but the flipside is, no one knows that they need you. Can we just pivot to say, "We are a call to action builder but better in various ways." Now you have something to switch from. That was the theory and it kind of worked.
Rob: Yeah. To give people an idea, you really double down on your JavaScript email opt-in widget. I know it's more than that but that was something you really started focusing on. Whether it's the toaster widget at the bottom or the exit intent door the time pop up. It seemed like the push you guys got behind.
Shai: Yeah. What we did is we said, we're going to make that entry level plan. We still got the more advanced, more flexible, you can personalize anything on your website. That became the premium plan. The idea was if we can get people in with something they're familiar with, we can then upsell to the more advanced platform later once they're ready for it. A lot of people were bailing because they weren't ready for the full personalization. Maybe they didn't know what their segments would be. You can't personalized until you have segmentation in place. We brought in this kind of entry level.
We brought in about the same price. We didn't really reduce pricing. We took the stuff that we have been selling and we put it in a higher price. Then, we bought this call to action plan. This more limited plan at the same price that we have been selling it before. Feature-wise, you're getting less for your money but that's not always a bad thing. We were actually limiting the thinking you have to do, at which point the product becomes a lot more valuable.
Rob: Well, sir, it's been quite a journey. Congratulations on making it through. It's hard to say that it's not an atypical startup journey because no startup journey is typical. Definitely, the ups, and downs you've experienced, I think a lot of us experienced even without raising the funding. There's just a lot of hard decisions and a lot of decisions you have to make with incomplete information, in essence. I know that you guys, at this point, are on a much better trajectory. The fact that you're profitable, I know it let's you sleep better at night. I feel like the lessons you've learned, you'll take with you moving forward. I really appreciate you coming on the show to share it with folks who can basically learn so people can avoid the mistakes that we've made.
Shai: Yeah, 100%. The more I spoke with people about this before and after the talking […] MicroConf, I found that a lot of people saw that similar curve of, "Everything is going really nicely up and now everything isn't." It's what you do at that point.
What you do is going to be very different depending on you. If you're profitable at that point, you'd taken money—all those things—and also is it a churn problem like we had? Or is it top of the funnel problem? Is it […] at the bottom. That experience of just because it's growing, it might not keep growing forever. It's something a lot of people are seeing as they get better at launching in the first place. As we keep getting better at making money, we also potentially going to fall into these kinds of traps. I think it's important to be aware of them.
Rob: Yup. If folks want to hear my own story with Drip, I did a talk a few years ago at MicroConf. If you go to robwalling.com, it's listed there. It's called An Inside Story of Self-funded SaaS Growth. That's on Vimeo. While we didn't take funding, it's very similar to what you said, the launch went really well, I had pre sold it, we thought we have traction, then we just plateaued, and then just sat flat. It was super stressful for me.
I had also hired out. I had a revenue because I had some money coming in from another app at the time. It was some of my darkest times running a startup. It was that same Trough of Sorrows, what Paul Graham calls it. I feel like it's pretty good name for it.
Thank you, sir, again, for coming in on the show. If folks want to keep up with RightMessage, you are @rightmessageapp on Twitter and rightmessage.com. If folks want to keep up with what you're up to, where would they head?
Shai: Yeah. I'm @shaisc on Twitter, and shai.io on the web where I'm going to start writing a little more about this stuff. There's a lot of scribbled notes that I have that I'm going to start publishing. There's an email list to have people on.
Rob: Sounds great, man. Thanks again for coming on.
Shai: Thank you for having me, Rob.
Rob: If you have a question for the show, leave us a voicemail at (888) 801-9690. Or email questions@startupsfortherestofus.com. Our theme music is an excerpt from We're Outta Control by MoOt. It's used under Creative Commons. Subscribe to us by searching for startups in any podcatcher you use and visit startupsfortherestofus.com to leave a comment or for a full transcript of each episode. Thank you for listening and I'll see you next time.
Reader Interactions