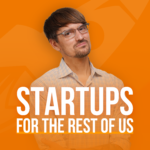 Show Notes
Transcript
[00:00] Mike: This is Startups for the Rest of Us: Episode 32.
[00:12] Mike: Welcome to Startups for the Rest of Us, the podcast that helps developers be awesome at launching software products, whether you've built your first product, or are just thinking about it. I'm Mike.
[00:19] Rob: And I'm Rob.
[00:20] Mike: And we're here to share our experiences to help you avoid the same mistakes we've made. How you doing this week, Rob?
[00:25] Rob: Doing pretty well. I'm looking forward to the Thanksgiving holiday next week. I'm going out of town for a week, so gearing down for that. Getting ready to go into holiday mode.
[00:34] Sales always are treacherous in some of my businesses during November and December, just because people are off a lot. So certainly no sales the week of Christmas, and often lower sales levels in Thanksgiving.
[00:46] Mike: So you just decide the heck with it, and throw in the towel? [laughs]
[00:49] Rob: Cash it in. Yeah I'm going to be out of town for a month. [laughs] I'll see you in January.
[00:52] Mike: Very nice.
[00:53] Rob: How about you? What's going on? Anything new?
[00:55] Mike: Well, I have a couple of things. I'm still working on that database that I talked about in our last podcast. I've come to the realization that I think I actually need a third database, not just two. I think I need three now. And all three of them need to be a little bit different because of the information that I'm storing.
[01:09] [music]
[01:13] Mike: For today's episode, we actually have a guest on today, our first guest ever. So today we have Harry Hollander from Moraware Software on here. How are you doing, Harry?
[01:21] Harry: Doing pretty well. How about you?
[01:23] Mike: Not too bad. Well, Rob and I already introduced what we're up to. What about you? What are you up to?
[01:27] Harry: Just working hard. Still full of great ideas from that Business of Software Conference, and we're trying to do all kinds of new products and new ways of dealing with the existing customers that we have.
[01:37] Mike: Very cool.
[01:38] Rob: To give people some background, I met Harry at the 2009 Business of Software Conference. Then he and I emailed and just had some chats over the course of the past year. Then Mike met him this year, and Harry and I caught up over the past year. I met his business partner and everything.
[01:55] So we really wanted to bring Harry on, because he actually had some ideas for a topic as well as certainly some good input that I think will be beneficial to everybody.
[02:03] Harry: Well, I was hoping I could just ask you guys the question, and then you'd come up with all the answers.
[02:07] Rob: I was going to leave that part out. Yeah to really give you the detail, Harry emailed me and said, "Hey would you guys be interested in discussing this on the podcast. We've just gone through all this stuff, and I think it might be beneficial." So I told Mike. I said, "Hey psst, free content. Harry could come on and share all his info," because he's done all this stuff.
[02:24] It's going to be more of a typical discussion, and Harry's just another participant.
[02:28] [music]
[02:32] Mike: So for today's episode, we're going to talk about some of the professional services that you may need for your business.
[02:37] We expect that this podcast is probably going to go long. So we're going to edit it, probably about halfway through. We'll post it as two different podcast episodes. We'll make sure that we try and cover everything that we possibly can.
[02:48] [music]
[02:51] Mike: So the first professional service that we wanted to talk about is getting an attorney. One of the most common startup questions that people have is, "Do I need an attorney up front?" And second is, "Where would I find one?"
[03:02] My feeling on it is, I personally don't really shop around for attorneys. I've used a couple over the past few years, but I've also lived in a couple of different states. So depending on what my needs were at the time, I just looked around to find somebody that would suit my needs.
[03:16] I didn't really look over the Internet though. And I know that's certainly a viable option, and most developers are probably going to turn to that.
[03:24] But what I did is I got a recommendation from somebody who lived in my area who could actually help with some business stuff. Because you really want somebody who's comfortable with the local laws.
[03:33] So I live in Massachusetts. And if, for example, I went down to Connecticut or Rhode Island, the attorney that I came up with would probably not necessarily know all of the laws that are specifically applicable to Massachusetts.
[03:45] Similarly some people decide that they want to set up a Delaware corporation for tax purposes, and that also leads to challenges when getting an attorney. Because then you have an attorney who's basically out of state, and you have to figure out what laws are applicable to your business. Because most of your business is probably going to be done in the state that you live in, not necessarily where the company is incorporated in.
[04:06] So as I said, what I did was I basically asked some people that I knew, and just decided to find somebody that I liked. The attorney that I have bills me at about $250 an hour. It's a lot of money, but at the same time it can also save you a great deal of grief if you find somebody that you're comfortable working with.
[04:25] And over the years I've gotten to the point where I actually don't need to talk to my attorney very often. Occasionally I'll come up with an off-the-wall or obscure question for him. But generally he just turned me loose at one point and said, "Hey look, you know what? You really don't need to be paying me for this stuff. You actually know it pretty well."
[04:42] Rob: My situation's been a little different. I've been in business for about eight years, and I just got an attorney about a year ago when I moved back to California. I was a sole proprietor before that, and I would always just file my own paperwork and do whatever it took to get the legal stuff done.
[04:59] So my feeling obviously is that you don't need an attorney up front. And I even had a couple partnerships, and we put together the agreements ourselves. Of course you should have an attorney review these agreements, but in our cases we didn't.
[05:11] Now moving forward, I got an attorney about a year ago when I moved back to California. And I went to the local business incubator. It's a nonprofit here in Fresno. They are trying to spur high-tech growth and other business activities.
[05:27] So I went to the head of that, a guy named Travis. And I said, "Hey is there a lawyer here who basically caters to tech startups?" And there is. There's local guy. He's a great lawyer named Ryan Corrigan.
[05:38] He is my lawyer, and the thing I like about him is that he really understands the entrepreneurs. And he understands that cash is a big issue for most of them.
[05:48] He also, it's cool because he's like a solo-preneur. He's like virtual. So he doesn't have an office, and he meets wherever you want. We met at a Starbucks. He basically just asked the right questions. He was quick.
[06:01] Everything's electronic. There wasn't faxing back and forth. It was all scanned, and he said, "I don't want originals. Shred the originals."
[06:07] It was just this cool feeling of like I feel like this is the way law is going to go. He told me he doesn't have filing cabinets at home. Everything's digital.
[06:14] So anyways, that's been my experience with it. So how about you, Harry?
[06:18] Harry: We started also about seven or eight years ago, and at that time we were living in the Bay Area. So there's a big infrastructure there for all of the tech startup related services. So we actually had quite a few tech specific lawyers that we talked to and interviewed based on recommendations from friends who had gone through it before.
[06:37] We found a group of guys that we really liked. It was a small practice. Actually a few years ago, they sold out to a giant law corporation. So now our lawyers are some huge international law firm.
[06:49] So it's kind of weird now. The personal attention that we really wanted and we were getting beforehand is gone. But I still feel like if in the future we want to do more fancy stuff with our business, we have that opportunity because now there are hundreds of lawyers that work at the same firm that we use.
[07:06] But I'm still skeptical of the whole thing, because we met the guys that we actually originally worked with.
[07:12] But I think the way it happens now, and we don't have a lot of legal needs, is that I talk to the associate or usually just email back and forth. Then all of the stuff we need just magically gets done, and I get an email back saying, "OK we did whatever."
[07:26] Rob: Yeah that's an interesting situation. Are you guys thinking of sticking around for now because you have a relationship with those guys, or are you thinking about looking around for other counsel?
[07:36] Harry: We don't have a lot of needs for a lawyer.
[07:38] Typically what we have them do is if we do a new license agreement or something like that, just run it by them. And then we do our corporate annual report. We file that with them, because that's something you're supposed to do.
[07:49] And beyond that, we don't have a lot of expenses with our lawyer. So it's probably not worth the effort of trying to change.
[07:55] Rob: Right. That makes sense. I have a question for both of you guys. What are your thoughts on, just in professional services in general? I've had CPAs and, well, a lawyer and other people.
[08:07] And some of them I like. I like them as a person. And others of them I more respect what they do, but I get the feeling like we're not quite on the same wavelength. Like we wouldn't enjoy having a conversation at a party, or we wouldn't hang out outside of professional relationship.
[08:22] What do you guys think in terms of how much do you need to like the person you are dealing with?
[08:27] Harry: When we first started working with our lawyer, I thought he was being rude to me by only responding in emails and leaving really short messages for me or having really quick conversations.
[08:38] Then I realized he was doing us a service because they charge by the hour, or by the seven-and-a-half-minute increment. So having just vast interaction with them turns out to be valuable for us, right? It saves us money.
[08:51] Based on the original interview, I know they seem to be upright, honest guys. But there's not as much of the ongoing relationship because I think they're doing us a service by trying to keep it short.
[09:01] Rob: Got it. That makes sense.
[09:03] Mike: I can see myself hanging out with my attorney, to be perfectly honest. I mean he's a cool guy. He actually tells lawyer jokes, which is funny.
[09:10] I've worked with him through a couple of different things. And I think you probably get a really good sense of how well you mesh with your attorney based on some situation that comes up that is not necessarily beneficial towards you, and how he treats you and how he responds to your needs and everything.
[09:28] And I've gone through that with my attorney, and he was extremely helpful, very responsive, and I couldn't possibly thank him enough. I mean he easily saved me, I won't put a number on it, but it was a huge headache, and he certainly came through for me.
[09:43] So I have stuck with him for a long time, and the reason is because I'm very comfortable with him and we're on the same wavelength. We understand where each other is coming from. And he has no problem if I disregard his advice, as long as I understand that I am disregarding his advice.
[09:59] Rob: Yeah I think there's a lot to be said for having a long-term relationship with someone. There are a lot of things that go unspoken after a while. I think with an accountant especially, I've really found value in having one for a long time. Because it feels like every year they just understand your business a little more.
[10:15] So speaking of accountants, that's actually our next professional service. And by the way, we're going to be talking about five in total. So this is number two of five.
[10:22] The questions we're going to discuss are: Do you need an accountant early on, when you first start? Where do you find one? And should you use a private one-man shop or more of a CPA firm?
[10:34] In my experience, I did not have one up front. As I said, I was a sole proprietor, and so all of my income and expenses just went right into my personal income taxes. For the first few years, I used Quicken to do my taxes. So it all just went in there, and it was no problem.
[10:49] As things got more complicated, and as I realized that I could actually save on taxes by restructuring some things, then it was worth hiring a CPA. And I did that probably, boy it was probably five years ago now.
[11:01] Yeah I don't think you need a CPA from day one. I just don't think there's enough complexity. When you get to the point where it's so complicated that you feel a little overwhelmed that first year, that's when I would think about hiring someone.
[11:13] In terms of where to find them, it's like anything else. It's getting a recommendation. I can't imagine going to the phone book or even Internet and just searching for a local accountant.
[11:23] I got both of my accountant recommendations. One was from the lawyer here in Fresno. And then the accountant I had in Los Angeles was from a mortgage broker who I had worked with to buy some real estate.
[11:35] What the last piece was: Should you use a private one-man shop or a CPA firm? I don't have any feelings on this.
[11:42] I've used, both of mine have been very small family-owned shops. So they've been maybe two partners or three partners. And they're either related or they've known each other for years.
[11:52] So I don't know that I have much opinion or even understanding of really the difference between a small shop and a firm might be.
[12:00] Harry: When we were first starting out, I actually got really good advice from a friend of mine which is, "Don't worry about an accountant until you have money." So I think that was a wise choice looking back at it.
[12:10] So once we finally did have some money, because there are two of us and at the beginning we were already in two different states. We knew that we were going to have complexity. And now our company's spread out over four different states.
[12:21] It turns out that dealing with taxes and where to collect taxes and all of the stuff related to having a corporation is more complex than either Ted or I want to deal with. It's just a lot of headache, and you never know if you are doing it right. So having an accountant is a no-brainer for us.
[12:38] We talked to a couple one-man shops, and neither of us had the confidence that they knew the ins and outs of things specific to dealing with software.
[12:47] So when we started out company, we sold traditional software, and it turned out we had to collect sales tax in certain states and not others. When we switched to our subscription model, where you have to collect tax is completely different.
[13:00] I feel like because we're with a bigger firm, and they guy that we deal with is completely, specifically devoted to dealing with software companies, he really has a good understanding of what should apply to us and what doesn't.
[13:11] Rob: Just to give people a little bit of background if you're curious. Harry, you founded Moraware Software. And if you want to check out his company, it's moraware.com. It will also be in the show notes. But they essentially make scheduling software for the construction industry.
[13:29] Harry: That's right.
[13:30] Mike: I've been using a CPA for probably about 10 years or so now. I started using a CPA about 10 or 11 years ago mainly because exactly what you said, Rob. My taxes started to get so complicated that it just wasn't worth my time.
[13:44] I distinctly remember the day that I sat down and I figured, "Oh I've got a whole Saturday. I'll just bang out my taxes in a couple of hours." Well, 10 hours later I was nowhere close to even being done. So I just threw in the towel at that point and said, "It's time for me to just go out and get a CPA."
[14:00] Part of it was because I was doing all these different things that had tax implications. Like I was doing day trading at the time. I had a business. I had couple of different jobs that I worked at.
[14:08] And it just got so complicated, it just was not worth the time and effort. I'm sure I could have figured it out. I just didn't want to.
[14:15] Harry: All I can say is, no matter what the cost is, if I had to do all that stuff myself I would definitely go crazy.
[14:22] Rob: Yeah.
[14:23] Mike: Yeah so the bottom line here is if you get into a situation where you're looking at your taxes, and it just seems like it's really complicated, go out and get help. It will be worth the money that you pay.
[14:34] Rob: Yeah I agree. I think you brought up a good point. There was a day for me as well, where I sat down and I spent six or eight hours. And then it was like, "There is just no way I'm going to finish this, ever. It's going to be like three more weekends."
[14:46] And it just becomes stupid to do it yourself. I imagine everyone comes to that point, and that's when you should go out looking.
[14:52] Harry: So as our next topic, we're going to talk about payment processing. The reason I brought this up to Mike and Rob is we recently changed merchant accounts for our credit card processing.
[15:03] And if you don't know anything about this, there are a couple all-in-one processors like PayPal and 2Checkout. And those probably would have worked for us with the business model that we have now.
[15:15] But when we were first starting out, we had no credit history or anything. And we were selling a really expensive software package. At the time it was, I think, $5,000 or $6,000. So PayPal and 2Checkout weren't appropriate at all for us. So we went with a merchant account.
[15:30] So there are a couple different layers of what you have to deal with when you're trying to find a credit card processor, if you don't go with one of the all-in-one processors. Basically there is the bank itself. So that's the merchant account.
[15:43] On top of that, most of the banks don't sell directly to other companies. So there's some sales organization that's going to sell you the services.
[15:51] And layered on top of that is the gateway, so actually the website that you use to enter the transactions or the API that you use to talk to your software to do it automatically.
[16:02] And between all those things, it seems like there are middlemen in between each of those layers too, everyone taking a cut. And nobody tells you their prices or tells you what's going on.
[16:13] So I feel like when we did it originally, we filled out a couple applications. And even though they can't tell you the prices, they give you a range, and we went with the one that seemed like the best deal at the time.
[16:24] Because it's so painful to do, it took us years to look at changing that. And we changed it six months ago, and dramatically reduced the rates that we spend for credit card processing.
[16:35] I heard an interview on Mixergy right after we switched about a service called FeeFighters. Basically they work with a bunch of credit card processors that have open pricing so you can actually get a comparison. I would have loved to have heard about that before.
[16:50] So that's been our experience. I still don't feel very satisfied with what we ended up with because there's no way to compare the apples and oranges of how much things are going to cost.
[17:00] Mike: Yeah I have to agree with you. As you said, it's just such an opaque process, and there are so many things that they don't tell you. And unless you really know what to look for, it's hard to know whether or not you're getting screwed.
[17:11] I'm sure you ran into that as well. Was there a massive price difference between what you're paying now versus what you were paying?
[17:19] Harry: Oh yeah. There was a huge difference. And I think because part of the difference was now we actually have a history as a business and we have more options.
[17:28] I think at the beginning, fewer people were willing to talk to us because we had this high price tag on an unproven company. So we were a high credit risk.
[17:35] That might not be the case for most people who are starting web startups. In general it's a lower transaction cost and higher volume, so you can build up that history a lot faster.
[17:45] But still it's just impossible to know what the prices are. You get this range, and then you don't even know once you start getting charges what the charge is going to be for any particular transaction.
[17:56] Mike: Yeah I think that's always what bugged me the most is that even from one charge to the next, it seems like the payment that you're making to the credit card processor changes from even one day to the next.
[18:07] It just seems kind of ridiculous. Like I said they don't explain anything, so it's just hard to know whether or not you're getting screwed.
[18:13] I've had probably three or four different merchant accounts over the years, and the process is really no different. I've gone with different vendors, different times. It just doesn't matter.
[18:25] And some of them say, "Well you have to use our software," or "You have to buy our equipment in order to be able to do credit cards."
[18:32] And as soon as they start telling you those things and you say, "Well I don't swipe credit cards. I do everything over the web," you can start eliminating some of those people. Because you know that they just don't have any experience in that arena. And if they don't have experience there, then they can't really help you nearly as much as somebody else who does have the experience could help you.
[18:50] Rob: I am a die-hard PayPal-er, and I know that there are some people out there who are going to scream, "No!" and shake their fist at this as I say that.
[18:59] There are horror stories from PayPal. There are horror stories for every merchant account processor. There's no doubt in my mind that I don't think any of them are much better or much worse.
[19:09] I've been using PayPal since very early days. Knock on wood, I've never had problems. I've never had funds seized or money locked up.
[19:17] I have multiple PayPal accounts. I pay them a car payment in commissions every month in fees. So much of my business goes through these different PayPal accounts.
[19:27] And while they're definitely not perfect, getting set up for a new credit card account, like to get the they are the merchant account and the gateway, is clicking a button and waiting 24 hours for approval.
[19:40] I had never realized how much of a pain it is to get approved otherwise. And until, boy it was probably four or five months ago, I hadn't gone through the merchant account, gateway process with another processor. That was a fiasco, and it took about eight weeks.
[19:56] They kept rejecting me for, in my opinion, ridiculous reasons, and not telling me that I was rejected. So they would just say, "All right. You'll hear from us in a few days," and then I would hear nothing.
[20:09] Then two weeks later, I would call them or email. I think I would call them, and they would say, "Well you offer gift certificates," because this is for the Wedding Toolbox site. That's why I had to sign up for it, because it works against Authorize.net's API. So I couldn't use PayPal without rewriting it.
[20:23] They said, "Oh yeah you accept gift certificates." And I said, "Well of course. It's a wedding website, blah, blah, blah." "Yeah well we can't support that." And I said, "Well it would have been nice. Could you email me and tell me that so that I could look for someone else?"
[20:35] So then sure enough they recommended another provider. I went with them, and same exact thing happened. They just never got back to me.
[20:43] Two weeks later I call them, and they're like, "Yeah we rejected you. It was because you offer a plan," because someone can pay 18 months in advance. Because the websites are fairly cheap, right? You're setting up a wedding website. It's like $80 to pay for 18 months' worth.
[20:57] And they said, "We can't have that much liability," because people could do chargebacks for 18 months. I was like, "For crying out loud, people. This business has been in business for three or four years. They've never had a chargeback, blah, blah, blah."
[21:08] So on and on. Eventually it did, it took me about two months. And it probably took me a total of about 12 hours of my time, which I value pretty highly.
[21:16] And eventually I got it, and it's twice as expensive as the PayPal equivalent. It's between $55 and $50 a month minimum charge, whereas the PayPal Web Payments Pro is like $30 a month. Which again I always thought, "Man that's kind of expensive," but now I'm realizing really how good I had it, or how good I have it with my other sites.
[21:35] Once I have some time, I'll probably rewrite the site to use the PayPal Web Payments Pro and cancel the merchant account. But for now I'm stuck with it.
[21:44] I know some people have problems with PayPal and they run into issues. But I really think that it's a good thing. I think it's about flexibility. And a lot, a lot of web startups did frankly get off the ground pretty easily using it, rather than having to go through this brutal merchant account process.
[21:57] Mike: I think the really important thing to keep in mind is that there's this threshold that you have to get over before going with a merchant account is really worth it. You have to be doing probably at least $10,000 in revenue every month in order to make a full-blown merchant account worth it over something like PayPal or 2Checkout or something like that.
[22:18] Because even though the percent transaction rate may be quite a bit higher for either PayPal or 2Checkout, the fact of the matter is that when you get a merchant account there are, as Rob said, a minimum fee. That minimum fee is usually around $55 to $60, and it depends on which one you go through.
[22:37] But there's usually a statement fee of some kind, and then there's a gateway fee, which is usually around $25. Then there's that minimum charge fee, which if the statement fee is $10 a month, you've got the gateway of $25, and then tack on another $20 for the other stuff.
[22:52] Rob: And then there's $20 for the salesman wanted a latte fee.
[22:55] Mike: Ah yes.
[22:56] Rob: It's ridiculous, man.
[22:57] [laughter]
[22:58] Rob: I look at the statement, and I'm like, "What are these?" It's absurd honestly, because up front it was like, "Yeah it's $9.95 plus some fees." And I'm like, "Oh that's not too bad."
[23:04] And then it just, like Harry said, it seems like there are five middlemen and they all take something up front. And then there's this fee every month that I'm paying to a bunch of people. It's pretty crazy. It's a very fragmented industry.
[23:15] Harry: Yeah it seems like the best thing about having PayPal there as an option is that at least if you are starting out today that PayPal or 2Checkout, one of those is what you would start with.
[23:25] And then ultimately, when you have a high enough transaction volume, you'd switch over to one of these more painful but slightly cheaper services.
[23:33] Rob: Yeah that's what I think. And I think Amazon Payments and Google Checkout, if you're doing all backend API integrations, I think both of those could handle it as well.
[23:41] So there are more options today certainly than when you got started, what, six or seven years ago?
[23:47] Harry: So Rob aren't you worried about being locked in to just a single provider for the payment processing?
[23:53] Rob: I think the reason I'm not concerned about it is because I have so many different websites. And if they jacked my rate up, I would then go and find a merchant account.
[24:03] And it would be pretty easy for me to migrate these websites to that merchant account. I could very well pretty easily go with Amazon or Google Checkout within a weekend, basically.
[24:12] Yeah so I guess I'm not. I'm not worried about it. I think with as much business as I do with them, I get priority something. I think it's priority support.
[24:20] I also get phone calls when they have new, they called me because they have a new beta subscription model going on, and they wanted me to try it out.
[24:27] So I would hope that I'm in their good graces enough that they aren't going to hose me. But it's a good point. If they did it, I would definitely think about switching.
[24:35] One thing I did learn is that PayPal, I'm pretty sure they're not FDIC. They're not an FDIC establishment. So I don't actually leave a lot of money in those accounts, because in theory I guess if they went out of business or something, that they're not FDIC insured.
[24:49] Mike: Yeah I think the big thing that I don't necessarily like about PayPal is the fact that when you link it up to your bank account, they can literally reach into your bank account at any time and take whatever they feel like out of there.
[25:02] And I have heard of, I'll call it a quote/unquote scam. Because basically the way it would work is, and I don't remember all the specifics about it, but if somebody sends you money and then they ask you to send it back to them for any reason as opposed to doing a refund.
[25:19] If you turn around and send it to them, well if they didn't have the money to begin with for any reason, or their payment source was rejected, it's very possible for you to end up with a negative balance and not know it.
[25:30] Even though you received $400, for example, and you sent somebody $400, you don't realize right away that initial payment to you had been rejected and it gets basically taken back.
[25:41] So there are certainly scenarios where that can happen, but I think that realistically that could happen with a merchant account as well. If somebody does a chargeback after you've delivered goods or services, then you're in the same situation.
[25:53] Rob: Yeah, I think my recommendation is to go with PayPal unless there's a compelling reason to do otherwise. That would be my thought if you're a web startup just getting started.
[26:03] Like Harry said, if you're selling something for six grand, there's a compelling reason maybe to not go with PayPal. But most of the people listening to this are probably not going to be doing that.
[26:11] Harry: Well that makes a lot of sense to me. I think if we were starting with the business that we have today seven years ago, we probably would have started with PayPal just because it's such a low risk to get started with it. The way it works now is it's just a couple clicks and you're in, and that's incredibly compelling.
[26:27] Mike: So the next professional service that we wanted to talk about that you may need for your business is insurance.
[26:33] There are several different types of insurance, and the one that we wanted to talk a little bit more about was probably the one that you might know a little bit less about, and that's called professional liability insurance.
[26:43] What professional liability insurance covers is the services and goods that you offer. Now this is a little bit different than your generic business insurance, which would cover your business property.
[26:54] So if for example, you go out and you lease some office space, generally you need to have some sort of insurance on your assets. That you will then essentially sign some paperwork that will authorize the building that you're occupying as what's called an additional insured.
[27:11] Now what that does is if your computer or your server catches on fire overnight while it's there and it burns the building down, well your business insurance will cover them.
[27:21] Well what happens if your software goes haywire on somebody's machine and wipes it, or wipes the domain controller, or something along those lines?
[27:29] You can certainly end up in a situation where somebody will sue your business, and at that point what you will need is you will need professional liability insurance.
[27:37] Because your business insurance does not cover things that you have delivered for the goods or services, and that's the dividing line. Professional liability is for goods and services you offer, and then there's the general business insurance, which covers your business property.
[27:51] Harry: Yeah we went through this process of getting professional liability insurance just recently. And the way the insurance guy explained it to me is that if there's a physical good, then you're dealing with general liability insurance. And if it's just monetary value, so you're hurting someone's business for dollars, that's when professional liability insurance is important.
[28:14] So the part that stumped me about this is that general liability insurance is easy to get and it's pretty transparent in terms of what you're getting and what the typical things are.
[28:24] Professional liability insurance, and I still have the application sitting on my desk next to me here. I have a 15-page application for the Chubb Insurance Company asking the nitty-gritty of every aspect of our business. And I have no idea what I'm even supposed to tell them or not tell them.
[28:40] When I got the quotes back from them and several other people that provide professional liability insurance, I was just shocked that the cost of that is ten times as much as if my software were to blow up a building or kill someone.
[28:55] So I don't understand. For most web startups, how do you afford this kind of thing? We're lucky enough in the position that we feel like we have some money to protect, so it's worth the price of getting professional liability insurance.
[29:08] But I have no idea when it's appropriate, and I feel like it's something we probably should have done years ago and just never got around to doing.
[29:15] Rob: I think that's the blessing and the curse of success, right? The blessing is you've made money at this business, and now the curse is like, "Oh we've got to protect this from some screwball suing us or something because it mis-scheduled his guys for one day."
[29:29] Because yeah the bottom line is someone can obviously sue you for any reason, and you have to defend yourself and that's a big deal. I think that's where this insurance comes into play.
[29:38] I think to answer your question of when should a startup get this, my sense is always to essentially push it out until there's something worth protecting.
[29:47] If you start off as a sole proprietor and then you move into like an LLC or something that offers some liability protection, a corporation, then how much is in that corporation that is worth protecting?
[29:59] It's like you said, if it's $10,000, $20,000 a year to get that liability insurance, but you don't have any money, you don't have any income in that corporation, then gosh that doesn't make any sense.
[30:09] The part of the answer I don't know is yeah, at what point does that make sense to do it? And I think an insurance salesman would tell you, "It's really early." And I think most startup people would say, "It's a lot later than you think."
[30:19] Harry: I agree. I'm glad that we put it off, just because it is so expensive. The cheapest quote we got for the things that we care about, which is our servers crashing and putting some of our customers out of business, or our servers getting hacked, the cheapest quote for that was like $7,000 a year.
[30:36] At this point it seems worth the price. But when we were first getting started, that would have been the number one expense for our whole company, which wouldn't have made any sense at all.
[30:45] Mike: Yeah I found that as well. When I went out and I got professional liability insurance when I was running my consultant company, I had a partnership with Altiris Corporation which was then purchased by Symantec.
[30:58] I was required to carry professional liability insurance, and there was some specific dollar amount of insurance that I had to carry. I forget exactly how much it was. So I had to carry, if anything happened my insurance was on the hook first.
[31:14] So if I were going out and I were delivering services for NASDAQ or DuPont or whoever the customer was from Symantec that I was delivering services for at the time, if something went wrong, my insurance was on the hook first.
[31:26] Then if my insurance didn't cover it, then it would go to my umbrella policy. Then if that didn't cover it, then Symantec could get dragged into it.
[31:34] So there are all these different layers of insurance. And like I said I was on the hook first, and justifiably so because I was the one who was out there doing the work, and theoretically I'm the one who screwed up.
[31:45] But you're right. It's very expensive. And if you don't have a solid revenue stream, then it's certainly not worth it. But in my case I was required. It was one of those costs of doing business that had I not had the insurance, I couldn't do business.
[31:58] Harry: So how did you decide on which insurance provider to use or what kind of package you even ended up with?
[32:06] Mike: What I did was I actually went out, and I found an insurance broker. What an insurance broker does is they generally have relationships with a number of different insurance companies.
[32:17] And at the end of the day, if you start looking at the overall commercial market for insurance, and by commercial market I'm not referring to like your car insurance or homeowners insurance. Those are one particular type of company, and in many cases the companies that do that do not do commercial insurance as well.
[32:35] So the two that come to mind for me were Lloyd's of London and Travelers Insurance. Both of those companies did the professional liability and general liability for the company.
[32:48] My insurance broker basically had me fill out a bunch of forms. He submitted them to both of them, got quotes back and said, "Here's the lowest one. Here are the differences between them. Which one do you want?"
[32:59] And as you said, you've got this 15-page application. And you're looking at it saying, "I don't know what I should be filling out, what I should be saying, what I shouldn't be saying."
[33:07] Realistically they want you to tell them everything, so that they can bump up or down your price based on what it is that you tell them.
[33:14] Because there are certain things that you are going to say that you do, and they're going to say, "Well that's a risk. So this is going to cost X additional dollars per month."
[33:22] And there are going to be other things that you mark down, and they're going to say, "Well we don't care about that. That's no big deal."
[33:27] Harry: Yeah we also went through an insurance broker to find this. And at the beginning I felt a little nervous with the first insurance broker we talked to, because he was asking all questions about whether or not we were going to drive cars around and that kind of stuff.
[33:40] And it turns out that's the least of our worries. It's all about the electronic data that we've got as a company that's really important to protect.
[33:49] Mike: Yeah I mean you can imagine the liability that a company like mine would bring to a company like Symantec.
[33:54] Because if I take a customer's database and I put it onto my hard drive and I go home and then I get hacked, well now I've just taken one of Symantec's customers and I have taken their data and more or less released it into the wild.
[34:08] And it's certainly no fault of theirs, however they're technically responsible because they're the ones who put me together with that customer.
[34:17] So for them it's a huge liability. That's something that they really need to address, and that's what this insurance is really geared for. It's for protecting against lawsuits of that type and losses of that type.
[34:28] I think it comes down to just the things that you're trying to protect and the reasons you're trying to protect it. I would assume that, and I'll take a stab in the dark here, Harry, but I would assume that because you have multiple employees, you probably have several months of salary on hand to be able to support those employees for months into the future.
[34:46] And when you get that type of an infrastructure, you've got a customer database, you've got this software out there that is bringing in a reasonably good revenue that is able to support multiple employees, you really need to protect that sort of thing.
[34:59] Whereas Rob's in a bit of a different situation where he basically has to fund himself and the virtual assistants who help him out in his business, but any one of his sub-companies, if you will, is not necessarily large enough in and of itself to warrant that sort of protection.
[35:16] Rob: I think even beyond that, it's like what is the risk of liability? What liability do you really have? And if you look at most of my businesses, they have very low potential to have some kind of catastrophic failure.
[35:29] Whereas in Harry's business, he has a hosted service that is essentially catering to a bunch of construction companies. And if they went down for a few days, heaven forbid, you could feasibly see them getting pissed off and coming after him. There just seems like there's more potential there for having liability in that.
[35:46] Harry: I think you're right. That's the main reason this is even on our radar at all, is because we provide this kind of critical business thing.
[35:53] So we do business-to-business sales. And I think in that situation, we definitely go crazy with our server infrastructure and all that, but it's possible that we could screw up. And we don't want to lose everything on the chance that we do.
[36:05] [music]
[36:08] Rob: If you have a question or comment, call in to our voicemail number at 888-801-9690. Or you can email it in mp3 or text format to questions@startupsfortherestofus.com.
[36:19] Our theme music, it's an excerpt from "We're Outta Control" by MoOt, used under Creative Commons.
[36:24] If you enjoyed this podcast, please consider writing a review on iTunes by searching for "Startups", and subscribe to it in iTunes or via RSS at startupsfortherestofus.com.
[36:34] A full transcript of this podcast is available at our website, startupsfortherestofus.com. We'll see you next time.
Reader Interactions