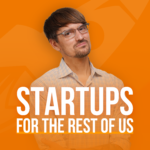 TinySeed, MicroConf's venture fund and SaaS accelerator, is launching their Fall 2021 accelerator batch this week.
📈 SUBSCRIBE: https://www.youtube.com/microconf?sub_confirmation=1 #tinyseed
Join Rob Walling (co-founder of MicroConf and TinySeed) and Tracy Osborn (TinySeed's Program Director) as they announce the 18 SaaS startups chosen out of hundreds of applications for the latest cohort of the year-long program.
TinySeed is a remote accelerator designed for early-stage SaaS founders, providing mentorship from world-class founders & SaaS experts, community with a batch of other ambitious and talented founders, and enough funding to help you grow faster (or quit your day job).
Get a first hand account of what it is like to be a member of TinySeed with Tony Chan, co-founder of CloudForecast Watch the interview → https://bit.ly/tinyseed-experience
Applications for our next accelerator batch and our NEW European cohort will open in January 2022.
→ Join our email list to be notified: https://tinyseed.com/apply
We find that founders do an immense amount of information gathering, and the process of becoming proficient in all areas of running a business — sales, onboarding, support, hiring, user experience, lead generation — takes valuable time away from growing the business. Our program helps SaaS founders scale their businesses faster by giving them the support, answers, and accountability they need, when they need it.
→ Learn more about our program: https://tinyseed.com/program
→ See our investment terms and other FAQs: https://tinyseed.com/faq
We are currently raising for our TinySeed Europe Fund, followed by TinySeed Asia next year.
→ Read our investment thesis: https://tinyseed.com/thesis
→ Apply to invest: https://tinyseed.com/invest