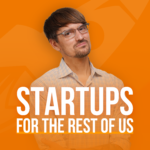 Show Notes
In this episode of Startups For The Rest Of Us, Rob and Mike talk about a book by former head coach of the San Francisco 49ers Bill Walsh, about his standards of performance. Rob and Mike pull out 10 different points from the book that are most relevant to a startup founder and elaborate on them.
Items mentioned in this episode:
Transcript
Rob [00:00]: In this episode of 'Startups for the Rest of Us,' Mike and I talk about ten lessons every startup founder should learn from Bill Walsh. This is 'Startups for the Rest of Us', episode 299.5.
Welcome to 'Startups for the Rest of Us,' the podcast that helps developers, designers and entrepreneurs be awesome at building, launching and growing software products. Whether you've built your first product, or are just thinking about it. I'm Rob.
Mike [00:30]: And I'm Mike.
Rob [00:30]: And we're here to share our experiences to help you avoid the same mistakes we've made. What's the word this week, sir?
Mike [00:34]: 299.5. Are we going down in the numbers here?
Rob [00:38]: Yeah, we're going to start doing every half episode. Every episode will be half an episode. No, you want to tell them why we're doing that? How you thought of gaming the system here?
Mike [00:46]: Yes. So we're coming up on episode 300, and we were trying to think of something good to do for the 300th episode. And a lot of the ideas that we came up with were going to take – I wouldn't say a fair amount of time – but enough time that I didn't think that it was really possible for us to pull some of them off. So, I kind of had the idea that way back – I guess probably two, three, four years ago – we would do these half episodes on occasion for special occasions, whether it was right after MicroConf, or leading up to certain things. And next week is MicroConf Europe, so I thought that it would be appropriate to say, "Let's slot in this episode here, and then next week what we'll do is we'll record a live episode at MicroConf Europe, and that will be the 300th episode."
Rob [01:27]: And it's our first live episode ever.
Mike [01:30]: Yes. And the people at MicroConf Europe have no idea this is coming. We'll kind of announce it on the spot. But they'll get to hear it, essentially, in advance of everybody else.
Rob [01:38]: And it's an experiment. We will see if it's good or bad. We tend to have quite a bit of editing, so it'll be fun to try to hammer this out live on stage with an audience. And so this is episode 299-and-a-half but it is a complete episode. It's not a half-length episode. Is that correct?
Mike [01:53]: Yes.
Rob [01:53]: Cool. So other than that, what's going on with you?
Mike [01:55]: Well, the survey that I talked about last week that I had mentioned on the show about trying to aggregate data from different startups that have launched, and how far they got, how much customer development people did, how much revenue those endeavors made. I'm up to 55 responses so far. So, it's interesting to see the range of the data that's coming in. Everywhere from people who made absolutely nothing from it, to people who've made a couple hundred thousand dollars within a few months of launch. It's nice to be able to see that kind of information. And the other thing I'd say that's striking – or that's really interesting – is the number of people that were comfortable to just say, "Yes, you can share anything you want. You can highlight it. Share my name and product name, etcetera. I don't care." I've gotten over 40% of the people who've submitted have said that level of sharing was okay. But the flip side of it is there's another 40+% have said, "Yes, I want to be completely anonymous in sharing this.
Rob [02:48]: Very cool. Congratulations already. I haven't filled out my responses yet, but I plan to do that while I'm sitting in an airport, because tomorrow I'm wheels up to Barcelona. I've got about 12 hours of flying ahead of me as you do as well. I think we're flying on the same day.
Mike [03:01]: Yes.
Rob [03:01]: So, I'm looking forward to that. And I guess the other thing on my radar is since Leadpages acquired us – now it's almost a month ago – trials have kicked up substantially, as you would expect. Their marketing engine is a well-honed machine, and so we get to scale support and demos and all other kinds of stuff. So that's the fun that I'm dealing with now. And actually, when I say fun, I'm not being facetious. Like it actually is pretty enjoyable. It's nice to have the resources that these guys do because they do have an entire support staff. And so, they're basically training – I don't have to go out and hire people from scratch. They're able to train in-house people and kind of lend them to us for now. So, it's kind of a fun process to talk about how they do things, how we do things and comparing them, and taking the best of the two, and saying, "Boy! There's some things that I like the way we do it better, and then other things it's like, 'You have a much better system for that. Why don't we use that?' So that's been kind of neat to collaborate on with just a bigger, I'll say, more experienced team in terms of supporting large volumes of customers. So that's been what I've been up to for the last week.
Mike [03:59]: It's interesting that you put it that way, because being able to take the best of two different ways of addressing the same types of problems — because a lot of times when you're running your own business you're kind of operating in a bubble, because you don't necessarily have experience from other companies to bring in. I mean, you've obviously worked in different areas on your own, or worked in previous companies before you launched something yourself, but you aren't necessarily bringing a lot of additional experience, or different ways of handling the same types of problems, into the same company, because your hiring is going to be limited. You have to grow at least kind of slow because you are bootstrapped. And when you start combining teams like that, or even just bringing one new person onto the team, if they've done something differently at a previous company it brings in this wealth of knowledge and experience, and it's nice to have two successful teams that have come together and collaborate at that level to be able to figure out, 'What is the best way to do this?"
Rob [04:52]. Yes. And the interesting thing is, obviously I've bootstrapped for 15 years now, and it's a certain way of thinking about things, and "How do we automate this?" Or, "How do we dial that down?" And, "It's going to take two months to hire someone." And, "We don't have budget right now.", and all that stuff. But Leadpages has been in business for what three, three and a half years now? And they think in terms of having lots of resources, because they raised a big chunk of funding. And so, it's two different ways of looking at the same problem. And it's cool to see that sometimes the bootstrapped way of looking at it, I think, is superior, and often times the resource-heavy, or the kind of resource-rich, way of looking at it can be better as well.
Today, we're talking about ten lessons every startup founder should learn from Bill Walsh. And I'm very excited about this topic, actually. This is one that I've read in the past, I don't know, six to 12 months let's say. Really blew me away. It's not even a new book. I think it's at least ten years old, but it was recommended to me by my older brother. And the book is called 'The Score Takes Care of Itself: My Philosophy of Leadership.' And Bill Walsh was the head coach of the San Francisco 49ers, and he's one of the greatest football coaches of all time. It's pretty much inarguable that he is one of the greatest. There's Vince Lombardi, there's Bill Walsh, there's a handful of others. But he absolutely was at the top of his game.
I really liked this book. The 49ers basically hired Bill Walsh in the aftermath of a 2 and 14 season in 1978. For those that aren't familiar with the San Francisco 49ers, that is an American football team in San Francisco. And in 1978, they won two games and they lost 14, which is an abysmal record. And the team had posted losing records in five of the previous six seasons. So, it was a terrible situation, and he actually talks about this in the book. There was no discipline, there were people getting in fights, and there was all types of madness going on. Walsh came on in 1979 and he won the first Super Bowl with the 49ers. It was two years later, in essence. It was 1981. And then he won in '84 and '88. And he won ten of his 14 post-season games along the way, six division titles, three NFC championships. Just amazing record. And he was named NFL coach of the year a couple of years and he was elected to the pro football Hall of Fame.
So, really an astounding record. To be honest, I like football a lot, but I haven't watched it in years but I have always respected people who perform at the top of their game. Even if you've never watched an American football game, or you don't care about it or whatever. You don't need to like sports to, a, like this book, and, b, enjoy and learn from what we're going to talk about today.
Mike [07:24]: So let's dive right in.
Rob [07:25]: Cool. So this – to be honest, boiling it down to just ten takeaways – was a challenge for me, because he has this thing called "standards of performance". And he had this for everyone in the organization. So all the players had it. They had a certain standard of performance. All the staff had it. He said he has his own list of 16 standards of performance. And, in addition, I had another 10 or 15 kind of notes, quotes, thoughts, from him. So I easily could have put 30 points in this podcast episode worthy of discussion. But, obviously, that would be very long and it's too much information. So, I basically boiled it down to what I consider kind of the best ten that are most relevant to a startup founder. So let's kick it off with the first one.
The first learning that I want to talk about today is that everything starts with work ethic. And he talks about Joe Montana and Jerry Rice, also Hall of Famers, also arguably one of the best quarterbacks and one of the best receivers ever to play the game. He talks about the two of them doing drills on the field that high school players wouldn't do because they were too boring. And so he would watch these guys who were at the top of their game do very basic arm drills, or very basic catching a ball and throwing a ball – I mean, just stuff that no one else would do, but they worked so intently at it to keep themselves at the top of their game. And they knew that just because they were the best doesn't mean that you can relax. And the way they got to be the best was through that work ethic.
And there's this other quote I really like relating to this. This is one of his standards of performance. He says, "Exhibit a ferocious and intelligently applied work ethic focused on continual improvement." And I think every startup founder can learn from, and would be way better off then they currently are, if they would think about everything starting with work ethic and to focus on continual improvement. And the successful founders who I know are killing it and are doing it year after year, startup after startup, are the ones who are focused on these two things.
Mike [09:19]: I think there's a natural tendency to try and jump forward in terms of your abilities, or the things that you're trying to tackle, or the challenges you're trying to overcome, just in an effort to get better. Nobody wants to go out and try to learn how to downhill ski, for example, and sit there on the bunny slopes forever. You really want to get out there and go out to the diamonds or the double black diamonds. And you have to start at the beginning. Otherwise, you're probably going to fall and kill yourself.
But the fact of the matter is just practicing a lot of those fundamentals can really help you hone in on your skills so that you can do them, essentially, automatically and not have to think about it, or even worry about, 'Am I going to be successful at this?' And in this case, obviously like with Jerry Rice is, "Am I going to catch this ball?" It probably never even crossed his mind. It was more of an, "Okay, I know that this is coming in. I'm going to catch it. Then what do I do?" But it's only a result of him having practiced catching for so long, and so many times. So it becomes just so repetitive, and so second nature, that he doesn't even have to consider the ramifications of failing in those particular cases.
Rob [10:22]: Yeah. And I want to clarify, too, when I say work ethic here I don't mean you need to work 80-hour weeks. What I view work ethic as is being incredibly focused, and when you're working, getting it done. Sitting down, hammering through, not avoiding and not kind of having a mix of conversations at the watercooler, or being on Twitter and Reddit. I mean that you are a focused individual, and that you're relentlessly executing when you're sitting in front of that computer. And when you step away, you're not. That's the time when you rest your brain. I've seen a lot of folks who say, "Hey, I work 60 or 70 hours." But when I'm actually around and working with them it's like, "Oh, no, you're in front of a computer for 60 or 70 hours. But you're not actually sit there and focused." Some folks fool themselves, I guess, is what I'm saying. So don't feel like when I say work ethic it's like, "Oh man, he's telling me to work ridiculous hours." That's not the case.
Mike [11:09]: It's interesting that you bring it up and put it in that light, just because if you think about a 40 hour a week job that most people will go to, you're paid to be there for 40 hours, but the reality is that most people don't actually work 40 hours when they're there. And if you were to sit down and just focus and intently try to be productive, then your level of productivity just soars. It skyrockets way above and beyond what a normal person, or a typical worker, will be able to achieve, because you're focused on that productivity and you're trying to do better there. But if you're getting paid to just show up, or if you are just showing up, then you're not going to be nearly as productive.
Rob [11:47]: The second lesson is to blame yourself for poor team performance. And you can imagine how this plays out as a professional coach. You are going to get blamed if the team doesn't perform well. But this reminded me of a story. A friend of mine was in grad school and she had a supervisor, and there was a whole process where the friend had to put together this survey or a document that was going to get sent out. And there were three or four people that reviewed it and they were supposed to review it and they all signed off including the supervisor. And then a document went out and it had a typo in it that was a big deal. It impacted the effectiveness of the survey, basically, or wasn't just a non-issue. It actually caused them a bunch of work down the line. And the supervisor came down on the person who had written it, and basically was like, "You're sloppy, and you don't have attention to detail and this is your fault." And when she told me the story it blew my mind because I never think that way. And I think that if you have someone who you think is sloppy and isn't working out, then they shouldn't be working for you. There's a mismatch there. Either your expectations are too high, or they're not very good. Get rid of them, because if you have a team that you like working with and the people are solid and there's a big mistake and a server goes down, or someone's money gets lost, or emails are sent at the wrong time, any of these things that are basically catastrophic happen, you don't blame the team. You blame yourself, or you blame the process. And if the process is broken then it's your fault, because you're the leader and you're the one putting it in place. This is something that I try to embody, and I feel very strongly about this. We can all learn from the mistakes, but it's never time to blame someone for mistakes. If your team makes mistakes or has poor performance, it should always reflect back to the person or people in charge.
Mike [13:24]: I think sometimes this puts people in an awkward position where they're trying to figure out whether or not they should continue down a particular path with a contractor or an employee, or if they should just kind of throw in the towel and move on to somebody else. Because you have to have a certain amount of empathy as a human being to run a company. But at the same time there are times when you have to put the needs of the business and the customers above the individual needs of the contractors or employees that you're working with. And as you've said, if it's not a good match then perhaps it's time to part ways. But I wouldn't say that that's necessarily always the easiest decision to make either. So you do have to keep in mind, though, that you are leading the team, and if you are not making the decisions that need to be made then that reflects poorly on the team itself, and people notice that kind of thing. And that's something else that may make some of these decisions a little bit easier, because if you're not doing what you need to do and, I'll say culling the team of people who are not contributing on the level that they need to, then people are going to notice and they're going to become demoralized. And then the entire team's performance suffers. It's not just going to be one individual person.
Rob [14:30]: As you were talking I was reflecting. One reason why I like this book so much is because I think it says things that I already believed but that I maybe haven't put into words. I've never written this list of ten, but as soon as I started reading through them I was like, "Oh my gosh, yes. Yes, this is so true. That's exactly how I want to be. Or how, if I'm working for someone, I want them to kind of embody all of these things." And it's really interesting.
So the third lesson is not to win by fluke. He says, "Don't win by fluke. Always examine what caused your victory and how can you repeat it and improve upon it." And the reason this struck me is because you hear these fluke startup stories of someone launching – whatever it is – Flappy Birds or back in the day it was Hot or Not. Remember that? Or Plenty of Fish or whatever. I'm not sure Plenty of Fish was a fluke but you get the idea. There are these stories that are told – or the Facebook apps that suddenly were making the guy a million bucks a month. And while that would be great if we could all do that, we just can't all do that. It really is a story that is kind of portrayed by people wanting to sell magazines. And that if you are in this for the long haul – you're not just trying to make a bucket of money, and it's kind of like a gold rush in a sense – if you're not trying to do that and you actually want a sustainable lifestyle, and you want a much better chance of being able to live off the proceeds from your startup or your app, then don't look for flukes.
Now, you can look for arbitrage, and you can look for angles, but if you have a victory, if you have an early success, I think you should look at that and say, "How can I repeat it? How can I improve upon it?" And I see this through my own career with a bunch of a failures and then DotNetInvoice makes a few thousand bucks a month, and I looked at that and said, "Boy, what worked here and how was that different than all the previous ones? And now, how can I either improve upon this or repeat this over and over?" Rather than just constantly going for moon shots, which I think is perhaps the curse of the startup space; to always think, "Boy, I'm really just going to have to catch a fluke here, and then I'm going to make $10 or $20 million." Whereas, as we've talked about, we're about startups for the rest of us, the people who want to turn this into a sustainable thing. And it's much more of a calculated repeatable process.
Mike [16:35]: Yeah. This is kind of the anti-lottery strategy. You're not hoping against hope that something's going to happen and fall your way. You're not making bets that are unreasonable to pay off in the end. It's really about taking a hard look at what is working and what's not, and doubling down on the things that are working, and either changing or getting rid of the things that aren't. Because as you said, if you can find a strategy that works and is repeatable then that's what you should do more of. And anything that's not working, get rid of it.
Rob [17:05]: The fourth lesson is to make friends not enemies. And Bill Walsh specifically says, "Enemies suck up too much time and emotional focus. One enemy can do more damage than the good of 100 friends." And this is something that I've long struggled with because I don't get into the Twitter fights, or the comment fights, or the Reddit fights. And I see people doing it and I always feel like, "Boy, a, that takes an emotional toll and, b, don't you have better things to be doing then sitting here saying how you're right and the other person's wrong?" But I feel like I'm kind of in the minority, and it's always hard to back down from a fight if someone says something – because basically it's someone picking a fight with you. And what he's literally saying is back down. Even if someone is up in your face back down. It's a hard thing to do, but what I've found is that it saves so much time, and so many emotional and mental cycles, that it is now my defacto way. Especially online where people can get out of hand pretty easily. I heard someone talk about this. It was Scott Hanselman, actually. It was on his podcast, and I think he was talking with Richard and they were going back and forth. And Richard was like, "Yeah. All these guys were saying all this stuff and you just didn't say anything." And he was like, "I basically have better things to do with my time. And there's absolutely no use in responding to them." And I was like, "Oh my gosh, that's totally how I feel!" I really like this one. And it is hard to do. When someone says something that you know is incorrect, and it's attacking you, and it insults you, it is very hard not to pipe back. And what I find is that typically you will pipe back once, and it doesn't make a difference, because they either come up with some new thing, or they tell you, "Now that thing that you said is wrong." And it becomes this thing where you're now checking Twitter instead of working, and you're all riled up to no end. You won't change their mind, it will not improve you, it won't sell more of your app, it won't grow your business. None of that does anyone any good. So, it's a really interesting thing, I think, for startup founders to learn. And I love that he puts it this way, "Basically, make friends not enemies. And that one enemy can do more damage than the good of 100 friends." And he means no only for your reputation, but he really means also the emotional toll that it takes on you. Bill Walsh has his own story of actually doing this once and making an enemy and then having to turn it around. It was with Howard Cosell who was an announcer here in the States. And it's a really good story of that. If you listen to the book you can get more detail.
Mike [19:24[: I've had conversations with people about similar situations at MicroConf before, where they'll have a story about, "Oh, I got into an argument with somebody on Twitter, of all places." It's not like any argument ever gets solved on Twitter. But that's where I would say that they're probably the most visible, and where a lot of them – you know, you'll see these things publically get started. And then there's people who will just walk away and they're just like, "Yeah, I'm just not even going to bother to respond." It's interesting to see the people that have that ability to just simply walk away and not bother to get involved are also the people that have a tendency to just get things done. They speak with their actions as opposed to their words, and, as you said, if you get into an argument with somebody it's very difficult to convince them, especially if they don't know who you are and they don't have an understanding of the things that you've done, or your history, or anything like that. People just simply don't listen, and it's distracting to get into those arguments and feel like you need to respond. It's difficult to deal with that on a regular basis anyway, but especially on a public forum like Twitter or various other places. If you get involved in those it can just be distracting to you, and your entire day of productivity can be completely shot if you start paying attention to that.
Rob [20:37]: The fifth lesson is to, "Take pride in your effort as an entity. Separate yourself from the result of that effort." And he basically says, "Deal appropriately with victory and defeat. Don't get crazy with victory, nor dysfunctional with loss." He talks about winning Super Bowls and how certain people suddenly think that they won a Super Bowl because of them, or that their whole reputation and their whole self-worth relies on winning Super Bowls. Or you get crushed at the last minute right before the Super Bowl or at the Super Bowl and suddenly you just basically go into this massive depression. And you can imagine, especially as a football coach, it's a big deal where your job depends on that. But as a startup founder you're going to see similar ups and downs, where you're going to have a month where you kill it, and you're going to have months where you're just going to get punched in the face over and over. And this is going to impact you. It will. But realize that you are separate from your successes and failures, and you are separate from the effort that you've expended. So do everything you can to make this happen so you have no regrets, so you essentially leave everything on the field. But then step away and realize that, "I've put the effort in, and I really hope it succeeds, but I am not the embodiment of that effort, and I am not the success or failure." This is easier said than done. I'm going to admit it. But I like reading this one, because it reminds me again of what's important to us and how we can make this a sustainable, sane lifestyle.
Mike [21:56]: I think especially with startup founders it's very difficult sometimes to separate the success of your product, or projects – books that you're writing or software that you're building – it's very difficult to separate the success of those things from the success of you as an individual. So, if you pour your heart and soul into something and it doesn't work out, it doesn't mean that you're a failure. It just means that that particular endeavor wasn't going to work out. But if you put everything that you had into it then you should at least be proud of the effort that you put into it. And it's very difficult to alter your viewpoint to be able to see it that way. Especially if you have it in your head that, "Hey, I'm going to do this and it's going to be successful." And kind of planning things out before you've even gotten there. You're planning out, "I'm going to celebrate in this way." Or, "I'm going to take this victory lap over here." But you're planning those things out in anticipation of this goal that you may or may not reach. When the reality is you should be focused on the efforts that you're putting in, not the results of those efforts. And, as you said, it's very difficult to separate yourself from those things.
Rob [22:58]: Lesson number six is to demonstrate respect for each person in your organization and the work he or she does. I think this one's pretty simple. I think that, hopefully, this comes naturally to you. I have worked with people, I have worked for people, who don't demonstrate respect for the people in the organization, or they don't demonstrate respect for certain jobs, as an example. Or they don't demonstrate respect for the work; like a certain job isn't as important as others. And I think this is an important reminder of that even if you have someone who's writing the code for your core app, and then you have someone over here who's doing whatever. I don't know, what could it be? Support. Someone might make that out to be less important. Or marketing or, I don't know. I know as developers often times – especially when you're getting started – you think marketing is a lot less important. And it's like, no. Each of these pieces, if you don't do them, they can and will spell the end of your app, again, over the long term. It may not hit you in the first couple of months, but if you do a poor job with support, you do a poor job of marketing, you do a poor job of building, you're going to fail. So respect the people who are doing them and respect the work that they're doing.
Mike [23:57]: Yeah. I think it's important, in this case, if you're mathematically inclined, it's important to keep in mind that for each piece that integrates into your app – whether it is the software development itself, or the support, or the marketing channels, customer development. All those things, they tend to create multiplicative outcomes. So if you do half as well at support as you probably should then your final results are essentially going to be half as good as they probably could otherwise. And the reverse is true as well. But keeping in mind that those things multiply themselves together to get you to the end of it, it really brings you back to the standpoint, or this viewpoint, that all of those things are important. And if you do terrible at one of them it's going to tank the rest of it. And, as you said, maybe not now, maybe not two months from now, but eventually down the road it is going to reflect poorly.
Rob [24:48]: Lesson number seven is to be deeply committed to learning and teaching. And this ties into what Bill Walsh talked about earlier which is that work ethic focused on continual improvement. Because a lot of continual improvement may be doing drills and honing a muscle, but it's also about learning. And I think that if you've had any success as a startup founder, or if you're drawn to this, you probably have a deep desire to learn. So that's probably not going to be the issue. The hard part tends to be taking the time and making the investment in someone to teach others. And typically that's going to be teaching folks on your team and actually investing in making them better, and not just teaching them exactly what they need to do in order to do this particular job, but actually elevating them and letting them go out and make a little bit of a name for themselves. And let them achieve goals and making them better off having worked for you. So, I'm not saying this one is an absolute requirement in order for you to have success. But I think, again, making this a long term play, that being deeply committed to learning and teaching is not only healthy, but it will have positive dividends for you in years to come.
Mike [25:46]: I almost feel like I have a different take on this one, where I don't necessarily think that you have to be deeply committed to learning and teaching so much as you have to be committed to enabling the people on your team to learn and, potentially, to teach other people on the team. Because if you're the one who takes on all the responsibility for teaching people, then you kind of put yourself in this position where you have to know everything. And I don't think that that's the case in most startups. You can't possibly know everything. So you're better off putting people in a position where they can learn from other sources, or you're enabling them to either mentor other people on the team or to learn from other people on the team. And I think if you approach it from that standpoint, as opposed to the view of, "Hey, I need to be able to learn this stuff so that I can teach my team." I don't think you need to do it that way. I think as long as you're enabling everybody to do both of those things, because I think both of those really tie into the type of team that most people are going to want at their startup.
Rob [26:40]: The eight lesson is to demonstrate and prize loyalty. This involves being loyal to your team and not letting them get beat up. If you have a support person and someone's being really rude in support, you very well may need to step in. And you very well may need to fire a customer, which is hard to do. And you very well may need to have a confrontation. But to me, having loyalty to your team and not letting them get abused… I've heard of some acquisitions where something goes wrong and, I don't know, the healthcare isn't as good in the new company or something, or it's more expensive, and a startup founder can step in and just make it right. To me, that's expressing that you are willing to sacrifice some of your own comfort, or maybe some of your own money, or something of yours in order to show loyalty to people who have shown it to you. And this is, I think, a very strong value of my own. I get along best with people who show that in response, in essence – a reciprocal loyalty. But I like that Bill Walsh called this out because it was obviously something that was very important to him.
Mike [27:39]: I sometimes have a hard time differentiating this type of thing. When somebody says that they prize loyalty, for example, because I tend to look at different situations. And you kind of pointed to a situation where you may have to step in and fire a customer. Well, if they were mistreated by the employee, then it makes more sense for you to side on the customer's side than on the employee's side. So, I think it really depends a little bit on the situation. I take this with a lot more context than just flat out, I'll say, blind loyalty.
Rob [28:10]: Oh, yeah, totally. I meant if you're in the wrong, or your employee screwed something up, then I wouldn't fire the customer. But I would back the employee and be like, "Look, we make mistakes. Let's not do this again. How do we avoid this?" And then make it right with the customer. At that point, it's a loyalty thing like, "Man, I'm sorry. We screwed up and here's how we're going to fix it." That's how I'd view it. I was simply implying you had like a toxic, out-of-control customer, which unfortunately you are going to see at some point during your career.
Mike [28:36]: Yes. Understood.
Rob [28:37]: So lesson number nine is know what constitutes greatness for every role, and if you don't know, find out. I like this one. I think this ties in with teaching because it's kind of knowing what someone needs to learn. But also, you often hear like, "How does a non-technical person hire a programmer?" Or, "How does someone who's never done marketing hire a marketer?" And my answer tends to be some derivative of, "You need to find out. You need to educate yourself." You can't just hire someone when you have no knowledge of what makes a good marketer or makes a good developer. You can get a referral from a developer who refers another developer. That's the best. But other than that, learn enough about coding so that you can at least talk to someone about it in an intelligent way. And it takes more than that to know what constitutes greatness for everything, but I like the gestalt of this, of like, if you're running a team than it is your responsibility to know what everyone should be doing, and what skills they will need in order to be the best performer at that role.
Mike [29:37]: I think the biggest challenge for trying to figure out what constitutes greatness for each role is that it takes time to do that. And most of the time it takes significantly longer than we want it to because we're unfamiliar with what it should look like, or how certain things should be done. And because of that unfamiliarity, or that inexperience, we want to look for shortcuts. We want to look for a ten-point bullet list of 'These are the things that I should be looking for.' Or, 'These are the things that I need to do.' But even when you get that – even if somebody were to hand that to you on a silver platter – you're still going to look at it and take it with a grain of salt, and you're probably going to procrastinate because you're just unfamiliar with all the different bullet points. Maybe it's four through seven, you're like 'I'm not so sure how to do this.' Or, 'I'm unfamiliar with this.' Or, 'I'm uncomfortable.' And it's still going to take you significantly longer. So, you're looking for those silver bullets, and it's hard because you have to buckle down and just do the work to learn that stuff. So, I think that that's one of the biggest particular one, is trying to justify to yourself spending all of the time in order to become enough of an expert that you can make that judgement call without spending so much time that it derails you from all the other things that you're doing.
Rob [30:46]: And the tenth and final lesson is to control what you can control, then let the score take care of itself. This heads back to the stuff we talked about earlier about not getting so wrapped up into the results. But he takes it a step further and basically says, "There are certain things you can control. That involves choosing your team. It involves training your team and being loyal to them. It involves making yourself a constant learner and having a work ethic. There are things you can control and there's a bunch that you can't." And as a founder, you're going to run into things and sometimes it's hard to tell the difference between the two. Sometimes if you lose MRR, or you have a terrible month, or an employee quits, or you have lay somebody off, or you have an amazing month where you double MRR. Any of these things can happen, and some of them are direct links to what you can control, and many of them are not. They're more indirect ties to what you've been doing over the long term. And so, it can be very helpful that if your stressed out, or if you're flipping out about something, sit down and make a list. 'What can I control here? What can I not control?' And then focus on the things that you can control and let that score take care of itself.
Mike [31:53]: I think as a startup founder it's difficult to deal with things that you can't control, because by nature they're out of your control. And in some cases it feels like luck, or it feels like you have no influence. But I think in most cases, you have influence, it's just not direct control. For example, you can't force somebody to sign up for your mailing list. But you can influence them. You can provide trust factors. You can do all these things that will help guide them in that direction. But at the end of the day you can't force them to do it. So, it's trying to figure out different ways that you can influence things or toggle the different knobs. That's going to be helpful but, as you said, understand that at the end of the day, you are not going to be in complete control. You're going to have some semblance of control, and some semblance of ability to influence the results, but you can't force them.
Rob [32:41]: And so to recap our ten lessons that every startup founder should learn from Bill Walsh are: Number 1: everything starts with work ethic. Number two: blame yourself for poor team performance. Number three: don't win by fluke. Make friends not enemies. Take pride in your effort as an entity. Separate yourself from the result of that effort. Demonstrate respect for each person in the organization. Be deeply committed to learning and teaching. Demonstrate and prize loyalty. Know what constitutes greatness for every role. And control what you can control then let the score take care of itself.
Mike [33:09]: We'll link this book up in the show notes so you can go check it out. If you have a question for us, you can call it into our voicemail number at 1-888-801-9690, or you can email it to us at questions@startupsfortherestofus.com. Our theme music is an excerpt from "We're Outta Control" by MoOt used under creative comments. Subscribe to us in iTunes by searching for startups. And visit startupsfortherestofus.com for a full transcript of each episode. Thanks for listening and we'll see you next time.