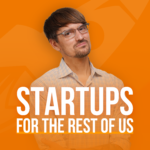 Show Notes
In this episode of Startups For The Rest Of Us, the tables have turned as Tracy Osborn interviews Rob about his past year. They talk life after Drip, focusing on the backstory of TinySeed and the ups and downs that have come along since its launch.
Items mentioned in this episode:
Rob: In today's episode of Startups for the Rest of Us, Tracy Osborn turns the tables and interviews me about what I've been up to for the past year. This is Startups for the Rest of Us, episode 468.

Welcome to Startups for the Rest of Us, the podcast that helps developers, designers and entrepreneurs be awesome in building, launching, and growing startups. Whether you've built your fifth startup or you're thinking about your first. I'm Rob. Today with Tracy Osborn, we're here to share our experiences to help you avoid the mistakes we've made.

Welcome to this week's episode, I'm your host, Rob Walling. Each week on the show, we cover topics relating to building and growing startups, but startups that are real businesses, not the Silicon Valley myth of building a company, having billions of people adopt it organically, virally overnight and not paying you, and suddenly you come up with that monetization strategy. We talk about building real businesses where real people pay us real money. We talk about building businesses that provide us with a purpose that we're fascinated with, but we don't sacrifice our lives at the expense of building these companies.

We also talk about building companies that provide us with the freedom, and it's a freedom from a day job, it's the freedom of working on crappy projects, and it's the freedom to own our own destiny. With many different show topics, often times, we talk about tactics or teaching. We answer a lot of listener questions, sometimes with guests. We do founder hot seats and we also have interviews, as well as breaking news, episodes like we did last week with Adii Pienaar. This week, we turn the tables on me as Tracy Osborn takes the interview seat and she asked me really about what's been going on for me post-Drip and it focuses around TinySeed. That's really the main day-to-day thing that I've been doing since then.

During the course of the conversation, we look at some highs, some lows, things that have been surprises. It's really the background story that I would tell, if I was talking about building a SaaS app. It's all the customer development, challenges that we faced and just kind of the story that I haven't particularly talked about on the show or really for the most part anywhere else. I enjoyed the conversation and I hope you enjoyed this inside look at what's been going on with me for about the last 12 to 18 months. Let's dive in.

Tracy: Hey Rob. Thanks for coming on the show. I am excited to be the interviewer for once.

Rob: Absolutely. Yeah, my pleasure.

Tracy: I was looking forward to it, actually, after you answered the questions on WeddingLovely, I was like, "Cool, I can turn the tables on you." Put you in the hot seat.

Rob: Yup, dig into my successes and failures. Really, really put the thumb down on me. "How did you feel when you were at the bottom of the bottomless pit?" This will be fun. I've actually had multiple people tell me that I should do this. They said, "You know? You still have a story going on and you are growing a startup yourself," and there's obviously a lot of uncertainty any time you start something new and folks told me it'll be interesting to hear what's been going on.

Tracy: Yeah and honestly, you don't talk a lot about TinySeed. I went through a lot of the episodes of Startups for the Rest of Us, and there were a few dedicated episodes, but in general, it's been really cool listening to you and Mike talk about Bluetick. I feel like there is a lot of opportunity for you to talk about TinySeed, not just to promote it, but it's just like a really interesting process and something that's completely new. We're not technically working on a startup, like what's involved in running and funding and all that.

Rob: Yeah, I would agree. I think I've probably been overly sensitive to that and not wanting it to feel like I'm promoting it, but I don't know that anyone's ever accused me of promoting stuff on the podcast. We've been really careful about it, so I do think I want to start sharing more of the inside track. It's like you started SaaS app. You start a productized service. You start an accelerator, like TinySeed. There's an 80% overlap. You still have to get all the systems in place. You still have to find customers. You might need to raise funding if you're going to do it.

You still need to figure out and do customer development. We'll talk a little bit about that, but our terms are essentially like our pricing. That's the thing that someone could look at our terms and say, "Oh, you're pricing's too high." Just like in a SaaS or productized service, they would say that. I'm finding a lot of commonalities and I feel like my experience running startups in the past is absolutely translated here.

Tracy: Right. The funny thing is I was looking at the previous podcast episode. As of this recording, it's almost one year to the day of when you announced TinySeed. It's been a pretty epic year, I think.

Rob: Yeah, it really has. It doesn't feel like it's been that long. So much is going on, though. It's one of those things were the days are long but the years are short. It's kind of like that.

Tracy: Maybe we should backtrack a bit, just in case someone comes on this podcast and doesn't have a lot of background. Do you want to go over TinySeed and what we're doing?

Rob: Yeah sure. I mean the basics, TinySeed is the first startup accelerator designed for people who'd traditionally bootstrap and unlike most accelerators, like Y Combinator or Techstars, we're fully remote and we're a year long. Most accelerators, you have to move to a city, they're typically three months, usually the goal is to learn how to pitch, and you're going to raise money at the end of it. That's going to be a big demo today.

We are not doing that because my money and fundraising is not the end goal of all of our startups. I think there are a few that will raise follow-on rounds, but it's going to be totally up to the founders. We're remote, we're one year, we focus on subscription software, so mostly SaaS, although we almost funded to set a marketplace that was software-enabled, that had a subscription tied to it. It wasn't just processing fee. We have a really top notch group of mentors, to be honest. tinyseed.com/people, if you go there, it's kind of a who's who of folks who know about SaaS.

That's one of the beauties of, I think, being able to focus like we did. We didn't say, "Hey, we're remote accelerator for consumer packaged goods," and any startup that has software that enables it. We may get there eventually, but right now being so focused on this, we can have mentors like the Jason Frieds, the DHHs, the Rand Fishskins, Chris Savage from Wistia, Ruben Gomez from Bidsketch, and Laura Roeder from MeetEdgar. It's folks who are really in it and can provide really detailed info.

I like to say, with TinySeed there's five elements that we provide the founders. One is the money, two is the mentorship, three is the community of being in the batch—we meet four times during the year in-person, our second one 's coming up here in a week—and then the fifth is really the network.

You can come to me. My network is now at the disposal of the batch of any of the founders we backed, as well as the networks of most of our mentors. I've heard Craig Hewitt talk about a couple episodes ago, a lot of second order intro, where he'll talk to whoever, Asia Matos or Reuben Gomez, who are both mentors and they will intro him to someone they know to help solve a particular problem.

That's been the goal. I got to be honest, it was a year ago we announced and there was a lot of uncertainty as to whether this model would work, whether we could pull it off, and in all honesty, it's gone very smoothly.

Tracy: That was my next question, overall how has last year gone? How are you feeling today about everything?

Rob: Today, we're about 4½ months into the first batch for the year long batch and there have been very few days in the past year that I have felt down. There have been a few and we'll talk about some of those today, but compared to probably every other startup I've ever done, this has been more fun, less stress. I feel like I'm having as much or more of an impact or at least a deeper impact than a lot of other things that I've done. I feel really positive about it.

One of the reasons Sherry and I talk through this on Zen Founder episode, and she said, "Is it less stressed because it truly is less complicated? Because I hear you guys…" we were making deals with startups, we were fundraising, we were trying to figure out terms, there was a lot of complexity and a lot of moving pieces all at once and it was way more complicated, this time.

Yet, I felt less stressed and we kind of started boiling it down to, (a) I'm probably a little more mature, (b) it helps to work with a really strong cofounder like Einar, who took a bunch of the complexity. He's really good at making deals and working with people in finding things that work, so I didn't have to bear all the burden of that. It's interesting. With prior startups for me, my chips were always all on the table, where if the startup failed, it was years of my life that was down the drain and it was potentially most of my net worth that was down the drain. I always took that really as a big burden.

Now, I was able to take chips off the table, in all honesty with Drip. There's a certain level of comfort where I'm still confident that it's going to work every day when I get up. I'm like, "Yeah, this is helping people," it's providing real value and I'm not worried all the time of, "Oh, it's going to…" I don't know why I woke up three days a week when I was running Drip and thought this could all come crashing down tomorrow. It wasn't a healthy attitude and I kind of regret it, and I think I've made it a point not to do that here. It's made it easier mentally, but it's also made me a better as a founder, that I'm not so worried about that.

Tracy: That's really fun, I say as a team member, it's really fun to work on something that I feel so positive and exciting, just working with these founders and riding their success. It's been a really fulfilling thing to work on,

Rob: Yeah, I think being able to live through them vicariously is super helpful. I've told the founders that, "Hey, when you succeed I get the dopamine rush and when you're going through the struggles, let's get on the phone and I will work with you through that." It's nice to have that ability without really having to do it day-to-day at this point. I kept telling Sherry towards the end of Drip when we were selling it like, "I just don't want to do this again. I've done this enough." I'm looking for something different, but also challenging and also that has a lot of impact and I'm really glad that this is what we settled on.

Tracy: A year ago, the TinySeed was kind of just an idea, just like a plan, like you said, we're about 4½ months into the first batch. What has changed in terms of how you thought the process, how the management of TinySeed, and how things would go? What has changed between that idea versus reality what's going on today?

Rob: It's surprisingly little actually. Einar and I had started talking about TinySeed around April of 2018 and then we announced about six months later and Einar have heard my MicroConf talk and said, "That's something that should exist and I know limited partners who would fund that." We were at the black jack tables at MicroConf and I kind of waved off like, "I don't know, man. It seems like a lot of work, a lot of headache," all that stuff.

Within a week or two, I got to thinking because I had this idea YC for bootstrappers, like 2011, I had written down and started sketching it out and I thought, "That sounds like a lot of headache dealing with it. I've never raised money." It's like, "I don't really want to deal with limited partners." It's a lot of work. But the idea became more and more intriguing the more I thought about the need from the founder side.

Since I started investing, writing the little angel checks in, the more bootstrapper companies, the capital efficient independent startups like the CartHook, the RightMessages, and the SparkToros, I just didn't have the money or the time to really go all in on that. But the need was obvious and the need was there and a lot of it was at MicroConf, frankly, people I would meet.

All that said, we started just kind of collaborating and working on the deck and stuff and I really was like—we haven't worked together before, but he's come to a bunch of MicroConfs, I checked references and asked around. Some people I've been in a master mind with them. People are like, "He's legit. He's super smart. He gets stuff done and he'd be a good partner." It took us I think a couple months of back and forth to configure out really what we wanted to do, but even in the early incarnation, I think I'd said a three or a six-month remote accelerator is what we're thinking.

At some point one of us said, "Why not make a year since SaaS takes so long." That was one thing that changed. The other thing that changed were the terms. We just didn't know what terms could possibly work, because the only model for this was indie.vc. Everyone else who funds things really does it either way, it's like safes, convertible notes and those aren't going to work here, because if you don't raise another round, then you never get your equity. Then there's venture terms and we don't want any of those. That is where we just started. That was the biggest iteration of probably what changed the most, was I think we went through six different versions of the terms and customer developed the hell out of those.

We talked to founders. We talked to investors and looked at myself and said, "Which of these makes sense and is the most fair?" and obviously we eventually landed on them. Our current terms, which are modeled after SparkToro's terms, Rand Fishkin came up with to raise money for himself. Other than that, I think with Fred from the start we said, "We're going to do weekly calls. There will be office hours. We'll get together two to four times per year." The basic structure was in place really early. Frankly, I'm surprised more hasn't changed, because we are very willing. As founders, if it doesn't work and I'm willing to change it.

I've been surprised at how little we've had to change. I would've expected more things to go wrong. Typically, when you're starting something with a lot of uncertainty, things go wrong and you just have to pivot, or change, or whatever. I guess it helps that the accelerator model is proven and there is a lot of accelerators and models to look at that already work. All we did was make it remote and we can essentially model ourselves after an in-person one and just make the adjustments necessary to translate it to a remote situation.

Tracy: Let's go back to that term process because I know that there is a lot of hullabaloo that went into nailing down the terms, getting investors on board, and some ups and downs there. If you want to expand on that process?

Rob: In all honesty, I think my two low points came while we were trying to figure out the terms. I don't like uncertainty, I'm an engineer, I'm left brain, I like things to be ones and zeros and the process of trying to figure out what terms were fair to founders but that also provide some type of return, such that you can be super founder friendly and if you provide a crappy return, then no one will invest in your fund. They will put their money to REIT instead, if you can't provide more venture-like returns.

There were a couple of conversations in there. One was with a potential TinySeed founder and one was with a potential TinySeed investor. The terms were changing literally weekly at this point. Each of those conversations—we had a few dozen—there were two in particular where after I basically got the feedback, I told Sherry like, "I just don't think this is going to work." I don't think we're ever going to find terms that both satisfy both investors and founders because it's a lot harder than it looks. I was super down during that point and it was for about a day or two. Frankly, I was catastrophizing. It was not that big of a deal. It was one data point and it's so easy to do that in the early days. Your ideas are just so fragile.

When you launch your SaaS app and someone tells you, "This isn't going to work," or, "The pricing is too high," or whatever, the first time you hear that, you're like, "Oh, no. My pricing is too high." But when you have 500 customers paying you and someone comes and tells your pricing is too high or you've funded an entire batch of really talented ambitious founders who are growing fast and the terms work for them, you just gain that level of confidence where batch two opens in just probably less than a week after this. If someone comes and says, "I don't like your terms," I'm going to say, "Okay." It doesn't matter.

The first few times you hear that when you just have three data points and one of them is that they're not going to work, it's really hard for me. I think that's actually something I'd like to get better at and I think it's a weakness of mine, is I take those things really hard. I get myself tied up in the success of my startup. Einar was basically like, "Nah. One data point. We'll make this work." He helped pull me out of those two moments. That's where I'm thankful. It's been a year plus but those were the two moments where I was like, "Man, this sucks." Aside from that it's definitely been more fun, except for due diligence in dealing with the lawyers.

Tracy: That would be the next question actually, because trying to create the terms was made even harder because of working with lawyers and people who don't understand what we're trying to do, or at least they work off a rubric that works for traditional venture firms, but we're not that.

Rob: Yeah, we figured out our terms. We talked to one law firm, of course we're talking to Silicon Valley lawyers and we worked with them for about three weeks, and we bailed. We switched lawyers because they just didn't get it. They couldn't get their heads around we're funding LLCs and C Corps in all 50 states. They gave us docs and it was all Delaware C Corp language. We're like, "No, we've told you like four times on calls, this is not that," and they just didn't understand it. We bailed, went to another firm and they did that although they figured themselves out a little sooner.

We were making offers to companies and going to sign the docs, and our lawyers were like, "We might have six or eight weeks of due diligence to do on these companies," I'm like, "What?" I don't know, it's frustrating for me. I often get frustrated dealing with lawyers and my goal every year to not to have to talk to lawyers. At a certain point, I worked through the due diligence, took a couple of months, most of the companies and eventually I got so burned out on it. Einar was like, "Do you want me to step in on this?" He actually had to take over. He didn't have to, I could've got it done but it really pulled a big burden off me.

I think we're probably 7 or 8 into our 10 that we funded and he took over. It's a thing where I can do that stuff, but it's not fulfilling and it's frustrating and that's when you know, if you do that for a long time you're going to burn out. Just because you're capable of something as a founder, doesn't mean you should do it. I think that is a lesson I learned over the past year is if I'm able to hand that off completely this time, just the mechanical due diligence of it and not be involved, that will that will probably be my goal.

Tracy: TinySeed was a little bit delayed starting the first batch, right? How long was that?

Rob: Yeah. We wanted to announce at MicroConf 2019 which was March 23rd, I believe, 24th, and I think of first docs that were signed were maybe five weeks after that. It was the first company and everyone else came within the next four to six weeks. It was like May, early June that everybody got signed. It was a couple months later than we had intended. I would say it's frustrating, but it also was a little bit disappointing. I didn't take it super hard, but like in the past, if I set a deadline and we missed it, I would have been devastated, like we failed. I didn't necessarily feel that way this time.

Tracy: And we could take it to round two which is going to be happening pretty soon. I think all these things we've learned about the application process and the due diligence stuff should be easier this time around now that we've worked things out have lawyers and all that.

Rob: Yeah, absolutely. We have a checklist Einar put together and I would expect it to be shorter. The other thing we learned is we're opening applications November 1st. They'll be open for a month. We're giving ourselves a month or a little more to evaluate and interview, and then we give ourselves another couple months just to make sure the due diligence is dialed in, everything gets signed, and we can plan for folks to frankly come to MicroConf which is our first retreat for the second batch will be a couple of days prior to MicroConf here in Minneapolis next April. We've given ourselves ample time this time. Last time was definitely an aggressive schedule and I feel like you get experience under your belt and you're just a little more cautious with it.

Tracy: On the founder side of things, what has changed in the application?

Rob: Our first cut of the application was good. It wasn't great. Some of the wordings was off. You can tell when someone puts a monthly number and another person puts an annual number, and you can tell, "Oops. Should have specified monthly," because that's what you wanted. There were some things like that.

Tracy: So is on Google. It was kind of very MVP before. They were using Google form or is it type form I think and then pushed into Google sheets.

Rob: It was a square space form that's pushed into Google sheets and I had Zapier monitoring the Google sheet to send a confirmation email because I didn't have that at first and I probably got 50 emails on the first day or two saying, "Was my application received? I got the message, but I never got an email," I got a message on the screen but never had an email. I like, okay, I guess people wanted an email confirmation.

It was very taped together. Google sheet was almost 900 rows. You saw it as you came in right at the end of the process. It was a kind of a mess to deal with. It was very MVP as you said. It was in retrospect, I don't know that I would do anything different. I didn't want to vet and find applicant tracking software. I didn't want to drop the money. We didn't know if we had the money to invest in that at that time.

We knew we had money to invest in the founders, I just didn't know how much budget we would have for things like that. We were doing it almost like a bootstrapped fund and just doing it super scrappy, but this time around, you have gone through a bunch of potential pieces of software. That was a fun journey, huh?

Tracy: Yeah. The founder side of the application is going to change. I'm raising a new system and that should be really great. There's everything administrative-wise I think will be improved on our side. Our founder facing side, the questions aren't really changing. They're just updating a few of the questions there. We're kind of working through that process, continue working at that process at the moment, but a lot of lessons learned.

I think it's really fascinating to see. This was places where we're not launching our own product per se, but it's still a lot of those lessons from doing something really small, scrappy, and MVP, and then taking those lessons, then be, "Okay, cool. Now we actually know what we need, what we want to build, and implement that into our process."

Rob: Yeah. I think that's a bigger thing that we'll change is the internal process that we have. We just have a better software this time. The application itself is I think 95% the same as the first time because we found that we had really good information, that we needed to evaluate folks.

Tracy: The terms for the founders who get accepted at TinySeed aren't changing or at least aren't changing significantly, because there's some other funds out there that will do version one, version two, and whatnot, but we're largely saying it's pretty much the same.

Rob: Yeah. There's just one minor adjustment to multiple founders. The single founder rate of $120,000 that we invest is staying the same, but we did get some feedback that only we were only adding $20,000 per additional founder. It did start to feel after many conversations like, "Yeah, that's not enough," so we're increasing that amount for subsequent founders this time. Multiple founder teams will get a bit more.

Tracy: We have 10 companies in our initial batch. Any fun surprises about working with our initial batch of startups?

Rob: I think the biggest surprise is like I said earlier, how smooth it has actually been given that we were making it up as we were going along. I expected to have to change more things to be honest. I expected things to go wrong just because when you're writing it out on a piece of paper, you figure, "Cool. This is our V0.5 and I'm ready to change a lot of things." I've also been pleasantly surprised with how well the batch came together in terms of the personalities and in terms of people helping really going out of their way to help one another.

We have a couple of folks who are really good with UX. We have some folks that are really good at sales, dealing with big contracts, all these skill sets. There's a myriad of skill sets in there and the people in that batch are just willing to jump in and help one another. I had hoped that would be the case. That's the point of funding people in batches. You get a group of 10 super talented, we have 2-person teams so it's 12 super talented founders.

If they were off on their own, we just wrote a check. and then we're like, "Okay, yeah. You could deal with us and the mentors," you lose something there. That was why from the start, Einar had gone through YCombinator, I was always a believer in community. I've been a part of building MicroConf and building online communities and such, I've seen folks help one another. That was a hope, not an expectation, and that has come together in a way that I'm very, very pleased with.

Tracy: One of the things I found really fascinating when I joined—I do a lot of the day-to-day administration of the batch—there are some founders who are very active and involved, and there's other founders that are a little bit more quiet. It was funny […] building of the systems we use in TinySeed. We have some of the traditional things. We're using Notion, we're using Slack, and we looked at some other project management solutions. They're kind of geared towards people running companies where you have to have the people who are involved be involved and responding, like check-ins and all that.

The funny thing is, with us, with our community, we want people to be involved, but these are founders who are heads down working on their own companies, and we have to also have these things in place so that they can focus on their companies. There are times where they're not going to be as involved at TinySeed, and people float in and float out as they need us. I thought that was really interesting to me, really interesting to build up an accelerator and build up these systems, but then how they're different than how you run a company with employees.

Rob: That makes a lot of sense. That's a good differentiation. Einar had said, when he went through YCombinator, that some of the companies used office hours all the time, or super engage with the batch, and there were a few that were just less engaged they were off doing their own thing. It wasn't a sign of success either way. It wasn't predictive who was more involved, then they grew faster, whatever. It was just personality, they just wanted different things out of the batch. That's something that we've tried to do, build the systems in a way that doesn't force anyone.

I was kind of a loner. I've had a lot of co-founders, but I've always been just kind of like to go and work off on my own. I get it. I get that some folks don't want to be on calls. If we were doing two calls a week or something, I feel like you'd start to detract from founder productivity and then it just gets to be too much.

Tracy: Yeah, totally. The same thing with me. When I went to 500 Startups, I didn't involve myself a lot in office hours. Personally for me, that was one of my regrets, but it's been fascinating to be on the other side of the table, see how different people work, and what people prefer. On the TinySeed side, trying to make sure that we're successful for all these different kinds of founders. Will you remind me, was Drip remote or did you have a team in place?

Rob: We were half remote. We are five Fresno and then five remote.

Tracy: We're entirely remote. I met you at MicroConf, but really the first time we really worked together in-person was at the Minneapolis retreat, the TinySeed retreat. How has been that process of (a) TinySeed itself is remote, and then (b) working with the founders as all entirely remote and we get to meet each other on these retreats, but we're all in on the remote culture. How's that been as a founder, as the person who's managing everything?

Rob: I think personally, I'm fine with it. I work really well remote. I don't need a lot of in-person communication and all that. Some folks want more interaction. We had a founder or two mention, "Hey, can we do more calls? I wish the Slack group had more action going on," and then other folks are fine with the way it is or frankly probably wished there was less conversation going on. That's what I've been thinking about is how do we make this work for a broad range of people.

The remote aspect, I'm curious to hear your thoughts. I haven't felt like that's been a detriment. I think that's a testament to this day and age. The tools like Slack and Zoom, and the fact that we are meeting together four times during the year. We're so well-enabled that if you have a high speed internet to connect with one another. Even Voxer, I know most of us have a love/hate relationship with Voxer, but the push to talk and just to get audio to someone quickly, I just think we have more tools now than we ever have. I don't feel like that's been a big hindrance, but I'm curious to hear your thoughts if there's something that's come up about us being remote that has been a challenge.

Tracy: Well, it's funny, again, looking back on my experience with 500 and also YC because those are in-person. They attribute a lot of their success to being like, "Okay, we're all working together in-person for these three months heads down," a lot of that has to do with that whole Series A process or the whole fundraising process when you're getting on the full roller coaster. It's been really interesting also. This works for us for the founders, because we're working a little slower, a little bit more reasonable, a little bit better work-life balance for the founders for this year long process.

It's nice to have that trickle down to the TinySeed team, because another thing I was going to ask you actually is you're juggling a lot of things. You're running MicroConf, you're running TinySeed, we just did a big survey for MicroConf. I helped you out on that. You're running this podcast, you're running a new podcast project which you've been mentioning a few times on this podcast, you're an angel investor in other companies, you do a lot of speaking engagements, you have a family. That's why I think the nicest things about having this remote first company is that I think it allowed you to work through all these different projects that you're working on which is kind of overwhelming when I listed it out like that. I'm just going to roll right into it. How has that been? Just juggling all these different things?

Rob: What's interesting is it feels less stressful now than it did when I was running software companies, because at least more of the things overlap. Now the podcast overlaps, it's always overlapped with MicroConf, but much like the conversation today, and my ability to bring some of the TinySeed founders on as I have, David Heller, Craig Hewitt, Matt Wensing, it almost feels like things are more in sync than they have been in the past with me.

The other advantage I have that I didn't back in the day is, given our funding, we were able to bring you on full time to do a lot of the day-to-day, the grind, the operations, that I would have had to do. What I did with my prior companies. This is probably the first time I'm talking about on the podcast, but we brought Xander on full time to essentially head up MicroConf and continue to produce it. I'm not as in the trenches as I have been in the past and everything's aligned and going in the same direction.

I'm not doing all of this. Everything you just mentioned, I was doing except for TinySeed, but insert Drip in there. I'm running a software company with a team of developers and there are 10 of us and in essence. That split my focus because MicroConf podcast mode was different than Drip mode. It's just two different problem sets. TinySeed and MicroConf are not the same, but at least it's the same headspace of community, and helping folks, and pushing this forward. At least for me, there's a lot that I can stay in the same headspace with each of those things, and then frankly working with really good people has helped tremendously.

Tracy: In terms of all these projects, do you have any processes in place that help you keep track of everything you have to do?

Rob: Yes. I get a lot of email, quite a lot of email. I'm in email constantly and my process is to triage things and use the Trello board. Literally, if someone texts me something that is like a task or if you Slack me something, I will often copy-paste or screenshot that and throw it into Trello, because otherwise, I'll read it, forget about it, and it'll never get done. I'll remember it three days later and be like, "I'm sorry I didn't get back to you about that one thing you asked me about," if it's a quick yes or no of course I just answer, but if it's more than two minutes, I need to be prioritized.

I'm in Trello and email a lot. I boomerang a ton of stuff. I have a "this week" folder. If it doesn't need to get done, if it's not urgent and I know I can handle it in a week or in the next week, I'll throw it into this week and I have 30 minutes like on Thursday morning where I go through that whole folder and I respond to things. Often it's speaking invitations, it's asking for advice from random people I don't know, or people outside of the batch. Other stuff that's not time-sensitive.

I think really the core of why all that works is Trello. If you're ever in a conversation with me and I get on my phone, I will say, "I'm emailing myself that right now." If you were to mention a really good book right now, I would email that to the Trello board and I would later add it to my audible wishlist if I wanted to listen to it. Or if you are to recommend a tool for applicant processing, I would email it there first, then later I would go and I would mention it to you that I put it in Notion or something. That's kind of my inbox triage. Just getting fast with keyboard shortcuts.

Tracy: There was that one time that you emailed me rather than Trello with your to-do. That was funny, because Tracy starts with TR.

Rob: Yup. I know of a good TR and it's the Trello board and for some reason, you were there, and it was only a subject line, it was like, "Remember to X, Y, Z," and you're like, "Was this for me?"

Tracy: I was like, "Okay, this is clearly not for me but I'm not sure what it was for."

Rob: Totally.

Tracy: Batch number two, the application is going to start on November 1st. It will probably last about a month. For people who are applying for batch two, do you have any big pieces of advice?

Rob: That's an interesting question. We do look at every application, we will read all of your answers, do think them through. We're serious about the questions we ask there. We feel like it provides a lot of insight. We actually got a feedback last time from multiple people saying, the questions, especially the latter half where we ask about, "What would be three ideal customers for you? Why is now the time for this idea?" these are just some high-level questions.

We got multiple people that told us, "Those helped me think through my business. I learned something by having to think those through." I would say I look at the people, I look at product market fit, and I look at price sensitivity. Those are the 3Ps, the high level P's. We have this whole list of 40 something things that we evaluate folks on. If it's a solid team, you're shipping, you're getting stuff done, and have some kind of traction, we really want to have a conversation.

I don't know if there are any hacks or quick ways to get attention, but I do feel that in this day and age, I don't know any angel, or VC, or accelerator, that will fund ideas. If you're at the idea stage, get out of that. Get validation, get someone using it. Even if it's a productized service that will ultimately be beaten by software, or you're just hacking stuff together with Zapier and Duct Tape. Get to revenue, get to where you've proven that there is a need and people are willing to pay for this, because that's so much of it.

The cone of uncertainty is widest in those early days and it's so hard to break through from $0-$50 MRR. It might be the hardest point, or $50-$500. There's just these little hurdles that are so hard to get through. It's what I tell any founder, whether they're applying for funding or not. This is the hard part. Get past that to prove to yourself as much as anyone else that that is a viable idea, and it gives you the confidence to keep pouring your time into your business.

Tracy: The nice part thinking about their new application process is that people can save their work compared to last time which is just a form.

Rob: Yup, big one-page form. That is nice. There will be improvements this whole time, little iterations and such.

Tracy: When I was working my startup before TinySeed, I never got into YCombinator. Like what you said, the application process helped me so much in terms of making me think through what are the issues that I wasn't thinking about beforehand, what are the things that I could be anticipating, that I can put into place in the next three months? Who are the competitors out there? What does the competitor last week look at that moment? Because oftentimes. I'd forget to look at that as things popup over time.

We've gotten quite a few emails from people saying, "Hey, should I apply? I don't know if I should apply," and I said, "Yeah, definitely apply if only for that process of going through those questions and forcing yourself to think about these things, you might've forgotten to think about for awhile." I think it's a really useful process and I hope to see a lot of applications. This is my first time being 100% involved, so I'm really looking forward to it.

Rob: Yeah. It'll be fun.

Tracy: Cool. I think that's a good place to end this.

Rob: Sounds good. If folks want to keep up with you, they can go to @tracymakes on Twitter or tracymakes.com.

Tracy: And if they want to keep up with you, they can go to @robwalling or robwalling.com.

Rob: Nice. Well done.

Thanks again to Tracy for coming on the show and interviewing me and maybe I'll do that again in another month or two to continue my story. If you have a question for the show, leave us a voicemail at (888) 801-9690 or email questions@startupsfortherestofus.com. Our theme music is an excerpt from We're Outta Control by MoOt it's used under Creative Commons. Visit startupsfortherestofus.com for a full transcript of each episode. Thank you for listening and we'll see you next time.