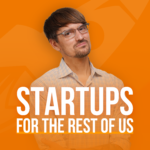 Show Notes
In this episode of Startups For The Rest Of Us, Rob and Mike talk about their favorite table top games. Deviating from the typical topics, they change things up and reveal some games they enjoy as a personal hobby. They put the games into 3 different categories by age range and difficulty and share some stories on how their families and kids enjoy them.
Items mentioned in this episode:
Transcript
Mike [00:00:00]: In this episode of "Startups for the Rest of Us," Rob and I are going to be talking about our favorite tabletop games. This is "Startups for the Rest of Us," episode 303.
[Theme music]
Mike [00:00:15]: Welcome to "Startups for the Rest of Us," the podcast that helps developers, designers and entrepreneurs be awesome at building, launching and growing software products. Whether you've built your first product, or you're just thinking about it. I'm Mike –
Rob [00:00:24]: And I'm Rob.
Mike [00:00:25]: – and we're here to share our experiences to help you avoid the same mistakes we've made. What's going on this week, Rob?
Rob [00:00:29]: Well, we are mostly unpacked now in Minneapolis. There's only just a few boxes left, and now we've gotten to the point where we're hanging curtains, hanging photographs, really putting finishing touches on things. It's amazing the amount of stuff that, even once we got here, we're just like, "Oh, yeah. We didn't really need that," so we we're giving stuff away to Goodwill, and then the amount of stuff that we actually need, right? We're buying all thee curtains and all these paintings and art and stuff for this wall and that. Our living room stuff didn't quite fit perfectly in the space, so we had to get another chair and stuff. It's very time-consuming. At this point, I'm not super concerned about the money, like I used to be in our very first apartment, where everything had to be used and everything was Ikea and Craig's List, but it's just the time to do that and to find stuff that you like.
Mike [00:01:15]: You know, there's a time shortcut you could take here. Just go to Target and buy a bunch of picture frames and just unpackage them and hang them on the wall. Just leave the stock photos in there. You'd be good.
Rob [00:01:23]: Boom! That'd be a great idea.
Mike [00:01:25]: [Laughs].
Rob [00:01:25]: Be like, "These are all our children that are away at college."
Mike [00:01:28]: When you rent it out as an Airbnb, it won't matter.
Rob [00:01:29]: Yeah, exactly, because everyone will feel like it's theirs. The other thing I've been up to is a lot of hiring, like at work. I always forget how time-consuming it is to find really good people, and to find people that are the right fit for what you need, and we've tended to be extremely picky, in general. We've hired pretty slow, and we basically have four open positions right now. It's almost my entire job right now. It's like 30-plus hours a week of reviewing resumes and meeting with people and talking and then getting that going. That's with – Lead Pages has a full-time recruiter, and several full-time HR people, so I'm not even negotiating anything in terms of actual salary, or researching salaries, or doing any of that. It's purely just finding the right people. I'm hoping that we get over a hump here pretty soon and I can back off of that and get back to some more product-focused stuff.
Mike [00:02:1]: Cool.
Rob [00:02:17]: How about you? What's going on?
Mike [00:02:18]: I think last week, I was – I don't want to say "down in the dumps," but I was just a little disappointed about the apparent lack of progress on the technical front and all the different challenges we've been running into. I feel like we're starting to turn a corner. I just onboarded a more advanced senior developer onto the team, and basically replaced the rest of the team with him. So that is going pretty well so far. He did a full review of the API, and started overhauling a bunch of things, and I'm still working on other things in the meantime; but I think things are going in the right direction now. It's been a slow process, but I think things are starting to turn a corner.
I've had a couple of conversations with some customers about some things that are in our feature pipeline that they've been looking for, that are, I'll say, preventing them from fully transitioning over and using the product, because they want to use it to replaces some other things that they're using. Until those things are in place, they really can't make that transition, and it looks so far like – I'm mitigating as much of the risk as I can by having those conversations, but so far it seems like we're really on the right track in terms of what it is that we want to deliver. So, I'll have the conversation with them and say, "Here's the broad-strokes idea of the feature. What is it that you're looking for?" then let them talk, and see if it mentally maps back to what it is that we were planning on building, or we're in the middle building. It's nice that there's 90, 95 percent overlap in what they envision versus what we've road-mapped out and are building.
Rob [00:03:40]: That's really cool. It always is painful to run into roadblocks like this, and it's nice to feel like you're back on track. Do you feel like you're just turning the corner now – like you're just coming out of it and that's going to be sustained – or do you still have in the back of your mind, "Are we still stuck in this?" and, "Are we really actually making progress?"
Mike [00:03:56]: No, I feel like we're starting to come out of it, because a lot of the testing, I'll say historically for certain things, has taken much longer. The reason it has taken longer is because we have to run a bunch of data through a process that will take hours or days to run, and as part of going through that process, it'll run into a problem that we didn't anticipate. Then we have to rewrite a bunch of stuff and then run the entire thing again to see if that worked instead. It's almost like we're translating data from one place to another. If fails along the way, we've got to redo a bunch of stuff. But in reworking it, we also are able to find places where we can cut down on the amount of time that it takes to process and do all of the work. I'll give you an example. One thing took four days the first time – or it was on track to take four days. Then after it ran into a problem, I reworked a bunch of the code, got it down to take, I think, ten hours or something like that. Then it ran into a different problem, and then I reworked that and was able to get it down to about three hours. So, the initial iteration times to just see if a particular prototype of how to do something is extraordinarily painful, but over time as you go through some of the different challenges, it gets to be less painful because the iteration time is quicker. It still takes time to build all that stuff.
Rob [00:05:10]: Oh, for sure.
Mike [00:05:11]: I feel like we're starting to turn that corner, and it's getting easier and progressively faster to go through each of those iterations. That's good to see.
Rob [00:05:18]: So, what are we talking about today?
Mike [00:05:20]: Well, today we're going to be talking about some of our favorite tabletop games. This is a bit of a deviation from the shows that we typically do, where we focus in on a particular aspect of how to do something, or certain things that you might need to be careful of when approaching a particular problem. Every once in a while, we like to do, I'll say, an "off-the-beaten-path" episode, where we talk about something different, whether it's something that we specifically do either in our personal lives or just something that interests us. Today, I wanted to talk about one of the things that – in my house, we have a family game night. Once a month, roughly, we get together with other families, and we'll bring all of our kids together. There's – I don't know – like ten, 12 kids or something like that, and we'll be playing different games with them. Sometimes it's just smaller groups. Sometimes it's just the kids. Sometimes the kids will be playing one game, and sometimes the adults will be playing different games.
[00:06:07] I wanted to talk about some of the different games that we've played, and some of the different things we've tried, because some things we've tried introducing our kids to, and the kids are interested, but it's just way too advanced for them, or it's just not a good fit. Then there's other ones where we don't think it's going to be – we're really not sure, and it turns out that it's a great game and everybody has a fantastic time.
Rob [00:06:26]: Super cool. Yeah, I'm such a board game fanatic. I should say "tabletop games" right, because I like RPGs, and I like more – I think "board game" connotes – to me, it's like Monopoly and Chutes and Ladders and stuff, but "tabletop" is just more sophisticated, more strategic, something that just gets your brain firing. Just learning the rules is always such a task, and then learning the strategy of those rules and how to beat others at it is – I think it brings out – I think a lot of founders, this should ignite something, because it's about complex systems and competition, and it's really similar to launching a startup, so I think we could do almost an entire episode on Rob's favorite tabletop games that he's gotten on Kickstarter, because I have dozens and dozens of them. I'm that into this stuff.
Go ahead. Say it. "Ne-e-erd!"
Mike [00:07:11]: Nerd! [Laughs] Of course, on that note, I'll mention that we'll link up a website called boardgamegeek.com in the show notes that you can go take a look. You can probably find every single one of these games on that website, and there's usually an in-depth review, and there's reviews of each of the different games and the age-appropriateness and the number of recommended players and things like that.
Rob [00:07:33]: I want to throw one other – oh, you're going to just hate me if you like tabletop games and you like Kickstarter. There's a podcast called "Game Punting." It comes out once a week, maybe once every other week. All they do is review their favorite six or seven crowd-funded tabletop games. It'll be Indiegogo and Kickstarter, and it is just – it's terrible for me, because I listen to that, and I'm just clicking through. I'm backing games, all crazy stuff. Sorry if you like tabletop games and crowdfunding, because you're going to spend a lot of money.
Mike [00:08:02]: I guess we'll break this down into four, broad categories. The first one is games that I will say are aimed at younger kids, and by "younger kids" I mean seven and up. These are the types of games that you can get a kid into and they will understand it, and it will actually be fun to play the game with them versus those things where you try to introduce them to it, and it's just way too advanced for them.
Rob [00:08:23]: And these are not just games for kids. It's just games that kids can start playing, because on this list we're going to talk about Dungeons and Dragons, Magic: The Gathering. You can play that up until you're our age, and it's still super interesting. So we're not going to be talking about necessarily kid games, but things that they can start playing at seven or eight years old.
Mike [00:08:40]: Yeah, that's a really good distinction, because a lot of these games, I still find them highly entertaining, and it's a lot of fun to play them, whether you're playing with the kids or without them. These are just the types of games that you can introduce smaller kids to that you're still going to enjoy playing regardless of whether it is aimed at that younger crowd or not. It doesn't necessarily matter.
The first one is called "Sushi Go!", and it's a card game where you deal the cards out to everybody, and you are trying to score points from one round to the next. It's very easy for kids to get into it. The idea is that you're trying to collect and match up these different types of sushi, and for each match that you get, or each set that you get, you will score a certain number of points. The points are anywhere up to, I think, three points for each set that you get, so it's either one, two or three points. You go through several rounds. Then at the end of the rounds, you add up the number of points that you get. Usually, the games in this are pretty close in terms of points. It's really hard to get so far ahead of somebody else that you have no chance of winning, so that's one of the benefits of Sushi Go!, especially when you're trying to play with kids. The other thing is that there a lot of complexities to it. There are certain things that are worth a lot more points than others, and it can be difficult to get those matches, so if you're trying to get something that's worth four points, it can be very difficult to get that, but if you do get it, it can be very helpful if you are able to put those things together. You are trying to match what you get versus what other people may have in their hands, so you're essentially playing head-to-head by taking things away from them when you play down sets.
Rob [00:10:11]: Oh, man. That would be so brutal. My six-year-old would scream bloody murder if someone took something from him.
Mike [00:10:17]: The thing is you don't know. You just know that there is a card in there, and it may be face down, it may be in the deck, or it may be in somebody else's hand. But let's say that I'm trying to get a California roll, or something like that, and you've got one in your hand. I've got three in my hand, but I want a fourth one. Well, I don't know where that fourth one is, but if you're hanging on to it, I won't get it, but I won't necessarily know until the end.
Rob [00:10:39]: It looks like Sushi Go! Is right around $9 on Amazon.com here in the States.
The Second game we want to talk about is "Magic: The Gathering", and this is a card game that's been out since the early '90s. I actually played it in college. I don't think it was out when I was in high school. Super fun game, and you can get starter decks for – I don't know – 10 or 15 bucks, and each player needs a deck. So, my ten-year-old and I play – and, to be honest, we didn't actually by starter decks. We went on eBay. For, like, 20 bucks – I think on Amazon as well – you can get a big, old box of hundreds and hundreds of "commons," they're called – commons and some uncommons and two rares or something. They're not actually worth that much, but you can totally play the game if you don't want to get into the collecting of it, because Magic is both a collectors' game – where the cards go up in value and stuff – but if you really just want to play it as a game, which is probably would I'd recommend if you're going to be playing it with younger kids, you can, again, spend 20 bucks and get plenty for tons of different decks. The concept is almost like a simplified version of Dungeons and Dragons, in a way. It's just two wizards battling. It's pretty sophisticated now. It's actually gotten more complicated with more game mechanics over the years; but, in essence, you have some cards you play that are like your resources. Then you can tap those resources to summon creatures, and then you attack each other. You, as the spell caster, have 20 points when you start, and you're just trying to get the other guy below 20. You can attack each other as creatures or each other. Yeah, it's a pretty fun game, and we've played it a lot. We've gone to camps my ten-year-old went to where there were Magic tournaments, and it was so cool. He had brought his deck. What is it? A 20-year-old thing now, so a lot of folks play it, and it's really age-appropriate from probably age seven or eight and up. Even when my oldest was seven, he picked it up pretty quickly.
Mike [00:12:17]: Yeah, I think the game came out in '94 or '93, maybe even '92, something along those lines. So, it's a pretty old game at this point, but every year they come out with new expansion packs, and they come up with new stuff. But I think you're right. If you're just trying to get into it, or you are trying to bring kids into it, it's very well worth it to go on eBay and just buy, like, thousands of cards because they're very, very cheap there. You won't get the greatest cards in the world, but you can get a lot of them, and it's significantly cheaper to do that than it is to buy all your cards new. There's really no additional value to buying a new card these days. I think that the company behind it, Wizards of the Coast, realized very early on, or at least maybe five or ten years into it, that some of the previous cards that they came out with, they just weren't going to make anymore; and some of them are worth thousands of dollars at this point. They're not going to make them anymore, but nobody plays with those either, and they've banned certain cards from tournaments and things like that. I actually have a deck that was built ten, 15 years ago. It is completely not tournament-legal. There's no way that it's tournament-legal at this point.
Rob [00:13:15]: One, last thing about Magic: The Gathering, and we'll move on. This is one of those games, one of the few games on this list, that you can play over and over for years. Since every time you choose what your deck is, you can just play with new cards. You can play different – there's five, different colors you can be. Depending on which color you are, it's just a totally different game, so much like Dungeons and Dragons or something with infinite possibilities – there's no board. Certain games have boards. I find that you play them five, ten times, and then you're kind of done with them. You've played it out, and it's not fun anymore. Magic is one of those that you can play for a really long time.
Mike [00:13:46]: The next one on this list is called "Storming the Castle." I got my kids into this when they were about seven years old, and they love it. It's based on the movie "The Princess Bride." So the idea is that you pick one of the characters from "The Princess Bride," and you send them on a mission to try and storm the castle. Whoever gets there first is the person who wins, and there's all the different places from the movie inside the game on these different cards, and you can put them in front of other players. You can overcome different challenges on your own path, but the idea is you're just trying to storm the castle as fast as you can and get there before anyone else is able to get through all of their challenges.
Rob [00:14:22]: It looks like it's available for about 17 bucks on Amazon. There's a whole series of "Princess Bride" games. That's hilarious. I've never even heard of these. I like that movie, but I've never heard of any of these games.
The next game is called "Boss Monster," and this is also for about ages 7 and up. What I like about this game – I've only played it a few times, but the art is super cool. It's eight-bit. It almost looks like Super Mario Brothers graphics on these cards. It's just a card game, and it's like a dungeon-building game. Not a dungeon-building, but – what do you call it? You put the dungeons down, and then you fight through them in rounds.
Mike [00:14:53]: I forget what the specific name is for it, but it's kind of a resource-building game where you put the different cards down, and those are your resources, and you're trying to attract or, in some cases, repel certain types of heroes from your dungeon; because there're certain ones where you're just not going to be able to compete to get them to your dungeon, so you just say, "I'm going to give up on that type of hero," whether it's a fighter or a wizard. There's other ones you're trying to attract based on what it is that you have in your dungeon. The goal is to get enough of the heroes to come into your dungeon that you can kill and get the points for them, before enough of the heroes come in and get through your dungeon and kill you. So, you can either get hurt, or you can kill the hero and get the points for it. You can either win the game or lose the game, or you can cause somebody else to win or lose the game based on whether or not you push a hero to their dungeon or you take the hero away from their dungeon.
Rob [00:15:41]: Yeah, it's "Boss Monster: The Dungeon Building Card Game." I think that about wraps it up. It was $20 on Amazon.
Mike [00:15:50]: The next one is a fun one. It's called "Car Wars: The Card Game." There is a Car Wars pen-and-paper game. It's not really a role-playing game, but the idea in that game is that you build your vehicle of some kind, and then you can get put into an arena, and you can shoot other cars until one of you blows up, or one of you tries to get away. In the card game, Car Wars: The Card Game, you have a card that represents your car, and then you draw a bunch of cards, so does everybody else, and then you play one card per turn against the other players. You are essentially trying to be the last person in the arena with a functional vehicle, and there's lots of different things that you can play. You can either play armor. There's weapons that you can play. There're special abilities that you can get and certain types of defensive measures, stuff like that.
I find that this is a lot of fun with my kids, and my wife plays with us as well. It's interesting to see that, because you can attack anyone, it's very easy to either be ganged up on or to have somebody else gang up on you. The kid will occasionally gang up on somebody, and there's really not much you can do if that happens, but it's not to say that you can't get certain types of cars that will help you overcome two people coming against you.
Rob [00:16:55]: It looks like Car Wars: The Card Game is about 14 bucks on Amazon, and there's also Card Wars: The Board Game. I haven't played either of those, but I have heard about them. Car Wars: The Board Game is actually – what – 20, 30 years old. It's kind of a classic.
Mike [00:17:07]: Car Wars was made by Steve Jackson Games, and it has been around for a very long time. Steve Jackson Games is also behind Gurps, which is the generic, universal roleplaying system, I believe.
Rob [00:17:17]: Our next game is called Dungeon. I actually recommend this. If you're thinking about getting your child into Dungeons and Dragons, or you've never played Dungeons and Dragons and you want to get a more entry-level version of that, Dungeon is – when I bought it on Amazon brand new, it was $15, super cheap. Comes with a board, so it's like D&D lite. Comes with a board, and it comes with some generic character classes, and then you just wander around the board. When you go into a room, you flip a monster, and then you try to fight it. It's very simplified rules, but it just gets you some of the combat mechanics so that you understand the movement in combat stuff. This is one of those you play five or ten times, and then, yeah, you've kind of played it out. There's just only so many things you can do, but it's super cool, especially for younger kids because they just get it. It's in the paradigm of the little pog moving around with the roll of the dice and being able to fight things, but you don't need all the heavy weight of six, polyhedral dice like in D&D and all the heavy rules set.
Mike [00:18:14]: That's a really good way to describe it. It's "Dungeons and Dragons lite," because there is that board game, and it's very self-contained. But the downside, I think, of it is, as you said, you play it five or ten times, and then it gets boring. You start to realize there's one character class in the entire game that has an advantage over all of the others, and there's no point in choosing any other one. Since there's only four character classes and only two people can chose any one, if you have more than three players, two of them are going to get that one character class, and the third player has to choose something else, and it can be really challenging to win, or even come close, if you have to use anything other than that one class. I think it's the cleric, but I'm not sure of that.
The next one on this list is called "Small World," and this one's got great graphics. It's a very colorful game. It's a little bit like Risk, but without all of the annoyances of Risk, and I think they put that in some of their marketing materials as well. The idea is that you have a race that you choose, and then that race will get some special abilities that go with it. This has a lot of replay value, because those things get mixed up every time, so there's 15 different races, I think and 12 or 15 different types of abilities, and depending on how those get mashed up in the game, you can have, for example, flying giants. Or, you can have underworld elves, or something along those lines. The idea is that you get a handful of these tokens, and you put them on the board, and it costs you a certain number of tokens to take over a space. That number is modified by the abilities and the race, so you might be able to take over seven or eight different spaces, or you might only be able to take over two or three. It depends on what other people have played on the board. The goal of the game is to try and score as many points as you can at the end of the turn that you take. What I like about it: 1) is the infinite replay value of it, and 2) that it's so simplistic that it's easy to understand and get the appeal of it without having to go through all of the intricacies of Risk and all the advanced strategy of Risk. In general, Risk is a very simplified game, but it makes it a challenge to play just because it takes so long to play Risk. With Small World, you just don't have that option. You have very limited opportunities to do things during your turn.
Rob [00:20:20]: That's the cool way to explain it. I've never played this game, and for as much as we are into tabletop games, it's really surprising because there are, like, 20 different versions of it, and there's all these expansions, so I knew it was a popular franchise. I've just never bought it, and that description actually makes me much more interested it.
Mike [00:20:37]: I would highly recommend this game. My kids love it. My wife will play with us as well, and it's a lot of fun.
It kind of leads us into our next one, which the kids also really like. It's called "Settlers of Catan." It's a very similar game in terms of the complexity, but obviously Settlers of Catan is much different in that you are trying to get your team or – you're trying to get to ten points, and so you have to build cities. You can build roads. You can't directly affect or attack somebody else, but you can indirectly block them or, prevent them from doing things. In Small World, you can directly attack somebody and completely take over a particular spot, but if you do that – you might only get eight tokens on a given turn, and it might take five or six to take over one spot. With Settlers of Catan, it's very much a resource-driven game where you're trying to gain resources and deploy them in a way that allows you to build things down the road. It's a little bit more strategic in that sense. I like the replay value of Small World over Settlers of Catan. Settlers of Catan is the same from one game to the next, but I also think that that's partially because we don't move the board around in Settlers of Catan. I think with Settlers of Catan, the board will change, and where the resources are and the point values and stuff. With Small World, the board is different, depending on how many players you have, but the board is always the same. The two-player board is always the same. The three-player board is always the same. With Settlers of Catan, everything could be different. We don't play it that way just because it could result in a four-hour game, but those are the main differences between them.
Rob [00:22:04]: Our next game is the classic, the originator, Dungeons and Dragons. I played in grade school and then a tiny, tiny bit in high school. Then I just didn't play again for decades. When my son got to be about eight or nine and we were playing some Magic: The Gathering and I knew he was ready for it – I did research, and I was figuring I played first edition. I played basic D&D first –
Mike [00:22:27]: Oh, you're old. You're old. [Laughs].
Rob [00:22:28]: Yeah, no. I am that old. I was young. I was seven or eight when my brother got it. Anyways, there's been five editions, and there's all this religiosity around which edition you want to play and stuff, but I've researched, researched, and I finally figured out that if you're going to start today, I would just highly you start with fifth edition. It's got a streamlined rules set. Again, there's a beginning D&D thing for 13 bucks on Amazon, and it comes with the dice, and it comes with one module, and it comes with a guide, the rules to it. D&D, if you've never played, it will blow your mind. It is a free-form game where you need a dungeon master, so it's someone who's running the game. They're not playing against the players, but they're basically crafting the story. It's really nice to have multiple kids or multiple players playing their characters. You can really get into it and have people roll their own characters and create their own. We just use the ones out of the box at this point just purely due to time, because you can sink hours and hours into this. We got some miniatures, and we printed out some layouts. Man, we used to play without miniatures, where it was purely just describing what was around you, and that was fun, but combat's a lot more fun if you have miniatures to figure stuff out.
There's too much to be said about this game, to be honest. But if you've never played it and you're into tabletop games, it is a classic. Fifth edition is a very solid game. I recommend that you check it out.
Mike [00:23:45]: Yeah, I would definitely recommend the fifth edition as well. I, like you, started back when it was still – it wasn't even advanced Dungeons and Dragons. It was just the basic rules set back then. They had all the different boxes for it. I like the fifth edition rules much better than a lot of the advanced Dungeons and Dragons rules. I stopped around the second edition or so. There was 3, 3½ and then 4; and I didn't really pay too much attention to those. Then as my kids got older, I got back into it. I really like that they've clarified a lot of things, and they allow you to create a character in such a way that it really builds a story around the character, and it's character-focused, as opposed to previous editions, where it seemed more about the abilities that you got and the treasure and stuff like that. It was much more geared towards hack and slash, which I think younger kids are much more attracted to that side of the game, and that's one of the downsides of this game as well, especially if they're six or seven, or maybe even eight years old. They're not so good at the roleplay, and they're much more hands-on when it comes to the action sequences or there's combat going on. They really like that aspect of it. The roleplaying, they're just not as in tune with how to do that. So there are some challenges that you have to overcome; but, again, depending on the group that you're in, you can still definitely make that happen and make it work.
[00:24:56] The next game is called "Code Master." Code Master is a game that is aimed directly at smaller kids. If you're a software developer of any kind, you're probably not going to be interested in this one, but it is a nice intro to how computers work for kids. It's very logic-driven. You get a series of commands on each of the boards, and there's 40 or 50 different boards. Let's say that one of them gives you three commands, and you can go from a red space to a green space, and then you can go down a slide, and then you can move from a purple space to a red one, and you have to move this little pog from one side of the board to the other using just those instructions. You can't duplicate things. There's usually almost only one way to make that happen given the board that you're on and the instructions that they give you, so it's very self-contained and very constrained; but it also teaches kids how to work out a problem that has a single solution. Some of them, as you go through further and further into the game, some things can be reused. You can enter a space more than once, and it can get more complicated, but it starts out, and it's very, very easy. It's a nice intro into teaching kids how to mentally map out what the path is to get to a given destination.
Rob [00:26:06]: Yeah, and if you're looking for games along these lines, Robot Turtles is another one I'd recommend. It's some very basic programming skills.
Our next category is collaborative games. Again, these are all ages. You can start probably around seven or eight years old. These games are so fun, because you're all working together against an AI. It's like an AI mechanism that sometime is flipping cards. Sometimes it's rolling dice. It sometimes is picking randomly out of a pile. So, Castle Panic is one that's really cool. It's aimed at a little bit younger kids, but you're basically just defending a castle, and all these monsters are running at it. Forbidden Island, as well as Forbidden Desert, are neat games. They're a little more complicated. I'd say it's – probably want to be a little older to play that, but they have neat, little – what are they? Little, plastic game pieces that make this field, and the are in metal boxes, so it makes it feel like a real premium game. These ones are a little more expensive.
Then I really like both Pandemic and Flashpoint. I think they were designed by the same guy, and they have similar game mechanics, but in Pandemic this virus, or multiple viruses, are taking over the world. The viruses are the AI, and you just have to – you're trying to knock them off. Then in Flashpoint, it's actually a home that's on fire. The fire spreads with each round, and you're a fireman going in and trying to take it out. Cool part about these, again, is you're all working together. It works well with younger kids, because you can help them, and you're not helping them play against you. Also, you either all win together or all lose together. These are probably – aside from maybe D&D and Magic: The Gathering, these are probably my favorite games.
Mike [00:27:33]: Yeah, we play Castle Panic, and Forbidden Island. That is the nice piece of those games, is that it is collaborative, and you win or lose as a team. If you don't help each other out, then you're all going to collectively lose. It's nice to see the collaboration and the strategy behind helping each other out: "Well, if I do this, or I give you that, then you'll be able to do this and that," and being able to work through the problems in advance. Again, a lot of them are just driven by the cards, or the AI, as you put it; and sometimes there's nothing you can do. You can play the best game in the world, especially with something like Pandemic, and you can still just lose, and there's nothing that you did wrong.
[00:28:09] The next category of games – I will say that these are probably more for mid- to late teenaged kids, so if you have kids that are 12 or up, or 15 or up, then these two games are probably more appropriate for them. The first one is called "X-Wing Miniatures," and the next one is called "Wrath of Ashardalon." The X-Wing Miniatures game – my kids looked at that and said, "Hey, I really want that, and I want to play it." We got it. In less than 24 hours, they broke one of the pieces; and within three or four days, half of them were broken. The reason I would say that this is aimed more at older kids 12 and up is because they're just not careful enough to not break those things, and they are very, very brittle. It's not just kids, to be perfectly honest. There's plenty of adults complaining online, "Hey, these are easily broken. How do I get replacements?" and they didn't really sell replacements for those pieces.
Rob [00:28:57]: Yeah, we had the same experience. It's a fun game, but I think almost all of our pieces have been broken and glued back together at this point.
Mike [00:29:04]: Wrath of Ashardalon is almost like a Dungeons and Dragons lite game, similar to Dungeon in some respects, but it has a lot more replay value than Dungeon, but it's also a lot more complicated. There's a lot of nice figurines that comes with it, and it's kind of expensive. There's probably four or five different variations of the same type of game. There's one that's set in the Ravenloft realm, and there's probably two or three others that I can think of; but they're all, I would say, probably 14 to 16+ games. You really can't have smaller kids playing those games, because they just don't understand all the rules, and there's just so many rules. It's actually kind of painful to play, so unless you're really into sitting down and playing a board game like that for three or four hours when you feel like you're going to be flipping through the rules a lot, probably not a great game for the younger kids.
Rob [00:29:52]: That about wraps us up for today. If you have a question for us, call our voicemail number at 888.801.9690; or, email us at questions@startupsfortherestofus.com. Our theme music is an excerpt from "We're Outta Control" by MoOt, used under Creative Commons. Subscribe to us in iTunes by searching for "startups" and visit startupsfortherestofus.com for a full transcript of each episode.
Thanks for listening, and we'll see you next time.